Create a beautiful rustic Christmas with touches of whimsy with this Rustic Jewel tone Christmas decor.
See how we got our living room ready for the holidays in our Christmas living room tour.
Get ready for Christmas with this rustic jewel tone Christmas decor. Add beautiful bold colors to your farmhouse decor for a bit of fun. See how we transformed our living room for Christmas with this Christmas home tour.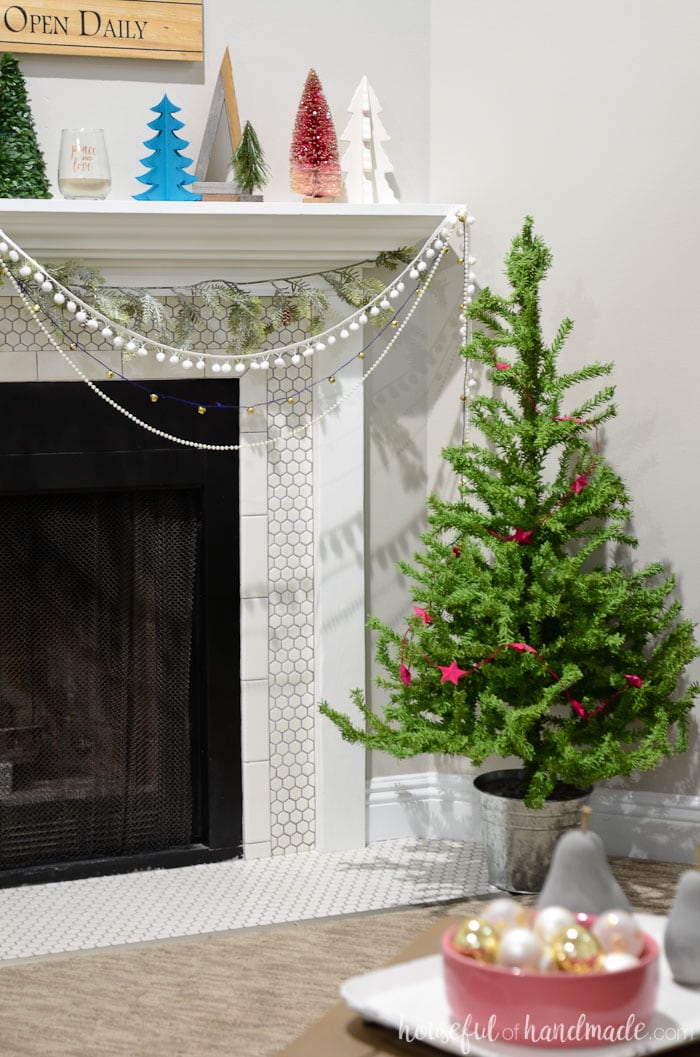 This year for Christmas I wanted to do something a little different. I love classic Christmas decor, but I have had a red and green Christmas for the past 5 years. I was ready for a change.
But I wanted to keep with the rustic look that I love. I learned that rustic jewel toned Christmas decor is not easy to find.
Apparently if you want bold turquoise, raspberry, plum and navy for your Christmas decorations, then you want lots of glitter and peacock feathers. Not really the look I was going for.
I still wanted farmhouse touches, natural woods, and cozy creams, but with a bit of fun color too. So this year I had to get creative and DIY our Christmas decorations.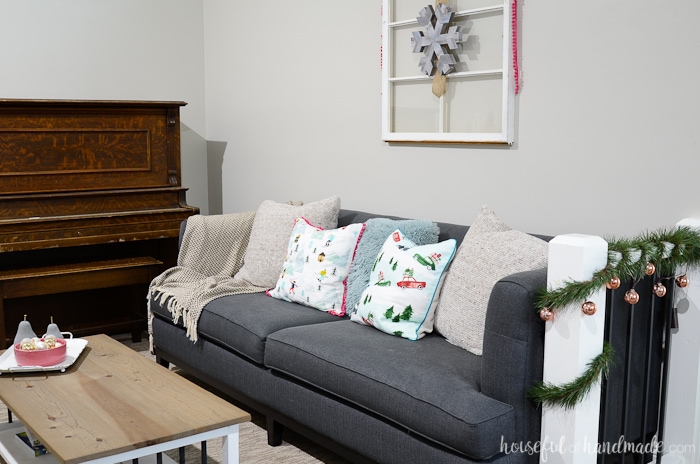 I couldn't be happier with how everything turned out! Our living room is the perfect combination of fun and colorful mixed with warm and rustic. I am so excited to share our complete living room tour as part of the Come Home for Christmas Room to Room Christmas tour.
Check out all the fun touches we added to our home and then make sure to see the rest of the beautiful Christmas decor inspiration from the rest of the bloggers sharing today.
Let's start with the tree. It might look a little sparse. But this is just the beginning of our Christmas tree decor. Since I am changing the entire color scheme for our Christmas decor this year, we have to start fresh and that means lots of Christmas ornaments. I have started to DIY some things and I have plans for even more. Stay tuned for lots of DIY Christmas ornament tutorials.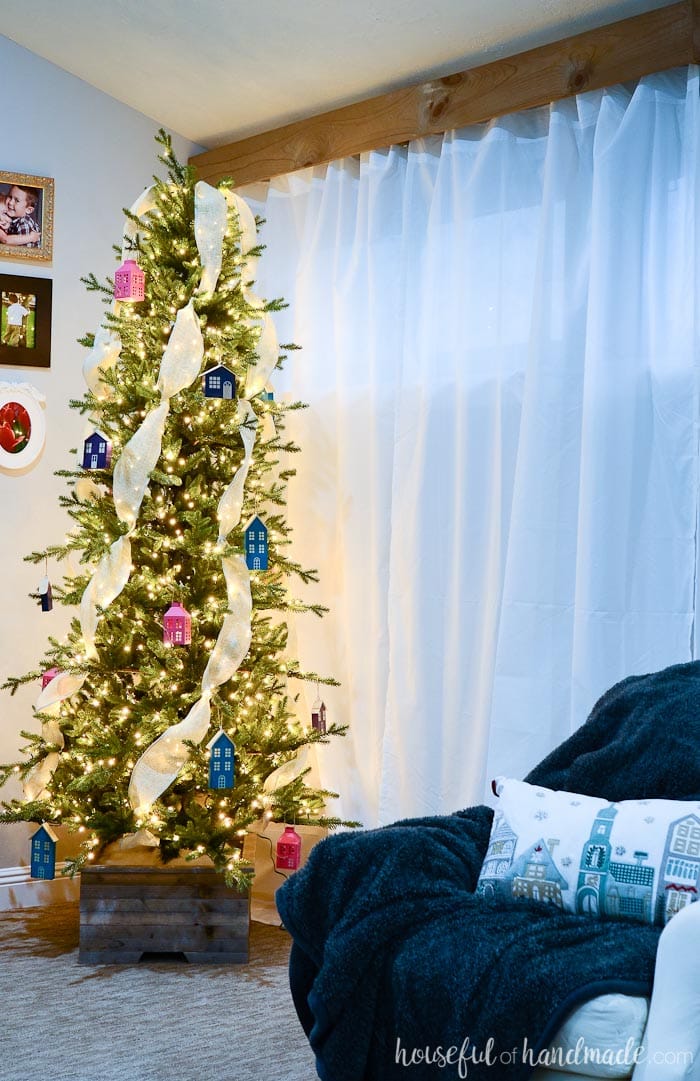 This year I decided to ditch the tree skirt and built a Christmas tree planter box instead. I should have done this years ago because I love not having a tree skirt for the kids to mess up. My son would use it as a blanket and cuddle in it while readying books by the light of the Christmas tree. It was never pretty, and then I had to move it to vacuum. Not anymore! This new reclaimed wood Christmas tree box is awesome, and we filled it with stuffing to make it look like snow. The kids think that is pretty cool.
Next week I will be sharing our completed Christmas tree. But until then, we are still enjoying the lights and magic it gives.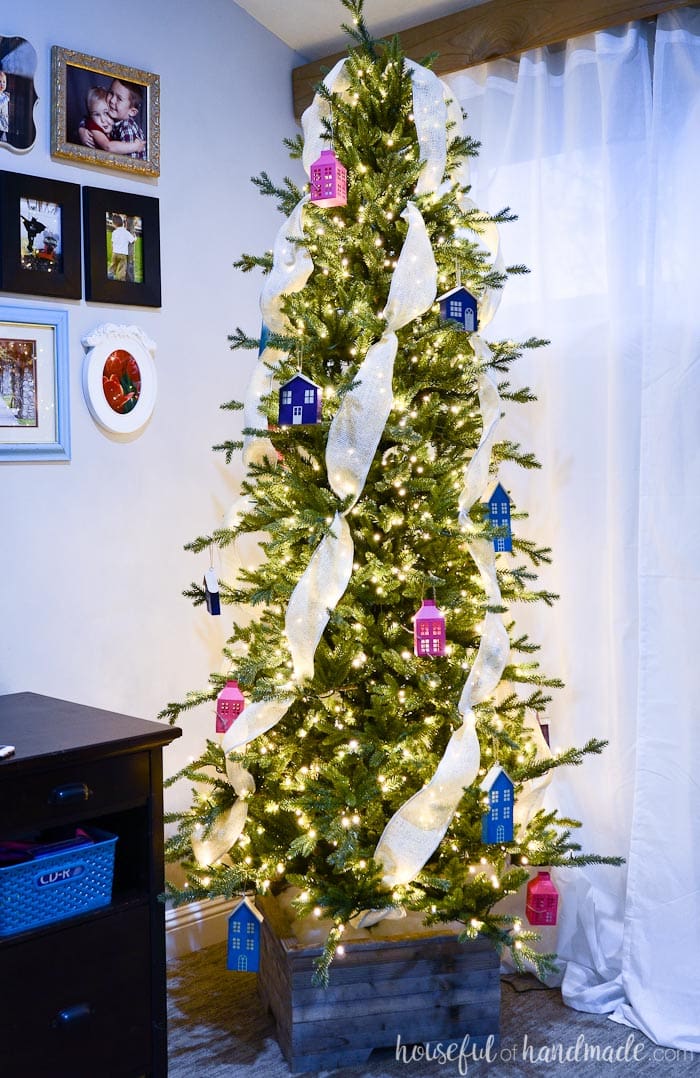 One of the things I love about Christmas is cuddling in cozy blankets. Nothing says winter like a few fluffy throws around the house (and we use them all the time!). I found this navy throw at Sam's Club and it's the softest thing ever. It is used every mornings while we enjoy our coffee and get in some family snuggles. I threw it over our chair and added a fun (and colorful) pillow from Target.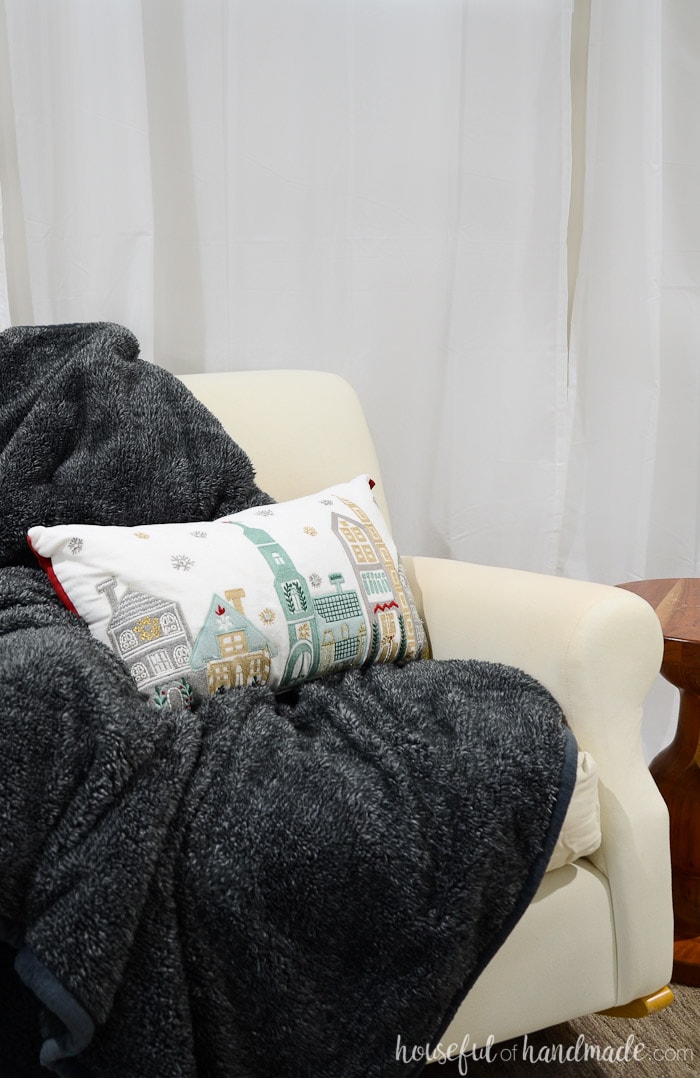 We created another family snuggle spot on the couch. Even though I cuss throw pillows all the time because my kids think they are for throwing (can we please change the name so they won't get confused), I still loaded our sofa up with some for Christmas.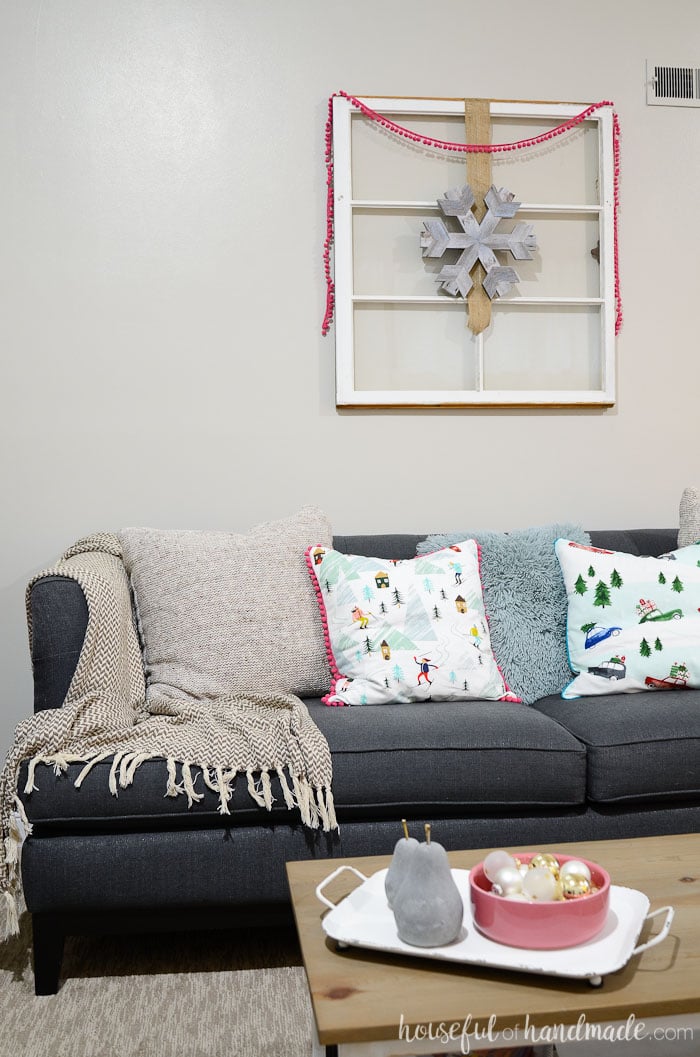 I knew I wanted some sweater pillows to create a comfy spot. And bonus, they can be used all winter! But I also wanted something bright and fun to go with our bold jewel tone Christmas decor theme. That was a lot harder to find. I looked everywhere for the perfect pillows with no luck.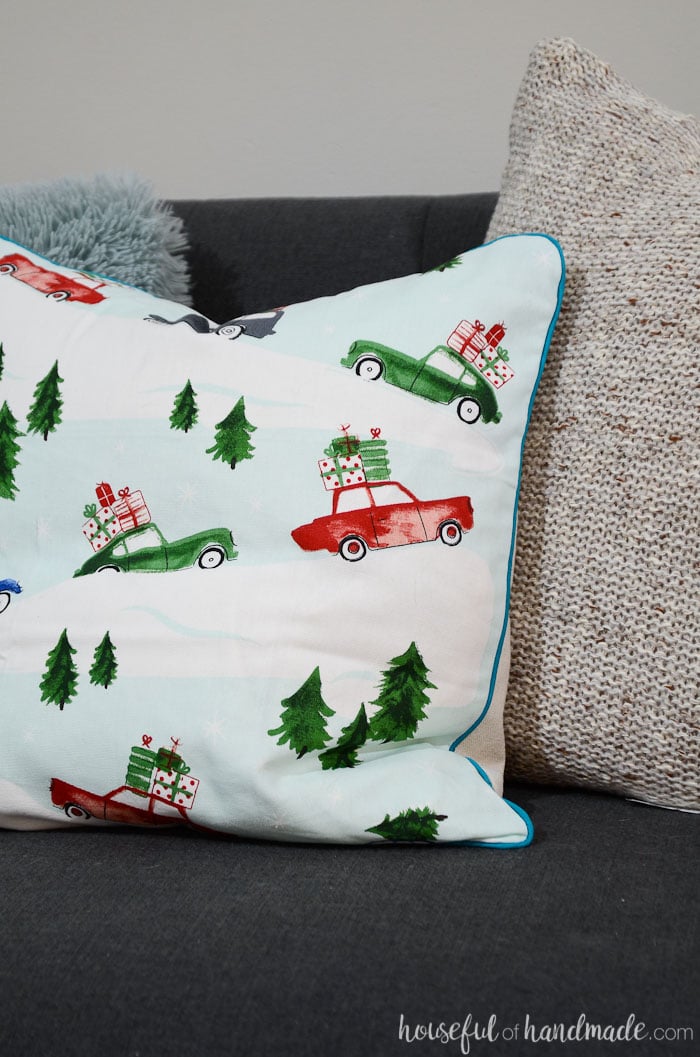 Then while shopping at Crate and Barrel over the weekend I found the cutest dish towels. They were whimsical and had some of the fun jewel tone colors I was wanting. But the best part, these two towels only cost me $12. I used scraps of drop cloth and some trim from my stash and made a couple Christmas pillow covers that make me so happy.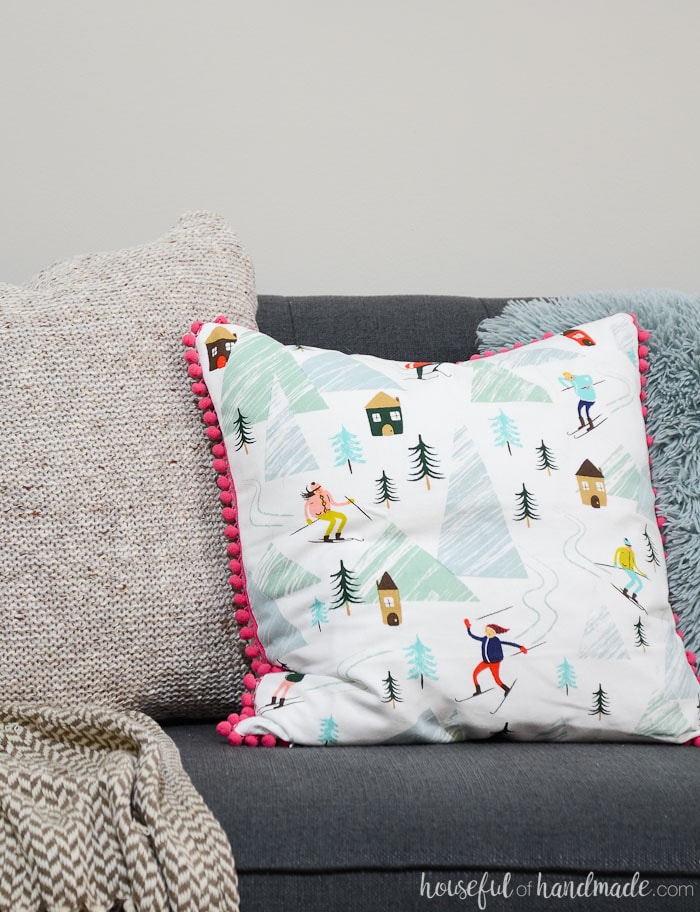 Didn't they turn out amazing?! Paired with the sweater pillows they create the perfect blend of whimsy and farmhouse.
And above the sofa I hung the old window that I used on our mantel for fall. I think it will probably stay here though because it is the first thing I have hung on the wall that feels like it can actually fill up the big open space. We have 12 foot ceilings above our sofa and the giant wall is daunting to decorate!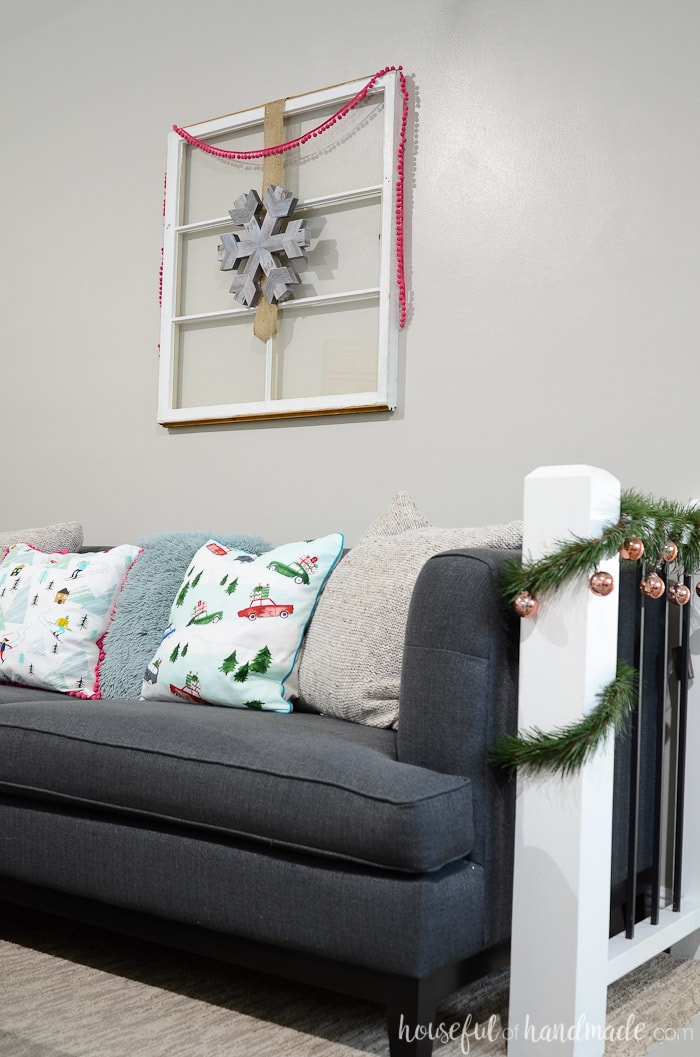 On the mirror I hung the faux wooden snowflake I made last year (and still love so much). And to add a bit of color, I draped the leftover pink pom pom trim as a garland. Then I decided I needed even more pom pom trim in our Christmas decor this year!
I absolutely love decorating our mantel for every season! This year I wanted to create a mantel full of Christmas trees because I love little Christmas trees. I made paper Christmas trees and adorable wood Christmas trees from 1x2s.
And a giant farmhouse Christmas tree farm sign was the perfect focal point for it. Then all I needed to do was find and make as many Christmas trees as I wanted to fill the entire space!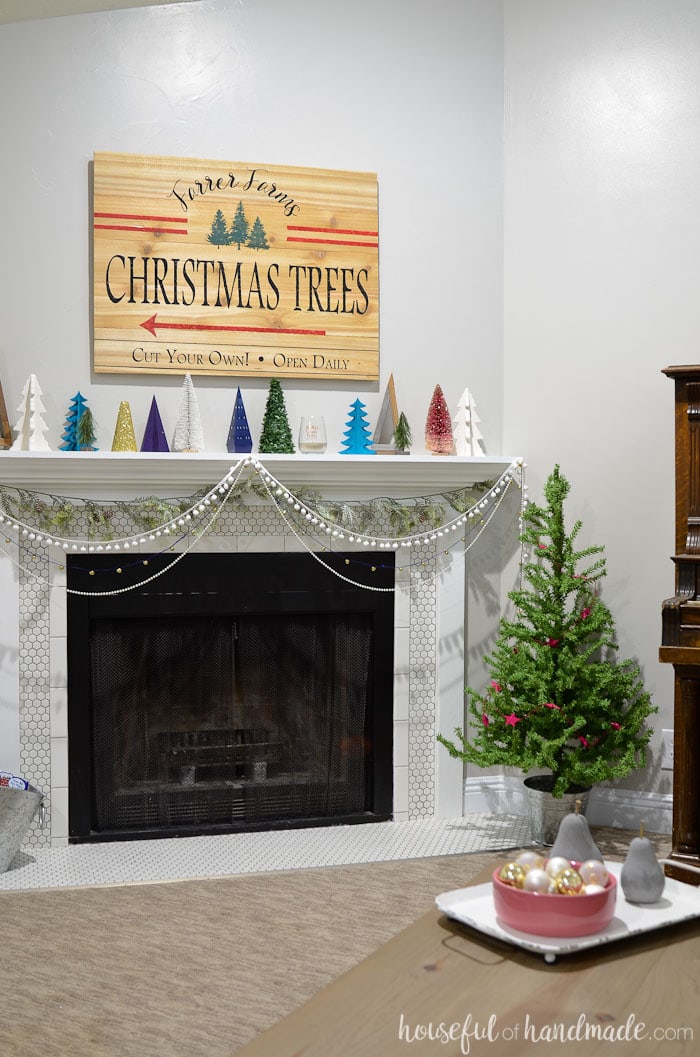 Things felt a bit bare with just the sign and trees, so I added a bit of garland. But instead of going on top of the mantel like I traditionally do, I decided to go below it. It was the perfect solution to add a bit of texture and greenery to the mantel without taking the focus off the forest of Christmas trees. Then remember that pom pom trim I was talking about… yep, there it is! The pom pom trim pairs nicely with a twine and bell garland I made and a draping of opal beads from the craft store.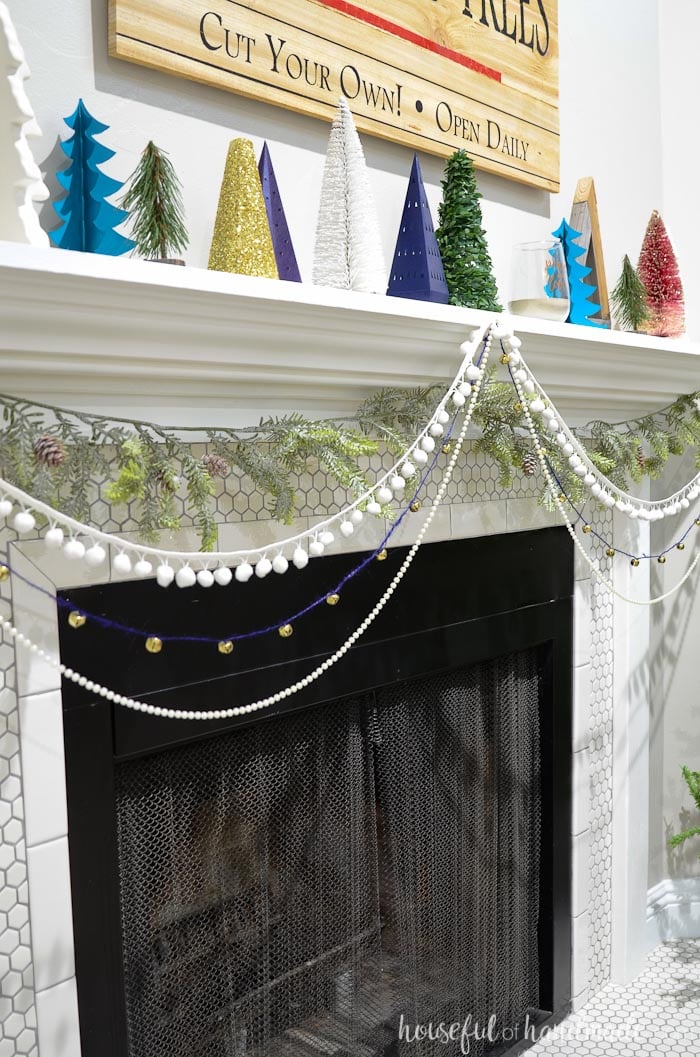 On the other side of the room I created a little Christmas vignette on the new farmhouse console I built (I promise to share the plans, but it will probably be after Christmas). And the center stage of this vignette is our new refillable rustic advent calendar.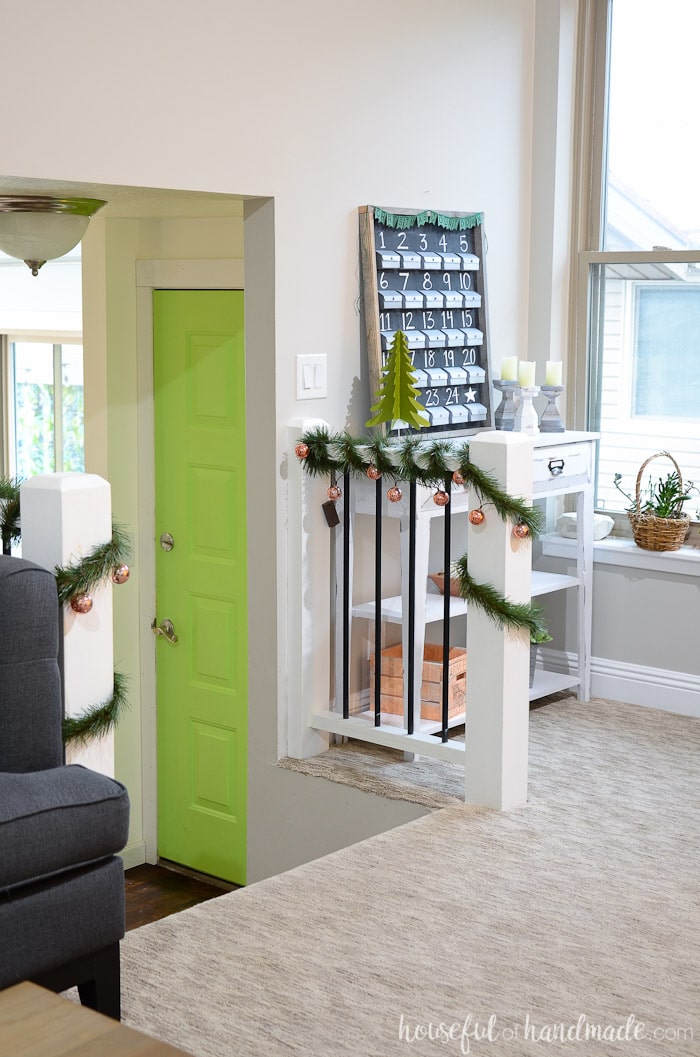 I am so excited to start counting down the days till Christmas with the kids, and so are they. They keep peaking to see if I have filled the little mailboxes yet. If you are doing an advent calendar this year, check out my tips for how to plan a stress free activity advent calendar for Christmas.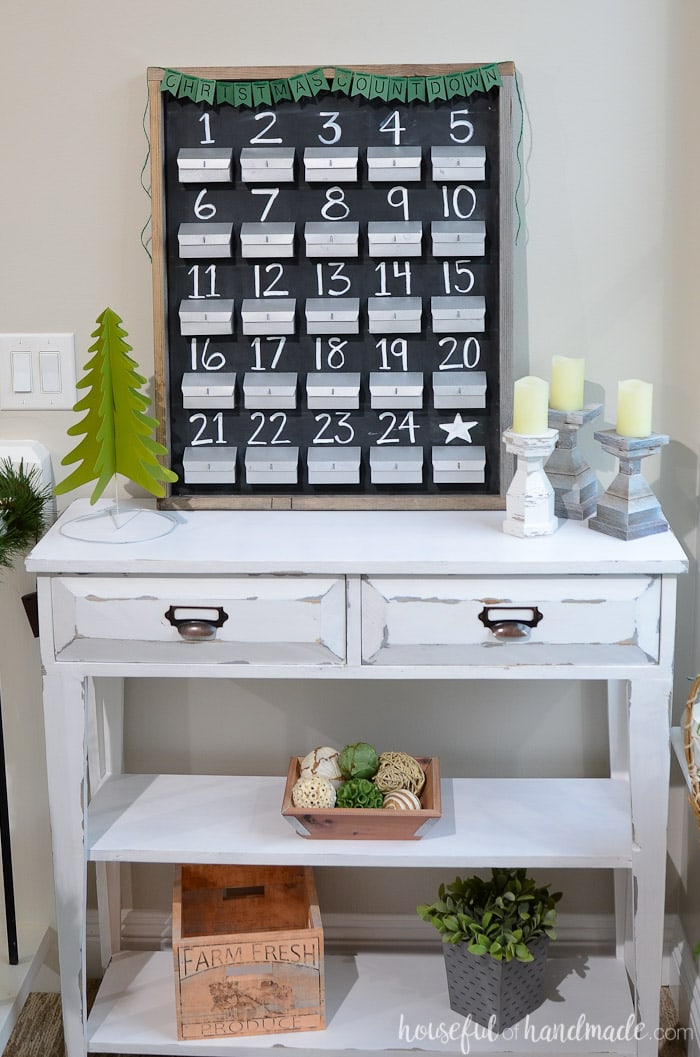 I also created a lot of Christmas trees this year out of paper. Paper is perfect for seasonal decor because if you change your mind, you don't have to feel bad about recycling it! I made this Christmas tree last year and this year it got a makeover with a can of spray paint to better fit our colorful Christmas decor.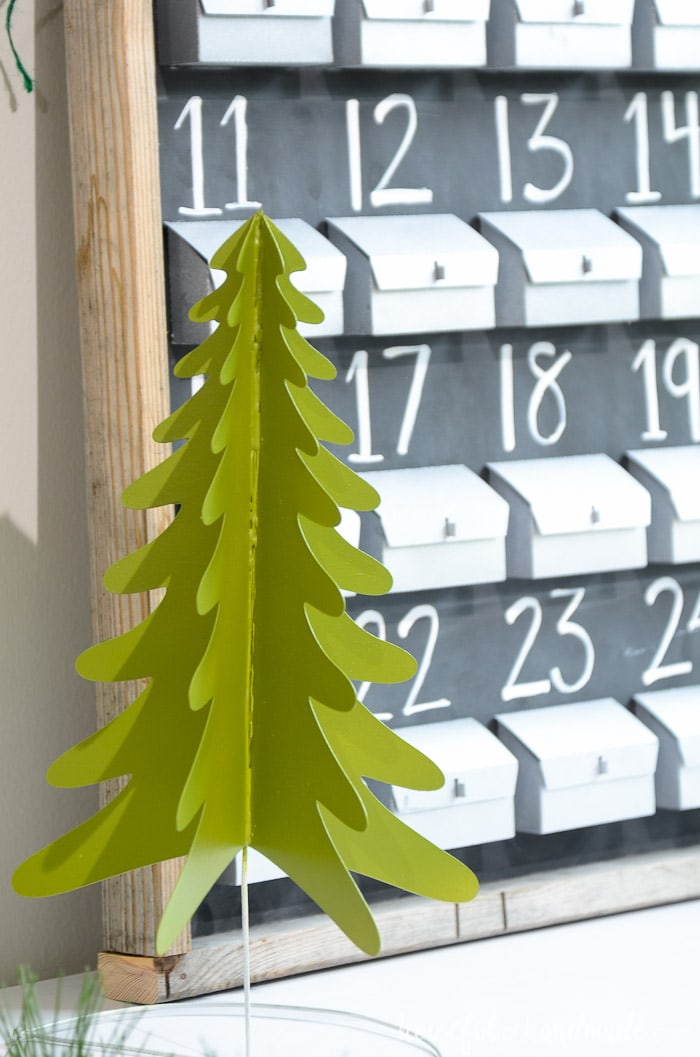 And lastly, I have always wanted a railing that I could put garland on. I do not have a large open stairway in the center of my home (#homegoals), but I do have the new rustic railings that I built and finished last year. So I decided they needed some garland.
I searched for the perfect garland and couldn't find exactly what I was looking for. All the things that were close were $40 a piece (I would need 2) and I just could not justify spending that amount if I wasn't totally in love. Instead I decided to use up some simple garland and wrap it around the banisters. To add a bit of whimsy, I also added battery powered string lights. The kids think that is the coolest thing ever.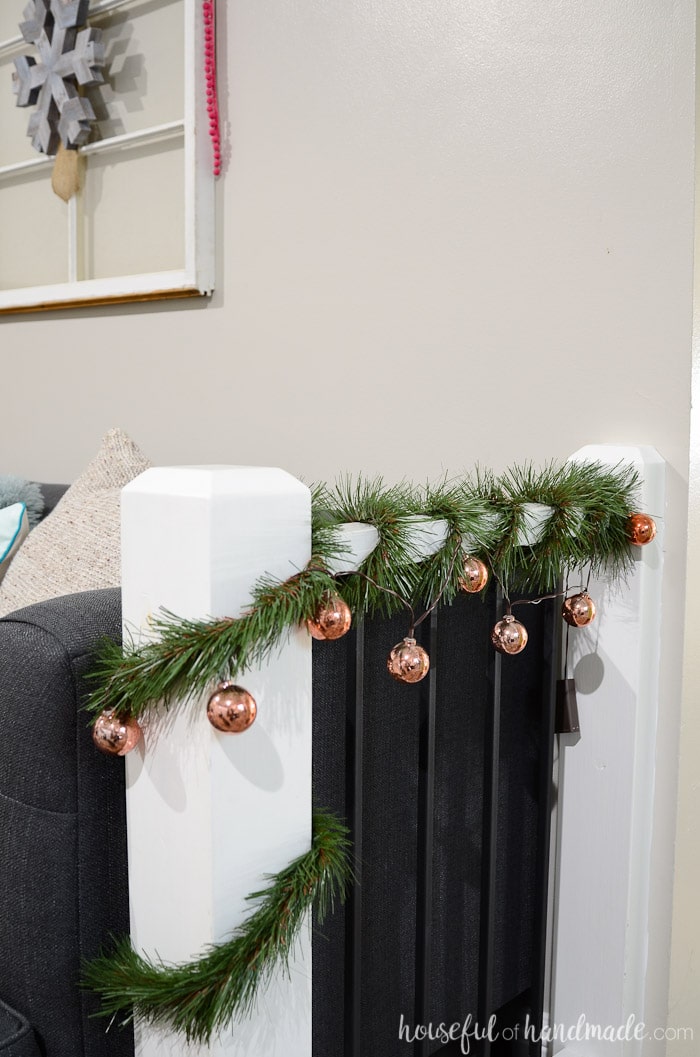 I am so happy with how our living room decor turned out. The pops of jewel tone colors are the perfect pairing with the natural greenery, wood tones and warm creams. It's the perfect blend. Don't miss out on any of the tutorials for all the fun DIY Christmas decor and ornaments you see here. Subscribe to my weekly newsletter for all the DIY fun!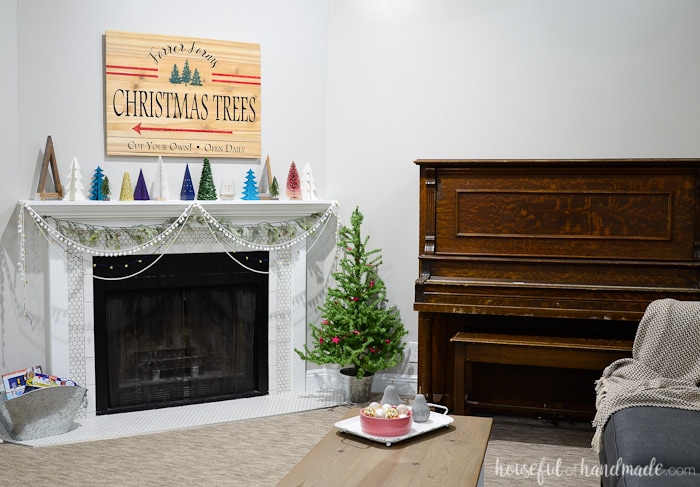 And now it's time to freshen up that cup of coffee, maybe add a splash of eggnog, and check out the rest of these beautiful Christmas home tours.