Welcome in cooler weather with this rustic upcycled fall mantel. Learn how to decorate your mantel on a budget by making the old new again.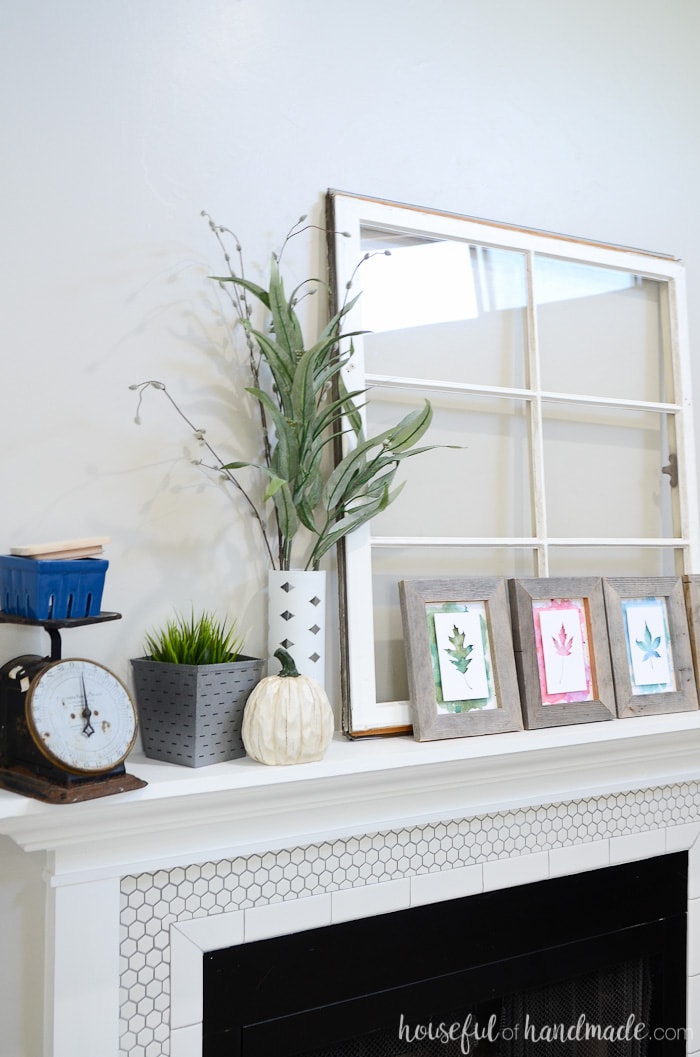 This rustic upcycled fall mantel is the perfect way to celebrate all things autumn. On old window, reclaimed wood, and a vintage scale set the scene for the rustic fireplace decorations. Complete the mantel decor with watercolor leaf art and a bit of greenery for an easy farmhouse mantel for fall.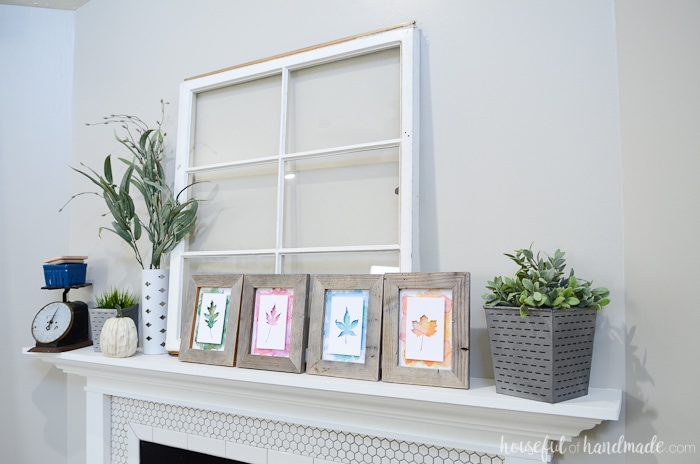 It's time for another Decorate You Mantel blog hop! Can you believe we are already swapping out decor for the fall? My son keeps reminding me that technically it is still summer until September 22, but I see Labor Day as the end of summer for sure. Last month I started working on some projects for our rustic fall mantel, but then things got crazy with the kids starting school. Now I am happy to share our completed rustic upcycled fall mantel.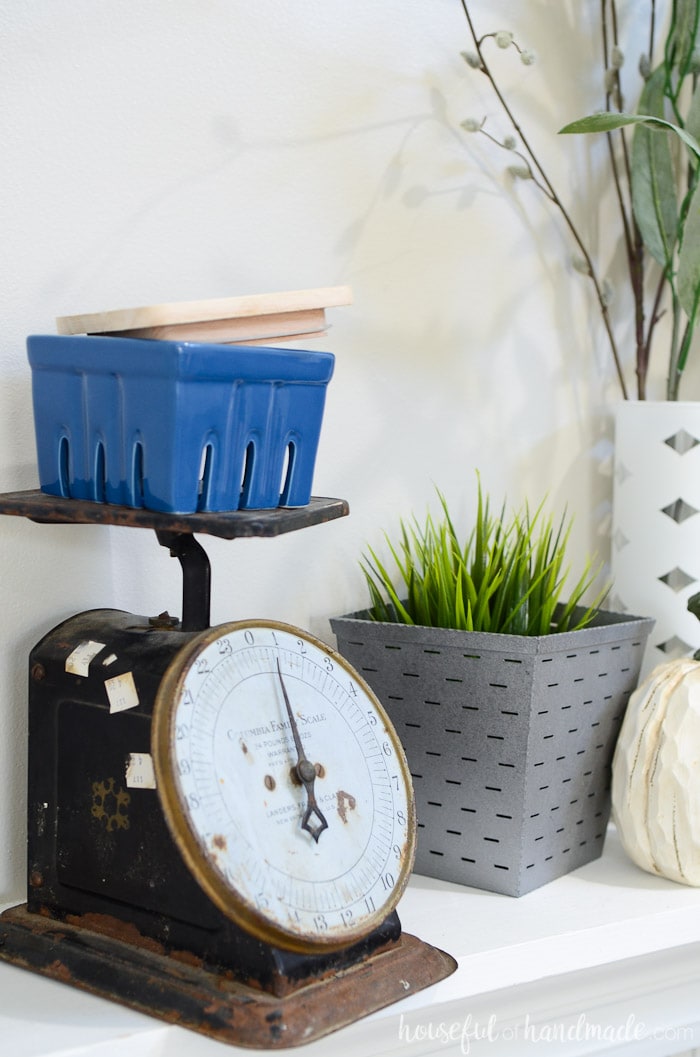 Each year as we say goodbye to summer, I am hesitant to pull out all things pumpkin. I know, fall is all about the pumpkins. And I love eating all things pumpkin (and usually start in August if we are going to be totally honest). But I do love to add other touches of fall to my decor, especially early in the season. As we get closer to Halloween and Thanksgiving, then the pumpkins will take over!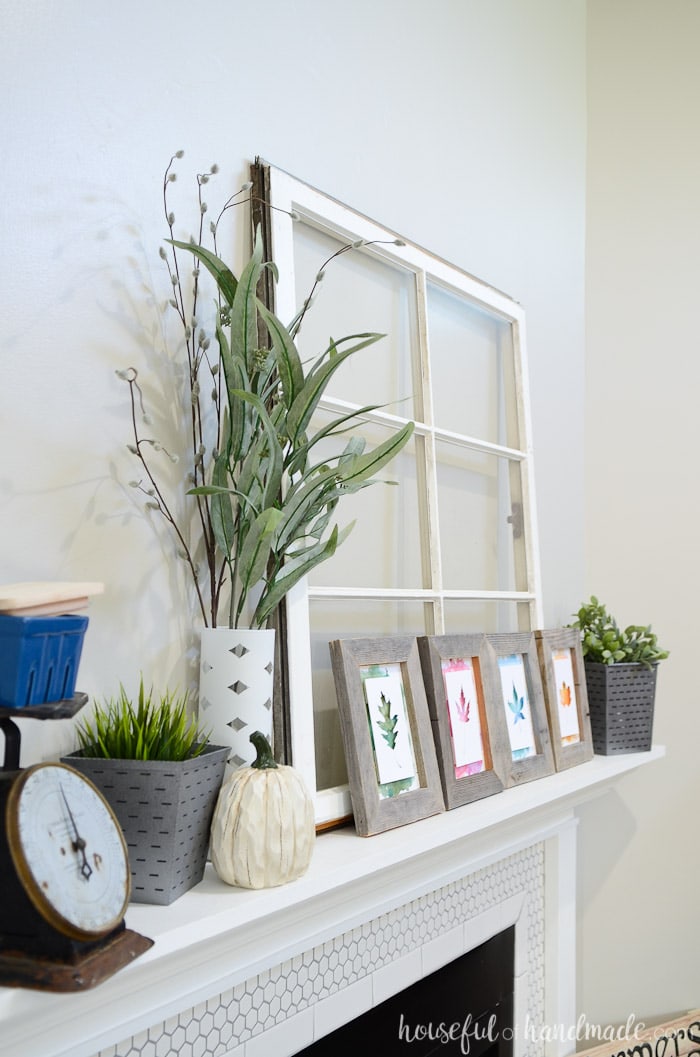 This year for a fall mantel, I decided to go a little non-traditional. Instead of reds and oranges, I went with bright watercolors. I toned them down with whites and reclaimed wood, but I must admit I am loving the unexpected pop of blue and pink on the mantel this year.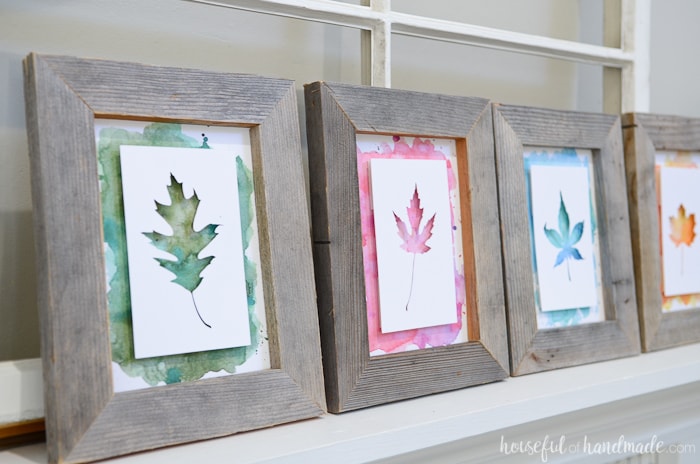 To keep the unexpected going, I added a vintage scale that use to belong to my grandmother-in-law. My sweet mother-in-law gave it to me as a gift for my birthday because she knows I love this sort of stuff. It made it onto my mantel as I was messing with things earlier, and I decided I loved it there. Then I added a blue ceramic berry basket from Target to bring out more of that unusual fall decor.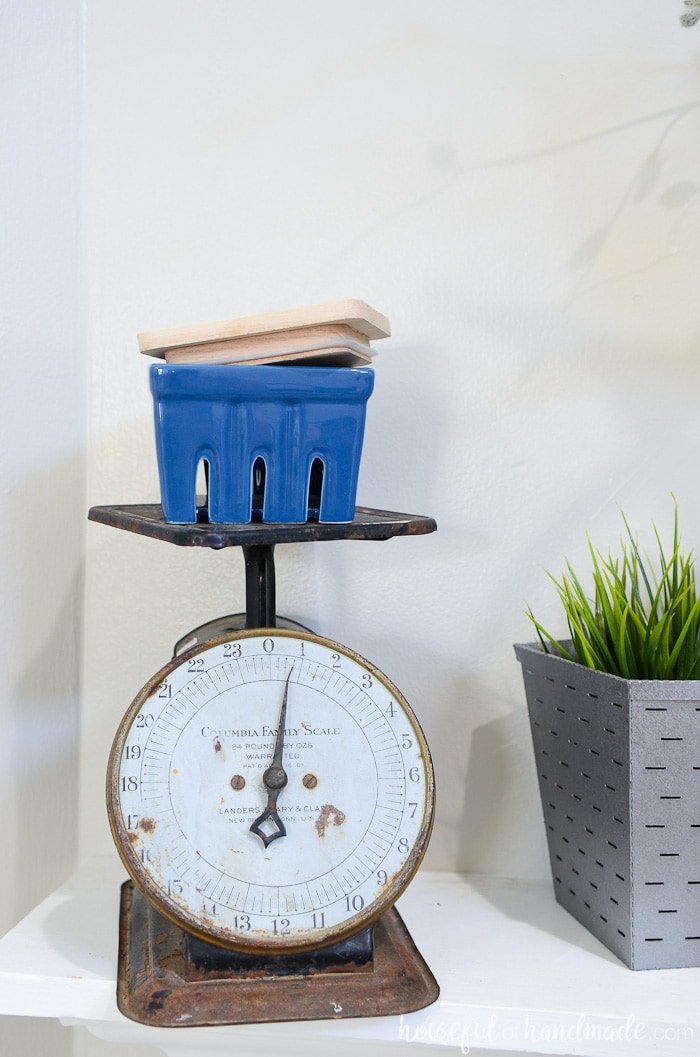 I didn't want to get too literal when it came to my leaf theme. Instead I decided to let the art stand on it's own (it is so beautiful). So I added greenery to the mantel instead of more leaves or grasses. The greenery also pulls in the fun green watercolor. Since I cannot keep any indoor plant alive for longer than a few days, I decided to use faux greenery for the rustic upcycled fall mantel. I got the tall greenery at Michael's in their fall stems section and found the smaller grass and plant at Ikea.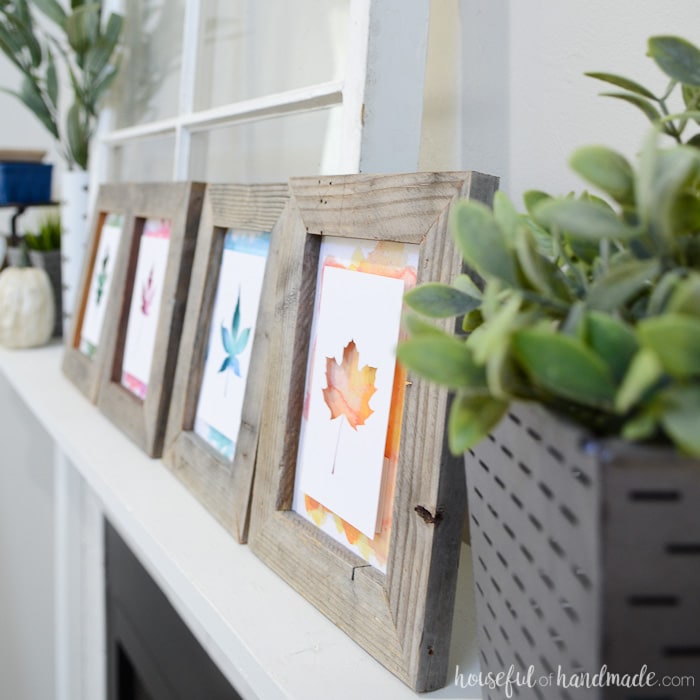 To hold the greens, I spray painted a boring dollar store vase with white chalk paint to give it a porcelain look. I blocked out a design for the paint with vinyl that I cut with my Silhouette. For the smaller plants, I made these faux metal buckets out of paper. Stay tuned for more information on that project!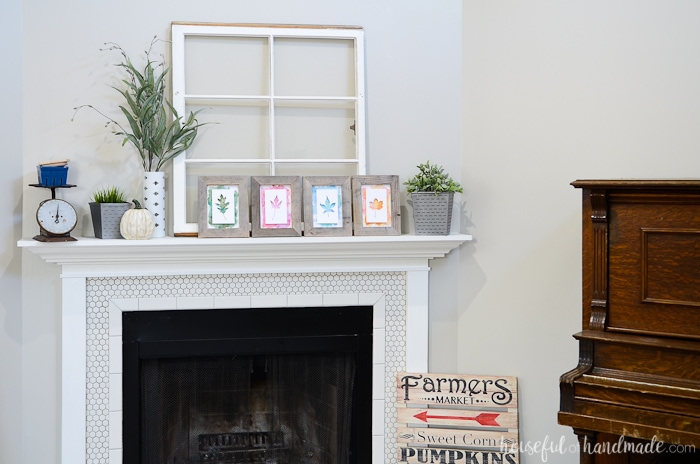 As I was at Michael's picking out my fall stems, I stumbled across this beautiful white wood carved pumpkin. I couldn't just leave him, so I did make a place on my mantel for a little traditional pumpkin decor. I love that it is just a layer of the whole piece and not the centerpiece.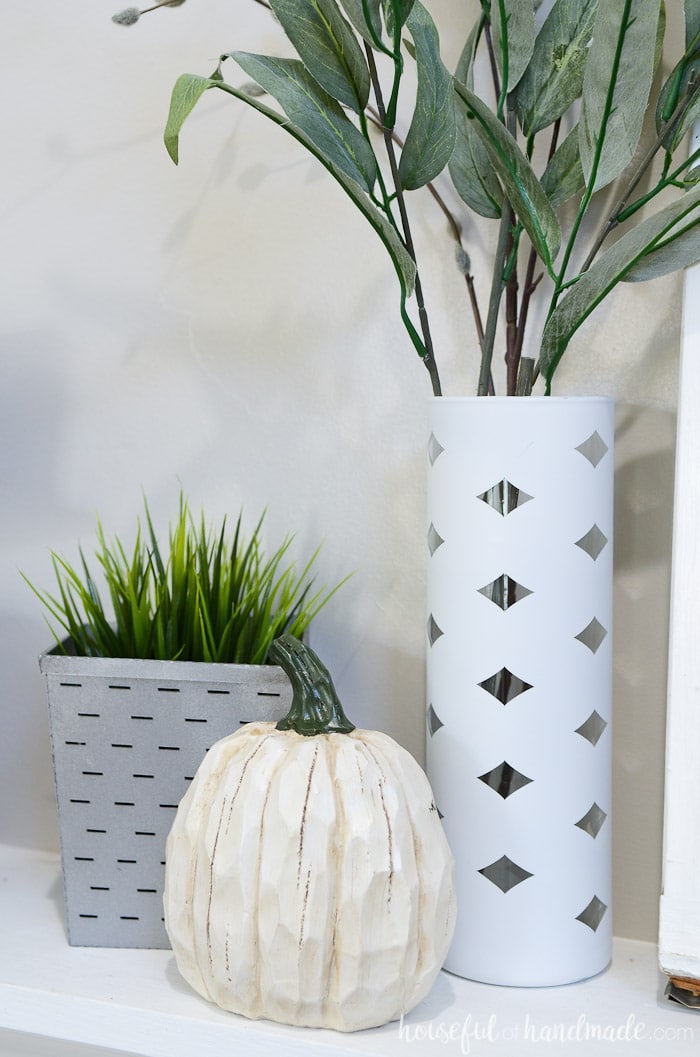 Typically I tend to think in a symmetrical way. However, for this fall mantel I love the asymmetry and casual feel of it. It feels like it's a collection of found objects. Like the layers of the mantel just happened over time (which actually they did). But it's still balanced and gives the whole room a cozy farmhouse feel.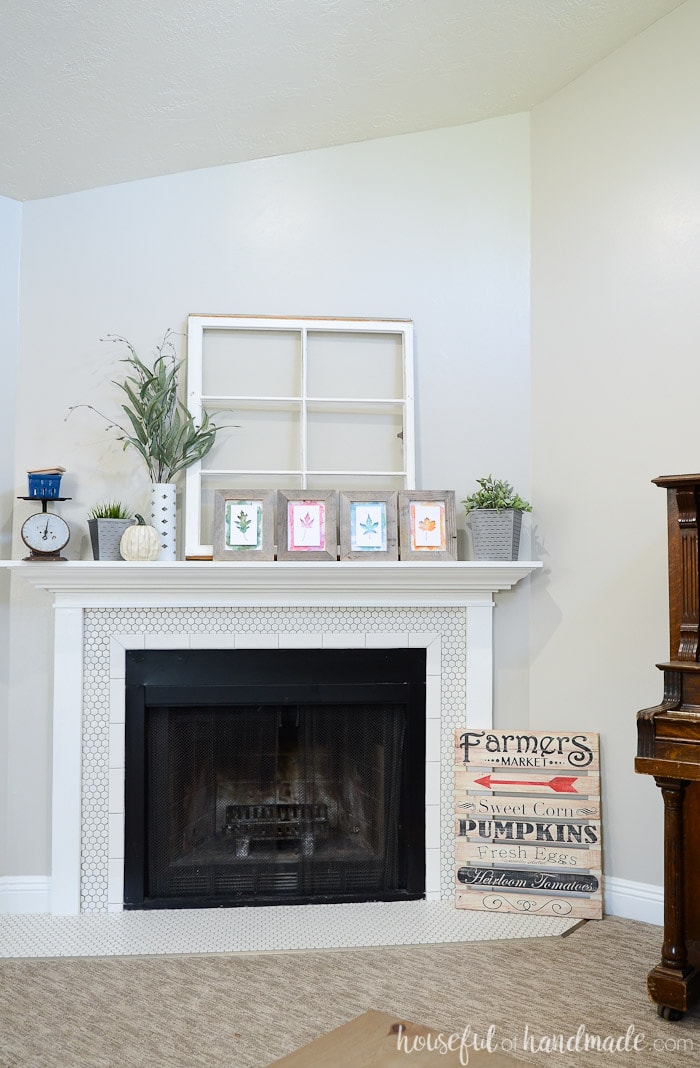 To recreate your own rustic upcycled fall mantel, gather a few of your favorite found pieces.
Start placing the taller items in the center of the mantel.
Add a piece of focal art, or multiple pieces with a theme.
Create small vignettes of objects in a couple spots on the mantel.
Fill in with greenery.
Don't forget about the fireplace hearth when decorating your mantel. Especially in the fall! This is a great place to add a bit more rustic fall decor. I leaned my favorite farmers market mini pallet sign up against the fireplace. I think I need to add a bin with fluffy pillows too, but that will just have to come later. This rustic fall mantel will definitely be a design created over time.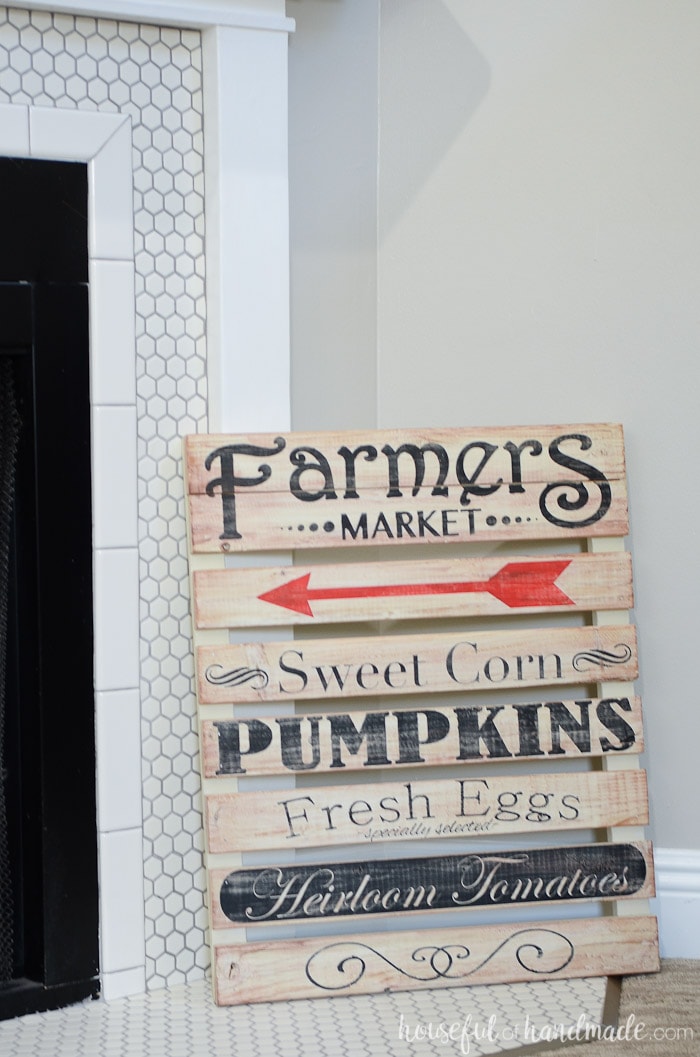 And for more beautiful fall mantel inspiration, check out how these amazing bloggers decorated their mantels for the season.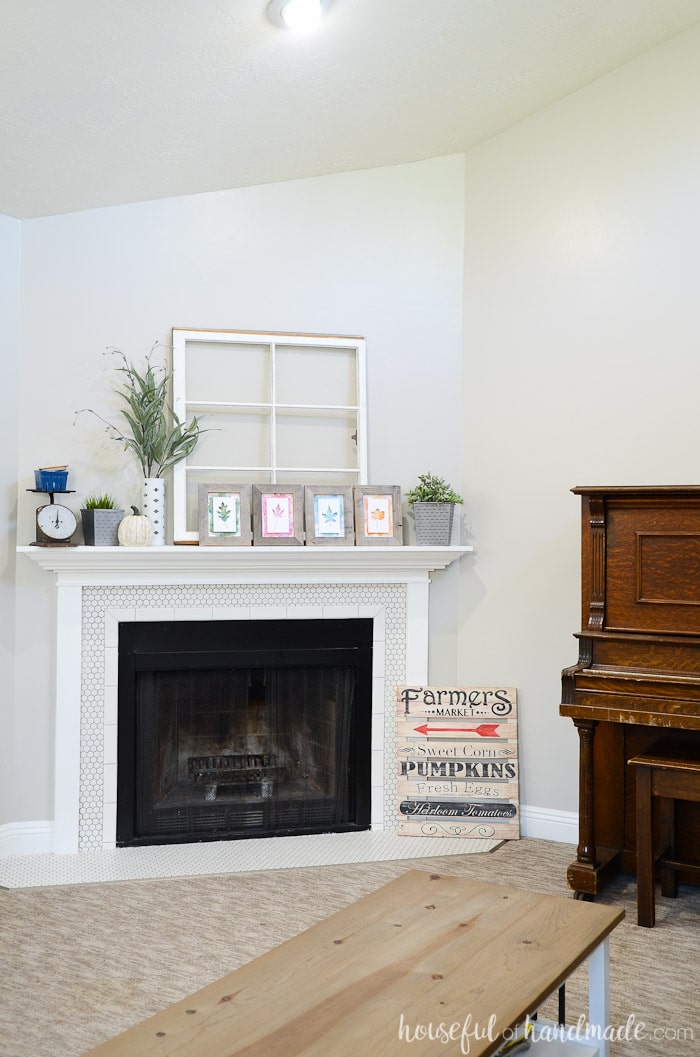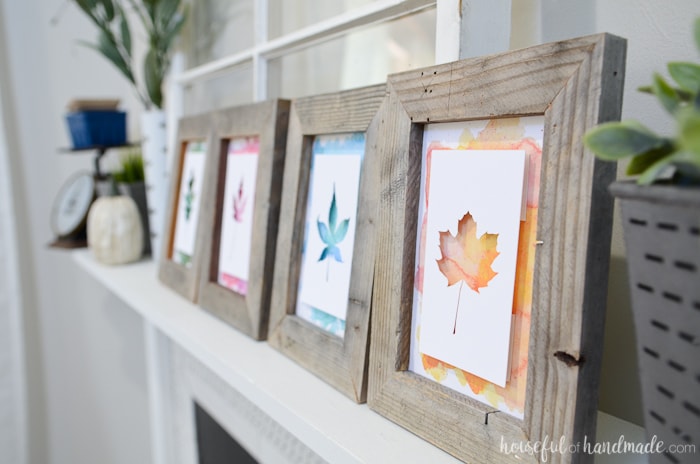 Then don't forget to check out the rest of my mantel decor ideas here.