If you love pumpkin desserts, you want to try these savory pumpkin sage scones.
I am back to my old tricks, more pumpkin goodness! This time I wanted to use it in a savory way. Now I love pumpkin deserts and coffee and all things sweet, but sometimes I need something healthier. And I don't want to have to give up my love for pumpkin just so I can eat a well balanced meal.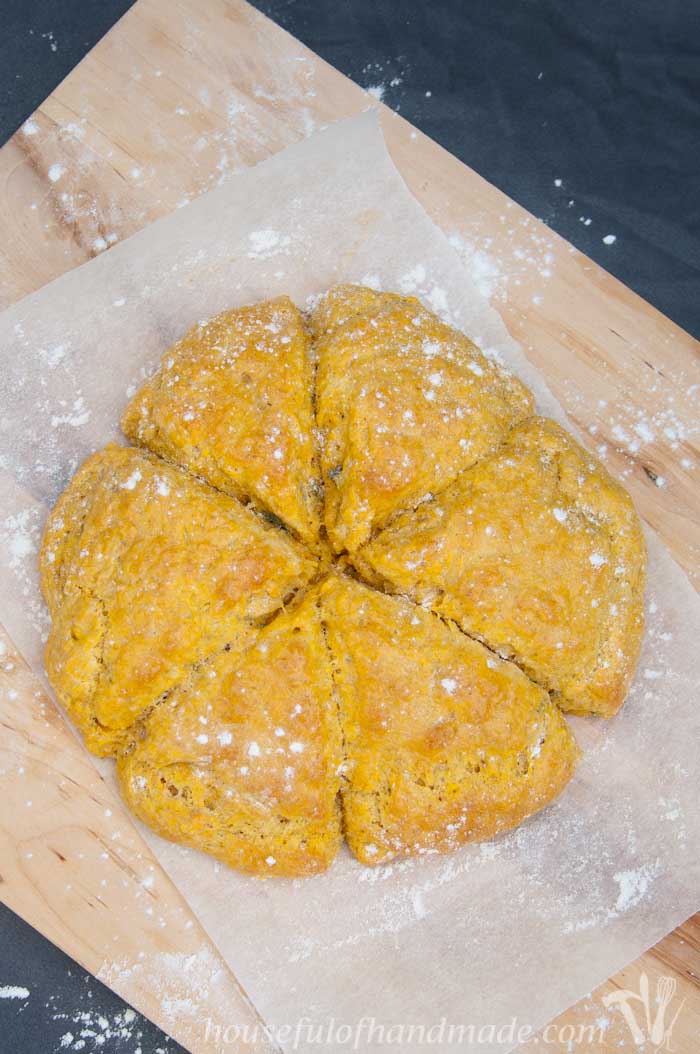 I love servings biscuits or scones with dinner. They are quick to put together and can be made in so many different flavor combination. Today I use a classic, pumpkin and sage, and these savory pumpkin sage scones don't disappoint! They would be perfect along side a bowl of turkey chili or pasta with your favorite cream sauce. Yum!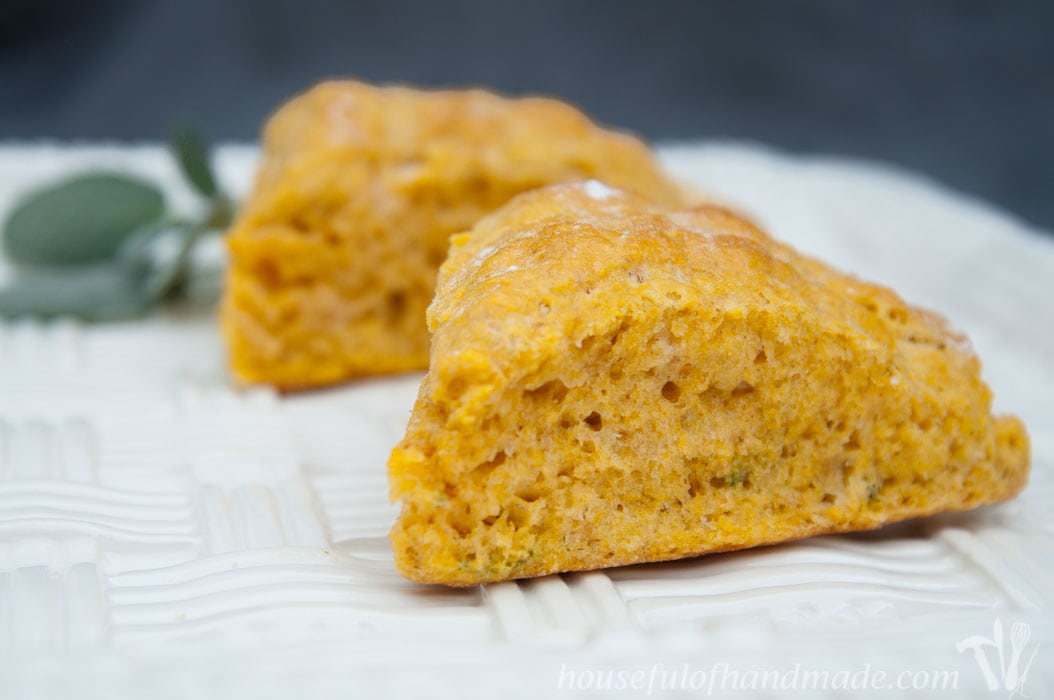 Now these scones are light and fluffy, not a dense heavy scone. I love my scones either way, but the denser version usually has a lot of butter. Also, the pumpkin adds a lot of moisture so it is harder to get a denser scone. But these scones are light and butter and pumpkiny with a hint of fresh sage.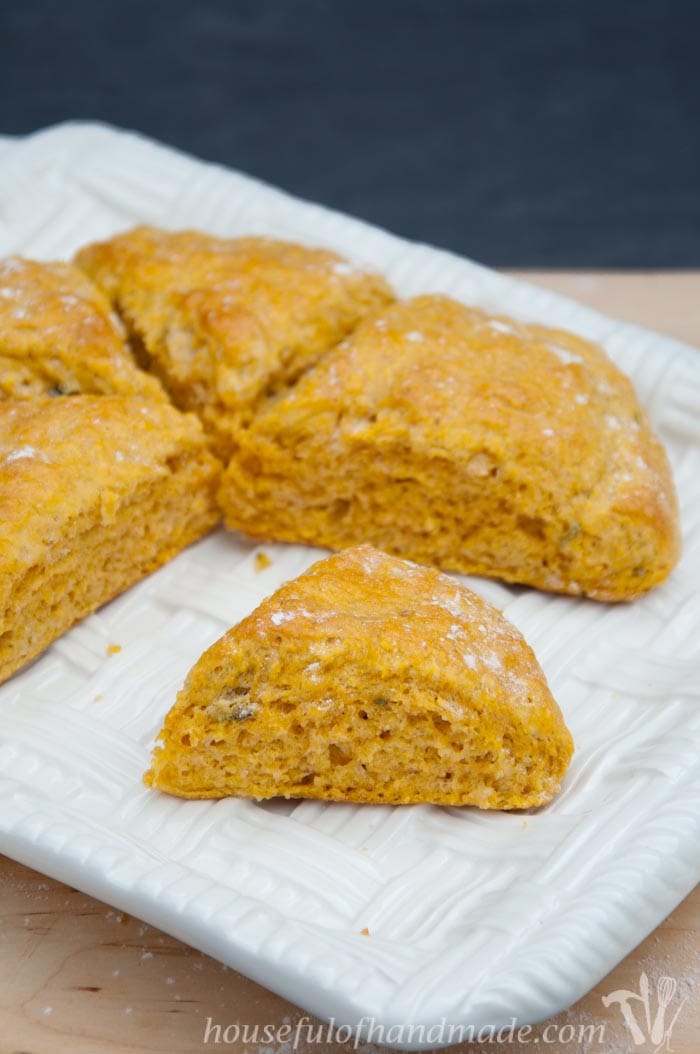 To make these easy scones, you start by mixing 2 1/2 cups flour, 1 Tbsp granulated sugar, 1 Tbsp baking powder, and 1 tsp salt in the bowl of food processor. I used a combination of 1 cup whole wheat flour and 1 1/2 cups all purpose flour, but I feel like I could increase the whole wheat flour with no issues. Mix it together with a couple quick pulses.
Then add 1/2 cup cold butter into the food processor. I like to use frozen butter when I need to cut it into flour because it stays solid longer and keeps your dough flakey. Cut the butter into some small cubes then toss it into the food processor and pulse it until the butter is chopped up small and mixed into the flour mixture. Put flour/butter mixture into a large bowl.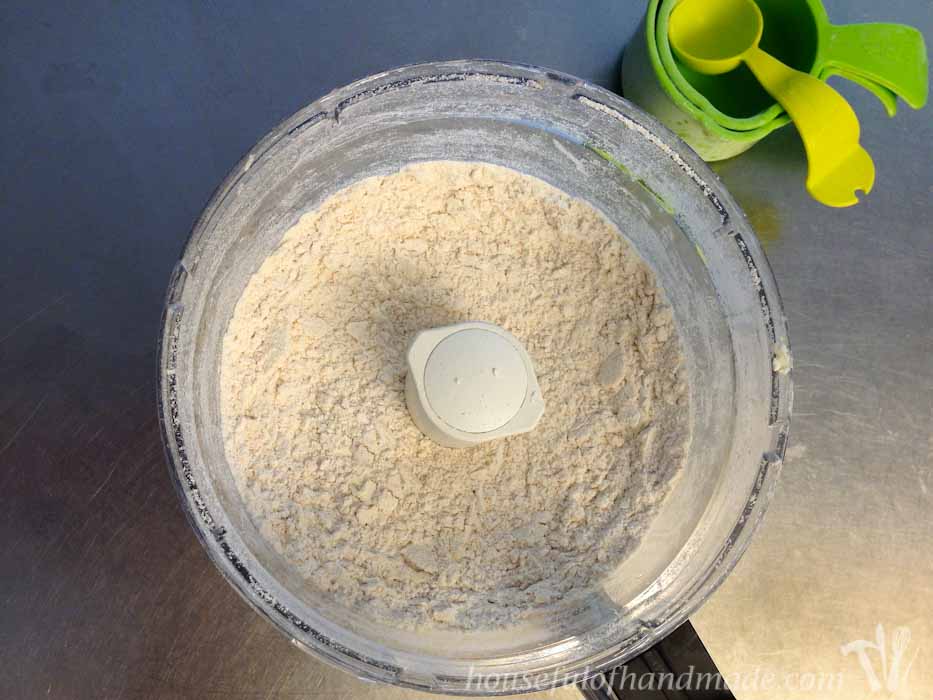 In a small bowl, whisk together 1/2 cup buttermilk, 2 eggs and 1/2 cup pumpkin puree that has been strained of excess liquid. To strain the excess liquid out of the pumpkin puree, I put 1 cup of pumpkin puree in a square of washed muslin, then hang it and squeeze it slightly until you have 1/2 cup juice and 1/2 cup pumpkin puree. Don't throw out the pumpkin juice, you can use it to make delicious caramel pumpkin coffee syrup.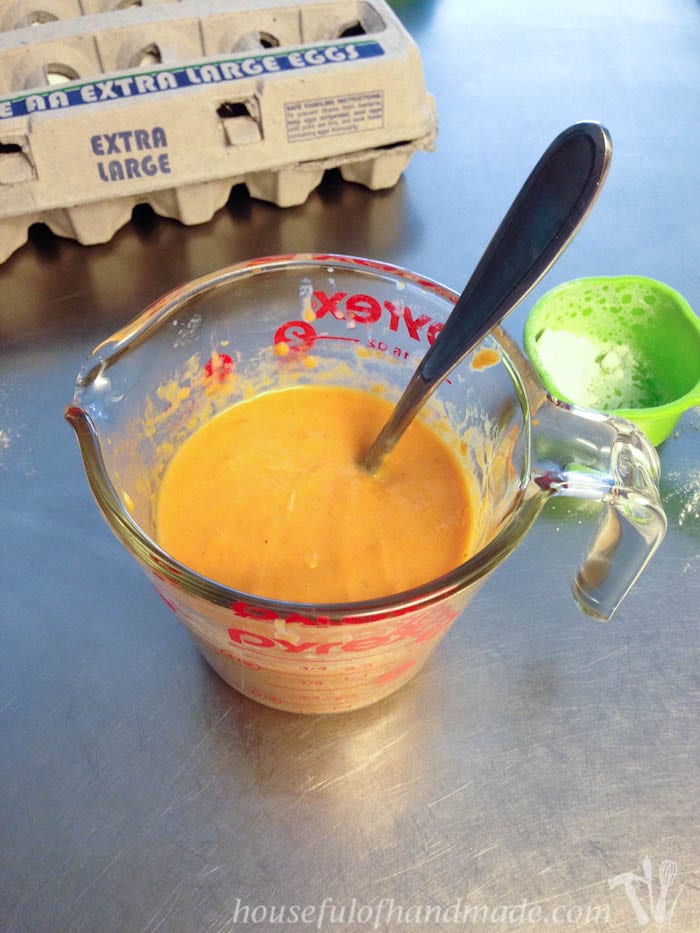 Pour the wet ingredients into the flour mixture and stir just until combined. If it's really dry, you can add 1-2 Tbsp more buttermilk to help it come together. Then toss in 8 fresh sage leaves that you julienned. Stir until it's mixed in.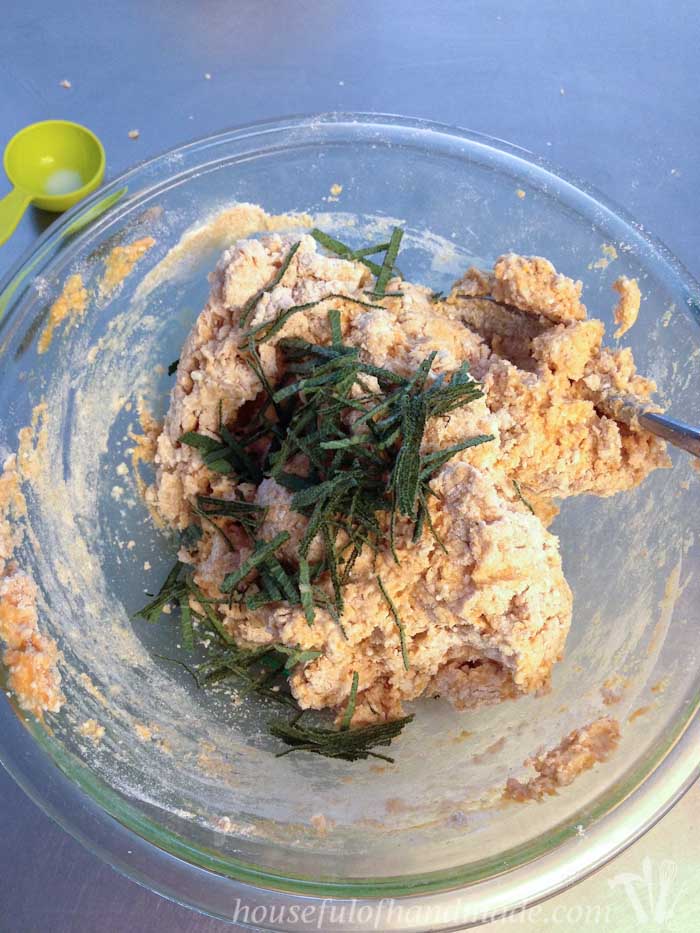 Turn dough out onto a floured surface. Then you will knead it the dough slightly. I like to pat the dough flat with floured hands, then fold the dough in half and repeat.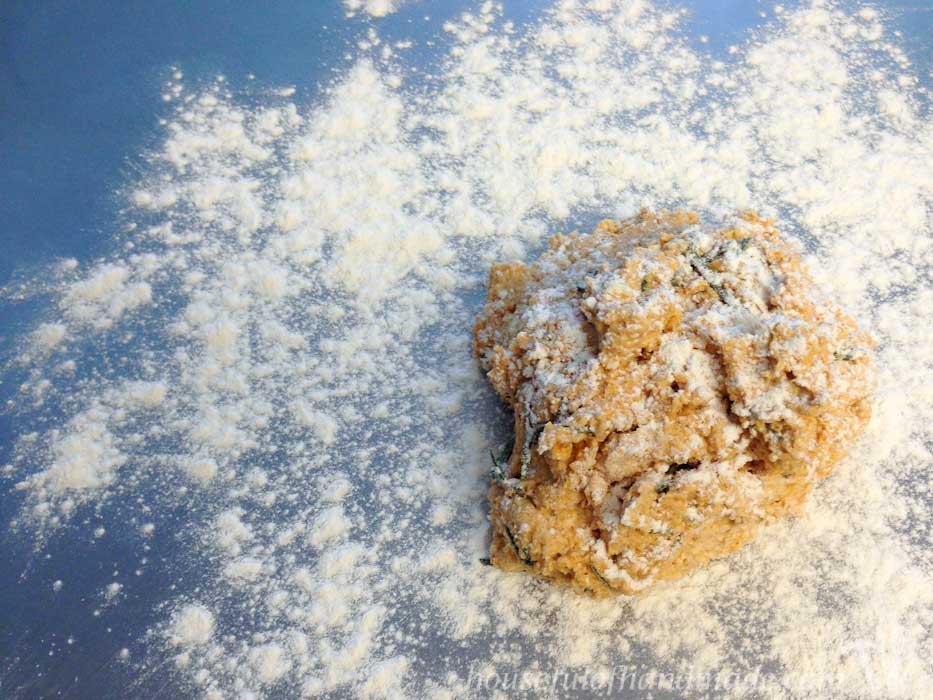 Cut the dough in half and shape each half into a circle about 3/4″ thick. Then transfer to a cooking sheet lined with parchment paper. Cut each circle into 6 wedges. Beat 1 egg till fluffy, brush the egg on top of the shaped dough.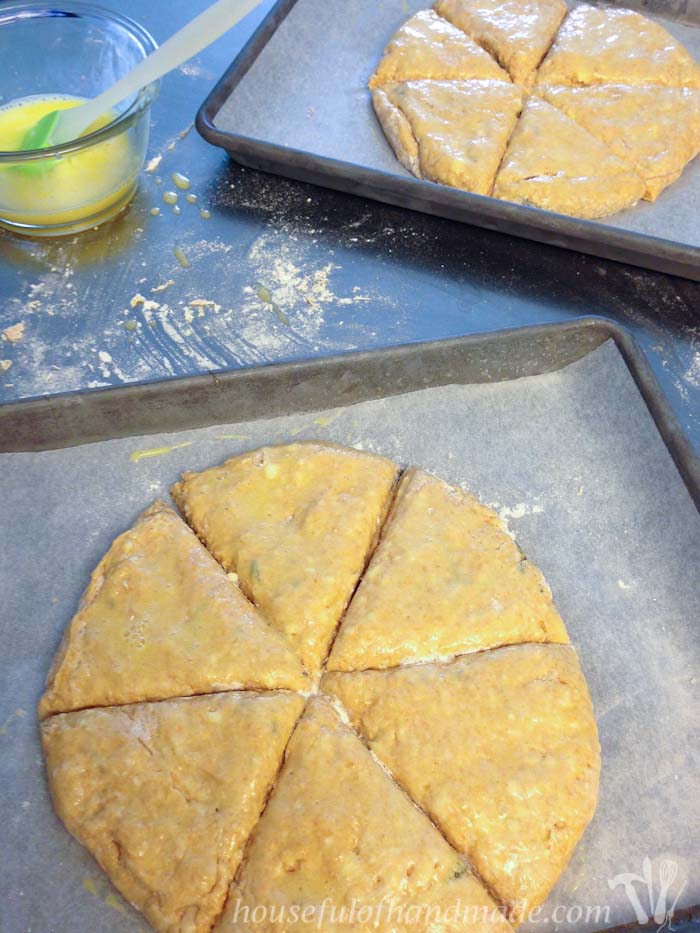 Bake in a 375 degree oven for 15-18 minutes, until golden and delicious!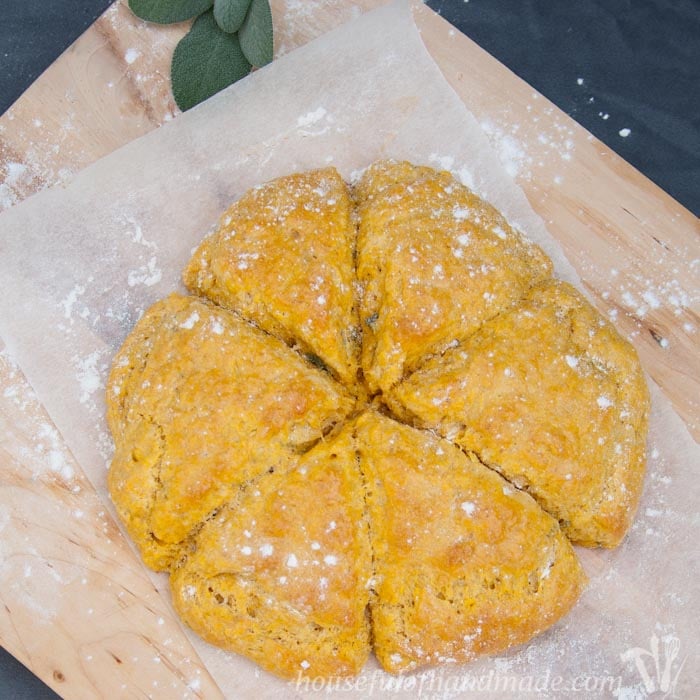 Don't these just look amazing? Serve them warm with your dinner.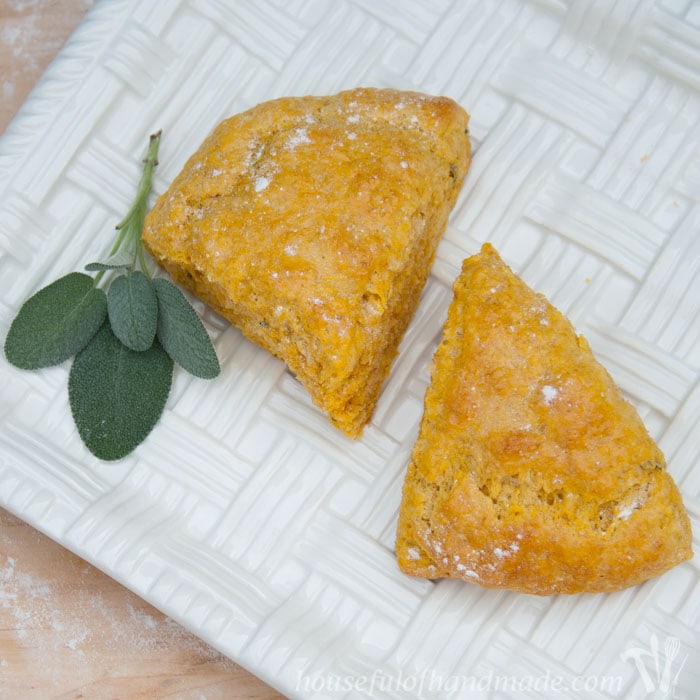 Now all I need is some cold weather so I can make a big pot of soup to go with these savory pumpkin sage scones! I just love soup and bread for dinner.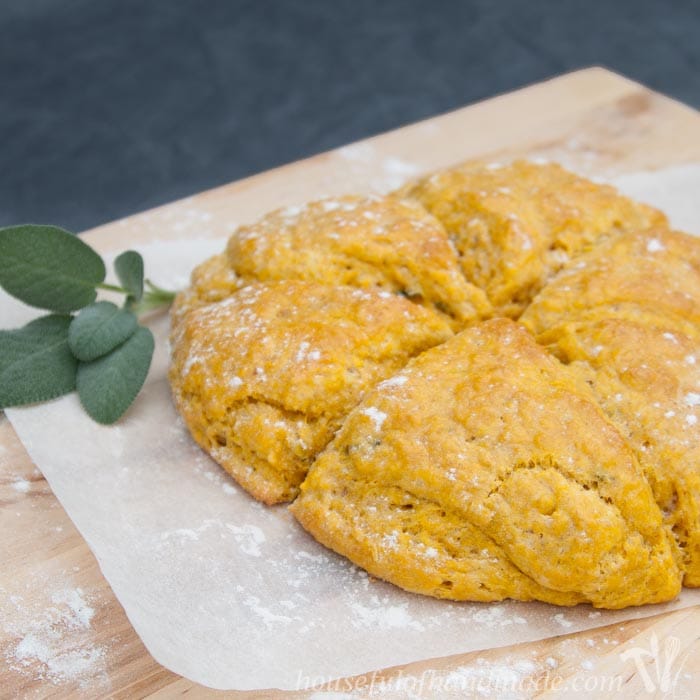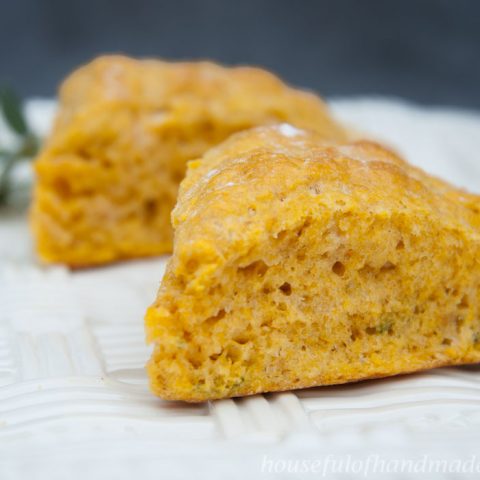 Savory Pumpkin Sage Scones
Yield: 12 scones

Prep Time: 10 minutes

Cook Time: 20 minutes

Total Time: 30 minutes

I love putting pumpkin in savory dishes. These pumpkin sage scones are the perfect side for dinner on a cold fall evening.
Ingredients
1 cup whole wheat flour
1 1/2 cups all purpose flour
1 Tbsp granulated sugar
1 Tbsp baking powered
1 tsp salt
1/2 cup cold butter
1/2 cup + 1-2 Tbsp buttermilk
1/2 cup pumpkin puree, drained of excess moisture
3 eggs
8 sage leaves, julienned
Instructions
Preheat oven to 375 degrees.
In the bowl of a food processor add flour, sugar, baking powder and salt. Stir it together, then add cold butter in small cubes. Process for a few minutes until butter is cut into small pieces into the flour mixture. Pour flour mixture into a large bowl.
In a small bowl combine 1/2 cup buttermilk, pumpkin puree and 2 eggs. Whisk until fully combines.
Pour pumpkin mixture into flour mixture and stir to mix. If mixture is too dry, add 1-2 more Tbsp buttermilk until flour can be mixed in.
Turn mixture out onto a a floured surface. Knead for a couple minutes by flattening the dough, then folding in half, during with flour then repeating a few times.
Cut mixture in half and pat into two circles, about 3/4" thick. Place circles of dough on parchment paper on a sheet pan. Cut each piece into 6 wedges.
Scramble the remaining egg, brush on top of the dough.
Bake for 15-18 minutes, until top is golden.
Enjoy!
Isn't this the perfect way to welcome in October?