Last weekend we went camping, I was getting ready to make a loaf of bread to take with us for our lunches and decided I wanted something with a little more tooth to it. Going into the mountains, planning on lots of hiking, made me want a bread that would really give me tons of nutrients. So I opened my pantry and pulled out every grain, oat, and seed that I had in there. I thought about calling it "kitchen sink" bread because that's how I was feeling when I just kept adding bits of everything I could find. I am so glad I didn't let it stop me… because this whole grain seed bread is AMAZING!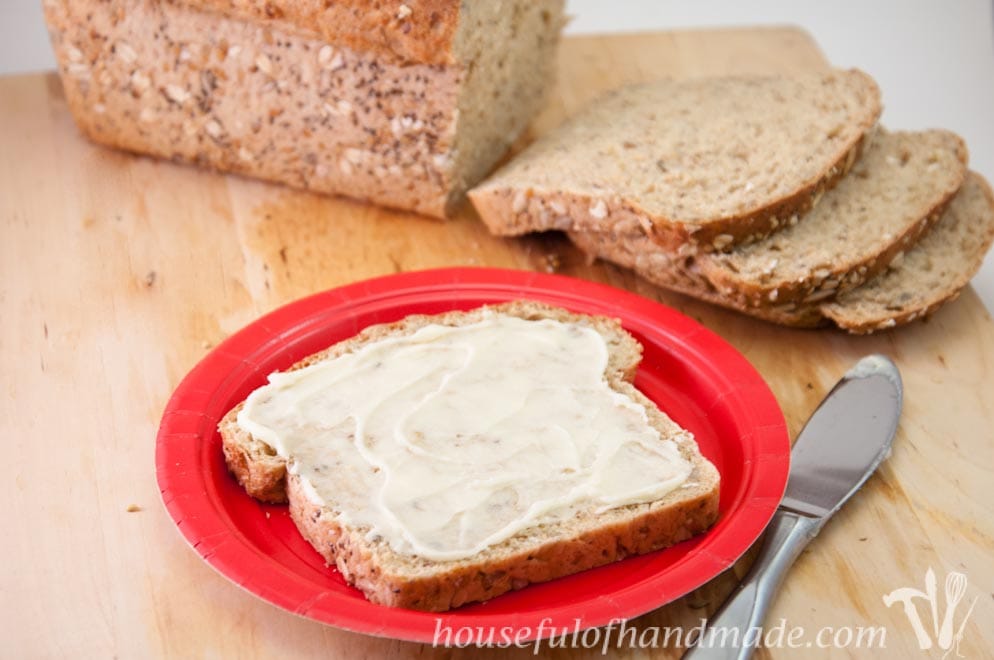 Seriously, I am so addicted to the soft chewy bread full of grains and oats and seeds. It isn't a heavy bread like so many can be, it just has a nice tooth to it. It was perfect for making sandwiches, or just slathering it with some PB&J or even just jelly. Tonight for dinner we used it for our chicken salad sandwiches and loved it all over again.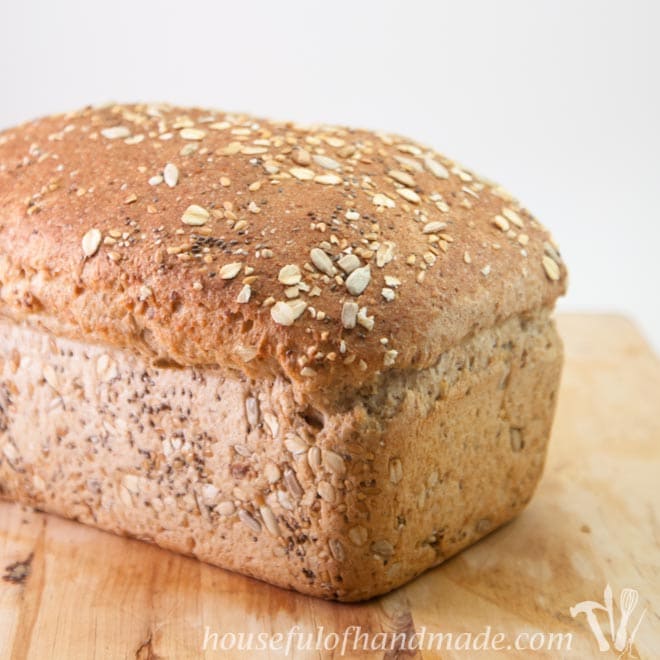 I used my favorite whole wheat sandwich bread recipe to start out. And the method is very similar so I am not going into crazy detail about my process. Go ahead and read this very picture heavy post for all the tips and tricks I have to share about making the perfect loaf of bread, then come back here and see how I made it even better with lots of delicious goodness 🙂
Please don't be scared off by the long list of ingredients. The best part of this bread, you can use what you have, just add a little extra so you can balance out the total volume. It's a surprisingly forgiving bread once you get the basics down 🙂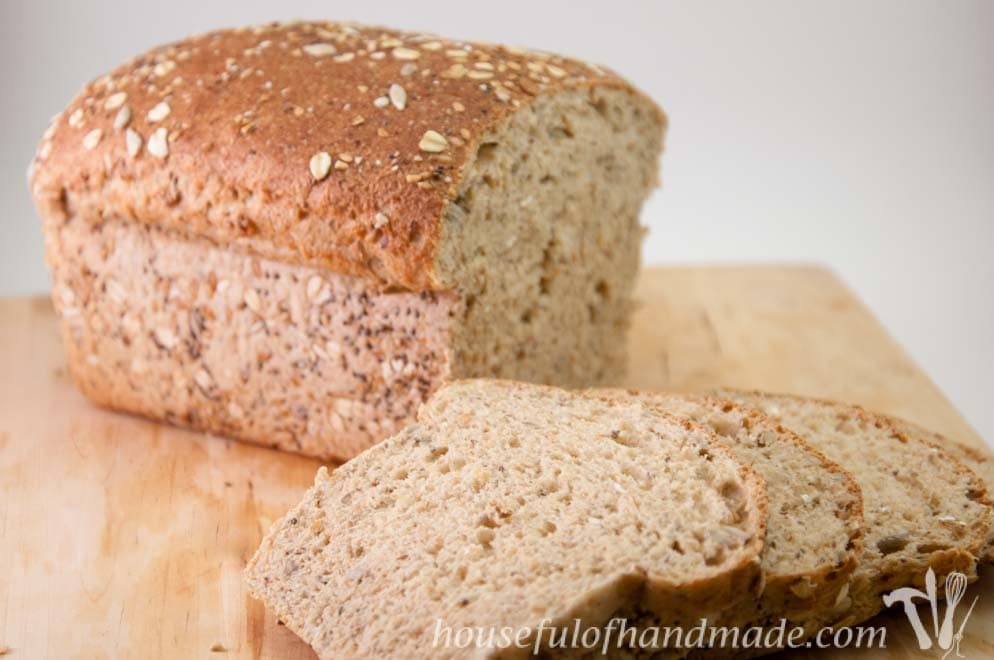 To start, you will put 3 1/2 cups whole wheat flour, 1/3 cup vital wheat gluten and 1 1/4 Tbsp active dry yeast into the bowl of your stand mixer, fitted with the paddle attachment. Mix it all together and then add in 2 1/2 cups of warm (125-130 degrees) whey. I have been using whey in all my bread making since I have it in my fridge left over from making my own Greek yogurt. But if you don't have it, go ahead and use water. It's still delicious! Beat the mixture on medium for 1 full minute. It should start to get stringy. Then cover with a clean towel and let it rest for 10 minutes, until it's all bubbly.
While it rests, go ahead and toast your rolled oats and steel cut oats. I put 1/2 cup rolled oats and 1/4 cup steel cut oats into a pan on the stove and turn it to medium high. Then I shake it around frequently while the oats warm and toast. It will take about 3 minutes. You will know when they are done when they start to darken in color and smell nutty.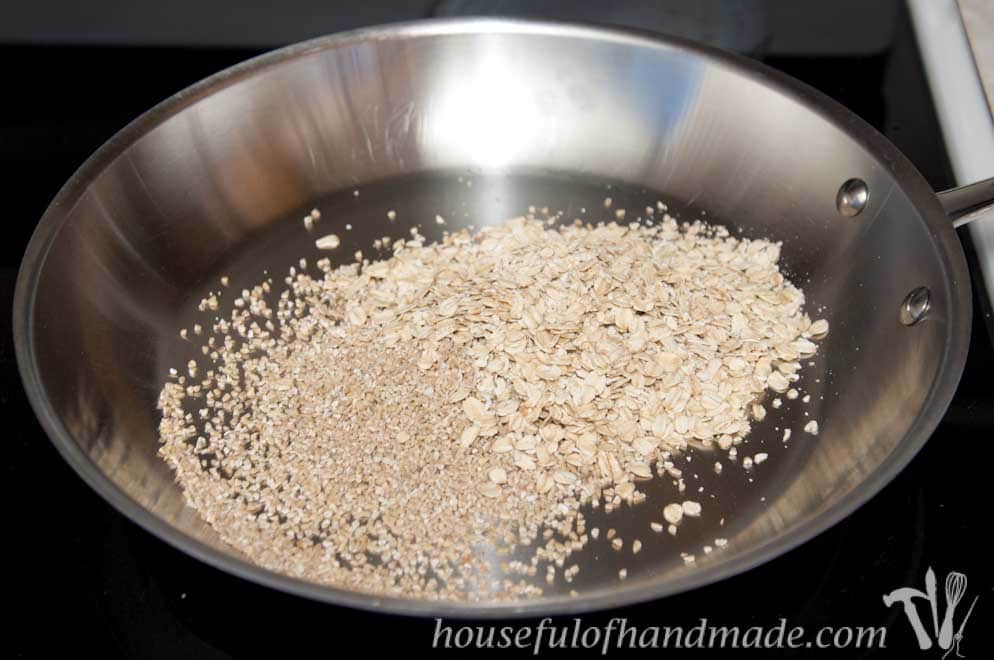 Then you will want to make some oat flour if you don't already have some. I do this by throwing a couple cups into my blender or food processor and giving it a whirl until it resembles flour. I usually do a couple big batches and store it in an airtight container in the pantry. Adding the oat flour into pancakes, muffins, and cookies can give them a fun nutty texture.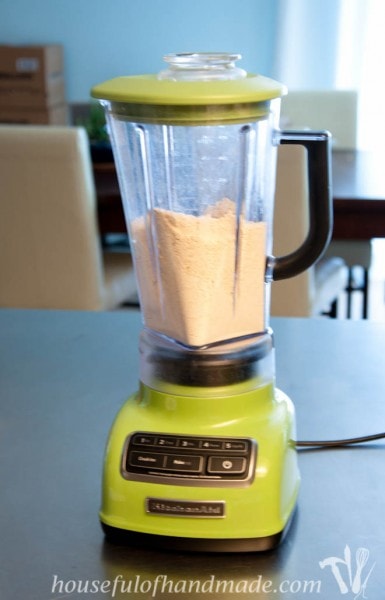 When the bread is done resting, add in 1/2 cup brown sugar, 1/3 cup olive oil, 1 Tbsp salt, and 1 1/4 Tbsp bottled lemon juice. Mix it all together then beat again for 1 minute at medium speed.
Now is where we get a little crazy… add 1/2 cup oat flour, 1/4 cup ground flax meal, and 1/4 cup wheat germ to your dough. Mix it in good then it's time to switch out your paddle with your dough hook.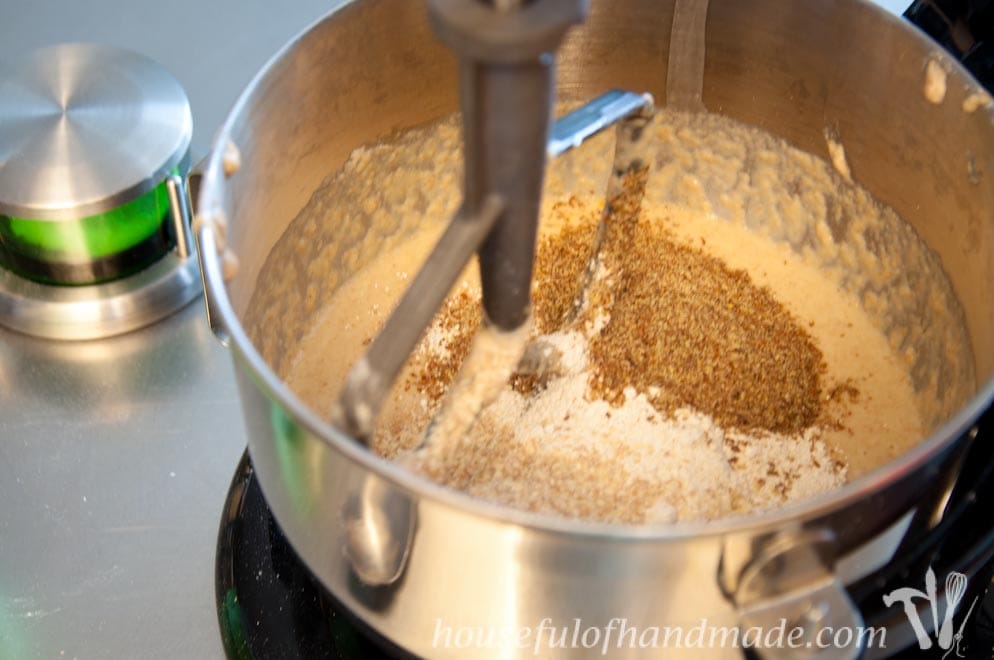 Mix your toasted oats, 1/2 cup sunflower seeds, 2 Tbsp chia seeds and 2 Tbsp flax seeds in a small bowl. Then pull out 1/4 cup of this mixture and set aside. Add the rest to your mixing bowl and mix it together.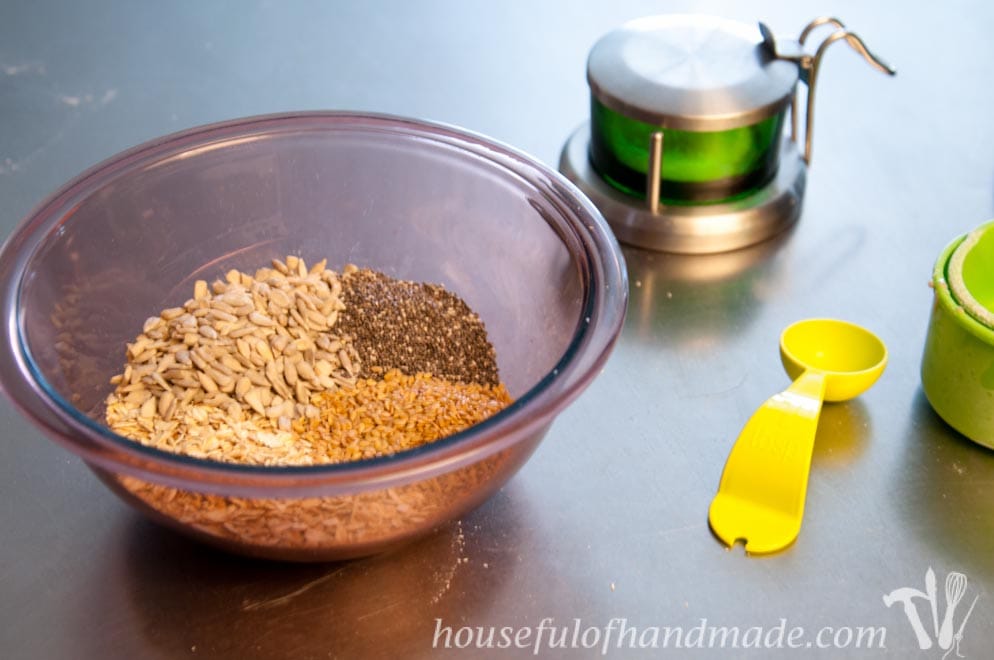 Now start adding in your flour. I start with 1 cup and knead that in. Then 1/2 cup, then by 1/4 cup or less until the dough starts pulling away from the edges. This mixture is very sticky and takes a little more patience to get it to pull away and knead into a ball. But just keep scraping down the sides of the bowl and be patient so you don't add too much flour. This is how mine looked when I stopped adding flour and just kept kneading it while scraping the sides down.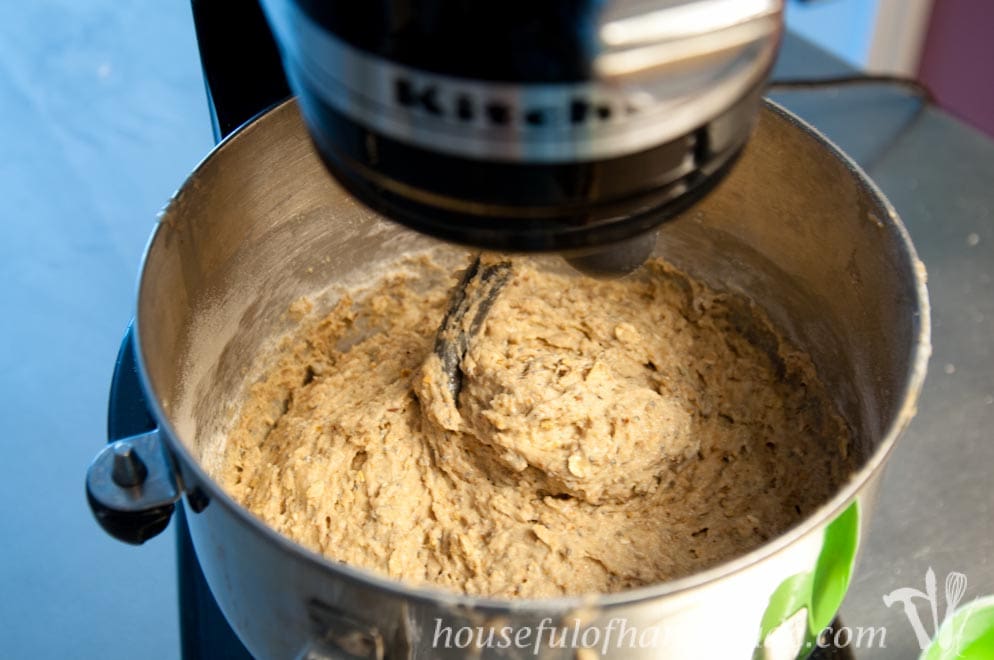 Keep kneading for about 5-8 minutes. It will start pulling into a ball. This dough will not become as smooth on top as the other one because there is a lot of texture in the dough. But it will look very pretty when it's all baked. This is how it looked when I stopped kneading it.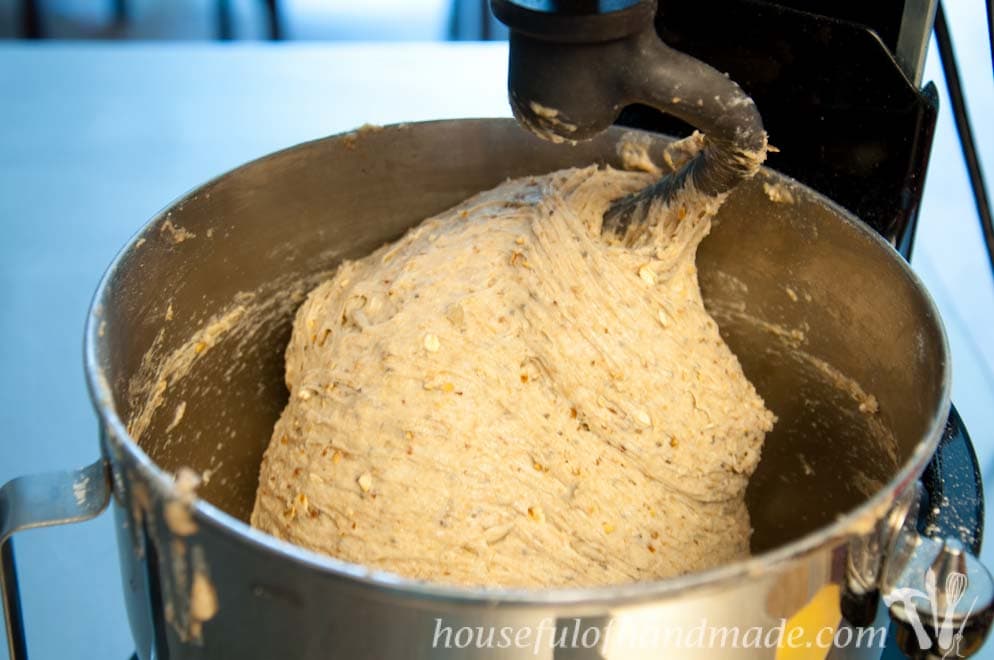 Now turn the dough out onto an oiled surface and roll out into a log. Cut the log in two with a pastry cutter or bread knife.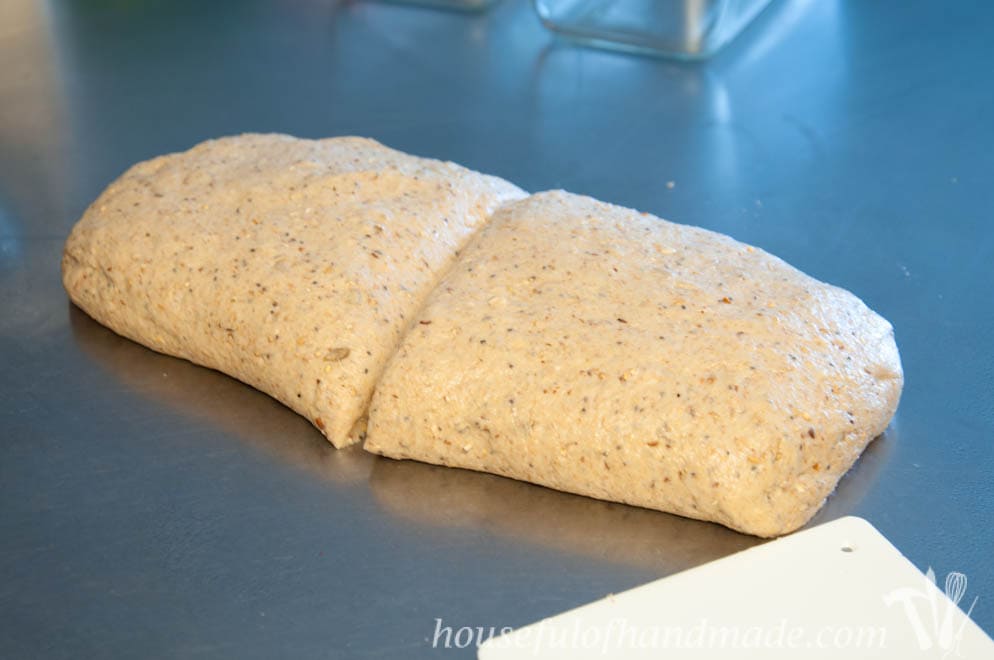 Move one section of the dough aside. Then pour 2 Tbsp of the reserved oat/seed mixture in front of the bread dough.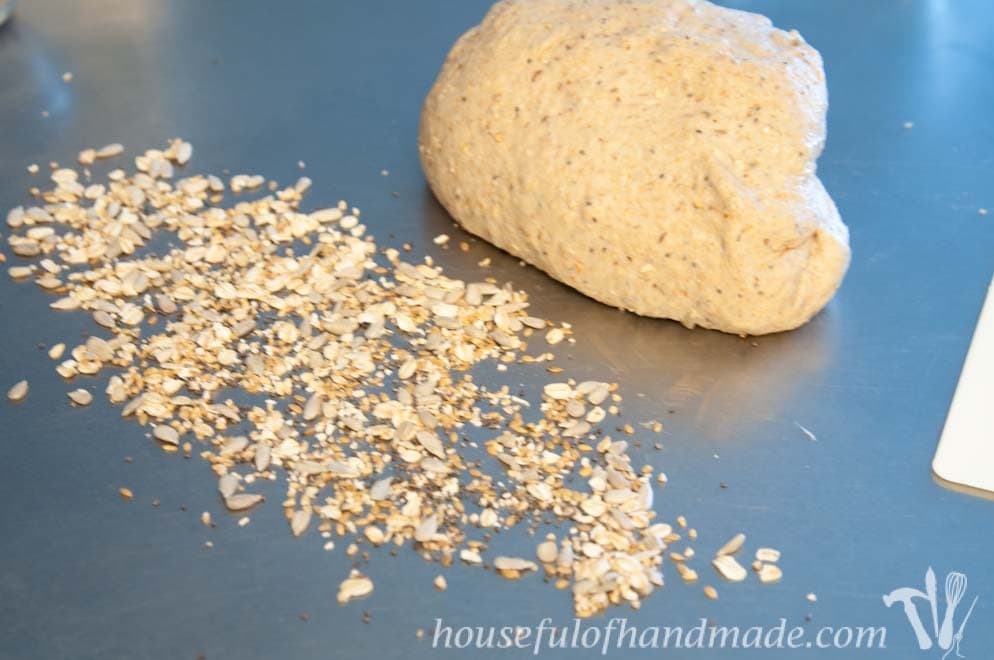 Roll your log of dough around in the oats/seeds until it picks up all of it and the dough is evenly covered.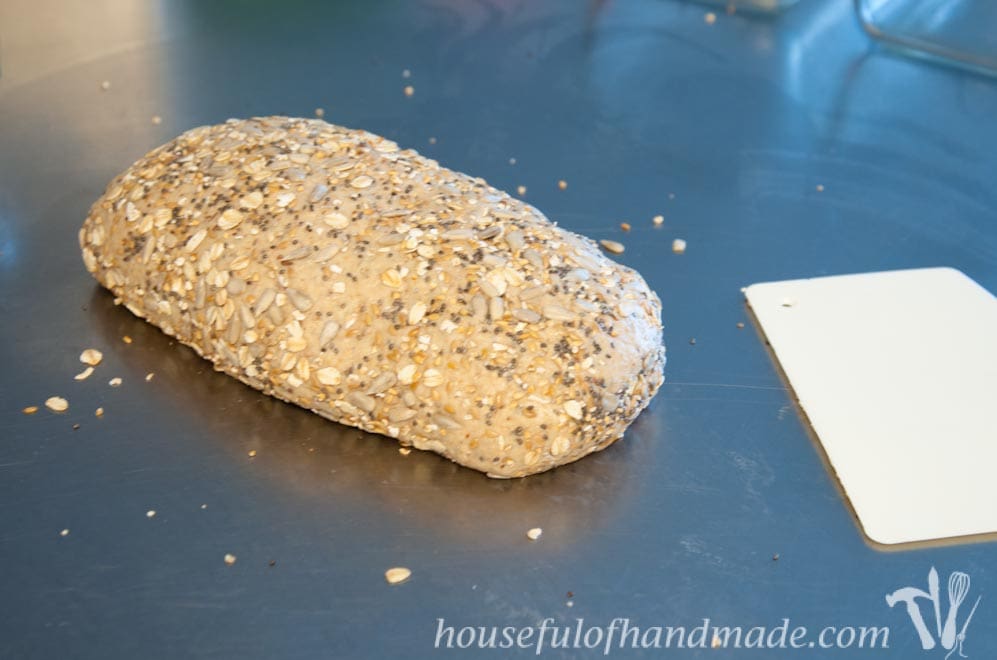 Place it in a well greased 9 in bread pan and then repeat with the other half of the dough and remaining 2 Tbsp of the oat/seed mixture.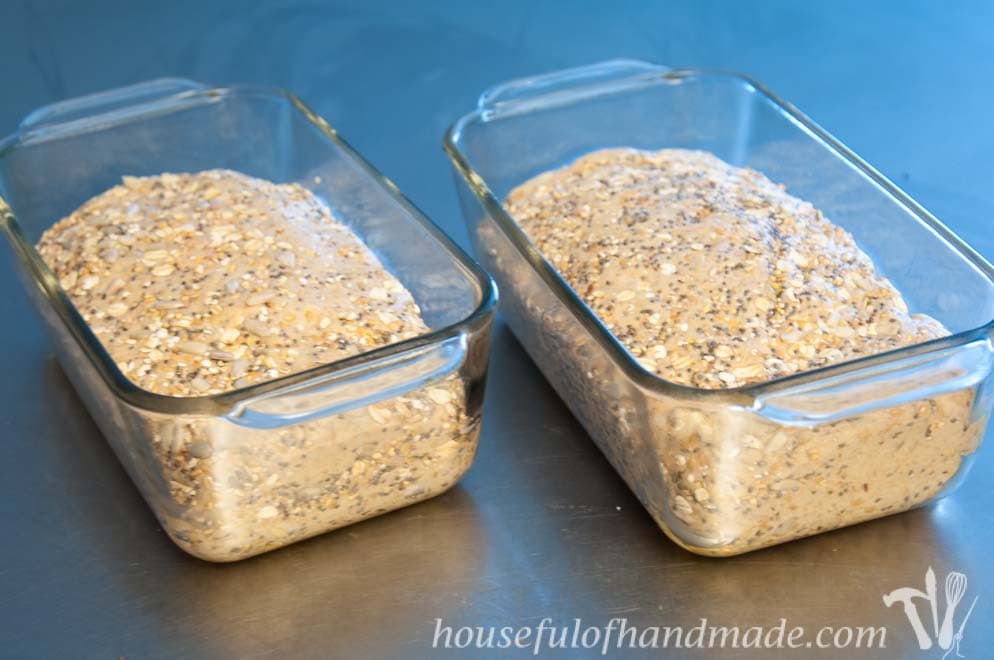 Place these in a warm oven (no hotter than 100 degrees). I do this by turning on my oven to preheat for 1 minute then turning it off. Then my oven is the perfect warm, draft free place to raise bread! Let it raise for 15-20 minutes in the oven until the bread is risen to just the top of the bread pan. Now turn on your oven to preheat to 350 degrees while the bread is still in it. Set your timer for 30-35 minutes (my oven preheats slowly so I need to bake it for 35 minutes). The bread will finish raising as the oven preheats, then cook.
When your bread is done, immediately remove it from the bread pans and allow it to cool completely on a wire rack. If you try to cut into your warm loaf, it will just smoosh the whole loaf. It will still taste good, but I promise, if you can be patient for a couple hours it will look good too 🙂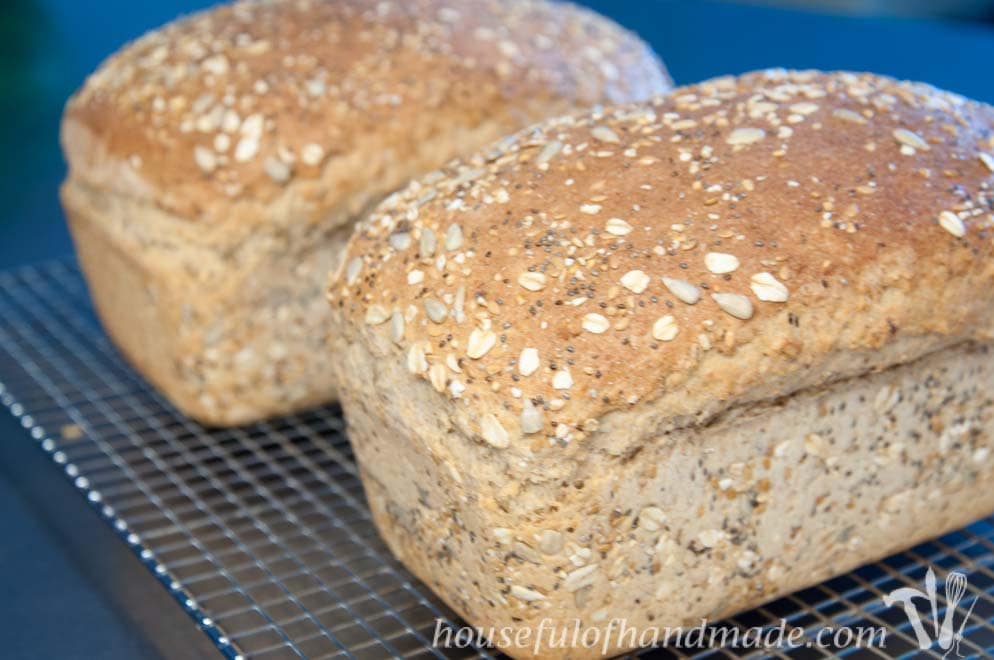 Now that is a loaf of bread that makes me smile!
I've been enjoying it with a little honey butter on it lately. Or toasted in the morning with smashed avocado on top! This bread is my new favorite bread and my kids love it too, win win!