I know I just got done decorating for fall, but it is October already so it's time to decorate for Halloween. Our family is a little crazy for Halloween. My kids start planning their costumes in the summer and then beg me to decorate as soon as they start seeing Halloween decorations in the store (which is pretty darn early). Personally, I love decorating for Halloween. Turning our home into a spooky, spider-covered haunt is so much fun. And since our kids love spooky decor too, we really get into it. This year I used a bunch of DIYs from years past to put together this spooky apothecary Halloween mantle and I'm so excited to share it with you.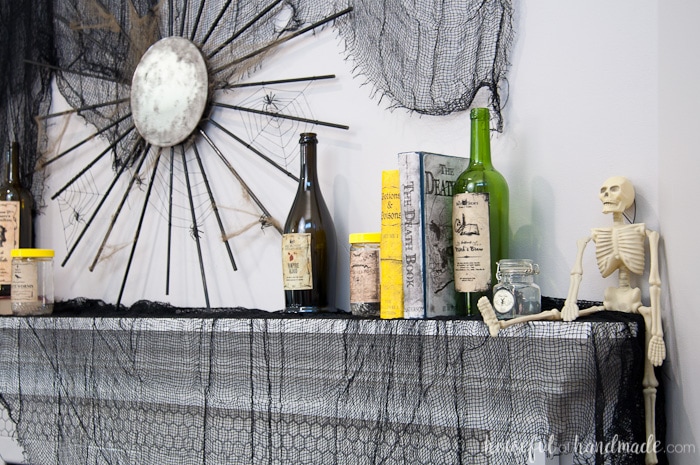 Growing up I remember my mom always having a box of seasonal decor for every holiday. Most of it was hand painted by mom. As each new holiday approached, I loved seeing my favorite decorations come out as well as some new ones. Maybe this is why I am such a sucker for seasonal decor. It makes the home so fun. This is one tradition I am happy to continue on with my kids.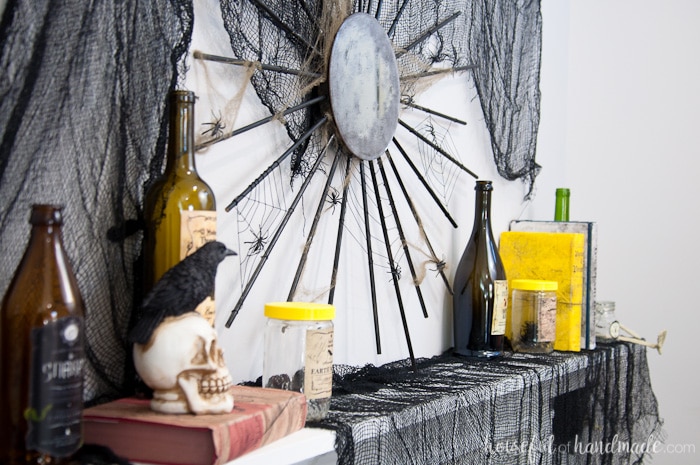 When I had my husband help me pull out all the Halloween decor boxes from our garage storage, the kids realized what was going on. They couldn't contains their excitement and were jumping around while I was trying to get all the decorations unboxed. It always makes me laugh that our kids love all the spooky Halloween decorations. They love bones and graveyards, skulls and spiders. So our spooky apothecary Halloween mantle made them super happy.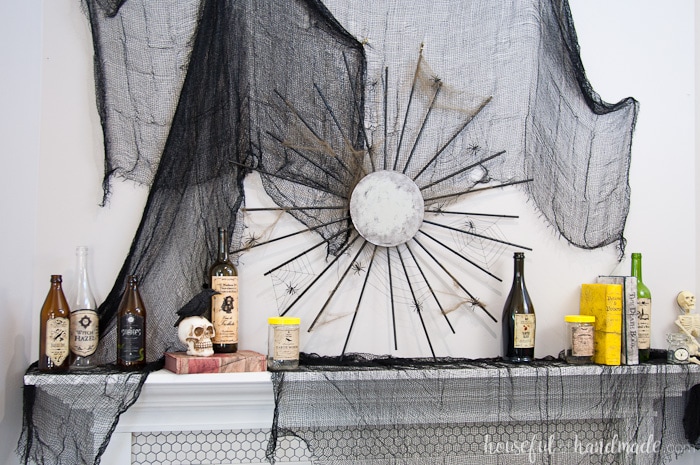 This post contains some affiliate links for your convenience. Clicking these links will help support this blog so I can keep creating things to share with you, but you will never pay more by using an affiliate link. Click here to read my full disclosure policy.
I started by draping some creepy cloth on the wall above the mantle and across the mantle. I love this stuff for decorating for Halloween (and for mermaid themed birthday parties). We also drape it all over our front porch for an extra creepy Halloween entrance. I purposely made sure it was super uneven (but balanced). I think the asymmetry of it makes it more authentic.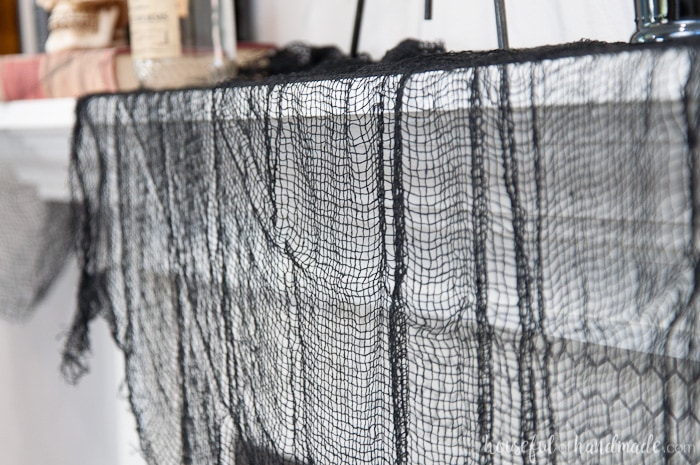 Then I pulled out the spiderweb covered Halloween sunburst mirror that I made last year. I love that this piece looks like it was a decor piece that hung in an old home until it went to into disarray. It comes full of spiderwebs and a "dirty" scratched mirror.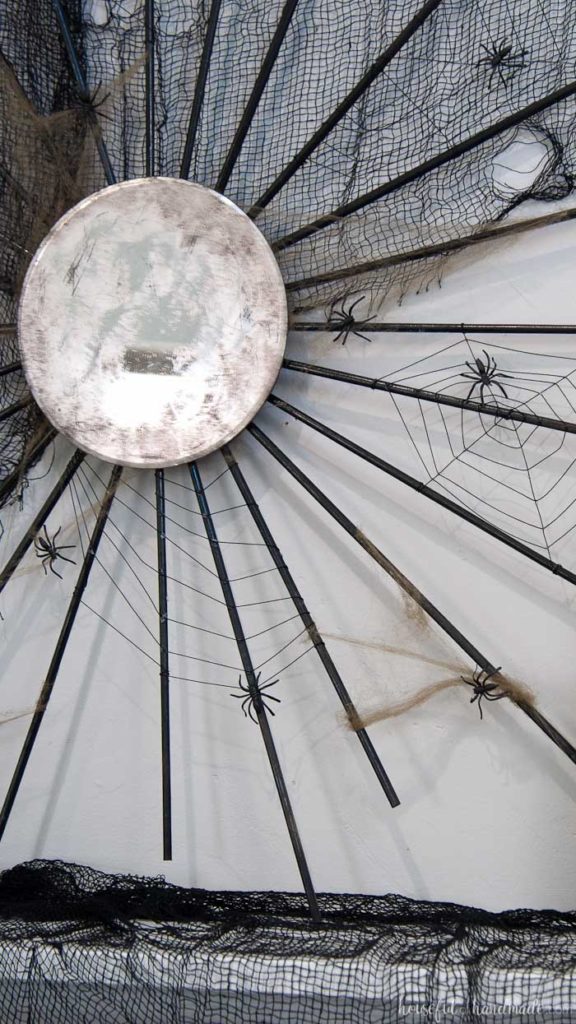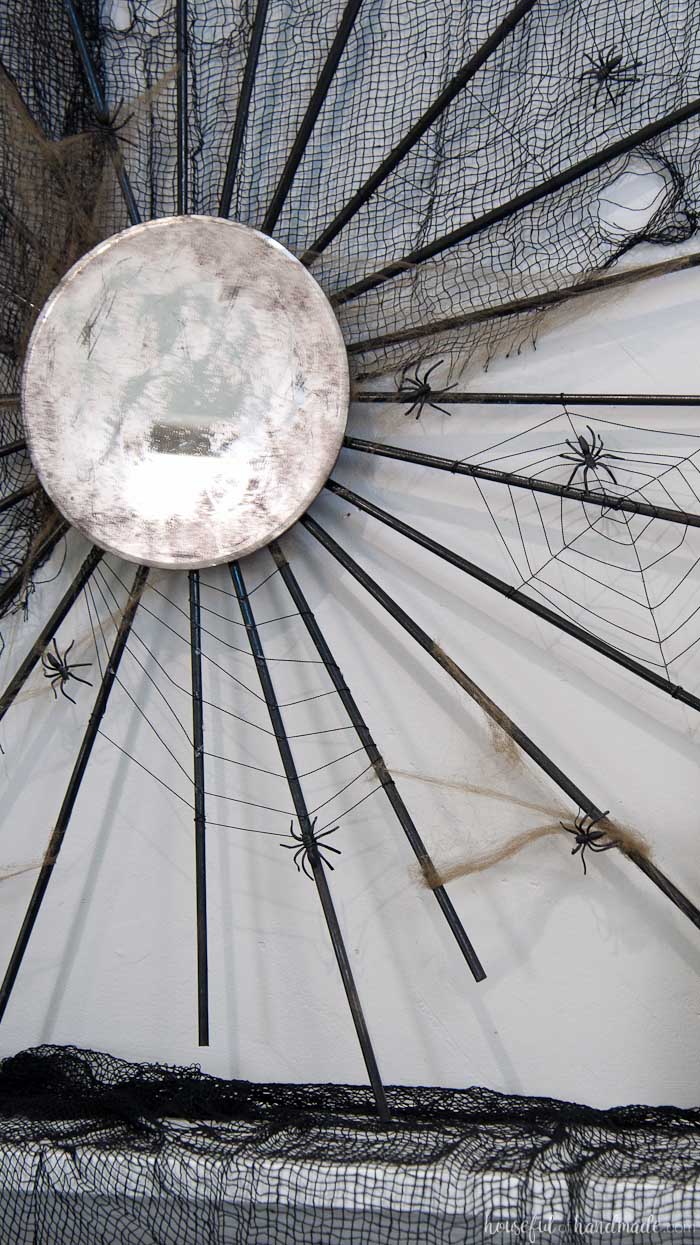 Next I added the spell books we made last year. Every apothecary has to have their books of the trade and this apothecary must specialize in the dark arts. My son's favorite book is the Death Book, but I am partial to the book of Potions & Poisons. Either way, they definitely add a little fun to our spooky apothecary Halloween mantle. And bonus, I shared the book covers as free printables so make sure to check them out.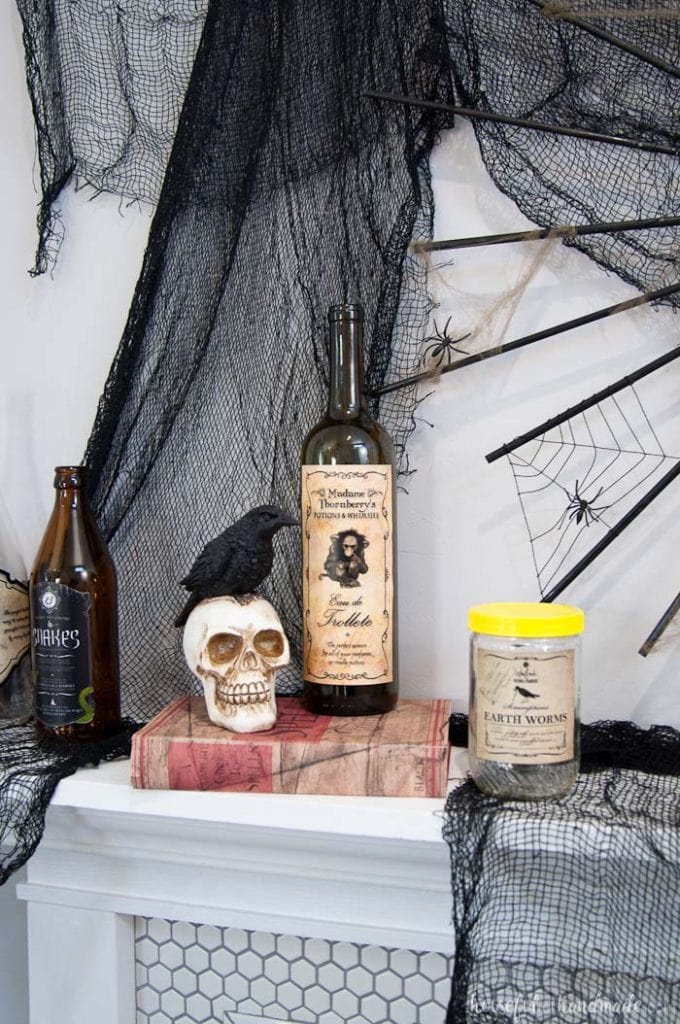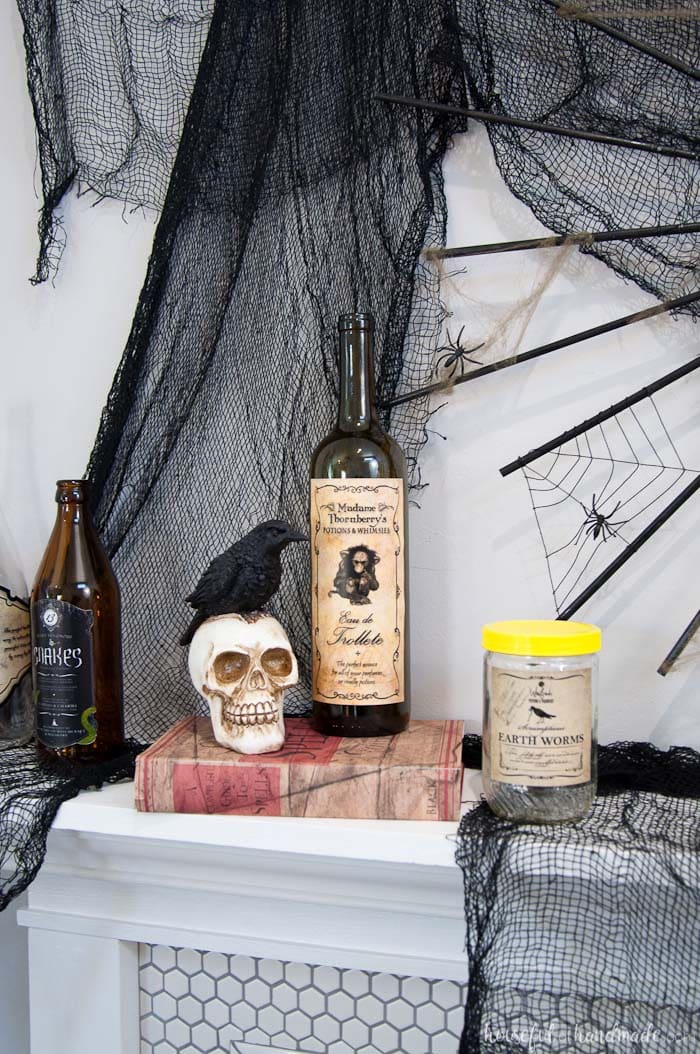 Now it was time for all the potion bottles. I made these potion bottles many years ago (way before I even thought about blogging). I don't remember where I found these labels, but there are so many amazing ones out there, just google apothecary labels and you will be able to find some that will work for your decor.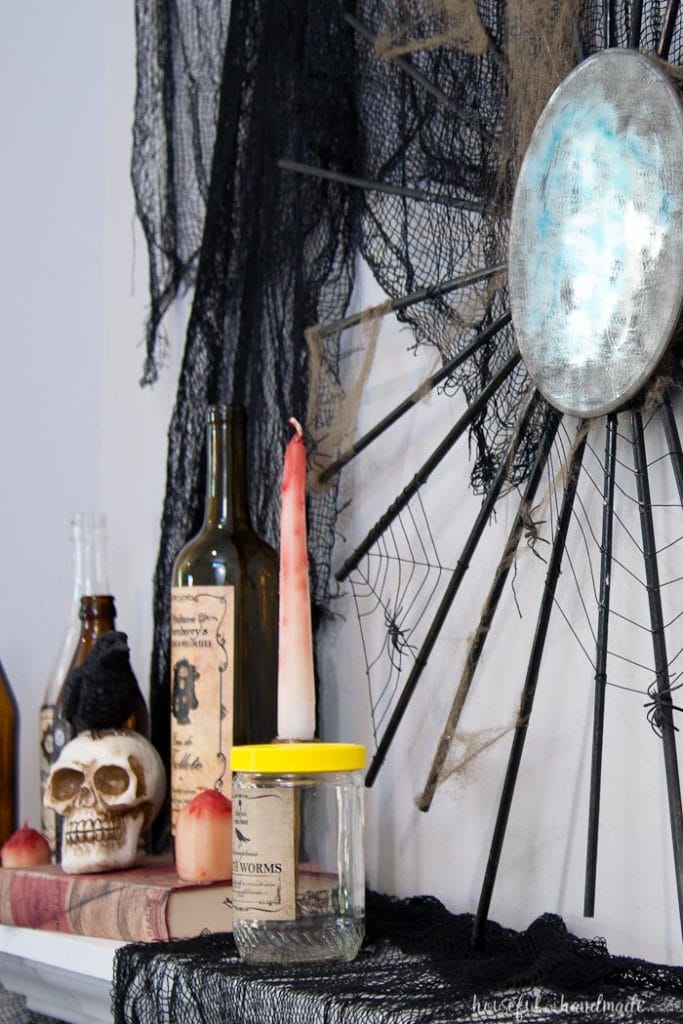 To make our apothecary jars, I used old wine bottles, root beer bottles, peanut butter bottles and I'm pretty sure there is a vinegar bottle in there too. I love the variety of different colors, heights, and shapes. I attached the printed labels with spray adhesive. This stuff is one of my favorite craft supplies that I also hate. It so easily gives the surface you spray it with a beautifully even coat of tacky adhesive that is pretty darn permanent (just like a sticker). But it also creates a cloud of that same permanent adhesive, so make sure to spray it outside, cover the surface you spray on, and scrub your fingers afterward because they will inevitably be sticky.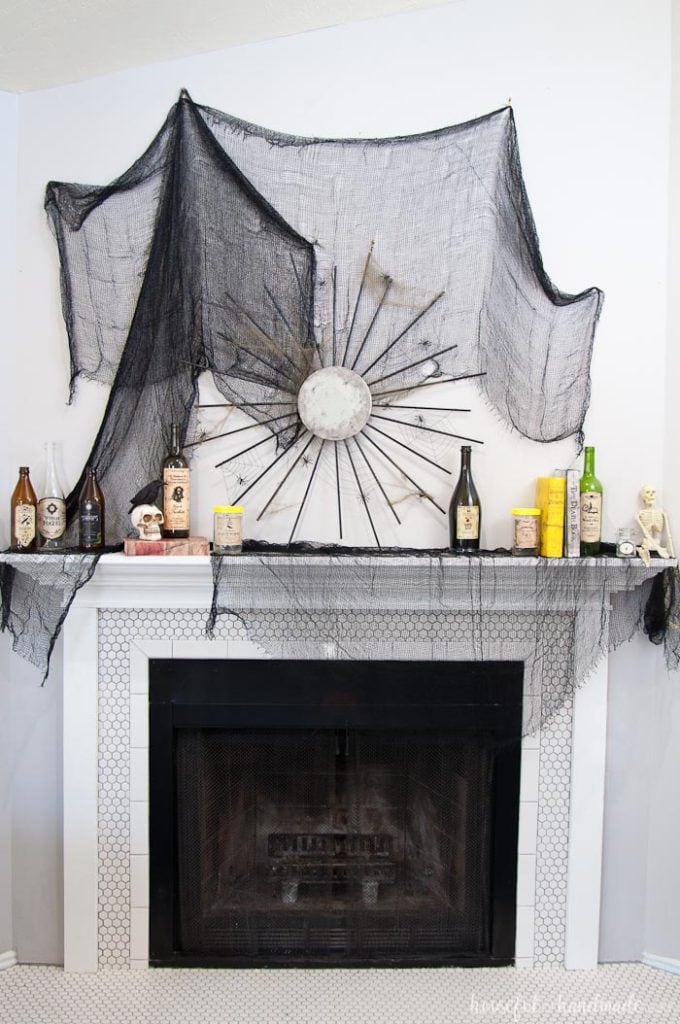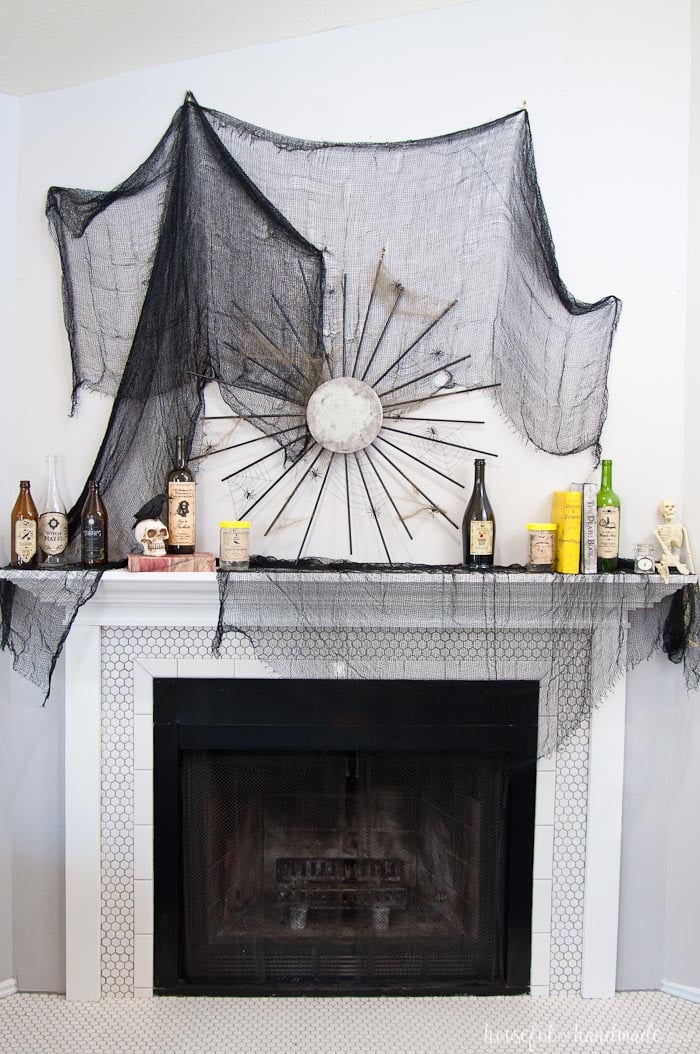 The spray adhesive adhered the labels to our bottles so well though, that 5 or so years later, they still look like new. So much for having them look old and vintage. Maybe if I let the kids play with them for an hour they will be worn and destroyed like everything else they touch.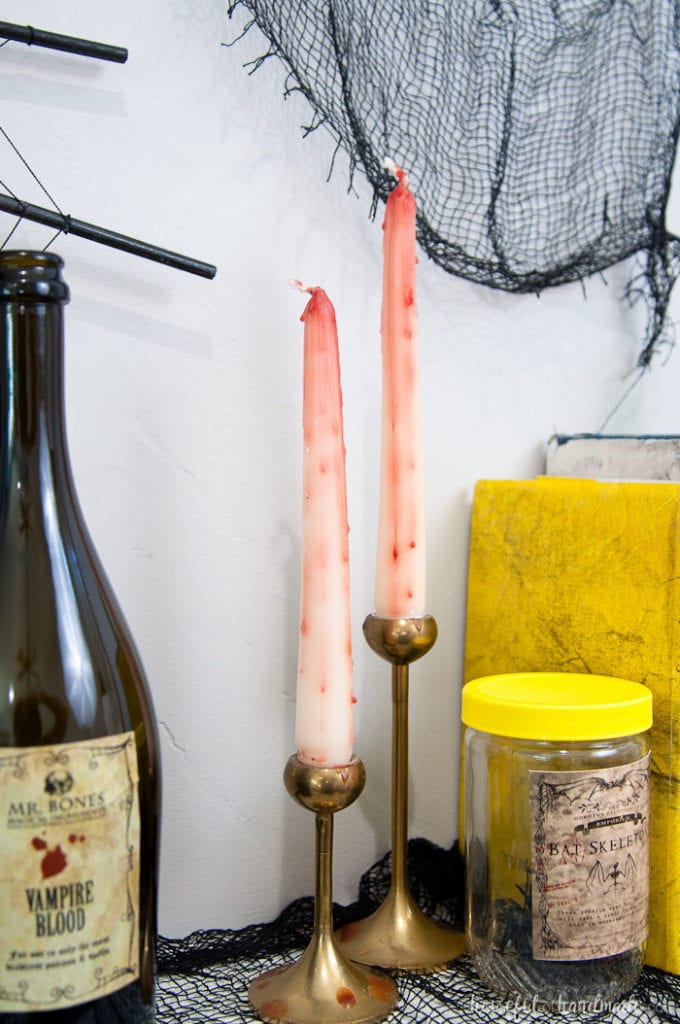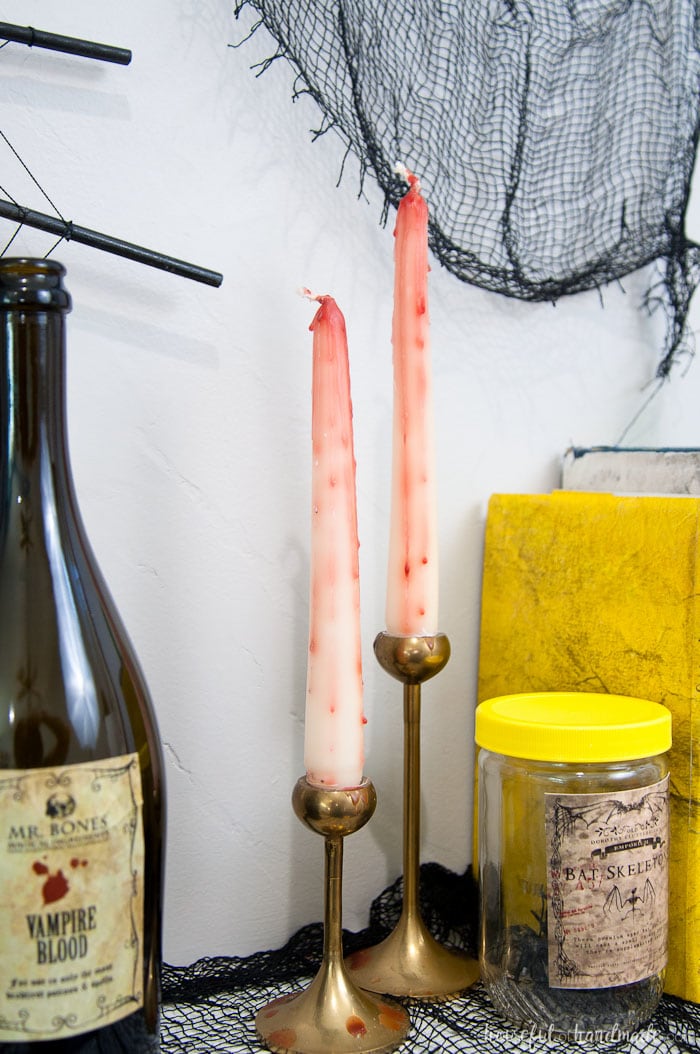 A dark apothecary isn't complete without some skulls and bones though. I found this crow on the skull at Michael's and just couldn't pass him up. Lucky for me it was 50% off Halloween that day so I felt justified in adding him to my ever growing pile of spooky decor.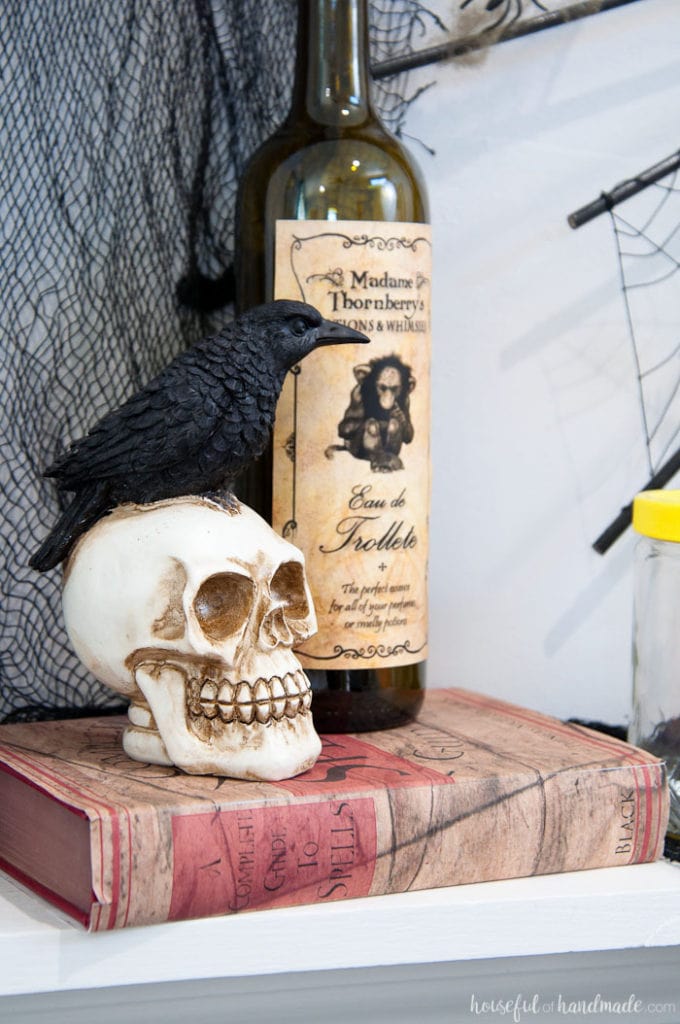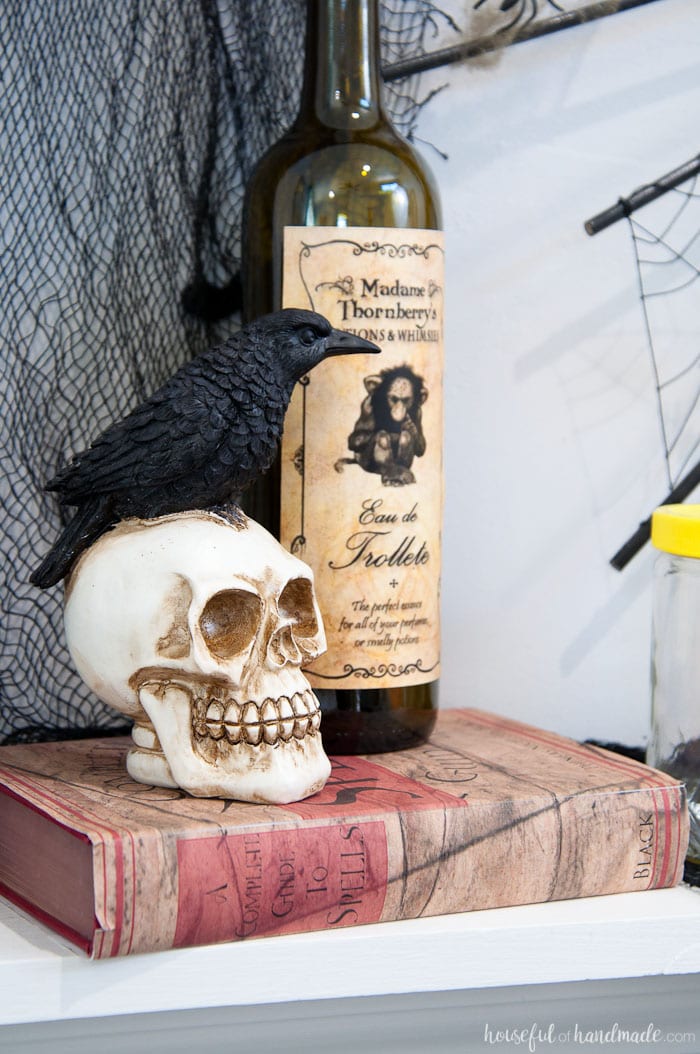 Then I decided I needed more bones, but luckily I found this little plastic skeleton at the dollar store. I keep thinking I need to create a little hangman's noose to hang him from, but that might be too spooky. What do you think? For now, I just have him nestled around the bottles and books as a reminder to everyone of what may happen if they mess with my potions.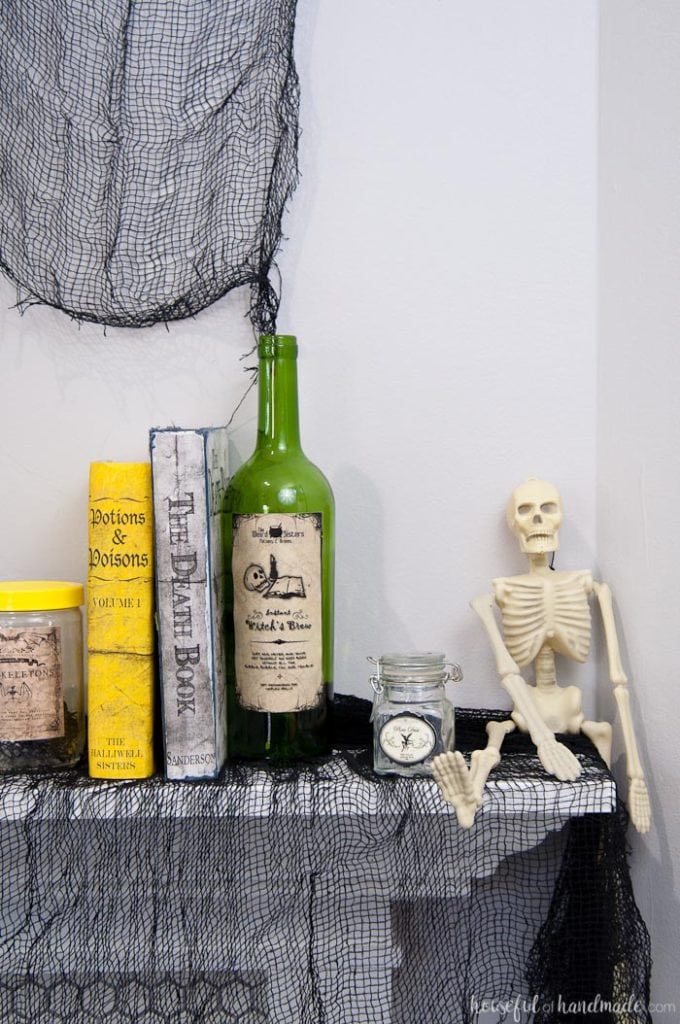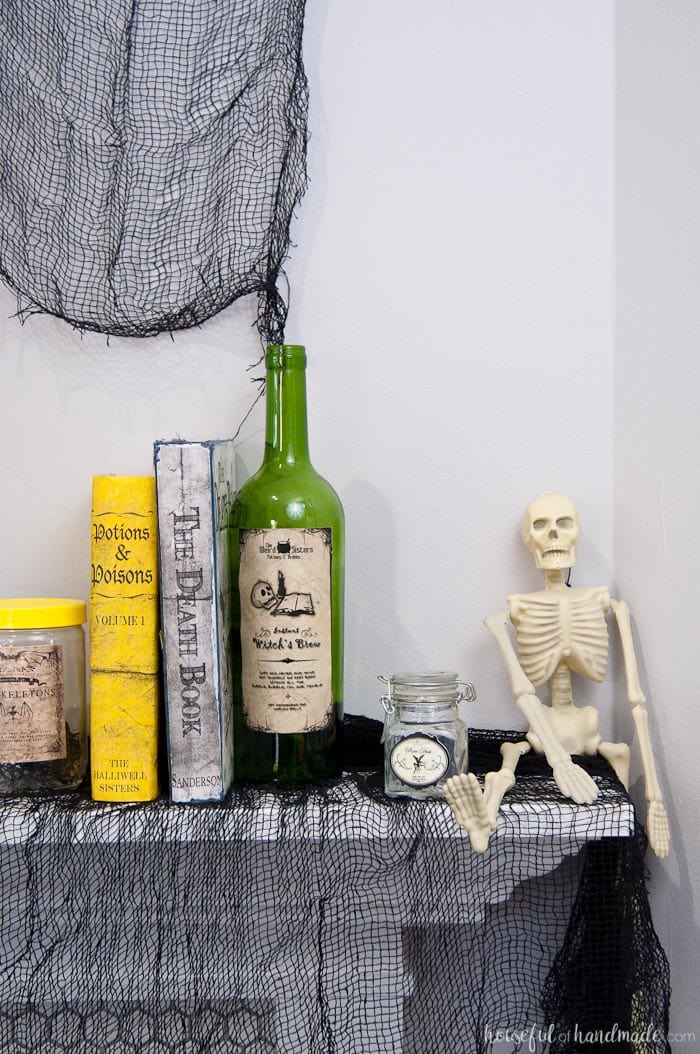 After I got the whole mantle put together and photographed I realized I forgot my bloody candles! After learning last year that our garage storage is too hot for storing candles, I stopped putting candles in my seasonal decor boxes. Instead I have a couple boxes of all my seasonal candles that are stored in a much more controlled climate: the basement. So I grabbed them out and added them to the mix. The red adds a little something that I didn't realize was missing until it was there. I made these candles many years ago based on this tutorial.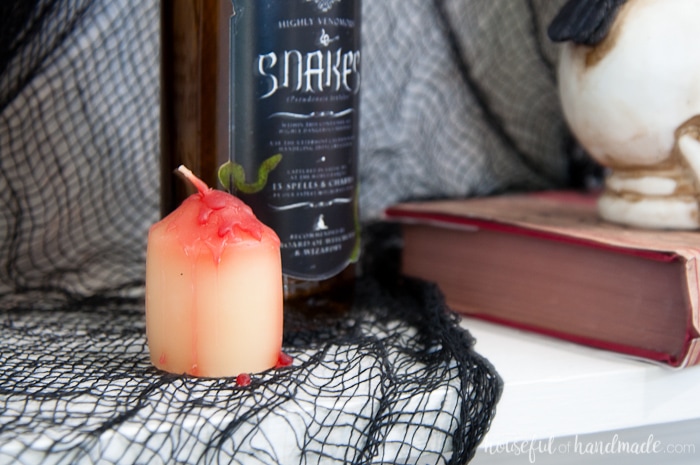 Now our spooky apothecary Halloween mantle is all done. This weekend I think we will start working on the front yard. We definitely need to put out our DIY Halloween lamppost and $3 Spooky Skull Ghosts. The kids think they are the best (and they had a blast helping make them last year).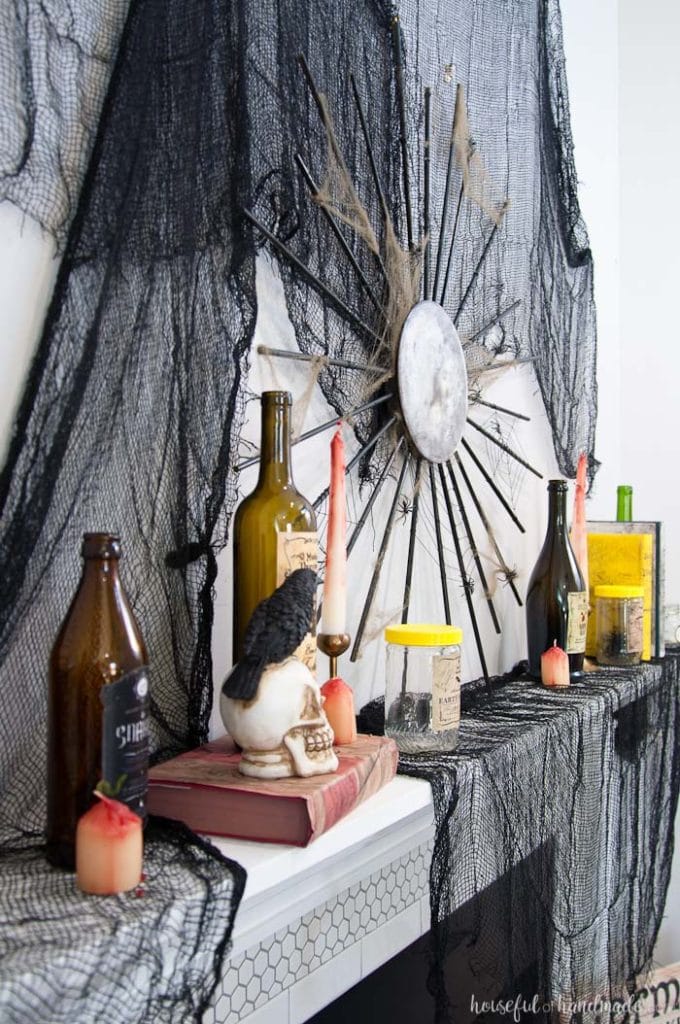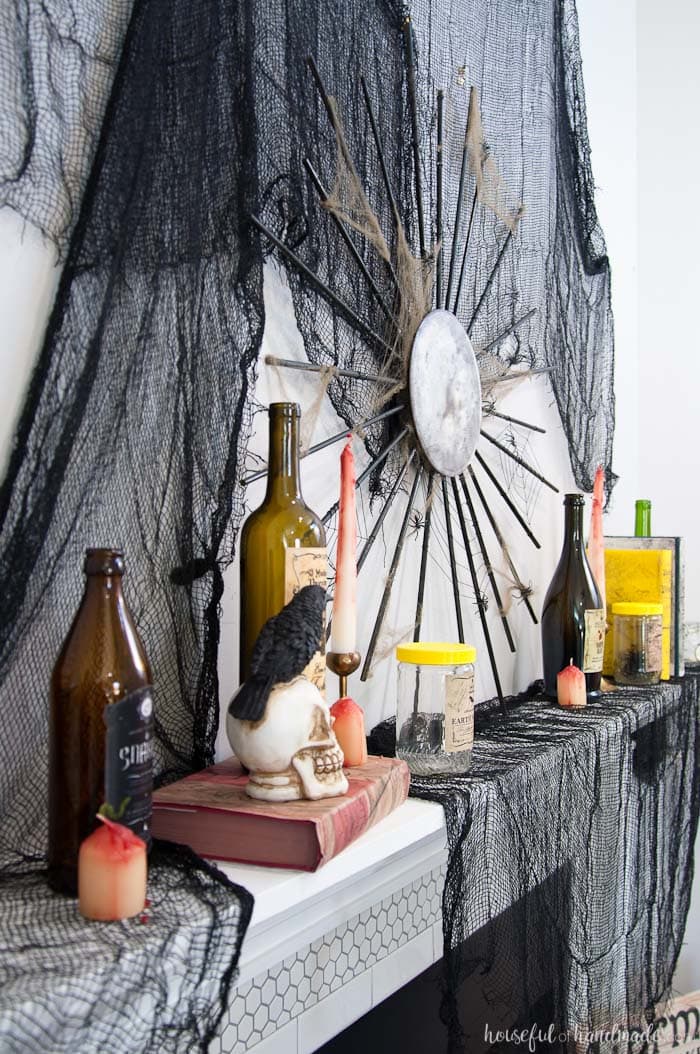 And if I'm lucky, I will be able to get a few more Halloween decorations made before I need to stop so I can get the kids costumes done in time to share them with you.
I hope you're having as much fun decorating for Halloween as we are.