I am not going to lie, I wanted to skip this week's Room by Room summer tour. The one room in my house that I do not love (yet) is our kitchen. But it is the one that we have had to wait to remodel, partially because I am afraid to be without the heart of the home for 2+ months, partially because kitchens cost a lot. Since we have been remodeling our entire house on a budget, this room has not been touched. However, I still decided to show you our summer kitchen & dining room tour.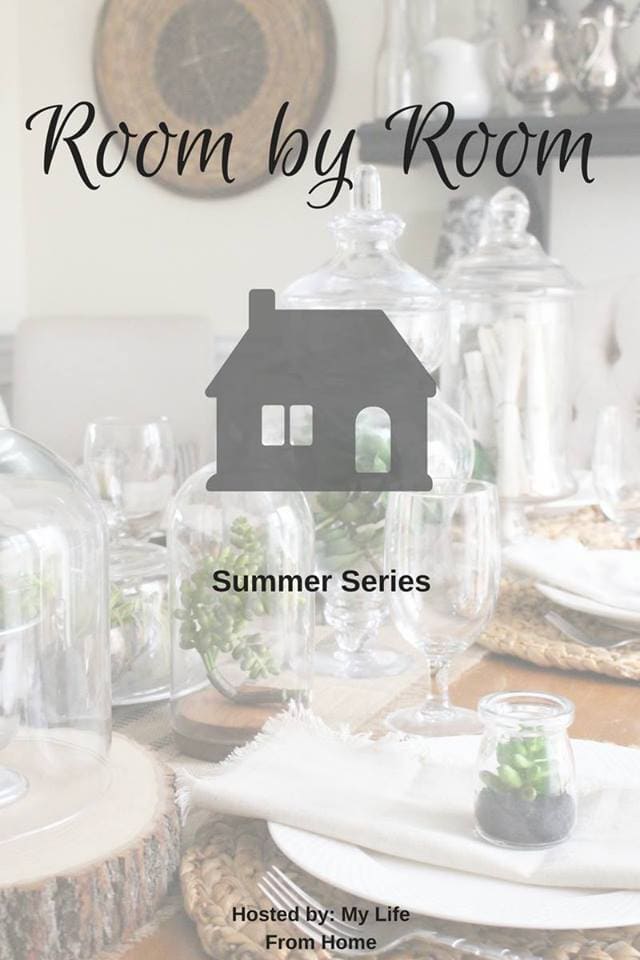 As I show you around our kitchen and dining area, I am excited to share the future plans for our kitchen. We are planning on finally tackling this room in the fall!!!!!! Seriously, was that too many exclamation points? I don't think it is possible to use too many when talking about a much needed kitchen remodel. The dining room is mostly done (a couple things we were waiting to finish when do the kitchen to make it easier). And then the rooms we spend most of our time in will finally be perfect!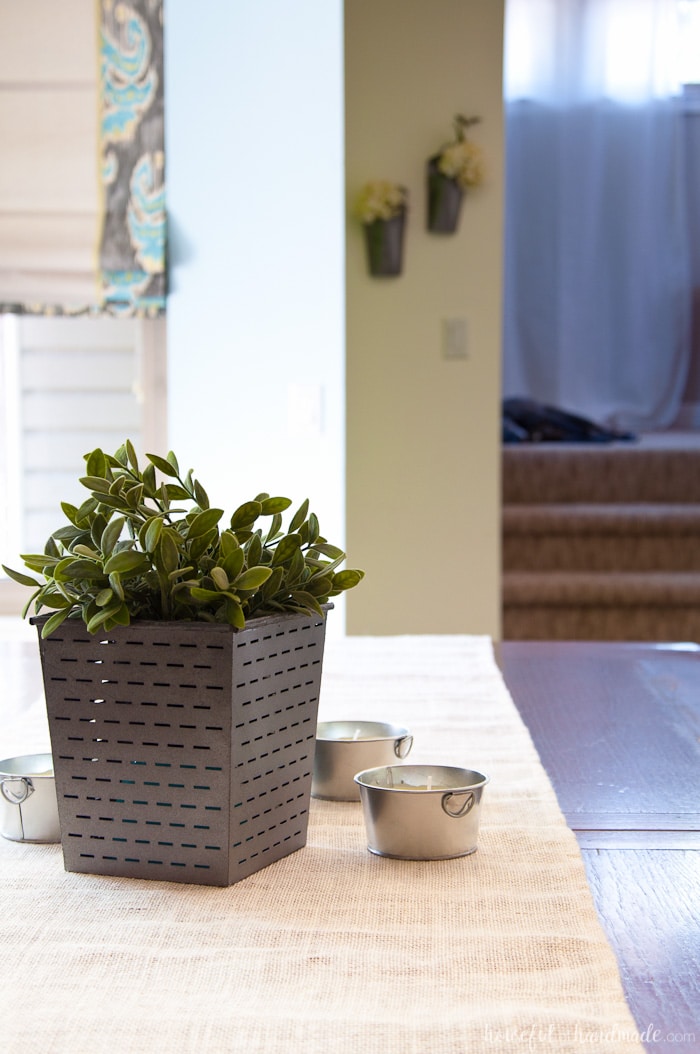 When you enter our home, you will see our dining room and kitchen to the right of our entryway mudroom. This space is what sold me on the house. It is a large room, perfect for gathering. I actually bought our dining room table before we bought our home. So when we toured the 100+ homes before buying ours, I knew I needed a dining room big enough for my large table and kitchen big enough to host lots of parties.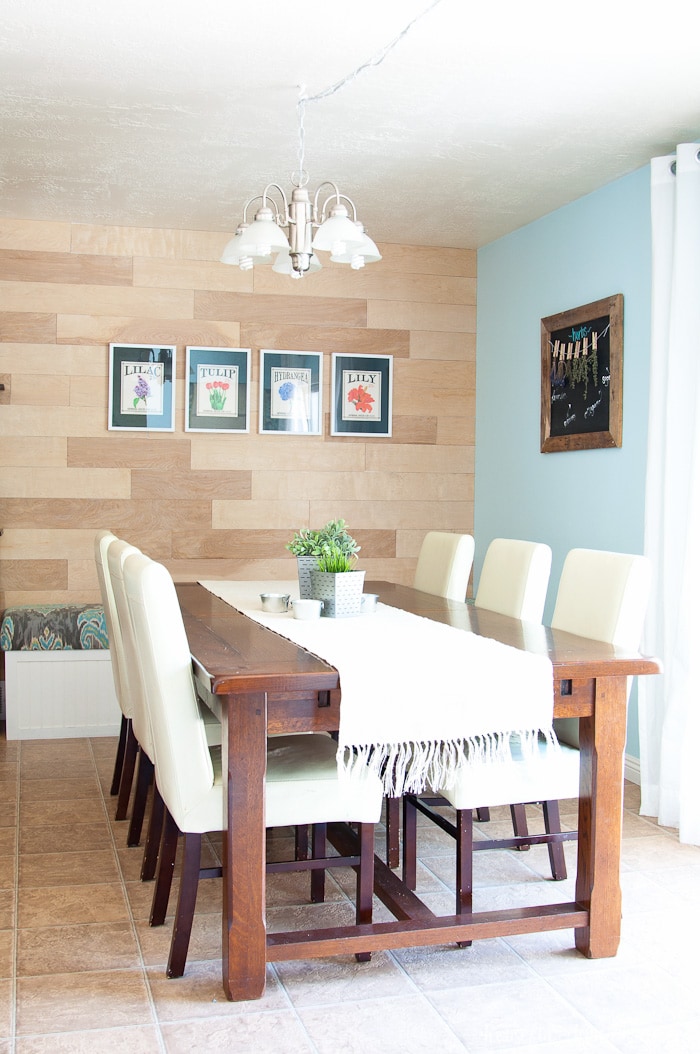 This room has come a long way since we moved in. We started by replacing the carpet with vinyl flooring (which we plan to replace again with the kitchen remodel, probably with more vinyl plank flooring). It was amazing the difference just removing the old carpet had to update everything. It also helped join the entire space instead of separating the kitchen from the dining room.
Then a couple years ago I got crazy with adding some style to the dining room. I decided I could at least make a big impact on this area on a tight budget. And since it is the first room you see in our home, it shouldn't be the last to be updated. A few key projects really made this space amazing.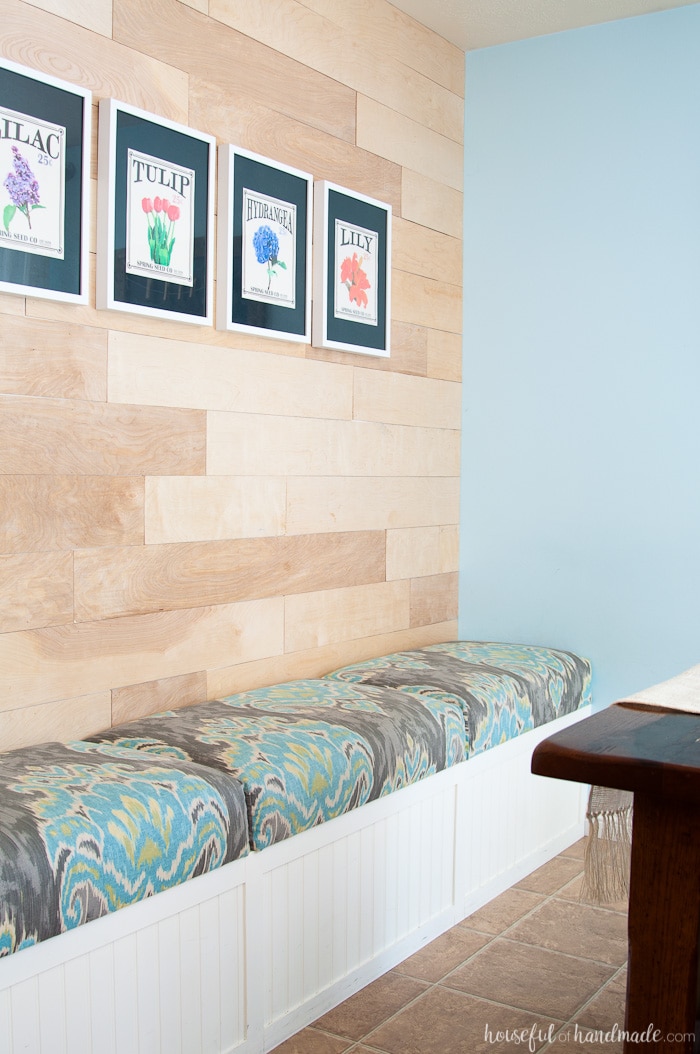 I built an 8′ bench with storage on the wall in the dining room. This bench also doubles as extra seating when we extend the table to the full length (it has 2 leaves we can add to it). I love that the bench is full of storage and use it for items that I only need occasionally. The best part, I was able to build the bench with mostly 2x4s and plywood scraps cluttering up my garage. And the foam used to upholster the seat was taken from seat cushions from a couch my sister was throwing away.
Then to really add lots of style and completely transform the room, I added a birch plank wall around the bench. This wall was also so big to me and I didn't know what to do with it. The wood planks were the perfect solution. It adds warmth to the room and cost us less than $100! I am considering darkening up the wood a little bit when I redo the kitchen, but haven't made any final decisions yet.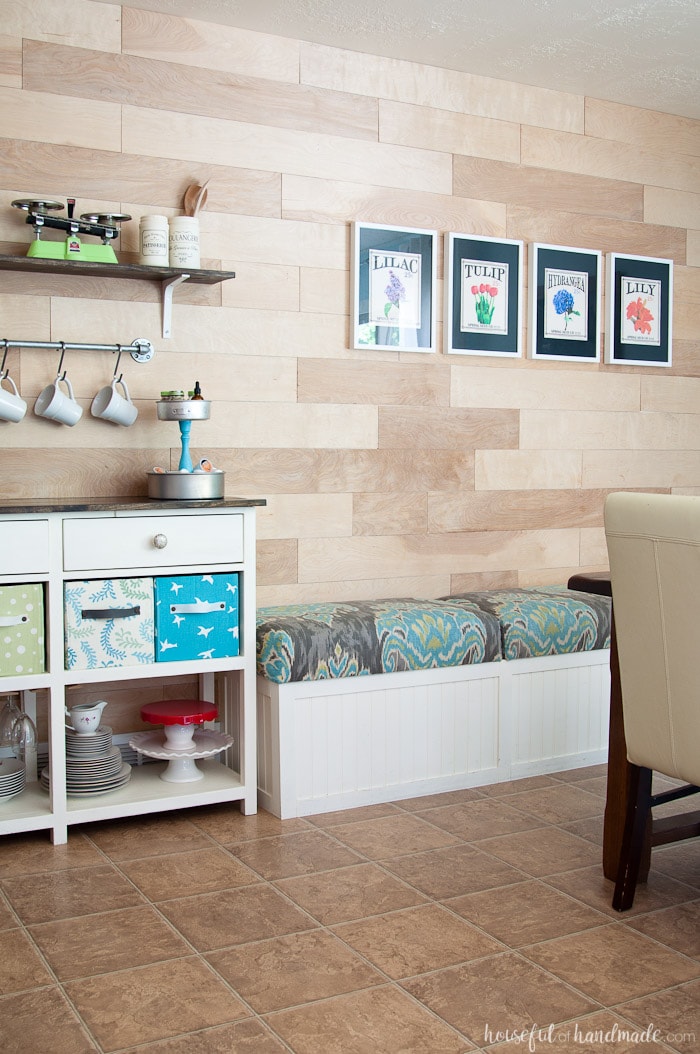 The last big project in the dining room was the addition of a coffee bar. I have always wanted one, but never realized how awesome they are! Seriously, it is so convenient having a place just for my coffee. I DIYed the entire space, the console table, k-cup holder, storage boxes and shelf. I even DIYed the french kitchen canisters that are on the shelf and painted the old school scale. It really is one of my most favorite places in the house and gets me going every day.
To decorate the dining room for summer, I moved the vintage seed packet printables from our spring mantel to the plank wall. I absolutely love them here and they will probably stay for a long time! I added some greenery to the table and some candles in little metal buckets. It's simple and that is what I love about it!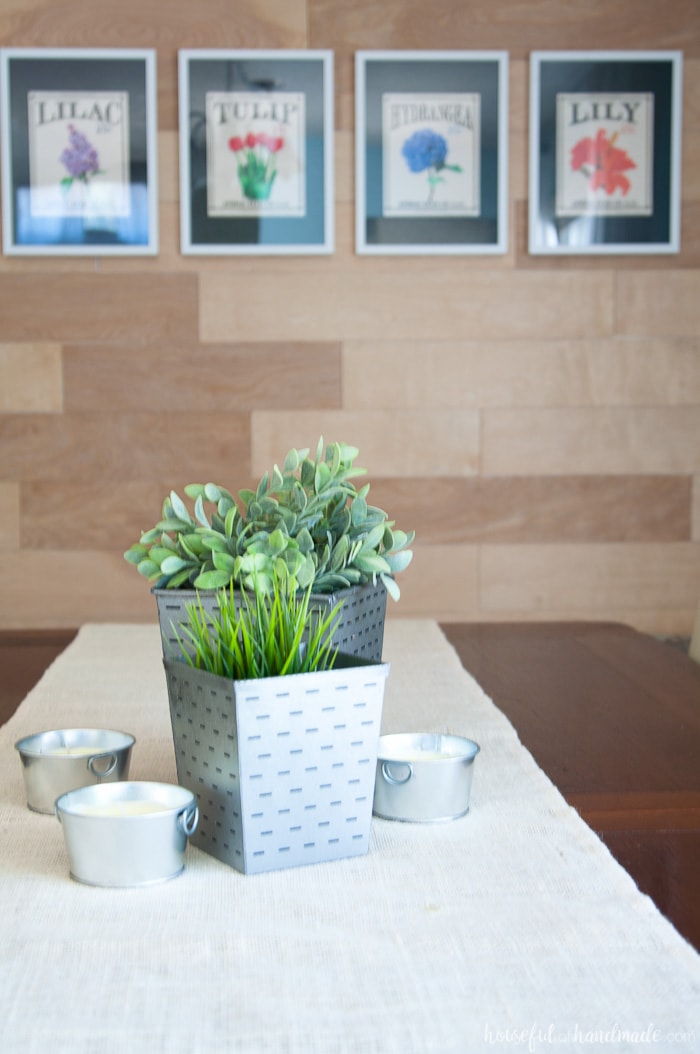 For even more wall decor, I hung my rustic chalkboard herb drying rack and filled it with lots of herbs from the garden. After they are all dried, I will put them in containers to keep for winter and load the drying rack with more. Art and function in one!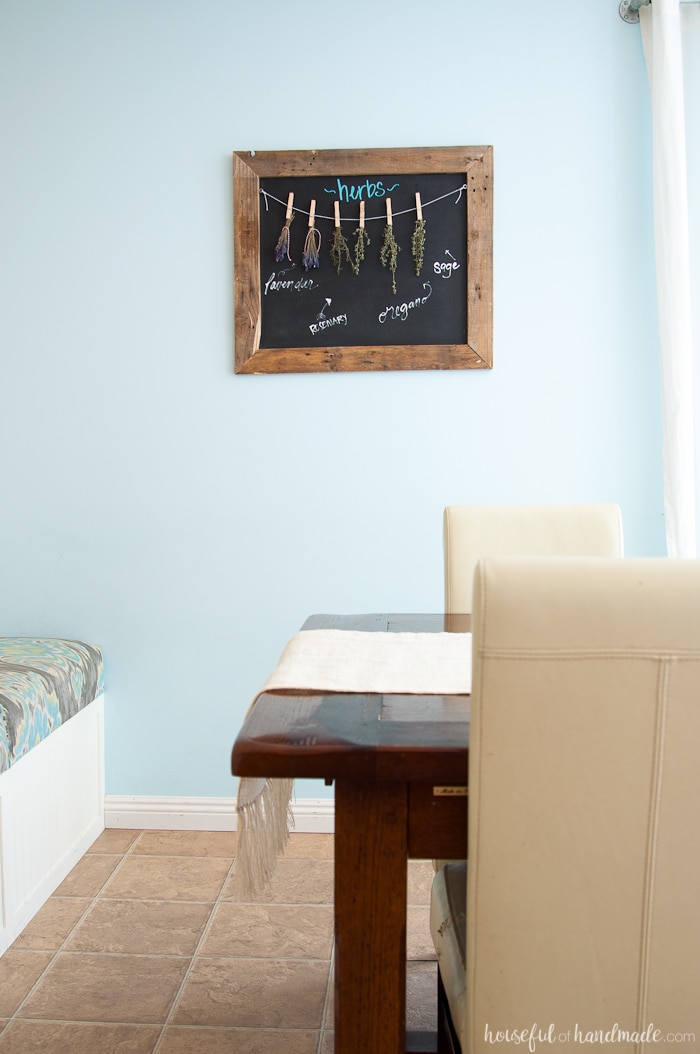 After walking through the dining room you will see our summer kitchen. My favorite part of our kitchen is the large center island. I love gathering around it and cooking with the kids. Or entertaining friends while finishing up dinner. We replaced our kitchen island a couple years ago. Luckily we were able to trade for a new kitchen island. It was a "reject" from another job but perfect for us! I had previously bought the stainless steel table top from a scratch and dent store. They had just the table tops for sale and I knew it would work for my someday island.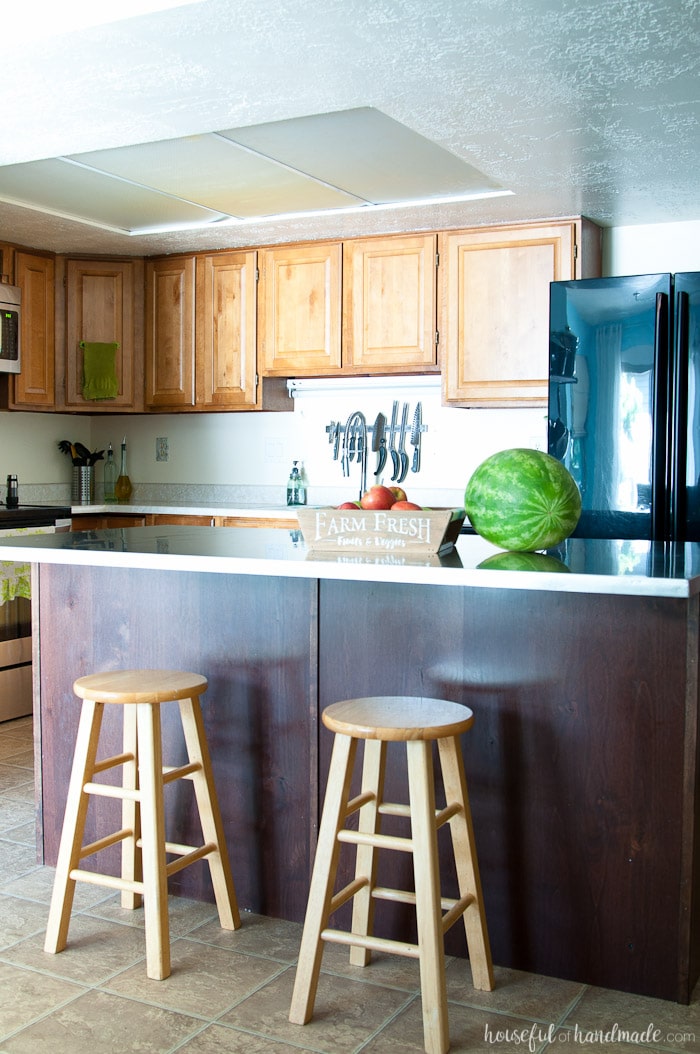 In our kitchen we have two large pantries. I thought the large pantries were awesome, until we moved in. They are too big and deep. It is way too easily to loose everything in the back. When we remodel our kitchen, I am trading these large deep pantries for more cabinets and pantries with pull out shelves so I can see all the way to the back.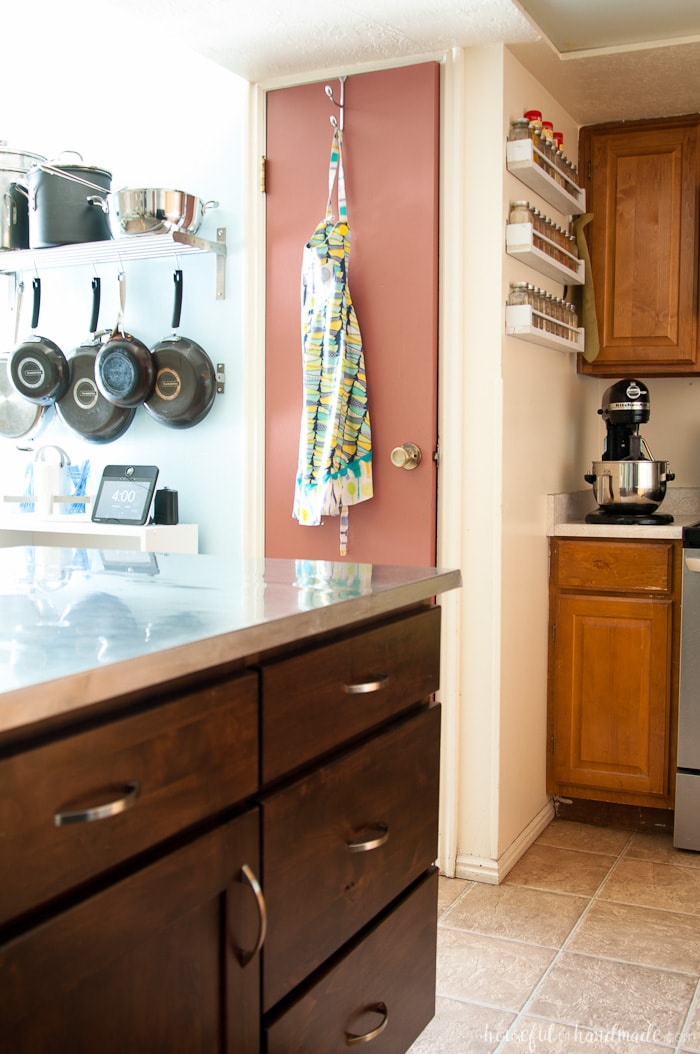 My other big remodel dream, is to remove the drop ceiling. I don't know who decided it was a good idea to add a drop ceiling to the kitchen area of an open kitchen. Seriously, it makes no sense! I cannot wait to open up the ceiling and put cabinets all the way to the top. And I also want to add some solar tubes to give us some natural light in the dark kitchen. It's going to be so awesome!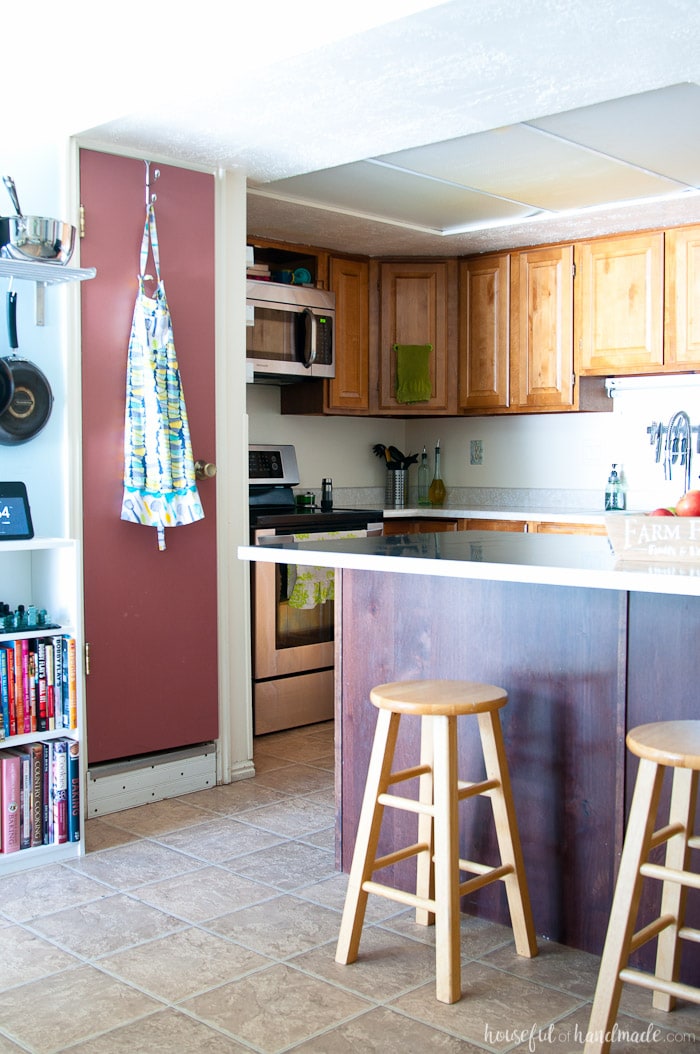 I was lucky enough to get new appliances a year ago. My sister traded me for my nice, but not as nice, appliances when she moved out of her condo. It made all her appliances match and now all mine match too! I am planning on integrating our current appliances into the new kitchen which will really save on our budget!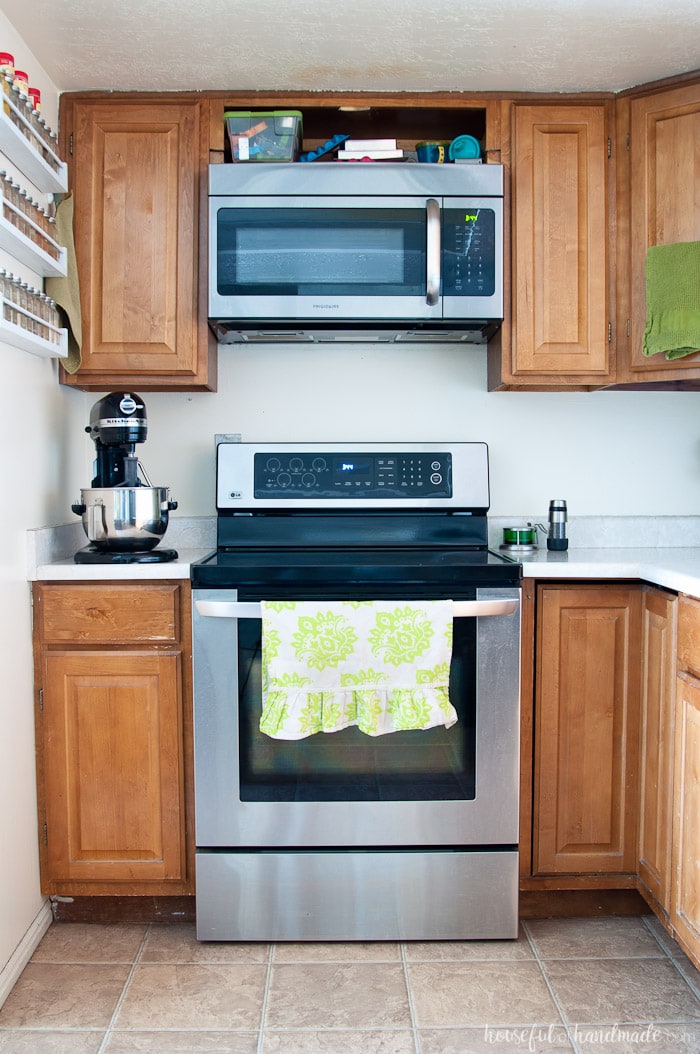 Even though our cabinets are banged up and some of the drawers don't open easily, we are truly lucky to have a large open kitchen. I cannot wait to show you what I am able to do with it this fall! I promise to have lots of money saving ideas, but still lots of style. I am seriously considering some navy cabinets somewhere (I just love all things navy right now). And there will be a bit of open shelving and some wood textures because I do love a little warmth.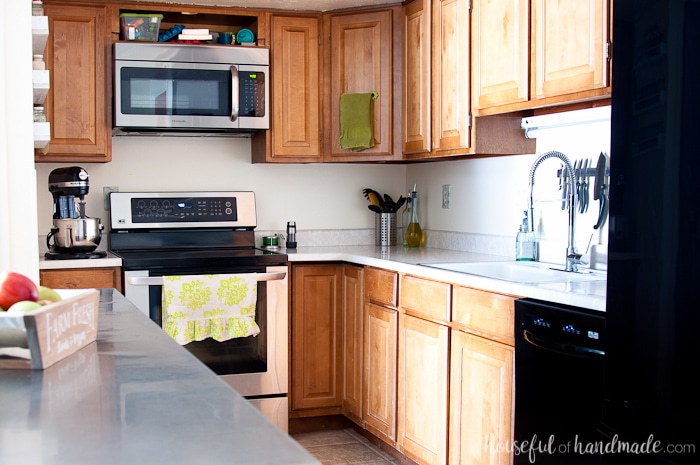 I hope you enjoyed our summer kitchen & dining room tour. Now it is time to see check out everyone else's kitchen all ready for summer!
And don't forget to come back next Tuesday for a peak inside everyone's living rooms. I am even going to share a peak at our basement family room after redoing the entire space to add a bedroom this winter.
Have a wonderful week!