After you eat your turkey today, are you running to grab all the sales on Black Friday? I am NOT a Black Friday shopper, after 10 years in retail, I prefer to avoid the Christmas crowds as much as possible.
If I don't have to go out, I stay in with the kids, do some activities and start on our Christmas lists. Then I get everything bought the first week of December when the stores slow down again. Did you know that?
The weekend after Thanksgiving is crazy busy, then most stores have big sales for Cyber Monday as well, but after that the first week of December is the slowest retail week during the Christmas season.
There are still lots of great sales and deals without the crazy crowds. So enjoy you weekend, eat leftovers, play some games, have fun with the family, then go grab your gifts next week when you don't have to fight off anyone for the last one!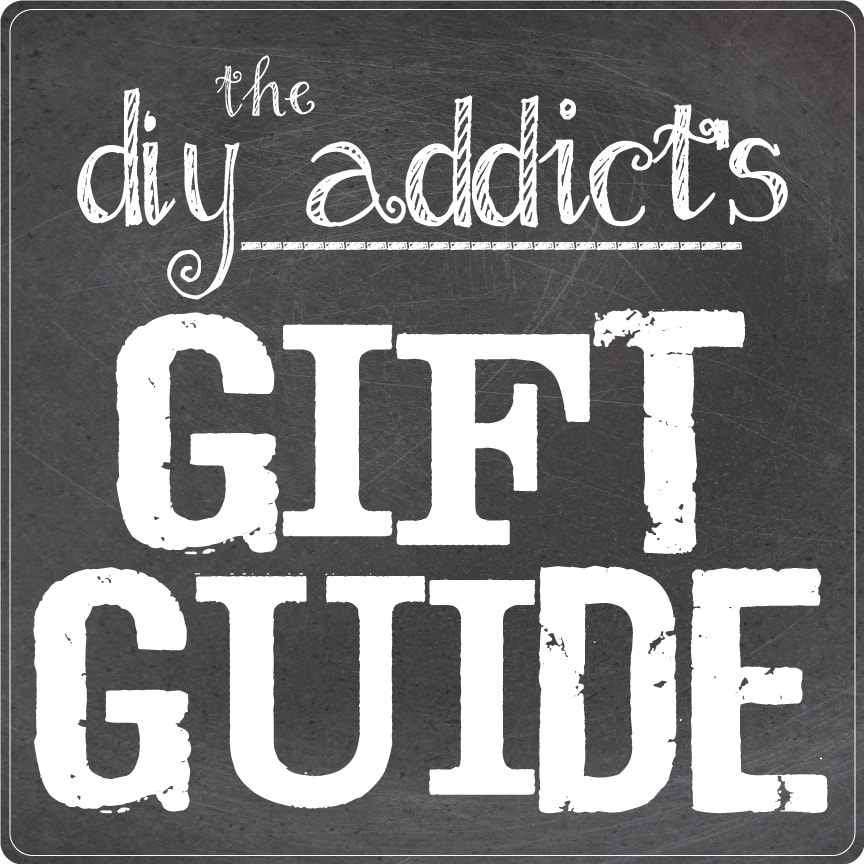 This post contains affiliate links. I receive a small commission on products purchased through these links at no additional cost to you. I am only sharing products that I use and believe in.
If you haven't finished your Christmas list, or if you are still trying to figure out what to get the crazy DIYer in your life, I am sharing a few of my favorite things. I am calling it the DIY Addict's Gift Guide.
For those of you who are new to Houseful of Handmade, I love to dabble in a lot of different DIY areas. I have a decent wood shop in my tiny garage (no room for cars anymore, oops), I studied fashion and love to sew all kinds of things from clothes to home decor, I spend way too much time in the kitchen cooking mostly from scratch, I am very slowly remodeling our home, and I'll try just about any craft once!
If you know someone who falls into the DIY addict category, or one of these categories, then this gift guide is for you.
I know there are many different budgets when you are shopping for gifts so I want to help by offering ideas in all different price ranges. I am including big ticket items that are more than $100 ($$$$), medium priced gifts that are $35-$100 ($$$), small budget gifts that are $10-$35 ($$) and stocking stuffers that are under $10 ($).
For the Builder, or Wanna-be Builder
If you have a builder or someone who is just staring to build or wants to start building, here are some of my favorite tools. These are the tools that help me create things like our Umbrella Stand Side Table, these 20 minute Rustic Picture Frames, the super fun Yard Dice, or a beautiful Woodsy Wreath from branches.

Cordless Nail Gun ($$$$): A nail gun makes projects so much easier, I know from personal experience. I struggled without one for years or borrowed a friends for projects that I just had to have one for. But for Mother's Day this year, my husband bought me this Ryobi Cordless Brad Nailer
and I love it. I use it for almost every project now. It is an investment piece but worth ever penny.
Miter Saw ($$$$): Another big tool that I use for pretty much every project is my miter saw. I can cut boards less than 8″ wide with a quick pull on the blade. I also use it to cut the angles needed for picture frames, wreaths, and baseboards. I have the Hitachi 10-inch Compound Miter Saw
which is a lower priced model, but I have had it for at least 5 years now and still love it. If you have a large budget, getting a sliding miter saw gives you a larger cutting area, but this one will get you years of building too.
Kreg Jig ($$$): If I had to say one tool in my garage changed my building, it would have to be the Kreg Jig. Seriously, I'd seen so many projects that used it and so I bought myself one a few years ago. I was actually a little scared to figure it out so I didn't use it for almost a year, but then I had a project that I couldn't do without it and I dug in to figure it out. Now I never put it away because I use it ALL THE TIME! I have the Kreg Jig K4 Pocket Hole System
but they have a lower priced option too for smaller budgets (and for putting holes in something you forgot to but have already assembled), the Kreg R3 Jr. Pocket Hole Jig System
.
Kreg Rip Cut ($$): If you've ever tried to rip down a full sheet of plywood you'll really appreciate this tool. The Kreg Rip-Cut
is a guide that you put on your circular saw to help you make straight, measured cuts. I've used it on plywood and to help friends cut down countertops easily. And you can do it all by yourself, no extra hands to help steady a large sheet of plywood.
Clamps ($$): Clamps make projects so much easier! Without them you don't get perfect corners or flat seams between boards. I am learning you can never have too many clamps. For corners secured with Kreg pocket holes, I would recommend the Kreg KHC-RAC Right Angle Clamp
. For larger furniture projects, I have the Dewalt DWHT83186 24 in. Extra Large Trigger Clamp
. And I love these Kreg KHC-PREMIUM Face Clamp
to keep the surface of the wood flat when securing.
Square ($): So I'm not exactly sure what this is called, I've seen it called a roofer's square and speed square, but I have this one called a 7-inch Speed Square
. This is a great stocking stuffer for the beginner builder. I never thought I would use something like this so much, but it just makes drawing 90 or 45 degree lines much easier. And honestly, those are the two angles used most of the time in building.
Measuring Tape Keychain ($): I can't tell you how often I reach for my Stanley PowerLock Key Tape
when out shopping for supplies or inspiration. This is the cheapest lifesaver tool out there, but when mine broke, I had to replace it immediately.
For the Real Food Chef
Cooking from scratch can be a little harder if you don't have all the right tools. If you have someone who loves to cook, these might be some great options. I use these tools to keep my family healthy and happy with real food options like delicious Savory Pumpking Sage Scones, fresh from the garden Roasted Beet Kale Salad, sweet Lemon Burst Parfaits, or to preserve our own Chicken Stock from scraps.

Food Processor ($$$$): A food processor really makes so many meals much easier. My husband surprised me with mine many, many years ago for Christmas. It is an older Kitchaid one similar to the KitchenAid 9-Cup Food Processor
. I love that it has a small bowl, dough blade, slicing disk and grating disk. It can handle so many different tasks it's worth the cupboard space in your kitchen!
Pressure Canner ($$$): If you want to preserve your own food, a canner is a must. I love my Presto 23-Quart Pressure Canner
. It can be a waterbath canner or a pressure canner so you can do it all!
Spiralizer ($$): I bought a Spiralizer® Vegetable Spiral Slicer
when my zucchini plant was going crazy one summer. We loved turning zucchini into noodles and the kids ate them up! Then I started playing with potatoes, butternut squash, beets, and we were hooked. My family loves eating spiral veggies. If you have a gardner in your life, they will love this for all their fresh produce.
Microplane Zester ($$): I use my Microplane Zester/Grater
to add healthy flavor to almost every meal. It finely grates parmesan, citrus zest, ginger, and garlic. When I'm cooking at someone else's house, I always miss this handy little tool. And it's cheap and doesn't take up much room.
Salad Dressing Container ($): Homemade salad dressings are amazing! The store bought ones don't even come close. This Kolder Salad Dressing Bottle makes it easy to mix up your favorite dressing for dinner.
Fresh Herbs ($): Fresh herbs make food so much better. A cute pot of fresh herbs is the perfect gift for anyone. They add some greenery to the house and make dinner better!
For the Girl (or Boy) with a Sewing Machine
Once you have a sewing machine, there are so many more tools that make creating your masterpiece much easier. I love being able to easily create projects like this adorable Toddler High-Low Play Dress, summer Picnic Placemats with a Napkin Pocket, beautiful Roman Shades from mini blinds, and homemade Halloween Costumes for the family.

Serger ($$$$): If you already have a sewing machine, the next step is a serger. Sergers are (almost) necessary for working with knit fabrics. They also help to finish off the seams to give you professional looking garments. I love my Brother Serger
, it is a lower priced option, but I haven't had any issues that my kids haven't caused.
Rotary Cutter and Mat ($$$): I love using a OLFA 45mm Rotary Cutter
when cutting out patterns, especially home decor items like pillows and drapes. You do need a cutting mat under your rotary cutter, if you are cutting large projects like home decor, you need a larger mat. There are tons of different sizes available.
Gingher Scissors ($$): Having sharp scissors makes cutting through any fabric easy. Bad scissors can ruin fabric. I have used my Gingher 8-Inch Knife Edge Dressmaker's Shears
for over a decade. I reach for them when I cut anything fabric and only have to get them sharpened once or twice a year to keep them sharp.
Quilter's Rulers ($$): Quilter's rulers are different than regular rulers, they are thick pieces of hard plastic with grids on them. I do dabble in quilting, but I use my rulers for almost every project (even paper). My most used ruler is the Omnigrip 6-Inch-by-24-Inch Non-Slip Quilter's Ruler
, but I also have a few of the square ones that can come in handy.
Snips ($$): Having a small sharp pair of scissors next to your machine for cutting threads is awesome. There are a lot of tiny sewing scissors out there, but I love my Gingher 4 Inch Embroidery Scissors
. They have a tiny sharp point and also come in handy when I have to unpick seams or make precise notches.
Seam Gauge ($): For a couple bucks you can get this Dritz Sewing Gauge
. It makes getting even hems super easy. I wouldn't attempt drapes without it! It's a must have for every sewer.
Gift Certificate for Fabric: Every seamstress loves fabric! I have way too much, and purging it feels like I have to give up my first born. You can never have enough fabric. If you know the gift recipient well enough, buy them some fabric, but you can always give a gift certificate to a local fabric store for them to find what they need for their next project.
For the Crazy Creative Crafter
Sometimes buying for a creative person is hard, if they want something they just make it! But if you get them a gift that makes their crafting possibilities endless, they may just return the favor and make you something awesome in return! I love making fun projects for everyone like this easy Wheat Wreath, beautiful printable Watercolor Thank You Cards, fun Spring Door Pennant, or Candy Corn Treat bags to help them give back a little.

Silhouette ($$$$): For the creative sole, there is nothing better than having a machine that can cut out anything you want. I use it to cut paper, stencils, vinyl, screen prints, etc. Seriously, the only thing I hate about my Silhouette is that I have the smaller version, I wish I had the Silhouette Cameo
because it can cut up to 12″ wide instead of 8.5″. Someday…
Printer ($$$$): There are a lot of different printers out there, but if you have a crafter you want to make sure the printer works for them. I love my HP Officejet Pro 8615
because it is a photo quality printer that has borderless printing. Borderless printing means it can print to the edge of the paper so if you are printing all those awesome free printables you find, there will be no white border to cut off. I use borderless printing all the time.
Watercolor Set ($$): I started my artistic journey as a watercolor painter. I love the way they look and they are very popular in today's crafts and decor. Giving a watercolor set is great for someone who wants to dabble in it, and they can easily find all the tutorials they need to get started online! I have not tried this Pelikan 24 Color Opaque Watercolor Set
, but based on the reviews and answered questions, it's the one I want to add to my collection.
Paper Cutter/Scorer ($$): If you like paper crafts, a cutters like this Fiskars 12 Inch Scrapbooking Trimmer
make it super easy. I actually use mine more for scoring than for cutting, so you'll want to make sure to add a scoring blade.
Craft Supplies Basket: A crafter is always running out of the basics because they are always using them. A gift basket full of crafting essentials means they can continue their obsession. Include things like glue sticks, foam brushes, Modge Podge, ribbon, Washi tape, scrapbook papers, twines or strings.
Supplies for a Specific Project: The thing I love about Pinterest, you can go to anyone's page and see their pins. Why not find a project they have saved and get them all the supplies they need to create it! Or even better, get enough for 2 projects and set a date to craft together.
I hope you can find the perfect gift for the creative person in you life. I know it can be stressful to give them something they will love, but just knowing you care is always gift enough!