Growing up in a small farm town, we always had a huge garden and when it was harvest time, we would spend days in the kitchen helping to preserve all the delicious produce. I don't ever remember learning how to can foods, I just remember mom always doing it and her gaggle of girls helping (or complaining about being forced to help). I am so grateful for my mom for this now. And harvest season is something I actually look forward to. I enjoy canning and preserving all the food that I work so hard to grow (or that my friends grow too much of so I get the overflow). I spent this weekend working on canning apples from my family's trees, so I thought I would share some of my tips and tricks for successful canning.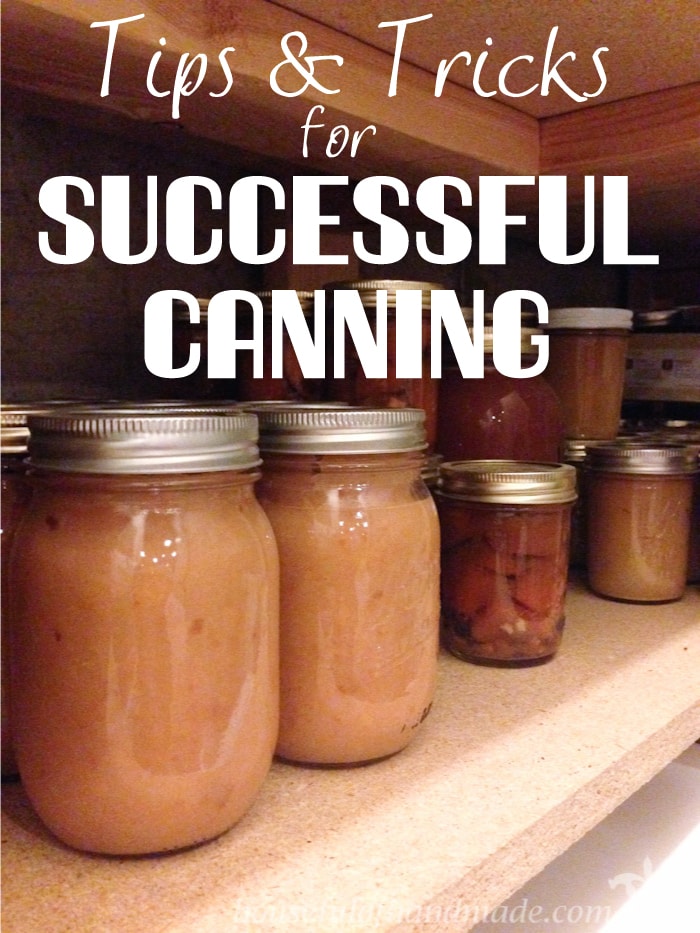 This post contains affiliate links. I receive a small commission on products purchased through these links at no additional cost to you. I am only sharing products that I use and believe in.
First off, canning takes time. It is not something that you can quickly fit in when you have an hour or two. You will want to give yourself plenty of time so that you don't have to hurry and possibly mess something up. I usually plan a weekend that I can set my kitchen up for canning, then I work on multiple recipes throughout the weekend. I usually plan an easy dinner (something that I don't have to cook) for these days. Things that work nicely are slow cooker meals or ordering pizza. Sadly, we usually eat more pizza during harvest time then any other time of the year!
The other thing I have learned as I get older, if you do not have nice cushy mats in your kitchen, wear shoes with extra cushion. I have discovered my favorite shoes to wear while being on my feet for hours in the kitchen are… thick foam flip-flops! I know, it's weird, but the nice foam underfoot makes for happy knees and back. Of course, make sure they are not cheap flip-flops that have uncomfortable plastic straps on top, but something that can be easily cleaned (yeah, your feet will get splashed a lot) and have a comfortable foam base are perfect.
Now that you have dinner planned and comfortable shoes, you are ready to get going! What are you going to can?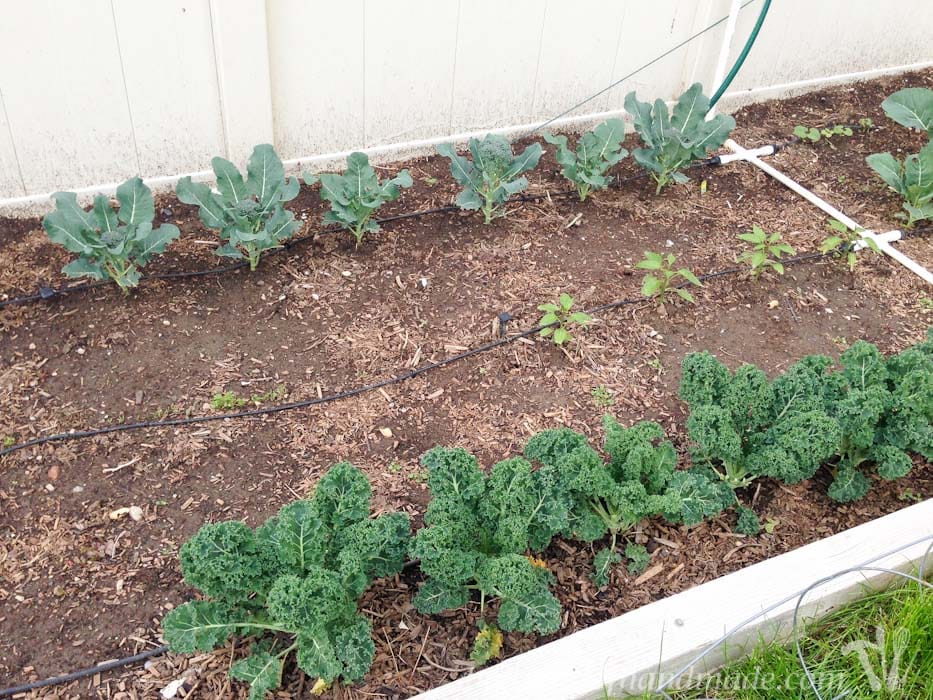 I like to plan my garden in the spring to fill my pantry for the year. If I am low (or heaven forbid I actually run out before harvest time), I plant heavier so I have a lot to can. If I didn't use a lot the year before, I plant lighter that year. And when we are blessed with abundance, whether we "need" it or not, I can it and find ways to cook with it through the year. If you don't have a garden, look for farms that you can pick your own or buy large bushels. They are usually a great deal and you will have a lot of produce to work with.
Some of our favorite things to can are tomatoes (whole or quartered), salsas (tomato, tomatillo, jalapeño or green tomato are our favorites), fruit (apple/pear sauce, juice, jams, jellies, butters, fruit in juice or light syrup), green beans, chicken and chicken stock. You can always find a lot of these items in my pantry.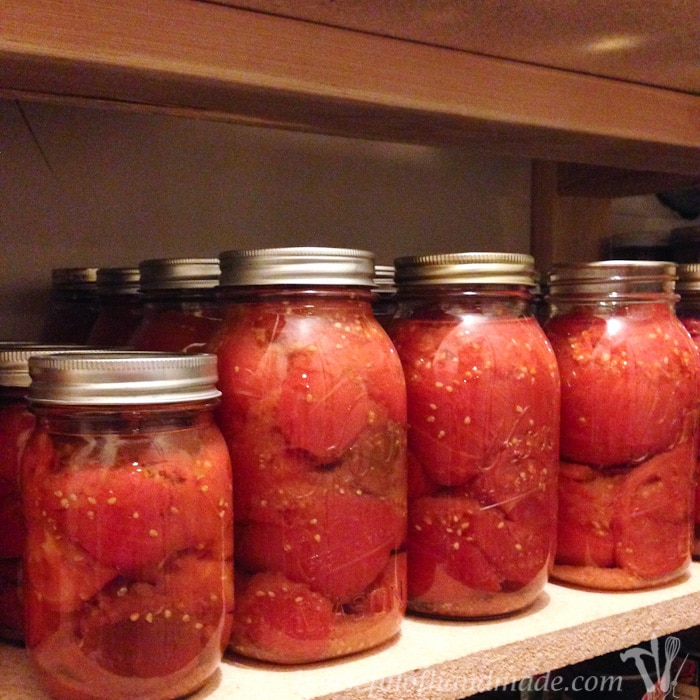 When I have extra produce, sometimes I get creative. I love finding new recipes to try. A couple years ago I tried a jalapeño salsa recipe just because I have a ton of jalapeños in my garden. I was nervous it would be too hot and we would use it more like a hot sauce, but it surprised us and is now one of my families favorite salsa recipes. The stuff is so good!
I own the Ball Complete Book of Home Preserving
and it is one of my most used cookbooks. This thing is getting disgusting because it is always open when I am canning. There are so many great tips and recipes. I refer to it all the time.
You always want to be careful when finding a recipe online. Recipes that have not been tested are not considered safe for canning. Just be careful, you don't want to put anyone in danger if you have food that spoils.
You will need a few special tools to can food. You will need a canner. There are two different ways to can food, with a water bath canner or with a pressure canner. Your acidic foods are canned with a water bath canner (tomatoes, salsa, most fruit). Low acid food require pressure canning (vegetables and meats). I have this Presto 01781 23-Quart Pressure Canner and Cooker
that can be used as a water bath canner. Yeah for multitasking tools in the kitchen. I love my canner and have had it for 3 years and worked it hard. If you are going to just do water bath canning, you can actually do it in a large pot that is deep enough for your jars plus 1″ of water on the top of them and you will need a grate on the bottom so the jars do not sit directly on the bottom or they can break.
After you have the canner, you will need canning jars. They are easy to find at any grocery store or Target/Walmart. You can reuse the jars year after year, but you need to buy new lids to seal them every time. You can find just the lids for less than $2 for a dozen.
The other tools I use to can are not necessary, but they sure do make life easier. I have a Ball Utensil Set (Colors May Vary)
similar to this one, but mine did not have the headspace measuring tool (I've had mine for a very long time). I love the jar lifter and lid lifter, they really make life easier. However, I tossed out the jar funnel when I found this Bottle Mate canning funnel. I was lucky enough to come across it at my local farmer's market being sold by the guy who created it, I bought 2 and I love them!
I am going to show you how I process things in my water bath canner today. Soon I will show you how I use my pressure canner.
After you've prepared your recipe and are ready to can it, being properly set up makes everything go faster and easier. I like to set up my canning station right next to my prepared food (which usually needs to be simmering on the stove when you are canning it) so I am right next to the stove top. I always set things up on a clean, thick towel. I fold it in half and then make sure I have my tools layed out and ready.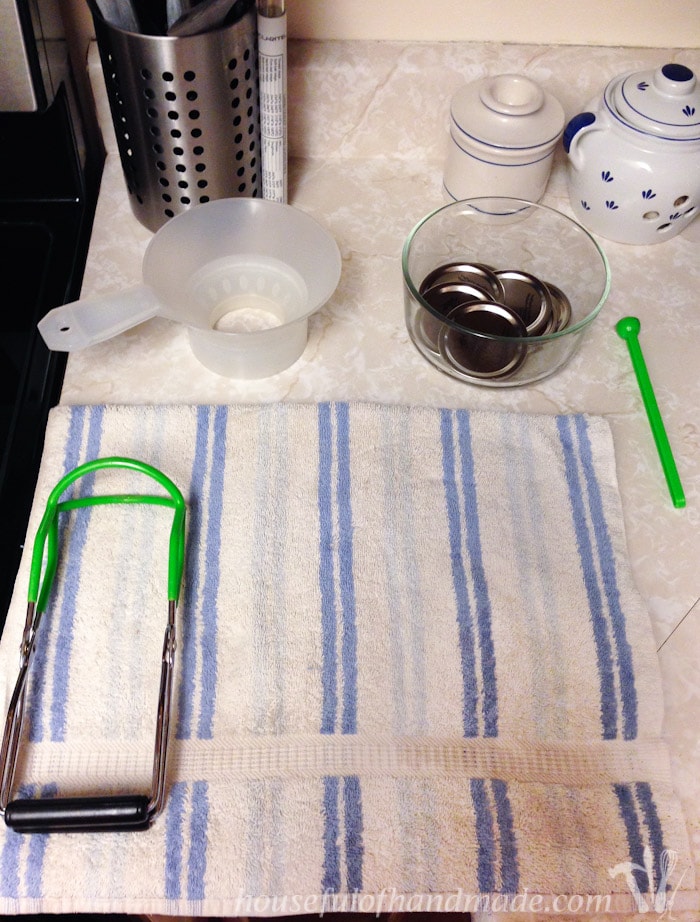 To prepare your canning lids, you need to warm them to soften the rubber on the seal. The instructions specify to not do this in boiling water, I have found the easiest way for me is to put my lids in a shallow flat-bottom bowl, then I pour boiling water from my kettle on top of them. It will be warm enough to soften them but I don't have to worry about managing the temp on the stove to keep them from boiling.
Also on the stove is my canner filled with boiling water and my canning jars. For water bath canning, the water needs to be 1″ over the top of the cans when they are full. When you place your clean jars in the boiling water to sterilize and heat them before canning, you don't want the water to be 1″ over the top of the jars cause when you fill all the jars, all the water that was in the jars will now be above them. If I am filling 10 jars, I have found the water will be very full, almost to the very top of the canner, so just be aware. And it will take less time to get everything boiling if you have don't have a canner full to the top.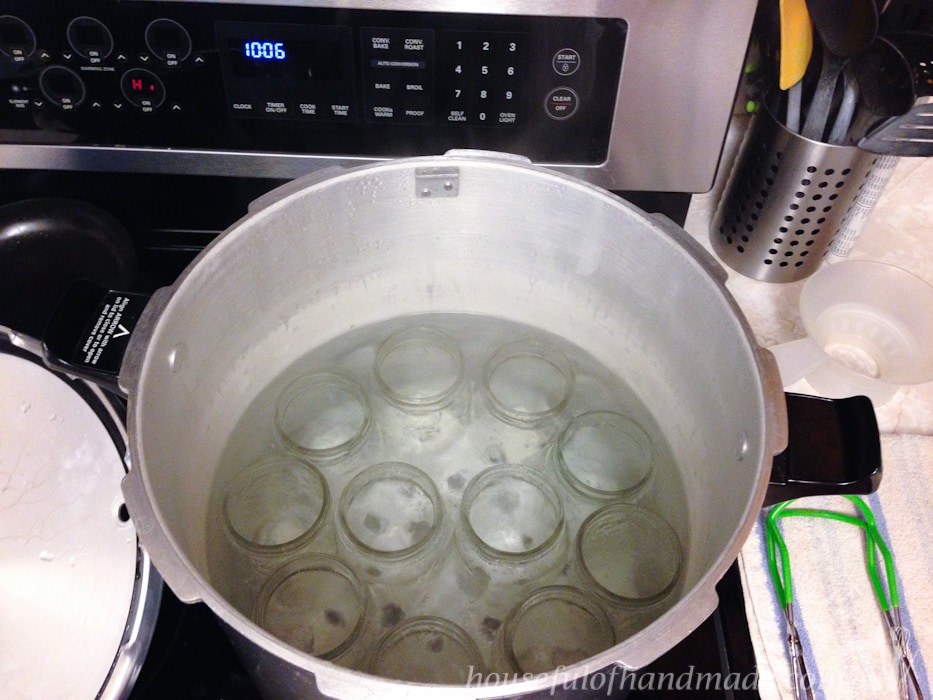 Now it's go time! Start by grabbing a jar out of the boiling water, drain the water from it and place it on your towel.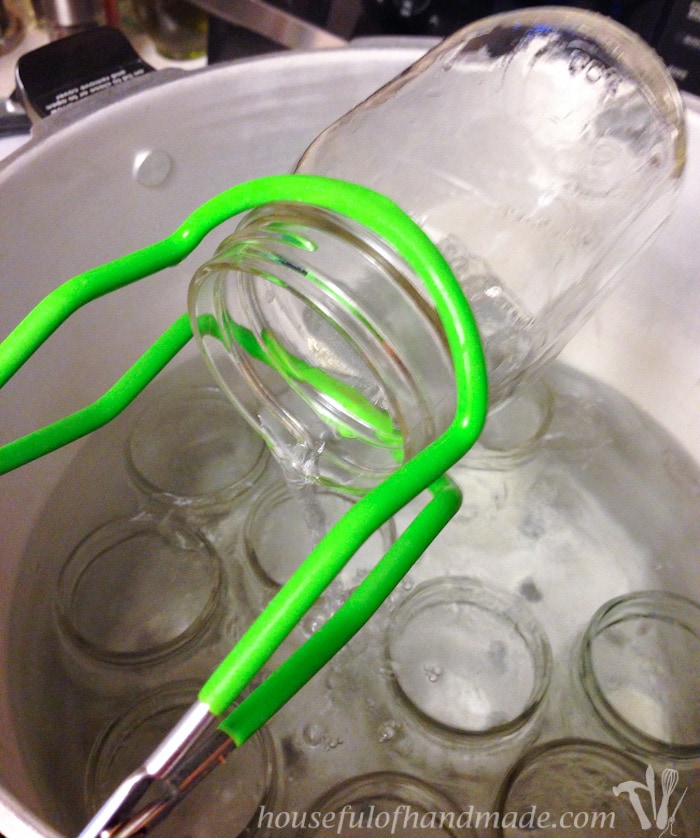 Put the funnel on your jar and fill with your prepared food. I am canning apple butter here (there is a lot of apple goodness happening at my house!). Use a butter knife to remove any air bubbles and add or remove food until you have the proper headspace required by your recipe. Headspace means the amount of space between the top of the food in the jar and the top of the jar.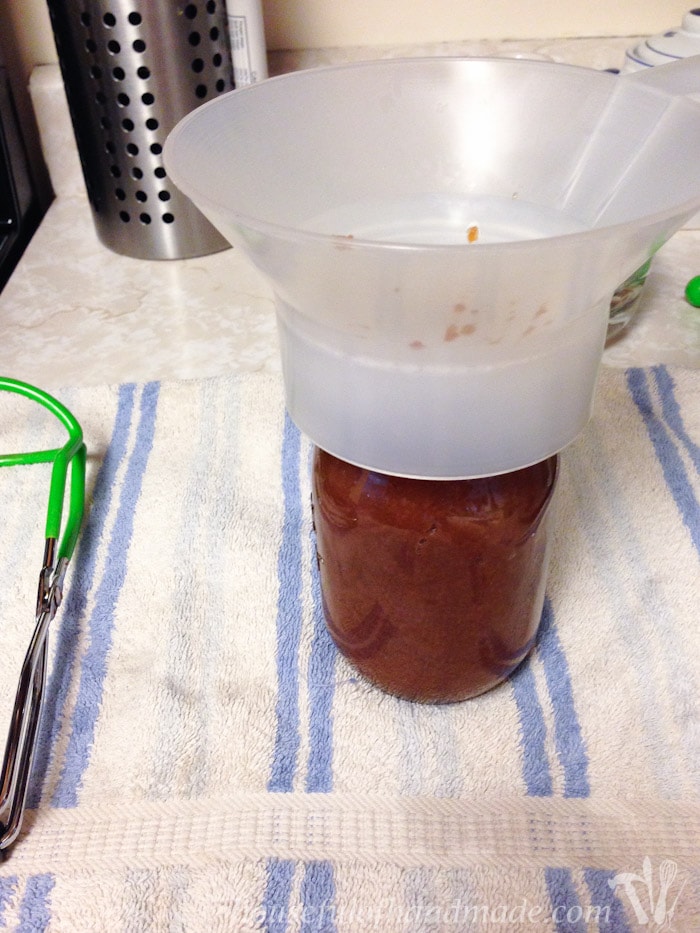 Using a paper towel dipped in hot water, you can easily wipe away any food that got on the rim of your jar.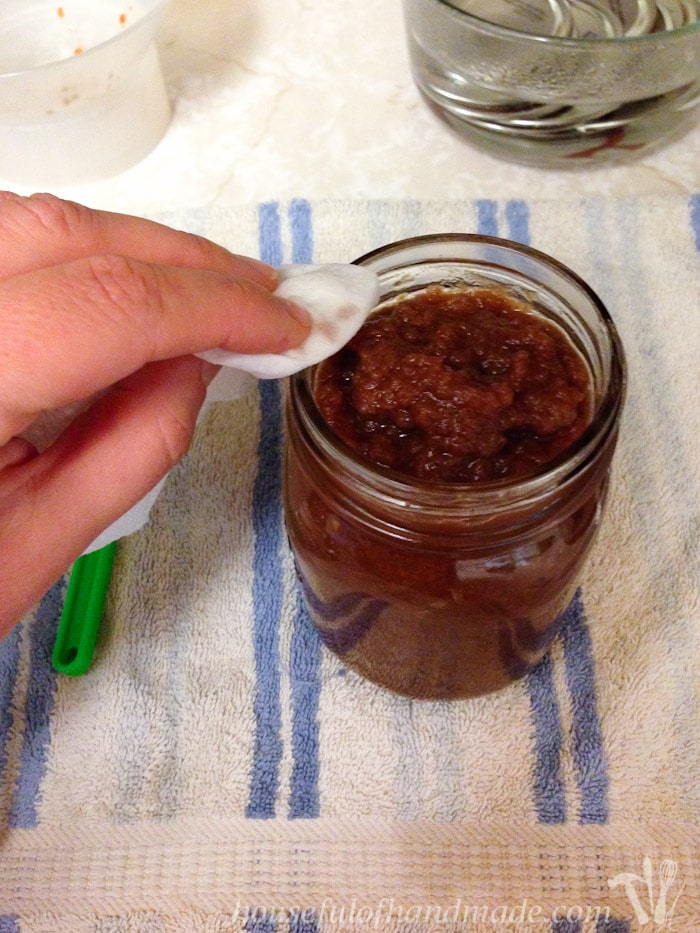 Using the lid lifter, you can easily grab a lid from the hot water. Place it on the jar and add your screw band and finger tighten it. This is where my thick towel comes in really handy. I use a corner of it to hold my hot jar full of hot food while screwing on my screw band. Otherwise, I end up with burnt fingers.
Use your jar lifter to place your filled jar back in the water bath canner. Grab another can and repeat the process until you have filled all your jars.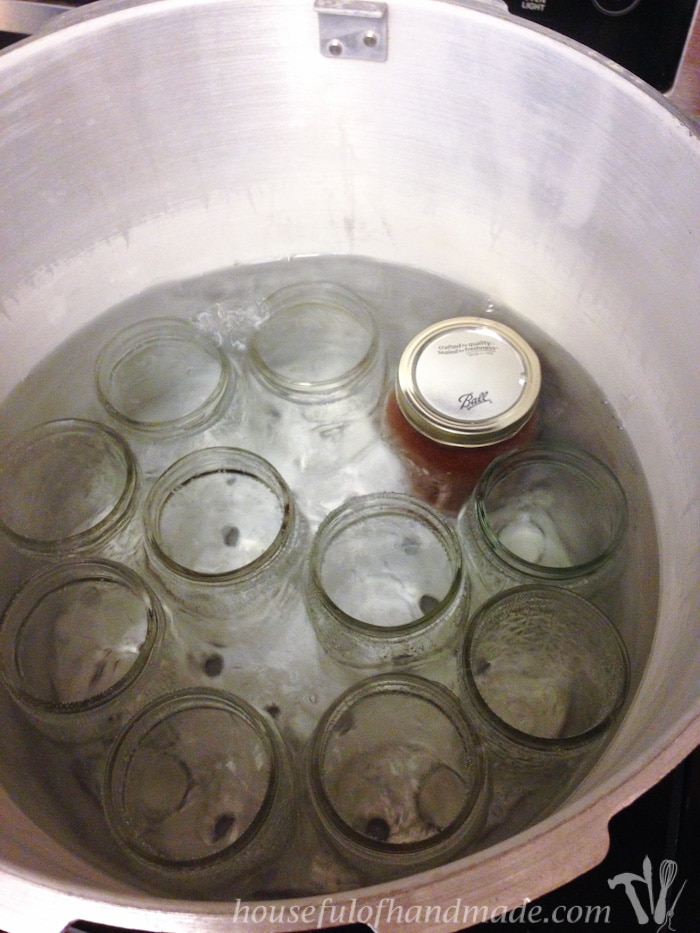 When your jars are all full, place the lid on your canner. You will need to wait until you have a steady stream of steam coming out of the little hole on the top. Then start your timer for the time specified in your recipe. Make sure you maintain a full boil during the whole processing time. When the timer is over, turn your burner off and wait 5 more minutes. Then very carefully remove the lid to your canner! This is important, there will be a lot of steam inside. Always open it away from your face so you don't burn yourself.
Then use your jar lifter to remove your jars from the canner. Be careful not to tip the jars. Place the hot, wet jars on a towel to cool. This is the best part, in a bit, you will start to hear popping. Each jar lid will pop as it cools and seals. It is the music of fall for me. I like to count the pops as I hear them until I know all my jars have sealed. This is not necessary because you will check the lids after they have completely cooled (usually the next morning). Check each lid to make sure the center is indented. If you press the top and it moves, it is not properly sealed. You can put this one in the fridge and just use it that week or you can reprocess it with a new lid.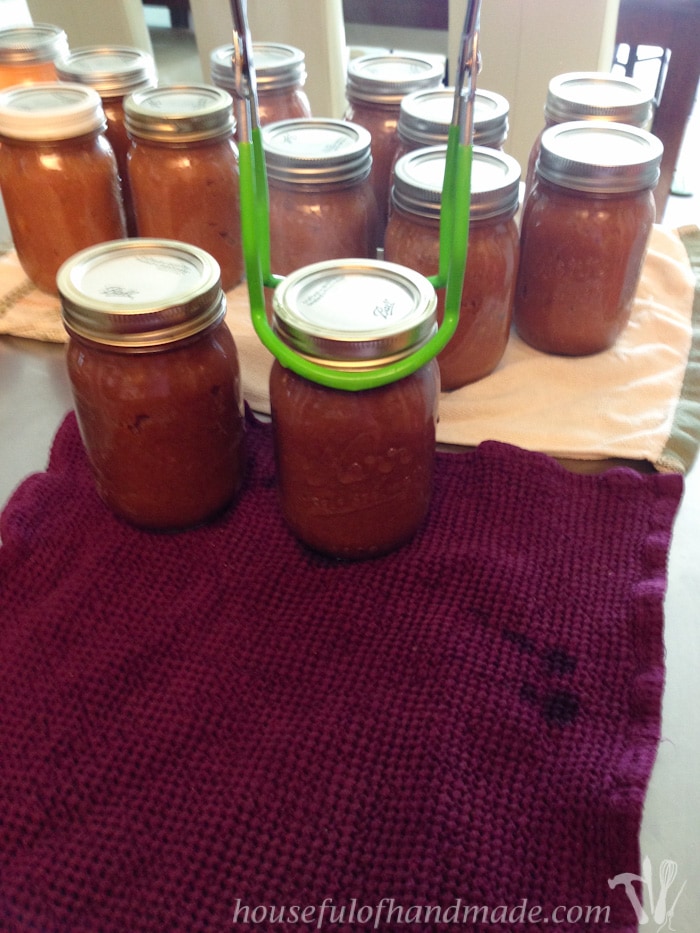 All that is left is labeling your jars with the contents and the date. Store them in a cool place and try to use within a year. I will admit, I usually use within 2 years and haven't seen any issues with quality. If you grab any jars from your pantry that no longer have the indented lid, do not use them. Also, if you open any jars that have a weird smell, do not use them either. I haven't had either of these happen, but it's good to just be aware.
It is very rewarding to grow and then preserve your own food. I am able to feed my family food good food all year round. And it saves us money. I never have to buy tomatoes, but I always have tons of beautiful, organic tomatoes in my pantry to use in my favorite recipes. In the next little bit I also need to refill my pantry with homemade chicken stock so I will be sharing my method for making and pressure canning chicken stock for my pantry! It is one of my favorite things to make because I use chicken scraps that I collect and freeze so it is practically free and it is the most delicious chicken stock. Seriously canning is awesome!
I hope I have inspired you to try canning! If you have any questions, please ask them and I will do my best to answer them. Canning is fun, and maybe a little addicting 🙂

I'm linking up to some of my favorite Link Parties.