I'm so excited to share this project! I first had the idea to make this purse last fall, I sketched it out in my idea book and thought about it a lot! Then Thanksgiving happened, then Christmas, then I started decorating for spring and it just kept getting pushed back for other seasonal projects.
But I never forgot about it, it was still there in the back of my mind and I was excited about it. So after Easter was over, I decided I needed to set aside some time for sewing and actually make my new purse.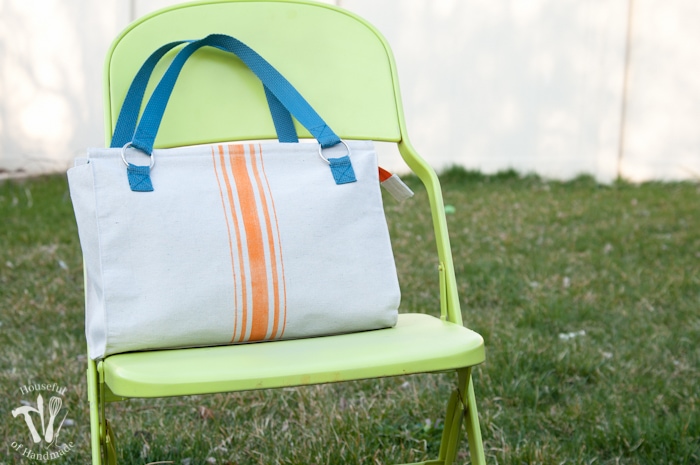 Last week I finally got the chance to sew! It was actually perfect timing since the weather decided to take a turn for the worse and we got some spring snow and lots of gray skis and rain. Since it was so cold, I didn't even feel bad about locking myself in my basement sewing room and figuring out the pattern that had been swimming around in my head for so long.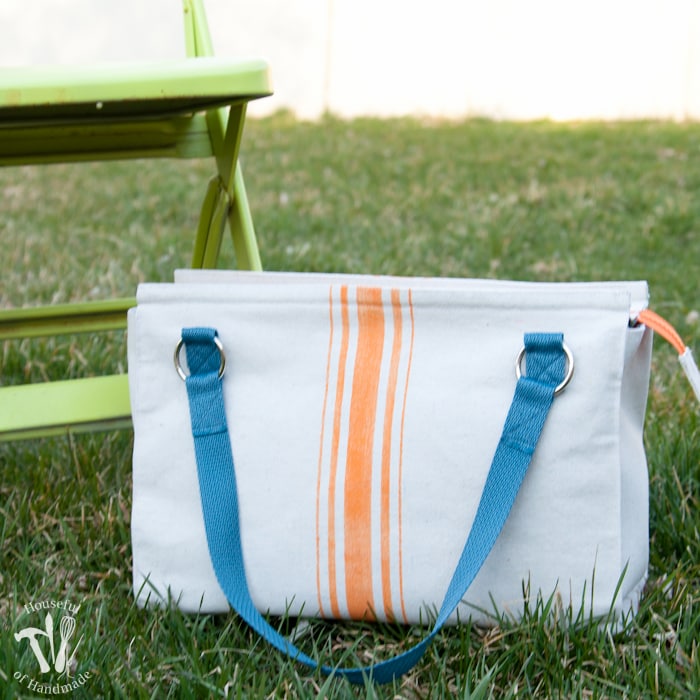 I knew I wanted to make my purse look like a vintage flour sack. I went back and forth on whether to screen print a flour sake inspired label on the front and (as you can see) decided against it. But I really love the stripes on the floor sacks.
Then I needed a fabric that looked like a flour sack, but it needed to be sturdy enough for a purse. I just happened to have more drop cloth left over from my spring door pennant and monogrammed Christmas stockings laying around, I knew it would give me the look I wanted and hold up to regular use.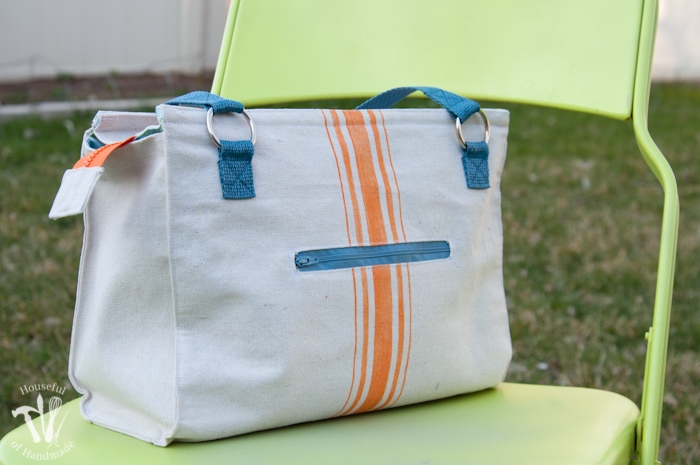 To make it look like a vintage flour sack, I painted some flour sack inspired stripes down the center of my purse. I originally was planning on a lighter blue to match the lining, but I love color, and specifically I love orange in my accessories.
You will probably never see me wearing an orange shirt, but an orange necklace or purse is right up my alley. So I decided to just go for it and add pops of orange to my vintage flour sack inspired drop cloth purse, and I LOVE it!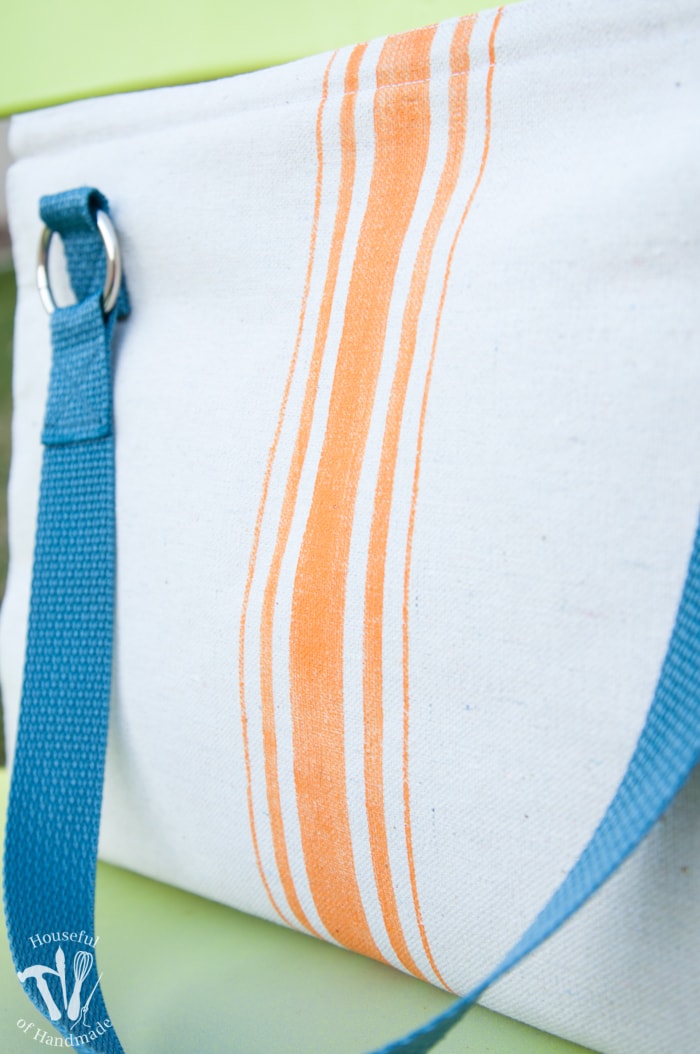 The orange zipper and stripes (that I purposely made look a little worn so that it kept that vintage look), are exactly what I needed in a fun new spring purse.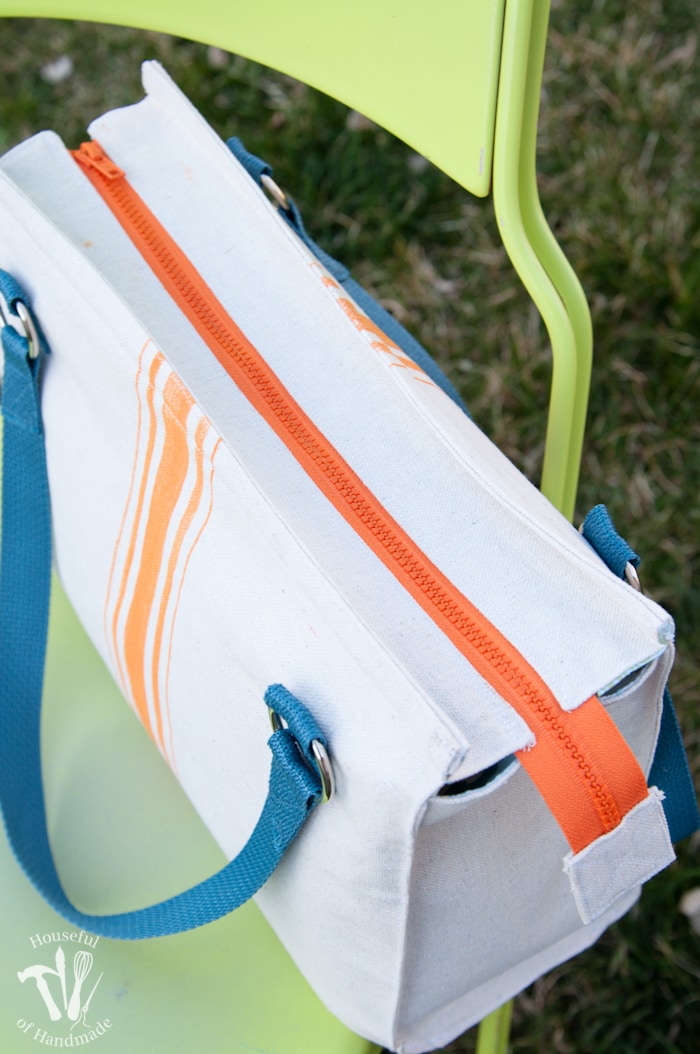 Pockets are a must for me in my purses. I have a few items that must always be kept in their specified spot so I can easily find them in the big black hole when I am driving. I swear my lips get dry as soon as I start driving and can't go searching in the depths of my purse.
So I added 4 pockets to the inside of the purse to keep my (a tiny bit) organized. Then I also added a pop of orange on the inside by using bright orange bias tape to line my pockets.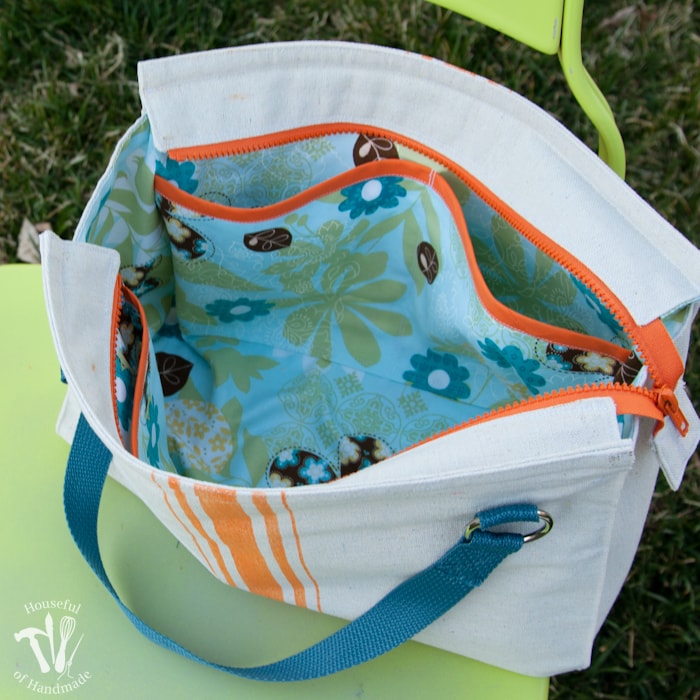 And for those really important to find items (keys and phone), I added a pocket to the back of the purse. It's the perfect place to quickly stash my things when I am out and about but they won't get lost in the big pockets for easy retrieval.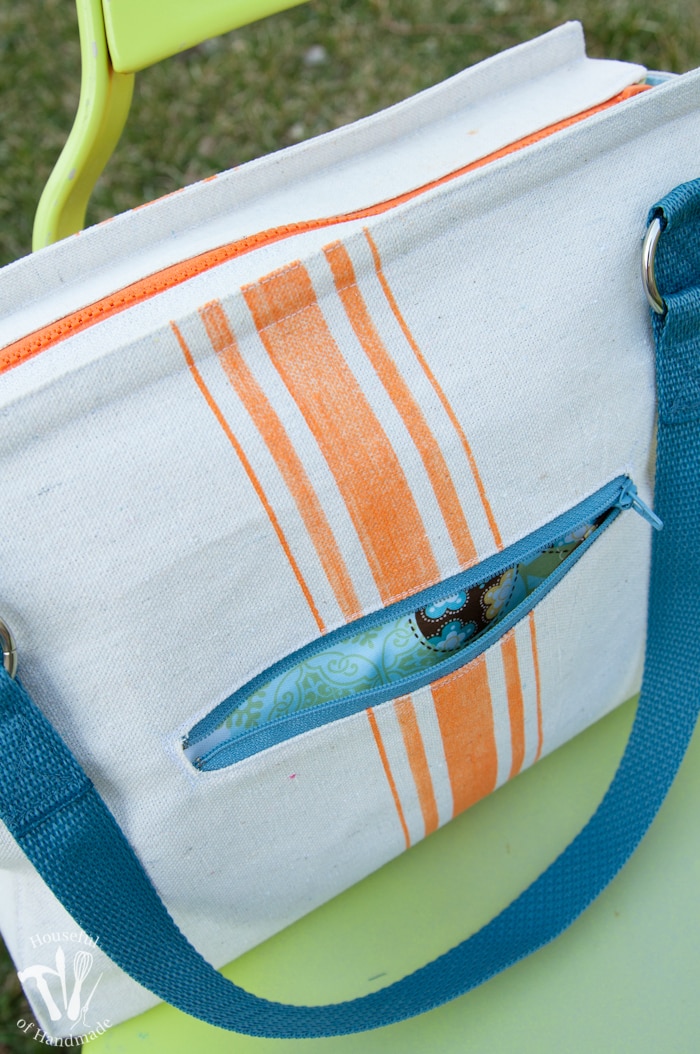 I am so happy that I made the time to get some sewing done and make my idea come to life. It's exactly how I envisioned it in my head (which never happens). And it was fun to dust off my sewing machine after neglecting it for other projects lately.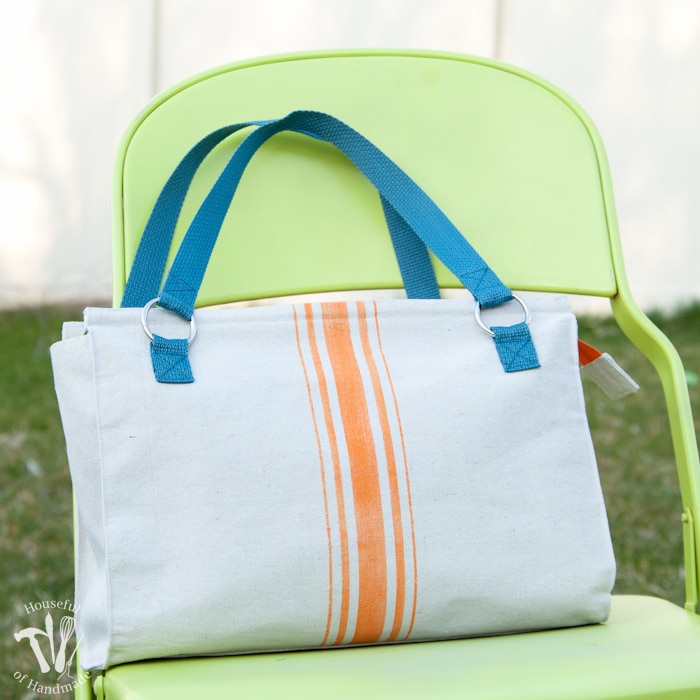 And don't worry, I am working on getting the pattern and tutorial together so you can make a purse of your own too! I plan on having it ready for you on Thursday so make sure you don't miss it.
**UPDATE: The tutorial and pattern are ready! Click here for the post.**
Until then, I am going to go enjoy the sunshine that decided to come visit with my new purse 🙂