This week was a little crazy! I spent the entire day Tuesday at a Food and Candy Expo learning things we need for GrandmaNonas fudge (best fudge out there, and I'm not too bias). When we went into the expo at noon, it was windy and 70 degrees outside. When we left at 7pm to come home, it looked like Christmas! The ground was covered in beautiful white snow and the snow was coming down so fast. It ended up snowing at our house for over 24 hours, never stopped, never let up. And for some reason, I was extremely unmotivated to cook during out crazy spring storm because I want spring food, but needed warm food, so we ate out instead! But when the snow melted on Thursday and the sun started shining, we got chance to eat beautiful spring food.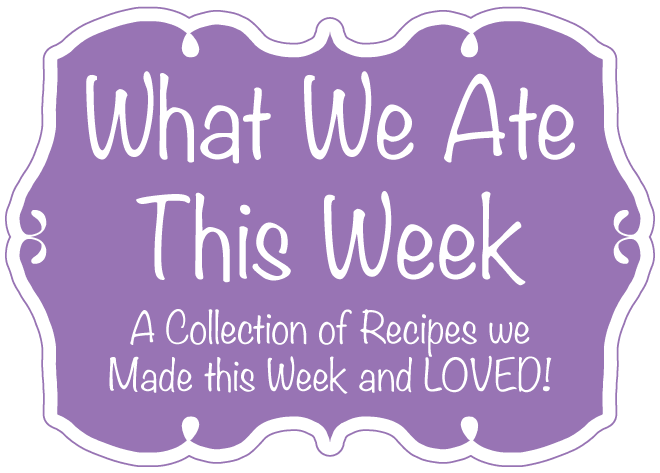 I started the week off with one of our absolutely favorite dishes of all time, Turkey Meatloaf from Skinnytaste.  I don't like meatloaf and would have never tried this recipe, but my husband found it and wanted me to make it so I did.  And we loved it, it's one of my kids favorite dishes!!  We have made it so many times and I love to sneak in veggies when I have them.  This week I minced up some mushrooms to mix in.  During the summer, we always mix in shredded zucchini.  We also love to serve it with mashed cauliflower, it's comfort food veggied out!
The beginning of spring also makes me want to eat strawberries until I turn red!  I love fresh strawberries and they always taste so good after living through winter without delicious fresh fruits.  So when they went on sale for $0.99 a pound, I grabbed a bunch to make strawberry jam.   In order to eliminate going to the store again for pectin (oops, forgot it the first time), I tried this Strawberry Honey Jam recipe that uses honey and granny smith apples.  It is delicious and now I have half a dozen pints of jam to get us through many pb&j sandwiches.
I made another recipe this week that tends to be on our menu a lot.  These Sweet Potato Noodle Chicken Fajitas always make me happy.  They are really easy to prepare, packed with veggies, have amazing flavor, and the left overs are just as amazing as they were on day 1.  What more could you want in a meal?  I make a big batch of these in my Le Creuset covered dutch oven instead of the foil pouch and it steams perfectly inside it.  I also have to add about half of the chili powder and cayenne pepper to the spice mix or it's too spicy for my kids, but it still has amazing flavor and I just top it off with my favorite salsa to add more heat.  I love my Spiralizer and use it all the time.  my husband calls it the best kitchen tool of 2014.
Speaking of my favorite salsa, this Avocado Tomatillo Salsa from Onion Rings & Things has become my new favorite for everything, sometimes I just eat it with a spoon, okay, I do use chips but it's good enough to eat with a spoon.  I love to use this salsa on mu eggs in the morning.  It has great heat and amazing flavor.  Even my husband who doesn't like avocados loves this salsa.
My herb garden is starting to come back in and I was itching to use fresh herbs in my cooking again.  So when I came across this recipe for Pesto Pasta with Sun Dried Tomatoes and Asparagus from Damn Delicious and then the asparagus went on sale for $0.99 a pound I knew we needed to try it this week.  I added some cooked chicken cut into 1″ cubes instead of the fried egg.   My kids response, "This is the best dinner ever, can you make this every night!?"  And they each ate 2 servings.  So this one will be making it into our dinners more often.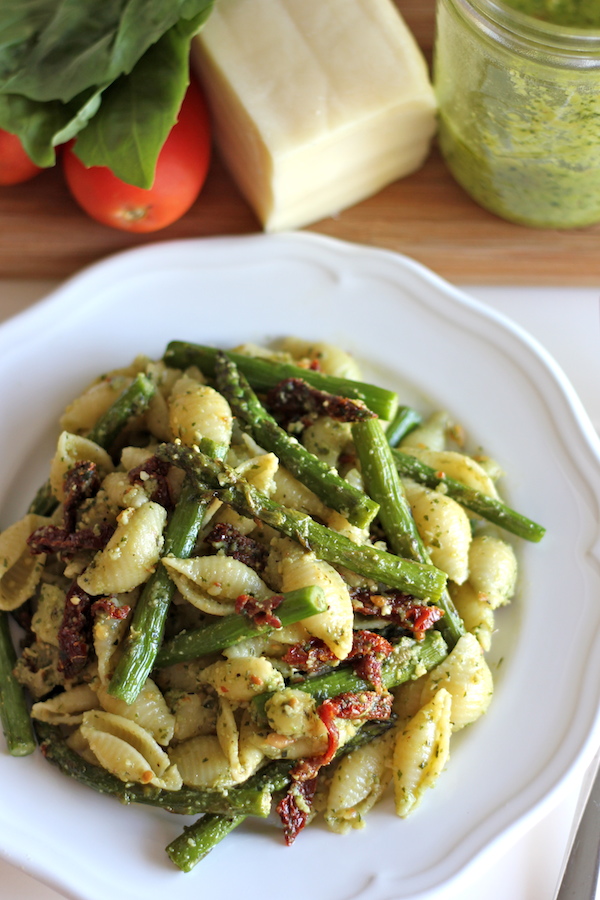 I used the Easy Homemade Pesto recipe from Damn Delicious for our pasta salad.  Because my herb garden is just starting out and I didn't have a ton of basil yet, I threw in a handful of spinach (about a third of the basil it asked for) as a substitute and you would never know the difference.  I also added just a splash of lemon juice to brighten it all up.  Super easy and delicious and it made twice the amount of pesto we needed for the salad so I have some in my fridge to smear on sandwiches, add a dollop to my eggs, or make another salad.
Well it looks like I did a lot better at eating more veggies this week, which is good since I made the orange cinnamon rolls again for Sunday morning breakfast 🙂  Hey, a little sugar is just what I needed this morning!  I hope you give a few of the recipes a try, I promise, they are worth it!
Please share any recipes you have tried that you love.