It's the first Silhouette Creator's challenge of the year! I love having the themed challenge to help stretch my creativity and this month's theme definitely made me think. This month we were suppose to "Refresh" and make something old new again. Sounds easy enough but for some reason I was coming up with some serious brain block. So instead of crafting, I tried avoiding. Ha ha! During my avoidance I was browsing the world wide web and stumbled upon the Magnolia Market shop (cause I never spend hours and hours drooling over the beautiful decor there) and saw these beautiful french kitchen canisters. I loved them so much and then it hit me, I could create my own version for the challenge and I came up with this Farmhouse Kitchen Canister DIY.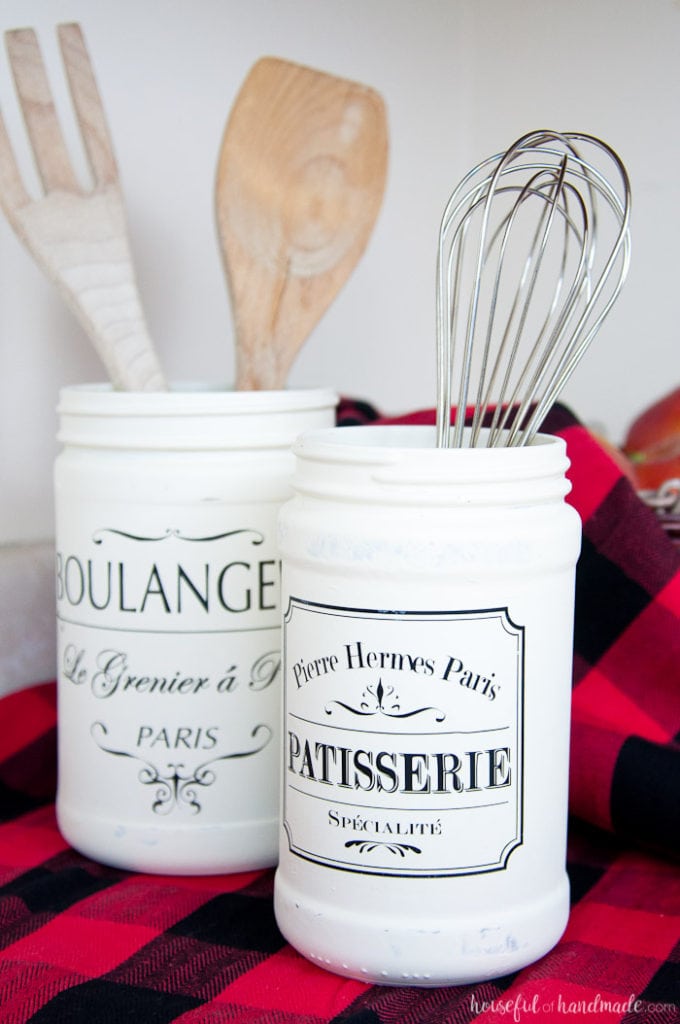 Obviously this challenge has to start with the awful before photo since we are refreshing it. Are you ready to find out what these gorgeous canisters started out as? Peanut butter jars!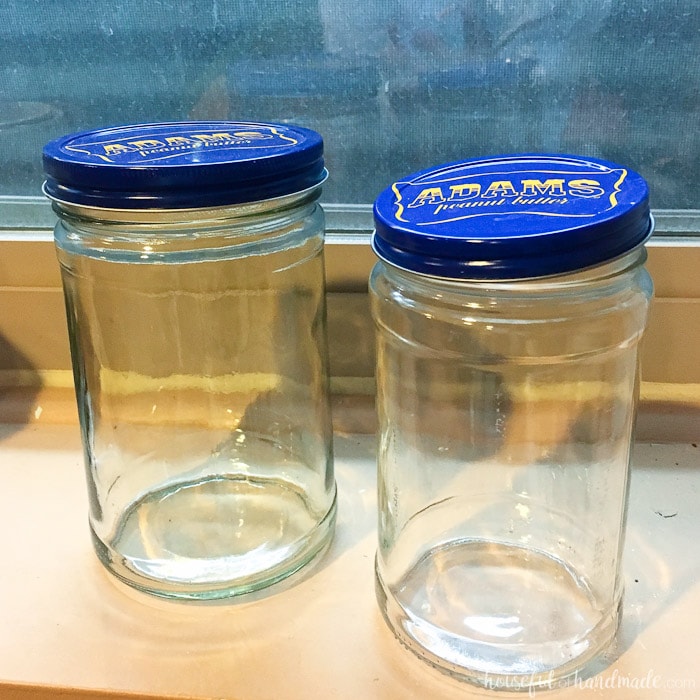 Yep, my family has a slight obsession with peanut butter and our favorite brand (Adam's) comes in these nice glass jars. I never throw them away when we are done because they are perfect for reusing. Whenever I make homemade salsa, I use an old peanut butter jar to store it in the fridge. If I have a bunch of craft supplies to organize, peanut butter jars to the rescue!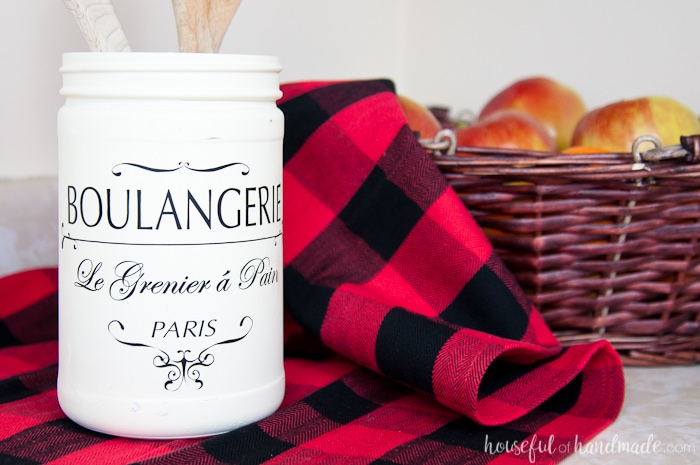 So when I needed a jar for my Farmhouse kitchen canister I knew a couple peanut butter jars would be perfect. With a little DIY, I turned them from glass jars to "porcelain" canisters. Now all that I needed was some beautiful labels.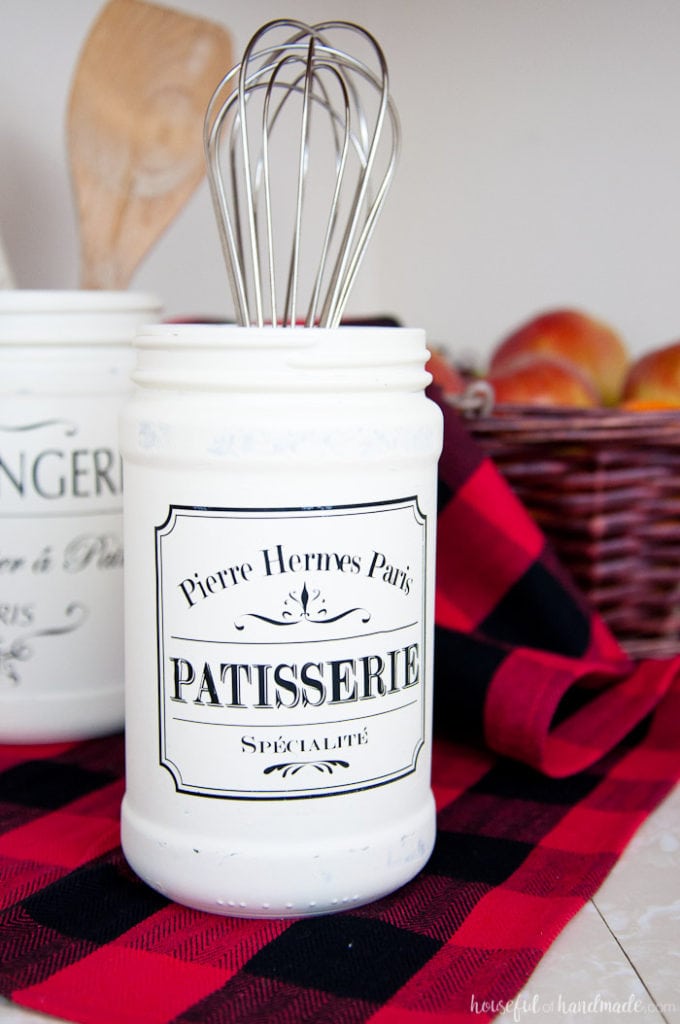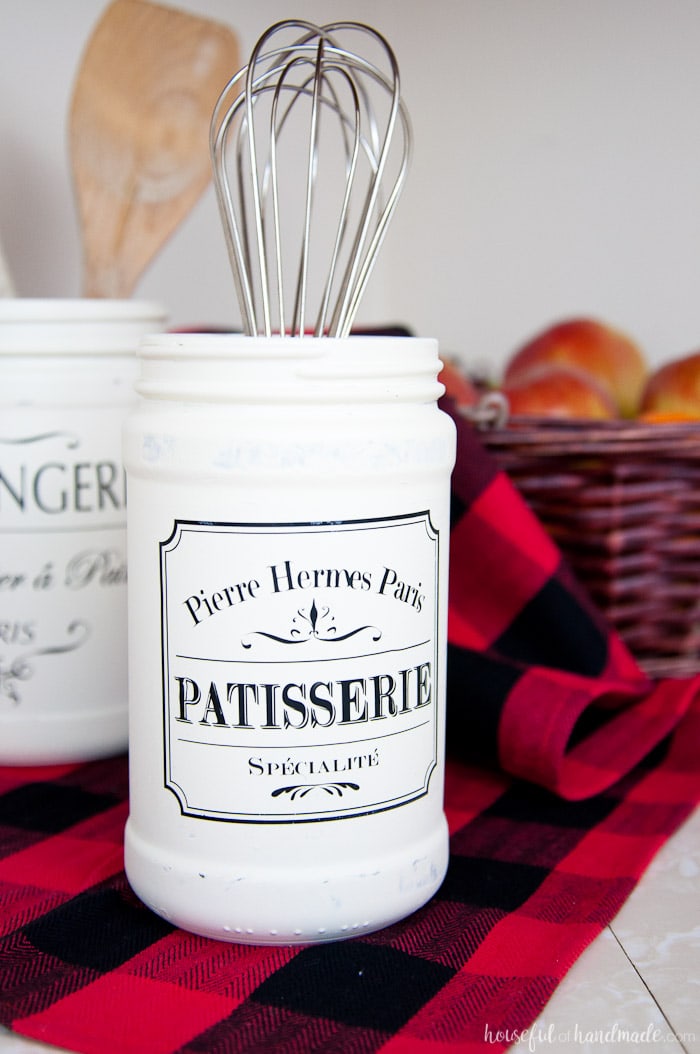 I actually had way too much fun creating these vintage french bakery inspired designs for the canisters. Being able to create whatever I can dream up is my favorite thing about the Silhouette cutting machine. But after I got everything designed, I realized the detailed label would be a big pain to cut and weed without messing it up with regular vinyl. There are some seriously thin lines and lots of tiny details. I have yet to try putting heat transfer vinyl onto something hard so this was my first test run. I am happy to report it's my new favorite way to use HTV and I'm going to be exploring it more.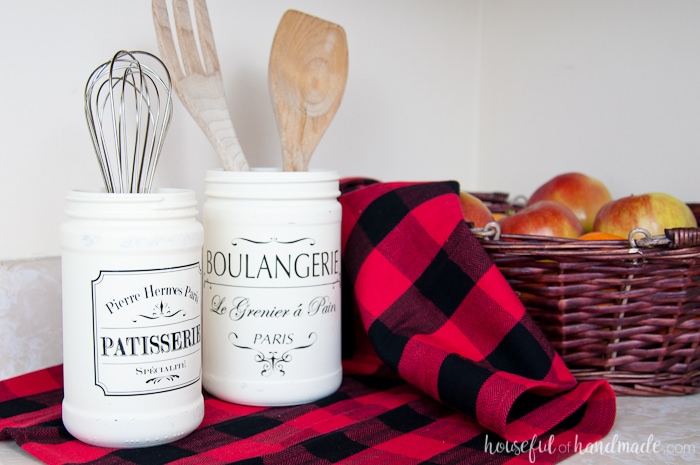 If you are ready to see how easy it was to turn old PB jars into something awesome, click the arrow below for the tutorial.

And to use up even more of those glass jars, check out how my friend Jenny from Refresh Living reused jars in her bathroom.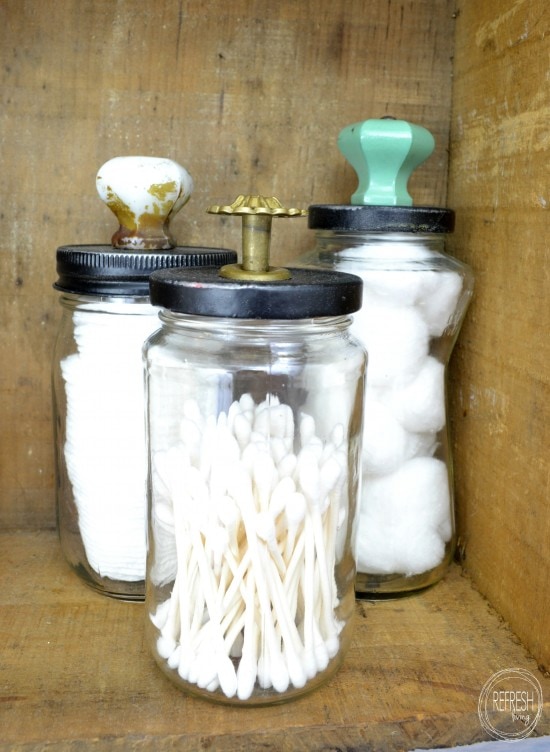 Then don't forget to check out these other amazing Refresh ideas using your Silhouette!
DIY Bar Tray – Two Purple Couches
Rachel Teodoro – Making a New Crate Look Vintage + Using a Stencil Made from Vinyl
My Life from Home – Farmhouse Glass Kitchen Sign
Kock it off Kim – Pantry Refresh and Organization
Michelle James Designs – Cool Clock Update
Simply {Darr}ling – Upcycled Painted Globe: Adventure Awaits
Pocketful of Posies – DIY Dry Erase Calendar


Save