Make these easy copper candle holders for fall to add a bit of glamor to your home decor.
Concrete and copper make a beautiful statement for autumn.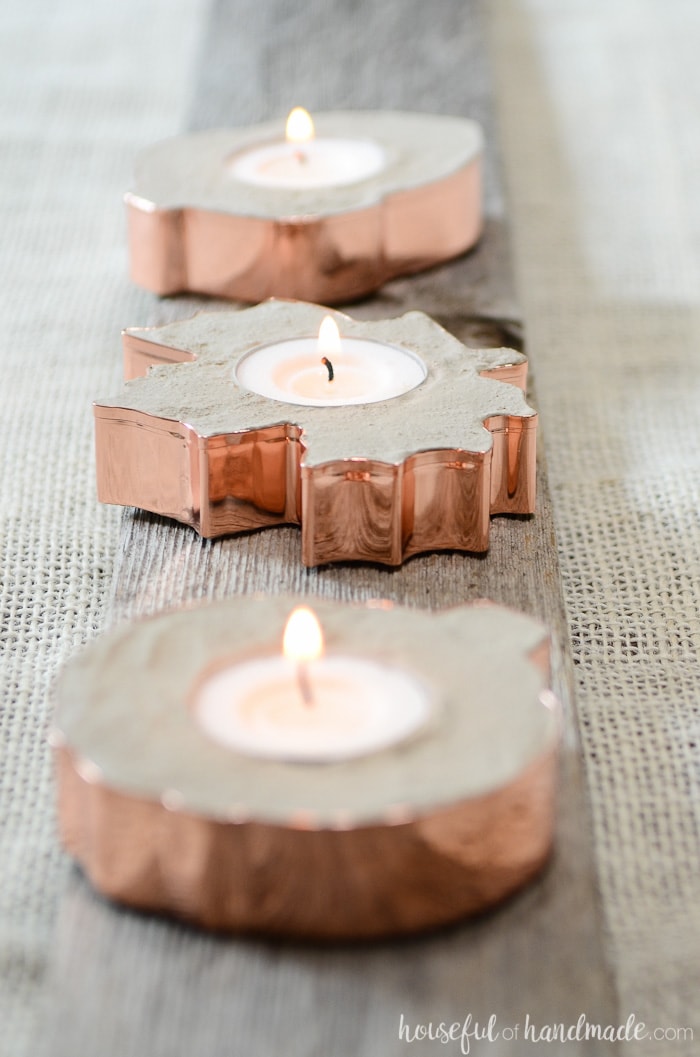 Copper candle holders are the perfect way to add some bling to your fall decor. Copper cookie cutters are the perfect backdrop for industrial concrete candle holders.
They are so easy to make, you will want to sprinkle them all over your house this season in place of pumpkins.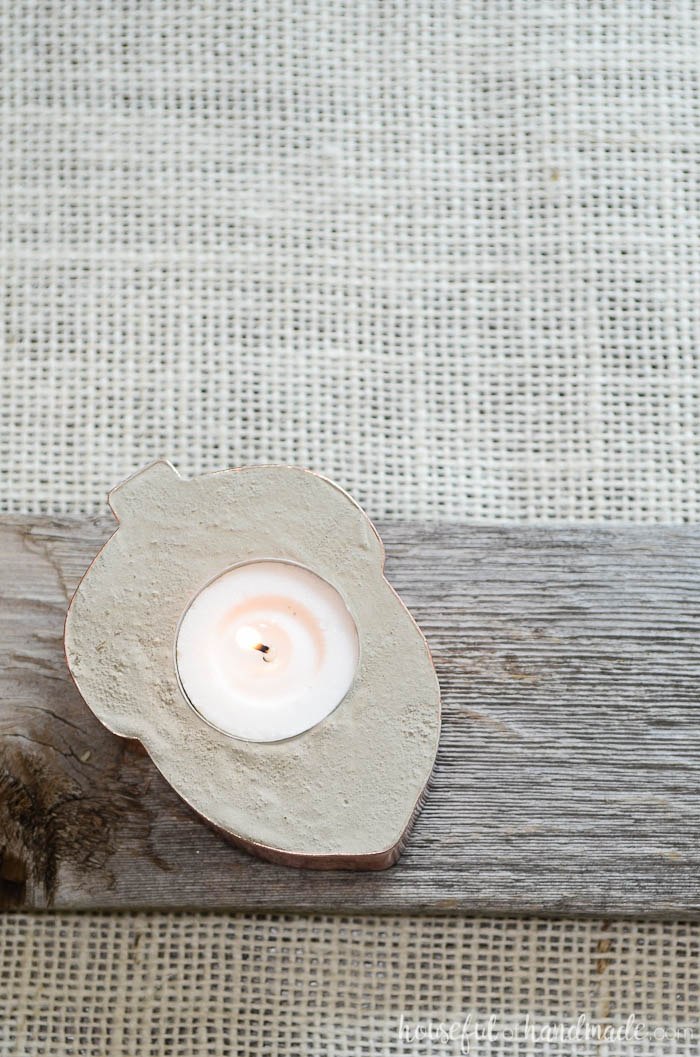 Fall is almost here. The nights are starting to cool off nicely, but it is still super warm during the day.
However, I am not letting it stop me from filling our home with fall decor. I haven't pulled out the pumpkins yet, but everything else for fall is fair game like this fall watercolor leaf art!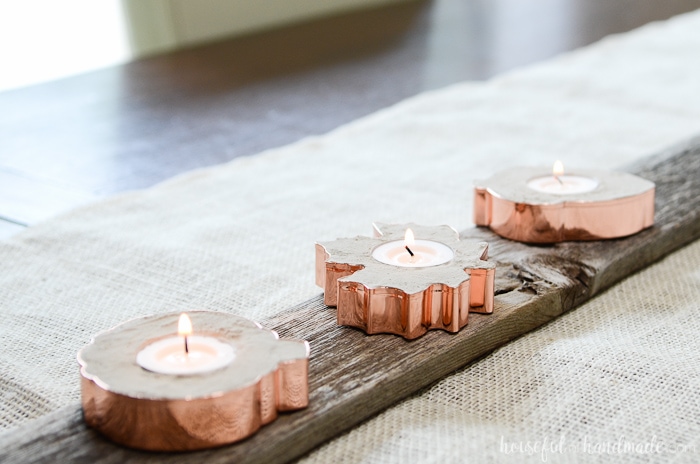 As I was going through my fall decor boxes, I found some copper fall cookie cutters I bought last year and never used. Do you do that too?
I originally was thinking of using them in a wreath or something, but I am glad I didn't get around to it.
When I saw them this year, I knew immediately what I wanted to do with them: turn them into copper candles!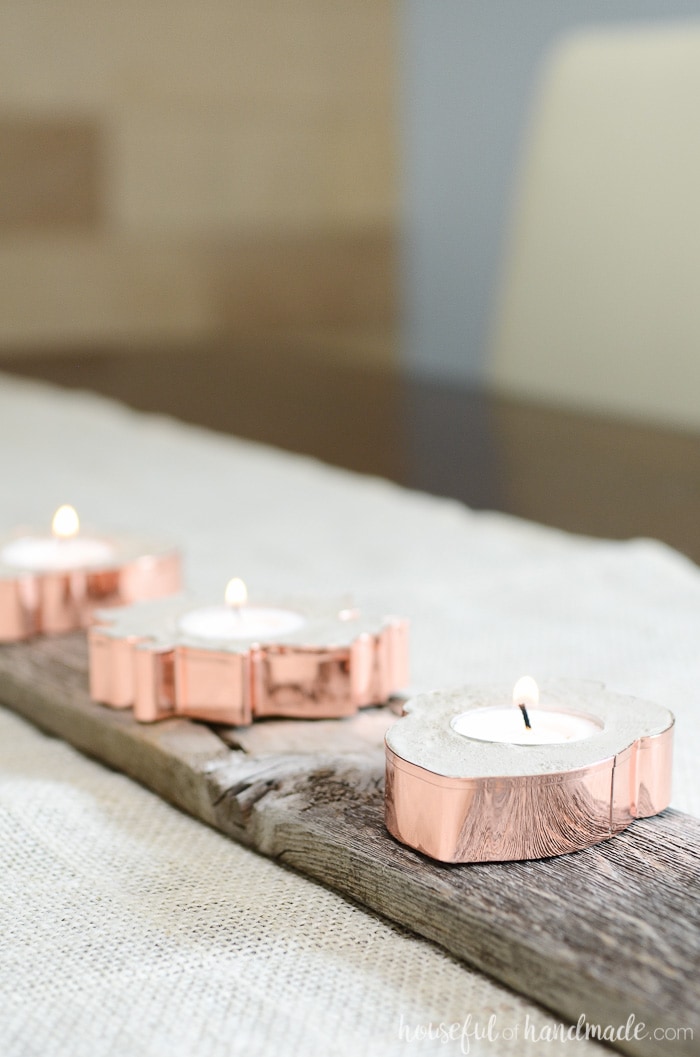 I thought it would be beautiful to fill the cookie cutters with wax. But then after they burned out, there would just be a huge mess. Then it came to me… concrete!
I love all things concrete. It's the perfect accent for any home decor and I love it next to the copper. So I turned the beautiful fall cookie cutters into concrete candle holders and they are gorgeous!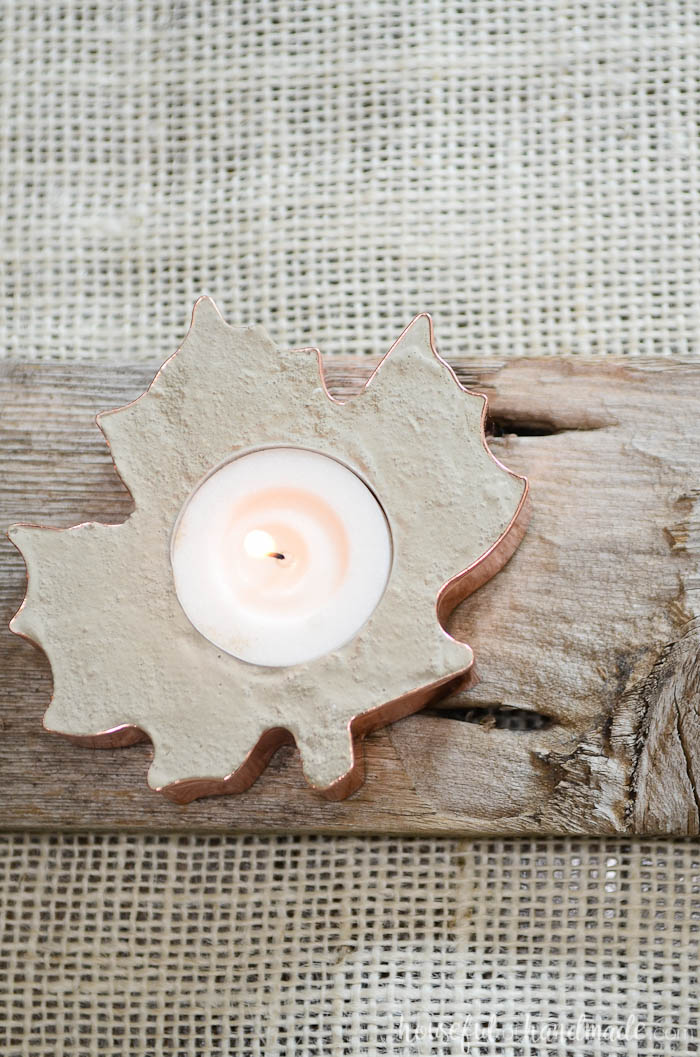 The shine of the copper is balanced by the industrial concrete. And the size of the cookie cutters makes the perfect copper tea light holders. Just think of all the different concrete candle holders you could make out of cookie cutters.
You could make them for every season because they are so easy and quick to make!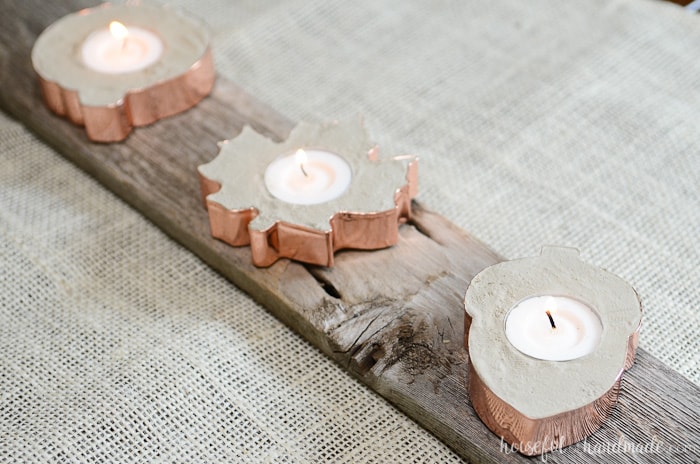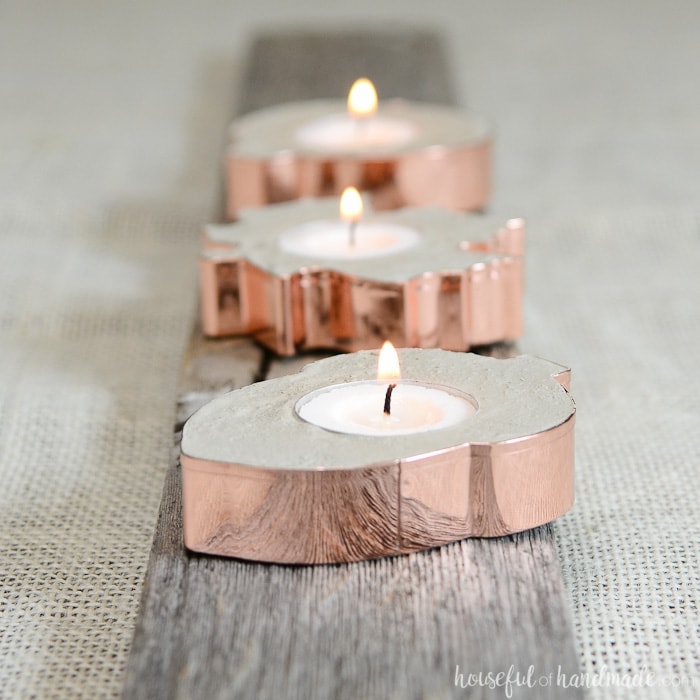 How to Make Copper Candle Holders
Supplies:
Maker's Mix craft concrete

You can use regular concrete for these candle holders, but I like that the Maker's Mix is lightweight and super easy to use for this small project.

Tea light candles

You want to use the tea lights that come in their own metal cup. That way when you have burned down once candle, you can remove the old candle and insert a new one.

Wax paper
Mix together the concrete so it is the consistency of natural peanut butter (slightly runny, but can be scooped out). I mixed mine by adding the water first (4 Tbsp) then putting the Maker's Mix on top of that 1/4 cup at a time (used about 1 1/4 cups total). Stir well so there are no lumps.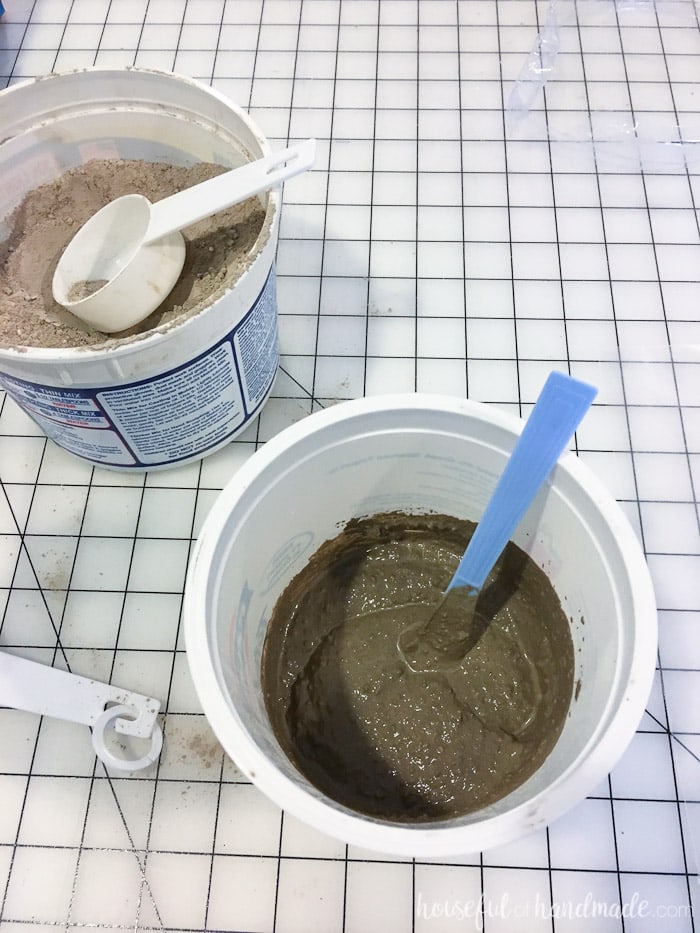 Place a piece of wax paper large enough to hold all your copper cookie cutters on the table. Fill the cookie cutters about 1/2 way up with the mixed concrete.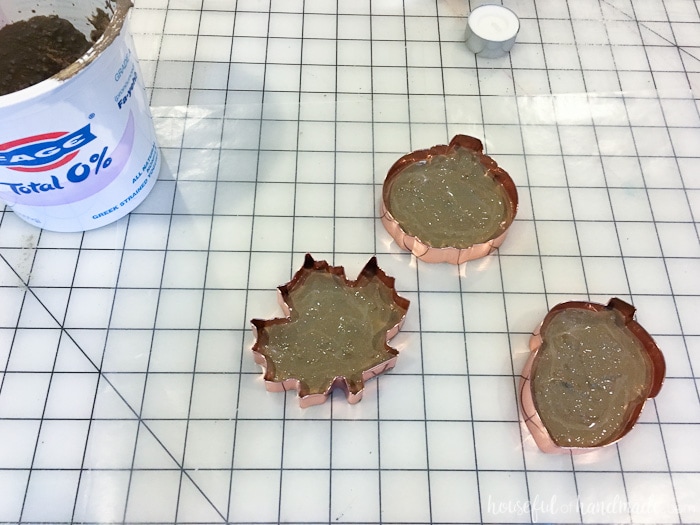 Place a tea light, with it's metal cup, inside the center of each cookie cutter. Press it into the cement so the top of the tea light is flush with the top of the cookie cutter.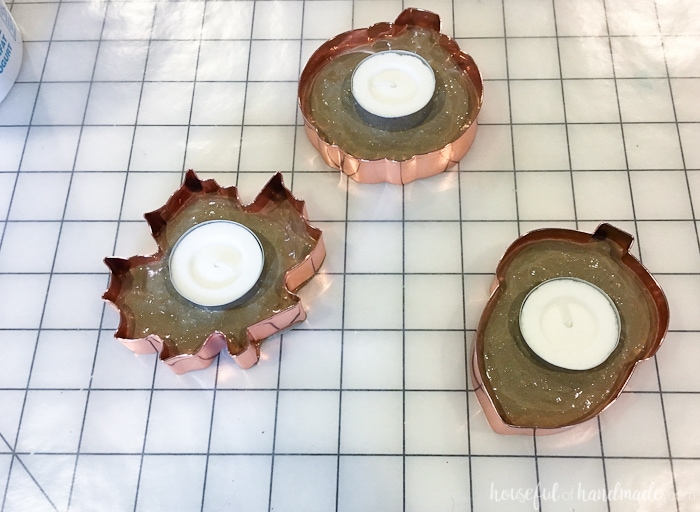 Fill up the rest of the cookie cutters with the mixed concrete. I found it was easiest to scoop it into the cookie cutter around the tea light with a plastic knife. Then used the knife to smooth the surface.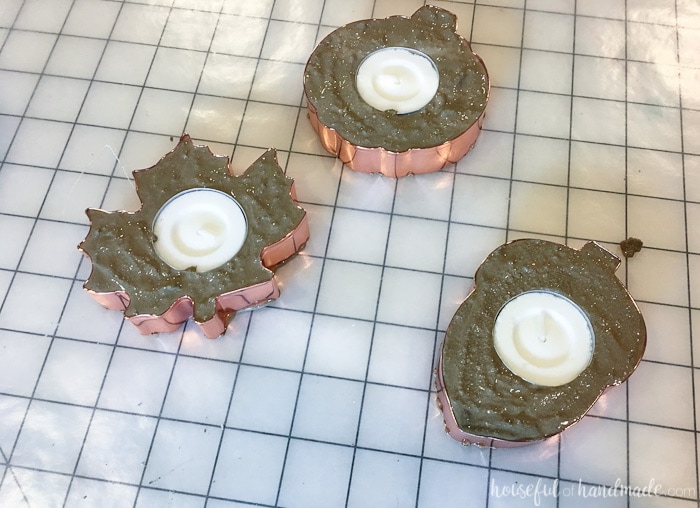 Let the concrete dry. Luckily the Maker's Mix is a fast drying concrete because I am not very patient. After about 10 minutes I was able to pick up the copper candle holders and knock off any concrete that had leaked out the bottom.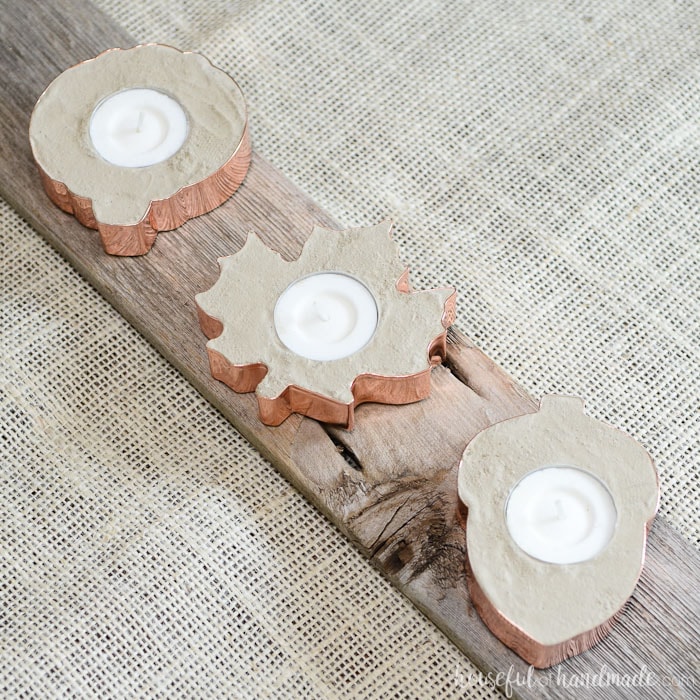 After they were completely dry, I added the copper candle holders to my fall tablescape and they were perfect. A little bit of sparkle was exactly what I needed.