A few years back I was in a terrible car accident. The kind of accident where the doctors tell your family "If she makes it through the night…" Thankfully, I made it through the night and if you met me today the only signs of my accident are the abundance of scars on my arms (one that my niece referred to as a bug cause, well, it looks just like a squashed bug).
But one thing my accident did do, it reminded me of how much I love old-fashion malted milk.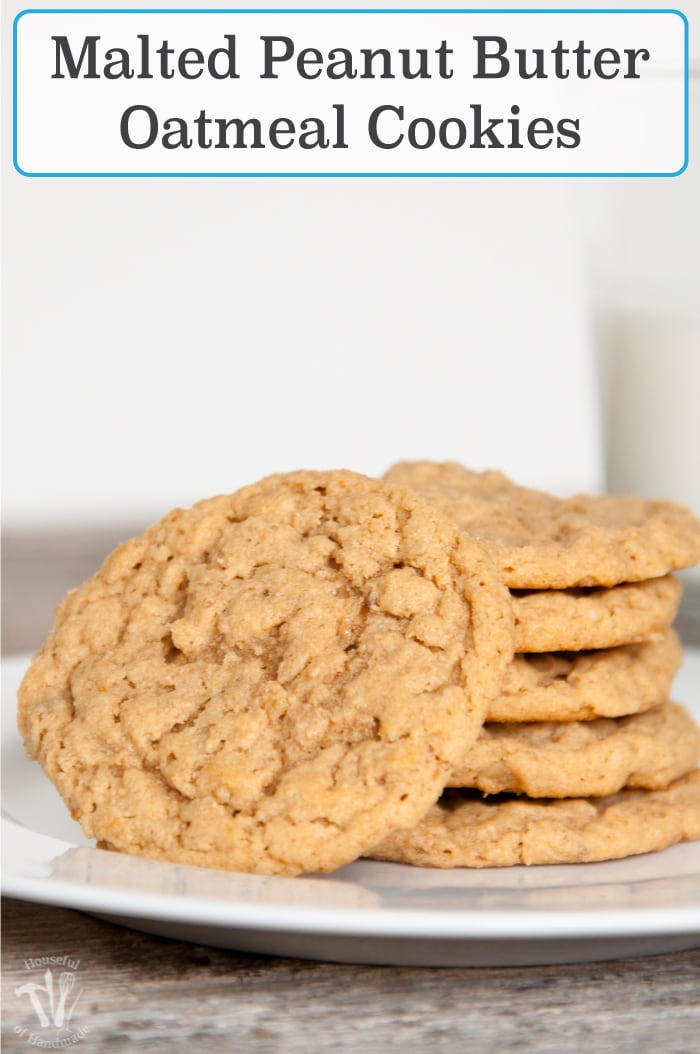 Spending a couple weeks in the hospital is never fun, and oh so boring. And the hospital food is less than awesome. But we discovered the cafeteria at the hospital was quite delicious. Lucky for me, the lunch service kept forgetting my lunch.
Seriously, almost every day we watched as they delivered lunch to all the rooms around me, then when the nurse came in to check on me we would inform them that I did not receive my lunch. They would offer to send down for a lunch tray or give my husband a voucher to get me food at the cafeteria. I always chose the cafeteria!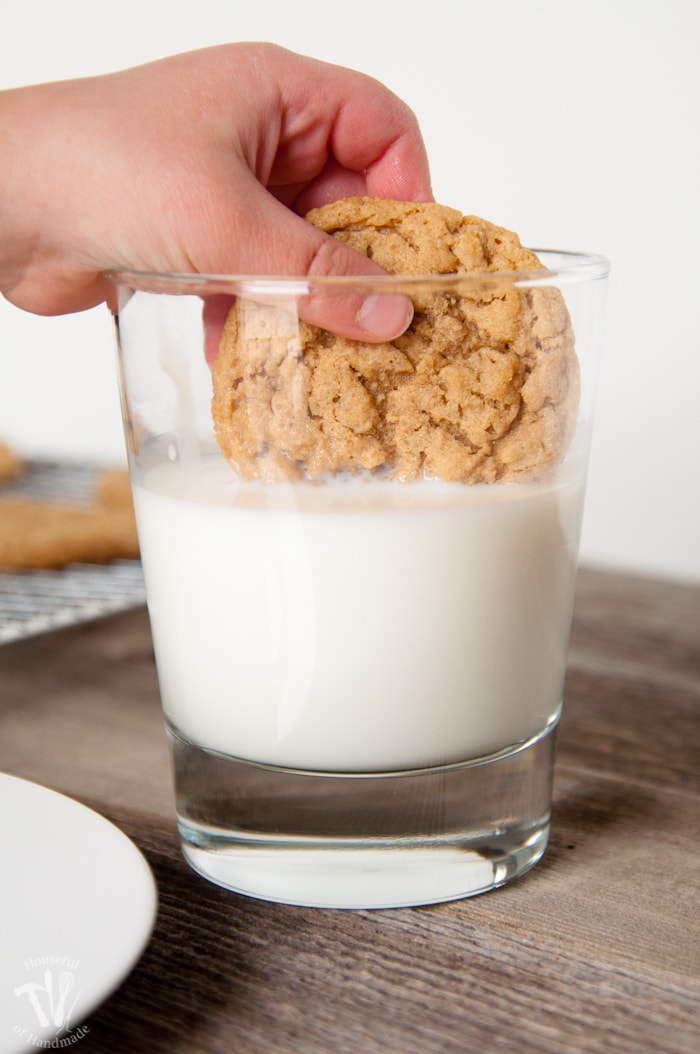 My favorite things to get with those blessed cafeteria vouchers were a chimichanga and a chocolate malt! Not the healthiest options, but hey, I almost died so I wasn't counting calories. I ate many chocolate malts during my hospitalization and it reminded me of how much I loved old-fashion malted milk.
So much so, that I always have a can of powdered malted milk in my pantry for the (more) occasional chocolate malt or to add to things like pancakes and cookies.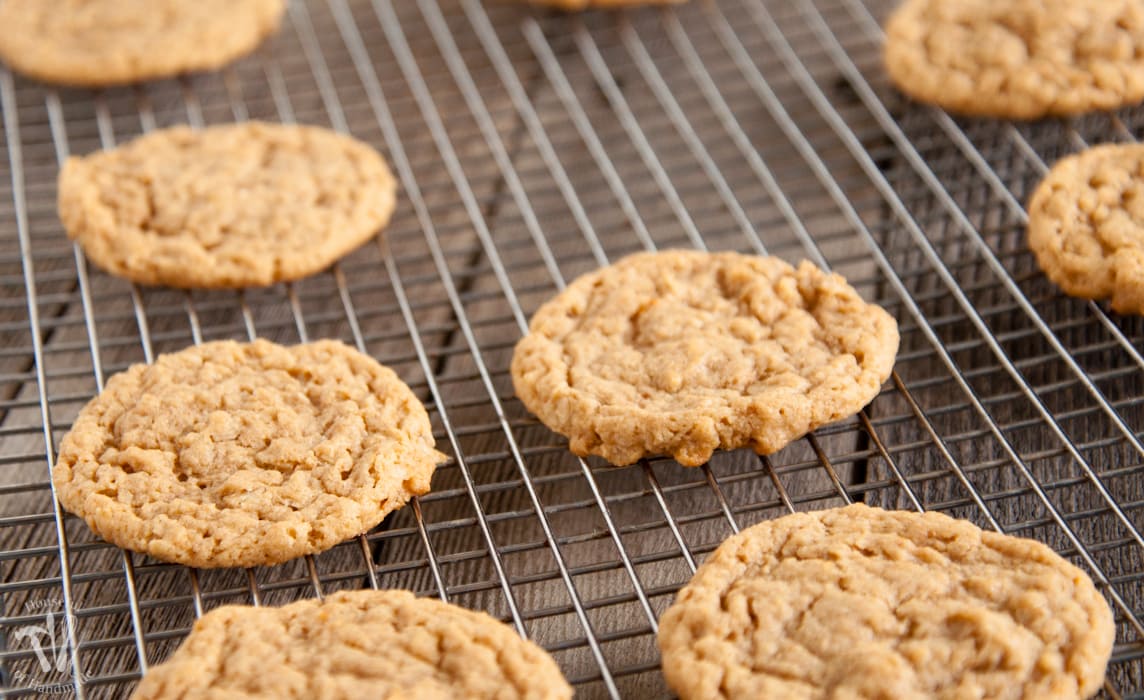 So when I was making a batch of regular peanut butter cookies, I opened my pantry for some ingredients and the malted milk powder caught my eye. Peanut butter and malt… why not? And because I absolutely love oats in my cookies I thought I'd throw them in too. The result: a malty, nutty, slightly crunchy but with a chewy center, peanut butter oatmeal cookie. YUM!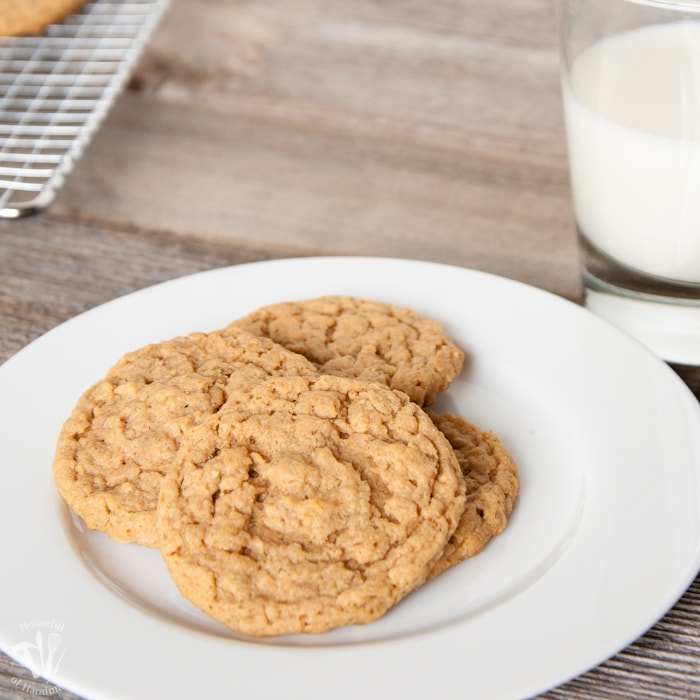 While most of the ingredients in these cookies are pantry staples, you might have to go grab a jar of malted milk powder. You can usually find it in the grocery store next to the chocolate milk powder (I bought mine at Super Target, no specialty store needed).
And after you use it in these amazing cookies, you can start adding it to all kinds of goodies (throw about 1/4 cup in your pancake or waffle batter next time, I promise you'll thank me for it).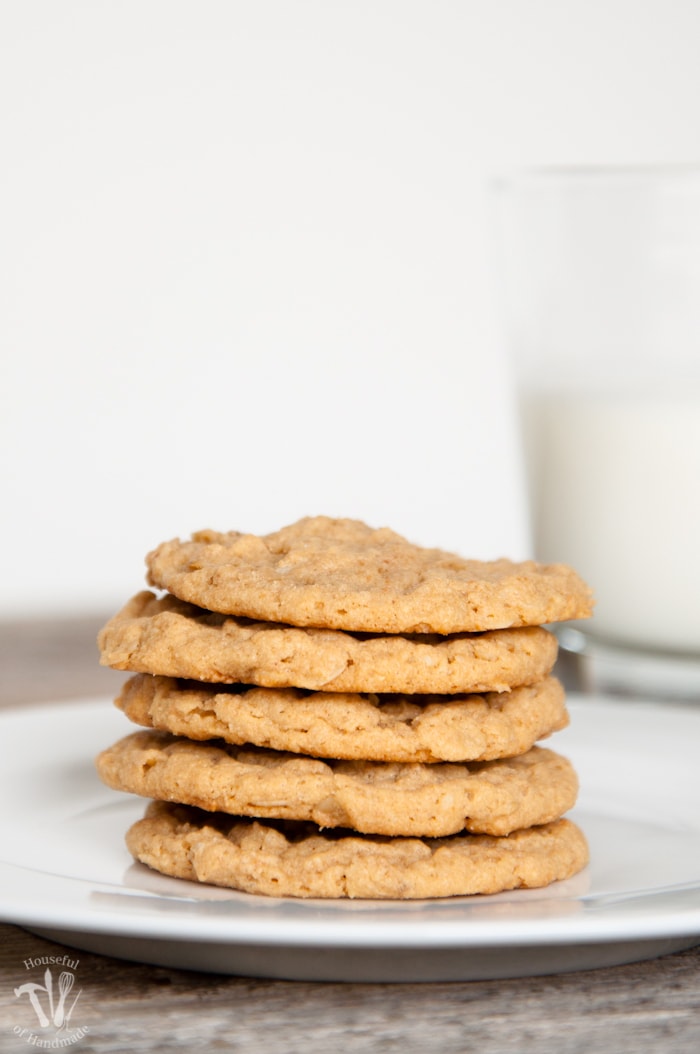 Cookie heaven is these Malted Peanut Butter Oatmeal Cookies dipped in a cold glass of milk. Yum!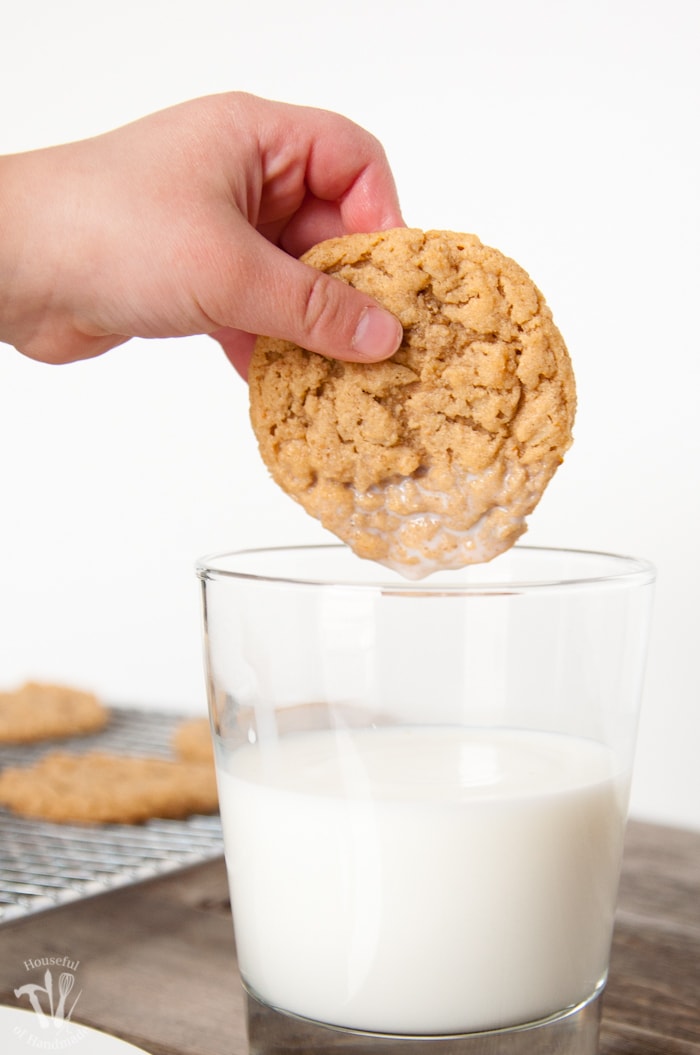 And this is the look of a very happy little girl who got to eat cookies for breakfast because mommy had to take pictures in the good light. Haha! These cookies are definitely toddler approved 🙂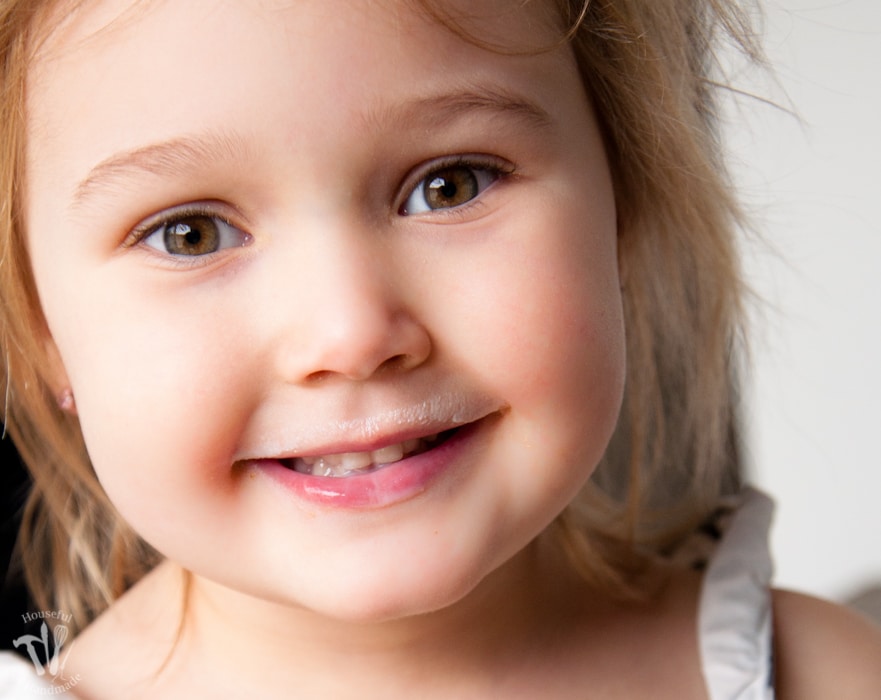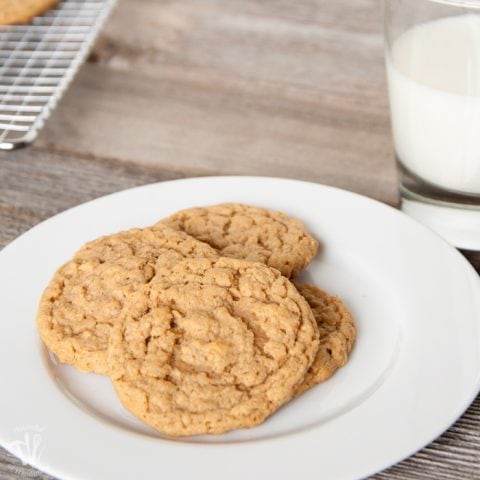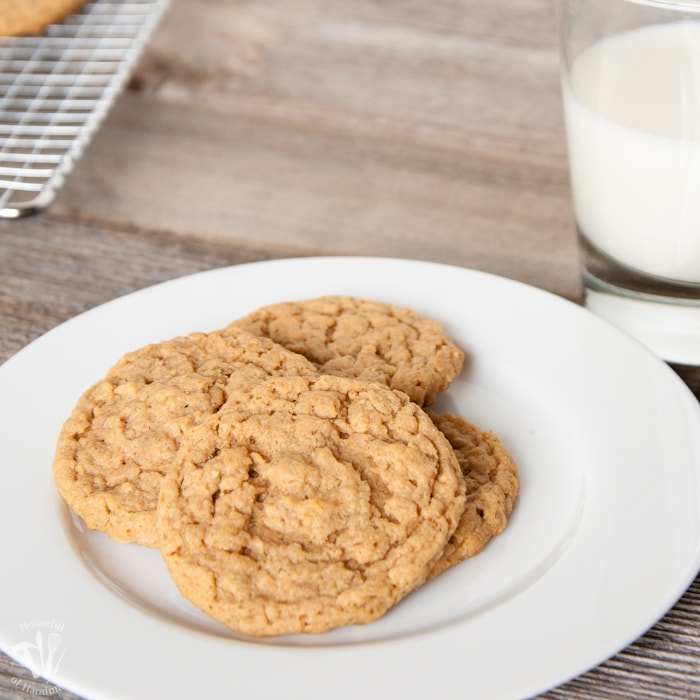 Malted Peanut Butter Oatmeal Cookies
Yield: 3 dozen

Prep Time: 10 minutes

Cook Time: 10 minutes

Additional Time: 10 minutes

Total Time: 30 minutes

These Malted Peanut Butter Oatmeal Cookies are amazing! They are made with whole wheat flour, peanut butter, oats, and malted milk to make them really special. The result is a cookies that is malty, nutty, slightly crunchy but with a chewy center full of peanut buttery goodness.
Ingredients
1/2 cup butter, softened
1/2 cup creamy peanut butter
1 cup brown sugar, packed
1 egg
1 tsp vanilla extract
3/4 cup white whole wheat flour
3/4 cup rolled oats
1/3 cup malted milk powder
1 tsp baking soda
1/2 tsp salt
Instructions
Preheat oven to 350 degrees. Line baking sheet with parchment paper.
In a stand mixer, cream together butter, peanut butter, and brown sugar until lightened in color. Scrape sides well.
Add in egg and vanilla extract and combine well.
Scrape sides well and add in flour, oats, malted milk, baking soda, and salt. Mix well, but do not beat.
Drop 1 Tbsp balls of cookie dough onto parchment paper lined baking sheet, spaced about 2 inches apart.
Cook for 8-10 minutes. Allow to cool for a couple minutes on baking sheet before moving cookies to cooling rack to finish cooling.
Enjoy!
Did you make this recipe?
Please leave a comment on the blog or share a photo on Instagram

Until next time 🙂