This refillable rustic advent calendar is the perfect farmhouse Christmas decor. You can fill your own advent calendar with treats, small presents, or activities to help countdown to Christmas.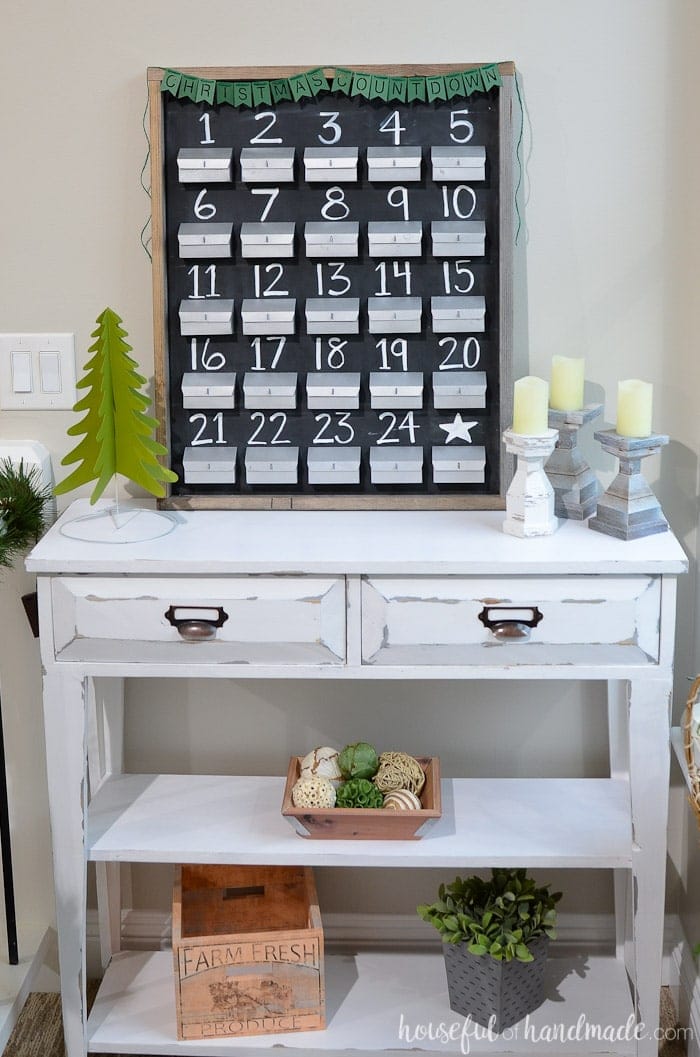 Make a beautiful rustic advent calendar that you can refill and use again every year. Advent calendar boxes are the perfect way to create a customized Christmas countdown. This chalkboard advent calendar is made with 25 little paper mailboxes for you to fill up for each day in December.
Do you do an advent calendar for Christmas? My kids get so excited for it. As soon as the turkey leftovers are in the fridge, they want to know when we get to start our advent calendar. We have used many different advent calendars, I loved the farmhouse plaid advent calendar I made last year. But I had the idea to make this new refillable rustic advent calendar this year, so I just went for it. And I am so glad I did because this one is gorgeous!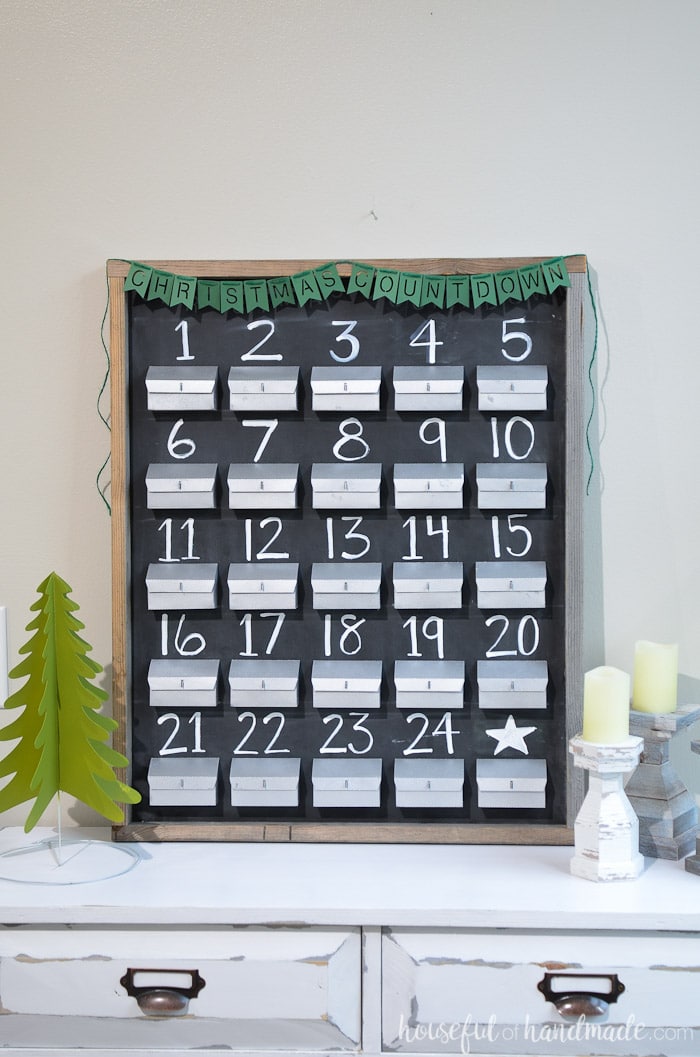 There are so many different ways you can do an advent calendar. We prefer the activity advent calendar. Sometimes it can get a little crazy to do a Christmas themed activity every day, so we came up with the perfect solution. I've shared all our tips and tricks for how to plan a stress free activity advent calendar. Now all we needed was the perfect calendar to store those little strips letting the kids know what fun to expect that day.
I love all things rustic. Nothing makes me happier than reclaimed wood, chippy paint, and a cozy house. All the things I wanted to have in our rustic advent calendar this year. And since I love how our Letters to Santa mailbox turned out, I decided to stick with the mailbox theme and make these refillable paper mailboxes for our advent calendar. Don't they look so cute?
Then I used a piece of foam board to put the cute paper advent calendar boxes on. So easy, all you need is hot glue. And the foam board can be purchased at the dollar store, bonus! I even used hot glue to attach the super easy (no mitering required) reclaimed wood frame around the chalkboard advent calendar.
Because I felt like I needed a little something else, I also added this Christmas Countdown banner to the top. It's the perfect rustic farmhouse advent calendar now. And those little boxes are perfect to fill your own advent calendar.
If you want to make your own refillable advent calendar, click on the arrow below for the complete tutorial. Then don't forget to check out the rest of my Christmas Decor tutorials.