Make beautiful DIY Paper Lanterns for your home decor. Easy and fun budget friendly decor!
This week I vow to put the finishing touches on my winter mantle! I was starting to get a little bit worried that spring was coming. We had a couple rain storms that melted all our snow. But then the big daddy snow storm came and dumped about 8 inches on us and I realized I still had time to get my winter mantle all ready to share with you. So today I am sharing how I made these DIY paper lanterns. Yep, you read that right, these are made out of paper.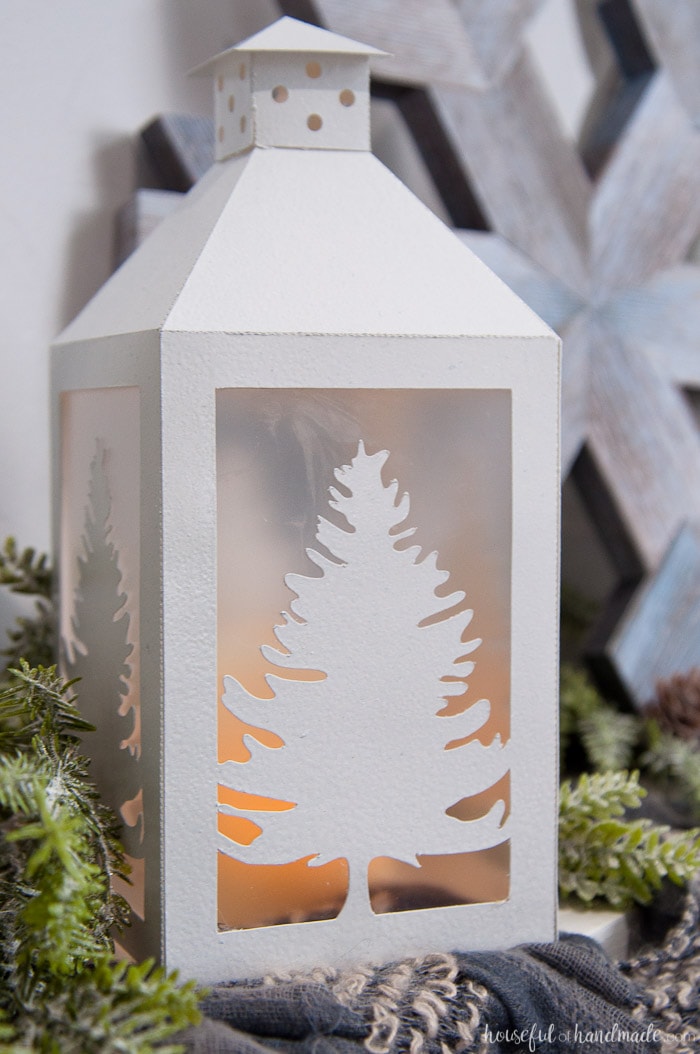 I am kinda obsessed with all the things that you can make and transform with paper. My mantle is a shining example of all the things that you can make with it, without it looking cheap. I love seeing people's face when they come over and comment on how much they like an item then I tell them it is made out of paper. These lanterns are no different.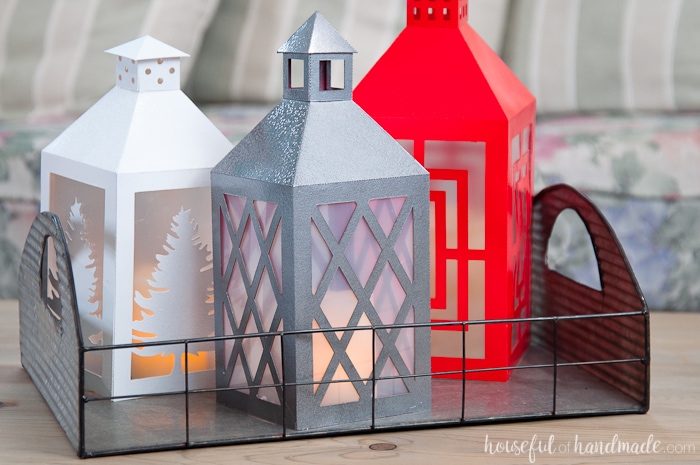 I actually made 3 of these lanterns for Christmas. You may have noticed them in our Christmas home tour. I put the red one away, but the silver and white one were perfect for winter (and really anytime). You better believe I will be using these lanterns lots more this year. They are perfect for the rustic farmhouse style that I love.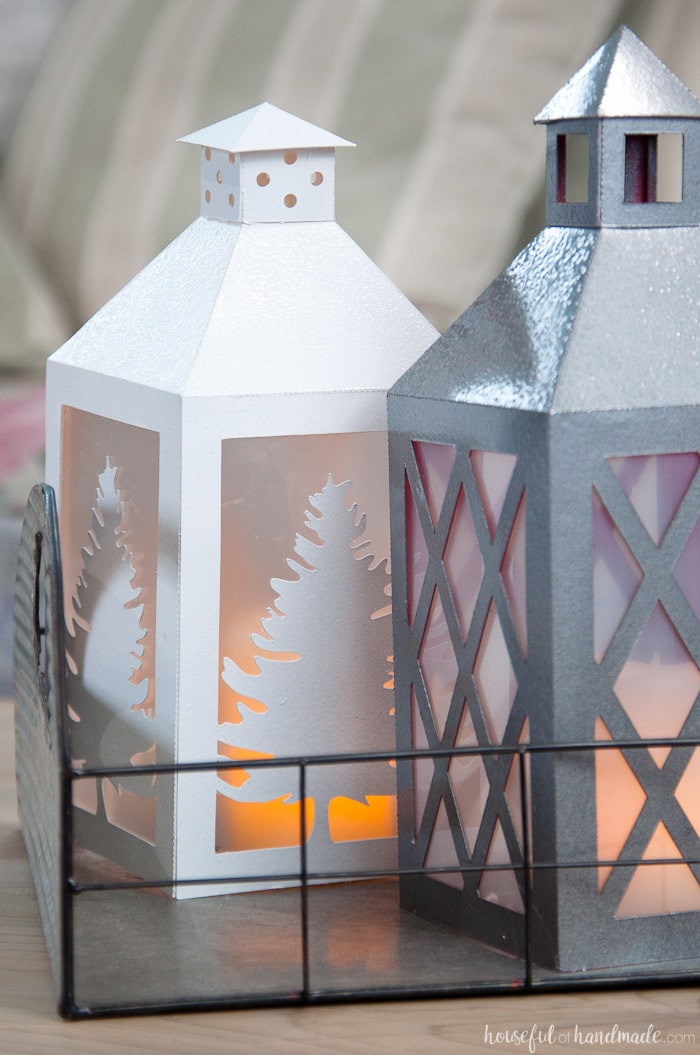 To make cutting out these DIY paper lanterns much easier, I used my Silhouette Cameo cutting machine. You may notice I am slightly obsessed with this little craft machine. I use it for a lot of my projects, and I even participate in a monthly challenge with lots of other amazing bloggers to make items with the Silhouette. However, you can make these lanterns without it. A good pair of scissors and an x-acto knife can do the same thing if you have a bit of patience.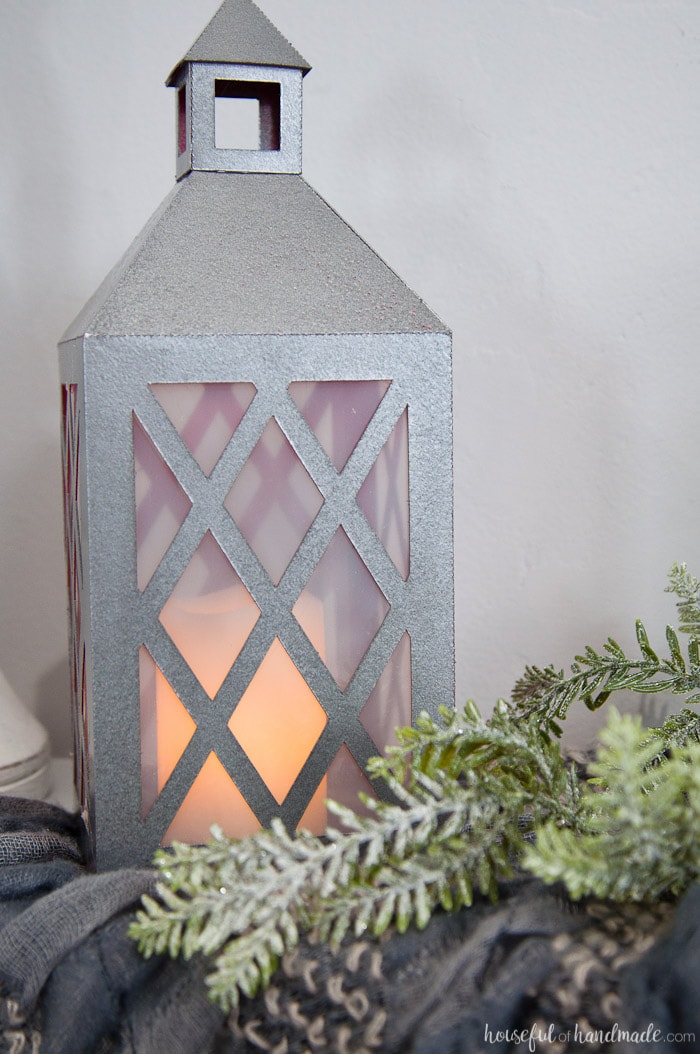 While figuring out how to make these DIY paper lanterns, I learned a few tricks to make them extra sturdy. Using these 3 extra tips you will be able to make any paper lantern look like a high-end metal lantern from your favorite home decor store. So if you are ready to learn my secrets, lets get to DIYing! Click the arrow below to see the tutorial and all my tricks.
This post contains some affiliate links for your convenience. Clicking these links will help support this blog so I can keep creating things to share with you, but you will never pay more by using an affiliate link. Click here to read my full disclosure policy.
How to Make DIY Paper Lanterns
Supplies:
Paper lantern cut files or printable PDF
Cover stock (100 lb cardstock paper)
Hot glue gun and glue sticks
Spray paint

I have found the hammered metal spray paints give a nice texture to the lanterns. Or for a more plastic look to the lantern, a high gloss colored spray paint looks really nice.

X-acto knife or utility knife
Silhouette Cameo cutting machine (optional)
For the first tip, I love using cover stock for extra sturdiness. Regular cardstock is 60-65 lb and cover stock is 100-110 lb. It is almost twice as thick and makes things really sturdy. I have not had any luck being able to print on the cover stock though. It is just too thick to run through my printer. If you are using the printable PDF instead of a Silhouette cutting machine, you might have to print a template onto a piece of regular cardstock, cut it out, then trace it onto the cover stock. If you don't have cover stock, don't worry. Regular cardstock will work too.
Start by cutting out the pieces you will need for your lantern. You will need 2 of the side pieces and one of the two pieces needed for the top.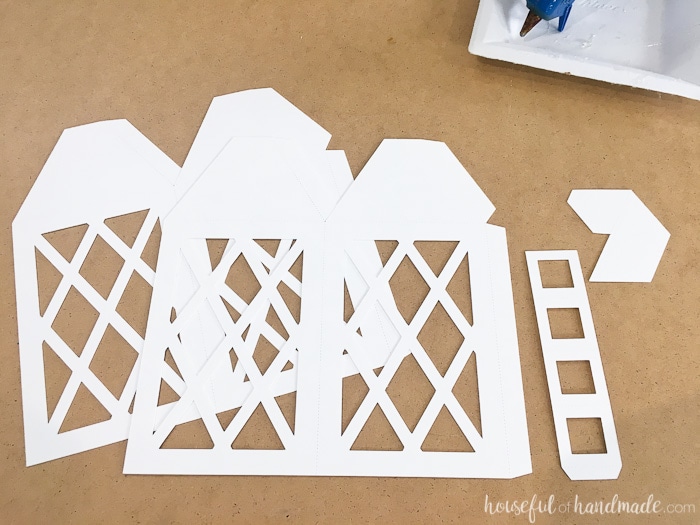 Fold the side pieces so they form a box. Glue the two pieces together at the tabs. I love hot glue for all my paper crafts. It will dry fast and hold tight on the porous paper.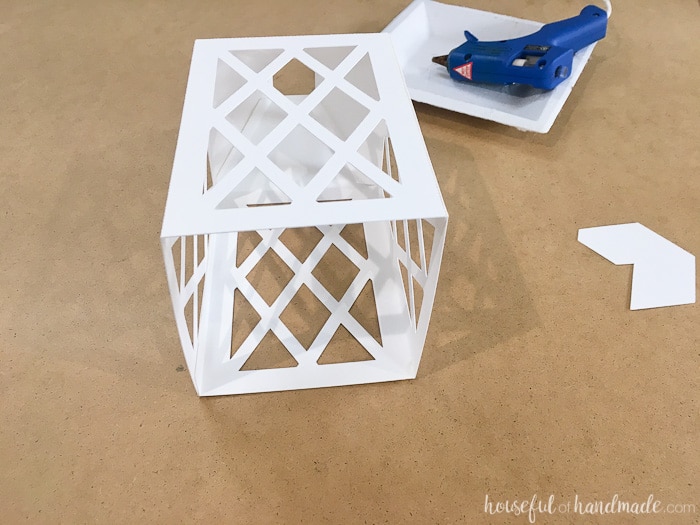 Fold the top of the side pieces so they form a pyramid on the top. Glue the tabs to secure.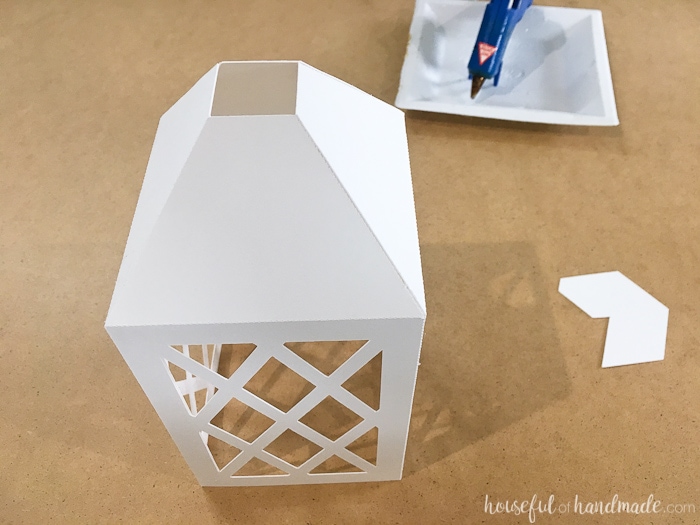 Now it's time to make the top. Start by folding the square base and glueing it together at the tab.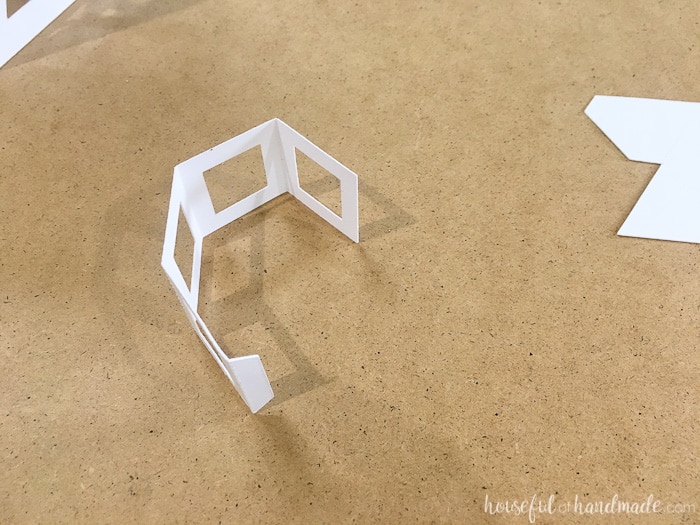 Quickly place a bead of glue on the bottom of the top box and secure it to the top of the pyramid. If you notice any of the glue dried before you were able to secure it, add some more glue on the inside of the box. The excess glue will be hidden and the top will be secure.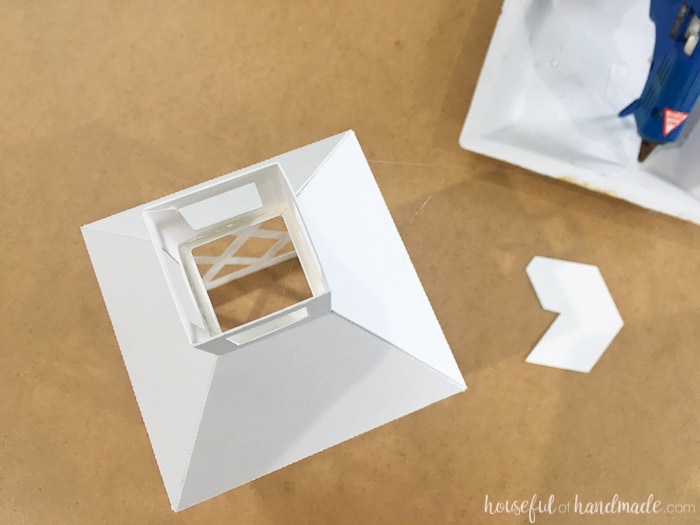 Now shape the very top piece. There are a couple different shapes but they are easy to fold and secure with glue at the tab. Again working quickly, add a bead of glue around the top of the top box and secure the top piece.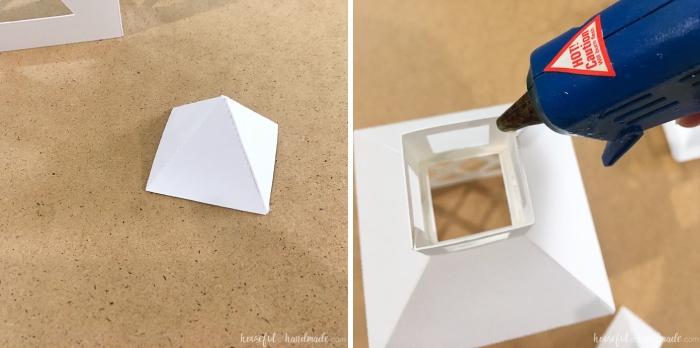 Now that they are all assembled, the next tip comes into play. Did you know you can spray paint paper? It adds a nice coating to it to really make it look like metal or plastic! I love all the metal finishes they have now, but by far my favorite is the hammered metal finishes. They add a lot of depth and texture to the lanterns.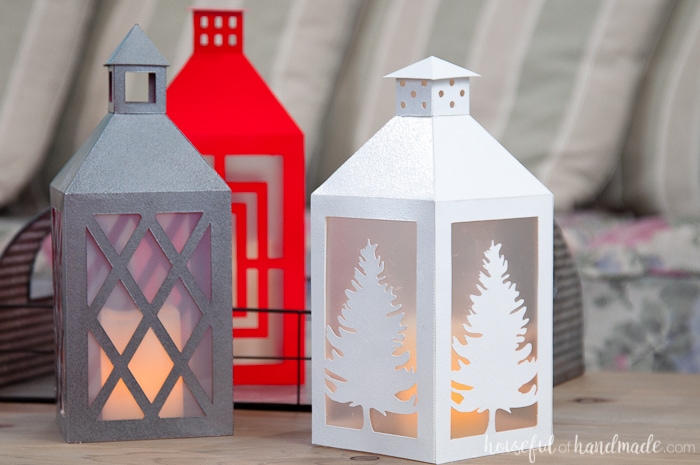 One thing to note with the hammered metal, it will leave spots with less coverage. This can be really nice if you want to have a secondary color peeking through, but if you want an oil-rubbed bronze lantern and you have white cover stock, you will need a lot of paint to cover the white, or you can use a black first coat followed up with a hammered bronze paint. So take your lantern outside and have some fun. Try a few different layers, or colors. This one was painted red first, with Rustoleum Weathered Steel hammered metal on top.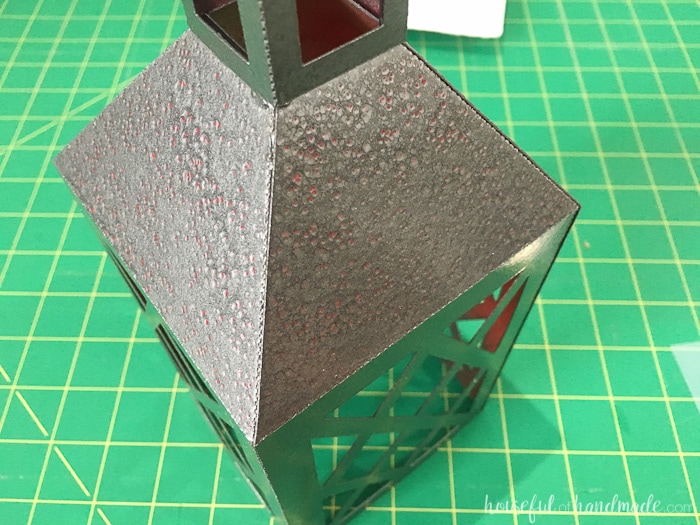 And for the final tip, use plexiglass on the inside of these DIY paper lanterns for a slightly opaque window. It also adds some nice weight to the paper lanterns so they will not move.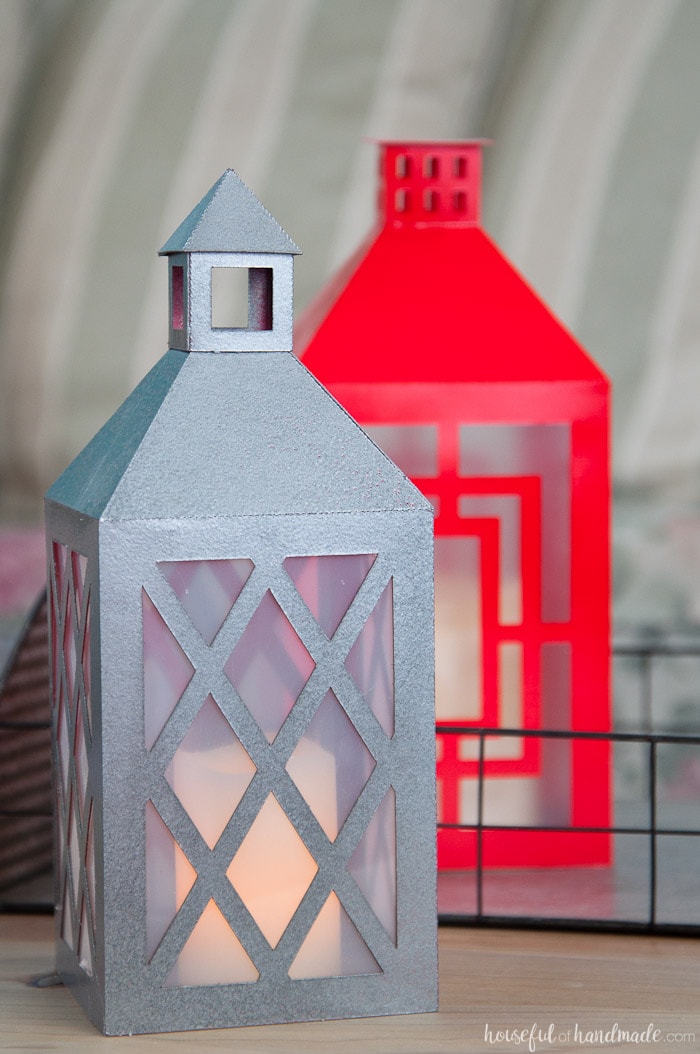 While your lanterns are drying, cut 4 pieces of plexiglass to fit on each side of the lantern. This sounds a lot scarier than it is and requires only an x-acto knife or utility knife and a ruler. Measure your lantern for the correct size, you want the plexiglass to completely cover the opening on the side, with enough room to glue it to the lanterns. Place the ruler on the plexiglass where you need to cut it and run your knife down to score the glass. You need to score it about 10 times (no need to be too specific, just make sure you have a good solid score line).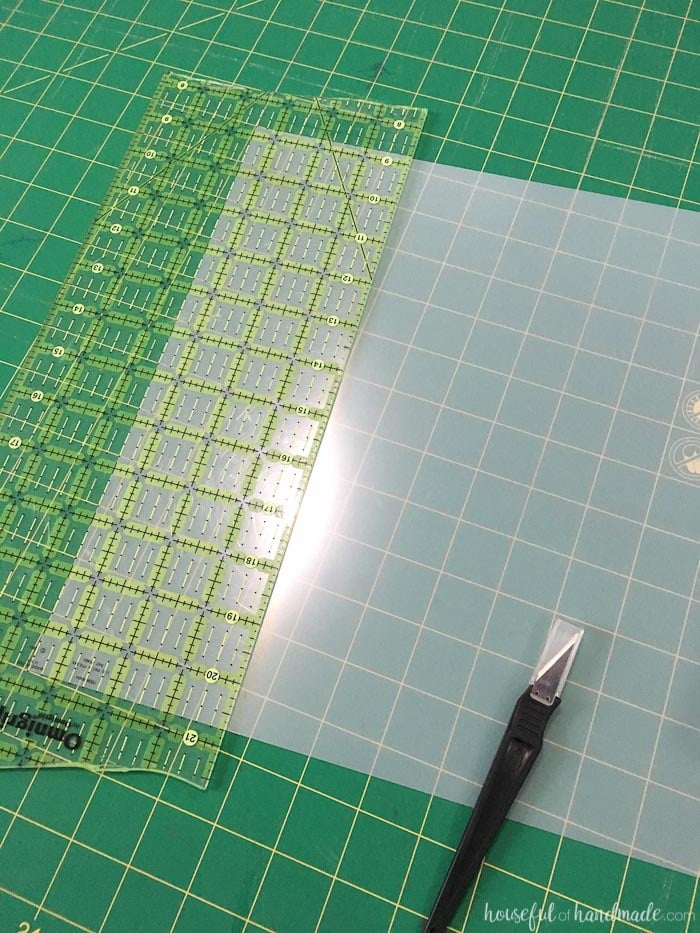 Then place the plexiglass on the edge of a hard surface (like your table or counter top) with the score line just over the edge and facing up. Press down on the plexiglass and it will snap!
Using the hot glue, secure the plexiglass to the inside of the lantern on all four sides. Now you are all done. Time to use your new DIY paper lanterns as the perfect decor.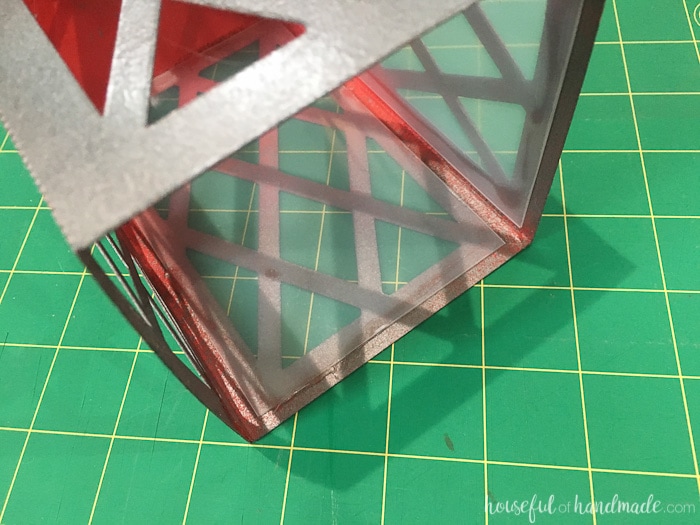 Now I want to make sure you know that these lanterns are not for use with a real candle! They are made our of paper. But there are some absolutely beautiful wax, battery-powered candles now days that work wonderfully in them. Or put a small string of Christmas lights inside them for a fairy-light type of glow. The plexiglass is a bit opaque and would look beautiful with either (or neither) form of light.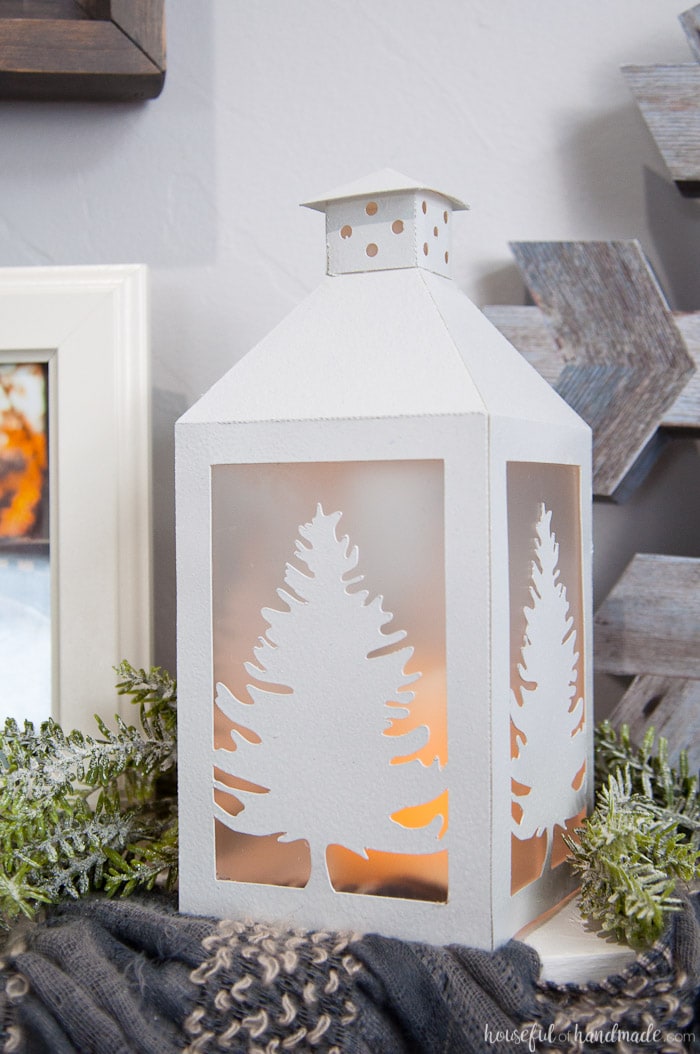 And now I have just one more DIY that I will be sharing on Thursday and my winter mantle will be all done!