Upcycle cardboard boxes into these easy drop cloth storage boxes for only a couple dollars. They look like expensive store bought storage for a fraction of the cost.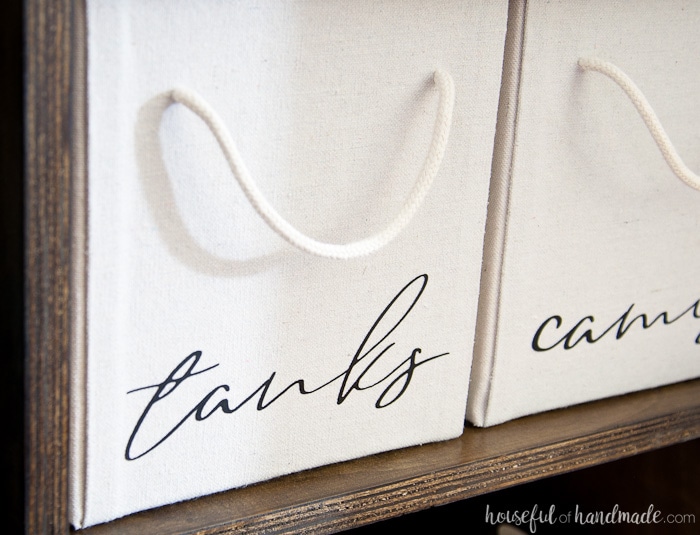 One of my favorite parts of our new $100 master closet makeover are these easy drop cloth storage boxes. Cover any extra boxes your have with inexpensive but sturdy drop cloth for the perfect storage solution. Instead of hanging tanks and camisoles, these storage boxes keep them organized in the new plywood closet organization system. And they only cost a couple dollars to make.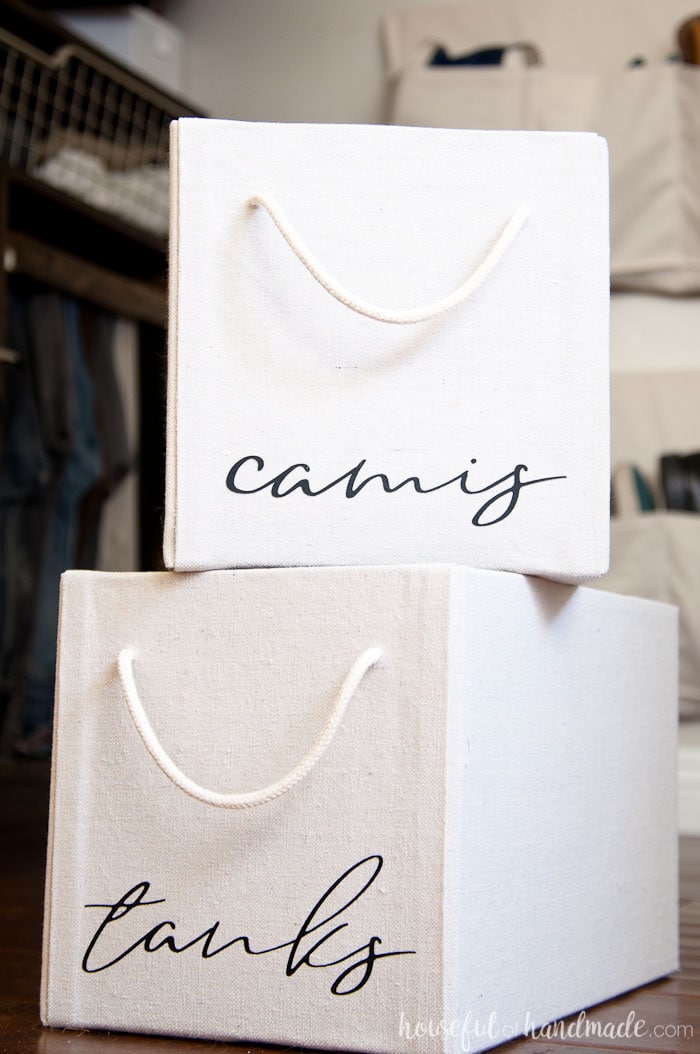 Redoing our master closet for only $100 became quite challenging after I used 80% of my budget on the wood needed to build the plywood closet organizers. With only $20 left to spend, I needed to solve our shoe storage issue and create storage solutions for all the rest of the stuff we need to keep in the closet.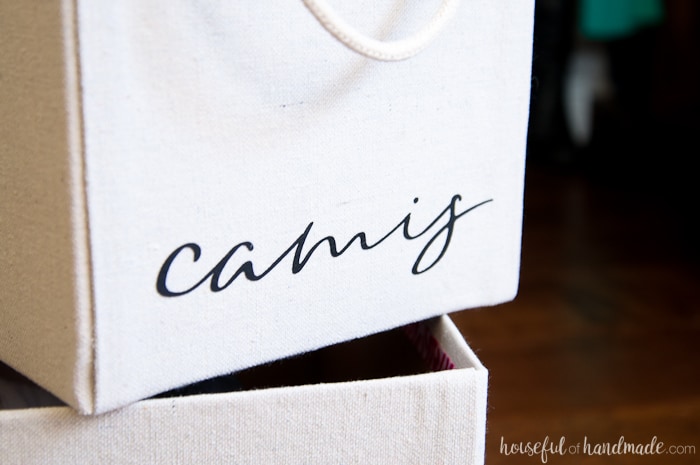 Thankfully, I am a big fan of keeping all the boxes anything comes in. Just take a look at my craft room, all those bulk coffee k-cup boxes came in super handy! For our closet, I discovered that the boxes my new Bai addiction comes in fit perfectly in the closet system. It wasn't even planned. Seriously!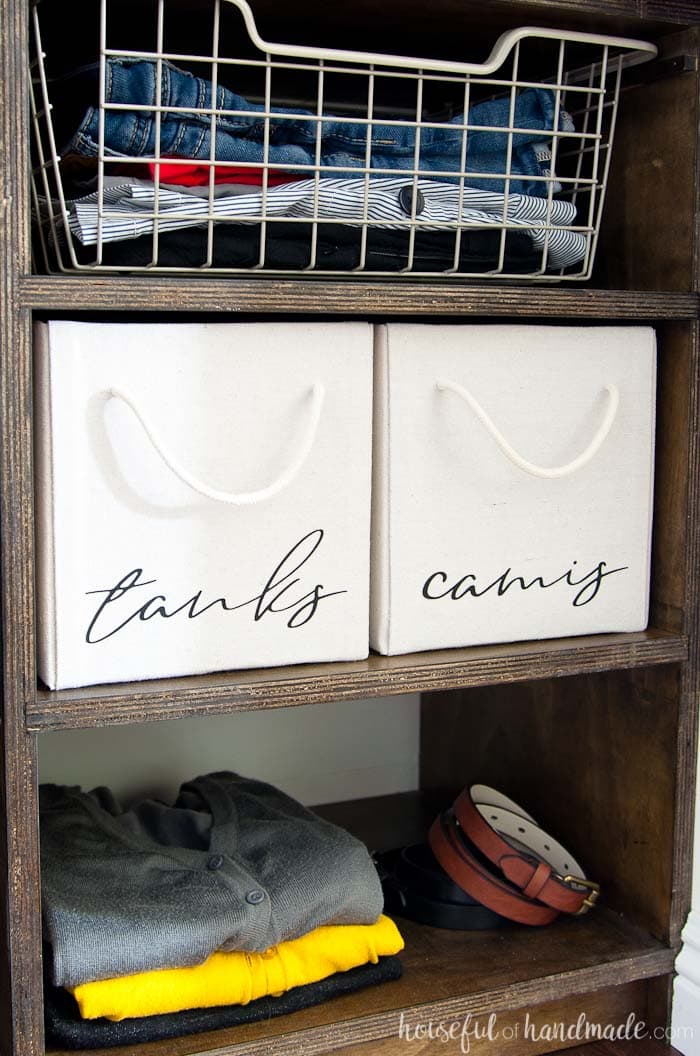 And when my Target order arrived one day, I immediately measured the box to discover it was the exact same depth as my shelves! After rescuing it from the kids (we have enough space ships anyway), I knew it was destined to become one of my drop cloth storage boxes for the closet.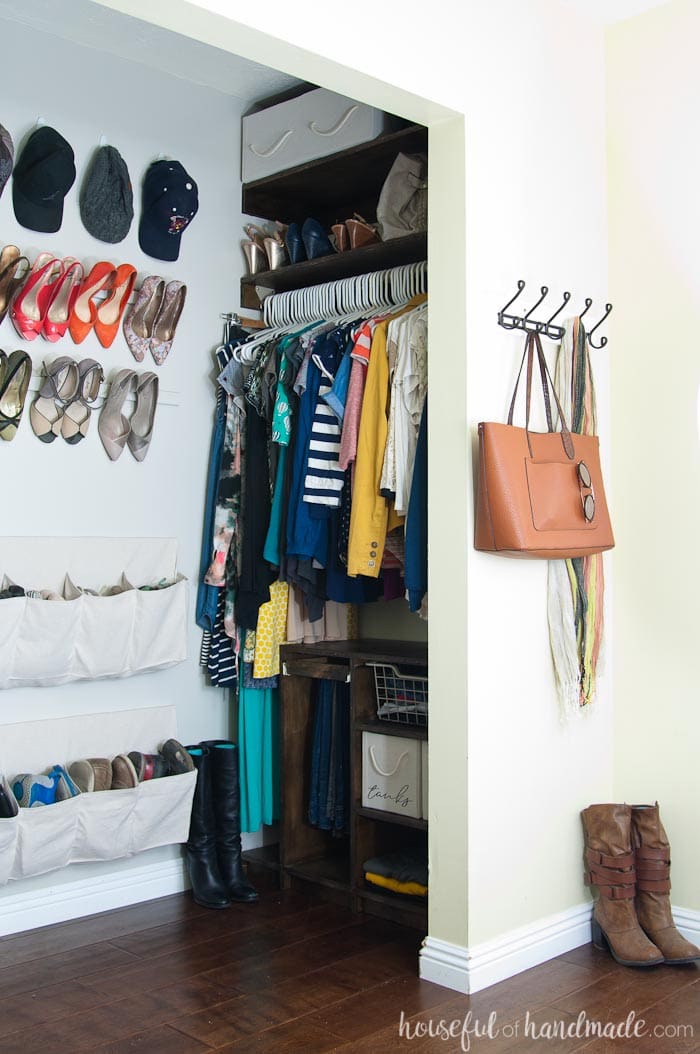 If you are not addicted to online shopping, there are a lot of ways to find boxes to upcycle into drop cloth storage boxes. You just have to know where to get free boxes:
Warehouse stores: they usually have empty boxes at the front of the store to put your smaller groceries in.
Restaurants: most of their food comes in boxes (just avoid the boxes that held meat).
Clothing stores: all the clothes they sell arrive in boxes and they love to have someone else take them away.
Once you have the perfect boxes for your storage space, all you need is the perfect covering to make them beautiful. But for our closet makeover I needed it to be CHEAP! Like almost free. But I didn't want something that felt cheap. I needed something to hold up to the daily use of a closet. In our coffee station, I covered boxes with beautiful home decor fabric. The thicker canvas material has held up to 2 years of use (except for the dirty finger prints on the white background). So a canvas was the perfect solution.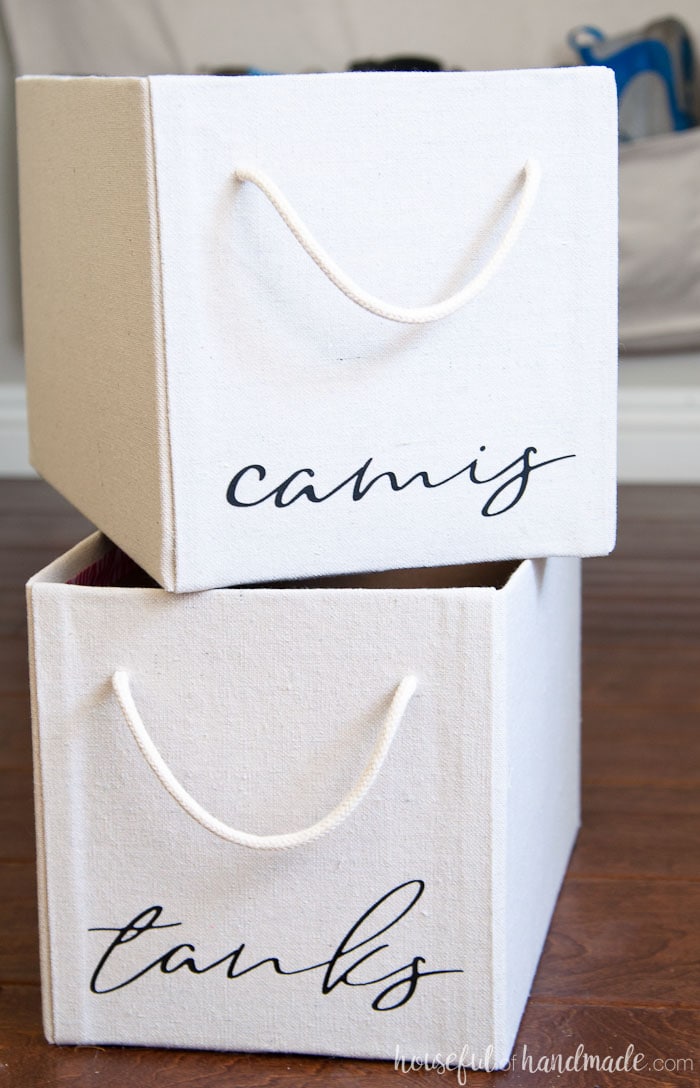 And what better canvas to use than the cheapest one of all: painter's drop cloth! You can buy a 6′ x 9′ drop cloth for around $7. That is less than $2 a yard for 54″ wide fabric. If you have been to many fabric stores you will know that this is a steal for fabric. Also, painters drop cloth is covered with a solution to help resist staining. It's the secret bonus of this super inexpensive fabric.
Click the arrow below for the full tutorial and then enjoy your newly organized space!