It's week 3 of the $100 Room Challenge and I am feeling the pressure. There is still so much I want to do for our custom closet makeover, but time and money are running out fast! I guess I thought a closet makeover for $100 was going to be easy, well I was wrong. But it's not going to be impossible. And if I had another week, I wouldn't be stressing at all about this DIY plywood closet organizer.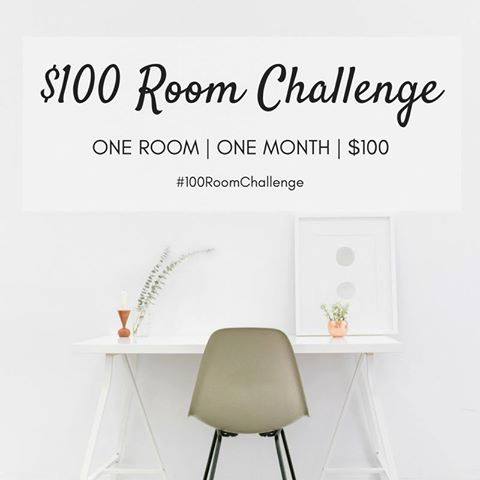 The majority of our custom closet makeover was to create lots of organization with a plywood closet organizer system. I was sick of just having hang bars to store all out clothes. I never thought I would want shelves and baskets so much. But that is exactly what I wanted for our new organized closet.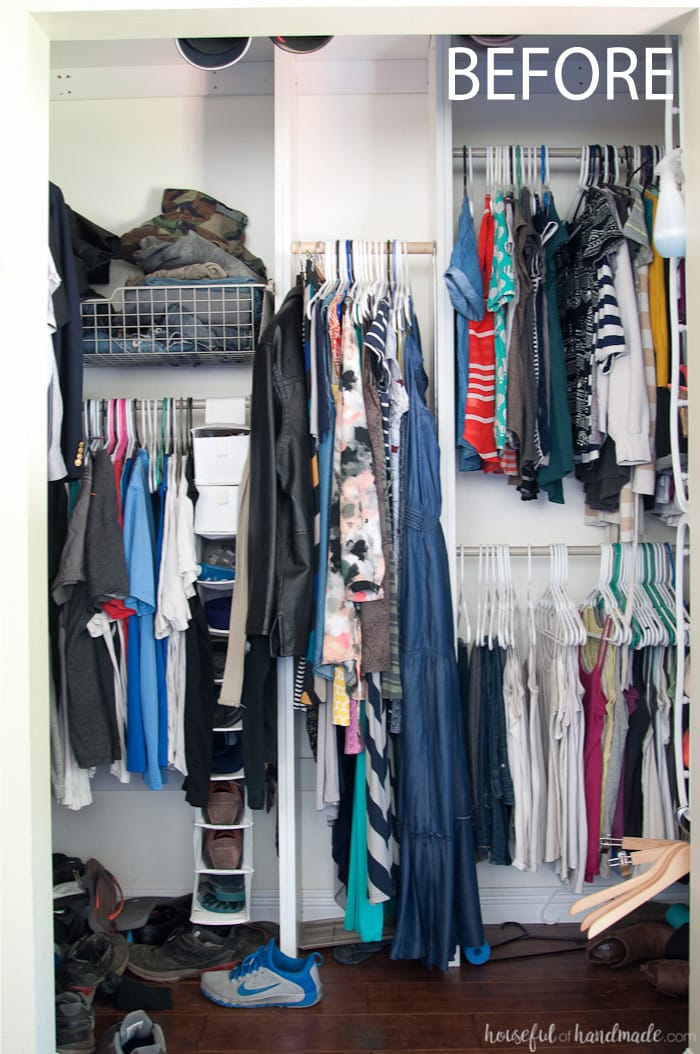 When I built our old closet (while 9 months pregnant with our first baby), I thought I wanted lots and lots of space to hang piles of clothes. I guess that's because I had a ridiculous amount of clothing. That is what happens when you've worked in retail for 10 years. But now as I am slimming down my wardrobe (I'm not quite to a capsule wardrobe, but now I see the appeal), I want to be able to see the clothes I have and store them properly.
Did you know you are not suppose to hang knit clothing? Most of my clothing is knit! I love the comfort when working on projects, but hanging it can stretch out. I still hang blouses and tops, but decided it was time to stop hanging my sweaters. No more shoulder bumps for me!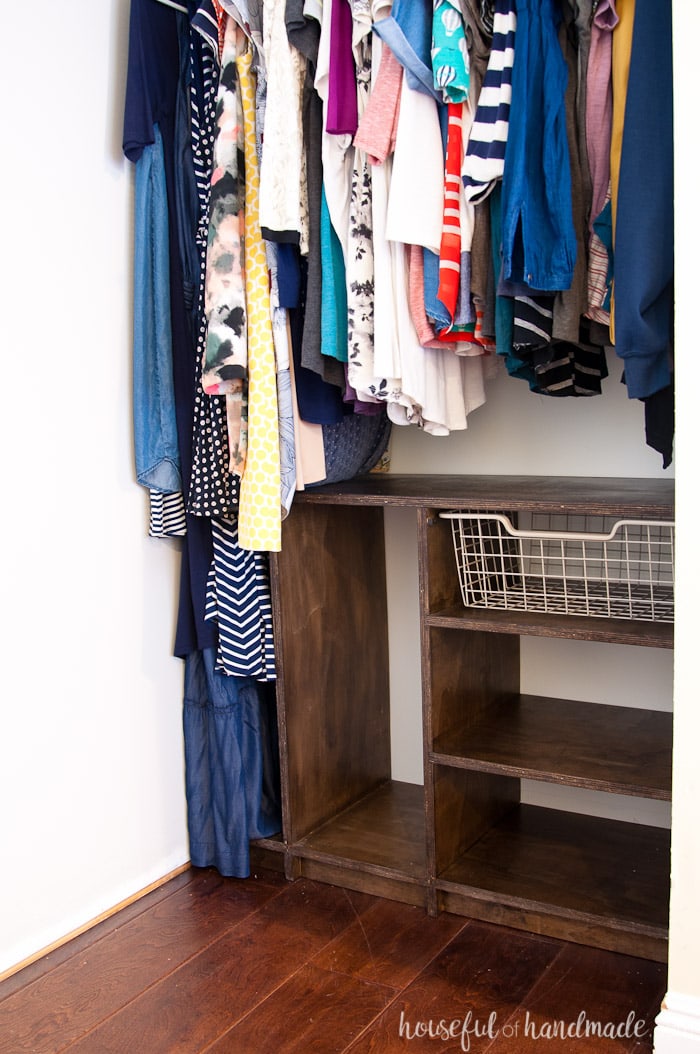 So armed with 2 sheets of 3/4″ plywood, I set out to create two custom closet organization systems. Why 2 sheets of plywood? Because that is all my $100 budget could afford! I used pine plywood that I found at the Home Depot for $35 for a 4'x8′ sheet. That only leaves me with $30 for any other items needed to finish this entire closet (good thing it's kinda small).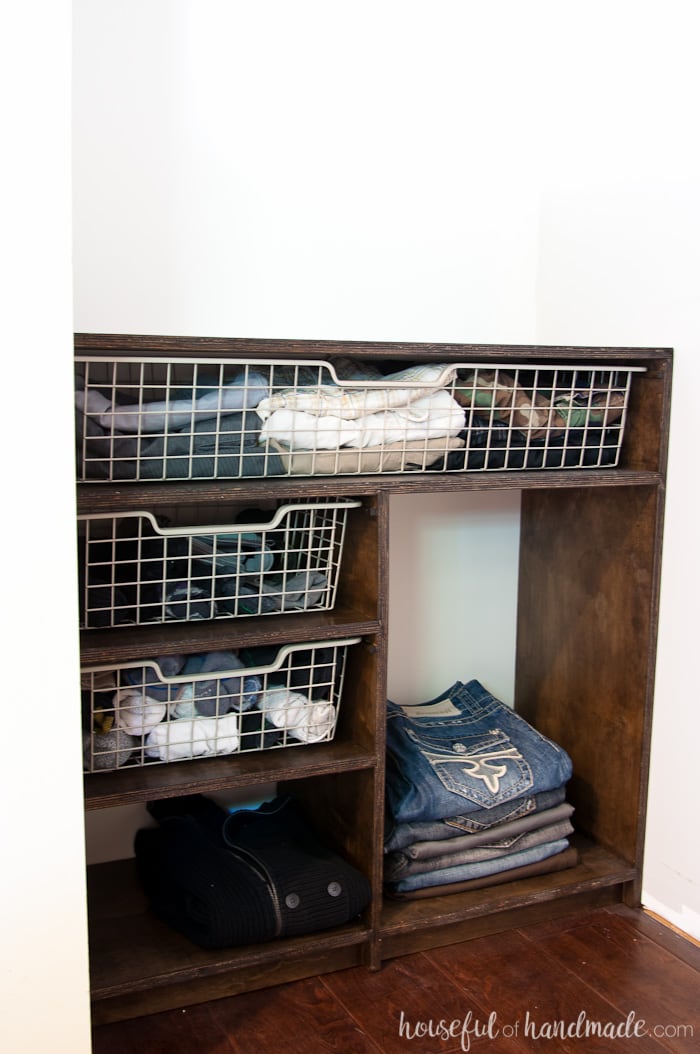 But the result is already so much better than it was before! Instead of a cramped closet with lots of hidden corners, we have an open walk in space that you can even get dressed in. Instead of non-functional shelving and wasted space, we have beautiful shelves with designated spaces for everything (and room for more).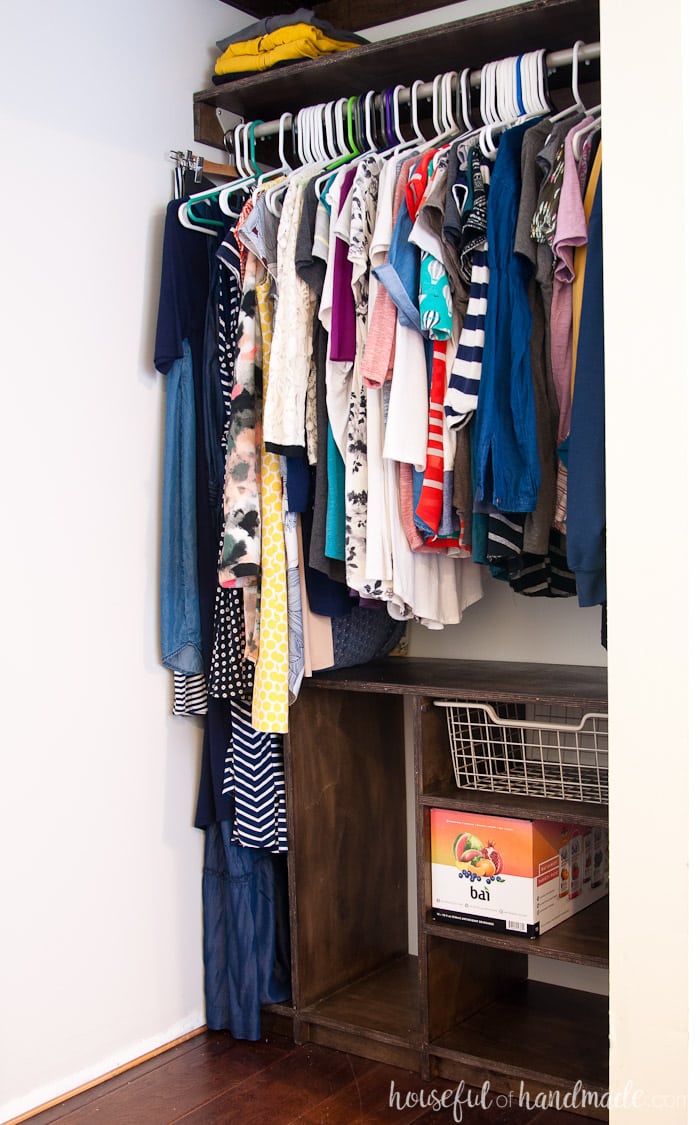 To finish off our plywood closet organizers, I still need to add the pull out pants racks (this is the part my husband is so excited about) and find boxes to cover to add to some of the shelves. I have already discovered a few that fit perfectly into the spaces! And then I need to figure out the best way to organize our piles of shoes without taking up the beautiful open space we are both loving.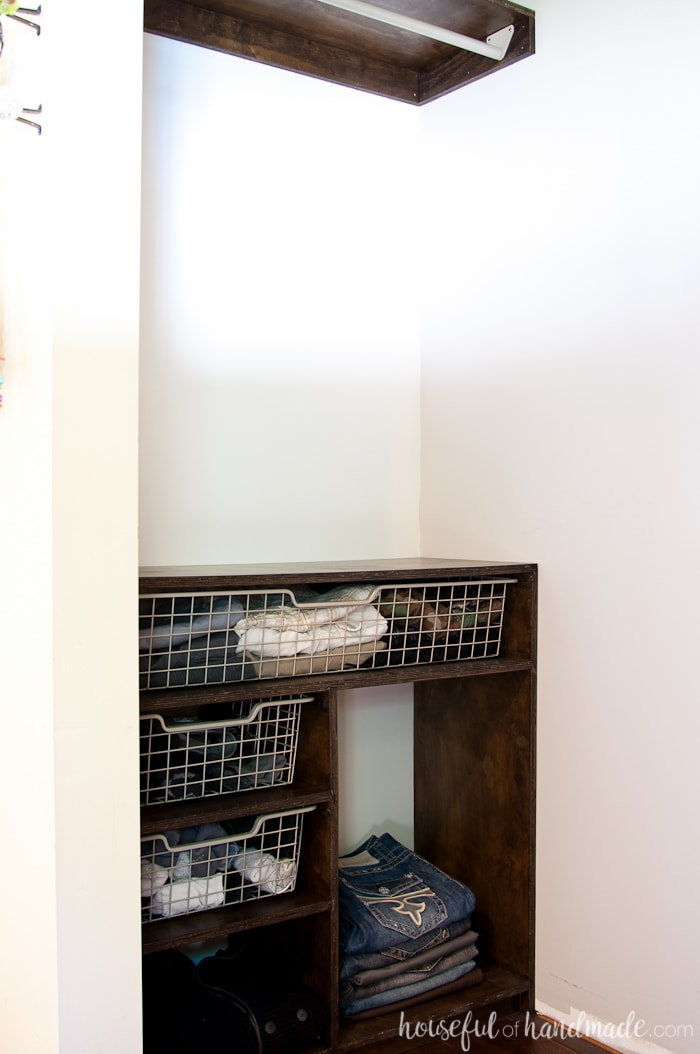 Before we get into the tutorial for the DIY Plywood Closet Organizer Build Plans, I want to share how we are doing so far with the budget. It's a little scary since I know I want to add so much more to the space.
2 sheets plywood = $35
3 3/8″ square dowels = $3
Nails & wood glue = had on hand
Wood stain & polyurethane sealer = had on hand
Paint = left over from living room
Painting supplies = most on hand but had to buy a roller $3
Closet rods = made due with the ones from the old closet
Baskets = were in the old closet
Boxes = gotta love ordering online!
So far we have spent $76 of our $100 budget. I know the pant racks are going to take a big part of the $24 that is left. So shoe storage needs to be cheap!!!! That'll be fun since my husband and I love our shoes 😉 But enough of that, let's get on with the building! Click the arrow below for the tutorial.

And don't forget to follow-along with all these other awesome bloggers as they redo a room for only $100 too!