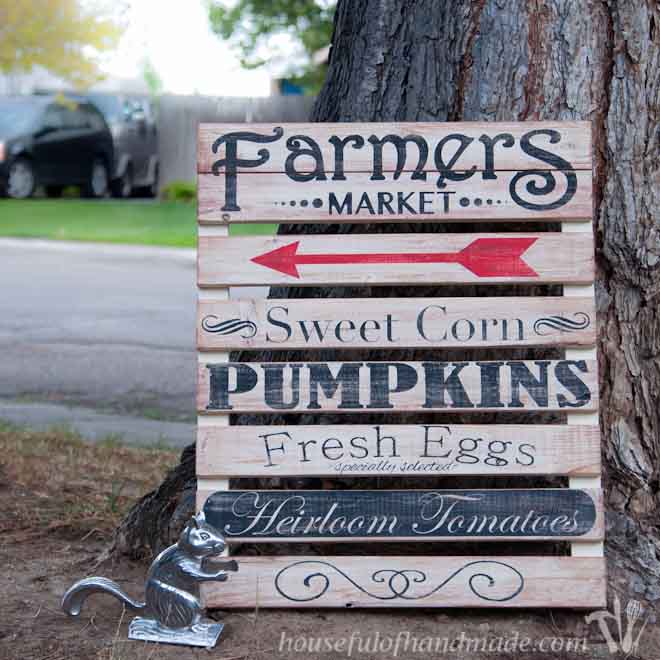 Farmer's Market Mini Palette Sign
Fall is definitely in the air at my house.  Even though it's still summer outside, I am enjoying making it fall inside.  I am working on some new fall decor and pulling out some of my old favorites.  Last year I finally built a mantle over my fireplace (another project that isn't done yet, guess I should put it on my list).  But at least I have a surface to decorate for the seasons.  Since I finally had someplace to decorate I needed decorations.  And that's how this farmer's market mini palette sign was born.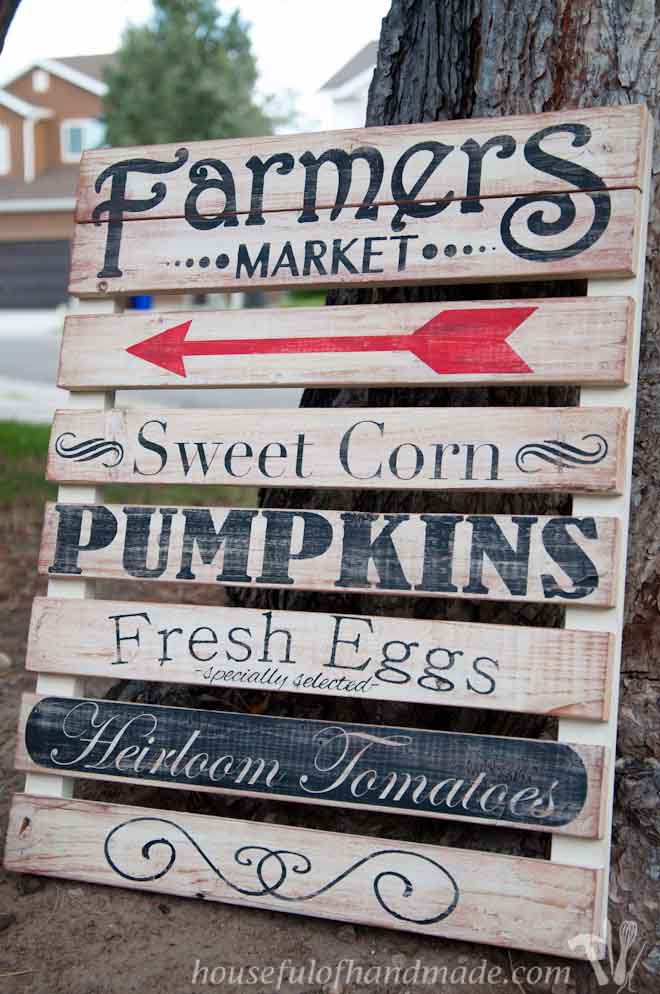 I wanted some decorations to put up for fall and I wasn't ready for pumpkins.  I use a lot of pumpkins in my Halloween and Thanksgiving decor so I didn't want to pull them out already and be pumpkined out too early.  So when I though of what August and September meant, I thought farmer's markets!  I never miss a week at the market during the early fall.  There is so much great produce to find and it's not too hot to wander for hours.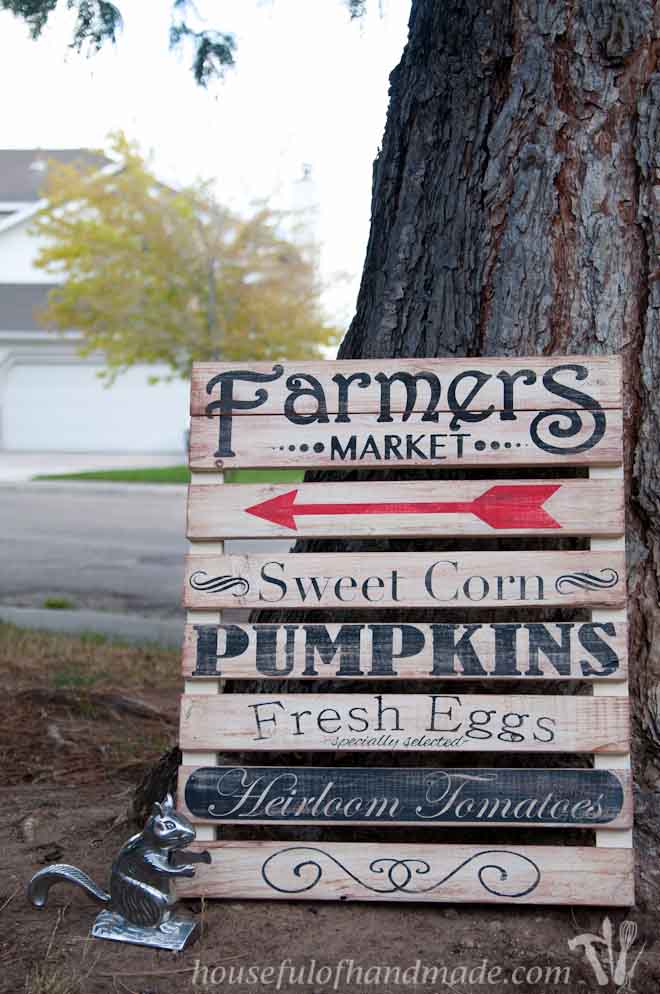 I also love the look of palettes, but obviously can't put a big ol' palette on my mantle, so I built a mini one!  It is so easy (and I built it last year before I was blogging and taking pictures of my process) that I don't have pictures for you.  But I made a very simple diagram.  And it's as easy as cutting your boards, attaching the 1x3s on to the top of the 1x2s with a little glue and a couple finishing nails.  I didn't even have a nail gun last year when I built this, so I used a good ol' hammer and nails.  After it is dried, you are ready for paint.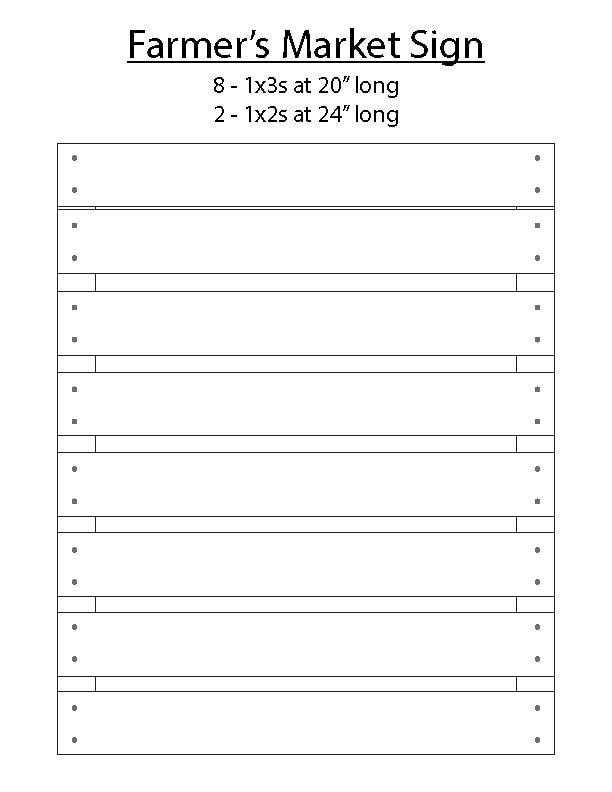 I wanted it to have an aged look, like it had been sitting outside directing people to the market for years.  I did this by painting the whole thing with a creamy colored paint, thinned out with a little water so the wood grain would show through (not sure what color, just some I had left over from another project).  Then sanded that down around the edges and over the top in places.  Then, I used a dark stain on a rag and rubbed that over it in places, a little more sanding, and presto!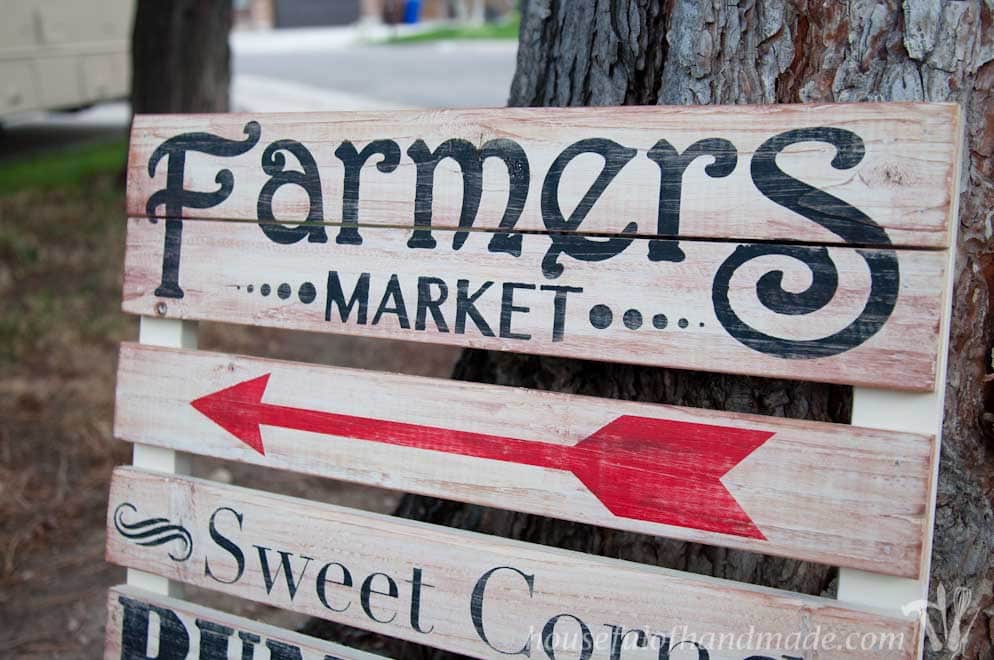 Now it was time for the stenciling.  I used my beloved Silhouette.  It is seriously one of those crafting tools I never new I couldn't live without until I had it!  I designed the wording and then cut it out with some vinyl.  If you like how I designed my sign, you can download the Silhouette file in my library of free downloads for email subscribers.  Or have fun and create your own.
Place the vinyl on your mini palette and paint.  After I removed the vinyl, I got to sanding again.  I needed the words to look aged too or else it would look weird.  A little soft sanding with a heavier grit sand paper made the words look worn.  Then I gave it a quick spray with a clear coat spray paint and was ready to decorate!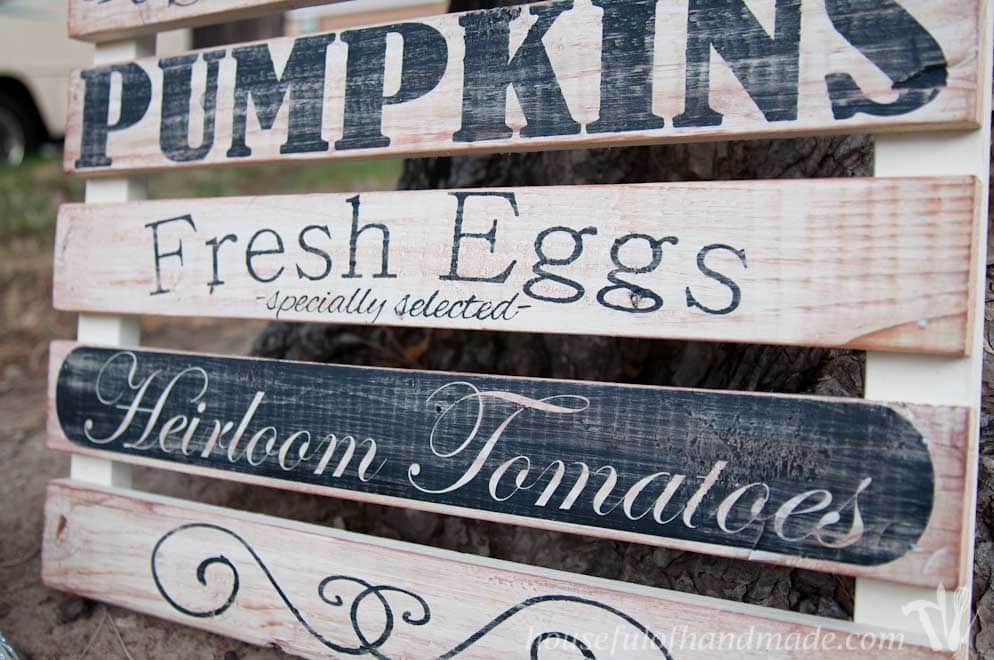 To finish off my fall decor last year, I made an apple sign, but since it got ruined, I made a new one this year and you can download it for free here.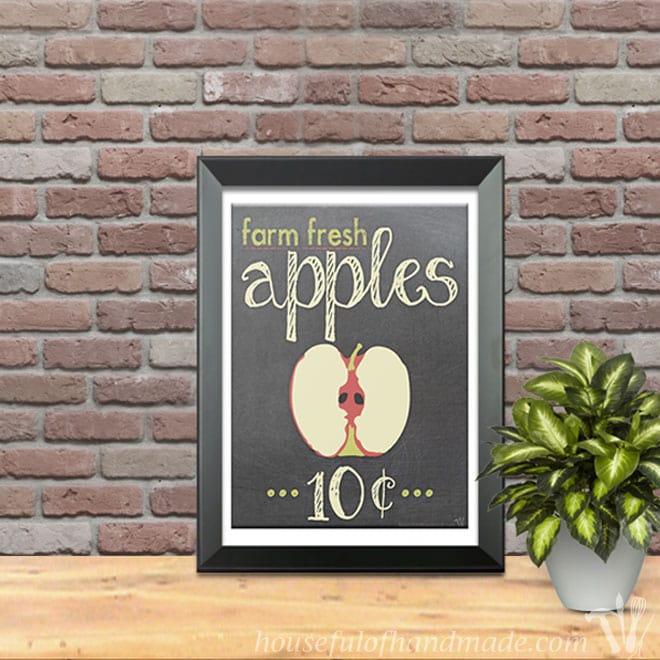 And then I found this silly little squirrel nutcracker at World Market that I couldn't resist.  Now I am well on my way to having the perfect fall mantle.  Maybe it will encourage me to finish the fireplace (but I need to muster up some gusto before I try my first tiling job).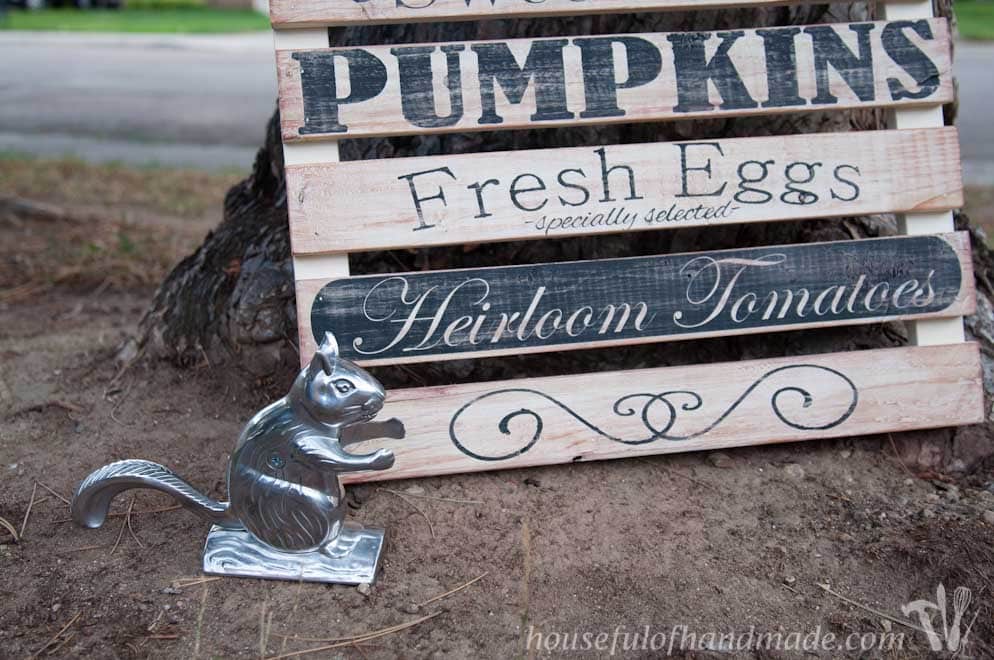 And while I was taking pictures outside, my kids had to get in on the fun.  Isn't it great having cute little helpers?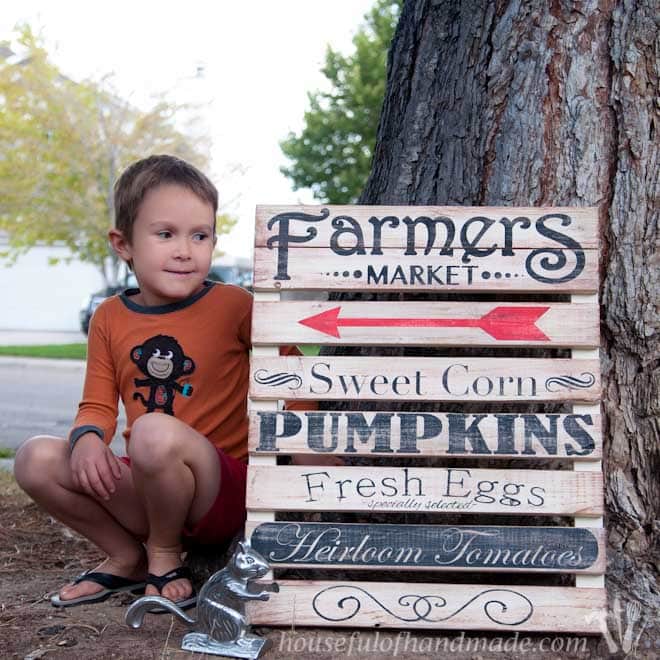 Just a few more decorations and I will be ready to welcome in fall 🙂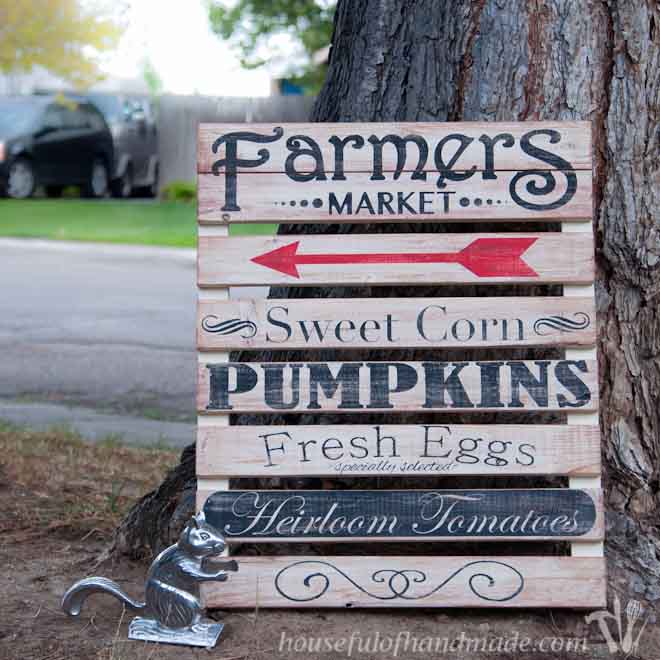 **Update:  If you don't have a Silhouette but want to try your best at making your own stencils, I have created some PDFs of the words.  They are not perfect PDFs because I had created the file in the Silhouette before I learned how to use Illustrator, and they will need to be pieced together because they are bigger than an 8 1/2 x 11 sheet of paper.  The PDFs and Silhouette cut files are available for download in my library of freebies for my email subscribers, sign up below.

I'm linking up to some of my favorite Link Parties.
Other projects you might like: