Winter is officially here in Utah. The temperatures dropped, the snow came, and outside it is COLD! Luckily, our family loves the snow, especially our kids. They have been outside playing so much since we got dumped on earlier in the week. I have been working to finally finish the coffee and hot cocoa station so we can warm up when we come inside. This week I added a shelf and needed some decor for it. So I turned my DIY metal & wood serving tray into a Baby It's Cold Outside Sign and it makes the perfect wintertime decor.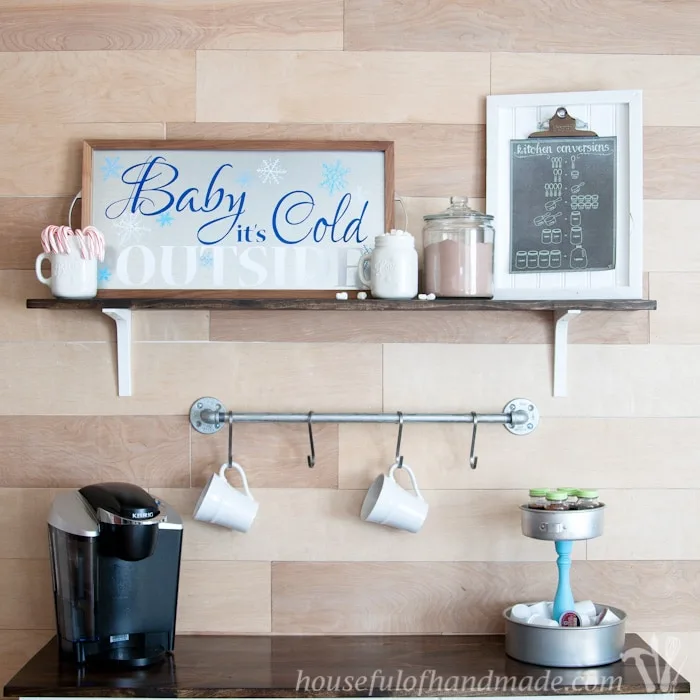 If you've been following along on Facebook or Instagram you've seen me building the console since about June! I swear this is the project that keeps getting pushed aside for something else. Now in my defense, the console has been finished, in the house and in use since August, but I have been slowly adding the rest of the elements to make it a complete coffee station. I am going to make my first New Year's resolution to finish the entire coffee station and get it up on the blog. I've got all kinds of projects, like the plans to the console table, fabric covered boxes, Kuerig K-cup holder, and more. Plus, coffee themed recipes, yum! So stay tuned for all that in January. But for now, we just made the coffee station into a cocoa station for winter.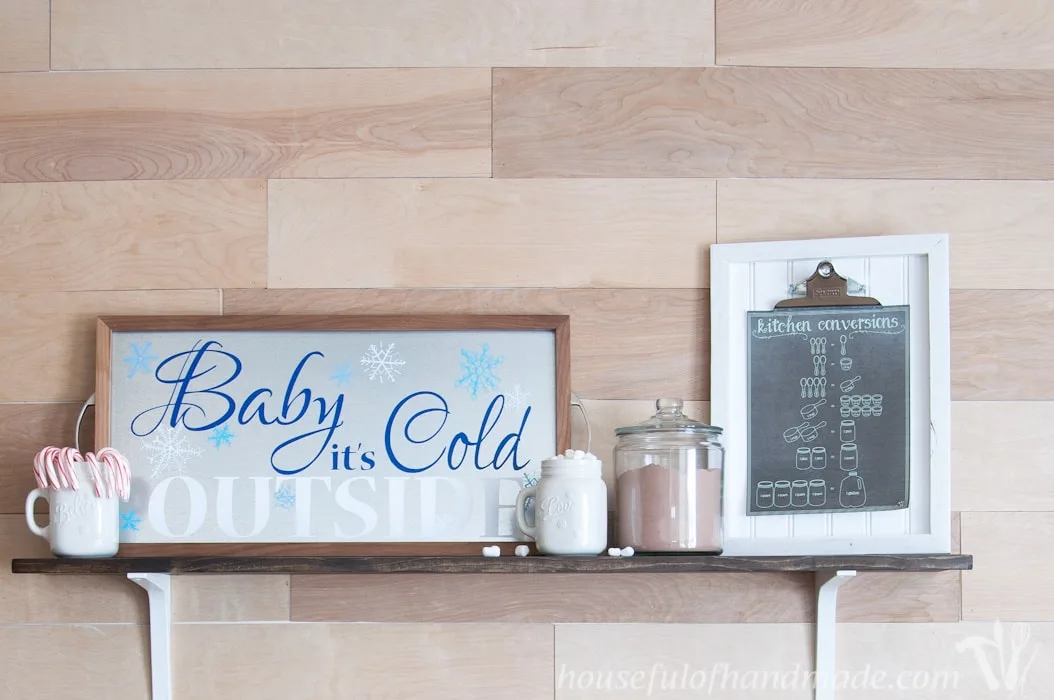 To make the cocoa station more of a statement in our dining room, I needed some décor. In October, I made a beautiful Wood & Steel Serving Tray. It was easy to make with some hard wood 1×1 boards and a piece of sheet metal. It is great for serving as well as décor. I used it for my Thanksgiving centerpiece, filled with rustic pumpkins and rosemary. Now I am ready to use it to decorate another way.
I have a little love affair with metal & wood these days. The hard metal with the softness of wood is the best of both worlds. I used it to create my Reclaimed Wood and Metal Christmas sign and figured I could use the same idea on my tray for decoration in the dining room.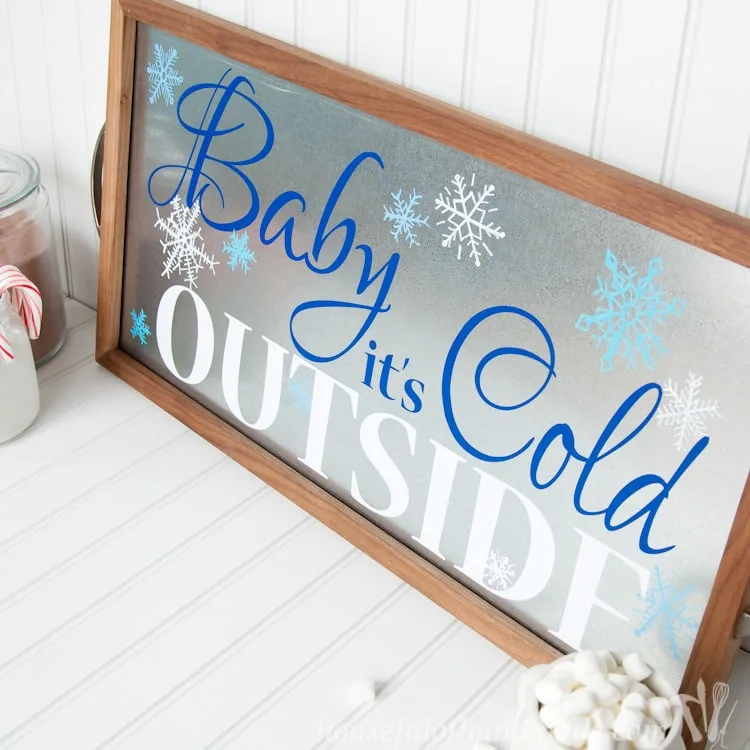 The steel is the perfect canvas for creating art on. It is non-porous and can be written on like a chalkboard. You can draw on the steel with chalk markers or even dry erase markers. I, however, am not so good with the hand lettering. I keep trying and one day I will have beautiful hand written words, but until then, I used my trusty Silhouette to cut out some beautiful, hand drawn inspired, words out of vinyl. If you want to create your own Metal Winter Sign from DIY Tray, I have included a Silhouette cut file for the lettering. If you don't have a Silhouette, I am also including PDFs of the lettering so you can use it as a template for hand drawing.
DOWNLOAD SILHOUETTE CUT FILE || DOWNLOAD PDF FILE
Adding the vinyl to the wood and steel tray is super easy and it isn't permanent so you can change it up whenever you want, or remove it if you need it use your tray for serving.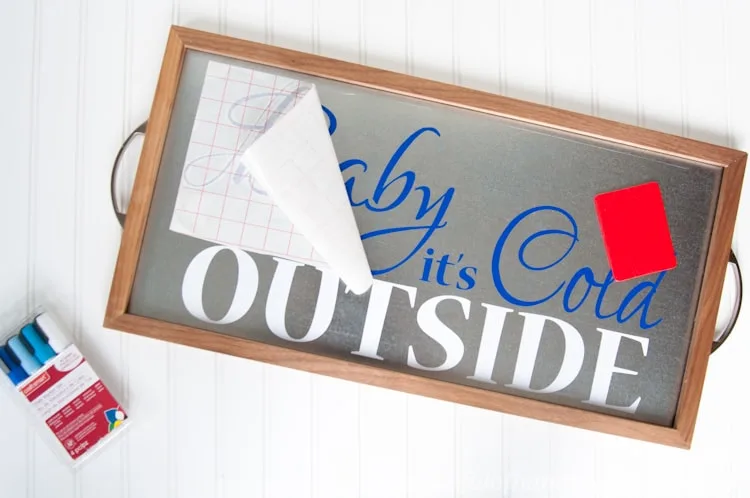 After I got the vinyl placed on the tray, it was time to add a little flair. What is a "Baby it's Cold Outside" sign without snowflakes? I am great at drawing snowflakes, and they are suppose to have lots of uniqueness so hand drawn is perfect. I used chalk markers in white, and 2 different shades of light blue to fill the tray up with lots of different snowflakes.
Snowflakes are easy to draw. They're suppose to have 6 points (scientifically speaking), so I always start with 6 lines then add some flair. I love adding lines in geometric patterns and a few diamonds or circles.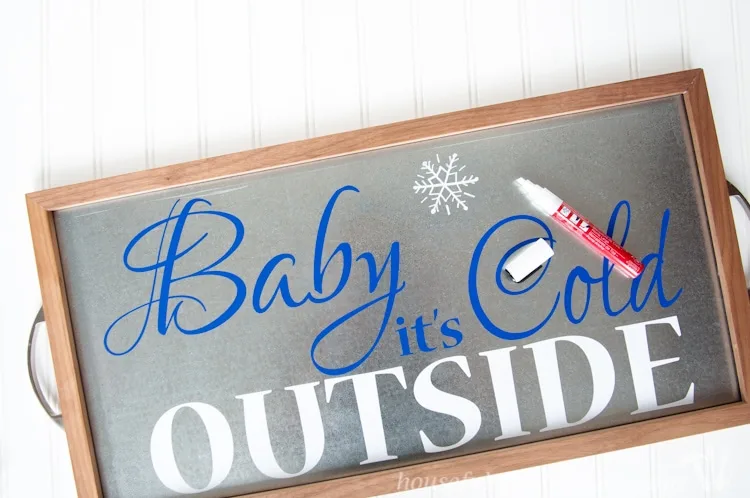 Now the sign is ready for sprucing up our cocoa and coffee station. Add some hot cocoa mix, your favorite mix ins, and you are ready to stay warm.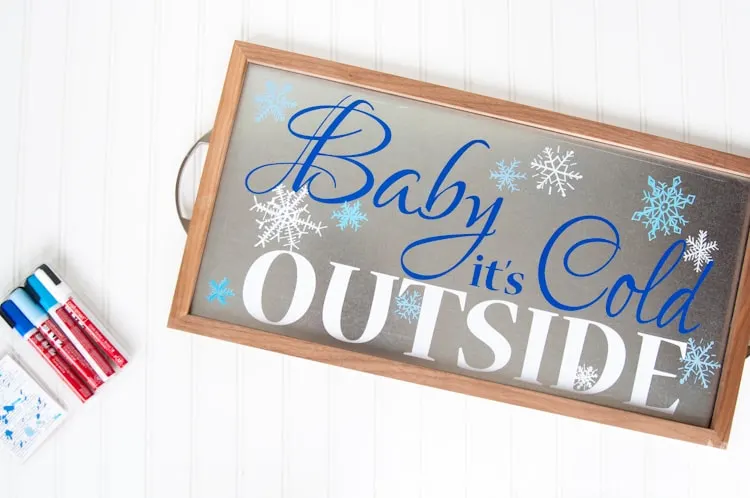 If the snow keeps coming down like it has been all week, I will be able to use this sign as décor until April, because baby, it's cold outside here!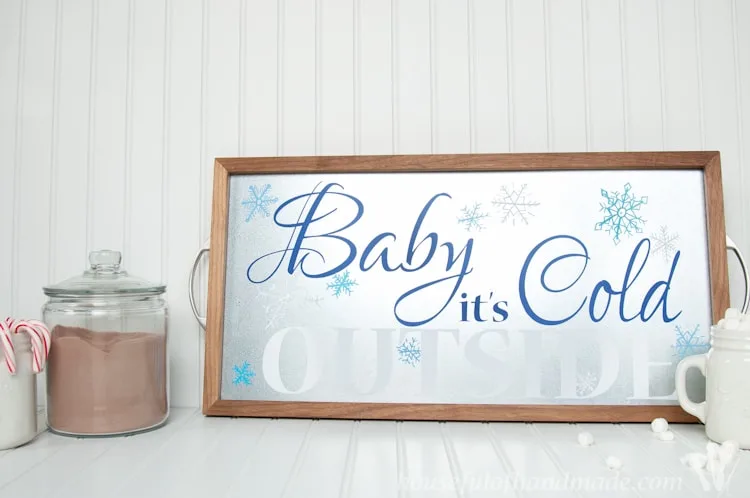 Now it's time to curl up with a cup of cocoa and try to stay warm this winter!
This post was originally shared at Oh My! Creative.