I can't believe it, this month my husband and I are celebrating our 13th wedding anniversary!
Every May as our wedding anniversary comes around, I get worried. What do you give the best husband ever for your anniversary? In the past, we have enjoyed vacations (or staycations) together or skipped gifts and spent the money on home improvement projects.
But this year I wanted to give my husband something special. And since I love to DIY, I wanted to be able to make something for him too. What I came up with is the perfect anniversary gifts for him.
This post was sponsored by Jord, however, all opinions and reviews are 100% honest. Click here to read my full disclosure policy.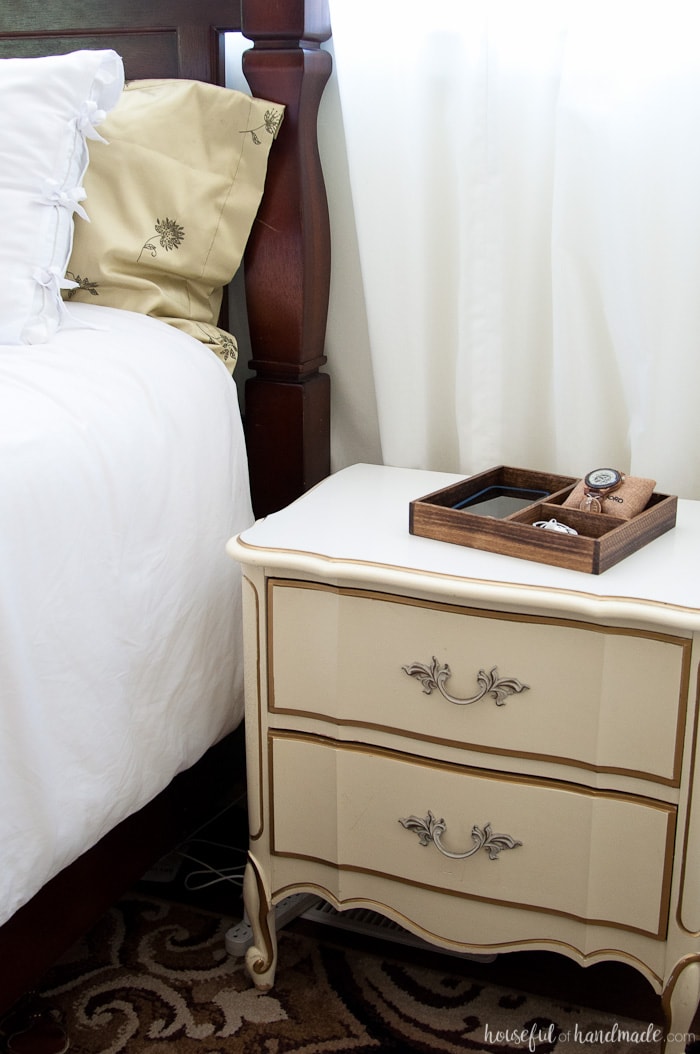 My husband is the most supportive man I could have asked for. Anyone that puts up with my crazy DIYing must be amazing. He never complains when I drag him to the home improvement store on his day off to help me buy the heavy stuff.
Then just smiles as he unloads it all again at home. I wanted to give him an anniversary gift that said thank you for always being there for me.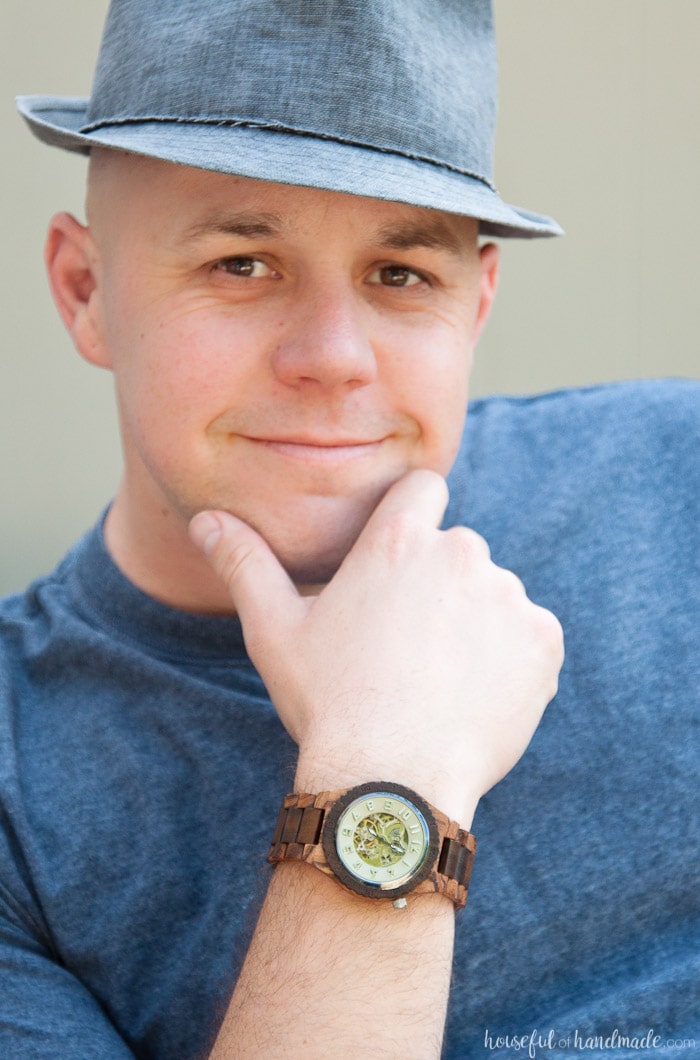 After a long day at work, he always comes home and empties his pockets. He unloads his cell phone, earbuds, and pocket change onto the nightstand. Where it sits until the next day when he loads his pockets again. He really needed a place to unload the day.
Someplace to catch all his things until he needed them again. Something like a beautiful nightstand tray, that I could DIY for him for our anniversary this year.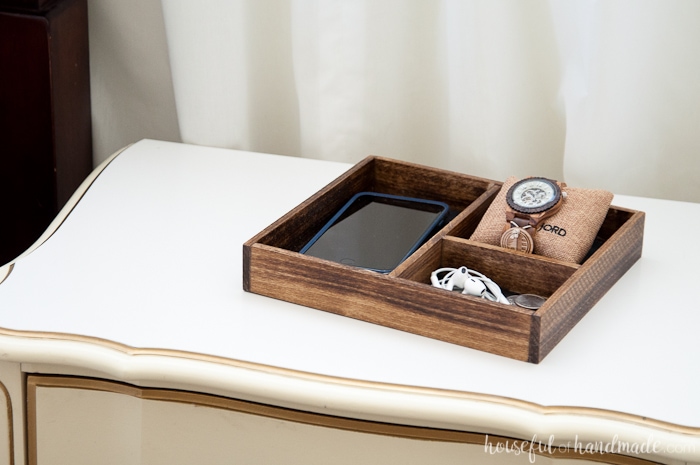 Then to make it even better, I added this amazing wood watch from Jord. These watches are so beautiful.
Each one is a work of art. And I love that the wood in the watch will make him think of his crazy DIY wife every time he wears it!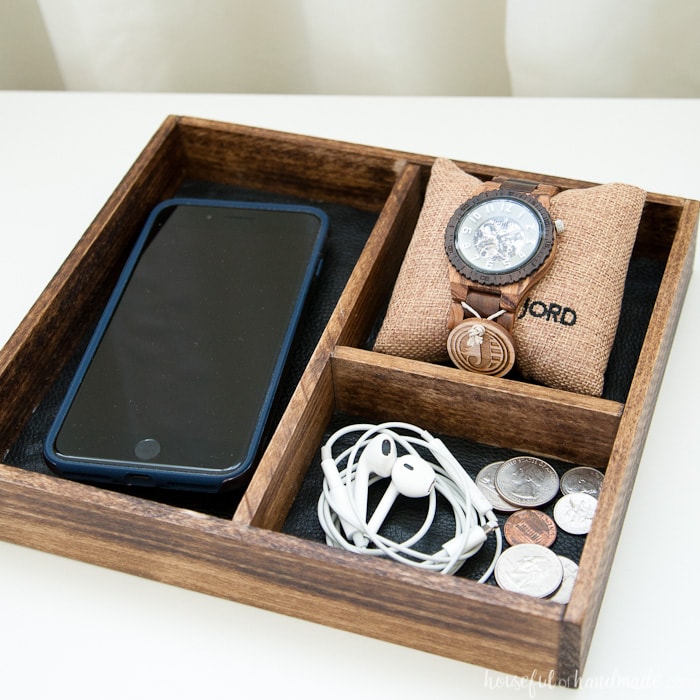 I absolutely fell in love with the Dover series Zebrawood & Dark Sandalwood watch and knew it would be perfect for my husband. The face of the watch has all the gears visible.
It's a beautiful contrast to the light and dark wood watch band. And for the man who loves to see how things are made, having the gears in the open means he can just enjoy watching it without having to take it apart 🙂
So this year I think I totally nailed the anniversary gift. My husband will be able to use his wood watch and nightstand tray everyday and hopefully will still be using them when we celebrate another 13 years!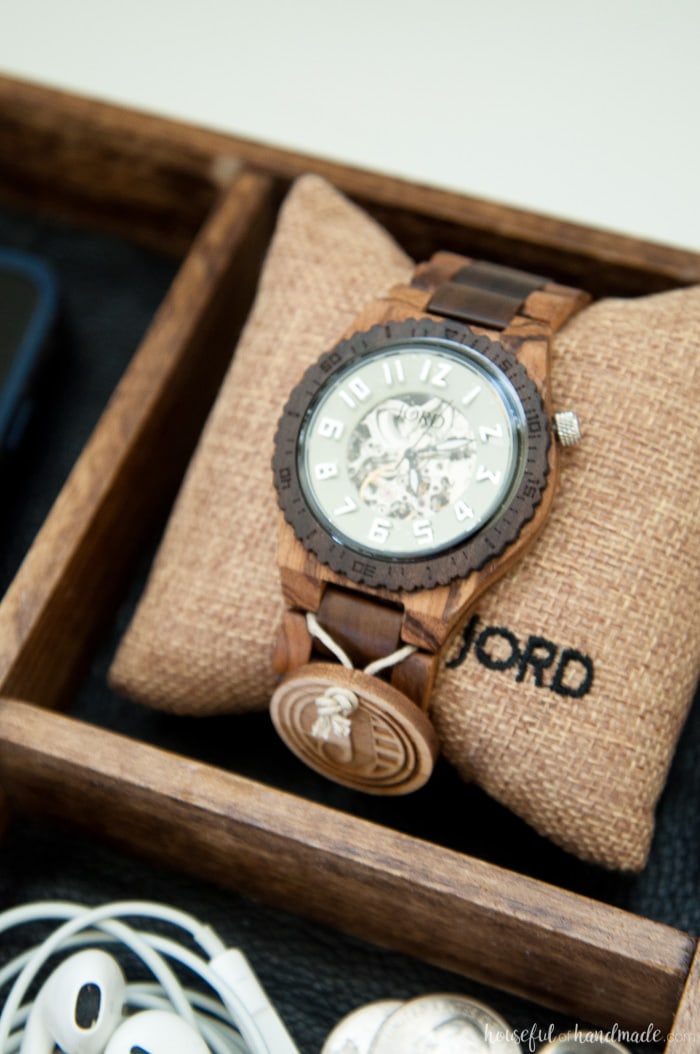 How to Make a Wood & Leather Nightstand Tray
Supplies:
8″ x 9″ piece of 1/4″ plywood
48″ piece of 1/4″ x 2″ board

These thin boards are sometimes called hobby boards at the home improvement store.

Wood glue
Painter's tape
Stain and sealer
Pieces of leather

I used a pair of old worn out boots for my leather.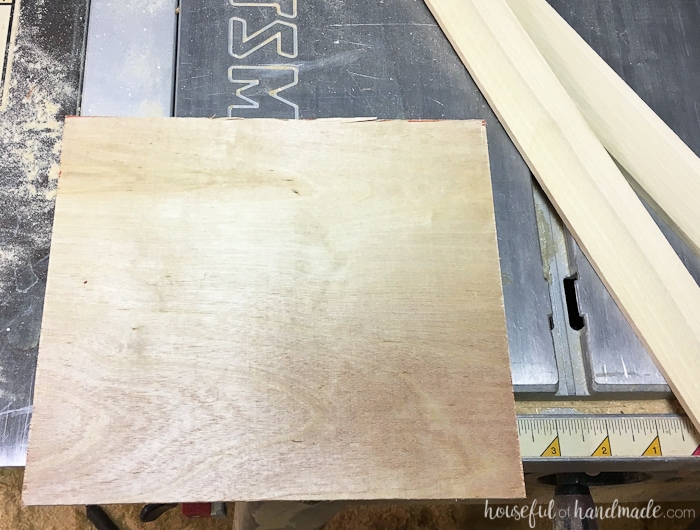 Out of the 1/4″ x 2″ board, cut 2- 9″ pieces, 2- 8 1/2″ pieces, 1- 8″ piece, and 1- 4 1/4″ piece.
Trim the 8″ piece and 4 1/4″ piece down to 1 3/4″ wide. I used my table saw to do this. If you do not have access to a saw that can do this, you could buy a thinner board for these inside pieces. They wouldn't be flush to the top like my tray is, but they would still allow separation.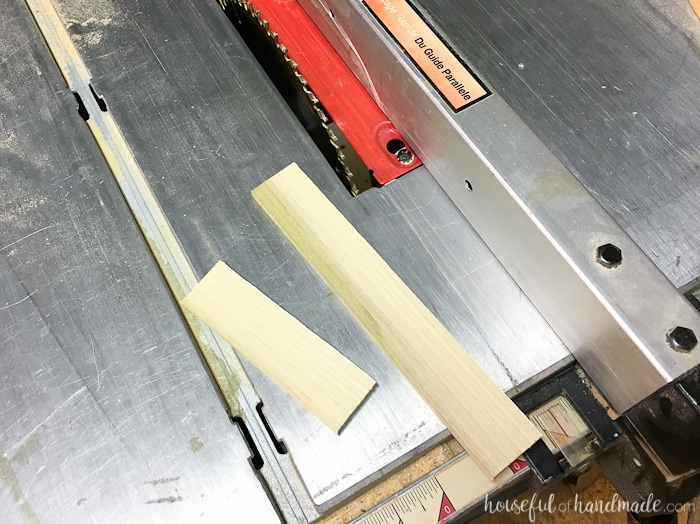 Apply a thin bead of wood glue to the 9″ edge of the plywood. Line one of the 9″ pieces of board with the plywood so it is flush on the bottom. Hold the pieces tight together with painter's tape. Repeat on the opposite 9″ side.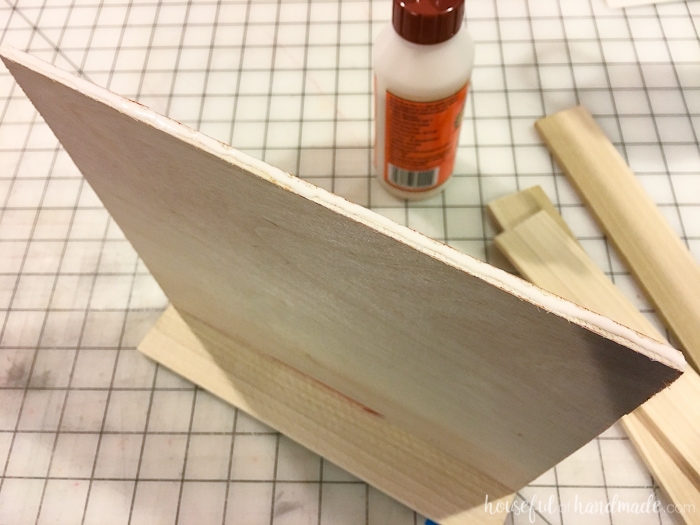 Secure the 8 1/2″ boards to the other sides of the plywood the same way, but make sure to add wood glue to the sides of the 9″ boards as well. "Clamp" with the painter's tape.
Now you have a beautiful tray. It would be perfect this way, but I wanted to add some separators to help keep all my husband's items super organized.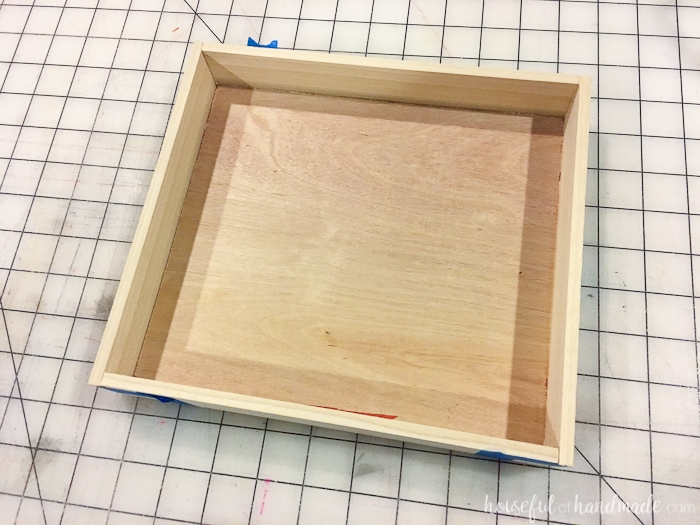 Glue the 8″ and 4 1/4″ board into the tray with the wood glue. Add glue to all edges except the top.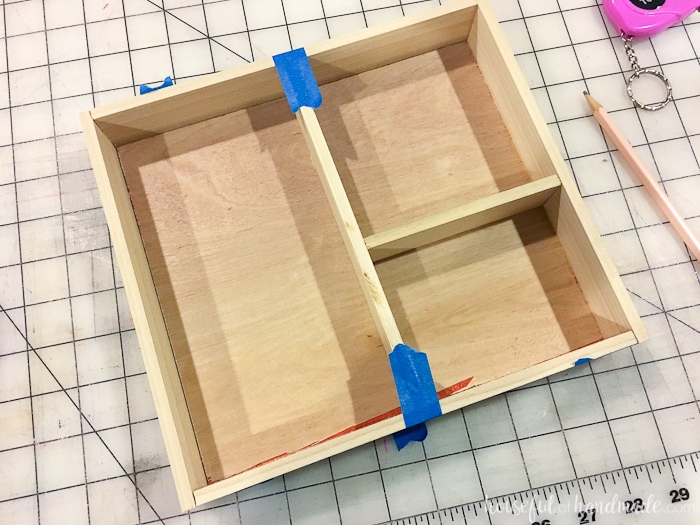 Let the glue dry, then remove the painter's tape and sand. Stain the sides of the tray. After it has dried, seal it to protect the wood. I used a simple clear spray coat.
To give the tray a little cushion, and make it more masculine, I wanted to cover the bottom of the tray with leather. I have been hanging onto these old boots for a few years now. The bottom of the boots are completely worn out and the soles have broken, but the leather on the top was still beautiful. So I kept them to use eventually. This was the perfect DIY to use them in.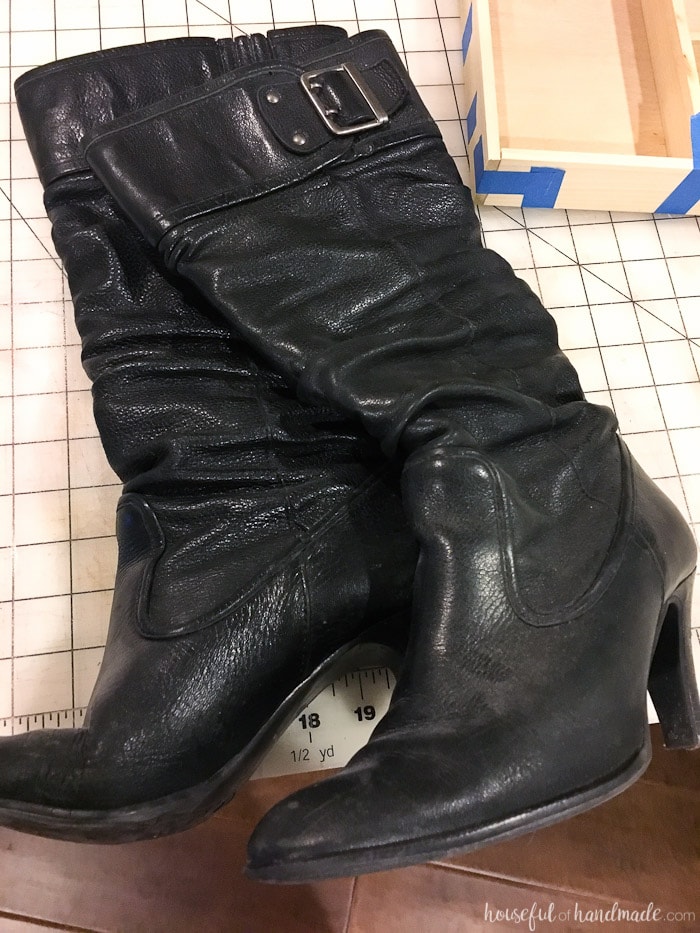 Cut a piece of leather to fit into each of the tray compartments.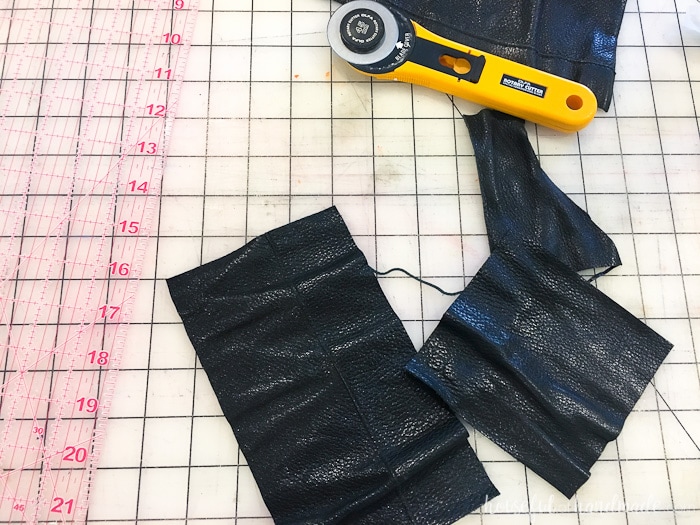 Glue the leather into the bottom of the tray. I used hot glue so the glue would dry quickly. That way I could stretch the leather to lay flat in the bottom of the tray.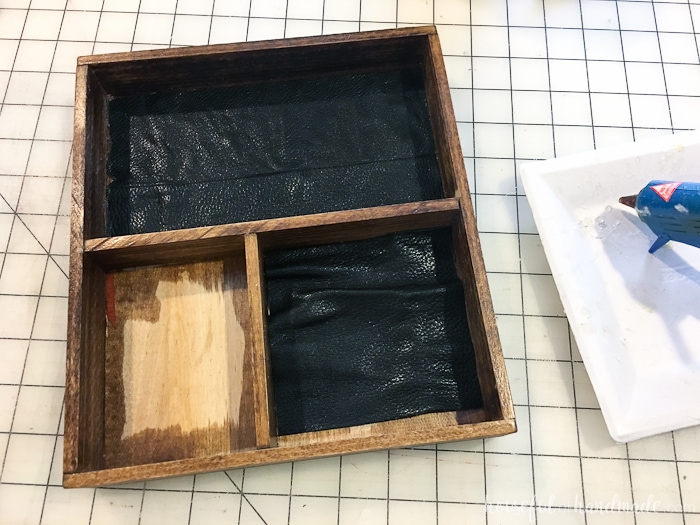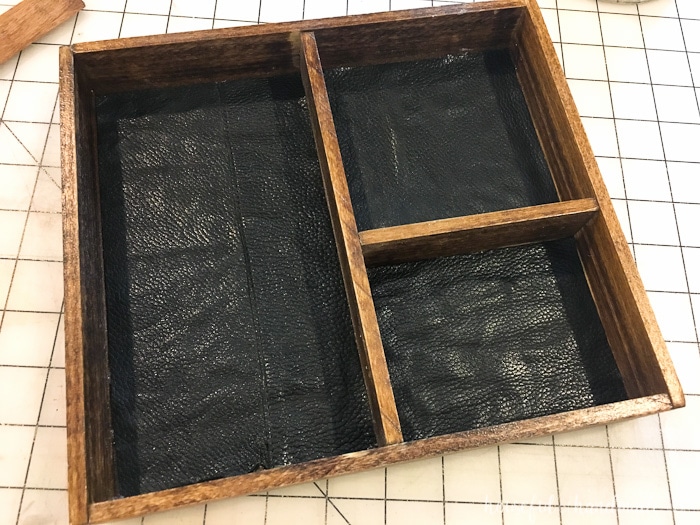 Now all that is left is to fill up your DIY wood & leather tray with a beautiful wood watch. These watches from Jord are a piece of art for your husbands wrist.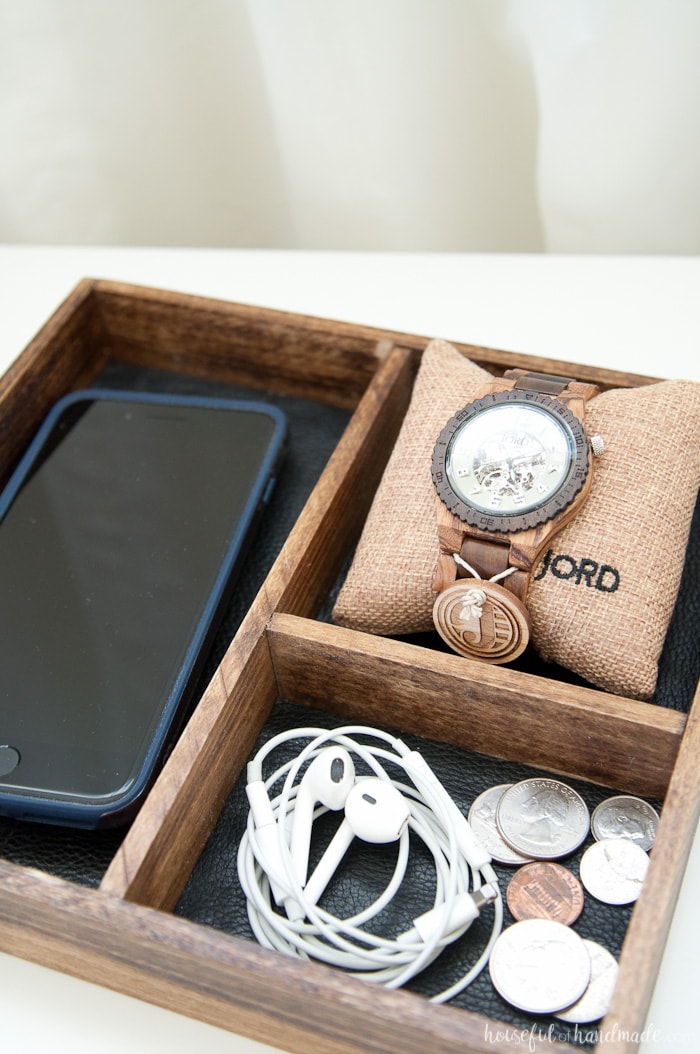 My husband loves his new watch so much. It truly is the perfect anniversary gift for him.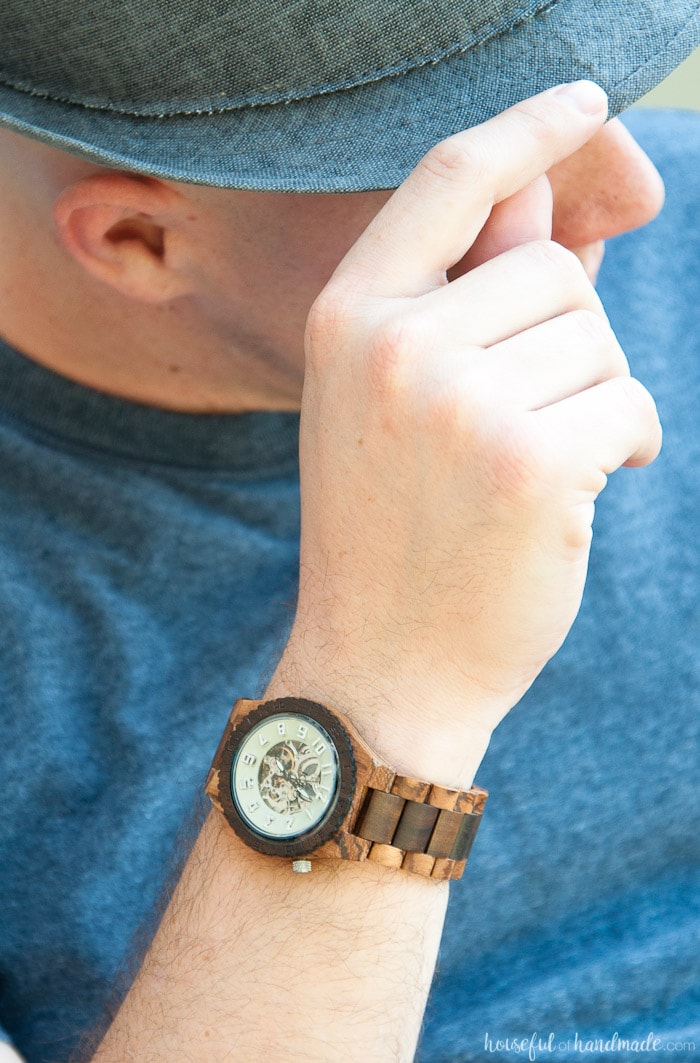 And don't forget to enter the giveaway here (see all the details on the first page of the post).
Here's to many more amazing years!