Remodeling your kitchen doesn't have to break the bank. See our plans for a budget farmhouse kitchen renovation.
We will be completing the kitchen in just 6 weeks at a fraction of the cost of a normal kitchen remodel.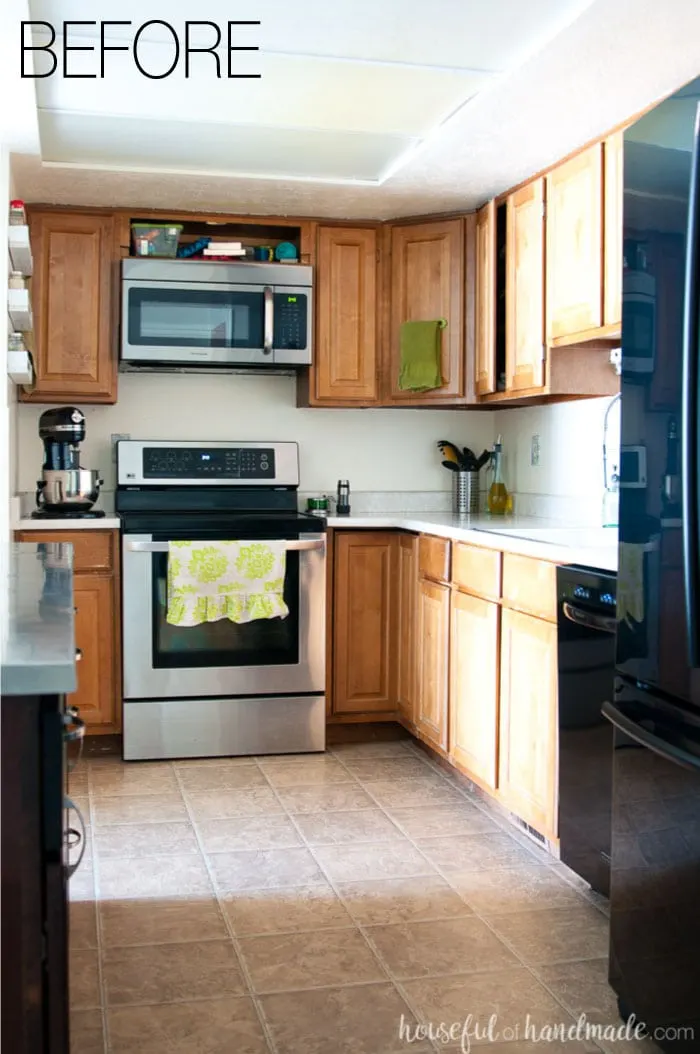 I am so excited to be a guest participant in the One Room Challenge™ by Calling it Home for the first time!
I am no stranger to room makeovers and love the tight deadlines (otherwise things never get finished). But I am not going to lie, I am a bit nervous about this month's project… THE KITCHEN!
We are completely gutting and remodeling our 1979 kitchen to a bright, modern, farmhouse-esque kitchen. Good thing there are 6 weeks for the One Room Challenge™.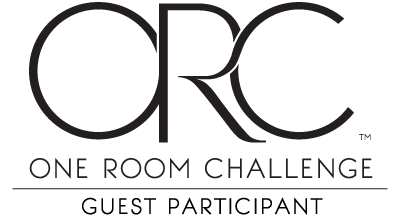 If you haven't heard of the One Room Challenge™ (or commonly known as the ORC), it is a big design challenge where lots of the home decor and DIY bloggers take on a room remodel in their home.
Every Wednesday the Featured designers post their room updates and every Thursday the Guest Participants do. There will be tons of design inspiration for every room of the house.
And at the end of the 6 weeks we get to reveal our new beautiful space. You can visit One Room Challenge to see all the other participants rooms.
Because I am always on a remodel budget, of course we are still doing a budget kitchen.
Did you know that the average kitchen remodels can run $35,000-$55,000 dollars? Yikes! I do not have that kind of money lying around (and even if I did, I would still want to stretch it as far as I could so I could do multiple rooms).
But I want a kitchen that looks like it was remodeled for $50,000. So what's a girl to do? DIY it of course!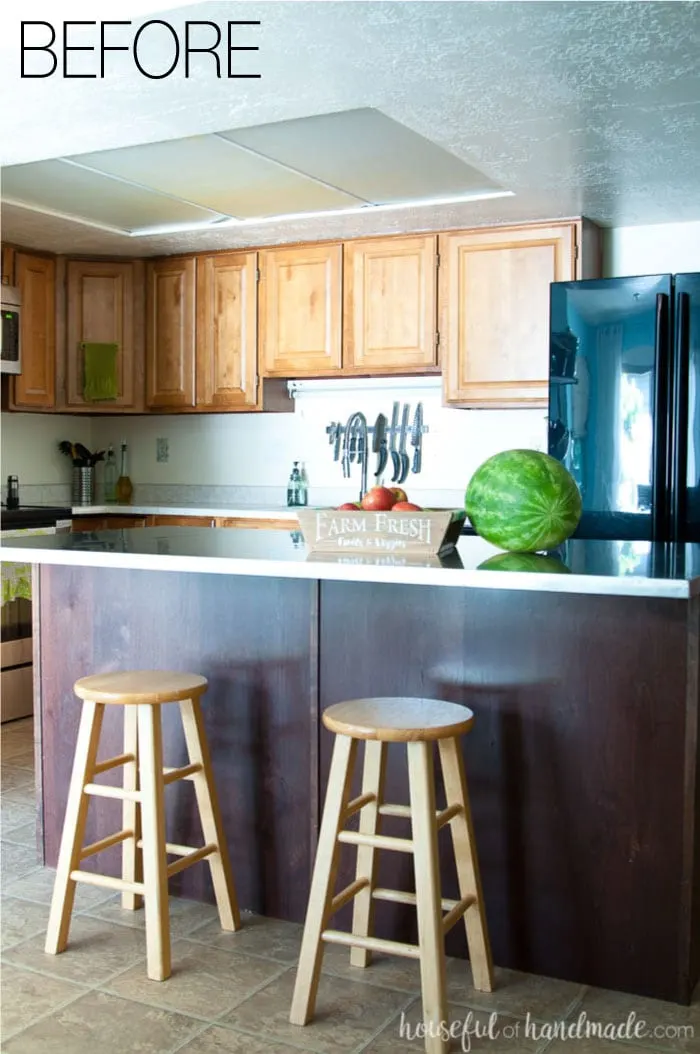 Budget Friendly Kitchen Cabinets
The biggest part of a kitchen remodel are the cabinets. Cabinets are vital to a kitchen, otherwise where would you put all your kitchen stuff.
And if you are anything like me, you love your kitchen gadgets so you have lots! And kitchen cabinets can cost a pretty penny.
Most people would not even think about building their own though, even if they have some woodworking knowledge. Why?
Because they seem like a hard project, but they are not. Cabinets are a serious of right angled boxes (except the corner cabinets that require a bit more thinking).
So I decided to save lots of money with DIY kitchen cabinets. If you have been following along with me on Instagram you will know that I have already started building. Actually all the cabinets boxes are done and I am half done with face frames.
I will be sharing blog posts with all the information you will need to build your own kitchen cabinets (hint, it doesn't even require lots of expensive tools).
So building our own cabinets and doors will end up costing us around $2000 for all the cabinets in our 15′ x 9′ kitchen (excluding the island since we just got a new one 3 years ago).
The same cabinets from Ikea would cost around $6000 and upwards of $10,000+ other places. That is the first big budget savings and my husband is super happy about the $4000+ savings.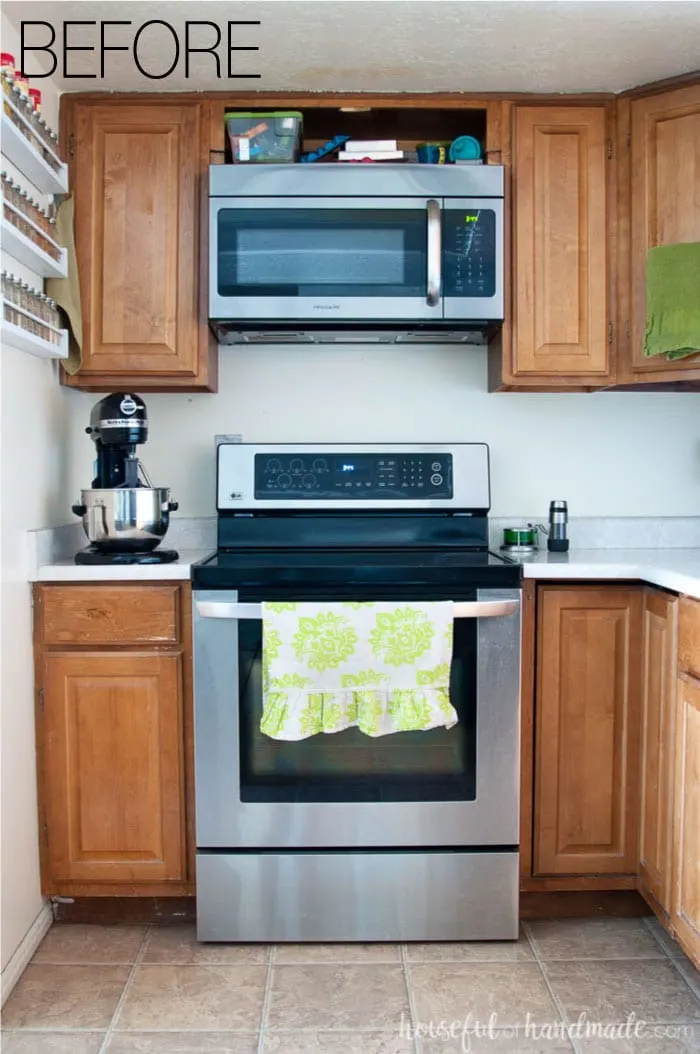 We are doing other budget friendly options for our kitchen, but that does not mean we are skimping on style. We will have all the farmhouse charm of a much more expensive kitchen remodel and will be sharing all our secrets along the way.
Kitchen Remodel Plan
So what is the plan for the kitchen?
First thing is to remove the wire drop ceiling. Since our kitchen is open to the dining room, I never understood why they did a drop ceiling.
We are also removing the 2 deep, but narrow, pantries. Things just get lost in there way to easily. Instead I am opting for a pull out pantry cabinet complete with lots of drawers so nothing gets lost in the back corners.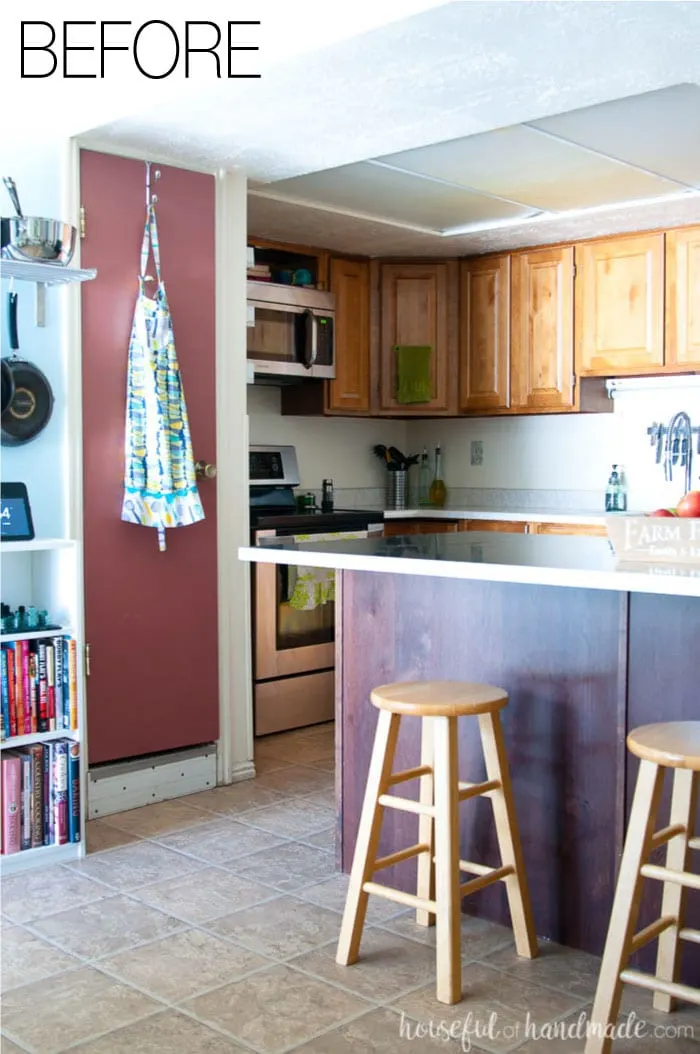 Once we have our clean slate, we will be adding in cabinets.
I love white kitchens because they are bright and open. And since our kitchen does not have a window bright is important.
However, I also love a bit of color. So we will have our bright uppers and using a grayish-navy color for the bottom cabinets (including the island we are keeping from before).
I will also be having some fun with my cabinet hardware, feminine on the upper white cabinets and masculine on the dark lowers. It's my take on a mullet… party on the top?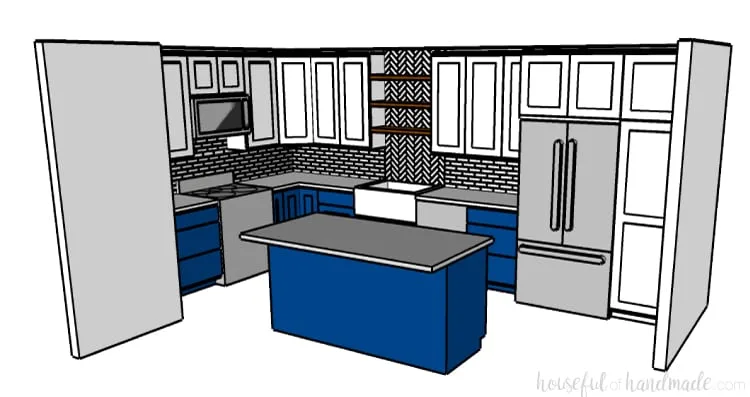 The flooring will have a bit of a party too with a fun printed tile pattern. I have been in love ever since painting our laundry room floor with a patterned tile stencil.
And there will be classic farmhouse elements like a large basin sink and white tiles (but in a fun pattern). The whole kitchen will be a dream come true!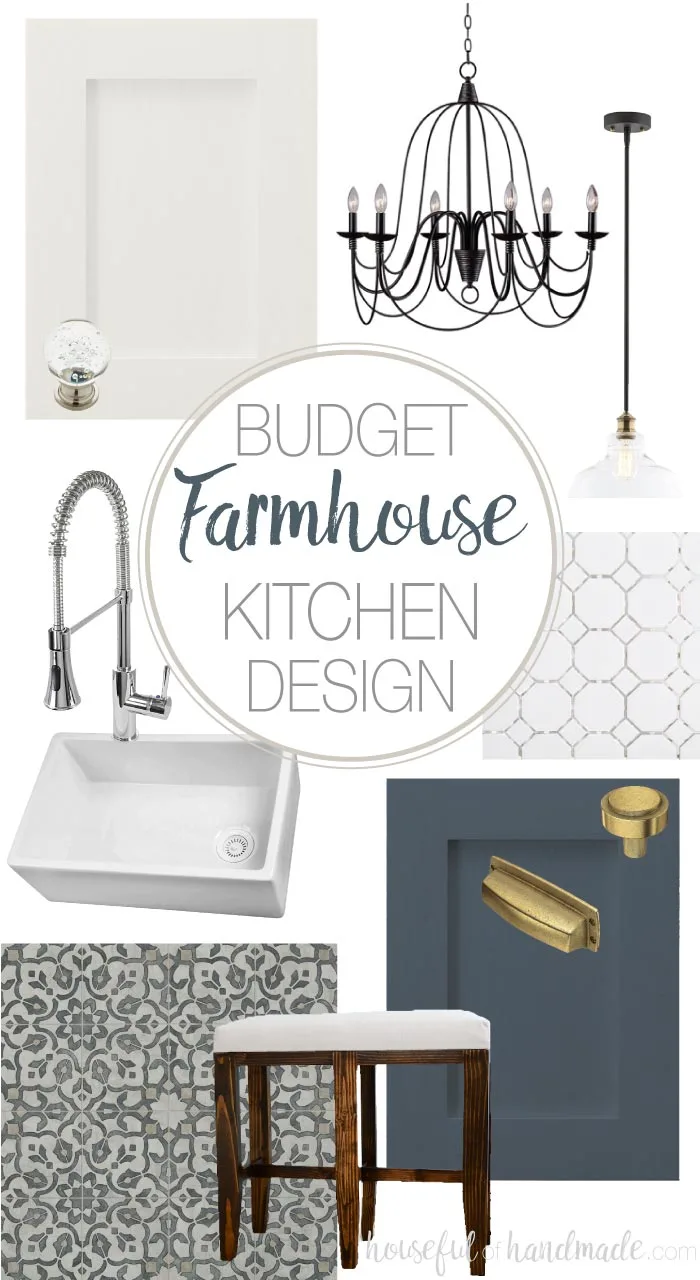 Now it's time to get to work, this kitchen will not remodel itself in 6 weeks! But stay tuned for lots of kitchen goodness all month.