I am working hard (or hardly working) on our master bathroom vanity! I spent the whole day in the garage on Monday, but it was such a mess from all the other projects I have been working on, so I spent the day cleaning and organizing instead of building.
Now I have a place to build the vanity and this coming week there is nothing going on so I will also have time. I can almost smell the progress!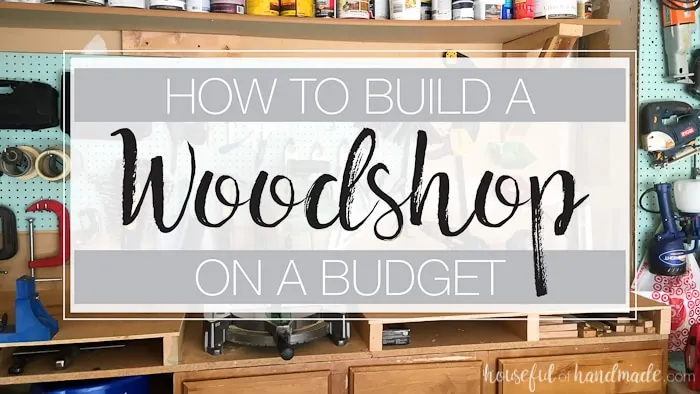 However, instead of sharing a remodel update this week I thought I would do something a little different. This little voice in my head (sometimes called my husband) has been nagging me to add videos to my blog.
I did a couple 1 minute hands-only videos a few months back, but I have been seriously afraid to get in front of the camera. The nagging voice finally won out and I bit the bullet and got in front of the camera for you today!
I decided to do a video for today's post instead of just writing out a boring list. And while editing the video I came to the realization that I am very expressive when I talk. Wow! I use my whole face when I talk. I guess that's what people meant when they said I am dramatic. Oh well, this is me so I hope you enjoy today's video about how to build a woodshop on a budget.
Shop our Budget Woodshop
If you are looking to start your own woodshop, or just add to it, I thought I would share with you my favorite budget friendly tools. This post contains some affiliate links for your convenience. Click here to read my full disclosure policy.
I hope you enjoyed the video! I am going to be better about adding more videos, my goal is one a month. If you have requests for things you want to see on video, please feel free to email me your ideas. Ideas and requests are always welcome 🙂
Until next time,