Build these collapsible storage shelves to add extra storage to your entry or mudroom for seasonal gear.
With winter finally here, we realized we needed more storage in our mudroom entryway! Instead of just letting the kids snow gear lay all over the floor, I partnered with Kreg Jig and their new project plan site, BuildSomething.com, to make the perfect collapsible storage shelves to give us twice the space!
Or if you need even more space, make sure to check out these amazing mudroom storage lockers with plenty of space for the whole family. And to beautifully organize small items, we love this DIY modular entryway organizer.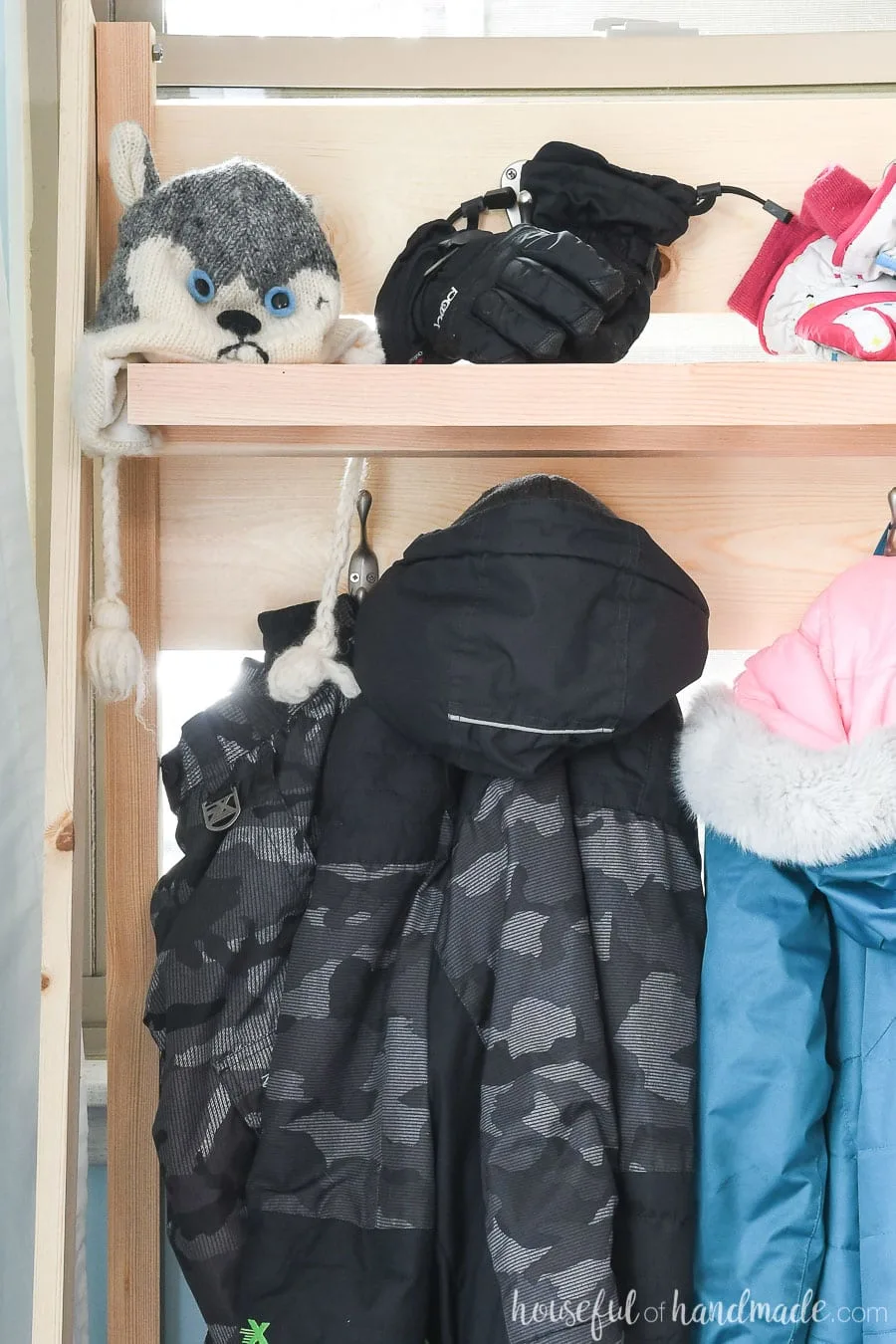 We have a small little entry for our family of 4. It use to be a tiny coat closet, but I turned it into a pretty little entryway mudroom with hooks and bins. And it is perfect for 3 out of the 4 seasons.
But when winter arrives, it just doesn't cut it!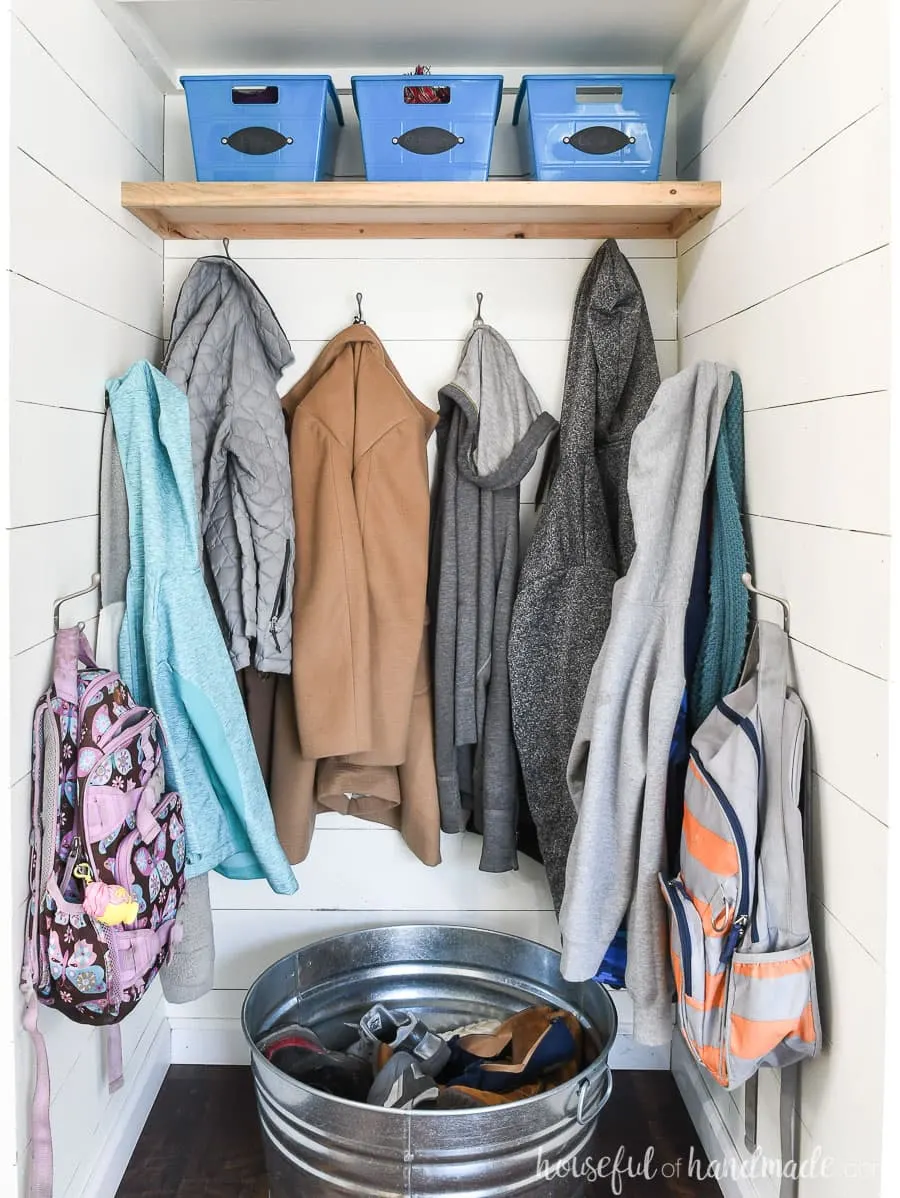 We have piles of boots that tend to migrate out of the closet and into the walkways. The snow pants and winter coats take up multiple hooks and there is not enough room for them.
I was sick of bulging hooks and piles of snow gear on the floor. We needed more mudroom storage!
Since we have a small nook next to our sliding door to the back yard (where the kids go use their snow gear), I figured I would use that space to give us more storage.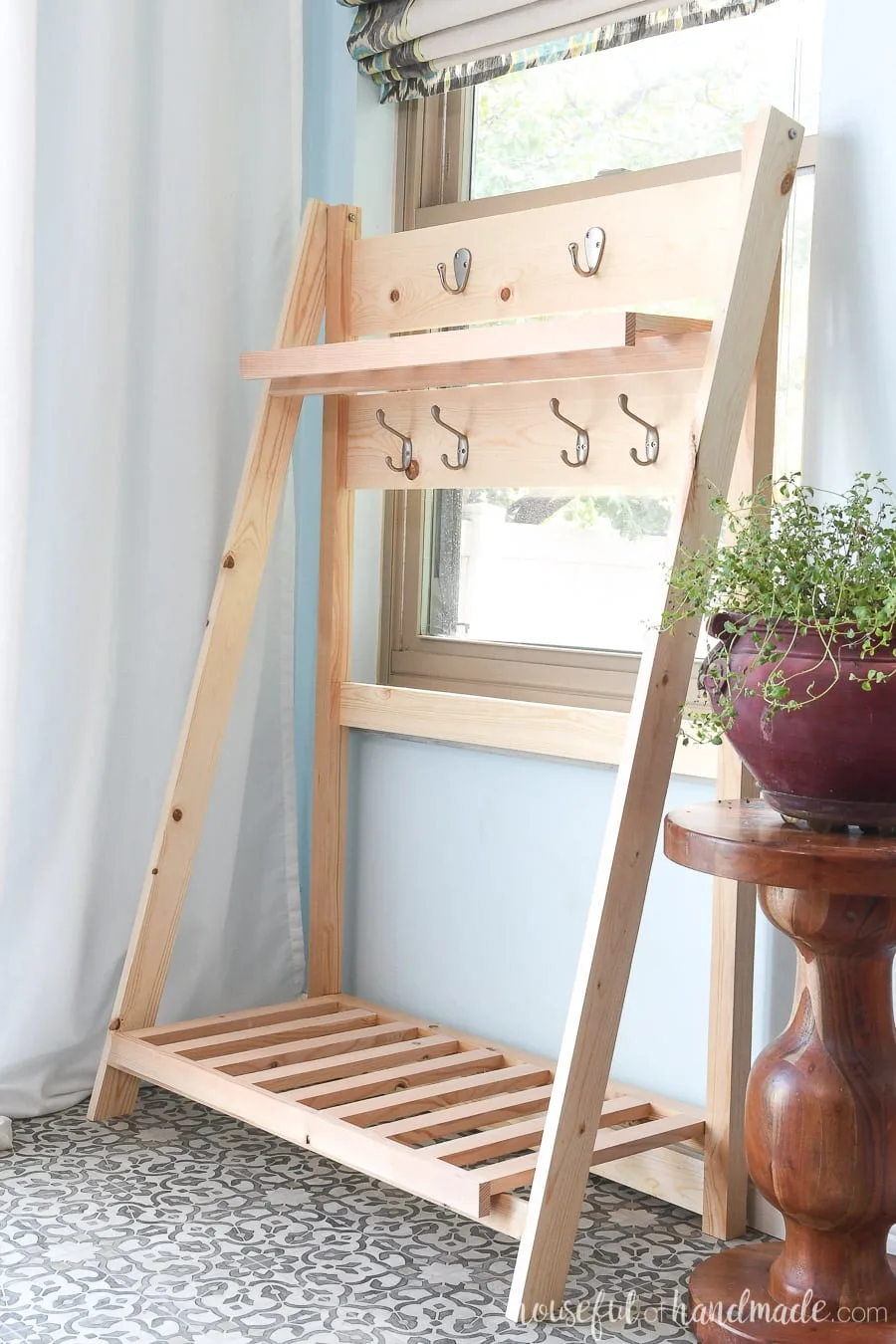 But I wanted the new mudroom storage shelves to be able to store away after the snow melts. Some thing I could fold up and tuck into the garage until needed again. So I set to work trying to make my idea a reality!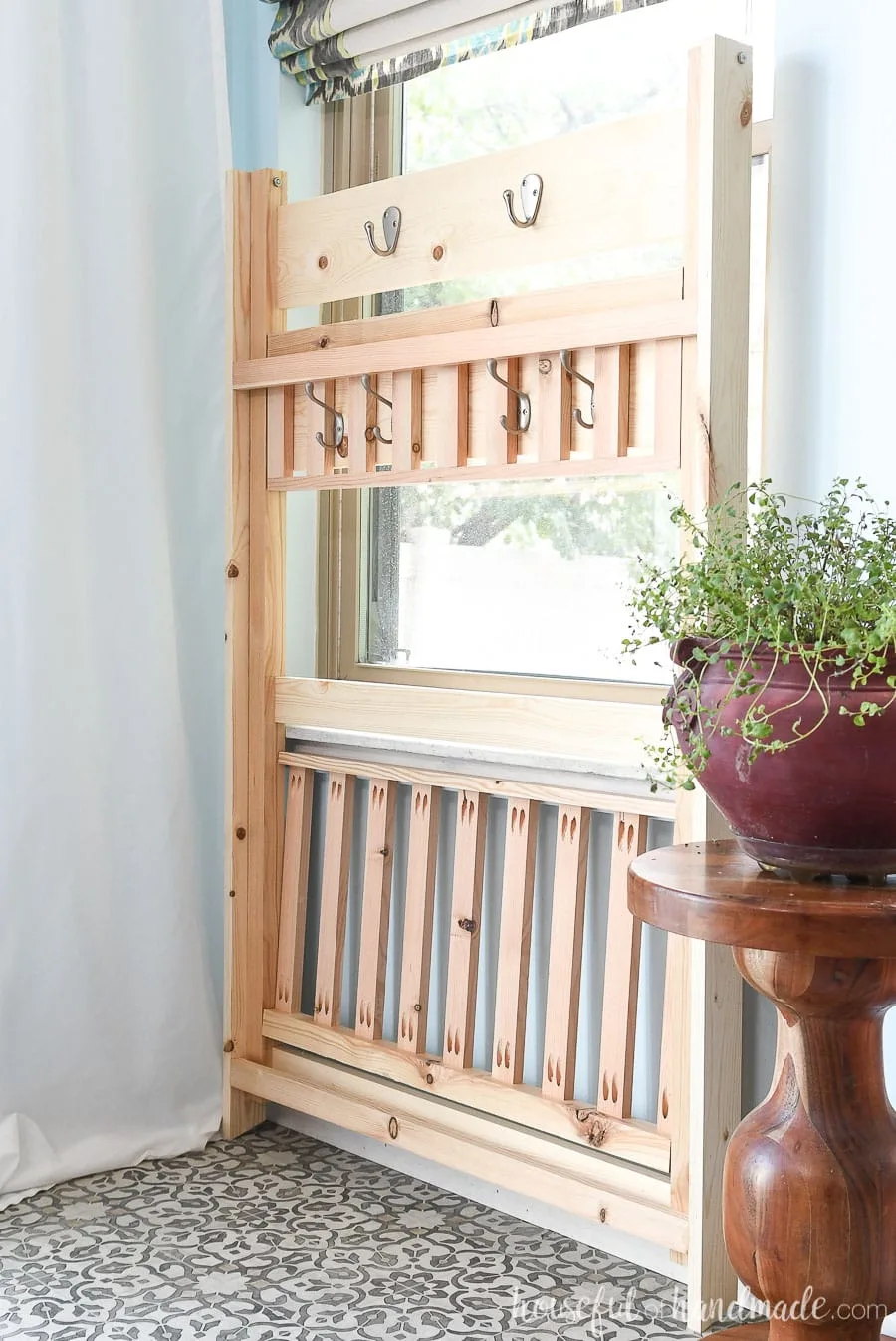 Different Ways to Use the Collapsible Storage Shelves
What I came up with is perfect for adding extra storage for seasonal gear. The top rack has plenty of room for hats and gloves for the whole family. And the slatted shelf helps things dry quickly.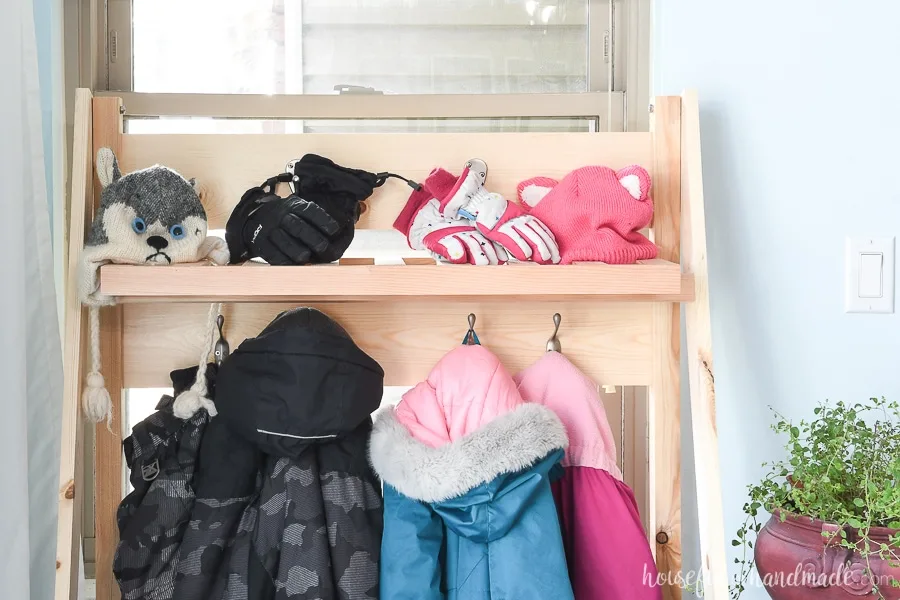 The bottom shelf the perfect place to store boots. The deep shelf had plenty of room for the any sized boots. And I even added a drip tray underneath to catch melting snow and protect my floors.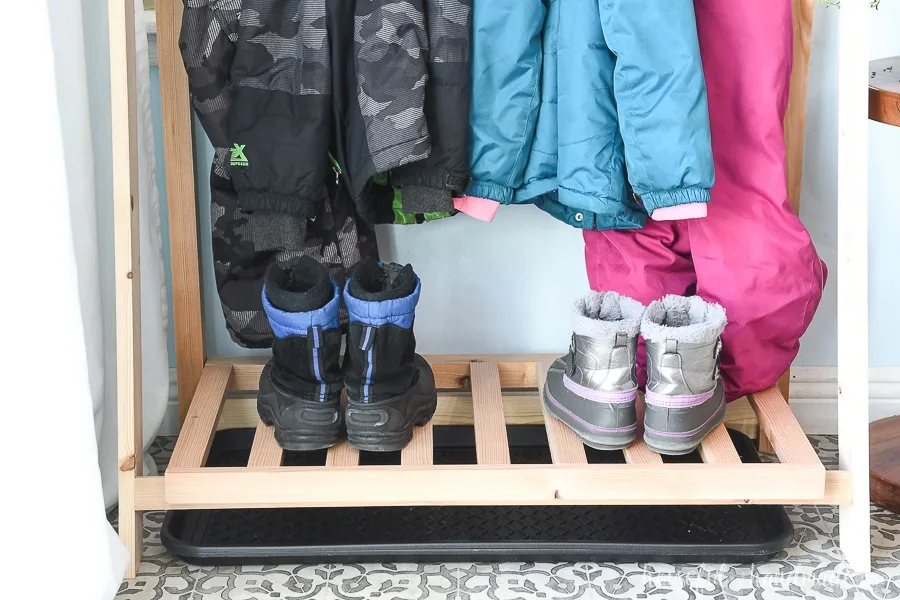 But my favorite part is the hooks! There is plenty of room for hooks to store the kids wet snow pants and coats so they don't have to crowd the entryway closet. And all that extra space means things don't stay wet! Yay for dry gear!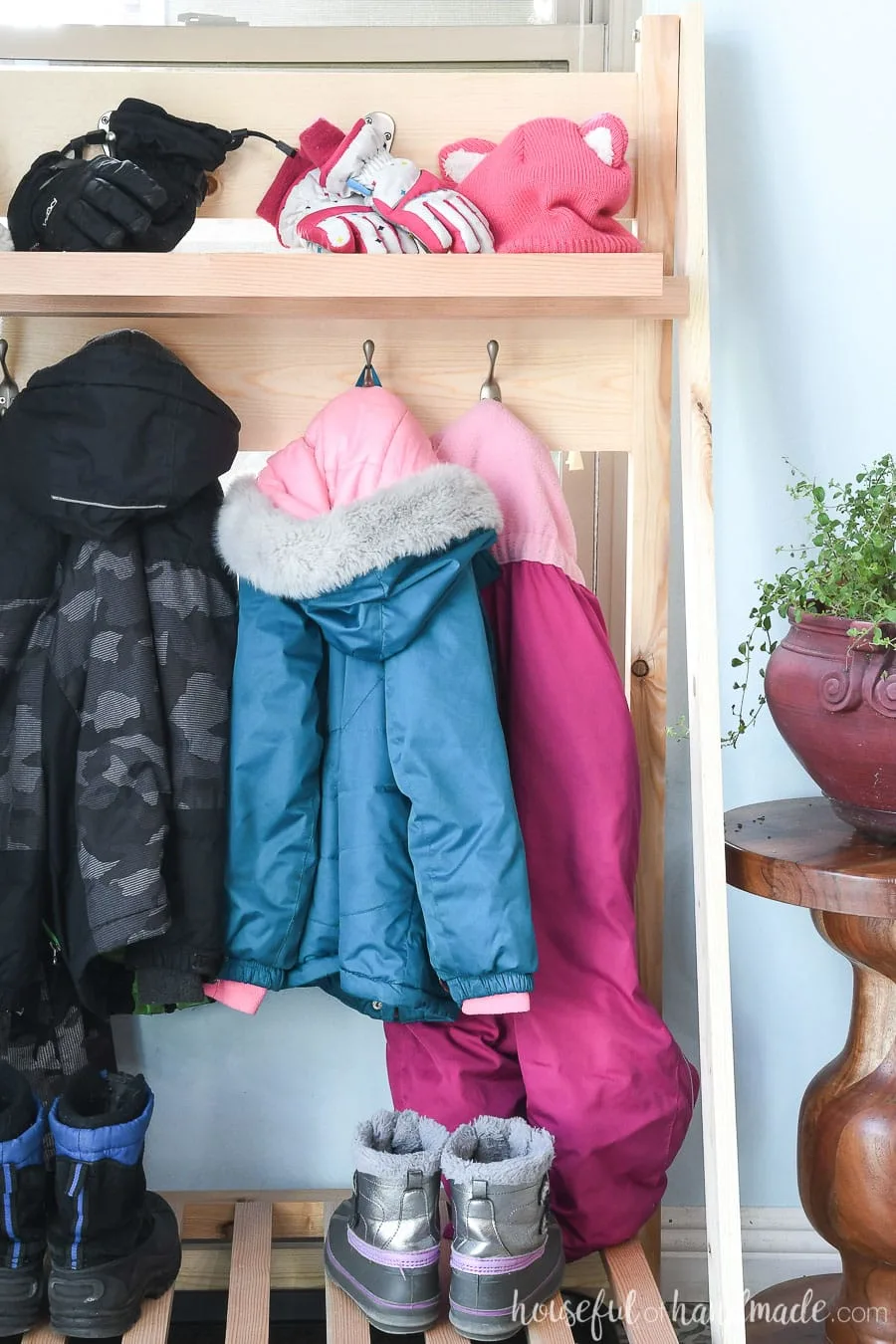 After I set up the collapsible storage shelve and loaded them full of boot and gloves, I realized these cool shelves would work for other seasons too!
Summer
How awesome would these collapsible storage shelves be next to a pool in the summer? The hooks are perfect for towels and the upper shelf can hold goggles and a speaker for some summer tunes!
Spring
Or use it in the spring next to the garden. Hang your gardening apron and tools on the hooks. Store gardening gloves on the top shelf with seeds and fertilizers, while the bottom shelf is perfect for muddy shoes and a kneeling pad.
But I digress. Its been so cold that I am dreaming of warmer days…
At least the last months of winter will be nicer with a proper place for the kids to store their extra winter gear. And the slatted shelves allow plenty of airflow so things can dry nicely after a day in the snow.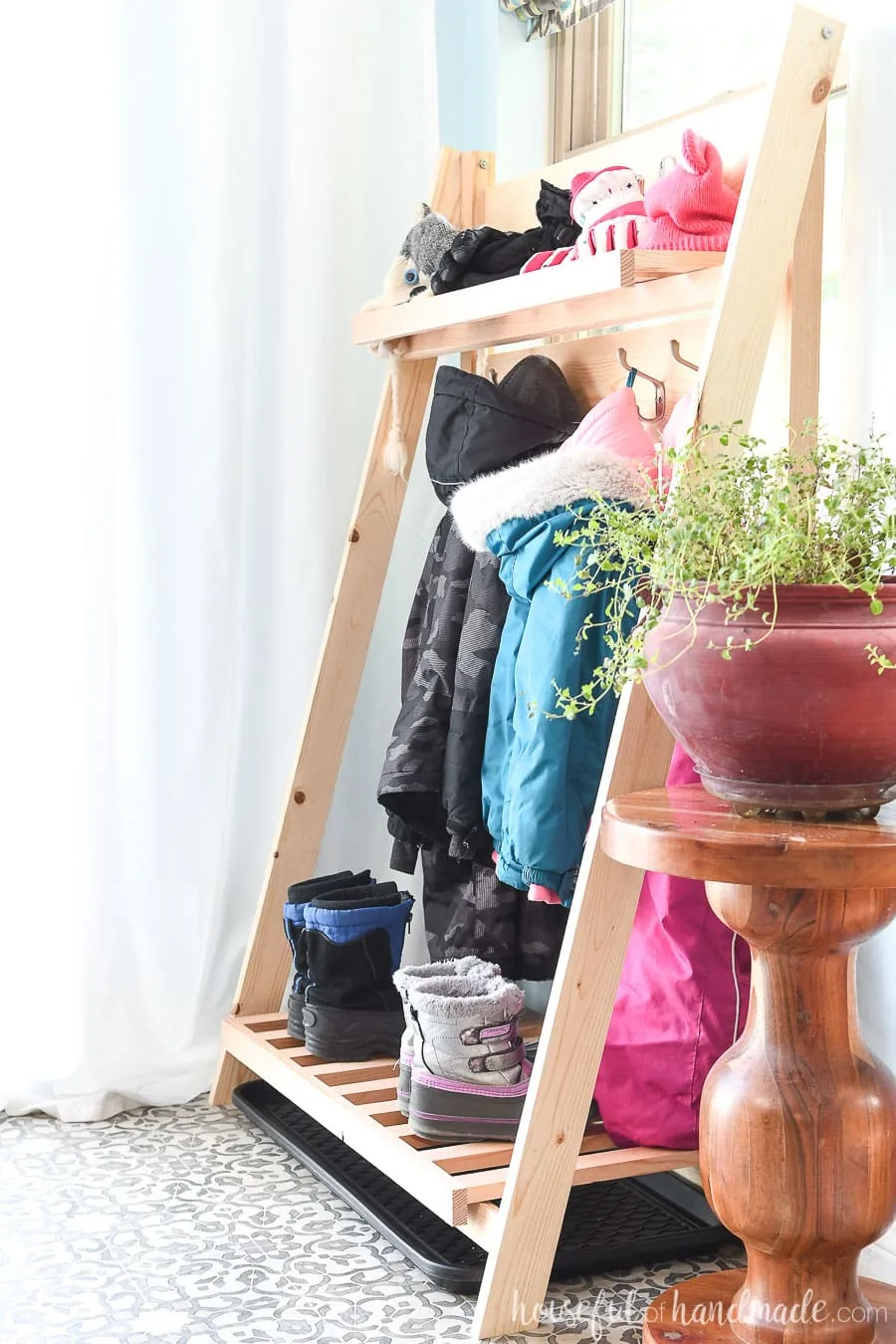 How to Build Collapsible Storage Shelves
One of the best parts of these collapsible storage shelves for extra mudroom storage is how inexpensive they are to build! I made them with inexpensive furring strips and common board for less than $20!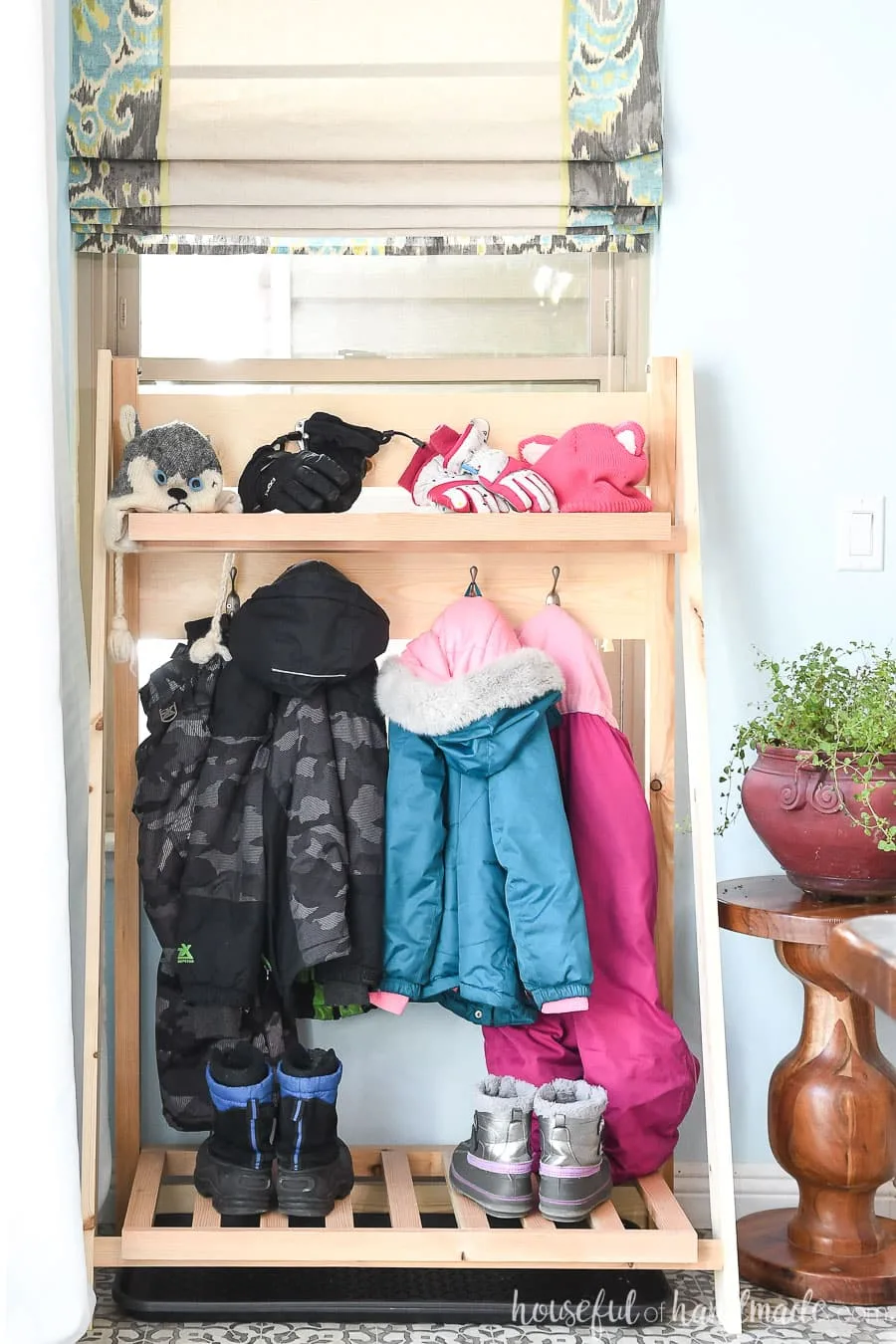 These days you can't even buy a couple storage bins that for that cheap!
And the storage shelves were a quick afternoon project with the help of the Kreg pocket hole jig and the Kreg shelf pin jig. I love these two simple tools. They make building so easy.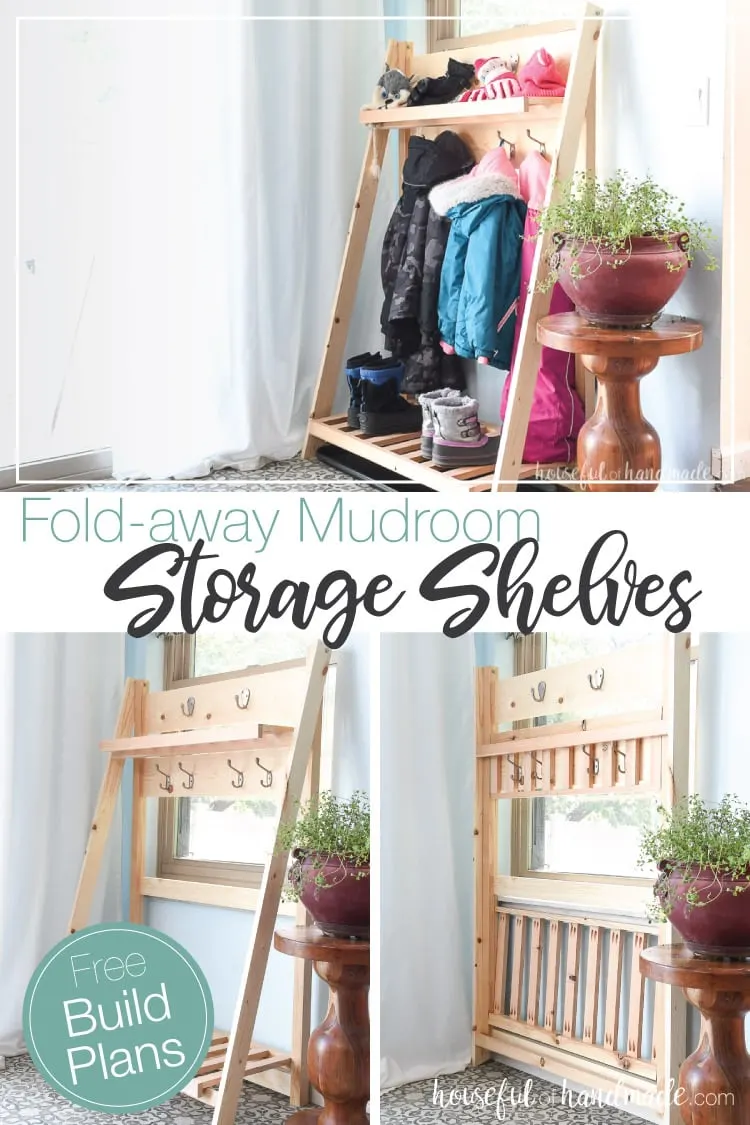 To make sure your new mudroom shelves last for years, protect the wood with a couple coats of paint or polyurethane sealer. If you plan to use them outside in different seasons, make sure to use outdoor paint or sealer and blue kote pocket hole screws.
If you want to make your own Collapsible Storage Shelves, I am sharing the free plans over at BuildSomething.com. Click here for the complete build plans.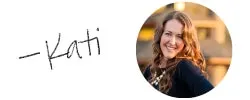 Thank you to Kreg Tools and BuildSomething.com for sponsoring this post. I only recommend products that I use and love and all opinions are 100% my own. Click here to read my full disclosure policy.