This easy DIY Halloween Lamppost is a great way to add some spooky to your yard this October. Made from scrap wood and a cheap solar light, it's the perfect outdoor Halloween decor idea.
I am a bit of a hoarder, but only for things I think I can use to craft or create with to make something new. If you walk into my kitchen, dining, living spaces you would think nothing crazy was lurking near. There would be small piles of mail and kid drawings, a few toys and books lying around, and a pair of shoes in each room. But other than that, no crazy hoarder boxes… then you walk into my craft area or garage and BAM! That is where I cannot throw anything out. I just know someday I will have an idea and then I will be able to reuse that bit of something in the most brilliant way, and the best part, it will cost me nothing. That is where this easy DIY Halloween lamppost came from!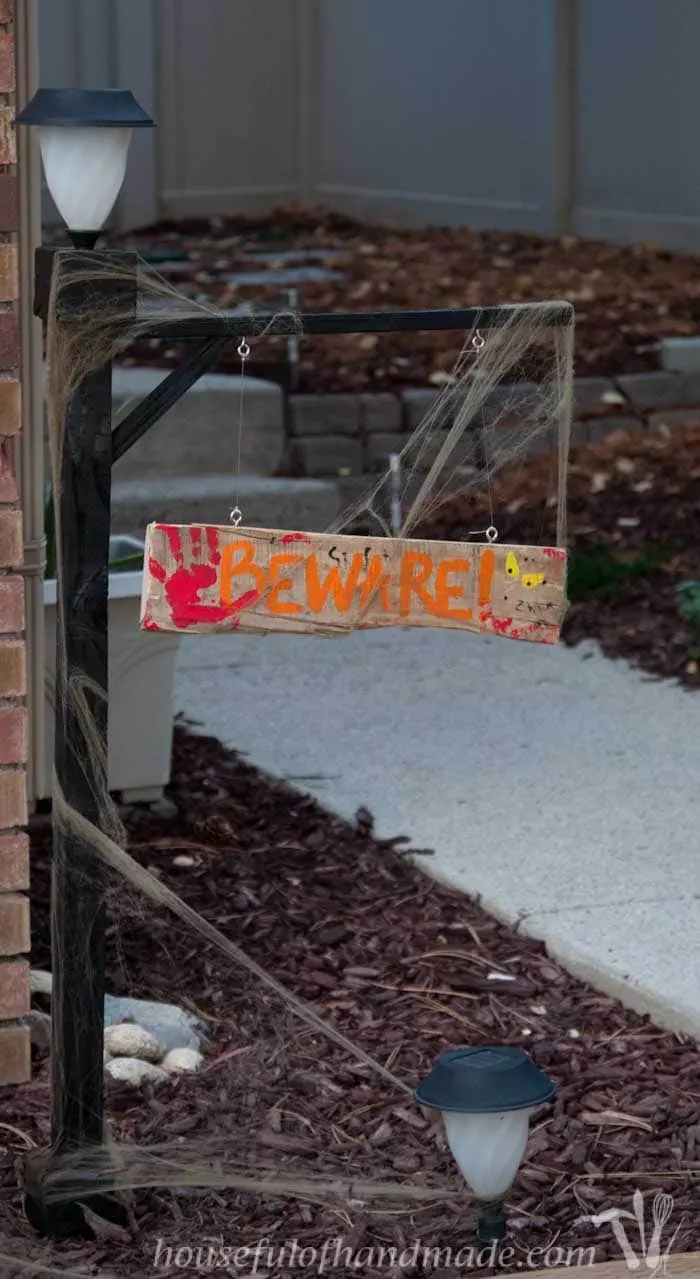 For the past few years, I had 10 solar lights along my walkway to the front door. They were inexpensive lights with plastic casing, and they were destroyed by snow shoveling and kids. The plastic stakes that held the lights in the ground broke, but the lights still worked. This year I finally bought some new solar lights so I could get rid of the broken ones that were just laying on the ground where they were supposed to be staked in but no longer could be. I switched them out with the shiny new ones, but couldn't throw the old broken ones away! They still work, so I knew I might be able to find a new place to use them.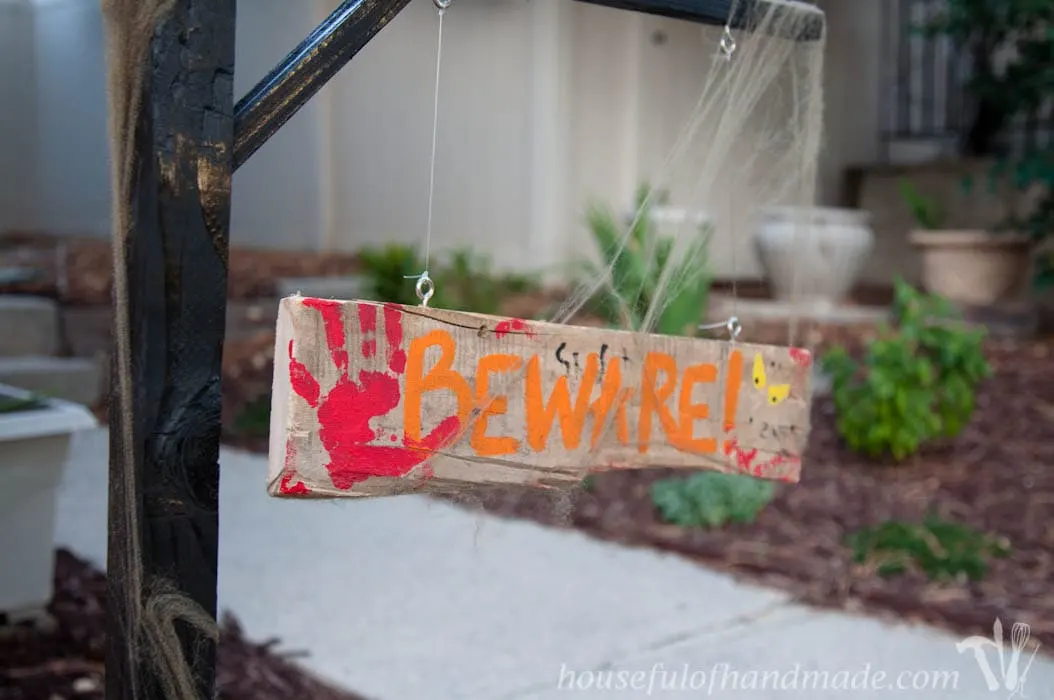 This last weekend, I had a lightbulb moment and decided to make a fun lamppost for our front yard for Halloween and using the solar light meant it would be super easy to put together with no electrical! Perfect. I used some scrap wood to make a cute wooden lamppost, added a spooky sign and the solar light and presto! Don't you just love how it turned out?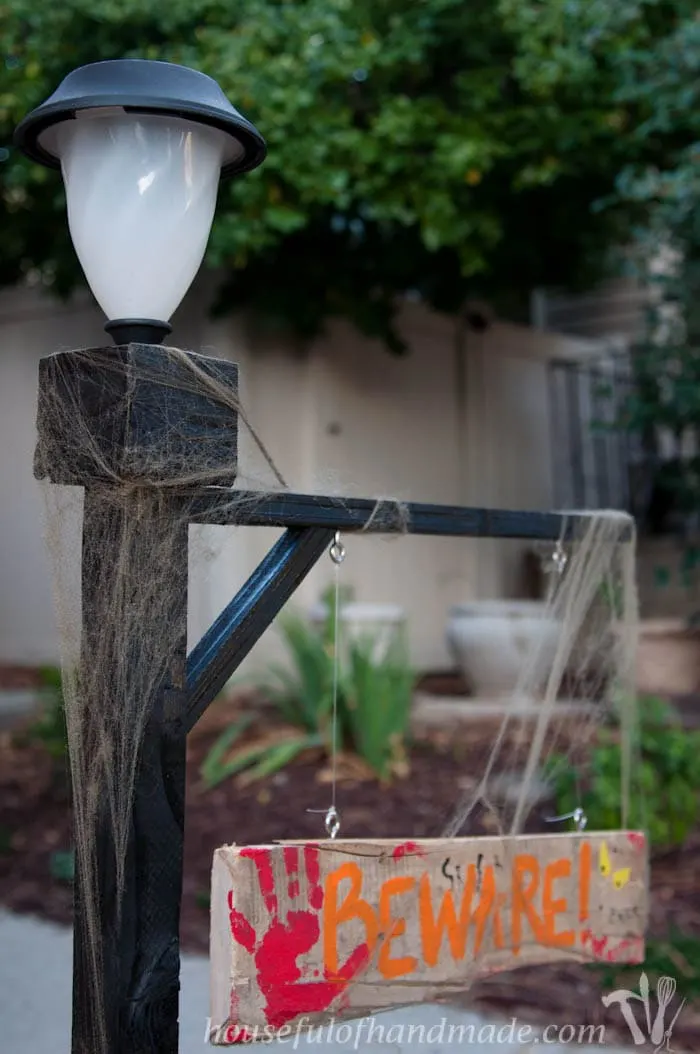 If you don't have lots of half-broken crap or scraps of wood lying around, don't worry. You can still make a DIY Halloween lamppost for cheap! You can get the building supplies for around $6-7 and you can find cheap solar lights for $1-3. So you can easily build this for less than $10!
How to Make a DIY Halloween Lamppost
Materials:
6′ of 1×2 lumber
3′ of 1×3 lumber
2′ of 1×1 lumber (I cut it on my table saw)
18″ of scrap wood (I used a beat up piece from an old pallet)
4′ piece of 3/8″rebar
1 pocket hole screw
1 1/4″ finishing nails
wood glue
black spray paint
Tools:
table saw
miter saw
nail gun
Kreg jig
measuring tape
hammer
Cut the 1×2 into 2 36″ sections with your miter saw. Then use the table saw to create notches down the center of the boards (you could use a router too if you have that). I set my table saw blade at 1/4″ tall then set the guide 1″ away from the blade. I ran the board through twice so I had two grooves on the board that were 1/2″ away from each edge.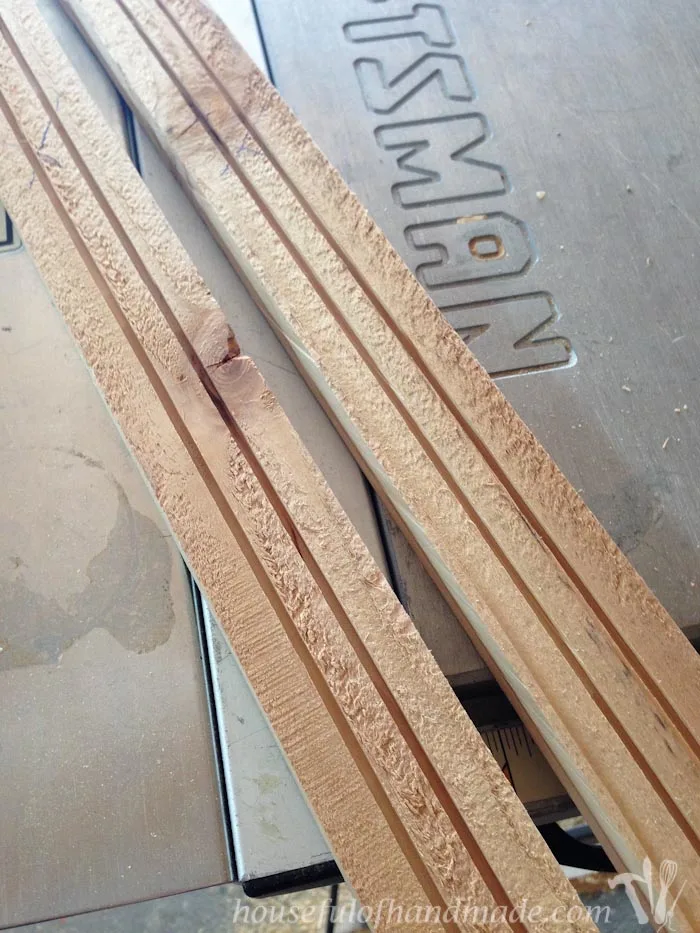 Then I set the table saw guide so it was 7/8″ away from the blade and ran the board through twice again. Now I had two larger notches on each side of the board and the center was getting smaller.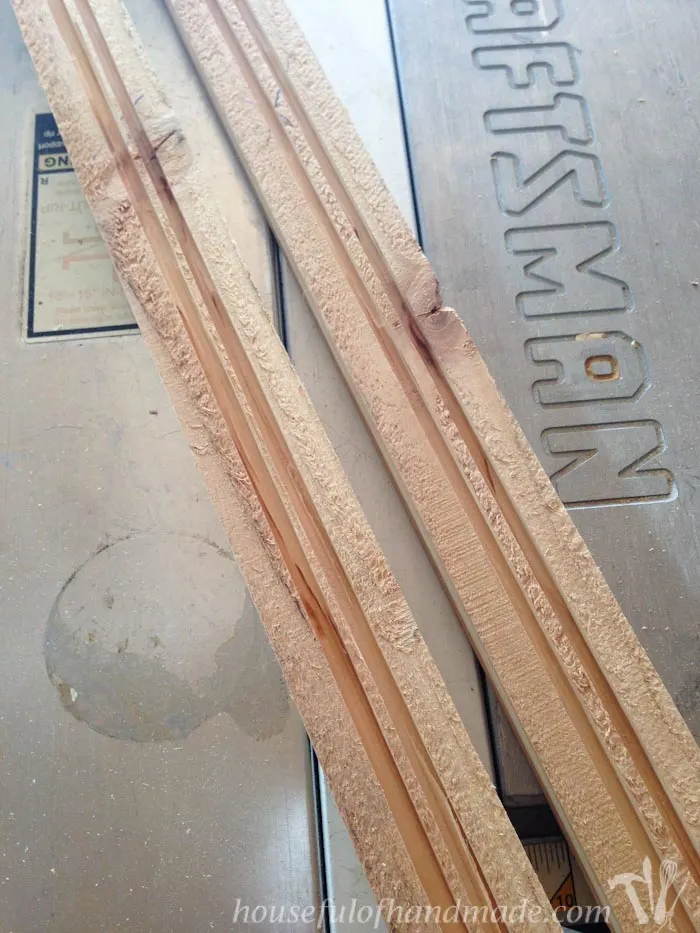 I did this two more times, moving the guide 1/8″ closer to the blade each time until the grooves connected and I had a 1/2″ wide groove that was 1/4″ deep centered on my boards.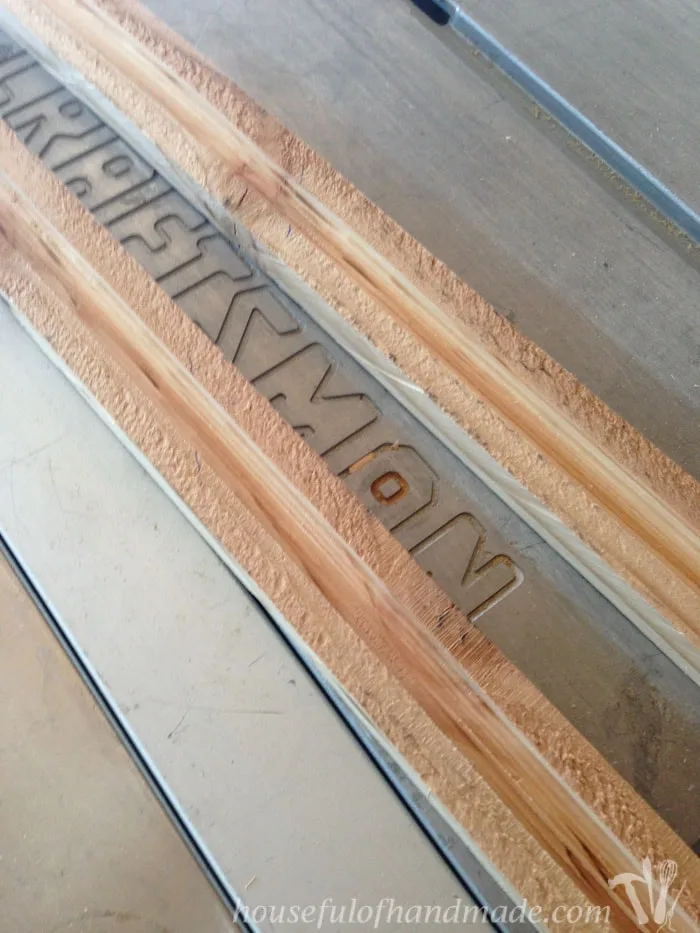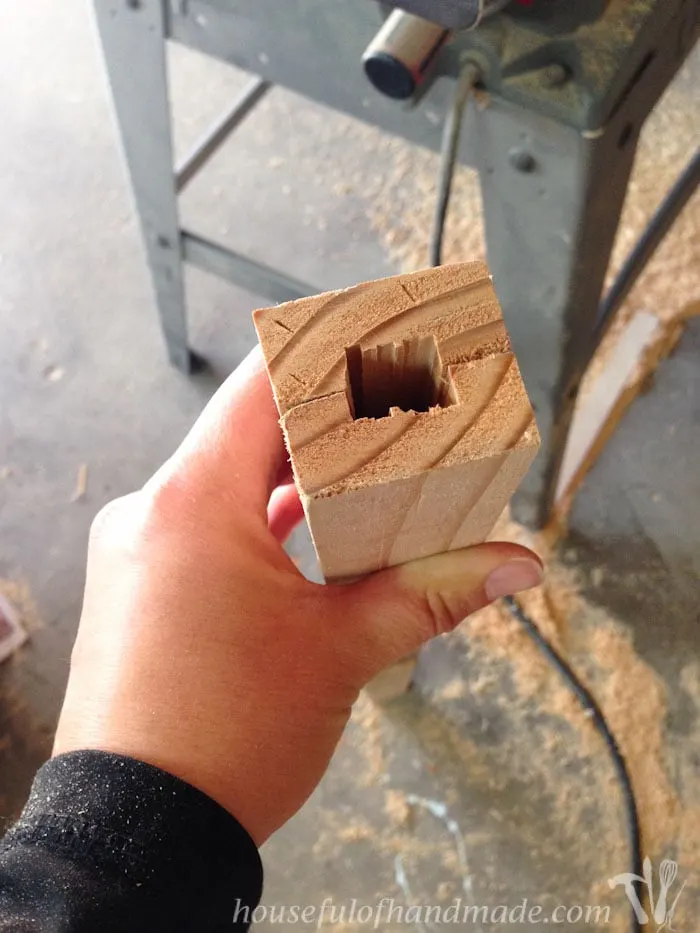 Glue the two boards together so the notches are in the center creating a channel through the entire board. Use wood glue and clamps to hold them together until dry. I further secured it with some finishing nails then let it dry overnight (cause I had somewhere to be for PTA business, it was a good stopping time anyway!).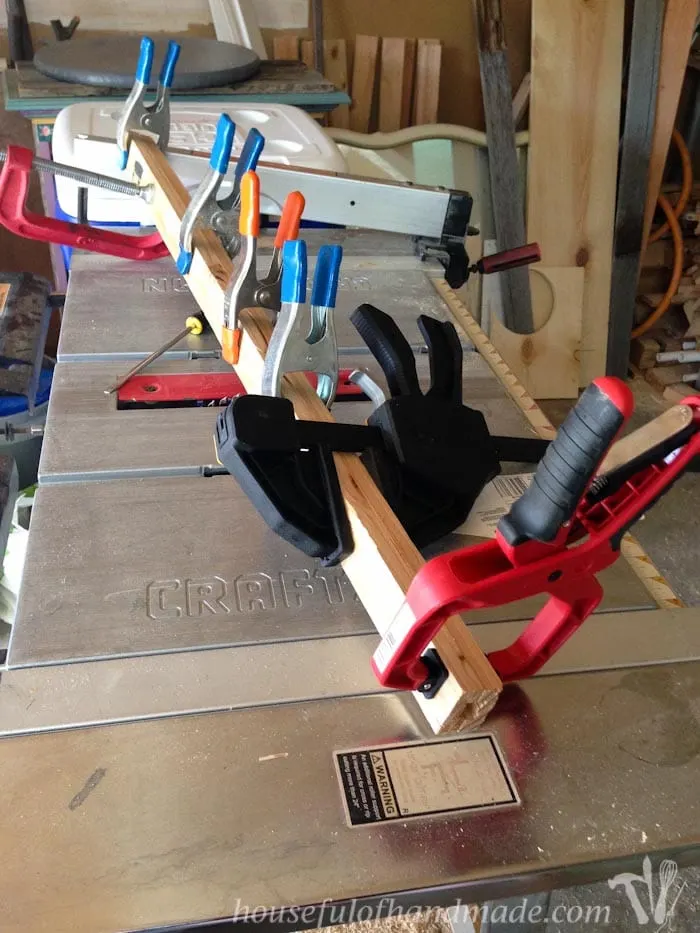 Trimm out the top and bottom of the now 2×2 board with the 1×3 board. You can miter it or go the cheater way. I chose to miter it but my angles sucked a little bit. Oh well, it's suppose to be an old spooky lamppost so bad corners and beat up boards are perfect. I specifically chose some of the most beat up boards for this project and didn't sand it so it would look older and more beat up.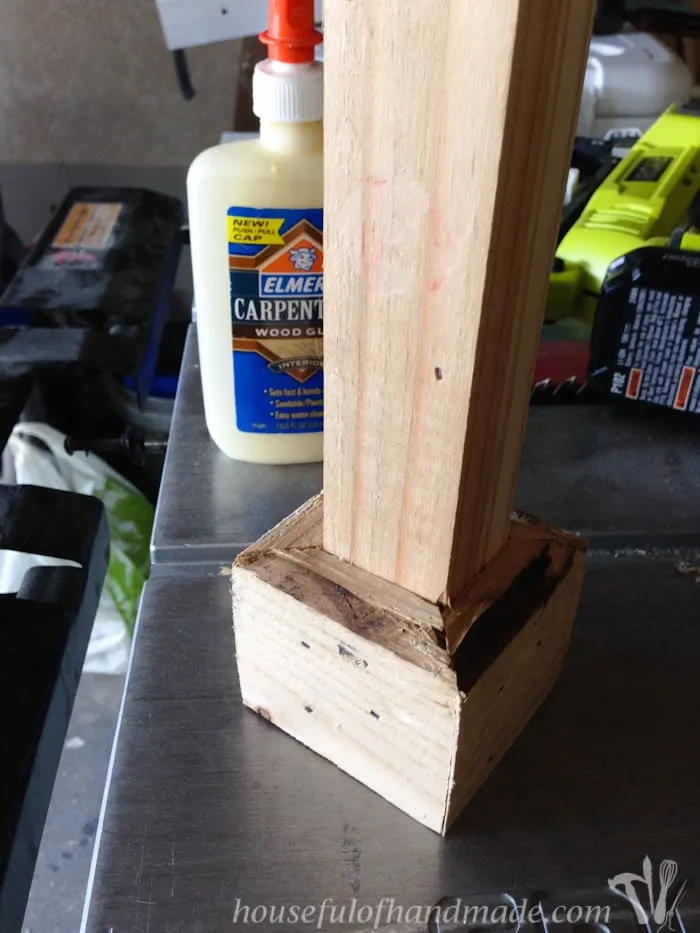 To hold the sign, cut an 18″ section of the 1×1 and used one pocket hole to secure it to the post just below the trim on the top. Cut a 5″ piece of 1×1 cut at 45 degree angles on both ends to secure under this to give this sign holder more support. I secured this with some finishing nails and I don't have a pictures of this because it was too blurry, oops!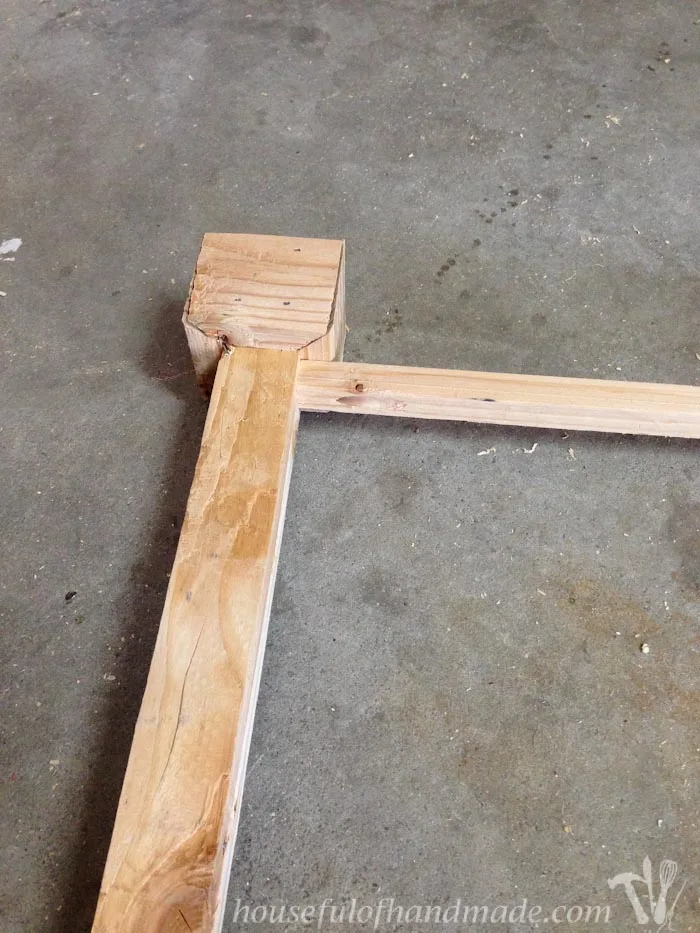 Now it's time to paint, yep, no sanding needed. It's a Halloween decoration and needs to look old and worn, so use bad boards and skip the sanding! I gave it a decent coat of paint, I wasn't too picky cause I had to go pick up my kid from school. And while the paint dries, you can hammer your rebar into the ground. You want it into the ground at least 15 inches, so you will have just shy of 3′ sticking out, the lamppost will slide onto the rebar to hold it up even through the worst of the fall weather (that's what the channel is for). When the paint is dry, slide your post onto the rebar.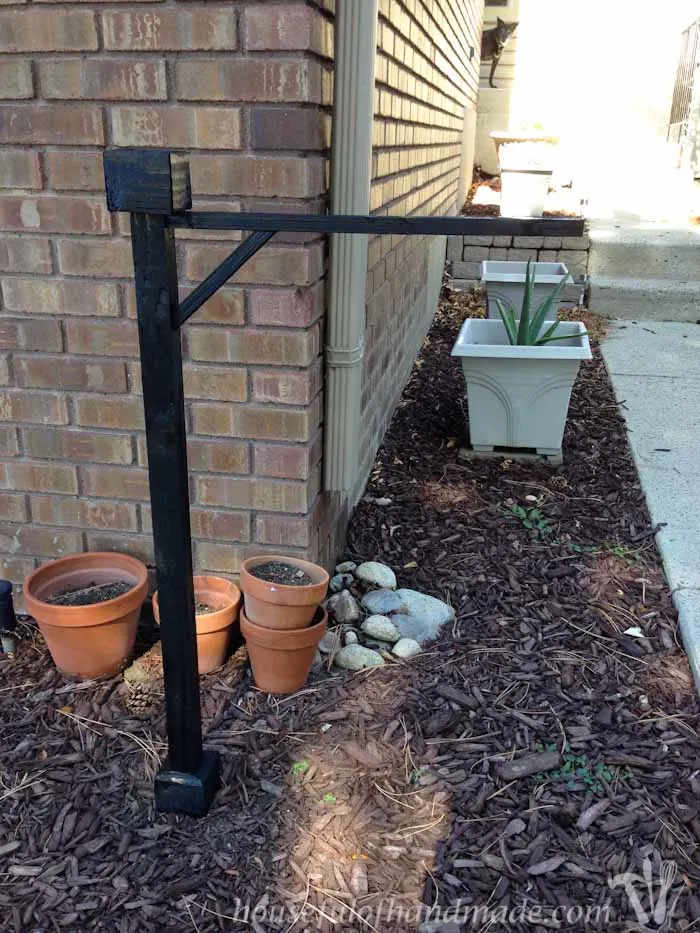 To make the sign, I used a scrap of wood that I pulled off an old pallet. It was broken on one end. When I cut it down to size, the newly cut edge looked too perfect, so I started banging it around to beat it up, then I handed it off to my daughter. She did an excellent job of beating up the board!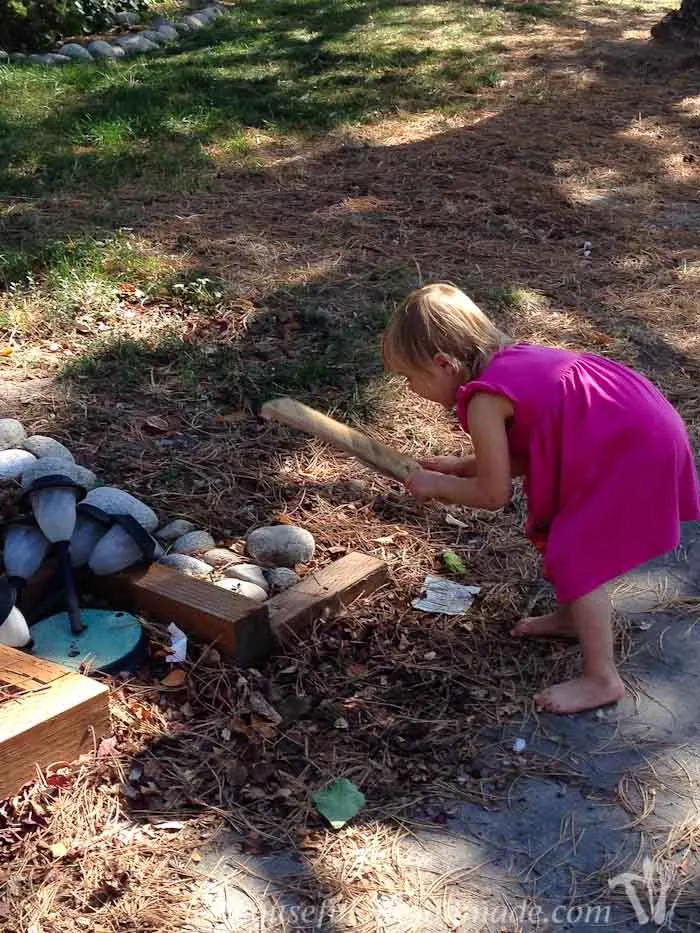 Now it's time to make your sign. We chose to write "BEWARE" with a "bloody" handprint. I used my youngest's hand and she thought that was the coolest thing ever. Then when my son got home from school, he felt left out so he added his own touch with some scribbled letters. Our sign is adorably spooky (that's a thing right?).
Attach the sign to the DIY Halloween lamppost with a couple eye hooks on the sign arm and on the sign. Then hang it up with some fishing wire. We made it a little crooked and added some cobwebs. Spooky perfection!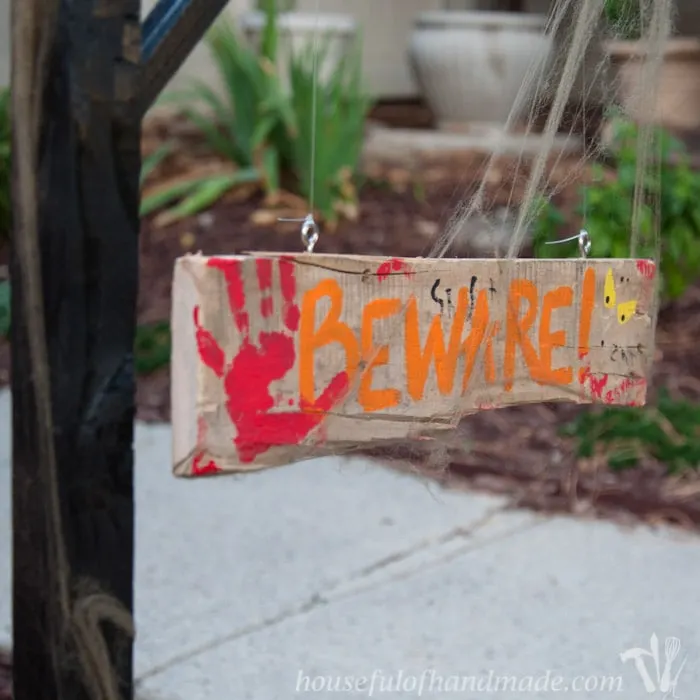 One of my broken solar lights fit into the center channel of the lamppost perfectly. I just had to press it inside the channel snuggly and it stayed.
Now we have a super spooky Halloween lamppost to greet our guests as they walk up our front path. We hung up our Easy $3 Skull Ghosts in the trees and tomorrow will be putting the rest of the outside decorations out. I love that my kids are having as much fun as me decorating for Halloween!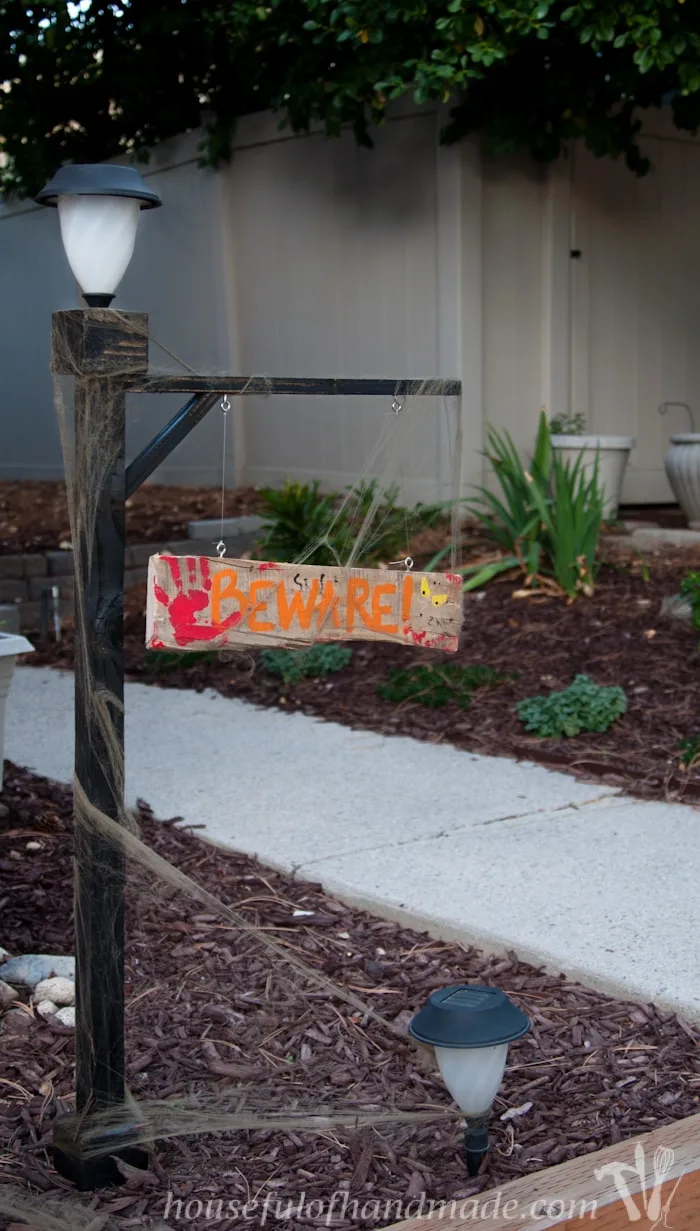 I ran outside just before it got dark and was able to get a picture of the lamppost with the light on! I couldn't be happier 🙂
Now time to work on Halloween costumes! My kids have finally settled on a choice so it's my turn to start working.