Make an easy wood pumpkin sign from reclaimed wood to celebrate fall. The adorable truck hauling a large pumpkin is perfect for fall decorating.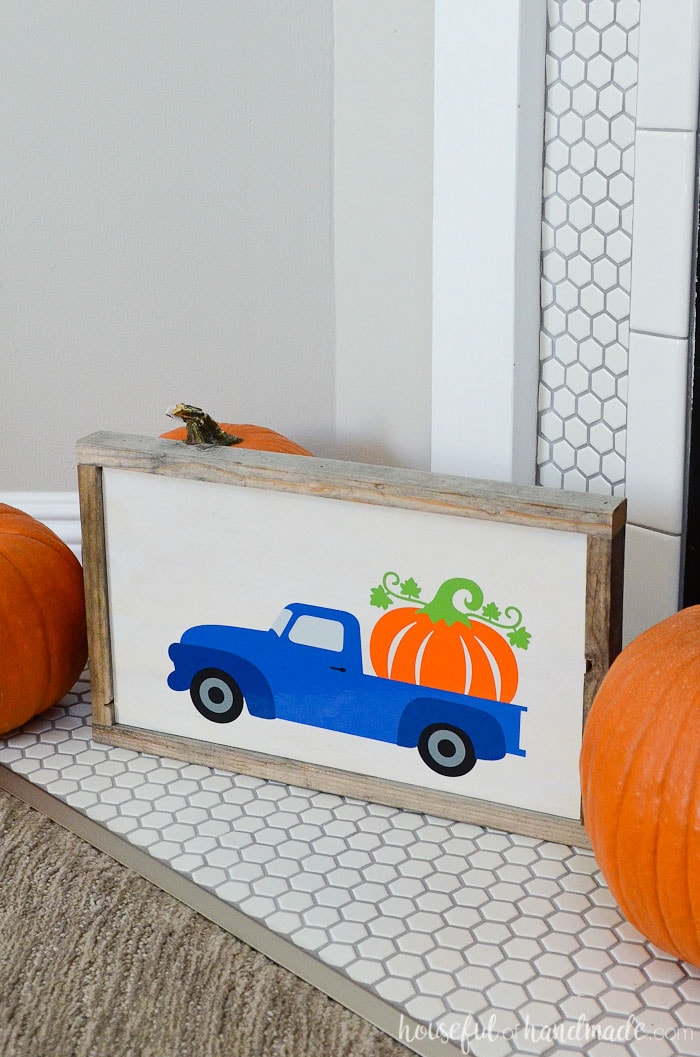 This wood pumpkin sign is perfect to add a bit of whimsy to your rustic fall decor. A scrap of plywood and some reclaimed wood was turned into the perfect frame for the pumpkin truck design. To make it super easy to DIY, the truck is added to the sign with vinyl. And now it is ready to display!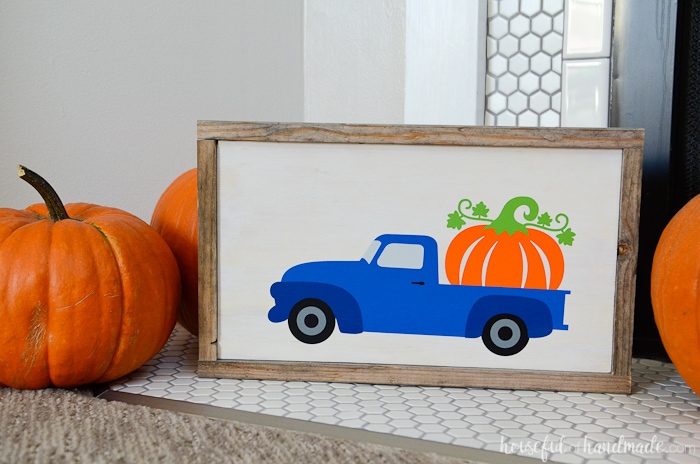 This adorable wood pumpkin sign was not planned at all. I was looking for something else in the Silhouette Design Store and came across the cut file for this pumpkin truck. I had to have it! And instead of just buying it and having it live in my library forever, I decided to actually use it and made a super easy pumpkin sign for fall.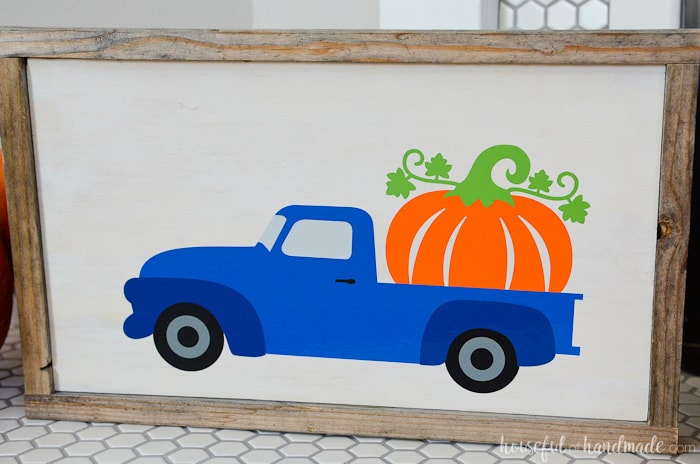 You could make any design into a super simple rustic sign with this tutorial. I'm sure I am not the only one who has purchased cut files for my Silhouette because they were cute, then done nothing with them! Please tell me I am not the only one!!! It's just so hard to say no when they are only $1. I should turn all those cut files into easy wood signs too. It really is so easy you could do a bunch and give them away to everyone!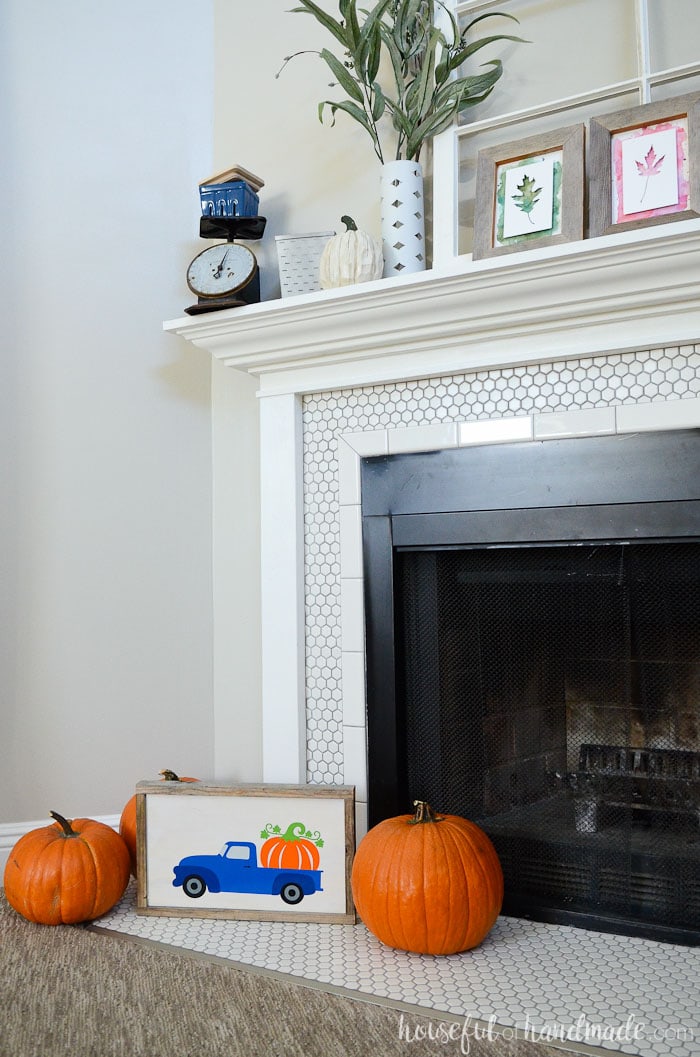 To make the frame around my pumpkin sign, I used reclaimed wood. If you have been following along for a while, you may remember the two garbage cans of 1×2 wood that my father-in-law so kindly saved for me. It was a raspberry fence that was being redone and he knew I would be able to use the wood… and I have! I made a wood sign with a router for summer, this beautiful watercolor leaf art, and now I am using it to frame out this wood pumpkin sign.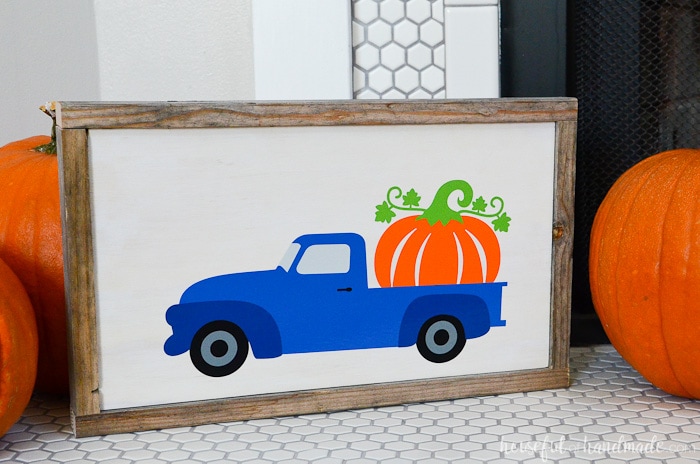 I love using reclaimed wood to make signs and frames because the wood already has a beautiful patina finish on it. It saves a step having to finish the wood. You can always seal the wood, but I find it can change the weathered patina (sometimes it makes it really dark). So i just let the natural gray of the old wood shine. And because of that, I can whip out a wood sign in no time!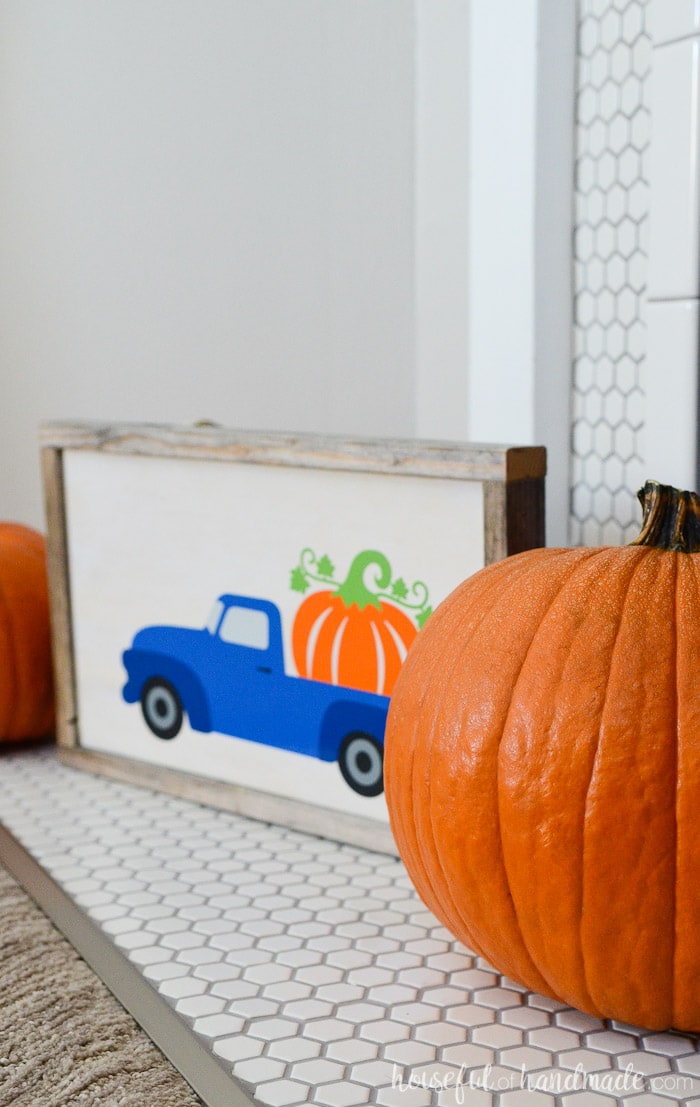 To make your own wood pumpkin sign, click the arrow below for the complete tutorial. Then don't forget to check out the rest of my DIY Crafts Tutorials.