Removing linoleum flooring doesn't have to be a pain. Learn the easy way to remove your old flooring!
If you are remodeling an old house, you know the headache of old linoleum flooring. It is glued down to the subfloor and can be such a pain to remove.
They say you can just put your new floor on top of linoleum, but my experience is it's always better to start with a clean slate. If you are going to take the time to do it, you might as well do it right!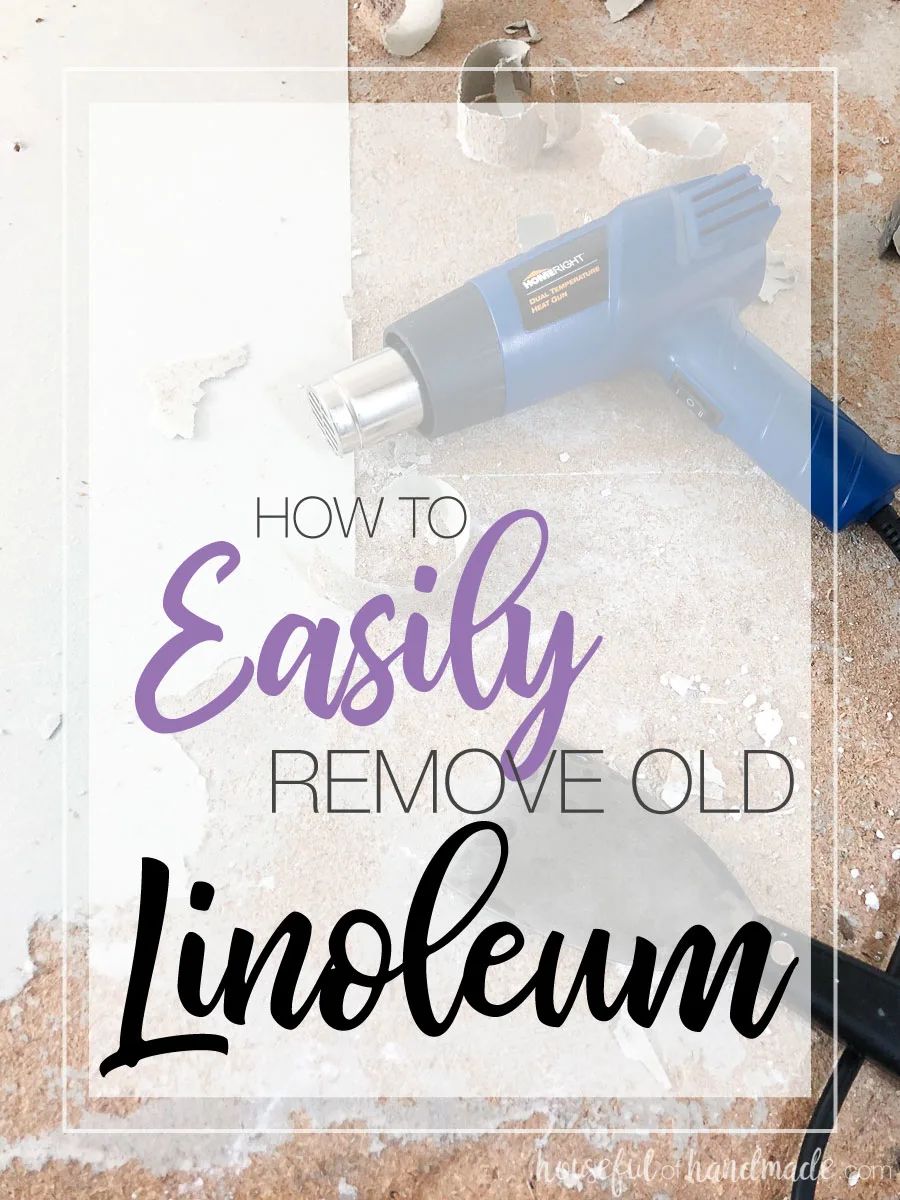 The trick to removing old linoleum is a heat gun! So simple right? And I partnered with HomeRight to share how to easily remove linoleum with the HomeRight Dual Temperature Heat Gun. This little gun is inexpensive but has so many uses, especially when you are remodeling your home.
I must be crazy because the paint is barely dry on the blue & white two tone Kitchen Remodel and I am already ripping out another room. Our hallway bathroom on our main floor is the guest bath and the only room in the house that has not been touched.
After surviving the crazy 6 week kitchen remodel, we figured we can survive this tiny room too. So last week I grabbed a hammer and started the demo!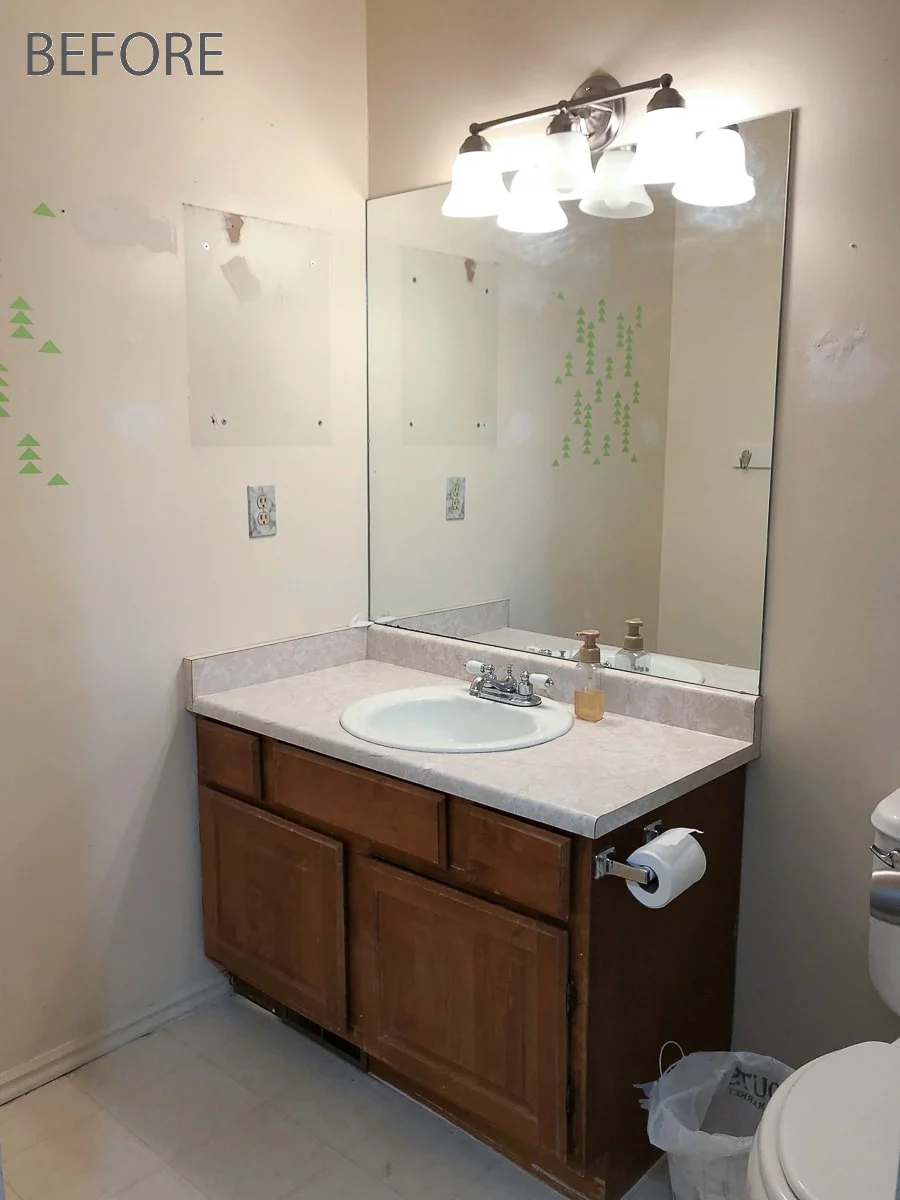 When we pulled up the vanity, we realized there was a second layer of subfloor on top of the original flooring. But since the new floor was only where the vanity was not, it meant that layer had to go.
And guess what we found below it…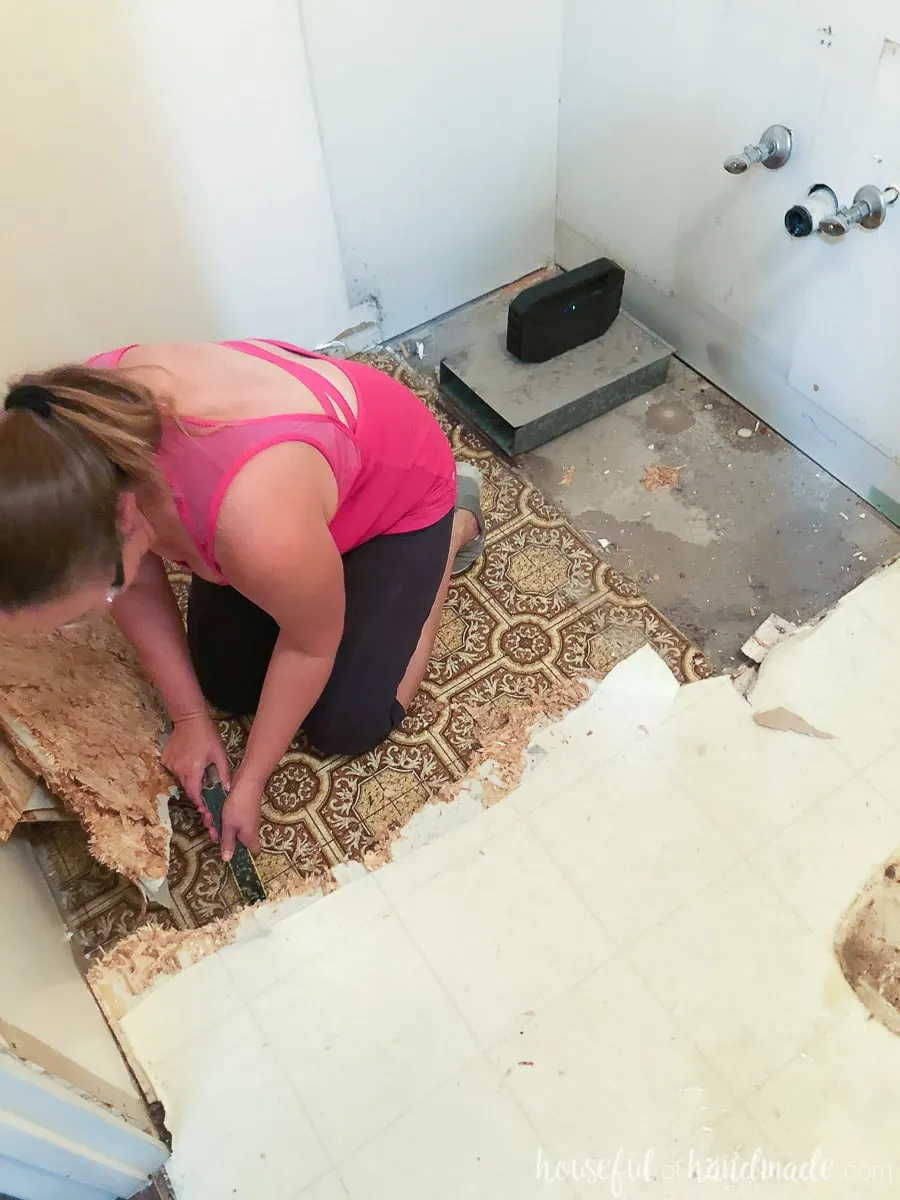 Isn't it so vintage?
I am sure you have seen the same (or very similar) old linoleum in your parents or grandparents house. As much as I love old stuff, this too needed to go.
Because the old linoleum was only laid on the floor where the vanity was not, we needed to remove the linoleum to make a nice smooth surface for our new flooring. Which can be a pain.
But after learning a lot while removing the linoleum from our kitchen, I knew there was an easy way to remodel linoleum and I am so excited to share it with you!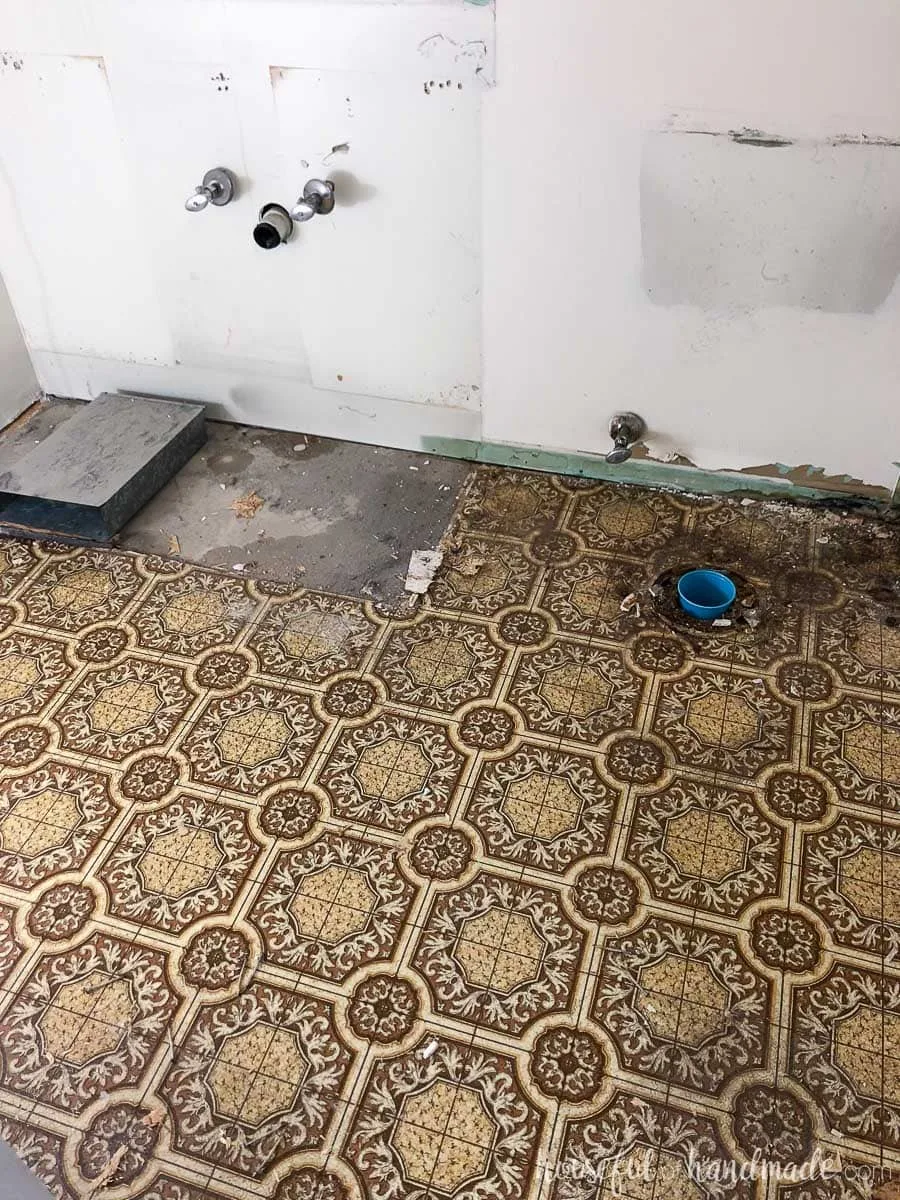 How to Easily Remove Linoleum
Supplies:
Utility knife
Heavy putty knife

I specified heavy because there are cheap ones that are really flimsy and those will not make this easy. You need something with some weight to it, but don't worry they are not really expensive.

Entertainment

I said this was easy, but it does take time. I love to listen to audiobooks while I do simple tasks like this to keep me going.
Pick a spot to start the linoleum removal from. There is no right or wrong place. I like to start in a corner so that I can work in strips across the room.
Using the utility knife, cut the linoleum into strips of about 12″-15″. These will make the next steps more manageable.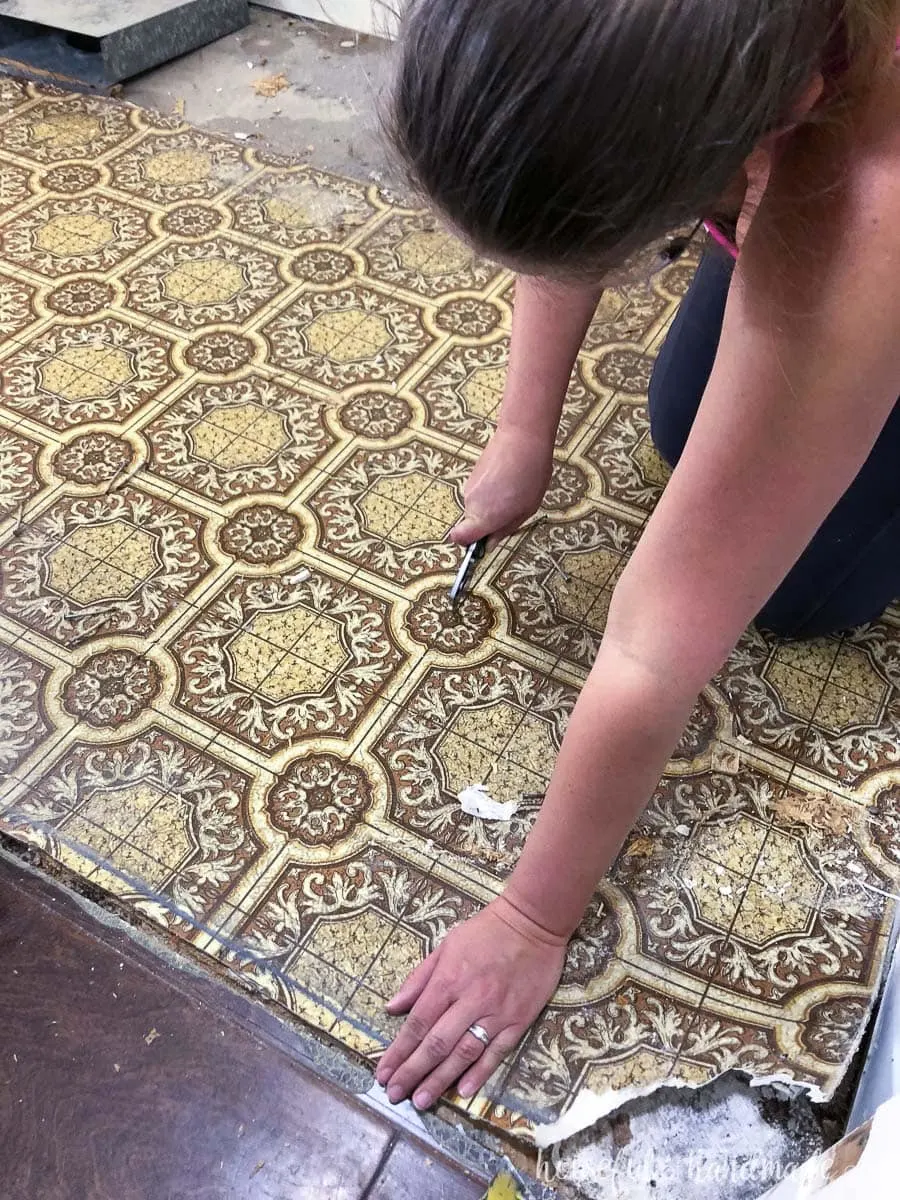 I do not like to cut strips on the entire floor all at once. Just cut one strip and work on it, then cut and repeat.
It gives your back a break from bending over and cutting and it gives your knees or bottom a break from sitting and scraping if you do it that way.
After you have cut the flooring in a section, you will want to remove the top layer of linoleum. Just grab the corner and pull.
Mostly the top layer only will come up, but there might be places where the glue is worn that also come up with just a little tug. Yay!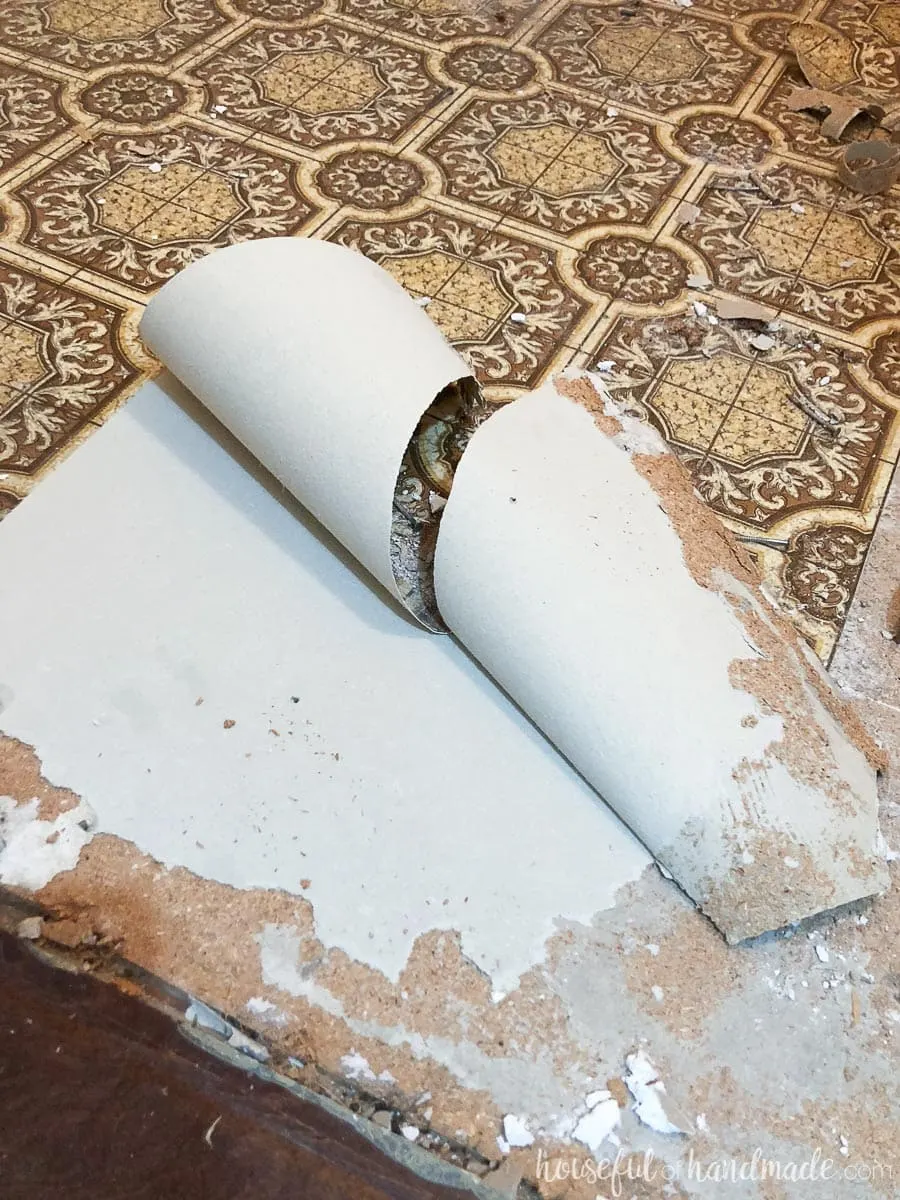 Now it is time to pull out that heat gun. The HomeRight Dual Temperature Heat Gun has 2 settings. Nice and simple! For the flooring, I used the high setting.
Turn the heat gun on and aim it at the old linoleum that is left behind when pulling off the top. You will want to work in small sections, about 3″ x 6″ at a time. Slowly move the heat gun back-and-forth over the small section to heat it.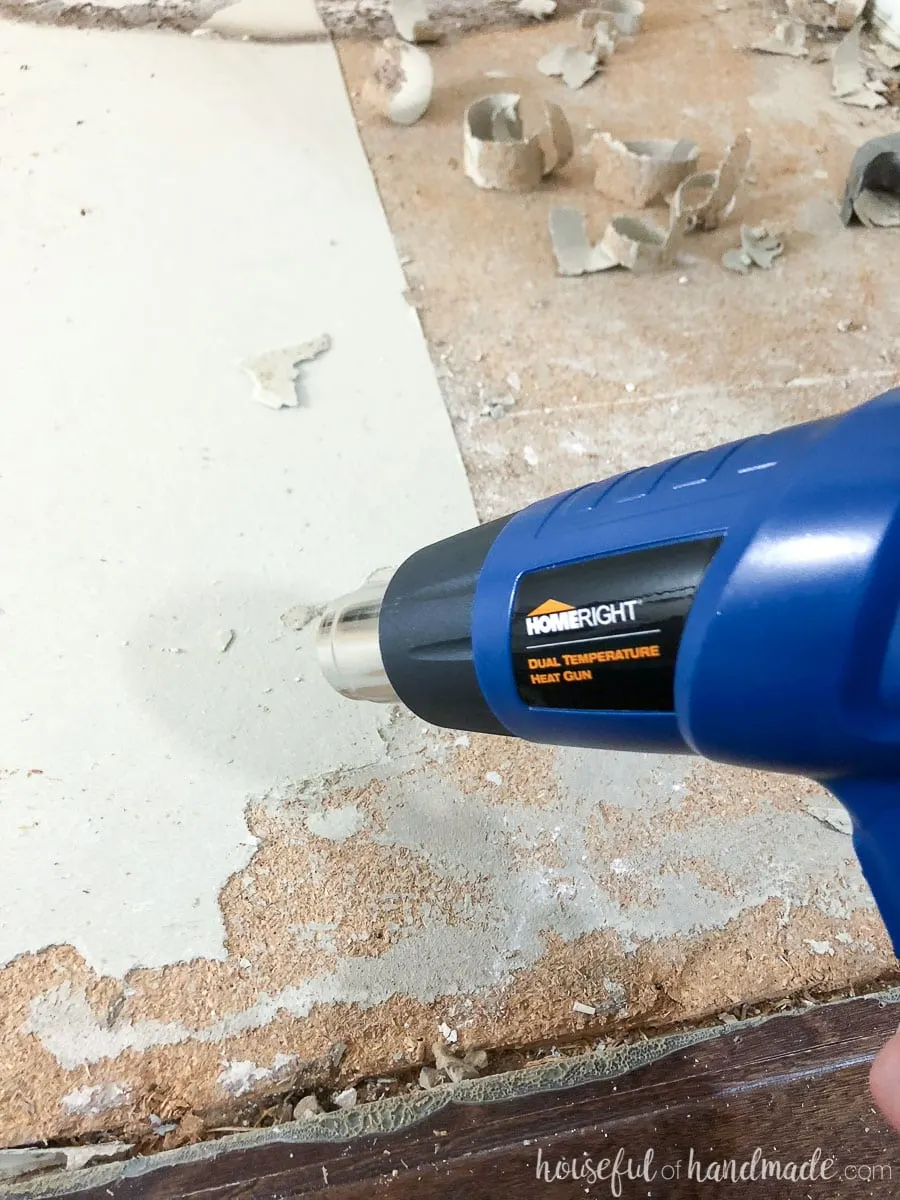 Then turn the gun off and scrape the warmed linoleum off the floor with your putty knife. It will just curl right off the floor in very satisfying little strips.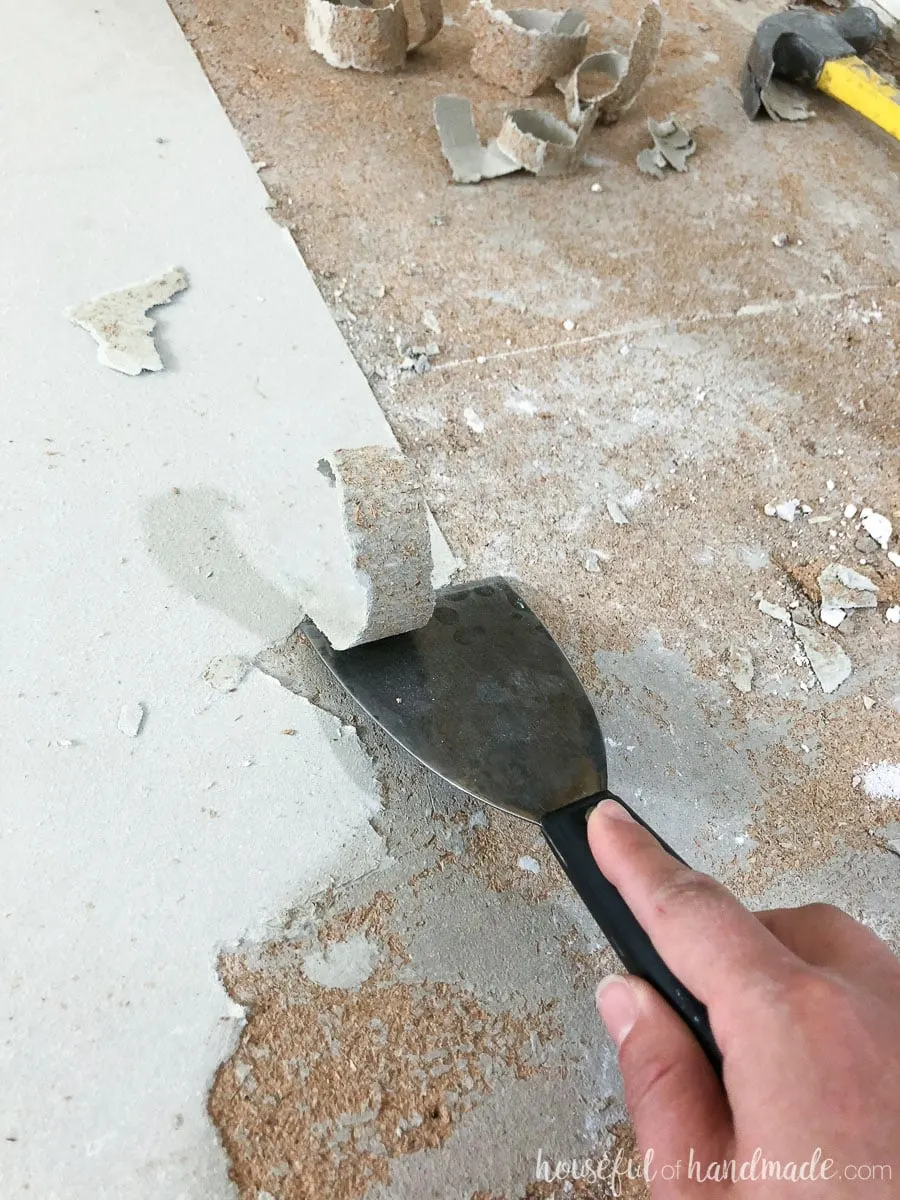 After that piece is gone, heat a new small section and repeat. Easy as that. But remember I didn't say it was quick, however, it is worth it to have a nice smooth floor to lay your new beautiful flooring on.
To keep things moving along, I held the Dual Temperature Heat gun in my left hand and putty scraper in my right hand. It kept me from putting the hot gun down on the floor and made it easy to heat and scrape and heat and scrape.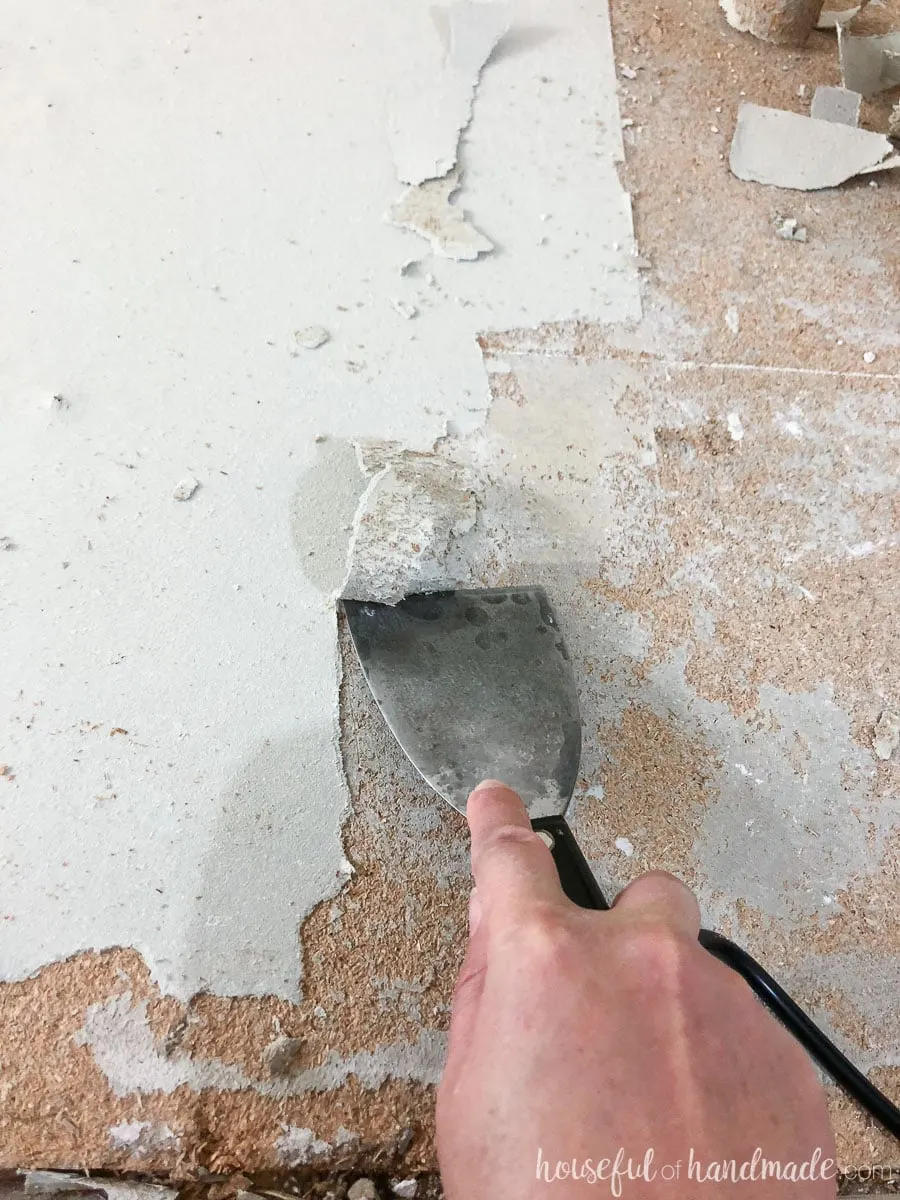 You will want to note that the heat gun does have a safety feature to keep it from over-heating.
When I started removing the linoleum, I didn't turn it off while scraping. Instead I let it run continuously for about 15 minutes.
Then it wouldn't turn back on because it was too hot. After it cooled (about 60 minutes) it turned back on and worked great.
So make sure to switch it off while you are scraping to prevent overheating!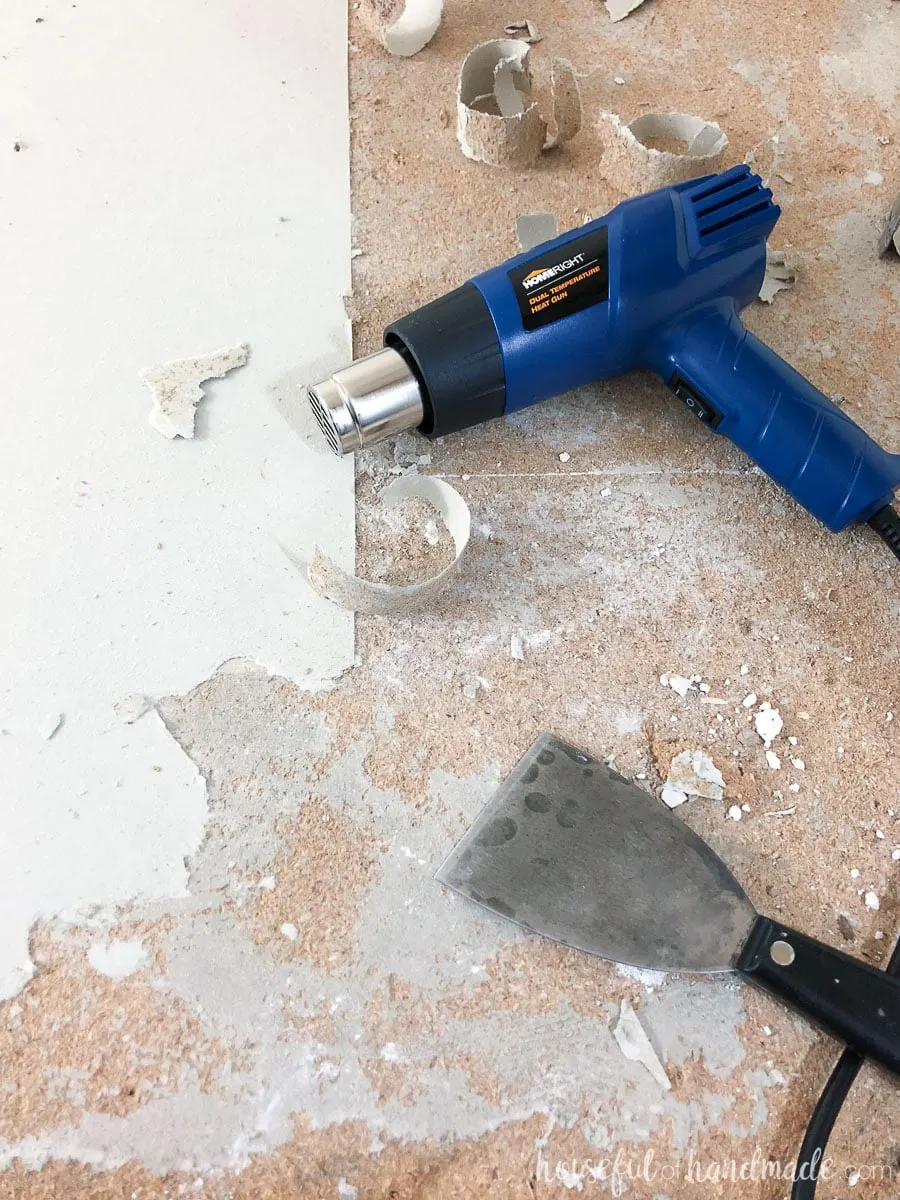 Unfortunately our vintage linoleum was hiding a dark secret…
The subfloor under the toilet and next to the tub had suffered from water damage and was destroyed. I didn't find it until we pulled up the linoleum.
So after scraping the first half of the room, we realized we needed to completely remove the subfloor and replace it to give our bathroom floor a strong, solid surface for the new flooring.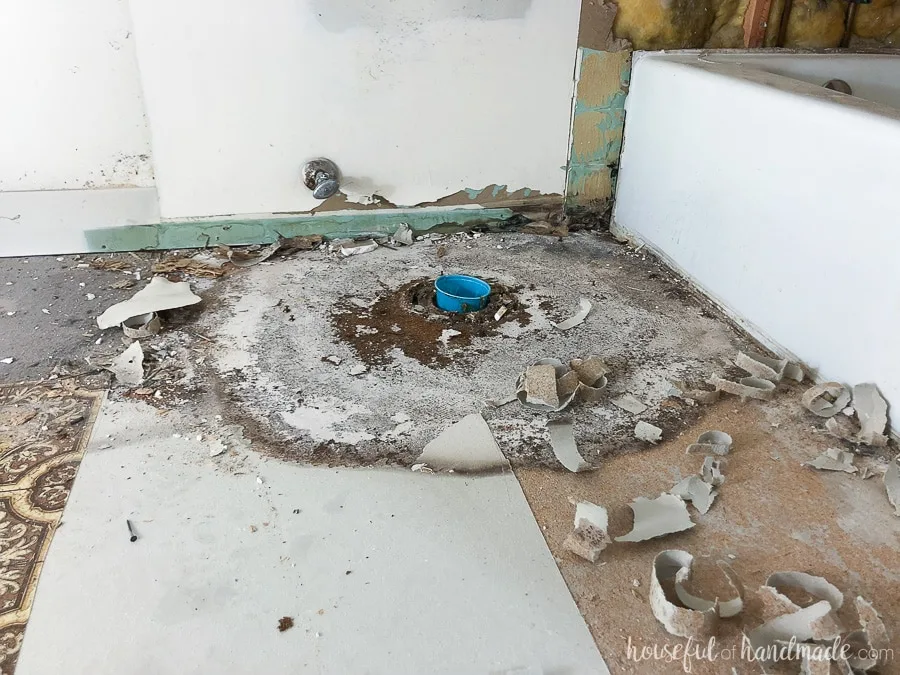 After using the HomeRight Dual Temperature Heat Gun to easily remove linoleum, you are going to love all the other things you can do with it. The two heat settings makes is super useful around the house.
Use the low setting is great for removing old stickers, paint, soften caulk and more.
The high setting is super helpful for striping varnish, removing vinyl, softening plastics to bend and more.
And now it's time to go install our new subfloor so we can make some progress on this bathroom remodel!