Stop hiding your laundry room. Instead learn how to remodel a laundry room on a budget!
Last year I remodeled our entire laundry room for only $100. Yep, only $100!
It was part of a wonderful challenge were lots of bloggers pick one room to remodel in just 1 month and for only $100. If that sounds impossible then you are in for a treat. I have a selection of amazing laundry room remodels to show you that prove it can be done!
When you are trying to renovate a room on a budget, you have to be a little more creative. You cannot just got to a showroom and pick your favorites.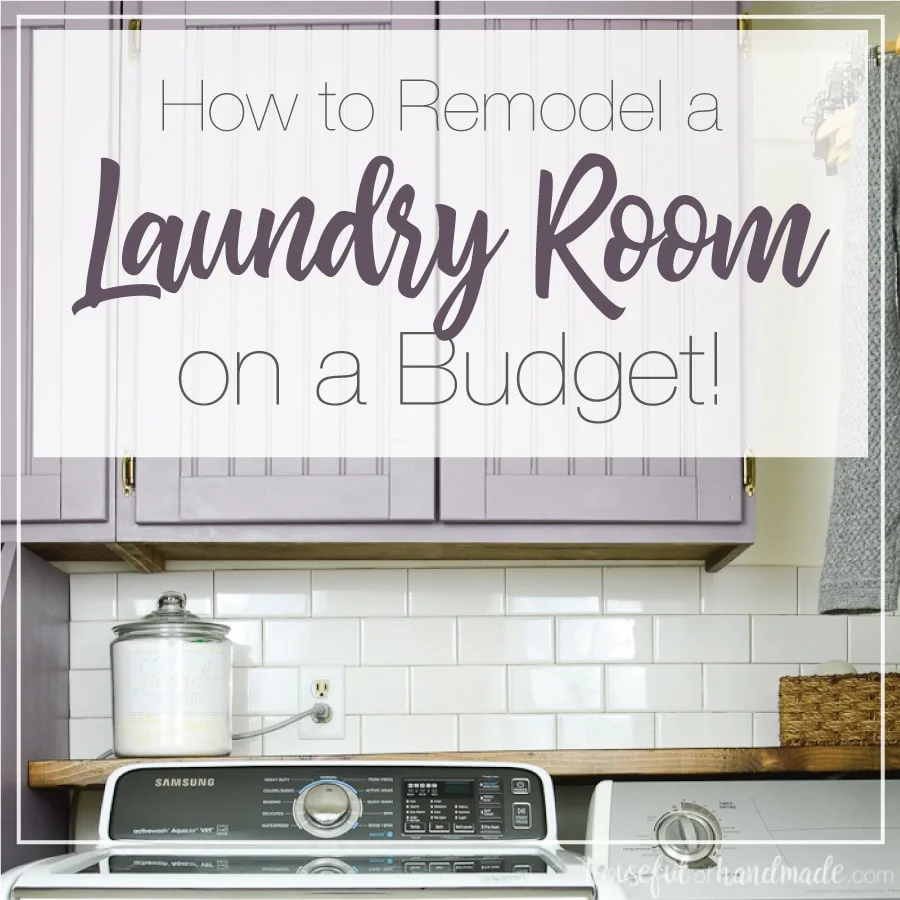 But with a little creativity and elbow grease, you can transform your own laundry room on a budget too!
Tips for Remodeling a Room on a Budget
1. Paint all the things
All of the budget friendly laundry room remodels have 1 thing in common, they used paint to upcycle what was old and make it look new.
Paint is a budget remodelers best friend! Seriously, there is so much that can be made to look like new with just a couple coats of paint. So instead of replacing everything see if you can paint it instead.
Things that can easily be updated with paint:
But if buying a gallon of paint is not in your budget, don't worry. Check out these ideas to save you some money!
How to Save Money on Paint
Use leftover paint from another project
When painting a small room like a laundry room, go through your left over paint. Since laundry rooms tend to be smaller, you can get away with using less than a gallon (or half).
You can also add a lot of style by painting one wall with a bolder color (again from the left overs).
And if you don't have a lot of left over paint, or nothing in the colors you were hoping for, check with friends and family. Someone else might just be happy to let you use up their paint stash!
Mix your own colors from leftover paint
In my office & craft room I wanted a warm gray paint, but all I had was a slightly purple gray left over from our living room. So I mixed a little light brown into the cool gray and it made the perfect color.
To mix your own color, start with just a few drops added in and mix in more as needed. Make sure to paint a test swatch and let it fully dry before painting the entire room.
Buy Oops Paint
Have you ever looked at the clearance paint in the hardware store? These are paints that were custom mixed and didn't turn out as planned.
Just because they were not the right color, does not mean they are not great colors! Maybe they just didn't match what it was suppose to be. But these paints usually cost 1/4-1/2 of a regular gallon!
2. Use up what you already have
Remodeling a room on a budget is a great time to go through your stash. Since laundry rooms are smaller, you can use up leftovers while giving the new room much needed style.
Ideas to use left-overs to remodel a laundry room
Use left-over tile to create a small backsplash
Use scrap wood to build shelves
Use extra hardware to add handles to cabinets and drawers
3. Take the time to DIY
Hiring out work costs a lot of money. But you can find easy projects that you can do yourself to add storage and function to a laundry room on a budget.
Here are some of my favorite laundry room DIY projects:
For even more amazing ideas on how to remodel a laundry room on a budget, check out these other $100 Room Challenge posts. And a special thanks to Erin from Lemons, Lavendar & Laundry for hosting the amazing challenge.
Beautiful Laundry Room Makeovers for only $100
Laundry rooms are usually overlooked. But you don't have to spend a lot of money to transform your laundry room into a space you want to spend some time!