Organize your laundry room with this stackable laundry basket storage. This easy to build shelf unit is the perfect laundry basket organizer so you can keep your dirty laundry hidden.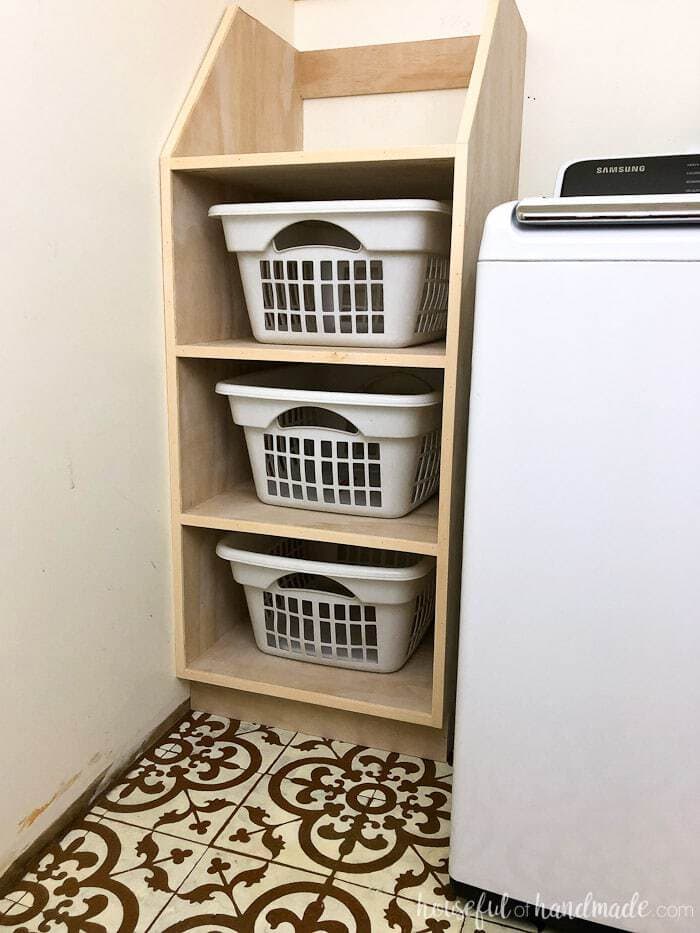 Storage is so important in a laundry room. A stackable laundry basket storage is a great way to save on space but add tons of storage and functionality to a small laundry room or closet. This easy to build shelf holds 4 laundry baskets so you can sort and store all your dirty clothes. And bonus, it is made out of 1 sheet of plywood so it is very budget friendly.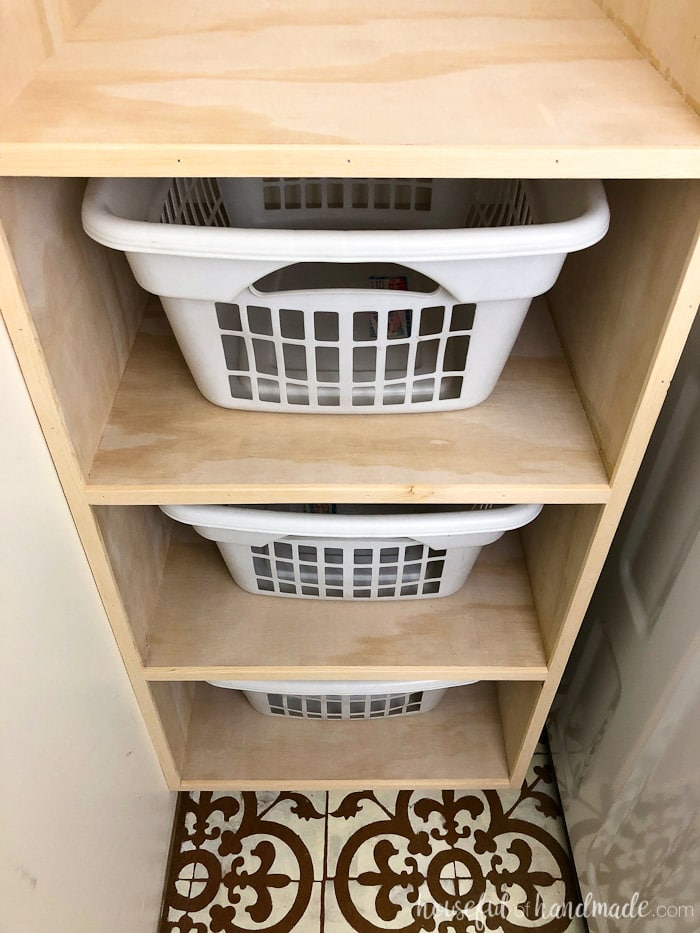 I cannot believe it is already week 3 of the $100 laundry room makeover. This week I was hoping to have so much done, but unfortunately I came down with bronchitis right after last week's update. I have never had bronchitis before and it put me down for 5 days! Missing 5 days from a month long room makeover is a bit scary. There are only 14 days left and I have completed 2 of the tasks on my long list. This week will be a lot of work trying to get caught up!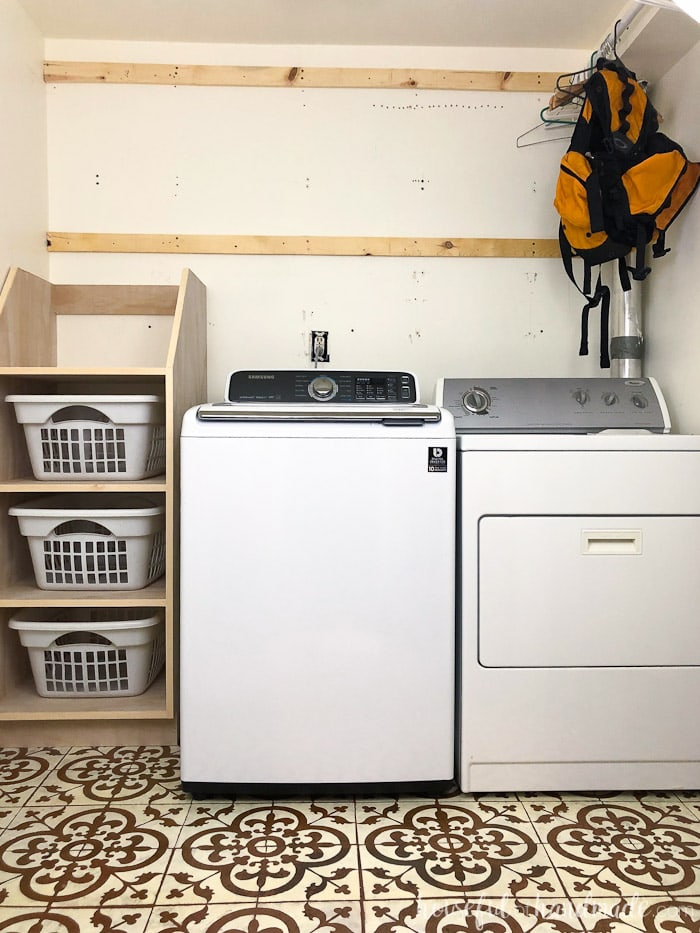 But enough about how behind I am, let's talk about this amazing stackable laundry basket storage! Since I had room on either side of our washer and dryer, I knew I wanted to utilize it. I thought about adding a broom cupboard for storing cleaning supplies and such. But then I would have to go downstairs and retrieve my broom every day when I was sweeping up the kitchen (not going to happen).
Then I realized there was enough space to add a laundry basket organizer. Right now our laundry baskets are just laid out in the hallway whenever I am doing laundry. The kids have to run the gauntlet of clothes piles and baskets on the way to their bedrooms (but I don't think they really care). And it drives me crazy! So I decided to turn the extra space into a stackable laundry basket storage where all the clothes can be sorted and stored while waiting for their turn in the wash.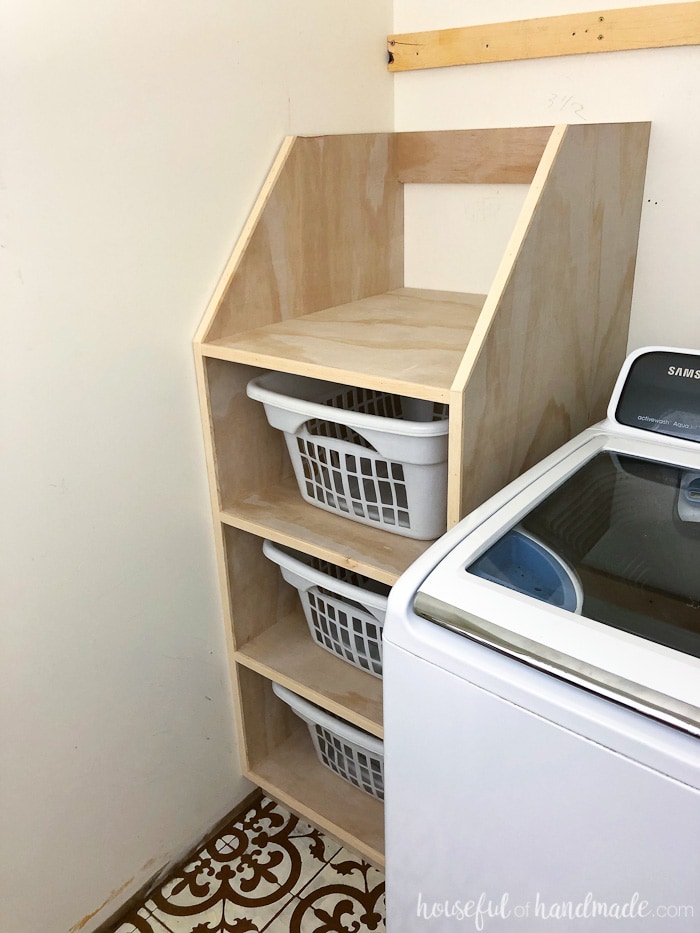 After making my decision of what to use the extra room for, it was time to go to the drawing board. I needed a way to add the glorious stackable laundry basket storage without breaking my $100 budget! If you remember from last week, I already spent $19 on the beautifully stenciled floor and there are still many more projects I want to accomplish in the space. So I decided to sacrifice enough room in the budget for 1 sheet of plywood to create the perfect laundry sorting shelves. Now all I had to do was create the perfect plans for it!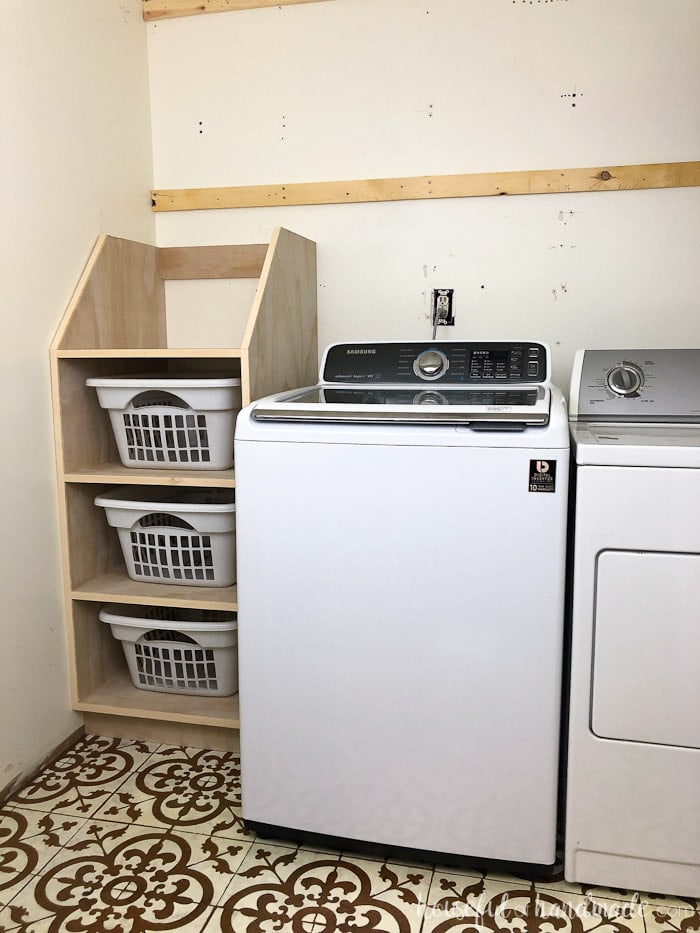 The laundry basket storage shelf does take a tiny bit more wood than the 1 sheet of plywood I planned for. It also used 2, 4″ strips of plywood for a toe kick and back brace (so I can attach it to the wall). Luckily I had a couple scarps of plywood in my stash to take care of this. If you want to make your own stackable laundry basket storage and do not have scraps of plywood laying around, you can also use a 1×4 board for these two pieces. Easy peasy!
For the build plans for the laundry basket storage, click the arrow below.

But now let's talk budget! With only $100 to spend on the entire room, every little bit counts. But I am happy to report that paired with some scraps from my garage and thanks to my extensive screw collection (I never toss one, ever), I was able to create the perfect stackable laundry basket shelves for only $35!
Laundry Basket Storage:
Plywood $35
Other wood $0 (used a few scraps to finish things off)
Screws, nails, glue $0 (had on hand)
GRAND TOTAL: $35
And that is all that was spent this week because I was down for the count most of the time. But there is still a huge list of things to do for the complete laundry room makeover! With $45 left, I may be getting a little nervous about the list. Wish me luck!
Stackable laundry basket storage $35
Patch holes and touch up wall paint
Lower cabinets and install a new light so I can have all the doors working
Build new doors for the cabinets
Paint cabinets
Find creative way to cover the dryer exhaust tube
Build shelf behind washer & dryer
Tile shelf backsplash
Add lots of pretty stuff!
Now don't forget to check out the rest of this month's $100 Room Makeovers. There are so many rooms to see and so much creativity to enjoy!