I've caught a series case of the summers! The summers are when you loose all motivation to do anything except go to the pool. When you have the summers you definitely do not want to do anything that requires expending energy in the heat. Remodeling your home is near impossible when you have a case of the summers. But I did not want another Saturday post saying I did nothing on the remodel this week. Two nothing reports in a row is just sad, even if it is summer. So I fought my case of the summers really hard and managed to accomplish a little project: Tiling the Fireplace Hearth.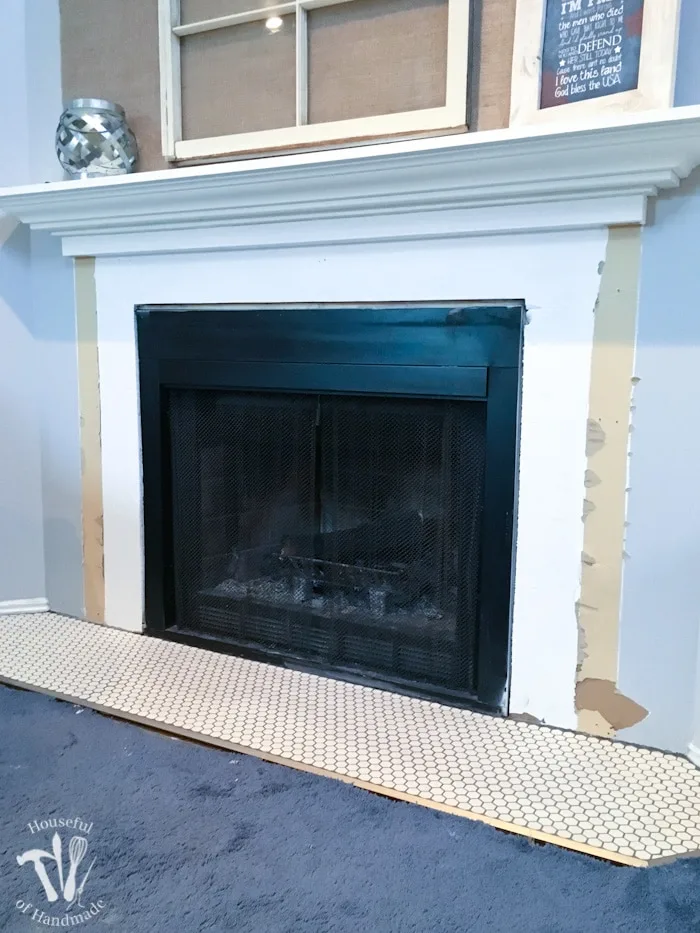 I was really hoping to get the entire fireplace done, I needed to tile the hearth and then the front, but alas, I am only human. Since this is the first week both kids have been home from school, and I am watching a cousin as well, I am learning that I cannot be as productive as I was during the school year. And then the lack of motivation to do the heavy lifting because summer has come with a vengeance and we have been in the 80s and 90s all week, means I only got the fireplace hearth tiled. But man it looks good!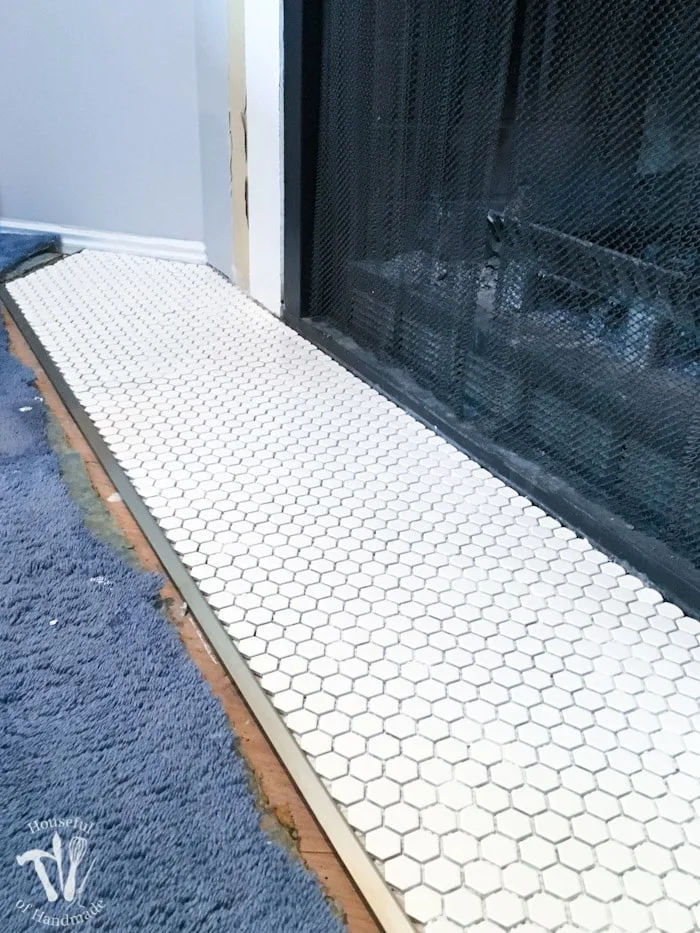 I am trying really hard to do our entire remodel on a budget, while still looking fabulous. All the tile in the master bathroom cost less than $300 (yeah that includes floor and shower combined). However, since the fireplace is a much smaller area, I figured I could get something a little more fun, and something that cost more that $1.99 a square foot.
I love the hexagon porcelain tiles and I knew it would add the farmhouse style to the living room that I was hoping for. I chose a small 1″ hexagon tile in an off-white porcelain. It was $5.95 a square foot so I was able to do the entire fireplace and hearth for less than $100. I think that is a great price for a complete fireplace overhaul.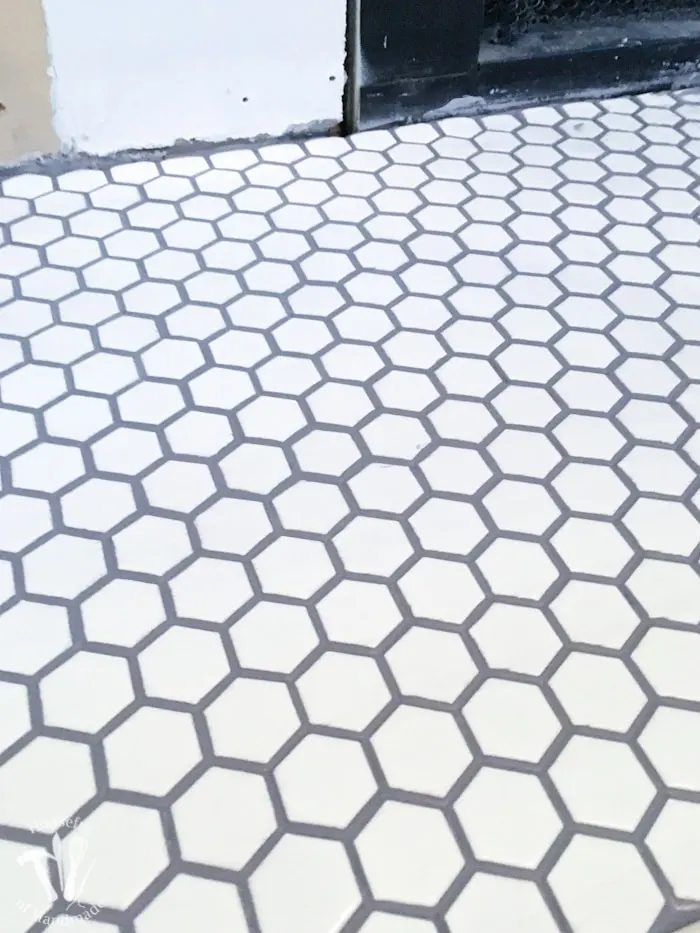 I thought tiling the hearth would be super fast. So silly me, I started tiling after I put the kids to bed Wednesday night. To be honest, it only took me a couple hours and I was done by 10:30PM, but then I had to clean things up and do a bit of computer work so it was way too late of a night for me.
Because we are replacing the room with carpet, I needed to figure out how to transition these tiny 1 inch tiles to the carpet. At the tile store they showed me this little metal strip that is made to have the carpet tacked under it and give you a smooth seam to the carpet. The strip was easy to install. You can cut it on the tile saw, then use a bit of thin set to secure it under the tile. Since the hexagon tiles are small, they are also thin and the carpet strip would be higher than the tiles, so I put a piece of 1/4 inch plywood on top of the carpet strip, tacked it down with a few staples, and then tiled on top of it. It worked well to bring the tiles more level with the carpet strip.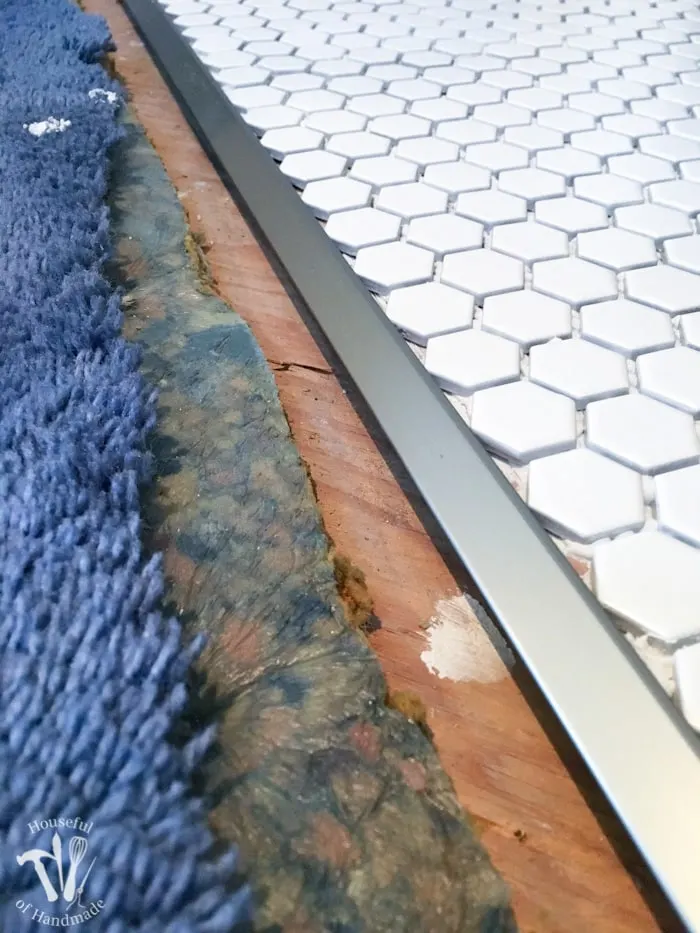 I also decided to make a change to the hearth shape. The original hearth was square, but against an angled fireplace, it left these funny little points of carpet next to it. It always bugged me. These little points of carpet were a pain to vacuum and honestly they just looked like the design of the fireplace wasn't well thought out, and that is probably true. There are a lot of odd design choices in this home, but that is why we are remodeling it, right?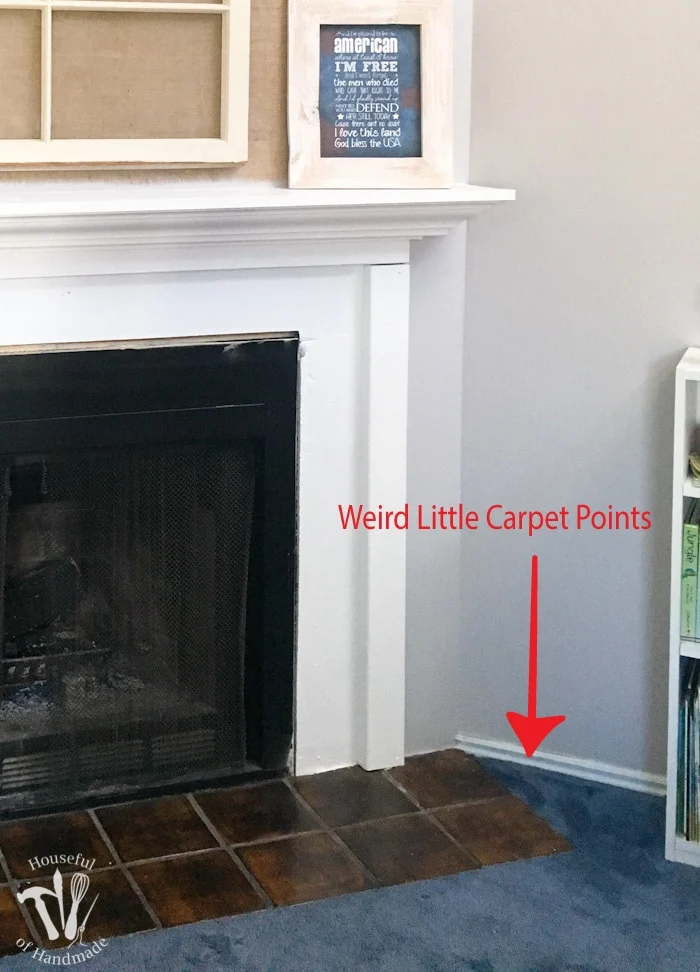 The hardest part of the entire process was figuring out the angles on the new sections of the fireplace because I chose to get rid of the odd carpet points. Those little hexagon tiles just don't line up perfect when put in at a 67 1/2 degree angle (honestly I don't know that any tile would have been easy to figure out at that angle). I took it slow, and messed up a few tiles, but was able to figure it out pretty well. And honestly, most people are not going to be looking at all the edges of the fireplace to make sure the edges are perfectly beautiful, so I am not going to stress myself out over it.
After the grouting disaster in the master bathroom shower, I was a bit nervous about adding the grout to the fireplace. But tonight, I put on my big girl pants and slapped it on. I was careful to not let the section I started with get too hard before I started wiping the excess off with a sponge.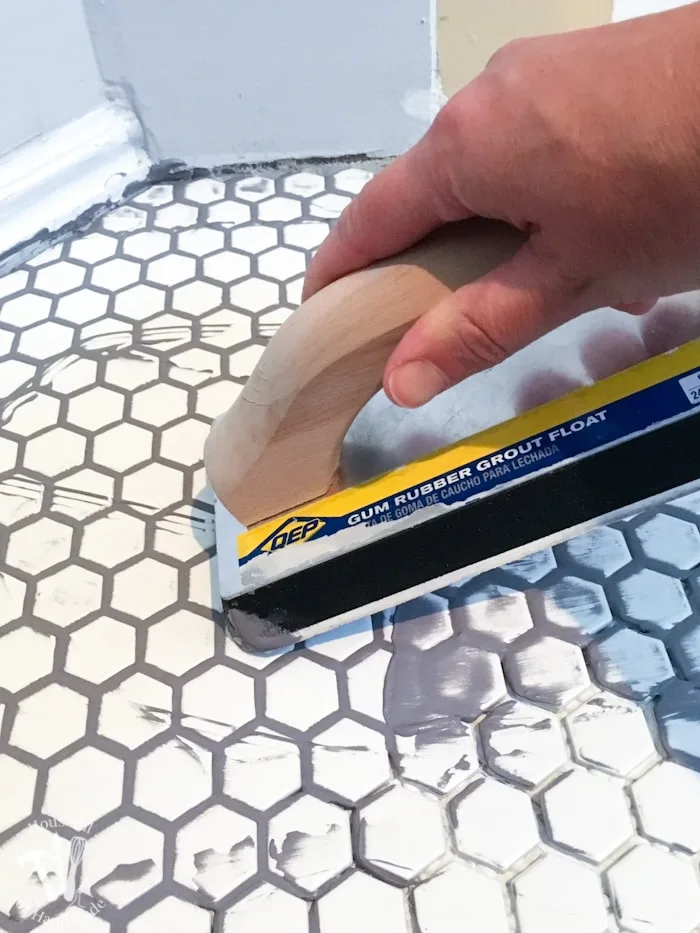 It all turned out so beautifully! The grout is going to dry lighter, and I might be a little sad about that because it does look really beautiful with the dark gray, but I am sure the medium/light gray will look just as beautiful (since it is the same grout I used between the subway tile in my master bathroom shower).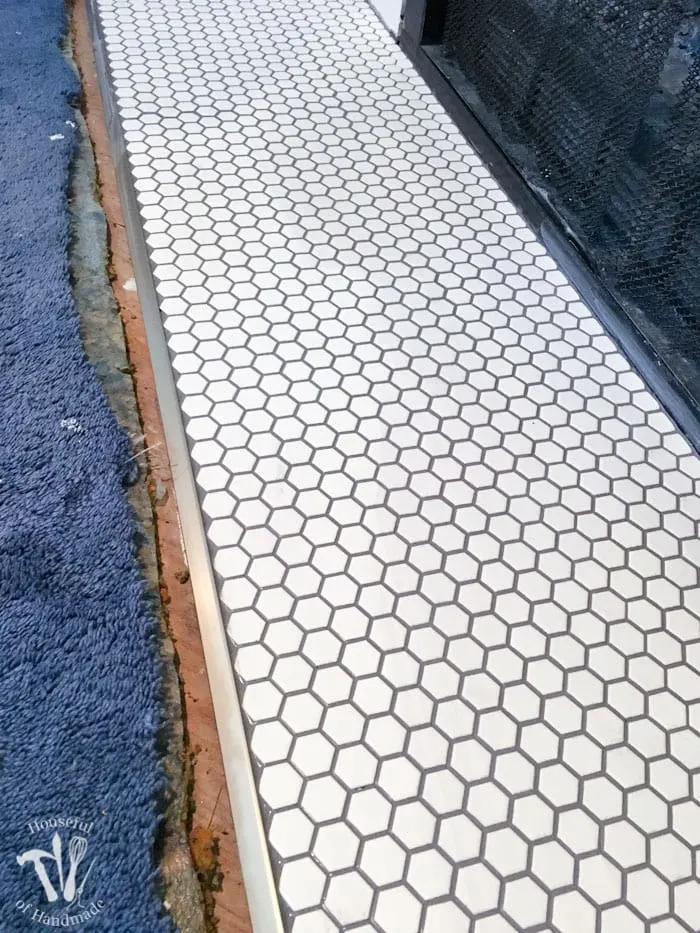 Now off to the pool for a little summer fun, then it hope I have enough motivation to get the rest of the fireplace done! And then it's on to the banister and painting the extremely high stairway so we can get the new carpet installed. It'll totally be worth it!
I'm linking up to some of my favorite Link Parties.