This rolling grill cart is perfect for adding extra prep space and storage to your grill.
It's grilling season, and with our big move we had to say good-bye to our outdoor kitchen island. Sad day…
But I partnered with Kreg Tools and their project plan site, BuildSomething.com, to build a new rolling grill side cart. This one is full of storage and gives us lots of space for prep to start cooking outside again!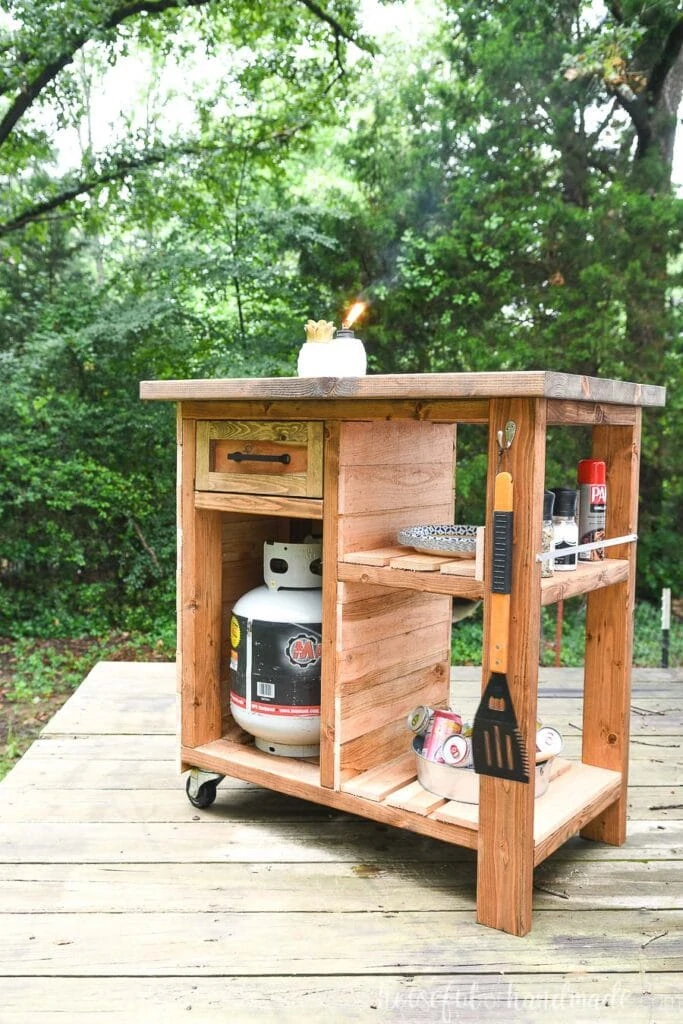 Features of the Grill Table
My husband is the grill master at our house. He can cook a steak to perfection and always serves juicy chicken.
So when it came to designing the grill cart, I tried to include everything he needed to make grilling easier. And I think he made some great suggestions!
Storage Drawer
Drawers are his favorite part of any storage, and for good reason. They are so much easier to organize things inside. And with full-extension drawer glides, you can see everything!
So of course he asked for a drawer on his grill table. It's the perfect place to store not-so-pretty-but-necessary grill accessories like scrubbier and lighters.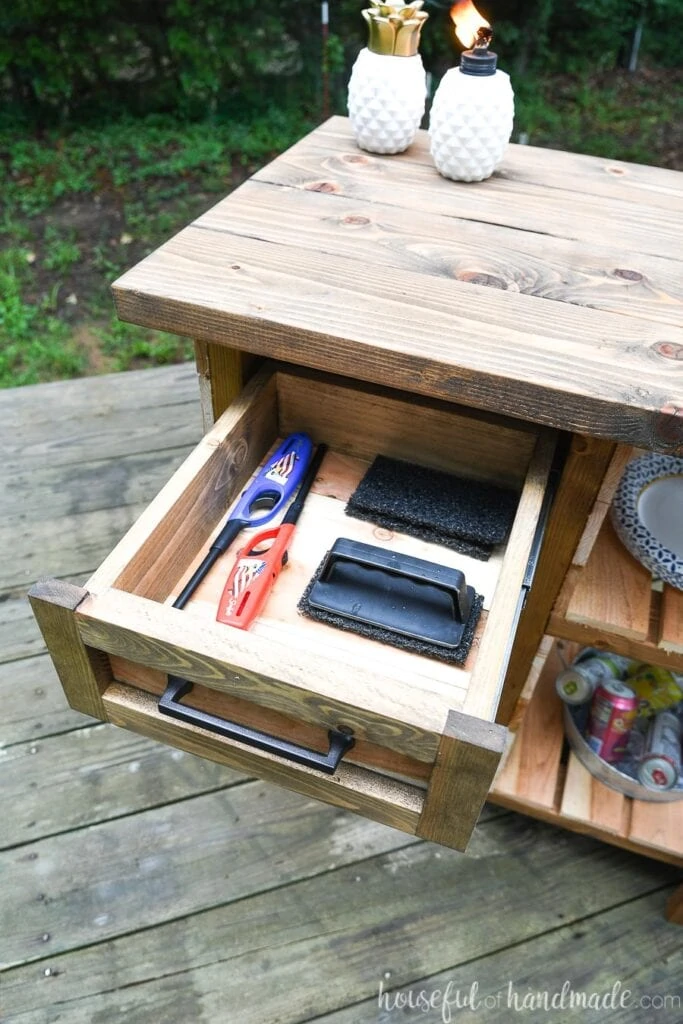 But you could also use it to hold utensils, smoke boards, and more. Plus, it looks really cute with the chunky face frame and beautiful cedar panel.
And while the drawer front looks really amazing, it is a built without a router with a super simple cheater drawer front. Perfect for a rustic grill cart that lives outside!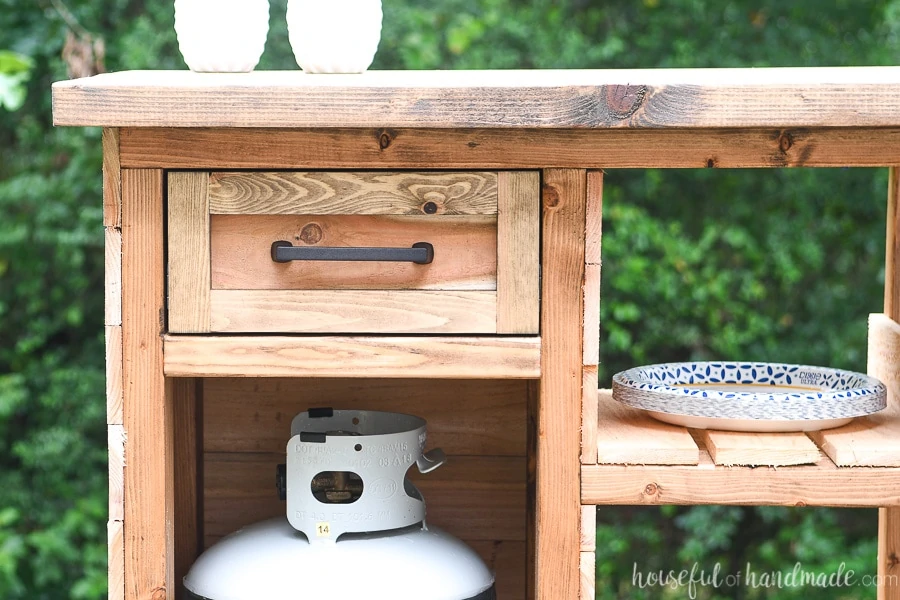 Fuel Tank Storage
Have you ever invited a bunch of people over for a BBQ and ran out of gas while the food is on the grill? No, just us???
Well, ever since that happened, we have always had an extra fuel tank on hand. Once one is empty, we put the new one on the grill and promptly refill it.
So my husband insisted the grill cart included a spot to store his extra fuel tank. Now it's easy for him to check to make sure we have plenty of fuel to cook our food.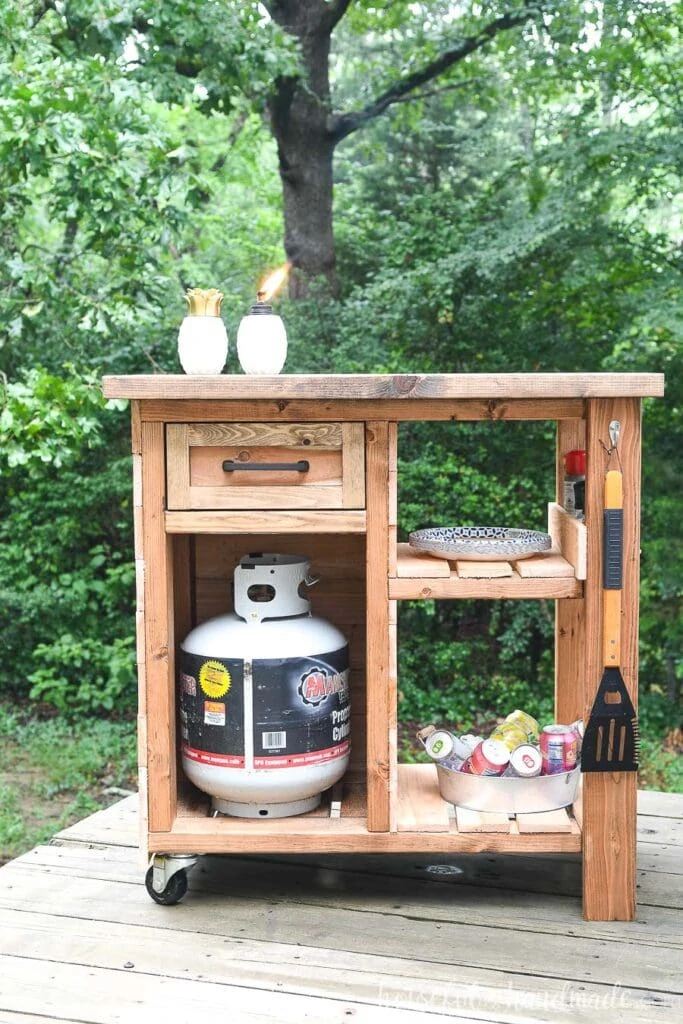 Spice Rack Shelf
This was a pretty genius ask for a grill cart and totally my husbands idea! But he always has at least a salt and pepper grinder and non-stick spray when grilling.
These items are way too easy to knock off the side of the grill. So he asked for a specific spot to hold them.
I turned the side of the top shelf into the perfect spice rack. With a simple back and a piece of aluminum on the front, it holds all these items at easy reach without being in the way.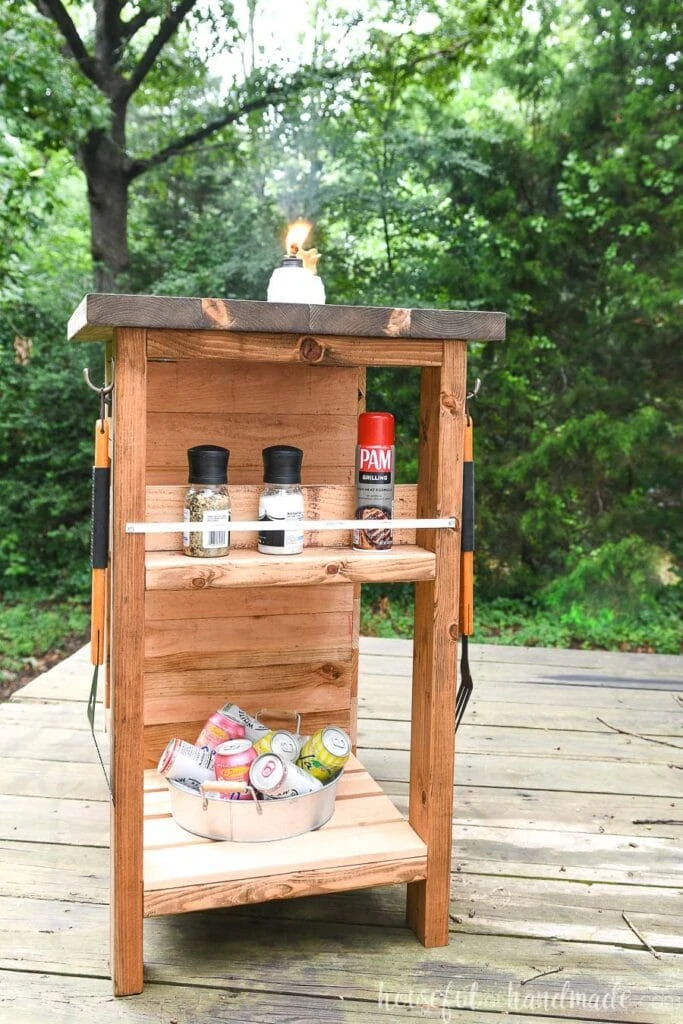 Easy to Move
The last feature is something maybe more for myself, but while we are still settling into our new home, I wanted the grill cart to be easy to move. And it can be moved around the deck for us to use for entertaining or grilling, or whatever we need.
I added castors to one side of the grill cart. The other side has legs. You can pick up the legs easily and roll the cart to it's new home And the legs help keep the cart steady without needing expensive locking wheels.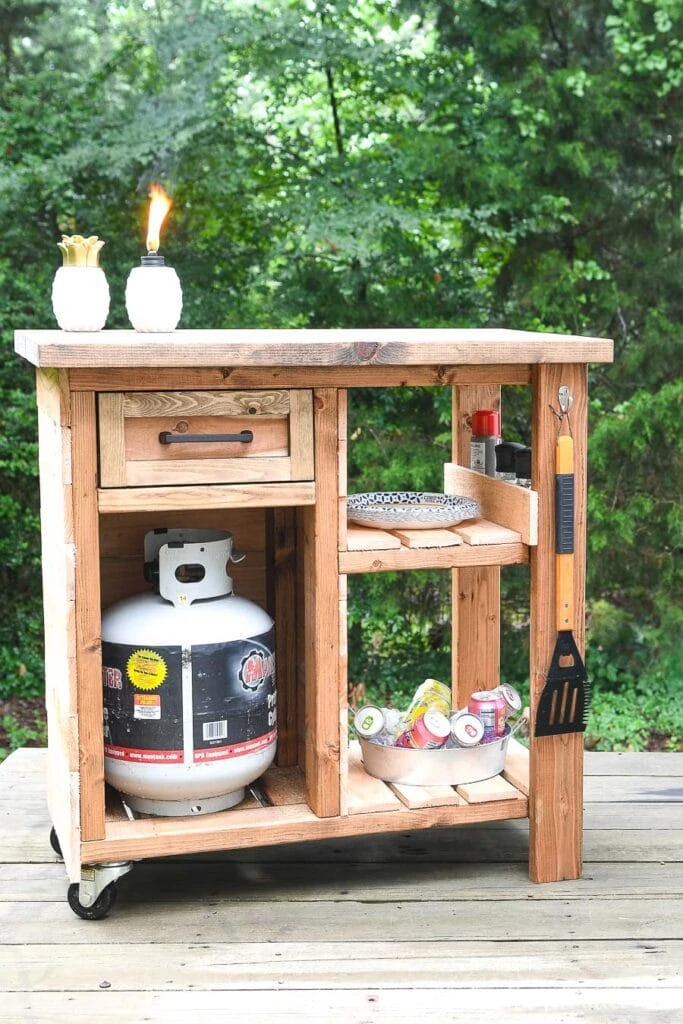 What Wood to Use for the Grill Cart
To keep the expense of the new cart down, I used standard Douglas fir 2x4s and 2x6s for the frame of the grill cart. These were sealed with a waterproofing outdoor sealer.
The rest of the cart was built out of inexpensive cedar fence pickets. I absolutely love the look of the cedar as it patinas. And the smell is my favorite!
It made the perfect accompaniment to the sealed 2x4s. I even used it as the drawer front center panel and drawer bottom to make this a simple, router-free project.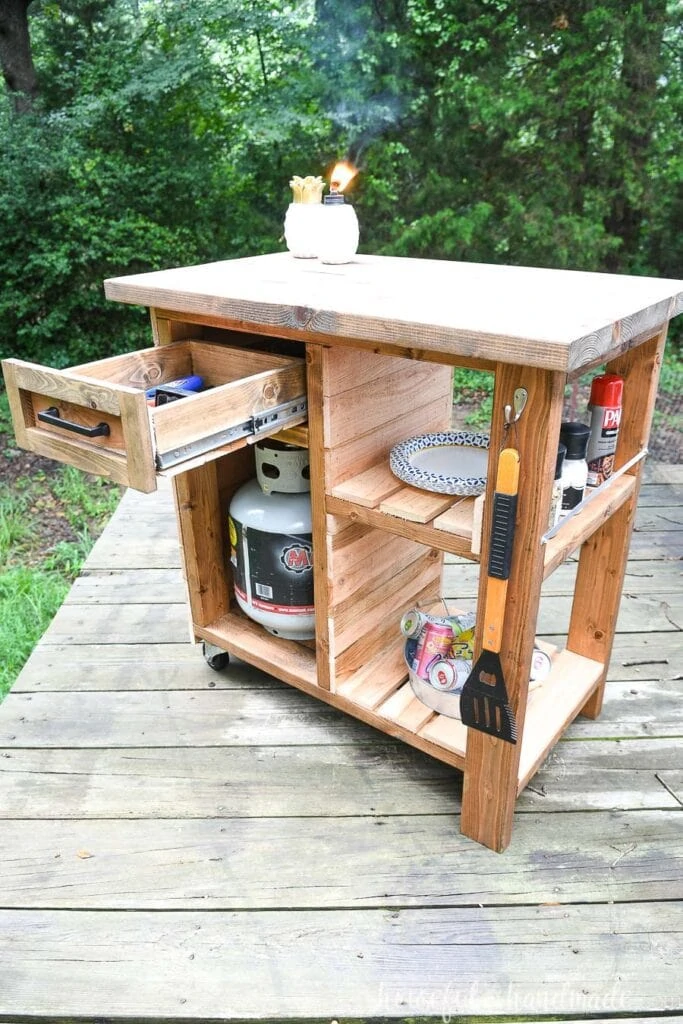 Grill Side Table Build Plans
If you are ready to build your own rolling grill side table, I am sharing the build plans for over on BuildSomething.com.
Click here for the full build plans.
Happy Building!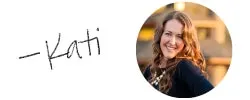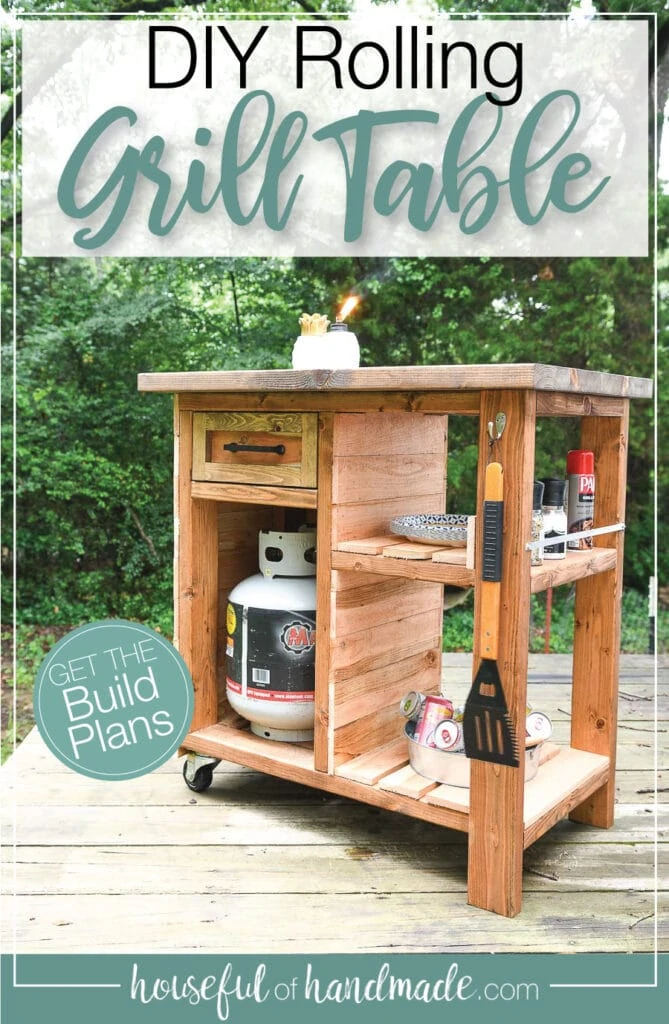 Thank you to Kreg Tools for sponsoring this post. I only recommend products that I use and love and all opinions are 100% my own. Click here to read my full disclosure policy.