It has been a busy month around here! We have been working hard to prepare the living room and stairs for new carpet. Finally I was going to be able to get rid of the old blue carpet. One of the things I really wanted to do before the carpet went in was to paint the living room.
The gray paint I had on the walls was okay, but had too much purple in it and clashed with a lot of decor. So I searched and searched and finally found the perfect greige paint color to cover the walls in my living room and stairway!
Our house has come a long way since we moved in 12 years ago. And so has our living room. I thought I had lost all the pictures of our house when we first moved in.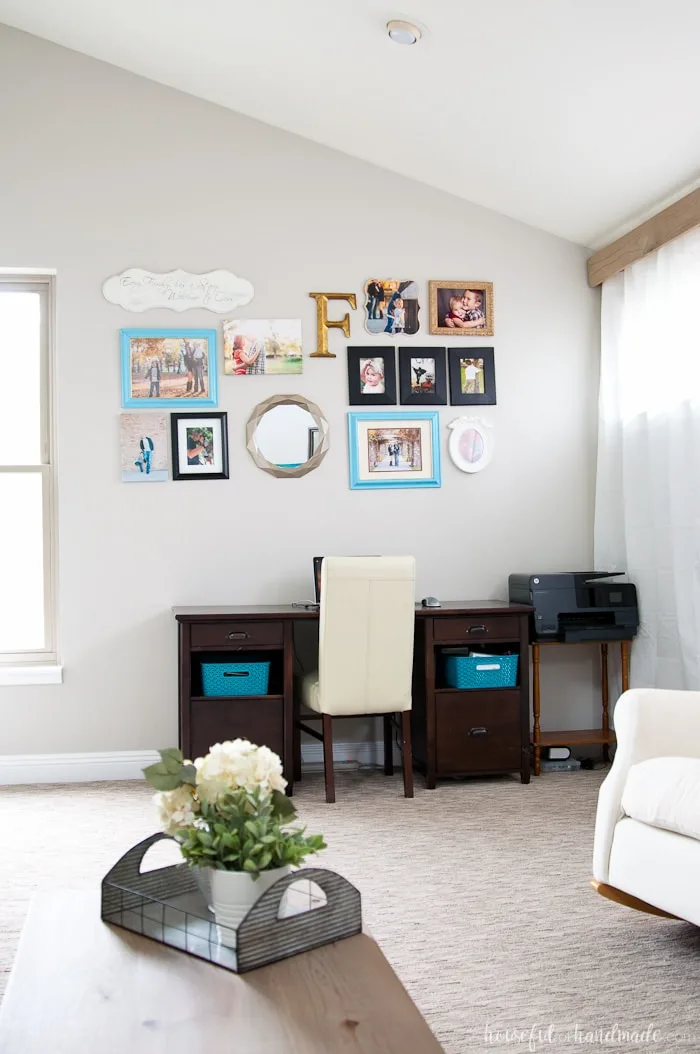 It was so sad because I wanted to see how far we had really come. I could remember in my mind how dark and dated things were, but the proof was gone. Or so I had thought!
Luckily for me my husband and his friend were super smart. They were backing up each other's computers on their hard drives. So when our hard drive died, and I thought I lost all those photos, my friend still had a copy. I got those photos from him last week and cannot believe the transformation.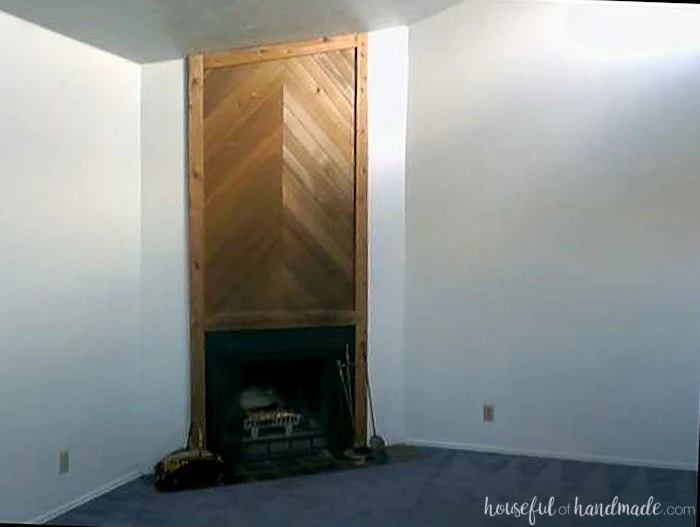 Can you believe it? It's a bit hard to tell in this old before picture, but the walls, ceiling, and baseboards are all the same blue color. Then top that off with blue carpet, and it's a bit too much for anyone (even a lover of all things blue).
I wanted to get rid of all the blue so I painted this room almost immediately after we moved in. Then over the years, this room went through a couple identities (it was even my craft room for a few years).
Until we decided we needed a second living space, one that did not revolve around a television. So I gave up my giant, ridiculously messy, crafting room for a living room again.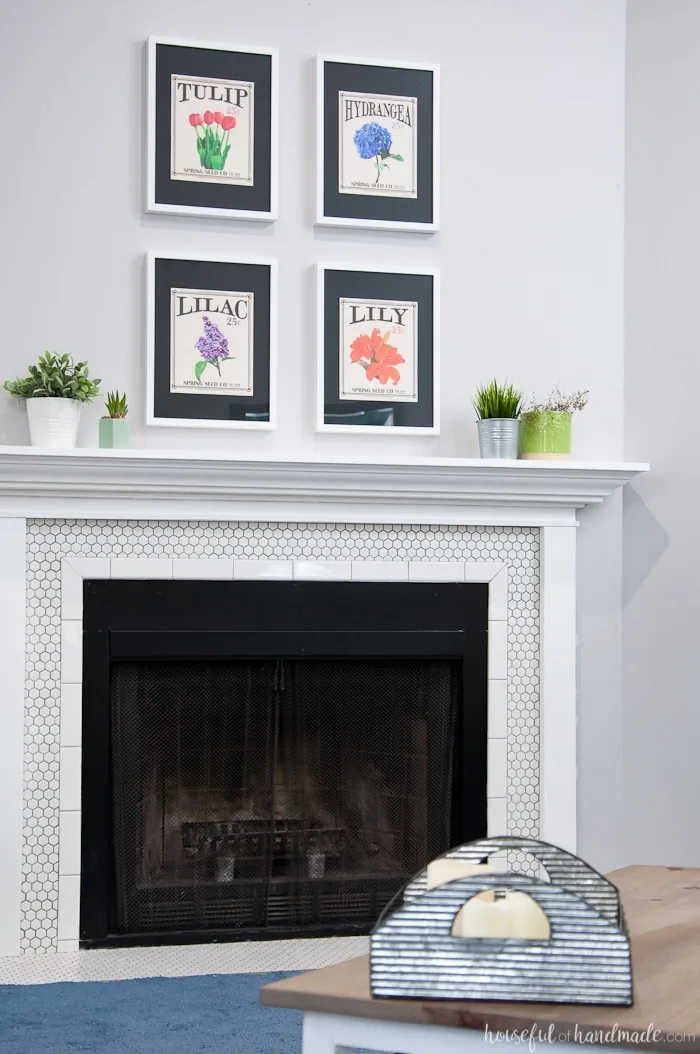 When this happened I decided it was time to pretty up the space. I gave it a fresh coat of gray paint and slowly started working on the elements in the room. I started with the fireplace. Then moved onto the old builder grade railings.
But the gray paint I chose was fighting me the entire time. I realized the gray had a purple undertone and in the day time looked more lilac color than gray. It also became a huge headache when I was decorating because the strong purple undertones clashed with a lot of decor.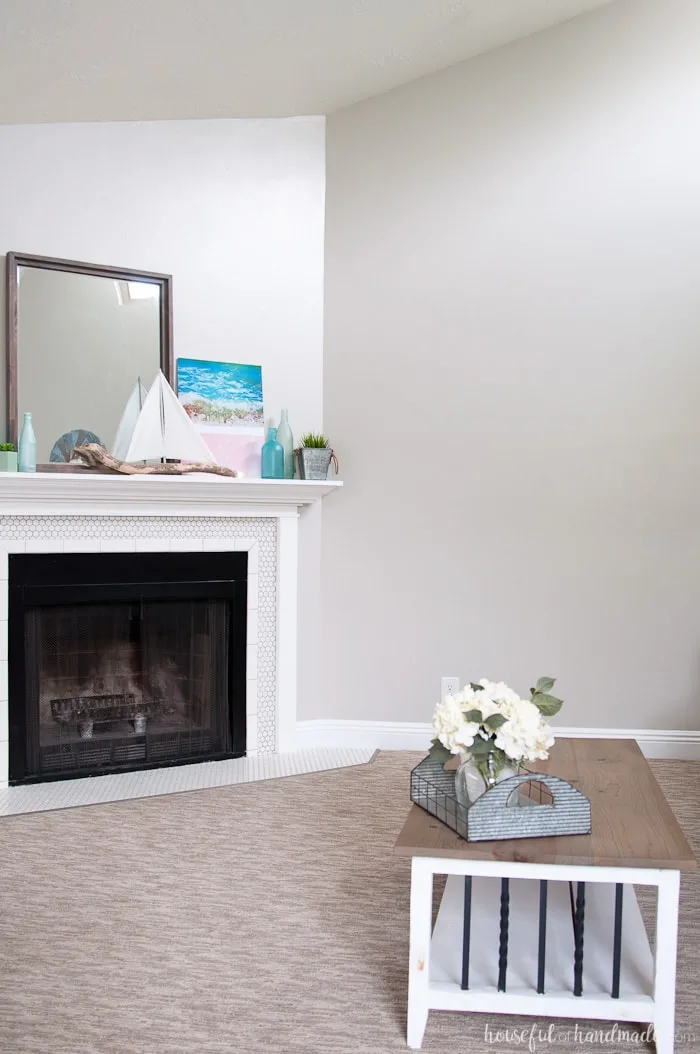 I knew before the new carpet was installed I needed to find the perfect greige paint color to solve all the issues I have fought in my living room. I brought home many, many paint chip cards.
Then when I thought things were narrowed down, I brought home samples. One of the things I learned is to paint the sample color on multiple walls. It's funny how the same color on different walls in the house looked different because of the angle of the light.
After narrowing it down to 2 colors from Sherwin-Williams, I even painted the sample on other unfinished walls in the house just to see if it looked purple at all. I was slightly paranoid of getting another purple gray paint. But the perfect greige paint color emerged: Agreeable Gray by Sherwin-Williams!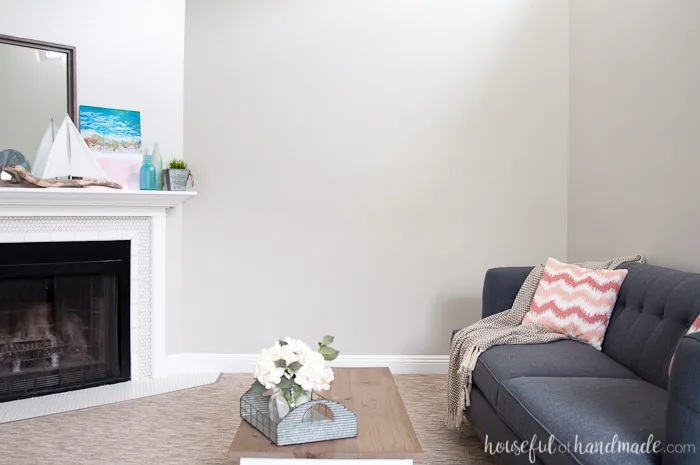 In the bright day light it has a soft beige tone to the color and in the evening it is perfectly gray. I love that it is bright and fresh. Something that was very important to me after living with some too dark paint in other rooms.
And the color is so easy to match. There are so many colors that go with perfect greige. It is the perfect combination of warm and cool. Even my champagne & gold gallery wall accents looks perfect on it!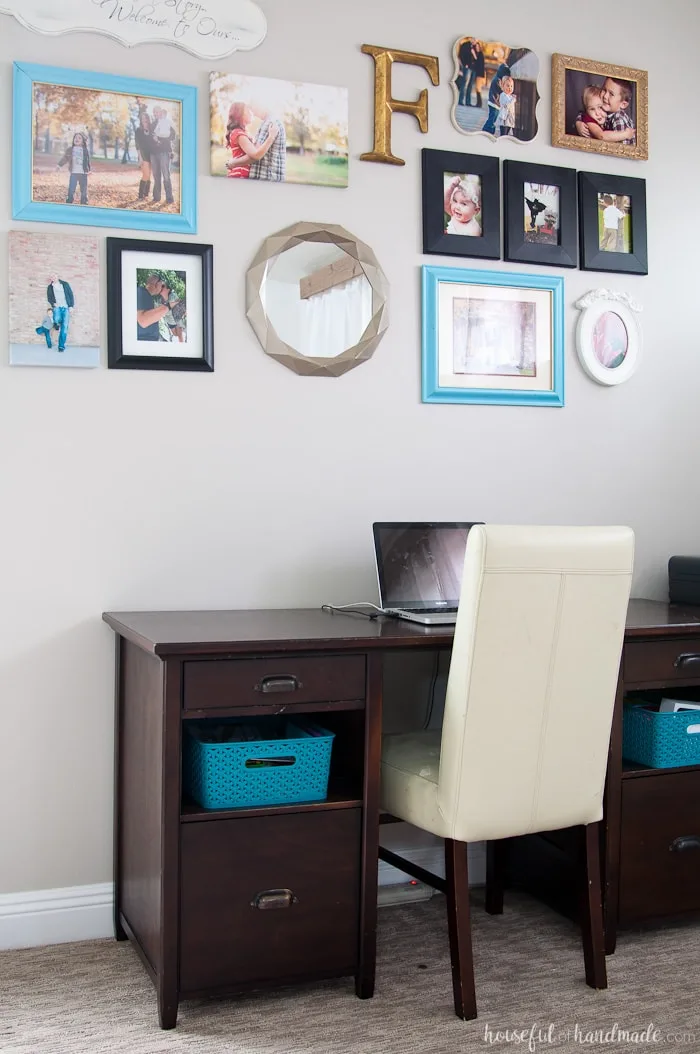 Every day I walk into my new living room, I have to pinch myself. This really is my house! We have worked hard to transform our dated house into a bright and beautiful home.
As much as I love the perfect greige paint color on our walls, our living room is not finished just yet. I still have a list of items to address. But before we talk about that, I want to talk about our new sofa.
I went to the store looking for a neutral white or beige sofa. Something that would be the perfect backdrop for any decor I wanted. But instead I fell in love with this grayish-navy sofa. I am convinced it is still a neutral and can easily change out colors with pillows and accents.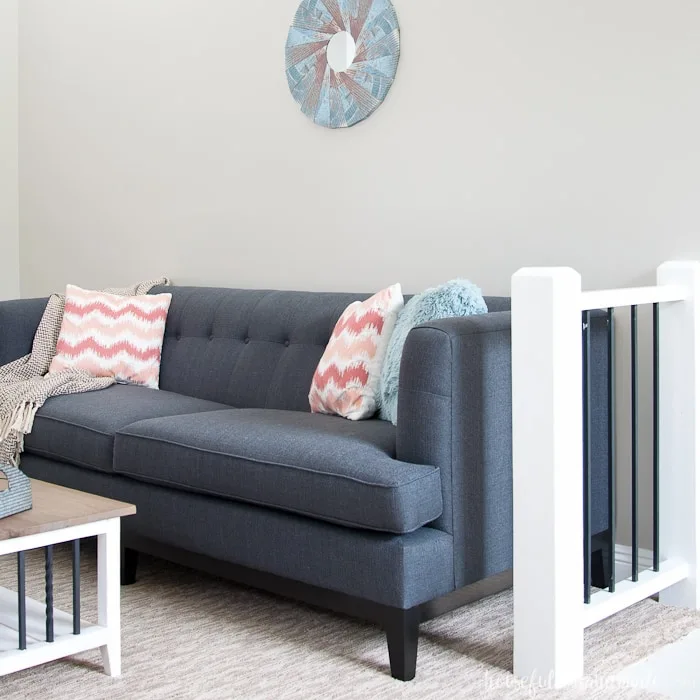 And I have decided that the first colors I will be decorating our living room with are blue and blush. Something with a bit of subtlety after that bold carpet is finally gone.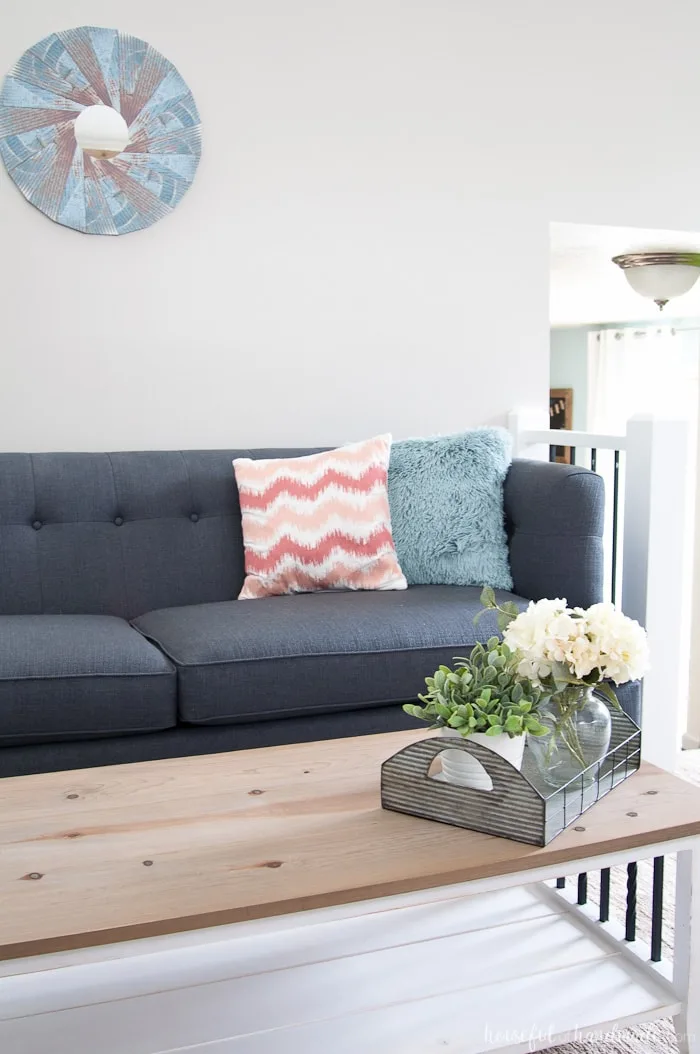 Also, you can see that I decided to paint our railing white to blend in with the living room. I had originally planned on staining them a soft worn color. But after stain colors were not what I wanted, I just couldn't fathom sanding them down again and my husband said I should paint them white to match the fireplace.
It made sense so I went for it! I am so glad I did because I love that they are an accent piece instead of the center of our new room. You can see exactly how I did the rustic railings here.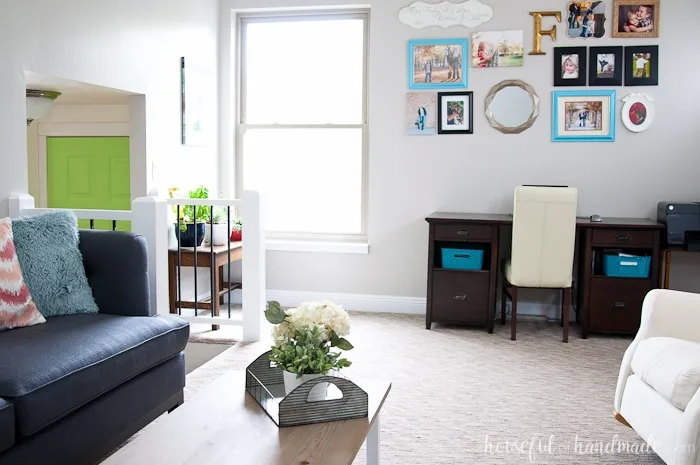 So now that I am in love with my new Agreeable Gray painted walls, I am eager to finish off the entire room. Things still to come are: a new bookcase to house the printer and my plants (I ended up putting this Small Console Table here instead.)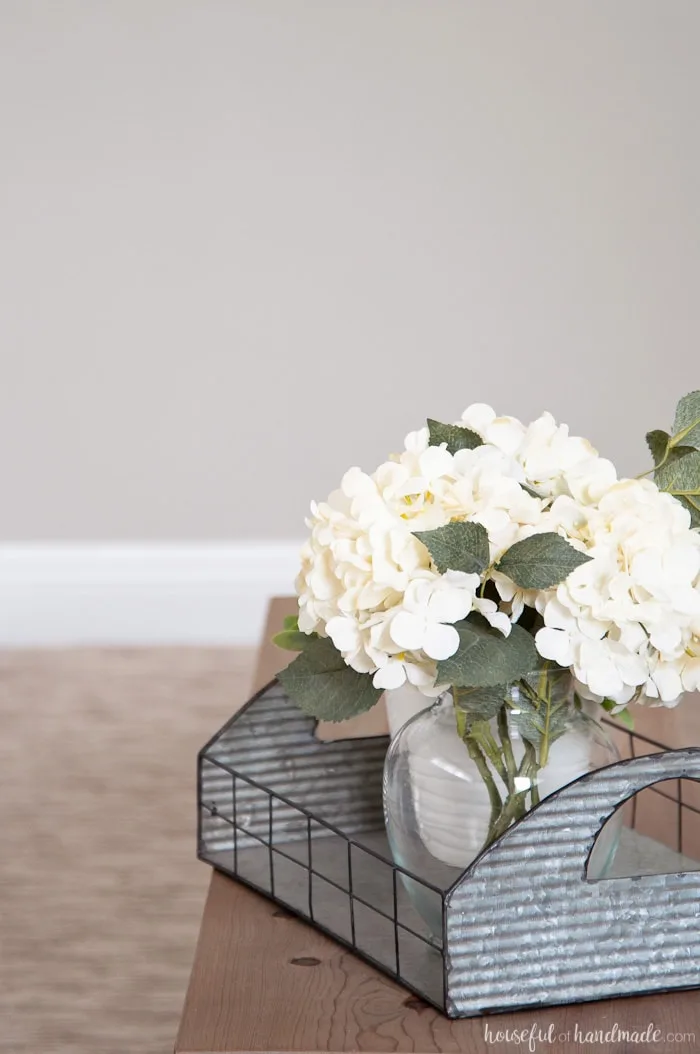 2 new chairs across from the couch (My husband convinced me to get a leather chair for him.); a new end table; and to finally bring the piano into the house and paint it (what color I do not know).
This room truly is our living room, it's the place we gather as a family for games or chatting. We curl up on the sofa and read stories. We welcome our guests to our home.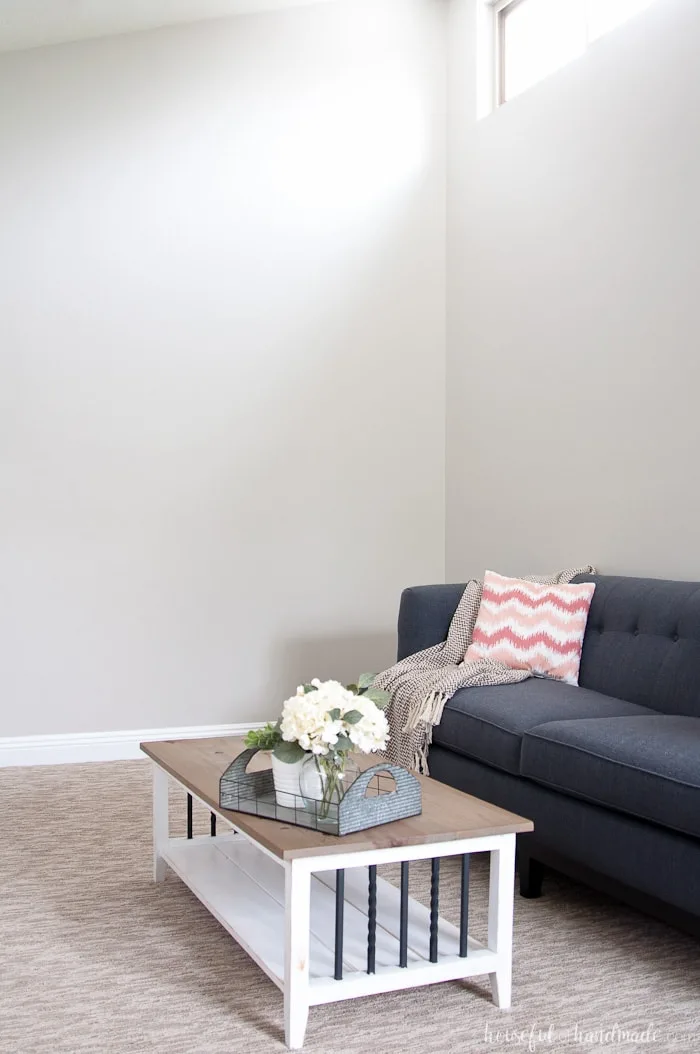 This is the room we spend so much time in. And thanks to the perfect greige paint color from Sherwin-Williams, I absolutely love our bright and beautiful new space!
I brought up the coffee table from our basement. It seems so much more at home up here. There are less people trying to use it like a foot rest too. You can see it in the basement and get the farmhouse coffee table build plans here.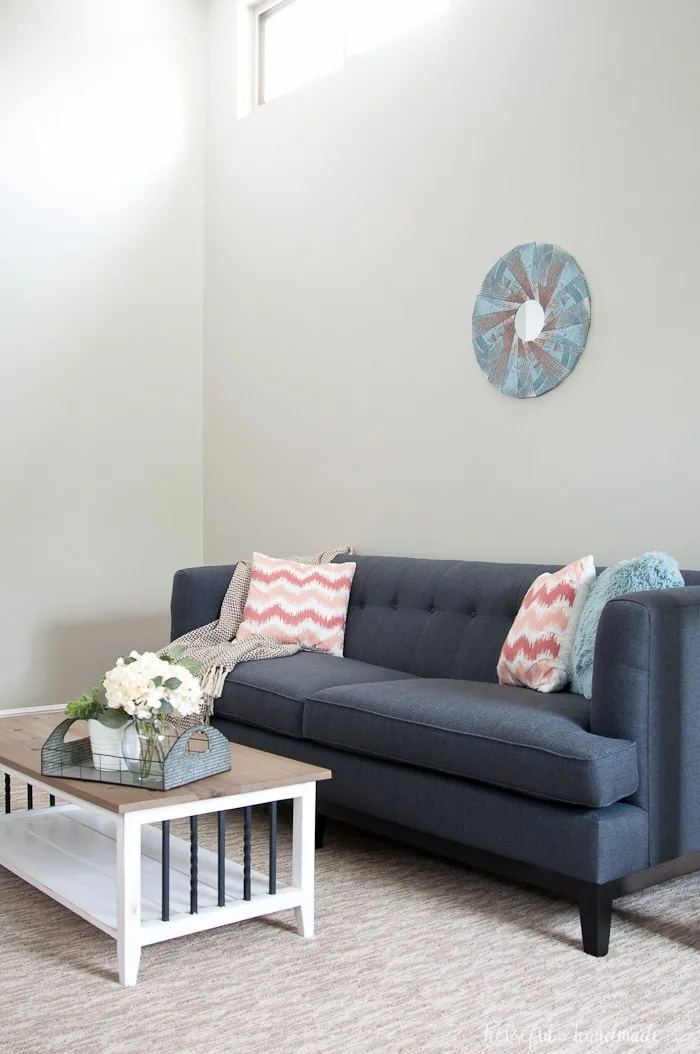 I cannot wait to share even more projects and photos in our new living room. And if you want to see how I already decorated our mantel for summer, you can check it out here.