Barstool benches are the perfect way to easily add lots of seating around your kitchen island or bar. This DIY double bar stool bench will fit 2 people and is easy to build in a weekend.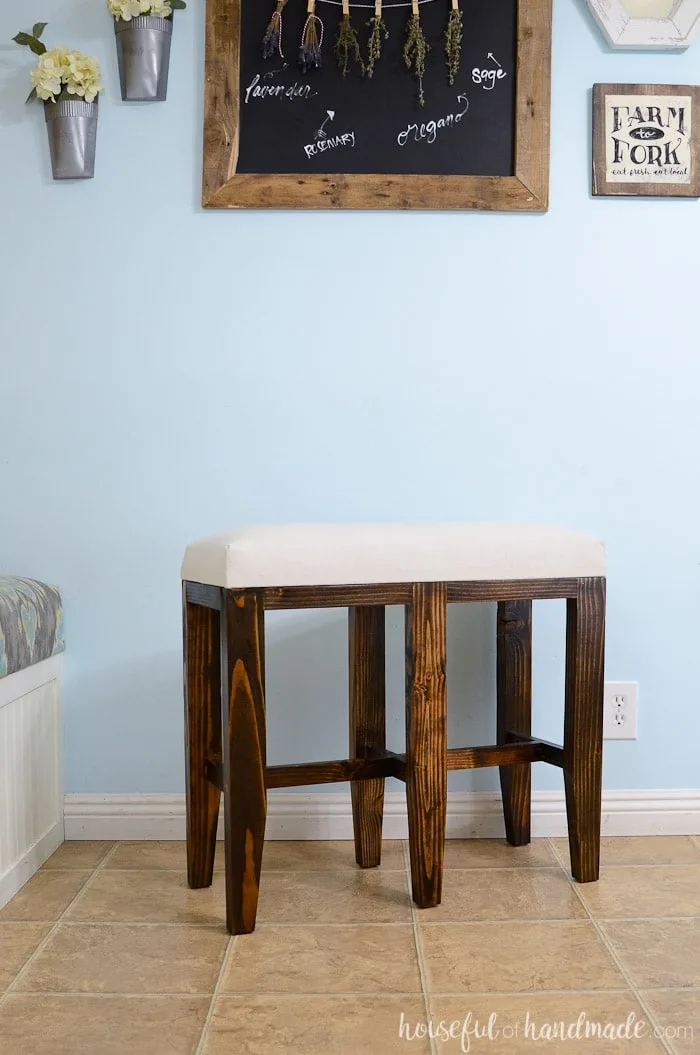 Add extra seating to your kitchen with these upholstered barstool benches. Soft and comfortable seats that hold 2 people are perfect for gathering around the kitchen island or bar. I partnered with Kreg Jig and their new project plan site, BuildSomething.com, to share these wooden bar stool plans with you. You can easily build a couple barstool benches in an afternoon and be ready for entertaining for the weekend.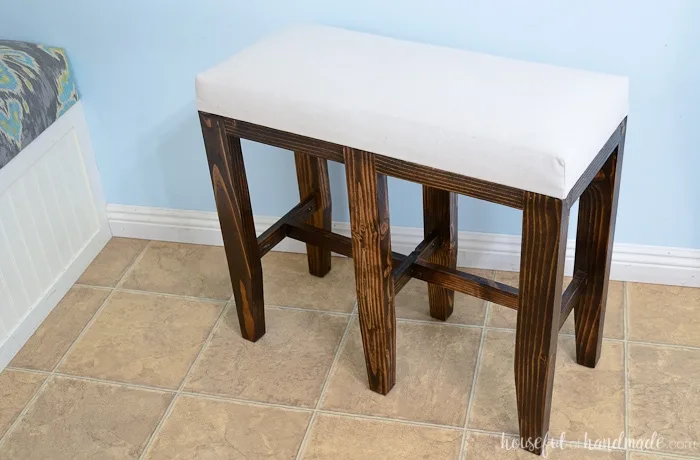 I have been wanting new barstools in our kitchen for way too long. Until now, we have only had room for 2 at our 6′ kitchen island (what a waste!). And I am embarrassed to admit that those 2 barstools were the cheap, box-store kind. They didn't match our home and are very old and worn. But I kept putting off making new barstools because I was waiting for our new kitchen.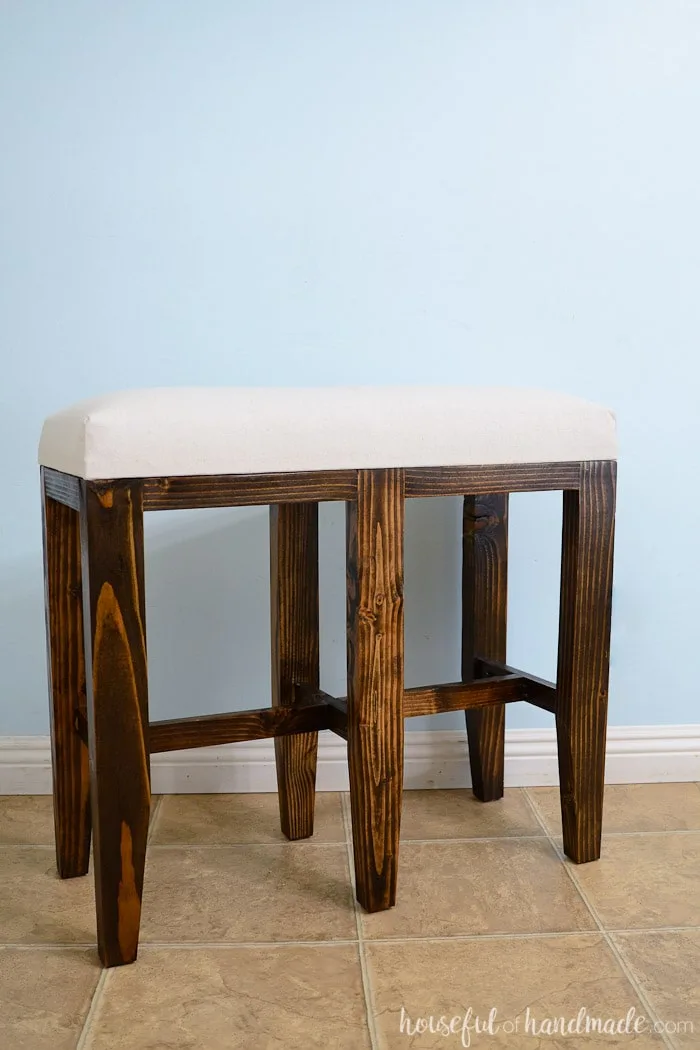 Since we were planning on remodeling our kitchen this fall, I drew up plans for new bar height benches. Two beautiful double bar stool benches that would easily hold 4 people across it. And then after our delays with the patio pergola (thanks to weather that was out of our control), it was too close to the holidays to be without a working kitchen so we paused the kitchen remodel until early next year.
But those barstool bench plans were still there. And I was sick of looking at those tacky, cheap, box-store barstools. So I grabbed my Kreg Jig and set to work solving our barstool dilemma. These bar height benches are super quick to make (and the second one comes together super fast because you already know what you are doing). To save money and help clean out the garage, I used scrap 2×6 boards and ripped them down to 2×3 and 1×2 boards with my table saw. Even with all those extra steps, I had 2 barstool benches built in a few hours.
To make the wooden bar stool benches even better, I added an upholstered seat. Now the barstool benches are not only pretty and functional, but comfortable too. It's the perfect place for family and friends to sit and hang out while I am cooking. And upholstering a simple bench seat like these is so quick and easy!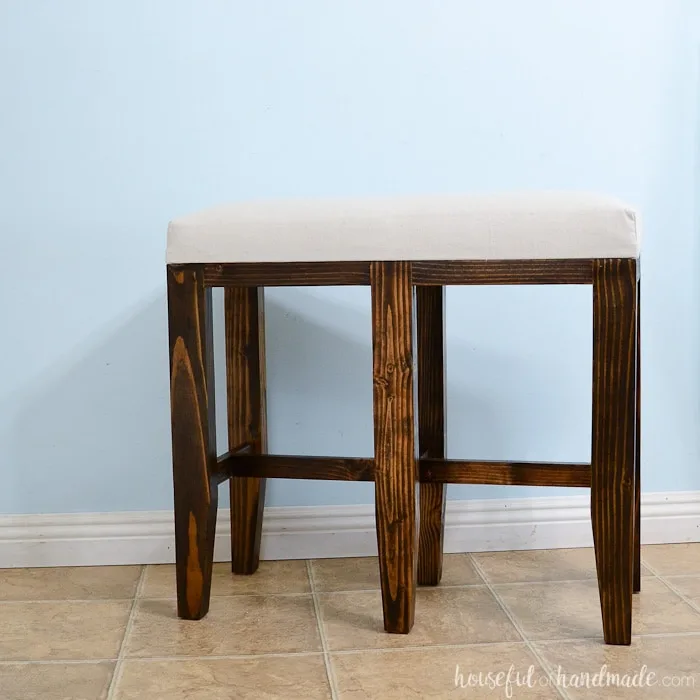 I covered our barstool benches with scraps of drop cloth left over from my latest drop cloth projects. The drop cloth is very sturdy and holds up well to the trashing my kids will definitely give these benches. Drop cloth is cheap too, and I love cheap! But the best part, the upholstered seat is held onto the barstool base with just 6 pocket hole screws. If something happens to the upholstery on the barstools, I can easily pull it off and add new fabric for brand new looking barstool benches!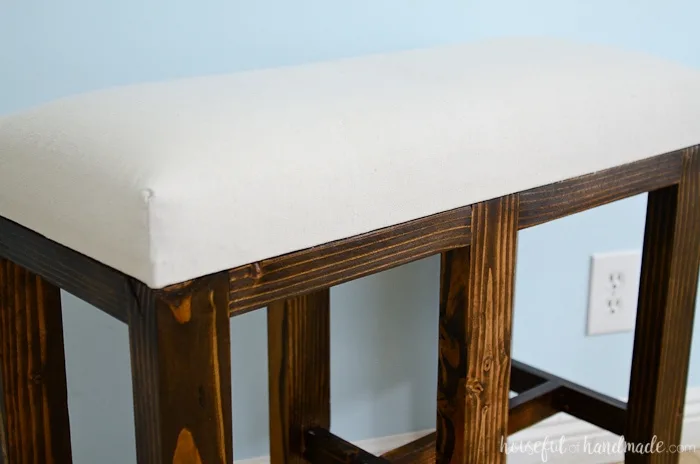 If you are ready to add lots of seating to your kitchen, I am sharing the plans for the barstool benches over at BuildSomething.com. Click here for the free build plans.
And don't forget to check out the rest of my Woodworking Tutorials to help you DIY the home of your dreams!