Make this beautiful upholstered day bed from the free build plans.
This twin sized day bed is perfect for any room. Turn it into seating during the day and the perfect place to sleep at night.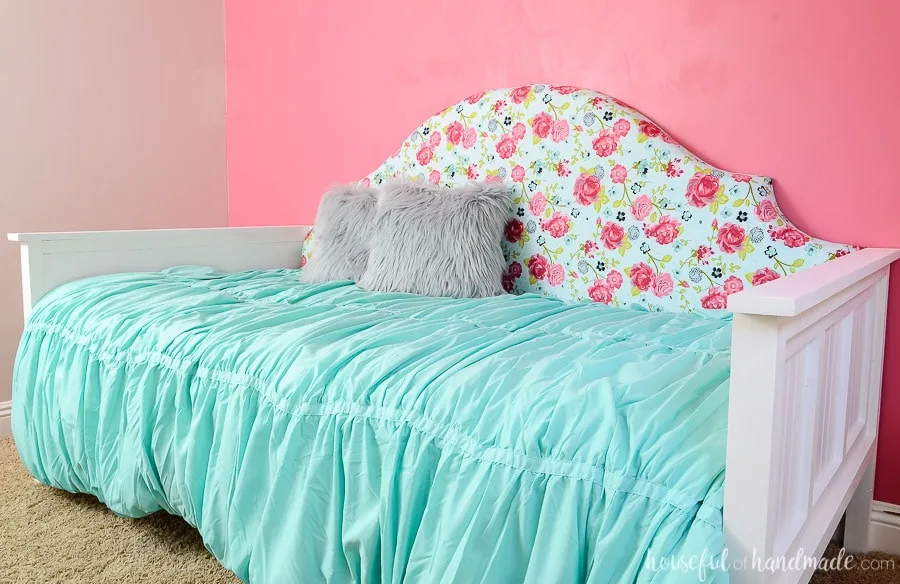 Day beds are the perfect bed for a small room or spare room. You can easily make them into seating during the day, they sit against a wall to take up less space, but you can quickly climb into bed to sleep.
That is why we teamed up with Kreg Jig and their new project plan build site, BuildSomething.com, to share these free build plans for this adorable upholstered day bed.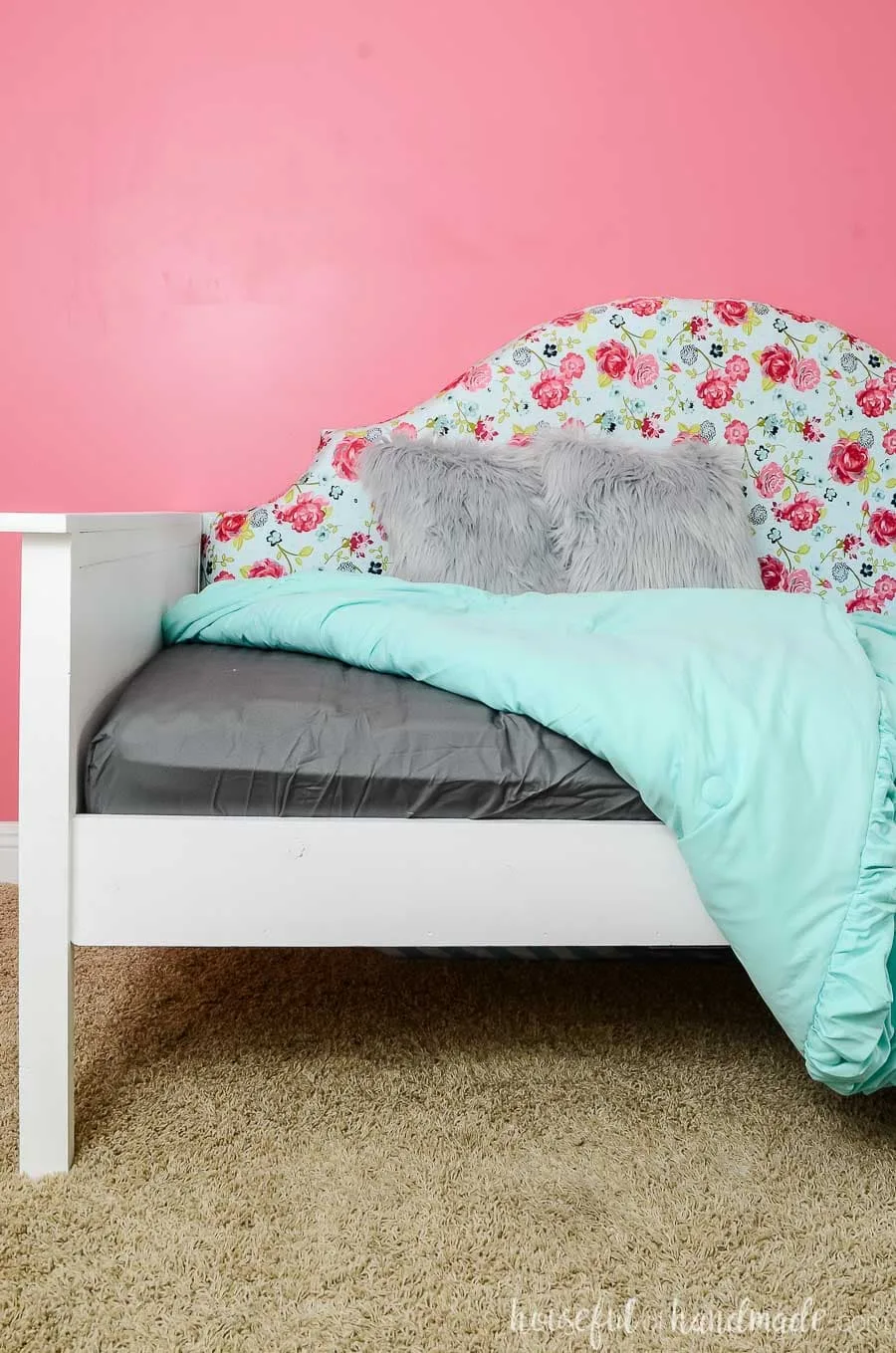 Do you ever have a project that takes way to long, for absolutely no good reason?
Well this was it for me. I made the plans for this cute upholstered day bed in May 2017. That was over a year ago!!!
But my daughter desperately needed a new bed, so I finally pulled these plans out and set to work.
And you know what, this bed was quite easy and super fun to make. And it looks so ridiculously adorable in her bedroom. It's a little girl's dream!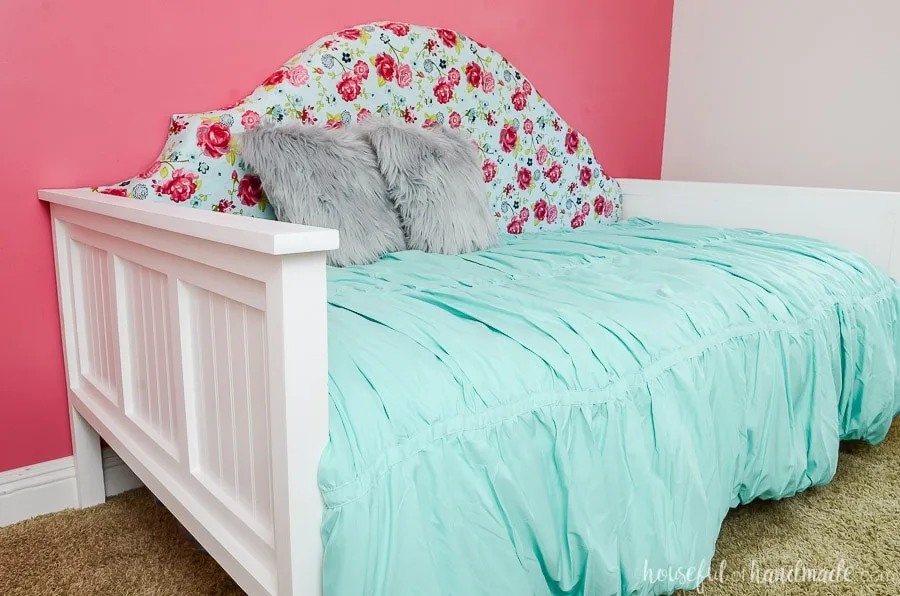 My daughter desperately needed a new bed because the one she had was made to sit in the middle of the bedroom. It has storage drawers on either side of it (helpful right?).
Her room is a little on the small size so with the room in the middle there was no room to play. But that wasn't really the problem, the big problem was she couldn't manage to stay in her bed at night.
Nope, that little girl sleeps like she is wrestling an alligator. She kept falling off and waking herself up (not to mention hurting herself on something).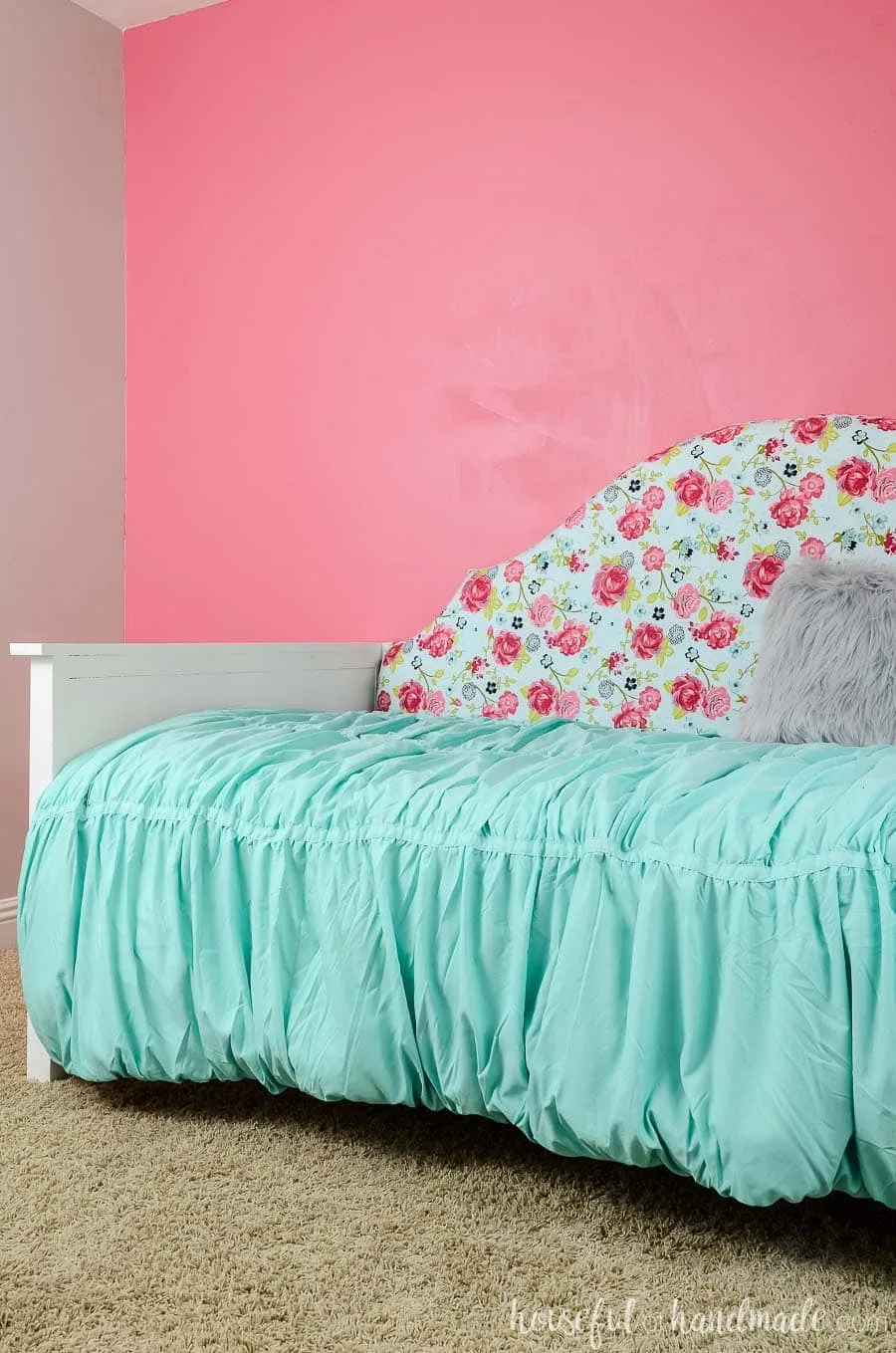 So we put the bed up against a wall, loosing 2 storage drawers in the process. That helped with about 30% of the falling problem (sadly not 100%).
But since the bed was made to sit in the middle of the room, there was a very large gap between the mattress and the wall. And this very large gap was a very big problem for my bed hoarding daughter.
She like to stash EVERYTHING in her bed. I do not understand why you would want to sleep with 10 books, a handful of markers and pencils, some paper, a barbie (or two) and about 20 stuffed animals, but she does.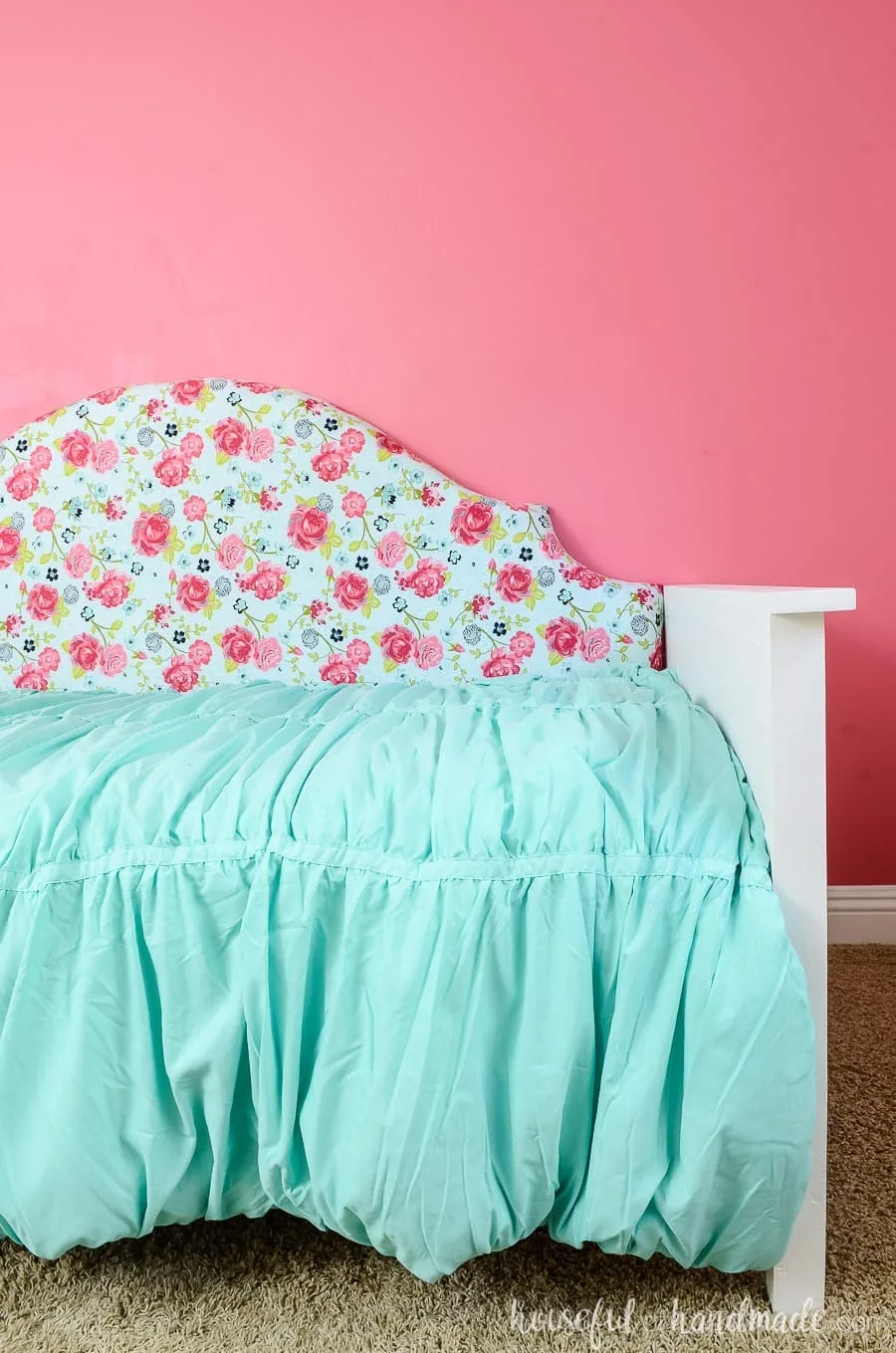 And all those "things" she like to have in her bed got lost in the vast space between the mattress and the wall. Also, this bed was massive (because of those giant storage drawers) and it was impossible to move away from the wall to rescue all those items.
It was a disaster. But not anymore… now we have the perfect solution… a beautiful upholstered day bed!
The idea to make a daybed made sense in her small bedroom because it sits against the wall. And the daybed is basically a three-sided box to contain all her bed treasures.
But the best part is the upholstered headboard. Not only does it look so pretty, but it is so soft and comfy, and my daughter loves to roll up against it while sleeping. See where this is going? No more falling out of bed. Instead she is snuggled up close to the wall and happy about it!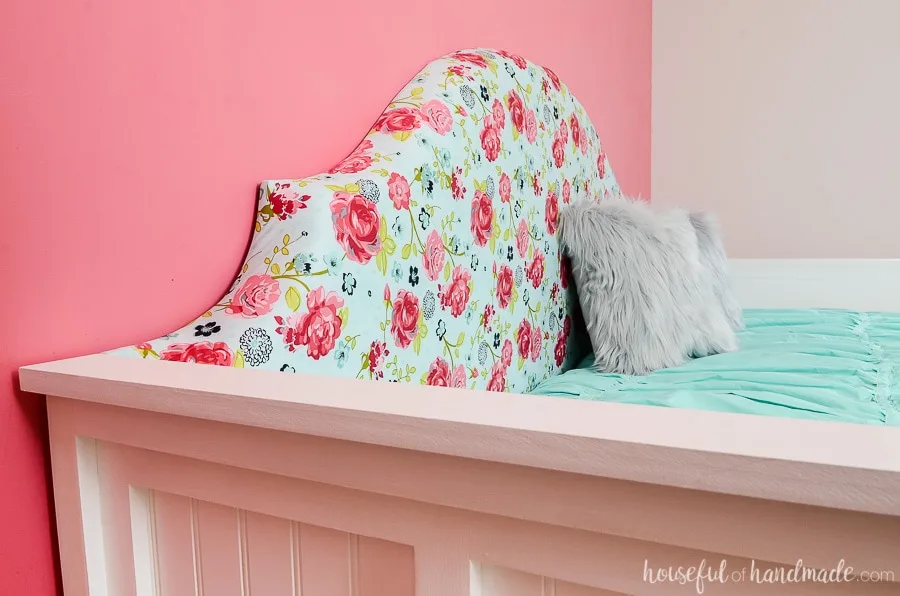 Even though it took me forever to finally make this bed, it is a super easy build thanks to the Kreg Jig.
The pocket holes make quick work of those cute detailed sides. I keep wanting to call them arms, like on a sofa. And the addition of a little beadboard really give it some farmhouse charm.
But then the fabric on the DIY upholstered headboard really makes a huge statement. If you have every wanted to test your skills with upholstery, this is a good project. It is so easy (fabric, batting, foam, backing, staple!).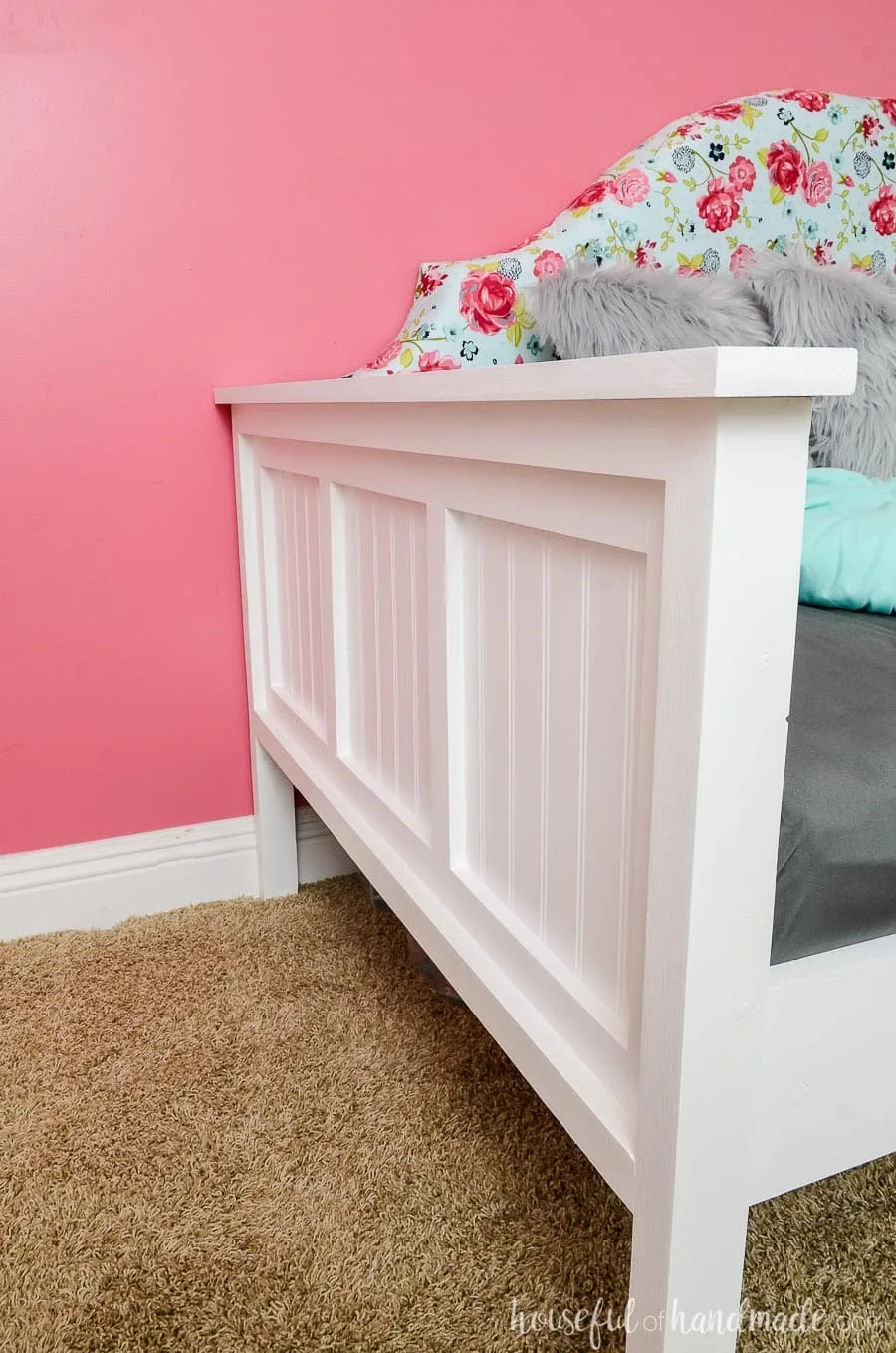 Daybed Build Plans
If you are ready to build your own amazing upholstered day bed, I am sharing the free build plans on BuildSomething.com today.
Click here for the plans and to see so many other fun projects.
Your to-build list is going to get so long, so fast!
Happy building!