Create a countertop herb garden with this 15 minute craft.
Clay pots and a cedar fence picket are turned into a beautiful kitchen herb planter. Use it for a beautiful indoor herb garden or as a fun tabletop garden for your patio.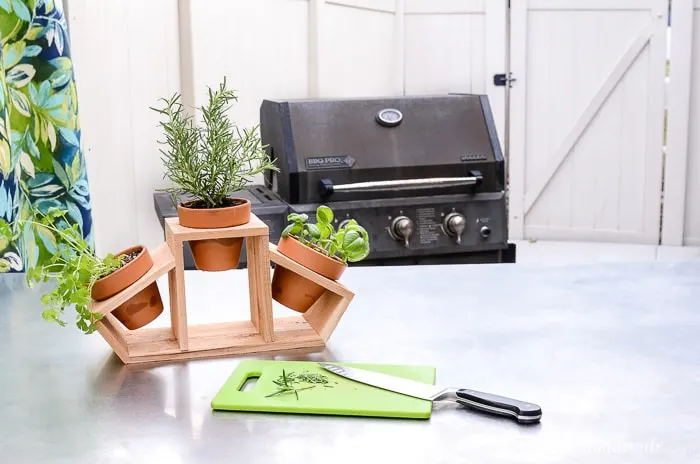 These herb garden plans are so easy, you can whip up a countertop herb garden in just minutes. Transform a few inexpensive clay pots and a cedar fence picket into a mini garden. This simple wood project is so easy you will want to make countertop herb gardens for everyone you know.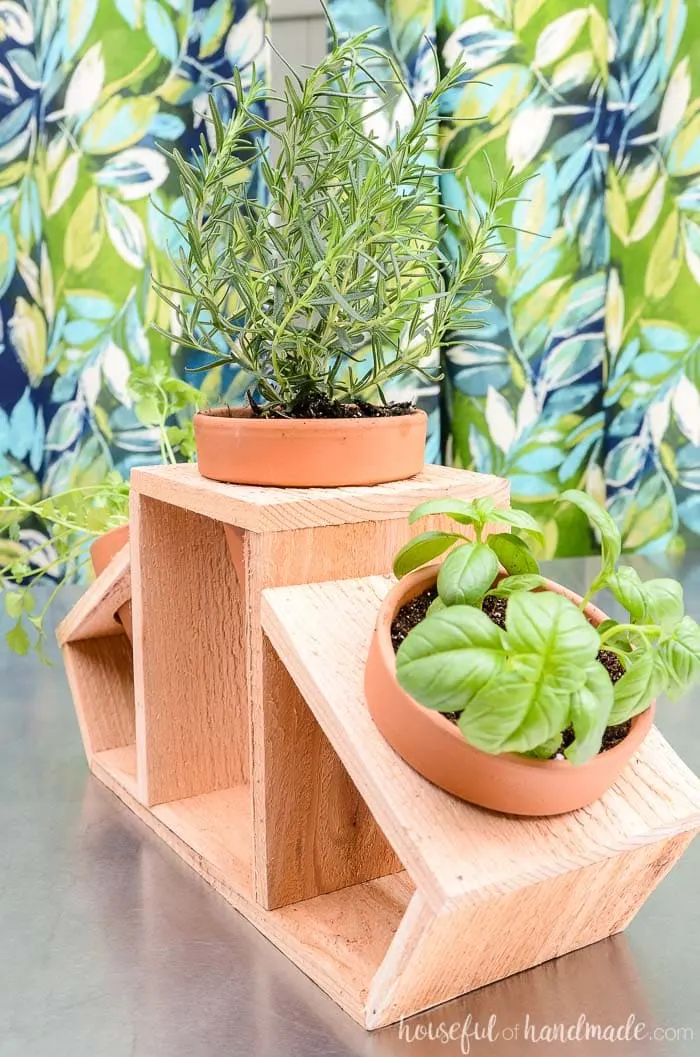 I decided to join in on this month's Craft Lightening because sometimes you just need a good 15 minute craft. I have been working so hard planning the kitchen remodel, that this little break was so refreshing.
I used my 15 minutes in the garage making a super quick countertop herb garden to hold my clay pots. And I am sharing the mini herb garden plans with you today!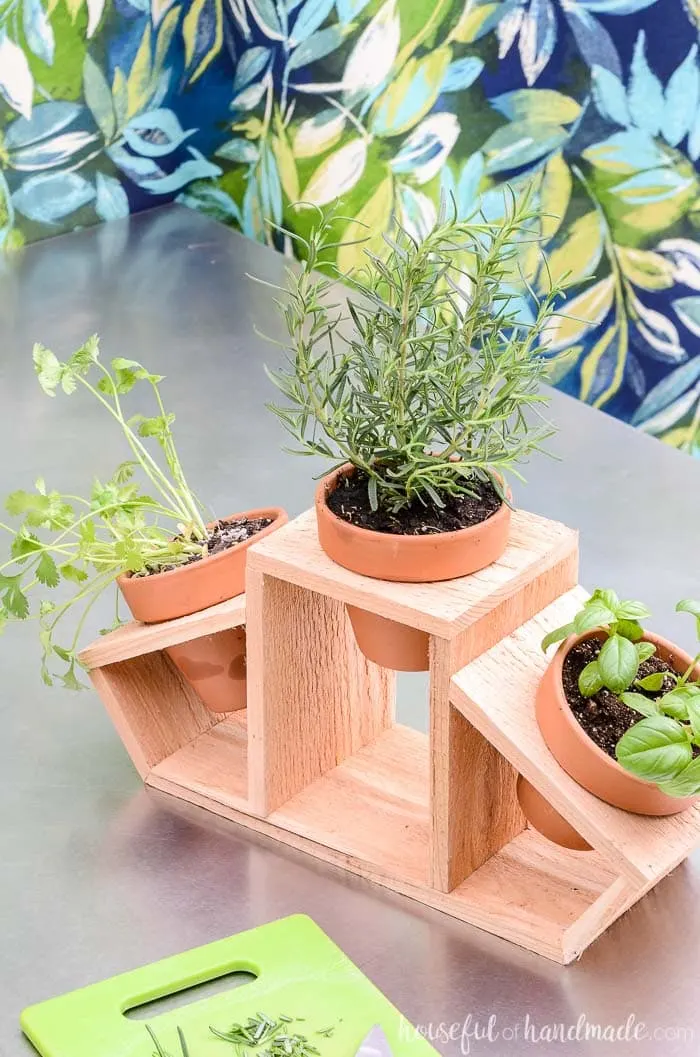 I chose to use a 5 1/2″ wide cedar fence picket to make my countertop herb garden. Cedar is great because it resists rot so the water from the herb garden is not going to hurt it. It also gets a beautiful patina over time.
I love using cedar for outdoor projects and I plan on putting my cute countertop herb garden on the outdoor kitchen island so I am ready to cook up some delish dinners on the BBQ.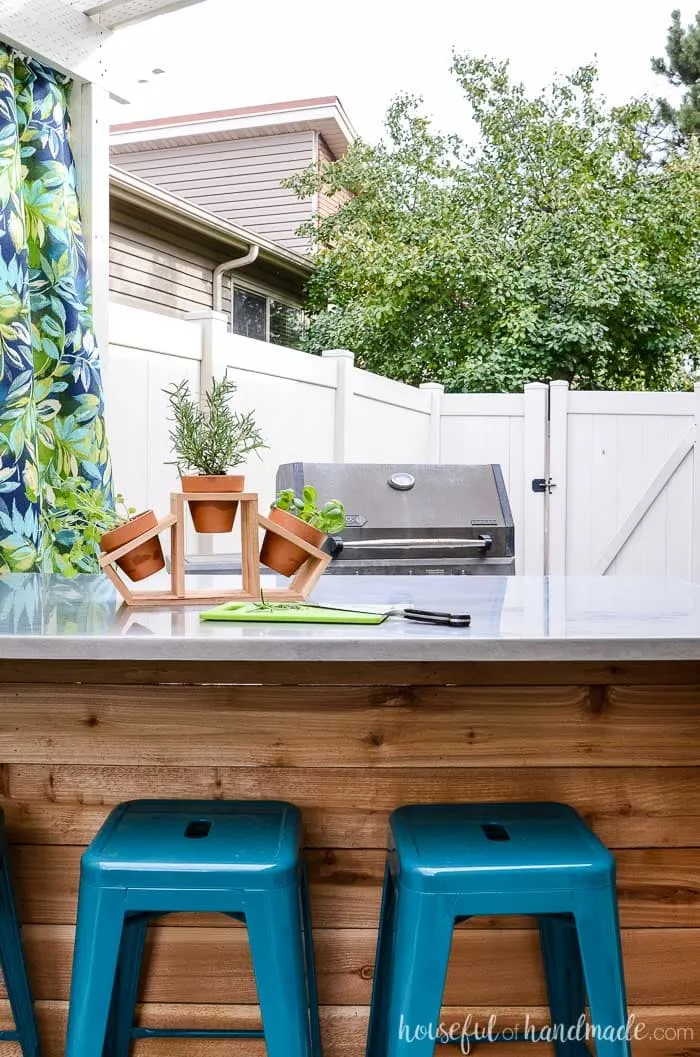 But this would also make the perfect indoor herb garden planters. The three clay pots will be perfect in the kitchen window with your favorite plants.
Or you can use it as a centerpiece for a rustic dining room table. And how fun would it be to make this easy DIY for gifts, who wouldn't love a little herb garden?!
There are so many indoor herb garden ideas.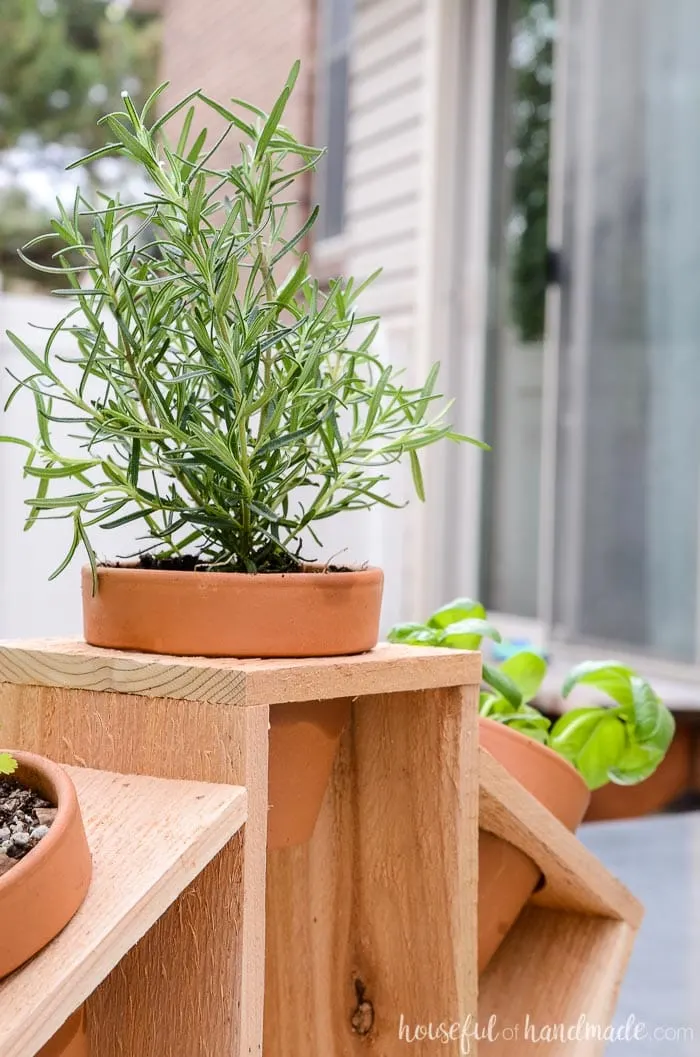 How to Make a Countertop Herb Garden
Tools needed:
Miter saw

You could also make the cuts with a hand saw and miter box. It might just take a little longer so it would be a 30 minute craft (depending on your sawing skills).

Finish nailer

I love my Ryobi battery powered nail guns, especially for quick projects because I don't have to take the time to hook up the air compressor. Just aim and go!

Jig saw
Measuring tape
Clamps
Supplies:
(1) 6′ long 5 1/2″ wide cedar fence picket(
(3) 4″ terra cotta pots
wood glue
1 1/4″ finishing nails
herbs
Cut the following from the 5 1/2″ wide cedar plank:
(1) 12″ with 30 degree angles cut on both ends so they angle toward each other.
(1) 5 1/2″
(2) 6 1/2″
(2) 6″ with one end cut at 30 degree angle
(2) 3″ with one end cut at 30 degree angle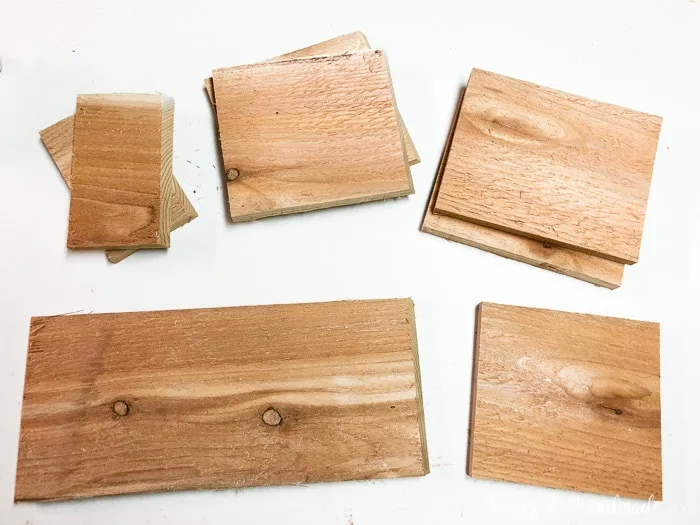 Attach the 2 6 1/2″ long pieces to the bottom of the 5 1/2″ long piece. Add wood glue to the top of the 6 1/2″ pieces and lay the other piece on top of them to create an upside-down U.
Secure with 4 finishing nails on each board.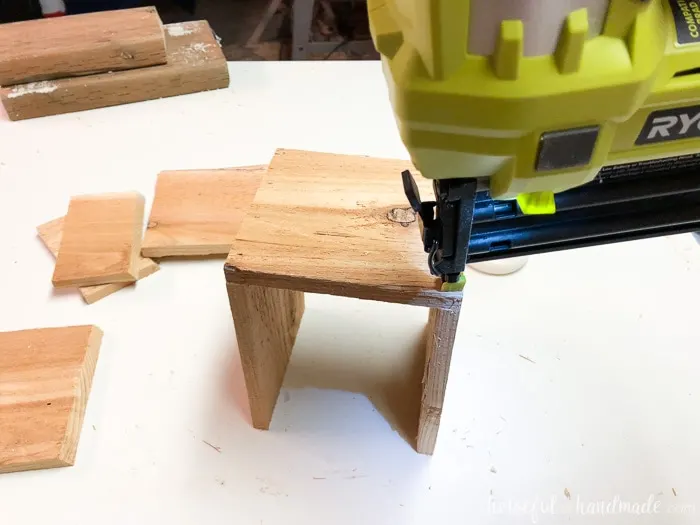 Attach the 2 3″ pieces on either side of the 12″ piece so the angled sides are touching. Add wood glue to the angled sides and then secure with 4 finishing nail on each board.
Getting the nails in at the right angle can be tricky, just try to keep the nail gun parallel to the floor so the nails go into the 12″ board.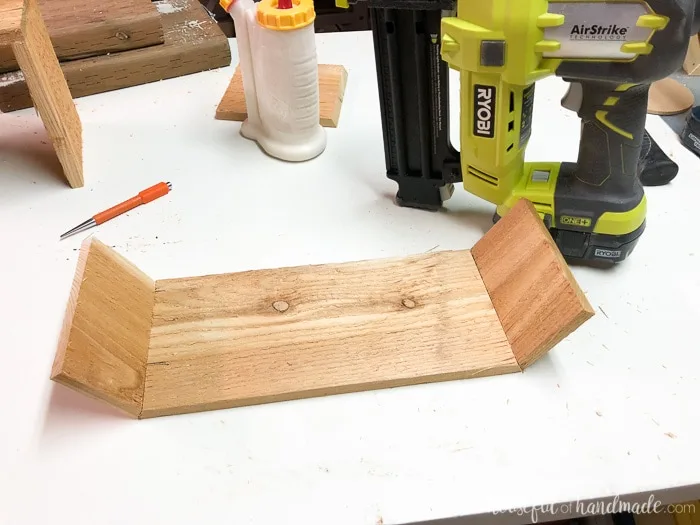 Turn the upside-down U over and place the 12″ piece on top of it. Center it and secure with wood glue and finishing nails.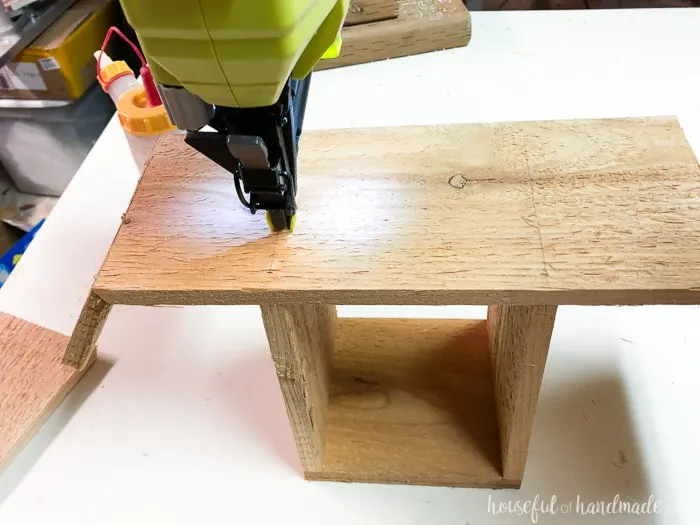 Trace a 4″ circle on the 6″ pieces. Trace the circle so it is 3/4″ in from the sides and 3/4″ in from the straight cut side (it will be about 1 1/4″ away from the angled cut side.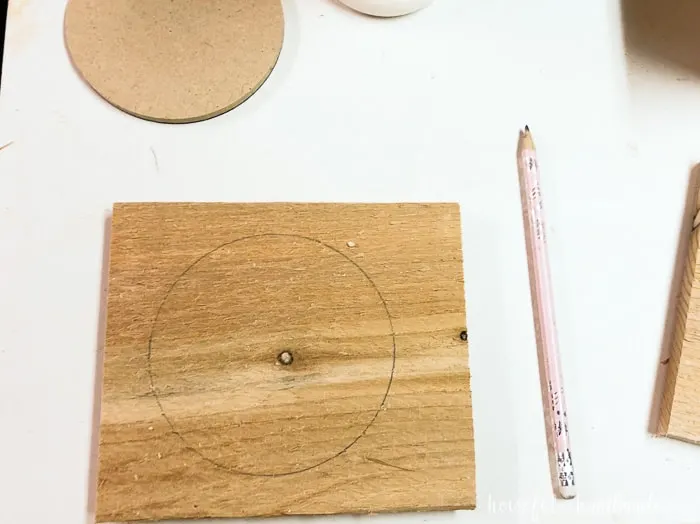 Drill 2 holes in the opposite sides of the circle big enough for your jig saw blade. Then using the jig saw, cut out the circle.
Try to keep the blade just on the inside of the 4″ circle so the pots fit tightly. I like to clamp the small piece to the work table when I cut it with the jig saw to give me a hand.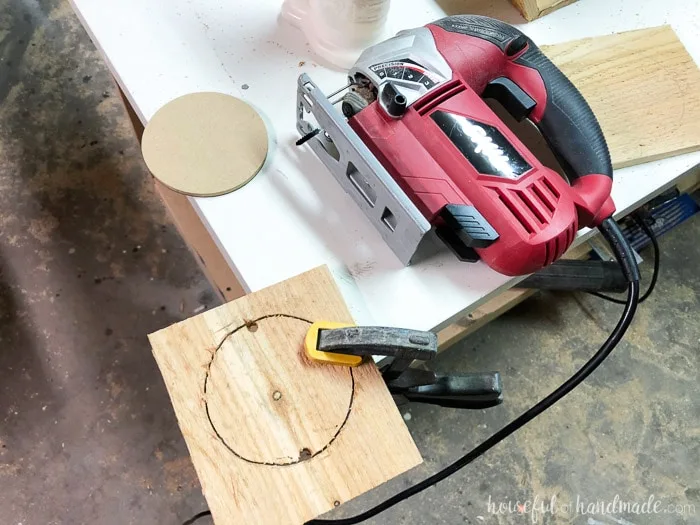 Place the 6″ pieces with the circles cut out on top of the angled board coming off the bottom. Secure it with wood glue and finishing nails so it is attached to the angled board.
Then press it securely to the upside-down U and secure with glue and finishing nails. Repeat on the other side.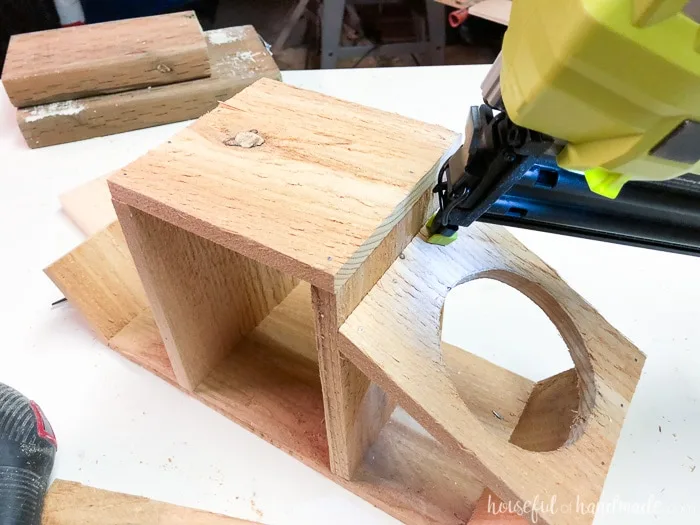 Trace the 4″ circle to the center of the top of the upside-down U and cut it out the same way you did before. This one was easier to cut out after the planter was assembled, but you could do it before if you want.
Also, feel free to sand and paint/stain the wood. I love the raw cedar and so I left it be.
Now all you need to do is place your clay pots in the 3 holes and fill them with your favorite herbs.
I chose basil, cilantro and rosemary and cannot wait to use them up this spring. Fresh herbs are the best and our new countertop herb garden will make enjoying them much easier!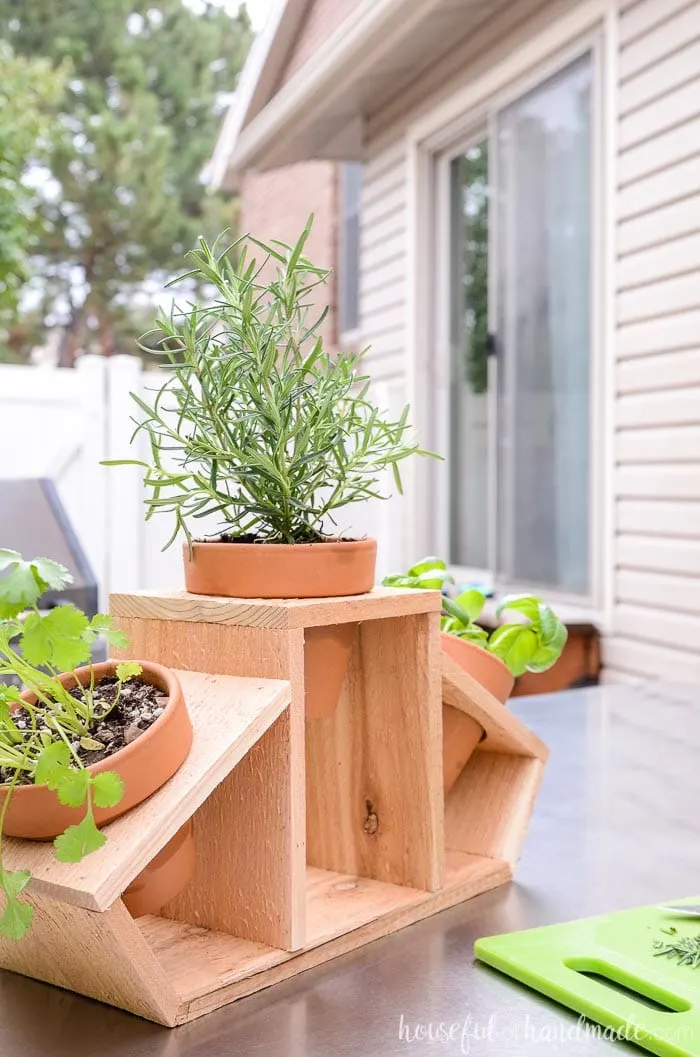 And don't forget to check out the host's of Craft Lightening for lots of 15 minute clay pots crafts. There are so many fun projects, you may want to hurry and stock up on pots before there is a shortage 😉