Having the basement remodel done (or at least done to a point that I can relax a bit) is making me eager to get our whole house organized! I hated having everything from the basement stuffed into the corners of every room while we were working. Now that we can spread back out into the whole house, my goal is to find a place for everything. And to make sure that everything finds it's way back to it's place after being used, I am putting these DIY chalkboard organizing labels on all our boxes and bins.
This post was sponsored by Spellbinders, however, all opinions and reviews are 100% honest. Click here to read my full disclosure policy.
I am a huge fan of bins to hold all the stuff that comes with life. As the winter was setting in, I grabbed some new bins for our entryway to hold all our hats, gloves and scarves. We tend to have a lot of those laying around the house since we have 4 people who like to stay warm in the snow. But sadly, the bins were a mess! The kids did manage to get their winter accessories into the bins at least 50% of the time. However, they were not so good at getting them into the proper bins. I knew it was time to label them!
But since we only keep our winter gear out for about 4 months of the year, I wanted a label that could easily be changed. In the spring, we use our bins for sidewalk chalk and bubbles. In the summer, they are full of swimming goggles, sunglasses and sunscreen. Since I am a huge fan of chalkboards (as you can see here, here, here, and here to name just a few), I knew it would be the perfect way to add an easy organizing label that I could change out as needed.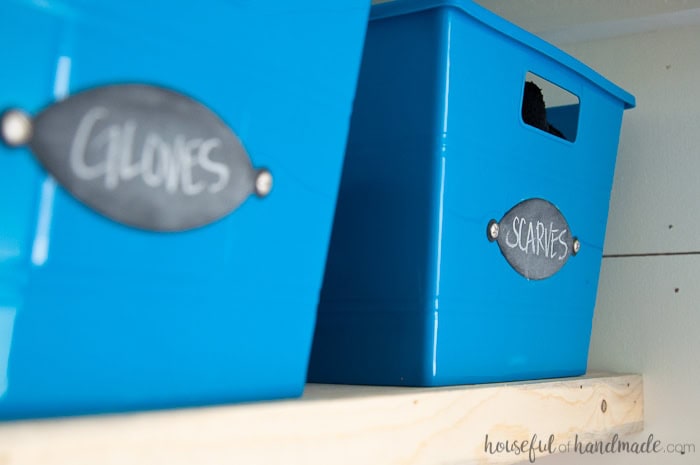 I grabbed by Spellbinders Platinum 6 die cut machine to make quick work of making labels. I love that the die cutting machine can quickly cut the thick paper and then emboss it to have a beautiful raised edge. Perfect for the DIY chalkboard organizing labels I needed.
To make my labels, I knew I had the perfect die from Spellbinders: the tiered multiloop bows die. This die is actually used to make 3D bows. However, I saw the bow loops, with the little notches for the connecting them all together with a brad, as the perfect label for organizing my bins. I just needed to add a bit of chalkboard so I could change up the labels and I would be in business!
If you are ready to make lots and lots of these easy chalkboard organizing labels for everything, click the arrow below for the full tutorial.