I have been working on my winter mantle this week. It is almost done and I am eager to share the final results with you. But as I was putting things together. I realized, I have not yet shared this gorgeous DIY rustic mirror that I made so very long ago. I guess I just forgot because I finished it during the Q4 craziness. There were too many seasonal projects that I was eager to share with you apparently this one was missed. So now that life is a little slower (okay maybe not, but I am pretending), I am excited to share with you this DIY rustic mirror that I made from scraps!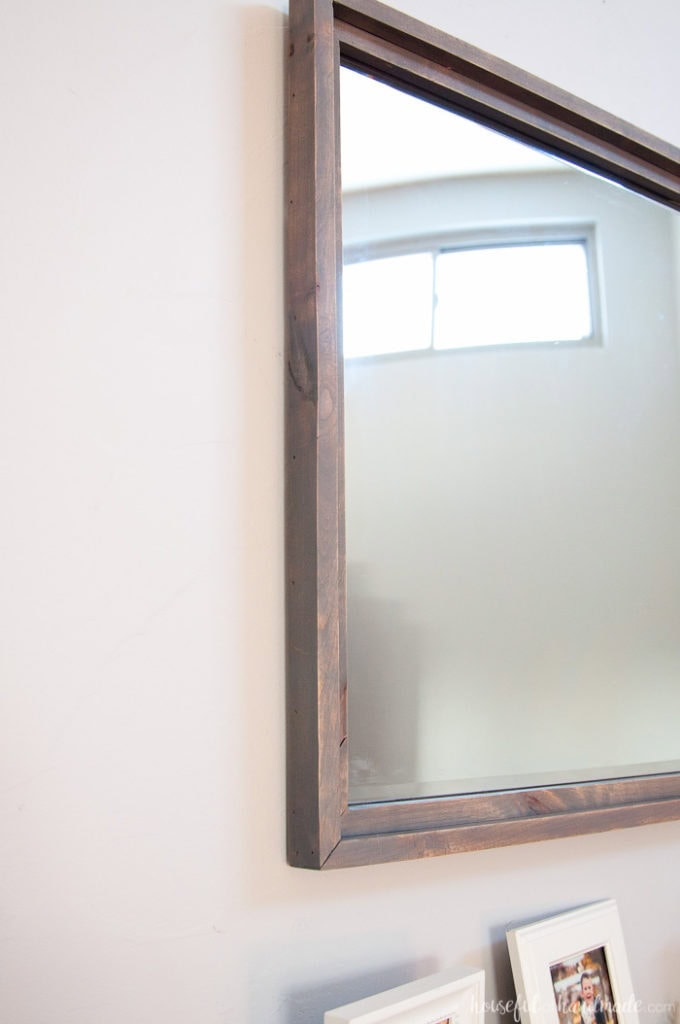 If you remember, this summer I turned my boring builder railings in my living room into beautiful rustic wood railings with iron spindles. I love the new railings so much. After finishing the railings I was left with 10 36″ long pieces of 3/4″ x 1 1/2″ wood that was cut at a 45 degree angle on one side. They were beautiful pieces of knotty alder and I refused to discard these scraps. So I hung on to them and moved them around as they were in the way while I put my garage wood shop to use over the summer and fall.
One day when I was moving these scraps again, I started playing around with putting them together at different angles. That 45 degree cut on one side was messing with my head. But then as I placed the cut sides together so the two boards formed a right angle, it hit me. This would make a beautiful DIY rustic mirror. I have been wanting a big mirror for over my mantle for a long time. I absolutely love mirrors in decorating but they can be so expensive. I almost ran to the Home Depot to buy a mirror and create the one in my head.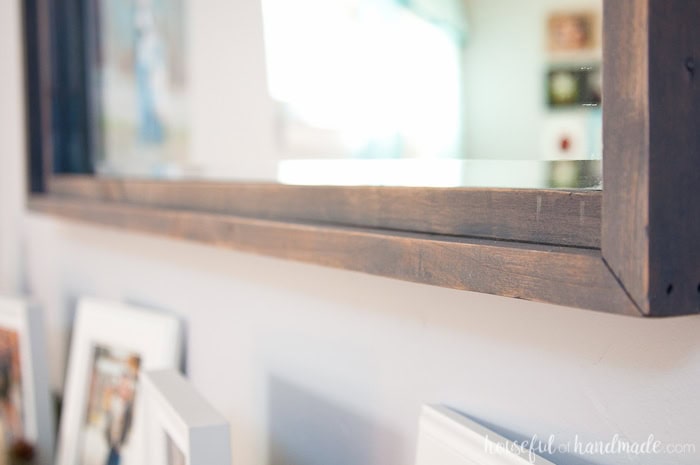 Now I am sure not everyone out there has these exact scraps laying around their house so this mirror may seem like a good idea, but not very practical. Well, you can recreate exactly what I did by ripping a 1×2 so it has a 45 degree angle on the one side (this is best done with a table saw). Or even better, you can secure a 1×1 on the side of a 1×2 and you will have the same design. So really, even without a garage full of scraps, you can make this mirror for much less than it would cost to buy a large decorative mirror at the store.
I have been using this DIY rustic mirror over our mantle for a few months now and absolutely love it! Mirrors are so great at helping add light to a room because they bounce it back at you. It's also fun to decorate (like I did for our Christmas mantle) and can't wait to use it for many years. Just imagine it draped with garlands or pennants or lights. Oh the possibilities!
So if you are ready to see how easy it was to make a beautiful (and inexpensive) DIY rustic mirror. Click the button below to take you to the full tutorial. I can't wait to show you how I made this mirror from scraps and an inexpensive beveled mirror.