Turn your scrap wood into cute Christmas house ornaments for a fun holiday craft.
The only thing better than Christmas trees… Christmas houses! They are one of my favorite types of Christmas decor.
So when my scrap wood pile was overflowing with small pieces of scraps, I figured it was the perfect time to make my own Christmas houses! And I made them so they can hang as ornaments on the Christmas tree.
Of course, you can make these Christmas houses as ornaments or just as decor. How cute would a collection of these houses sitting on a mantel or shelf be?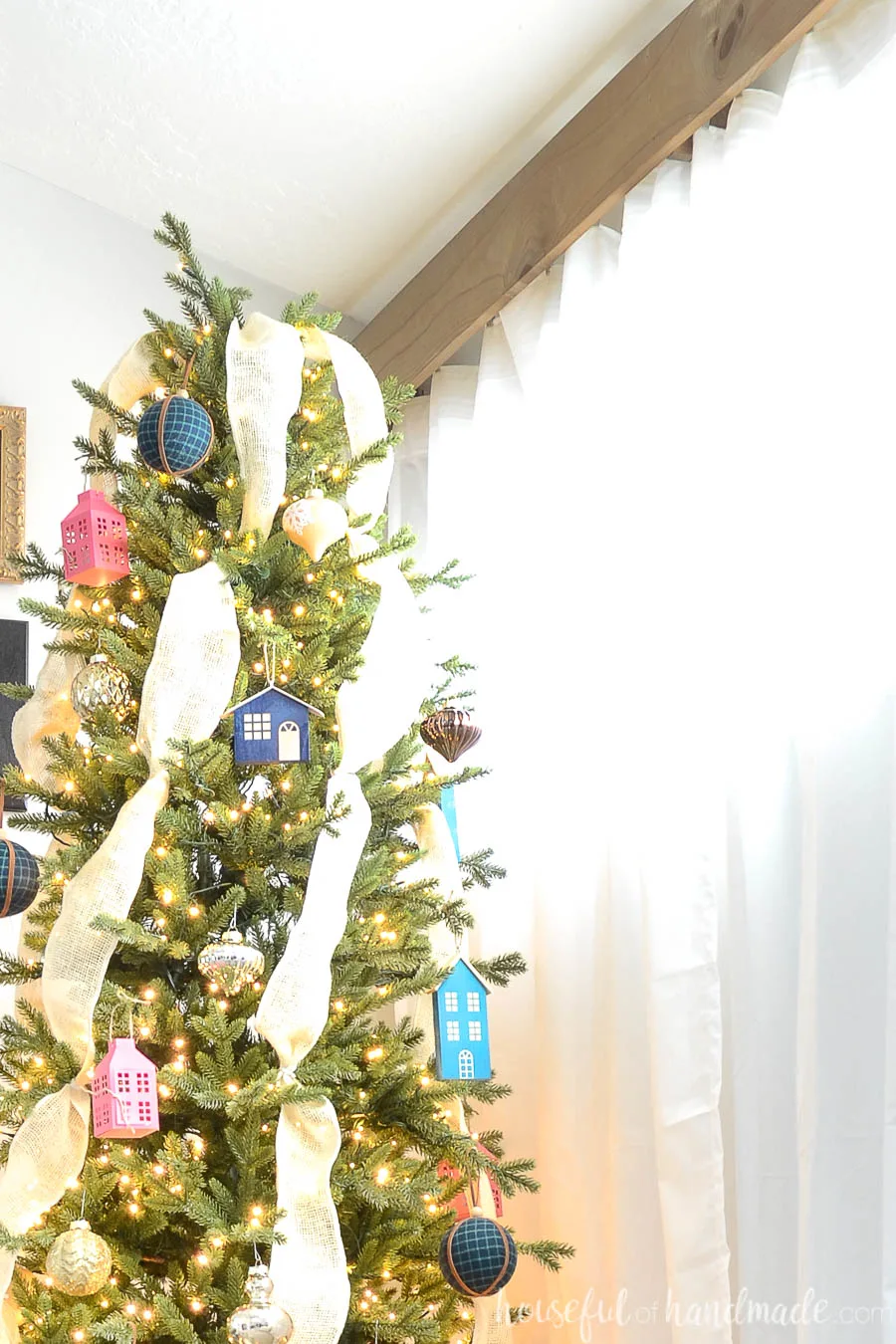 Scrap Wood Project
I love that these houses are made not only from scrap wood, but from very small pieces of scrap.
If you are anything like me, you tend to keep any scraps bigger than 3″. That makes for lots and lots of scraps piling up in the wood shop.
And it doesn't matter what kind of wood you use for these little houses. Some of mine are made from inexpensive whitewood, some from poplar scraps and a few from alder scraps.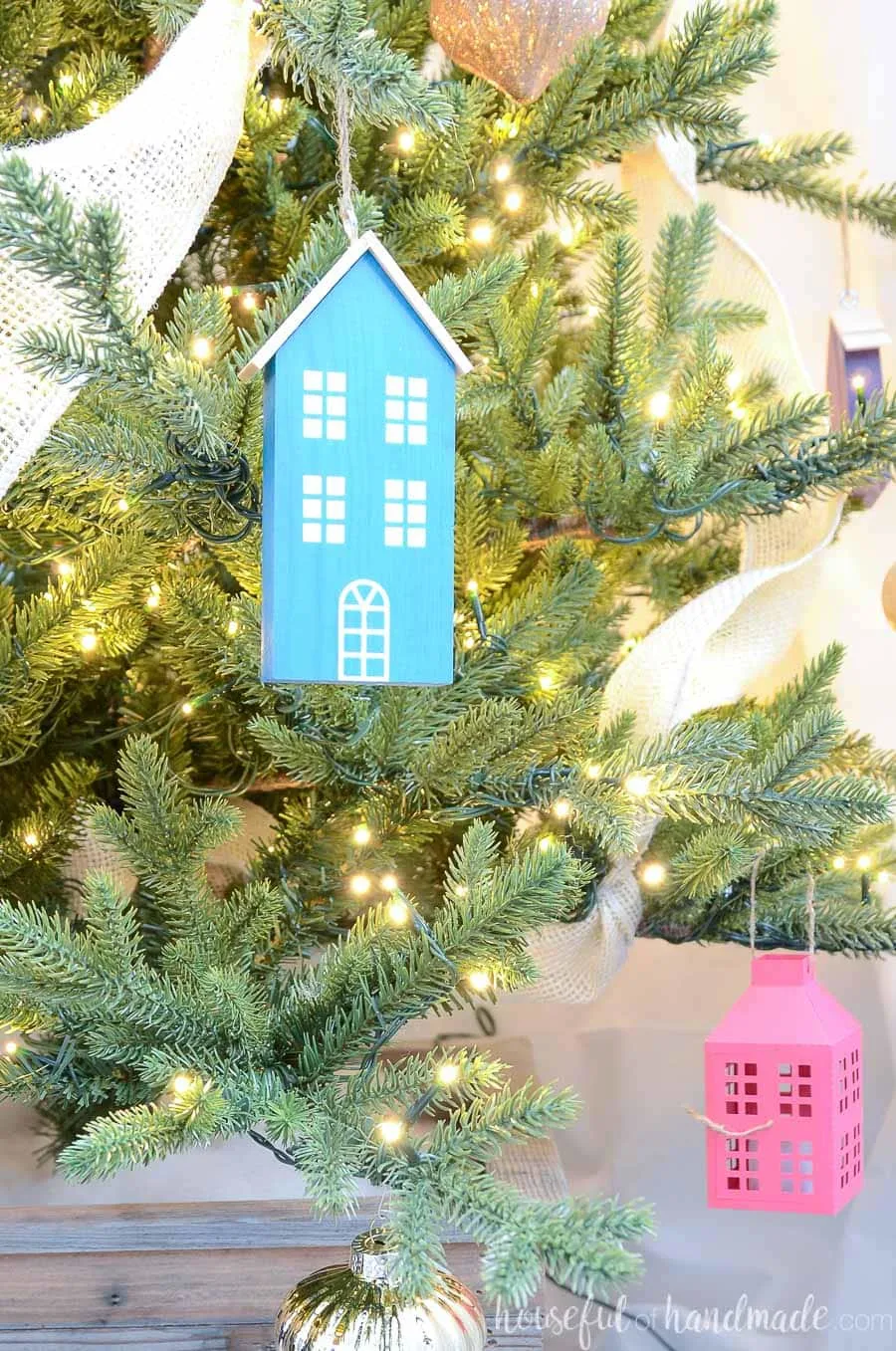 This is the perfect opportunity to use up whatever scraps you have. But even if you don't have scraps, you can still make these cute Christmas house ornaments.
Just purchase a 1×3 and a 1×4 and you will have plenty of wood to make an entire village of houses. They would be perfect for tying on top of Christmas presents or give a couple with a few treats for neighbor gifts.
Ornaments or Decor
I made my Christmas houses into ornaments for my tree. The scraps of 1×3 and 1×4 are perfect for a nice sized Christmas ornament.
But you can also make these into the perfect Christmas decor. The smaller sized houses will perfectly tuck into bookcases or on shelves.
Or you can scale them up to use up larger scraps. A 1×6 board is 5 1/2″ wide so you can scale them up to make larger versions. I just adore the idea of making a village with a variety of larger and smaller houses.
If you decide to do this, please send me photos cause I can only image how adorable it would be… maybe I'll have to fit it into my busy Christmas schedule 😉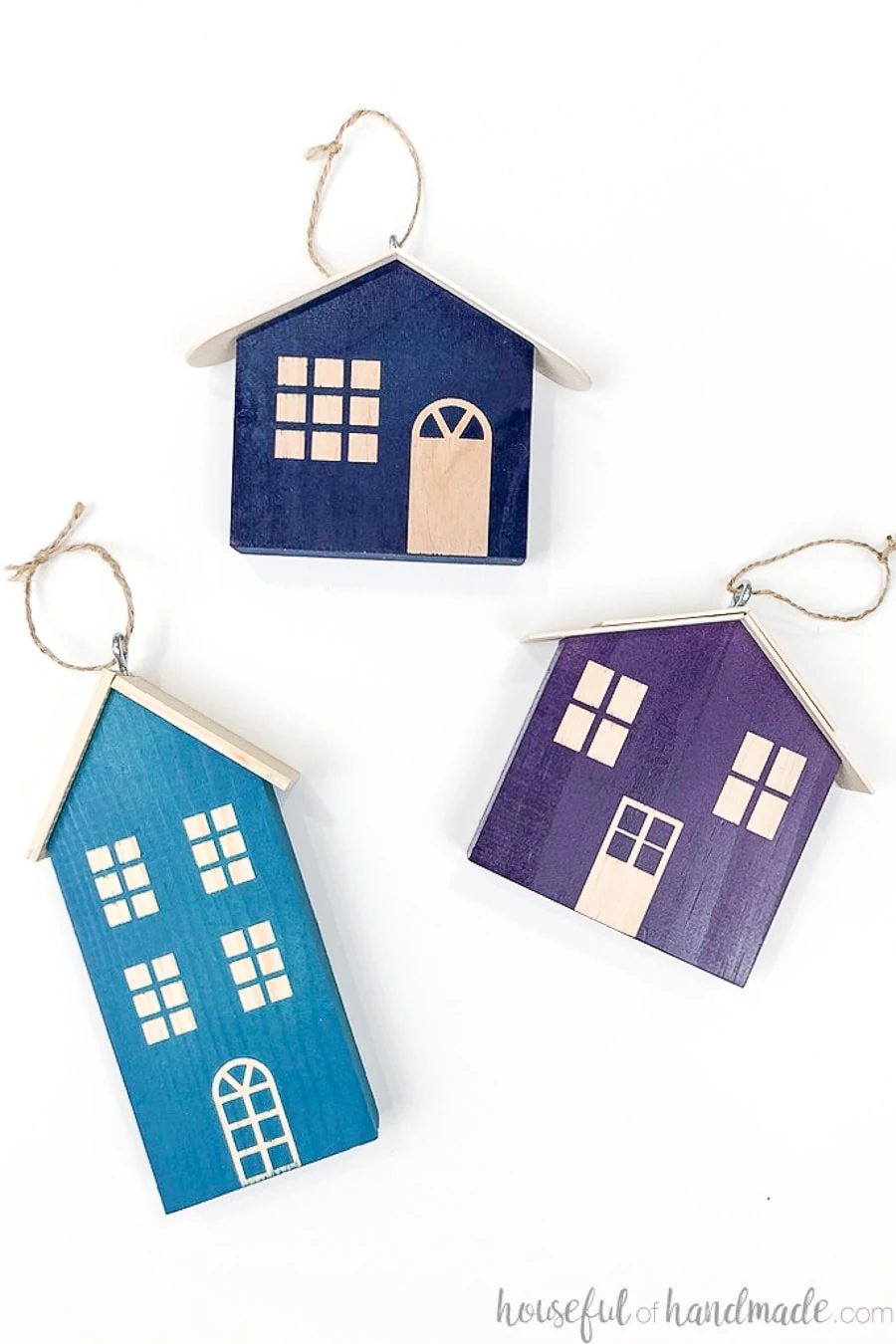 And for more fun DIY Christmas ornaments, check out these other fun projects.
How to Make Wood Christmas Houses
Tools Needed:
Miter saw
Electronic cutting machine
Measuring tape
X-acto knife or handsaw
Supplies:
Scraps of 1×3 and 1×4 boards
Paint stir sticks (quart & regular)
Sandpaper
House vinyl templates

I am sharing the SVG & PDF for these scrap wood Christmas ornaments in my subscriber library. Click here to subscribe to my newsletter and gain access to all the freebies. If you already have your password, click here to go to the library download them.

Vinyl
Transfer paper
Craft paint
Super glue
Optional: Small eye hook screws to make them into ornaments
Cut the pieces of scrap wood on the miter saw.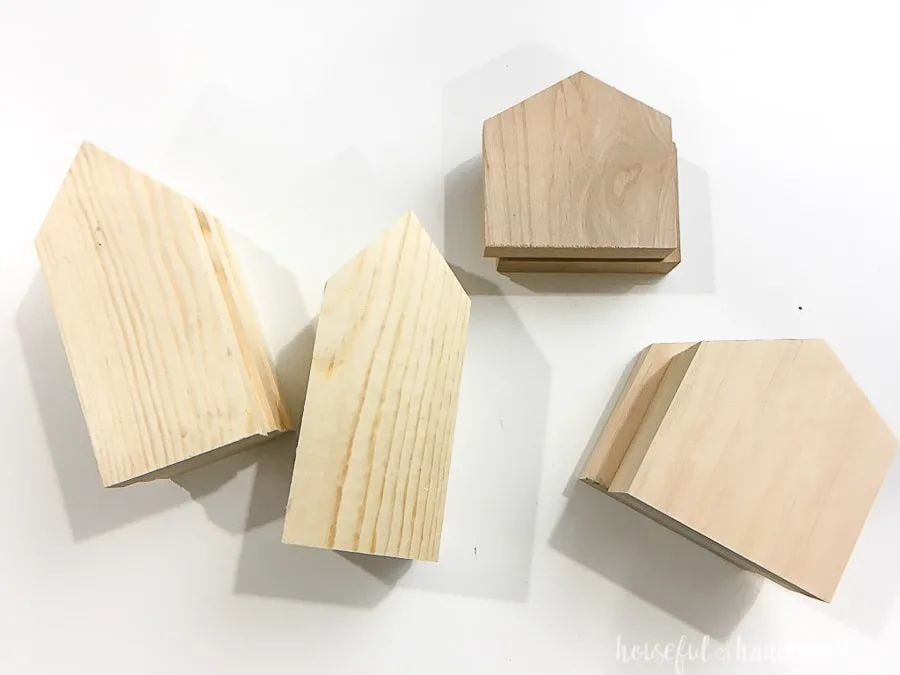 I used the following measurements to make my houses. You can make them any size you want, but these sizes will perfectly fit the vinyl template I am sharing.
Sand the pieces.
Cut out the vinyl pieces. I used this as an opportunity to use up some vinyl that I didn't like the color of (that came in a variety pack) since the vinyl will only be used as a stencil.
Weed out the inside part of the house that will be painted.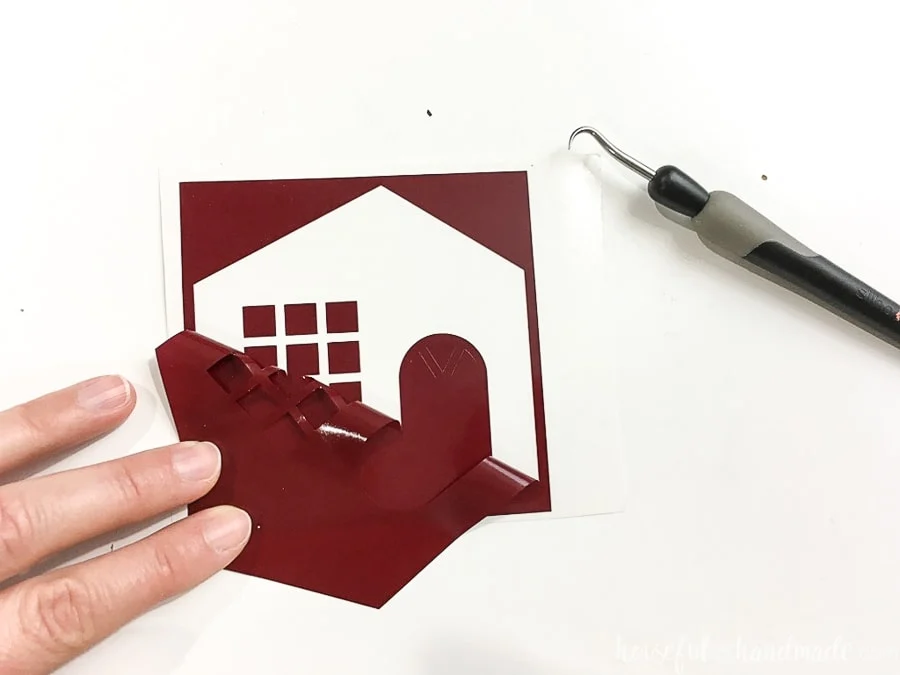 Add some transfer paper to the top of the vinyl stencil to remove it from the vinyl back and keep all the pieces in place.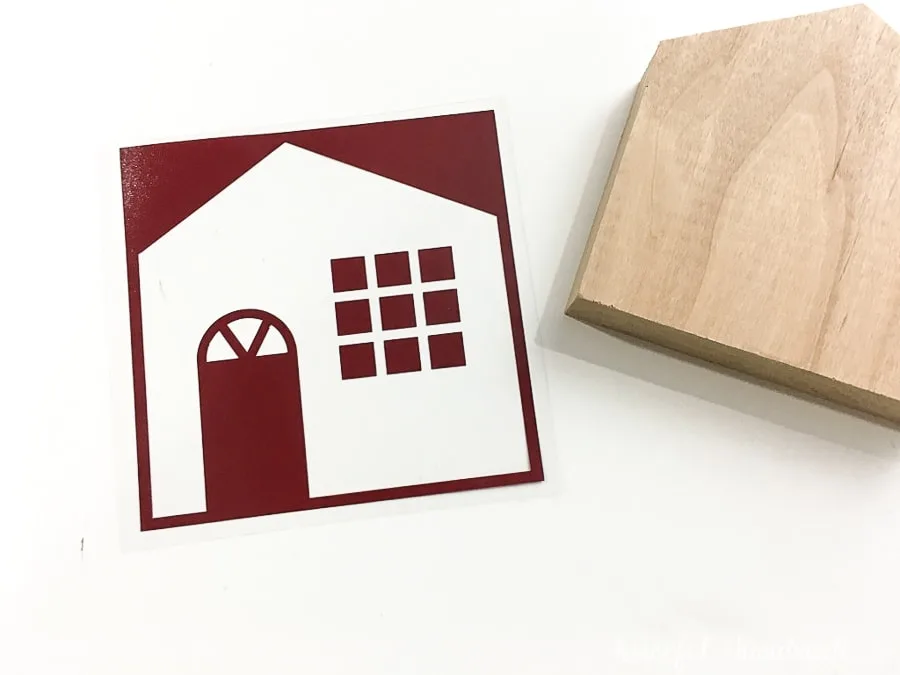 Place it on the scrap wood. The shape of the house is there to help you line up the template but will not actually be on the wood.
Remove the transfer paper (with the outline of the house).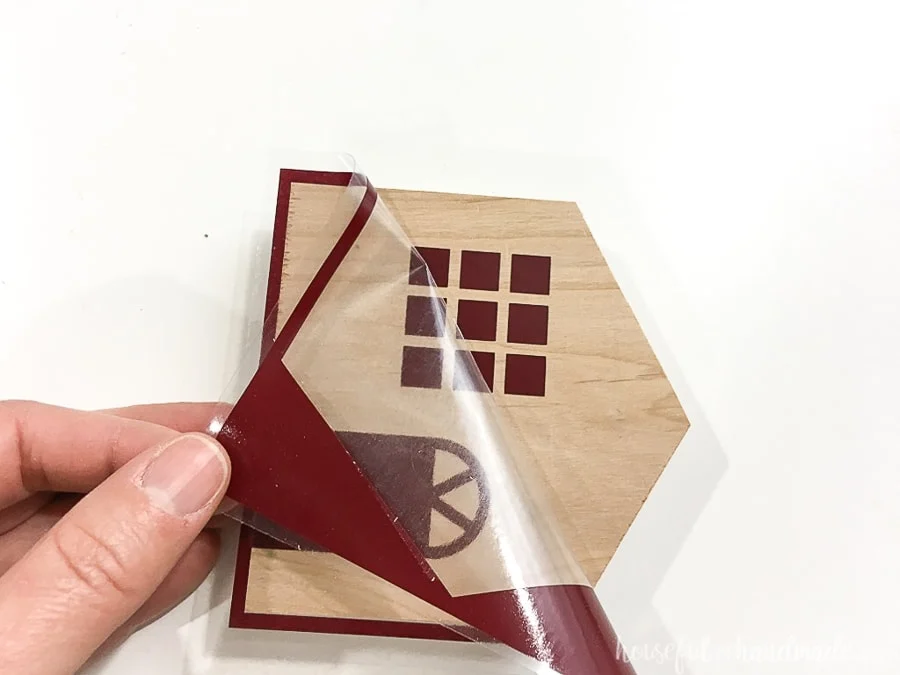 Paint the houses any color you want.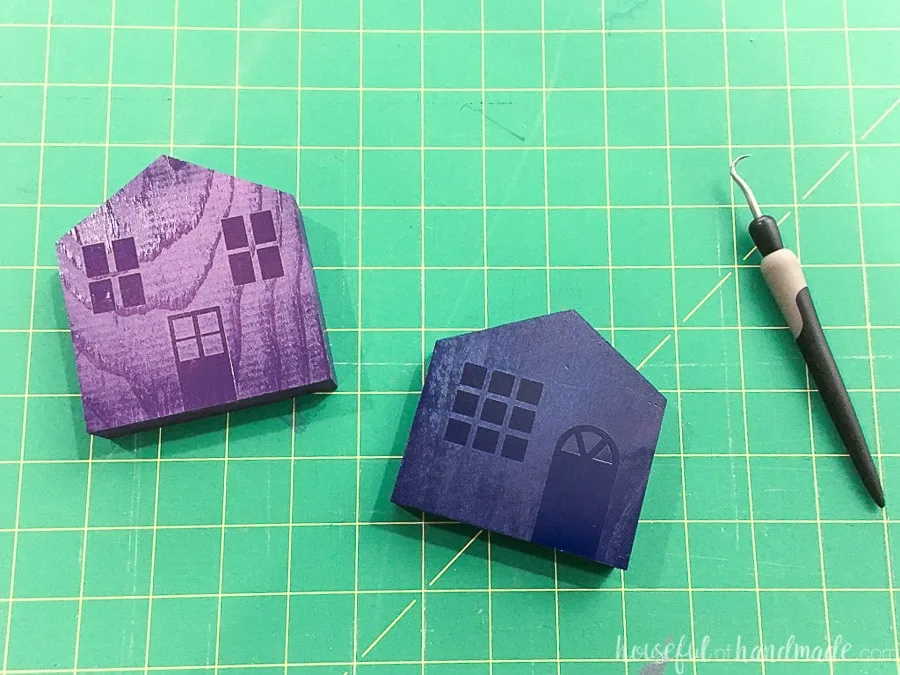 Once the paint is no longer wet, but not totally dry, remove the vinyl stencil pieces. If you wait till the paint is fully dry, it can cause it to peel up with the stencil.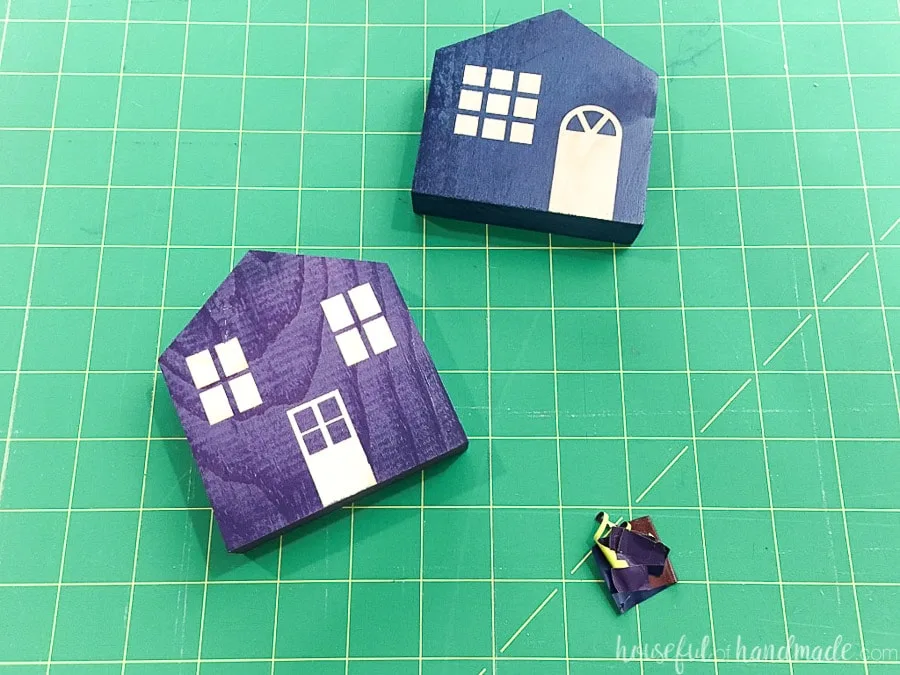 Cut the paint stir sticks to fit as roof pieces. You can use either stick and layer them however you want for different details.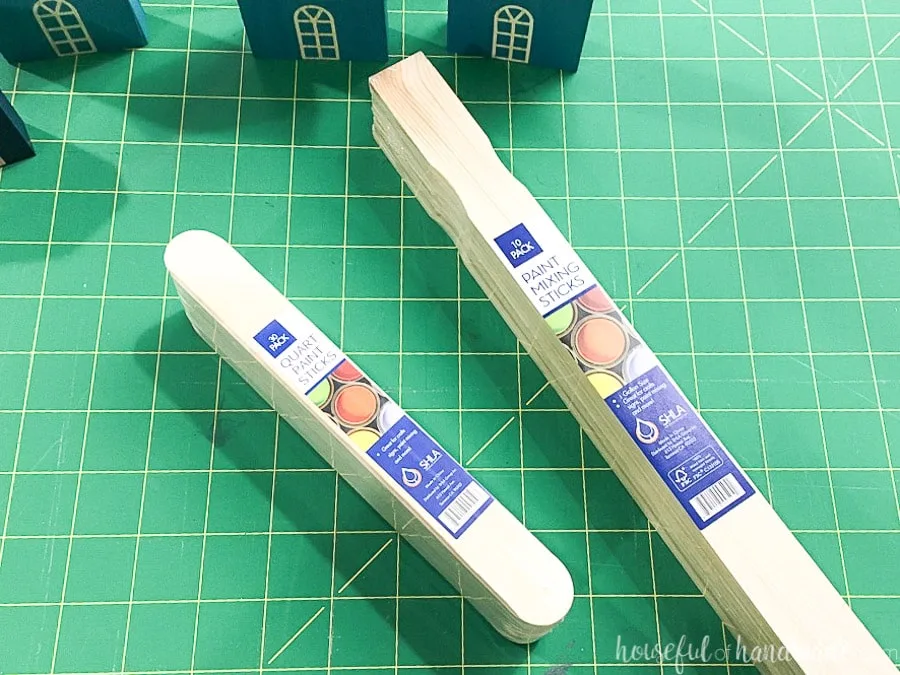 Cut them with an x-acto knife or handsaw.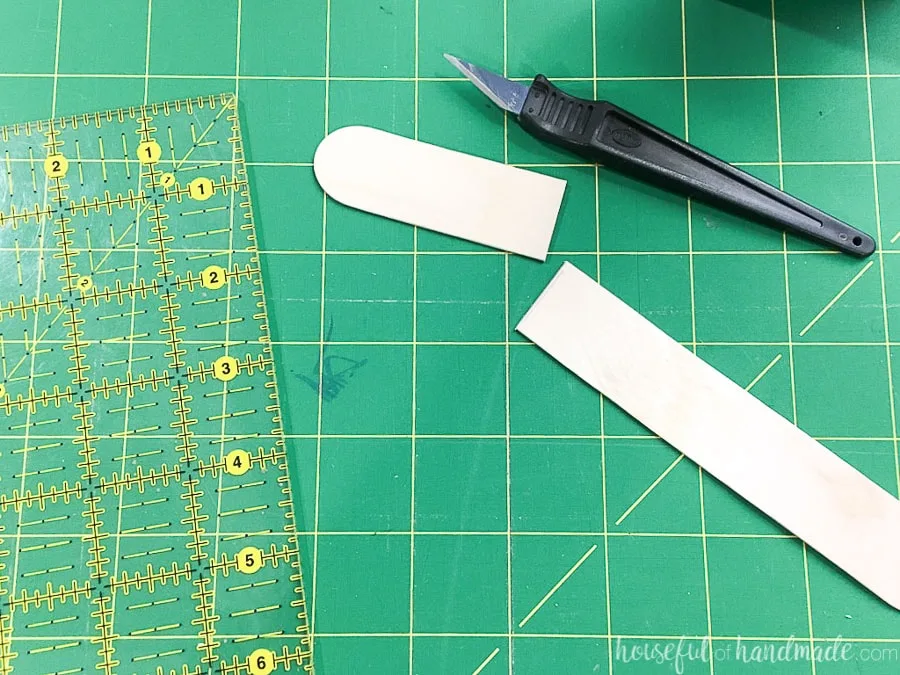 Glue them to the top of the houses with super glue. Once dry, add a small eye screw into the top of the houses if you want to hang them as ornaments.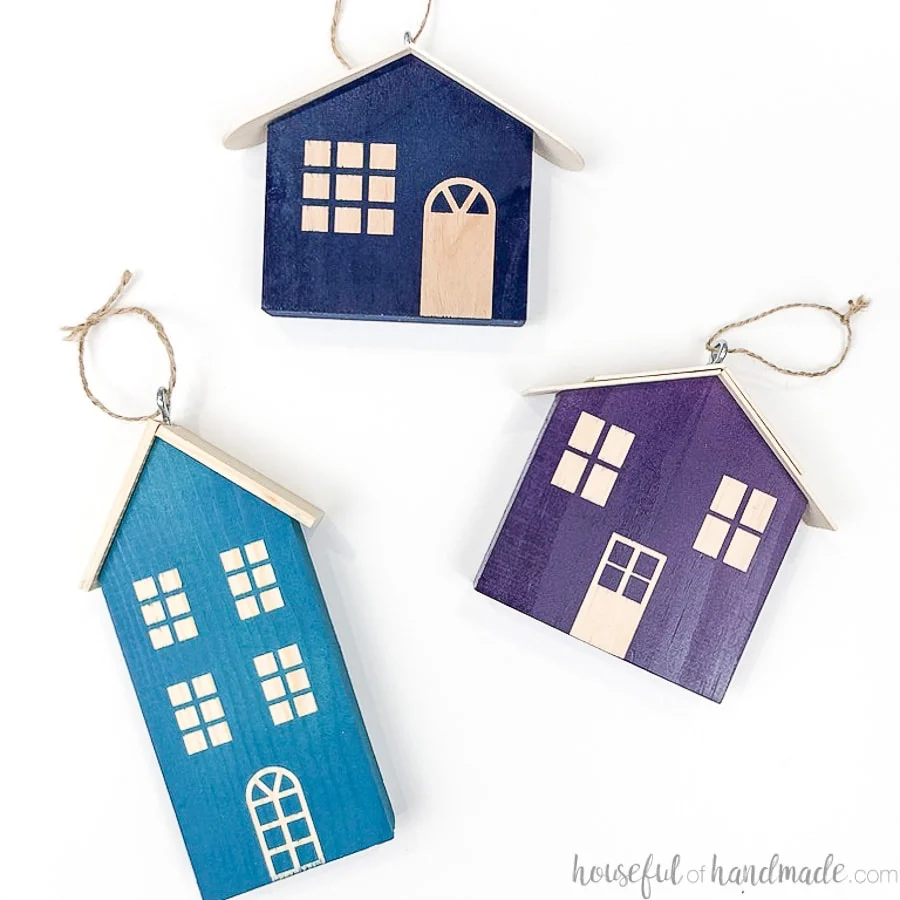 And that is how easy these fun scrap wood Christmas houses are to make.
Have fun making them any colors to match your own decor. I love the jewel colors we used for a non-traditional Christmas tree.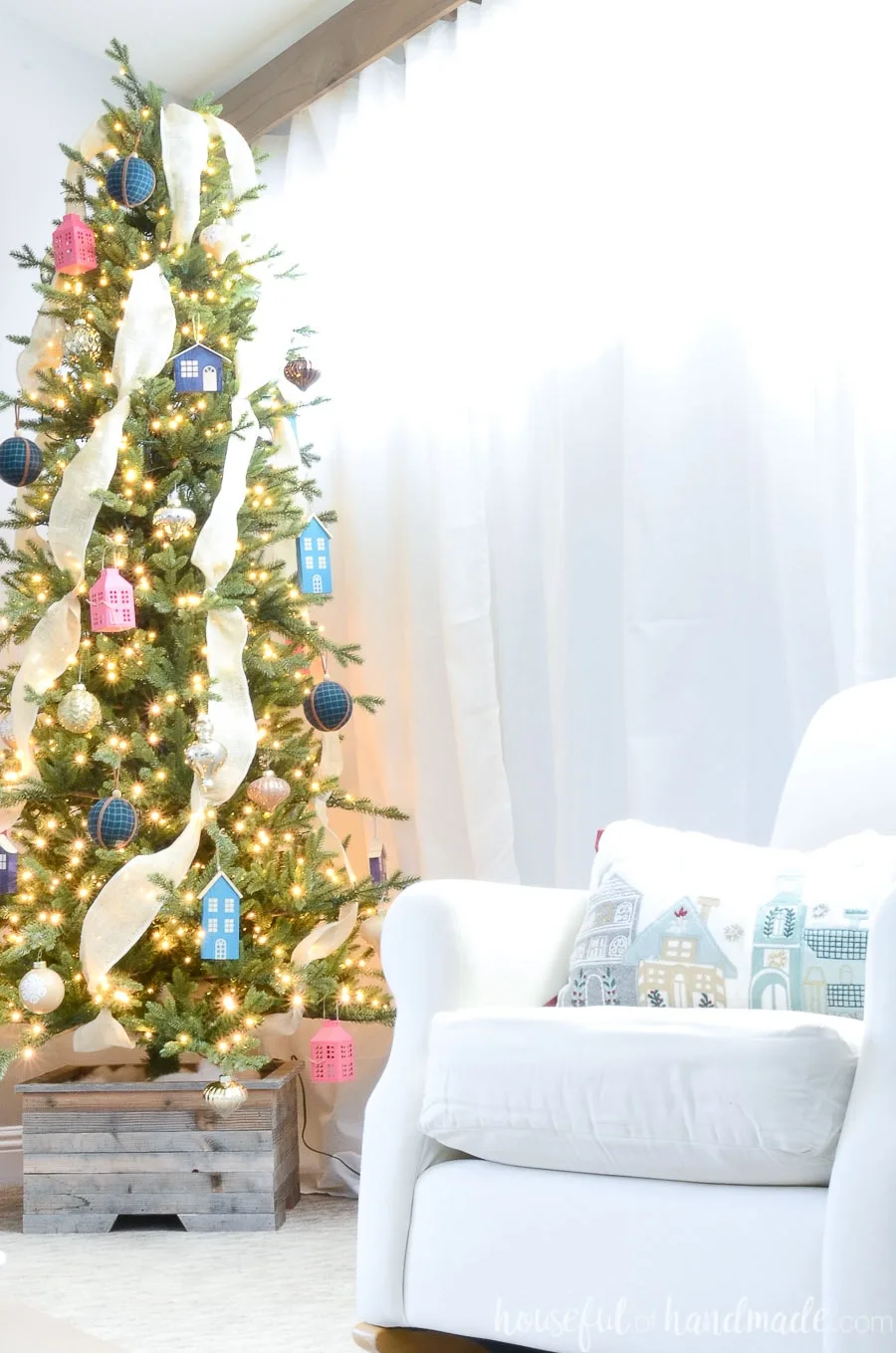 Happy crafting!