Learn how to make a window cornice box for just a few dollars. This beautiful rustic wood cornice can be made in just minutes and makes a huge statement in any room.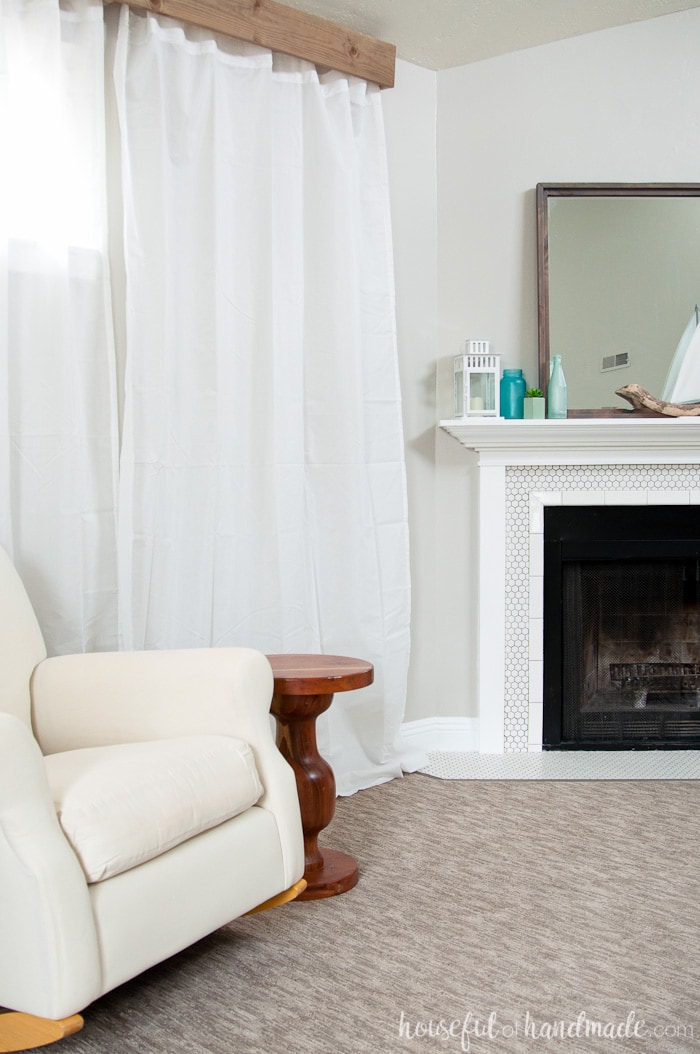 This beautiful DIY window cornice box is made out of a 1×6 board and electrical conduit. It can easily be made to fit any window and you can have your new window dressings up in no time. After you know how to make a window cornice box so quickly, you will want to add them to every window in your home.
It has been a while since I shared the reveal of our new living room. This room has been through a huge transformation with the vintage inspired farmhouse fireplace makeover, new rustic railings, the perfect greige paint color, and finally new carpet. And when I shared the pictures of our new room, everyone was in love with the wooden valance over the windows. Now it's time I share how to make a window cornice box so you can make one (or two).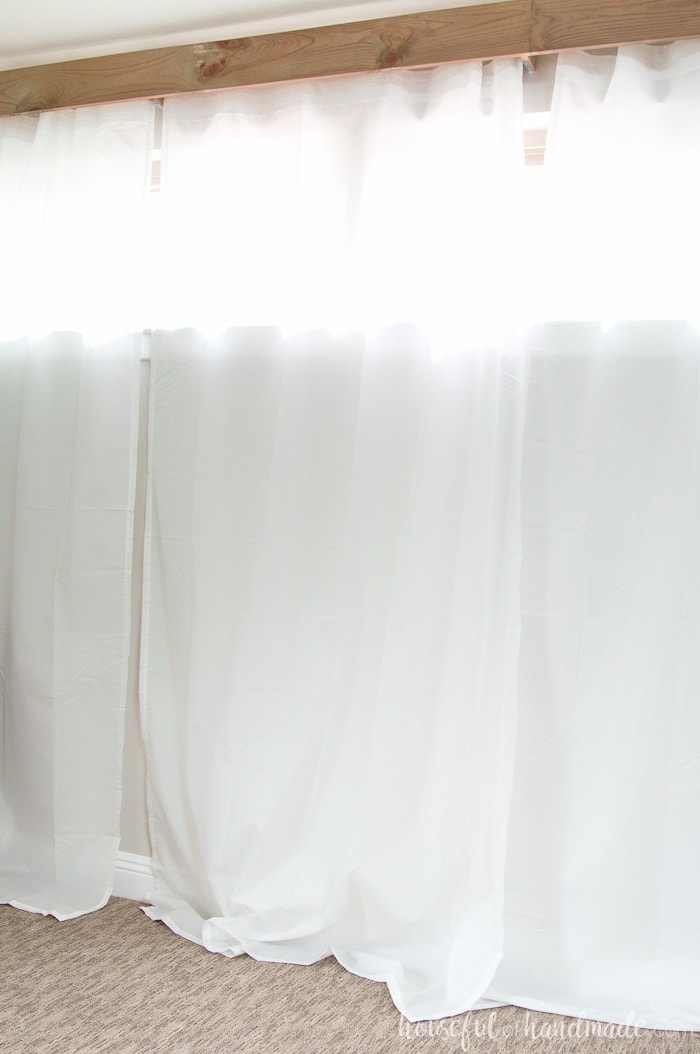 This beautiful DIY window treatment is so easy to make I almost forgot to share the how to. But after so many comments, I decided it was time to move the window cornice tutorial to the top of my to do list! You are going to want to get yourself some 1×6 boards immediately and transform all your windows this weekend it's that easy!
The windows in our living room have been a challenge for me since we moved in. They are not symmetrical on the wall so anytime I hang window treatments they made the room feel lopsided. In order to solve that problem, I decided to hang curtains so they covered the entire wall, even where there were no windows. This would help solve the balance issue I was having in the space.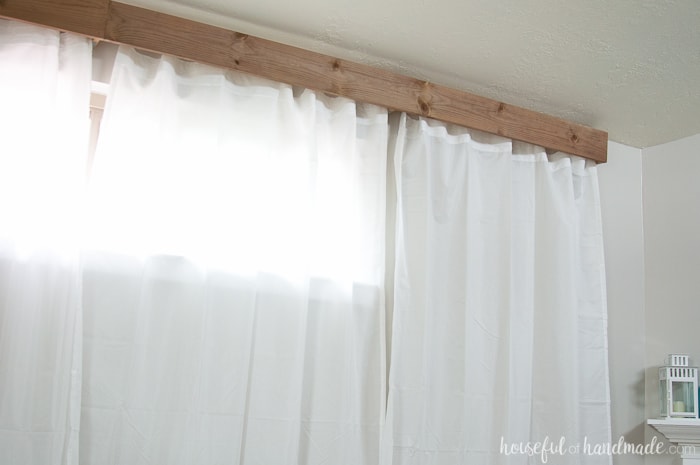 But to just hang curtains over a wall seemed weird. I needed a way to make the curtains look like they were suppose to be there. Even a bold, statement curtain rod didn't seem like the perfect fit (and they are very expensive). Instead I decided to add a DIY window cornice box above the windows and the wall. It gives the illusion that the windows continue under the curtains.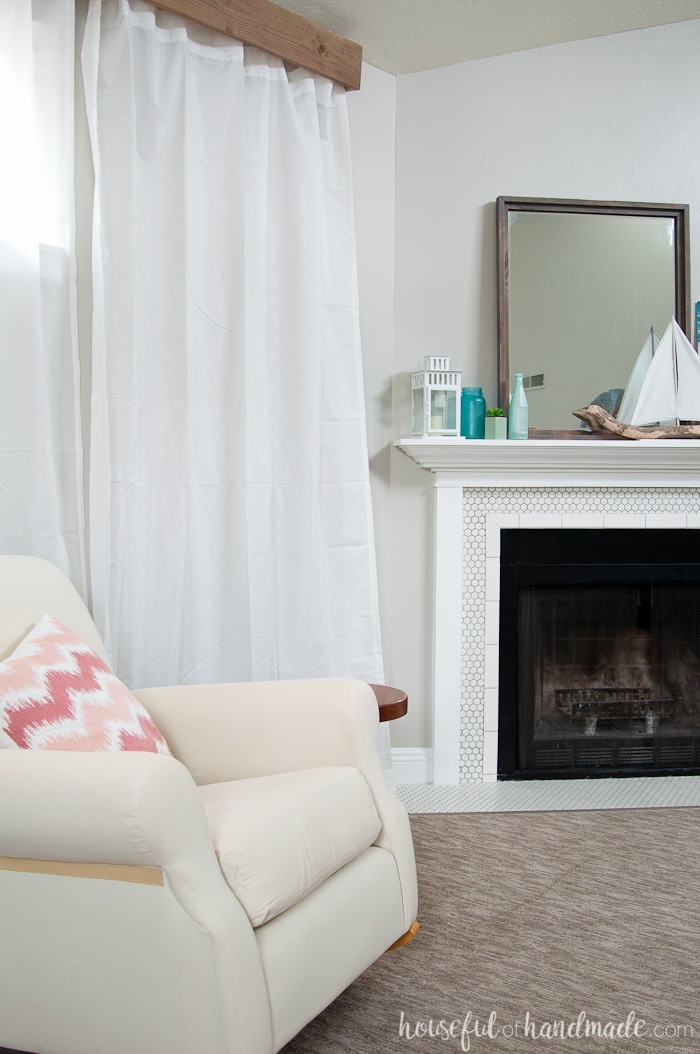 The new window cornice is so simple to make too! The only challenge I had was needing a second pair of hands to hang it because it is so large. If the wood valance was smaller, I would have had it built and hung way before my husband came home from work.
However, my favorite part of this easy DIY wood valance, is that it is so inexpensive to make. The wood for our 15′ valance cost only $10. And to save even more money, I used 2 $3 pieces of electrical conduit as the rod to hold the curtains. Can you believe we made this large window cornice box for less than $20?
Are you ready to transform all your windows? Click on the arrow below for the complete tutorial on how to make a window cornice box!