Learn how to make a window cornice box for just a few dollars.
This beautiful rustic wood cornice can be made in just minutes and makes a huge statement in any room.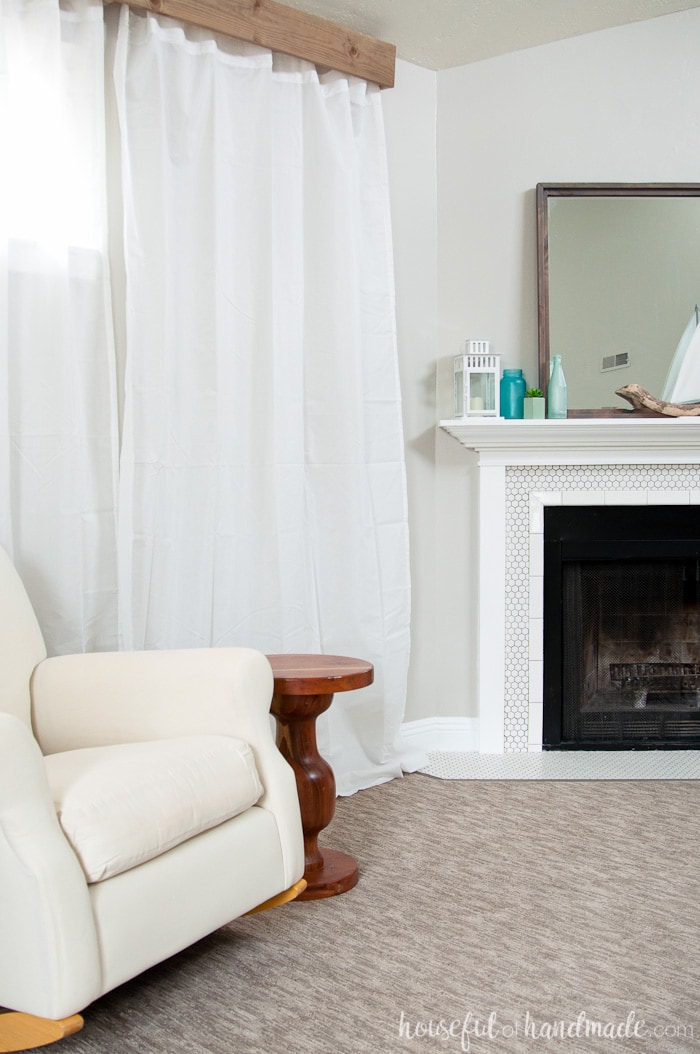 This beautiful DIY window cornice box is made out of a 1×6 board and electrical conduit. It can easily be made to fit any window and you can have your new window dressings up in no time. After you know how to make a window cornice box so quickly, you will want to add them to every window in your home.
It has been a while since I shared the reveal of our new living room. This room has been through a huge transformation with the vintage inspired farmhouse fireplace makeover, new rustic railings, the perfect greige paint color, and finally new carpet.
And when I shared the pictures of our new room, everyone was in love with the wooden valance over the windows. Now it's time I share how to make a window cornice box so you can make one (or two).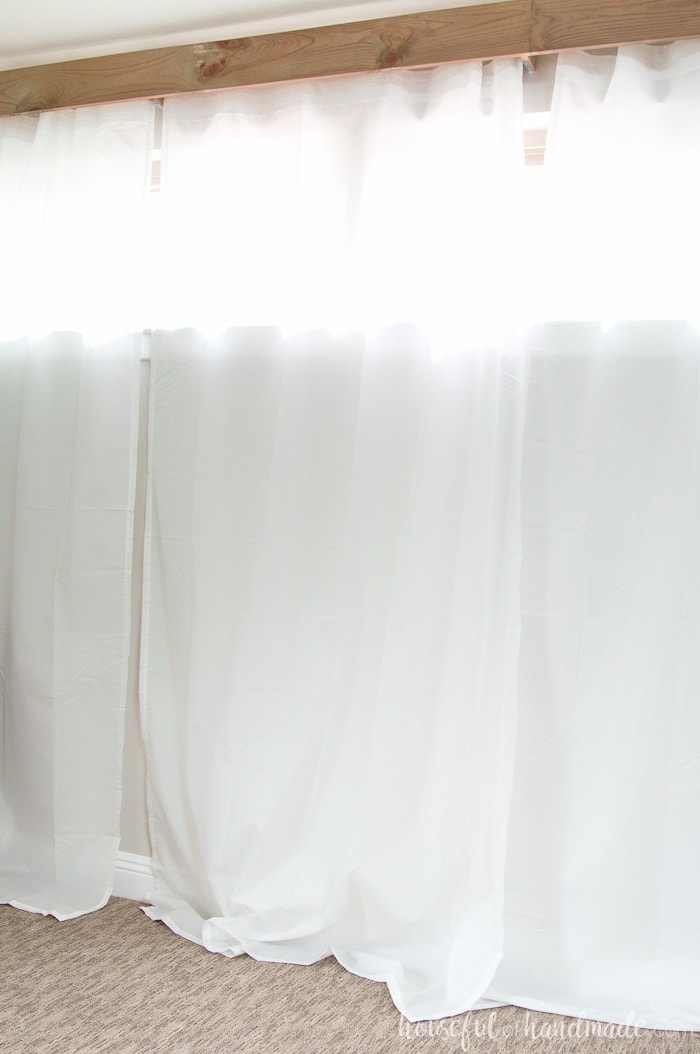 This beautiful DIY window treatment is so easy to make I almost forgot to share the how to. But after so many comments, I decided it was time to move the window cornice tutorial to the top of my to do list!
You are going to want to get yourself some 1×6 boards immediately and transform all your windows this weekend it's that easy!
The windows in our living room have been a challenge for me since we moved in. They are not symmetrical on the wall so anytime I hang window treatments they made the room feel lopsided.
In order to solve that problem, I decided to hang curtains so they covered the entire wall, even where there were no windows. This would help solve the balance issue I was having in the space.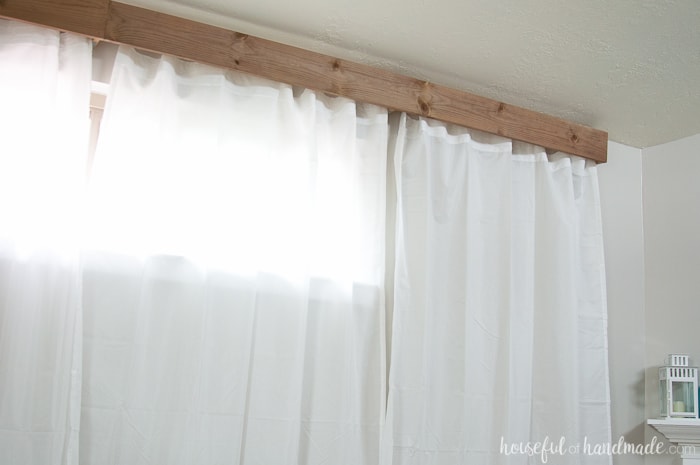 But to just hang curtains over a wall seemed weird. I needed a way to make the curtains look like they were suppose to be there.
Even a bold, statement curtain rod didn't seem like the perfect fit (and they are very expensive). Instead I decided to add a DIY window cornice box above the windows and the wall.
It gives the illusion that the windows continue under the curtains.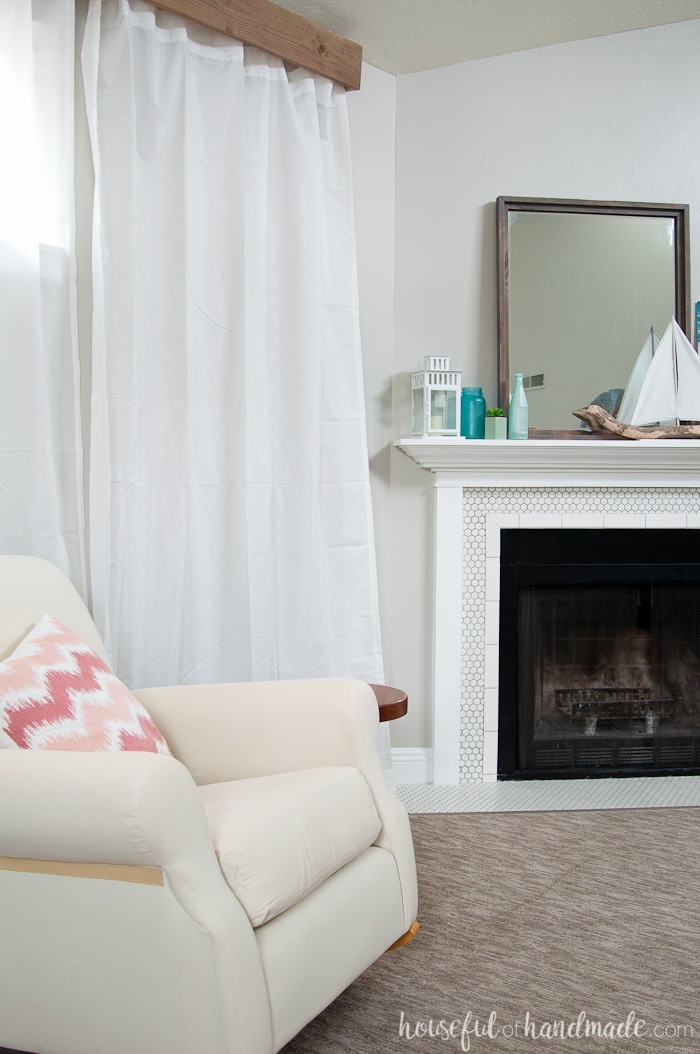 The new window cornice is so simple to make too! The only challenge I had was needing a second pair of hands to hang it because it is so large.
If the wood valance was smaller, I would have had it built and hung way before my husband came home from work.
However, my favorite part of this easy DIY wood valance, is that it is so inexpensive to make. The wood for our 15′ valance cost only $10. And to save even more money, I used 2 $3 pieces of electrical conduit as the rod to hold the curtains.
Can you believe we made this large window cornice box for less than $20?
How to Make a Window Cornice Box
Supplies:
1×6 boards

You will need enough wood to cover the length of your cornice box plus 3 1/2″ for each side. If your valance is large, you want 3 1/2″ supports at least every 4 feet.

1/2″ electrical conduit
2 1/2″ corner braces

You will need one for each end and support piece.

1 1/4″ wood screws
2 1/2″ wood screws
Saw

I love my miter saw and use it for almost every woodworking project. This one is the one I have and it is inexpensive but has worked perfectly for me for the past 5 years. Since there are only a couple cuts, you can also do it with a hang saw, jig saw or circular saw too.

Drill
Nail gun with 1 1/4″ 16 gauge finishing nails
Wood glue
Stain or paint
Optional: Kreg jig for joining 1×6 boards to make extra long valance
Optional: Curtain clips and curtains
Cut your 1×6 board to the desired width of your rustic cornice box. I recommend extending your cornice at least 2-3″ past each side of your window. It will make the window look larger and allow the curtains to hang to the sides of the windows. If your valance is larger than your board (like ours), you can use the Kreg Jig to join two 1×6 boards together to create a long board.
Cut 2- 3 1/2″ pieces from the 1×6 for each end of the cornice box. If you cornice box is larger than 4′, cut a center support for at least every 4 feet. My DIY cornice box is 15′ and I used 3 center supports so they are every 3′.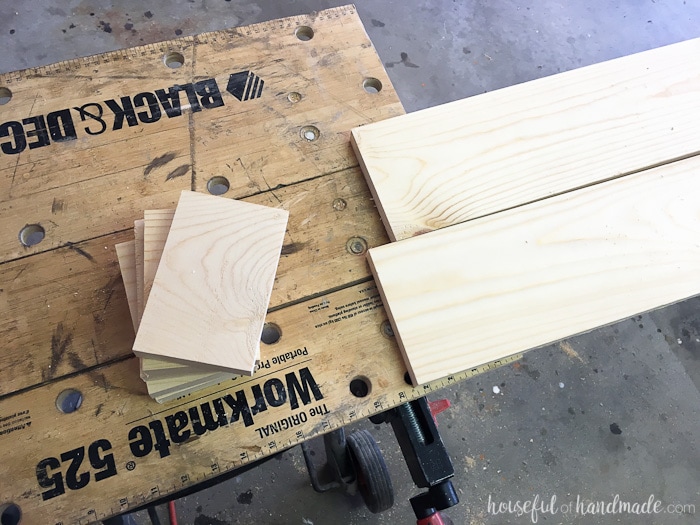 Mark the center of each end board and center support. Drill hole through each of the center supports just large enough to slide the electrical conduit through. Drill a hole 1/2″ way through each end board.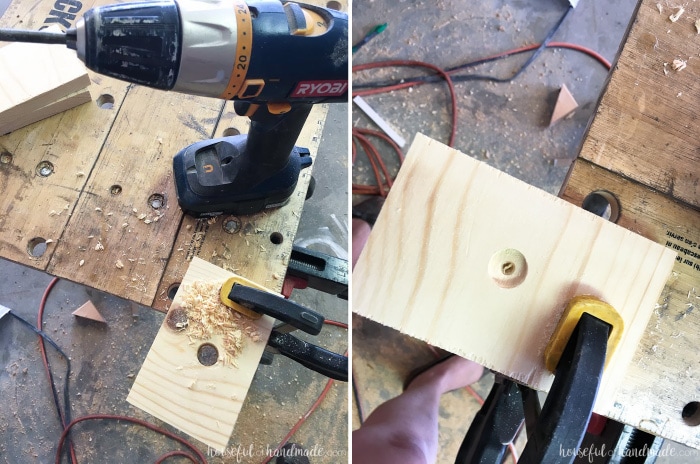 Sand and stain (or paint) all the pieces of wood.
Attach the corner braces to the wall where you will be hanging the end pieces and center supports with the 2 1/2″ wood screws. They will create a little ledge off the wall. Make sure the screws are in the wall studs, or use heavy duty sheetrock anchors. These will be holding the weight of the cornice box and the curtains.
Secure one of the end pieces of the box to the corner brace with the 1 1/4″ wood screws so it is sitting on top of the L that is coming off the wall. Then you will want to secure any center braces. Because our valance was so large, I found it was actually easier to place the center supports on the electrical conduit before securing them to the wall because I wouldn't have room to feed them through the secured supports.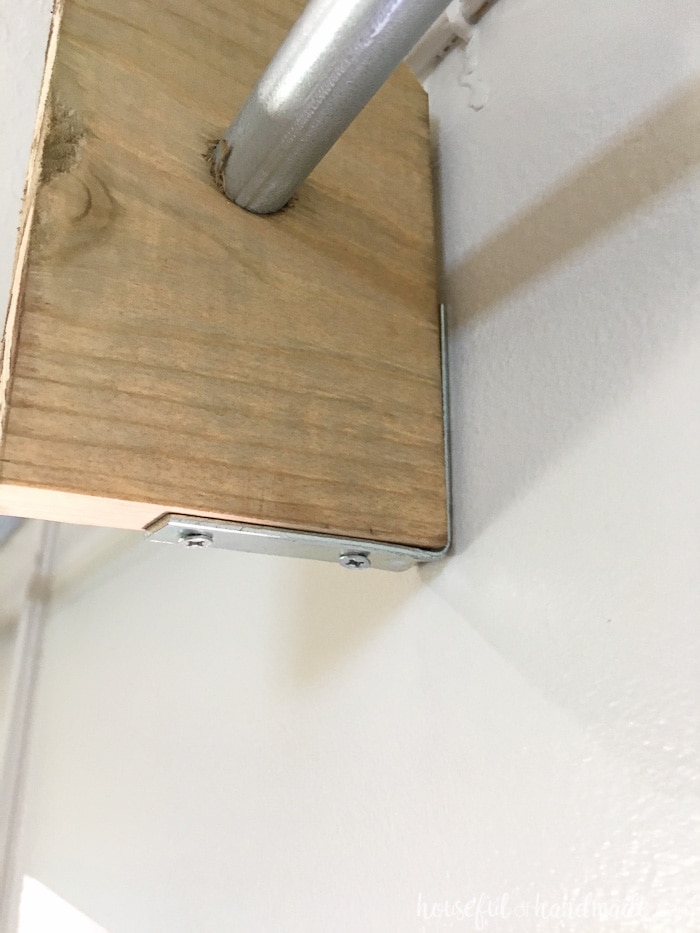 Cut the conduit to the length of your cornice board, minus 3/4″. Because your conduit will only go into the end pieces 1/2 way. If you are using curtains, you want to add the curtain clips to the conduit before securing it between the ends and center supports (I evenly spaced mine between each center support).
Feed the conduit into the end and any center supports that are already secured to the walls. Cap off the other end with the end piece and attach it to the remaining corner brace.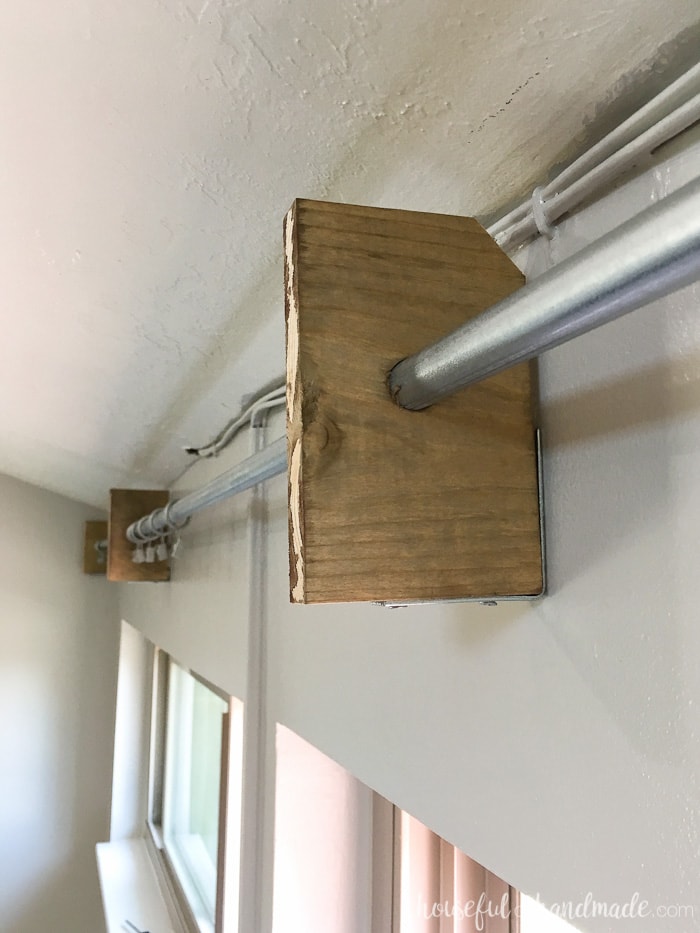 Add wood glue to the front of each end piece and center support piece. Place the front of the cornice box on top of them and attach with 1 1/4″ 16 gauge nails. You could completely build the cornice box with the conduit inside before attaching it to the L corner braces if you want, but because of the size of ours, it was easier to build it on the wall this way.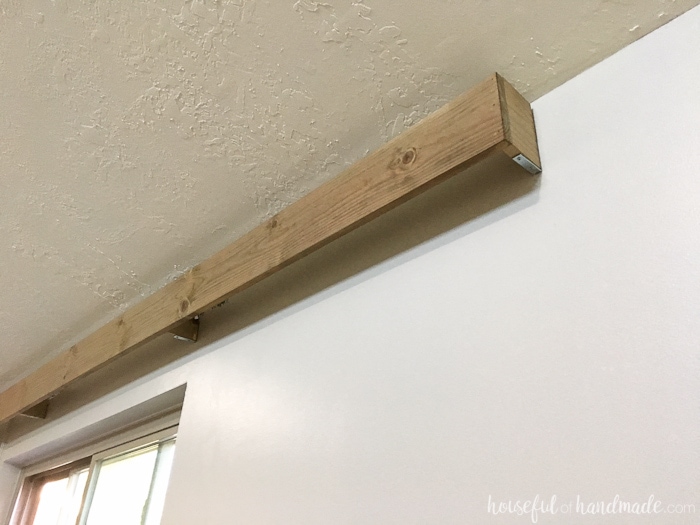 Now that you know how to make a window cornice box, all you need to do is attach your curtains to the curtain clips and admire your work. Everyone that visits comments on how beautiful our DIY cornice box is and I love the way it is balancing out our problem window area.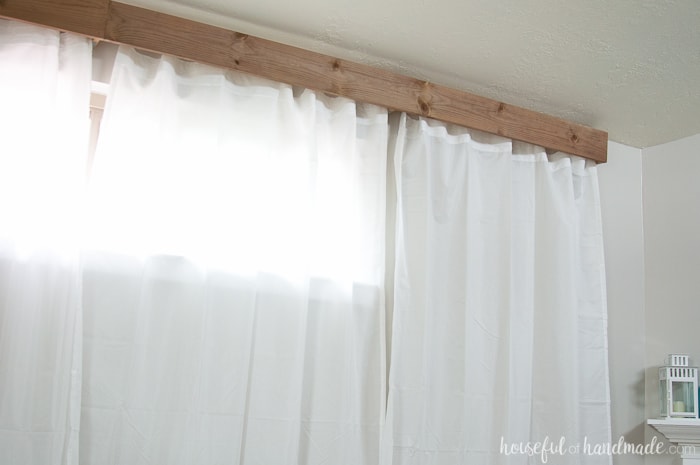 If you loved this easy DIY, make sure to check out the rest of my DIY decor tutorials.