Join us for a review of the most popular DIY projects from the year.
2018 was an amazing year! It was also a year of big DIY projects. I am so thankful that you joined us for our journey. And now we have such an amazing home that we love to share with friends and family.
Is the house completely done?
Nope, even after 15 years in our home we still have rooms that need love. That is the best part of this DIY journey. But before starting the project list for 2019, I like to look at what we accomplished. It makes those long days and sore muscles worth it.
I looked back at the analytics to see what were your favorite posts from the year based on which ones were most visited. And the list is such a good one. So without further ado, here are the most popular DIY projects of 2018!
NEED MORE DIY INSPIRATION??? Check out the POPULAR DIY PROJECTS OF 2020 and TOP DIY PROJECTS OF 2019 too.
#10- DIYs to Organize the Home
Who doesn't love an organized home? I know it makes me feel happier and calmer and less stressed. How about you? So to start the year, I pulled together a list of great DIYs to organize the home.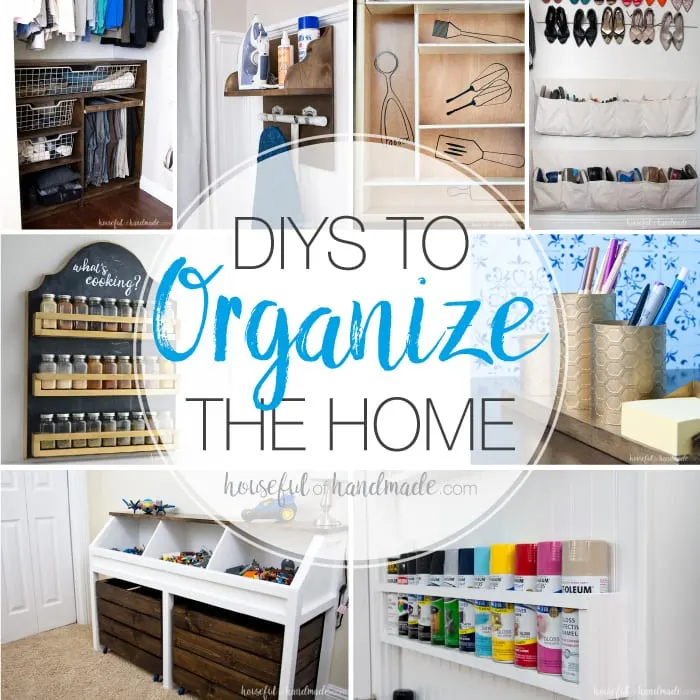 These DIYs include everything from easy kitchen drawer organizers to a beautiful spice rack that can be used to decorate the walls of your kitchen. From ways to organize toys to inexpensive plywood closet organizers. It's no wonder this was one of the most popular DIY projects!
So if you are working on organizing any space in your home in the new year, these are going to help get you started!
#9- DIY Vertical Garden with Drip Watering System
From day 1 this project was well loved and I am not shocked that it made the popular DIY list! This DIY vertical garden is great for anyone with limited space for gardening. I know quite a few people who live in apartments built one.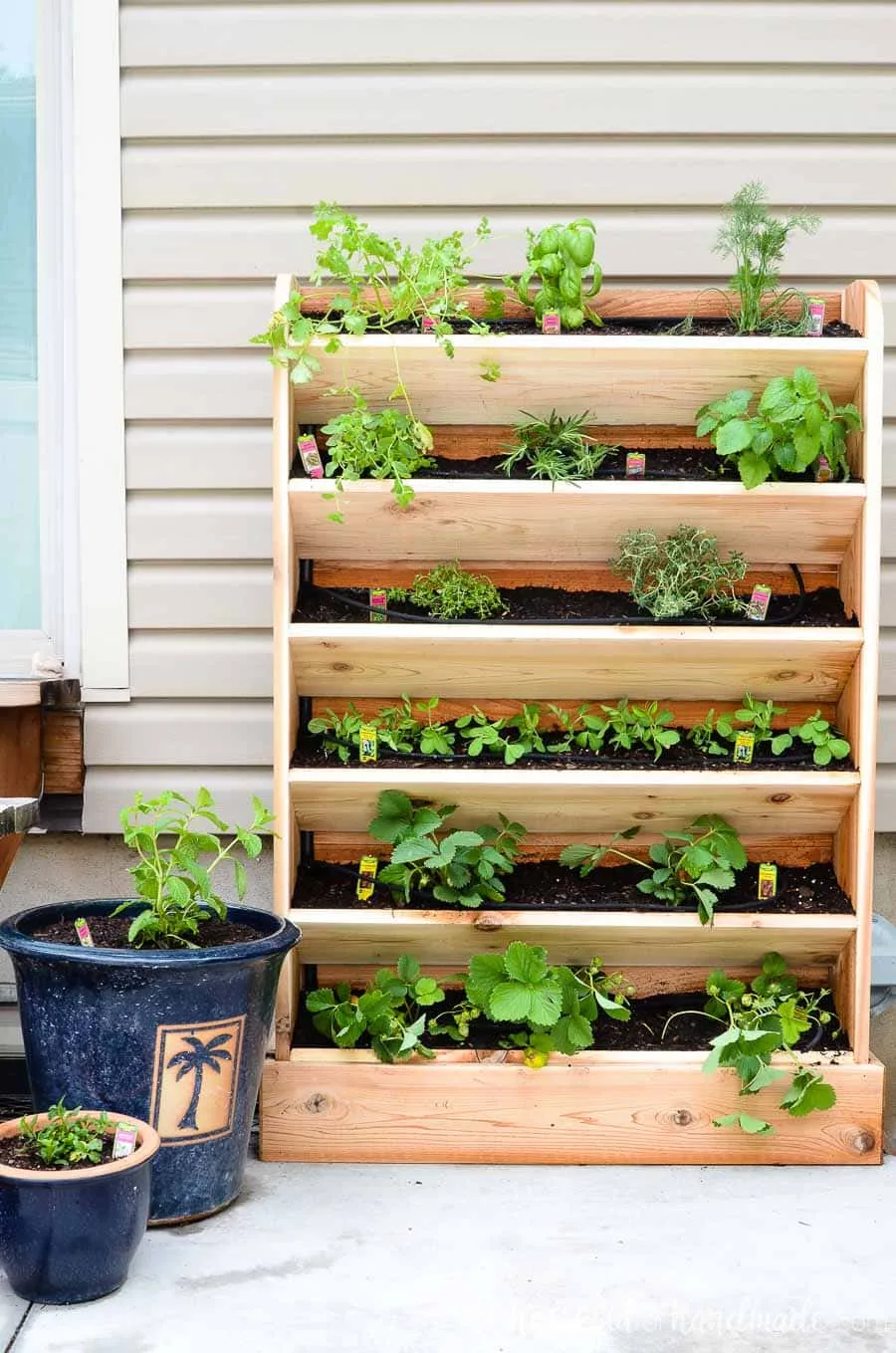 And even if you have a garden space, this vertical garden is great for adding greenery anywhere. I use mine right outside our dining room/kitchen for my herbs. That way I don't have to trek all the way to the garden when cooking.
But the best part of this amazing garden is the integrated drip watering system! Put it on a timer and you can set it and forget it. No more worrying about your plants dining when you are on vacation.
#8- Vintage Inspired Herb Prints
This spring I was on an herb kick. The vertical herb garden, an herb pattered digital background, cute little countertop herb garden, and then these beautiful vintage inspired herb prints!
These herb prints are perfect for any room that needs a little greenery, but you don't have to water them. Because they are technically food (right?), I used them as art in our dining room. But feel free to display the printable art anywhere!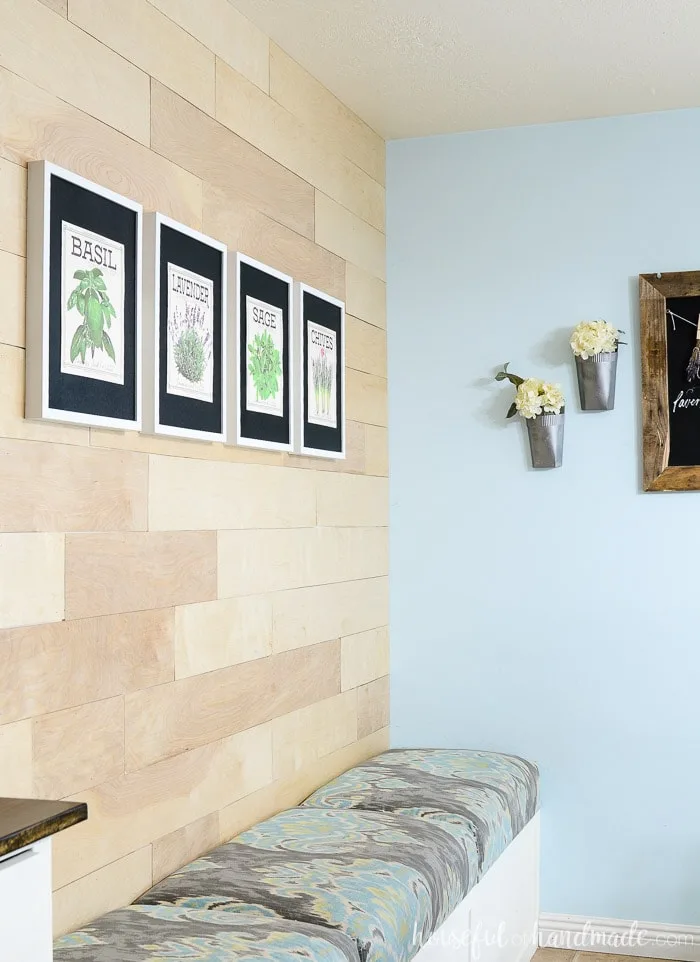 The herb prints were the 3rd set of vintage inspired seed packet art. I have always loved the look of old seed packets so I decided to make artwork that looked like them. First were these beautiful flower seed packet art prints. Next, I turned classic Christmas plants into a Christmas seed packet art set. And the next step for spring was to do the same with my favorite herbs.
#7- 28 DIY Outdoor Furniture Projects
Creating an outdoor space that is full of usable areas makes your home feel 10 times bigger. I know because I was ready to sell our house until we finally turned our small yard into amazing outdoor living spaces.
But to do that requires outdoor furniture, which can be expensive… unless you DIY it! These 28 DIY outdoor furniture projects can be built with inexpensive wood or upcycled from thrift store furniture to give you lots of options for your own outdoor spaces.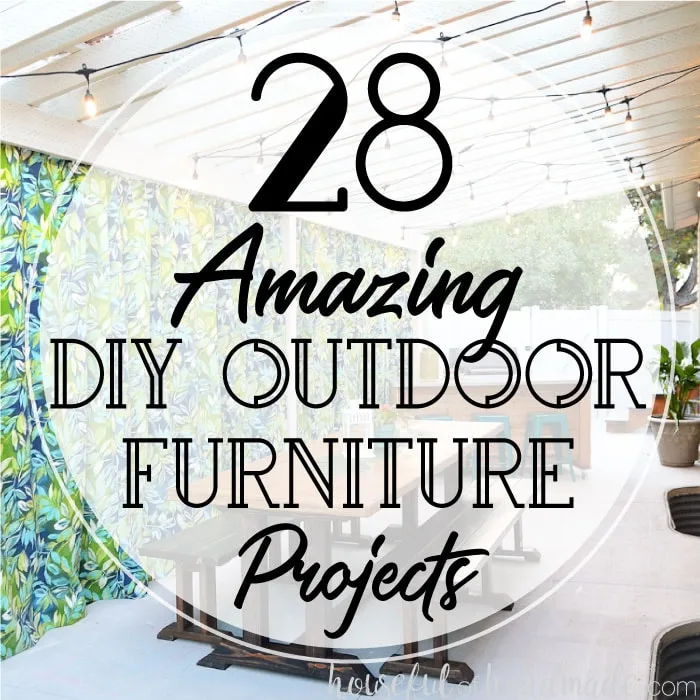 Make 2019 the year you add square footage to your home with usable outdoor living.
#6- Farmhouse Paper Towel Holder
After the budget kitchen remodel was done, it was time to decorate! My first project was this easy farmhouse paper towel holder and it an instant hit.
Instead of a standard countertop paper towel holder that holds your paper towels vertically, I decided to flip them on their side. That made room for a handy little shelf. It's where I store the hand soap and my finger nail scrubber (with all these DIYs I need it easily accessible). But you can use it for storing anything you want to keep close by but not clutter up the counters.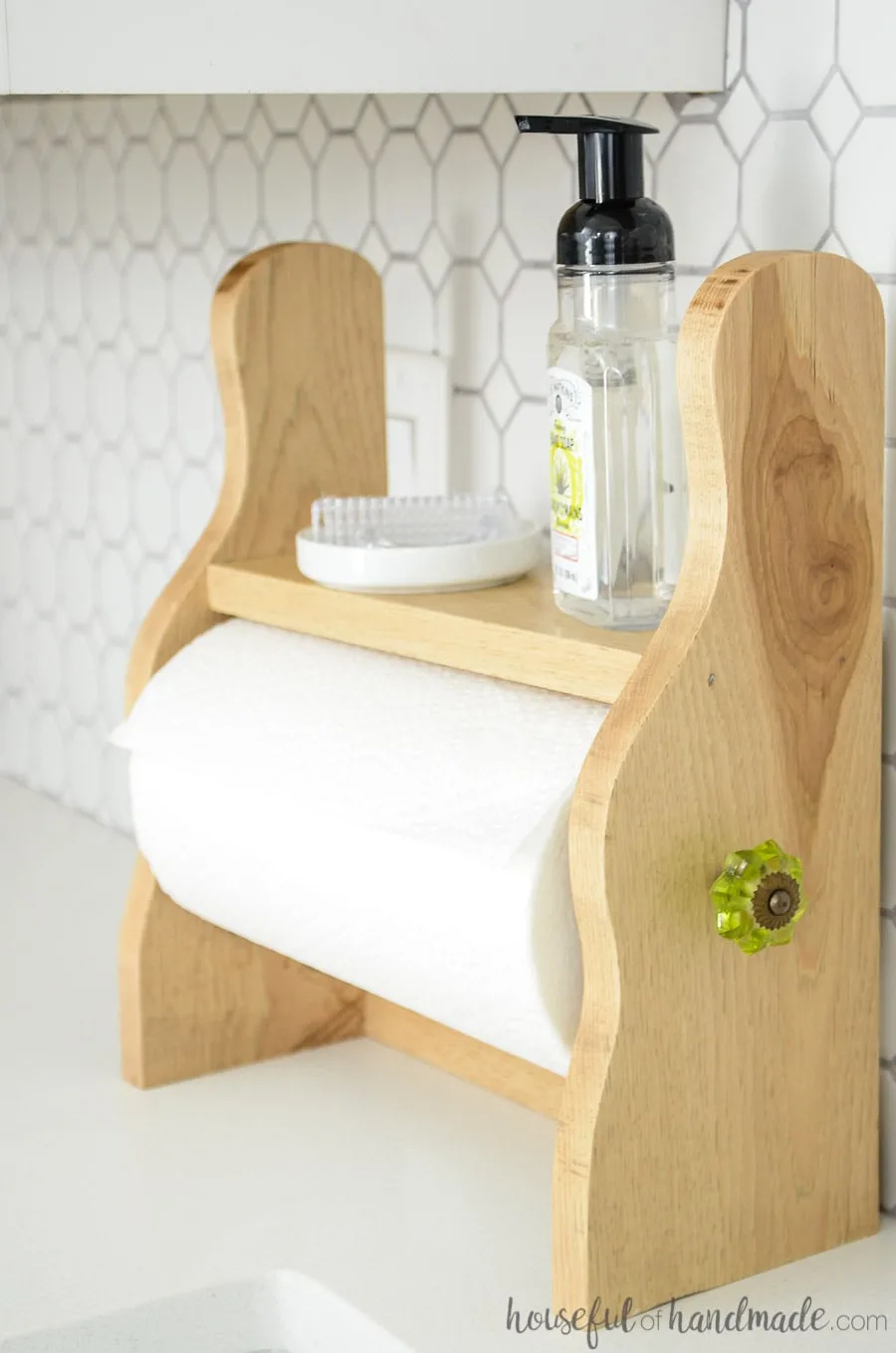 I made this paper towel holder in just 15 minutes but still use it everyday. No wonder it was one of the most popular DIY projects of the year.
#5- Stackable Laundry Basket Storage
Here is another one that was instantly a popular DIY project! Even before the paint was applied, everyone was in love with this easy storage idea.
This stackable laundry basket storage was made from 1 sheet of plywood as part of our $100 laundry room remodel. Yep, the entire laundry room was completely transformed for only $100 but looks way more expensive I promise!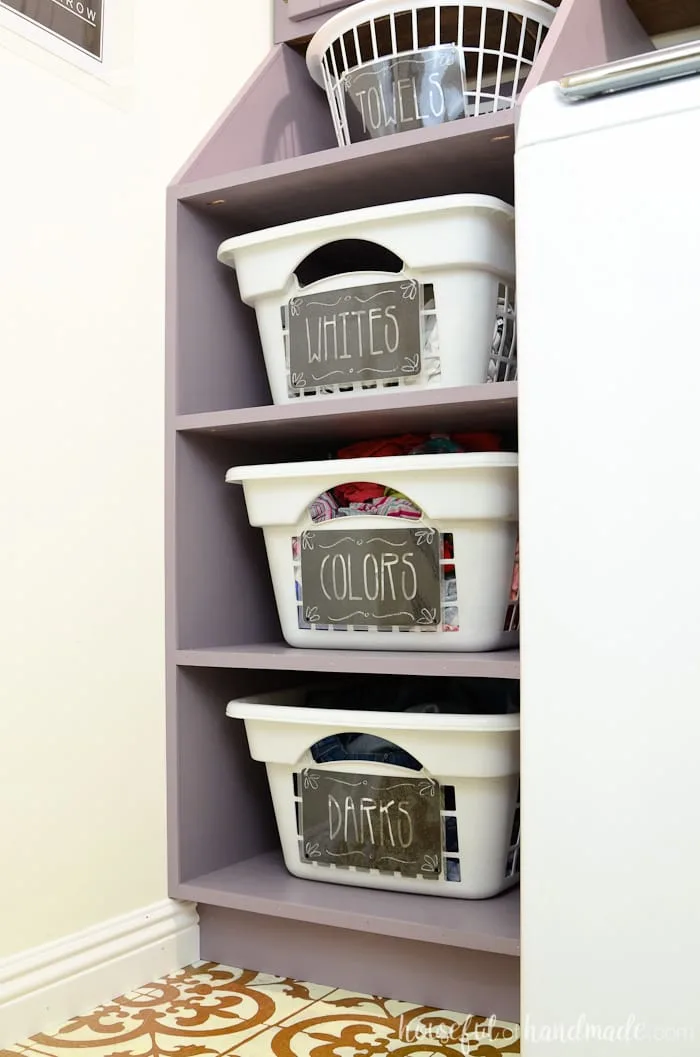 And the fact that I can have all the laundry baskets nicely stored away during the week makes me so much happier. Then when it's time to do laundry, the kids can quickly sort their own clothes and into the wash they go! This inexpensive DIY has really made my least favorite task more bearable.
#4- Wooden Spice Rack Build Plans
It makes me so happy that you love this wooden spice rack as much as I do! It is so pretty and makes finding my favorite spices while cooking so much easier. But the best part of this popular DIY project is that is looks amazing in our new blue and white two tone kitchen!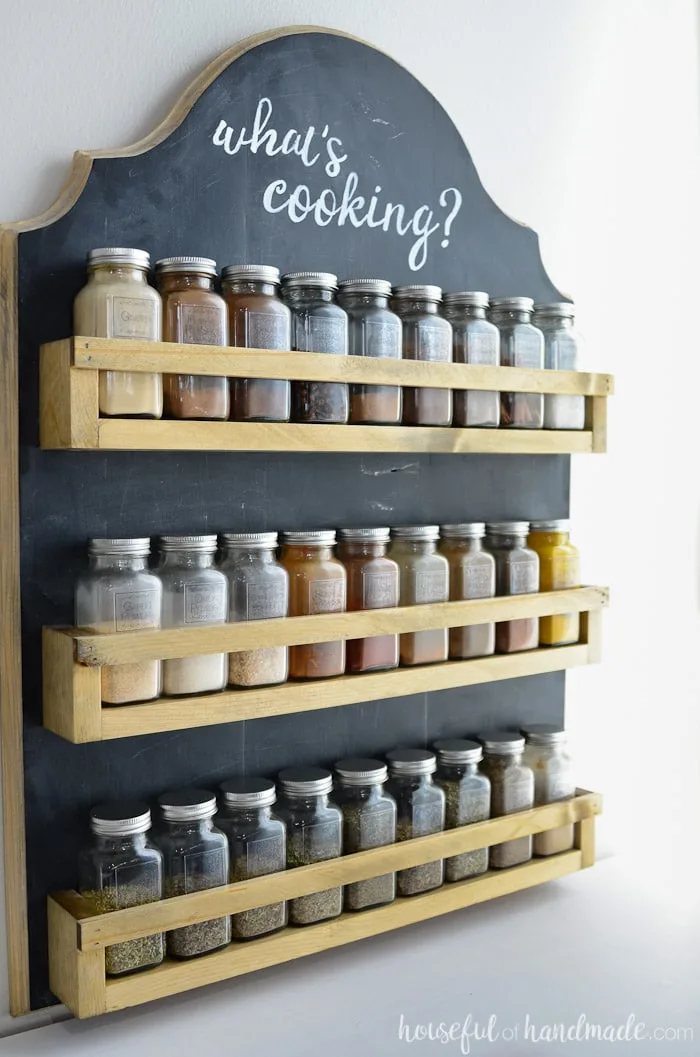 If you are looking for an easy afternoon DIY project, this spice rack is perfect. You can make it in about an hour, but will need to give it a couple coats of paint. I used chalkboard paint for the back. The spiced really pop on the dark color.
#3- How to Paint Unfinished Cabinets
For our kitchen remodel, we opted to make our own kitchen cabinets. But you can also save a lot of money buying unfinished kitchen cabinets. However, then you need to paint them!
Painting cabinets is a big job, but not a hard one. And we shared how to paint unfinished cabinets with a video (bonus!). It was surprising how much money were were able to save by doing it ourselves with a few nice days for painting outside.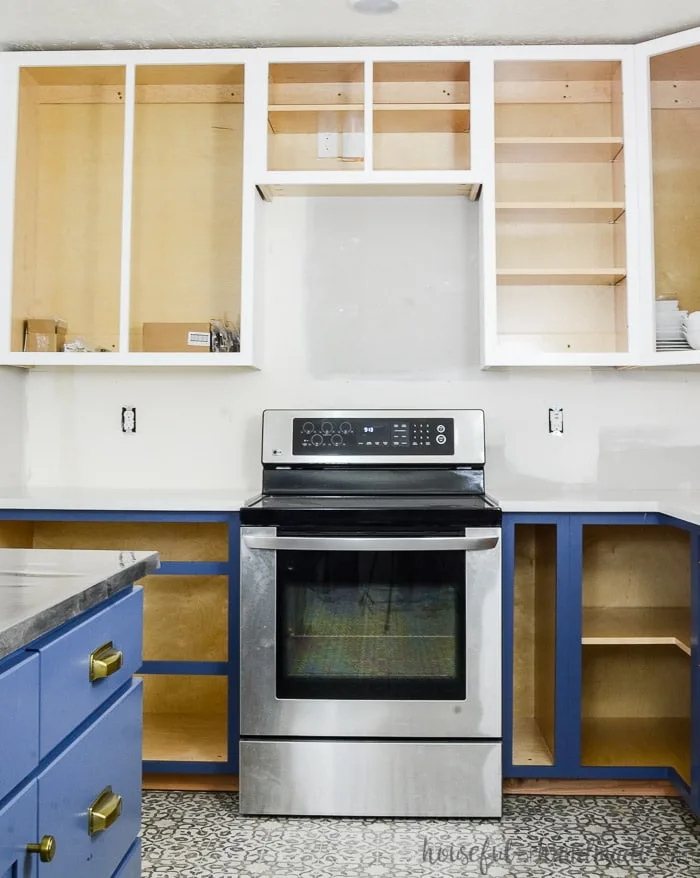 So if you are planning a kitchen remodel this year, you are going to want to check out this option as a great way to save your budget!
#2- Build Your Own Cabinets without Expensive Tools
Our kitchen remodel was a big part of 2018 so it's no surprise there are a few of the most popular DIY projects from it.
The most expensive part of any kitchen remodel are the cabinets. But did you know you can build them for way cheaper? I know, building cabinets is a job for the professionals… or is it?
Cabinets are just boxes, which are made up of all straight lines. And you don't need $1000s of tools to do it either, you can build your own cabinets without expensive tools. I know because I did it. Even if we would have had to purchase all these tools, our kitchen cabinets would still have cost 1/2 of what we would have paid at IKEA, let alone a cabinet shop.
And you can see how amazing our new blue & white two-toned kitchen turned out here. Plus this year we are going to be sharing even more posts to help you build your own kitchen too!
#1- How to Build Cabinet Doors Cheap!
The #1 most popular post for entire year was another one from our $100 laundry room makeover. When my parents remodeled their kitchen I happily took a few of their old cabinets for my laundry room. They were great for storage, but very old and dated and screamed 1970.
So for our makeover, I knew I needed to update the doors. But when you are working with only $100 you have to get creative. With some scrap beadboard and $8 of wood, I shared a simple way to build new cabinet doors. They were so easy to make and with a coat of paint look absolutely incredible in the laundry room.
You are going to want to update all the cabinets doors in your home after you read how to build cabinet doors. This is perfect for any cabinets, not just laundry rooms. Think bathrooms, kitchens, built in bookcases, even non-built in furniture.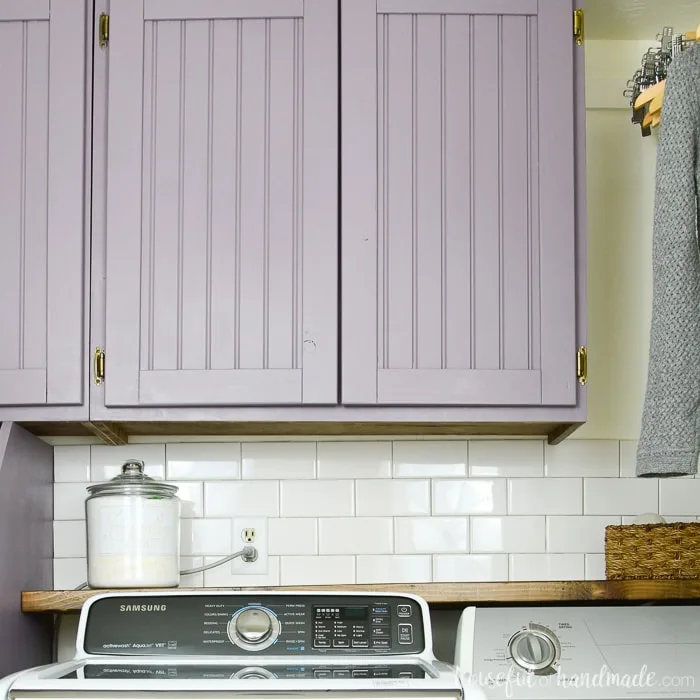 Now I hope you have some inspiration to get out and DIY in 2019! I know my to-do list is growing and I cannot wait to share it with you. Make sure to subscribe to our newsletter so you don't miss out on the amazing things that are coming.