Organize the spray paint cans you have all over your garage with this rotating spray paint storage cabinet.
My new shop is coming along, we have walls, roof and power! So now I am eager to start getting things organized.
It has been hard to find things still in boxes and crates from our big move. So I partnered with Kreg Tools and their project plan site, BuildSomething.com, to build the first organization: a spray paint storage cabinet!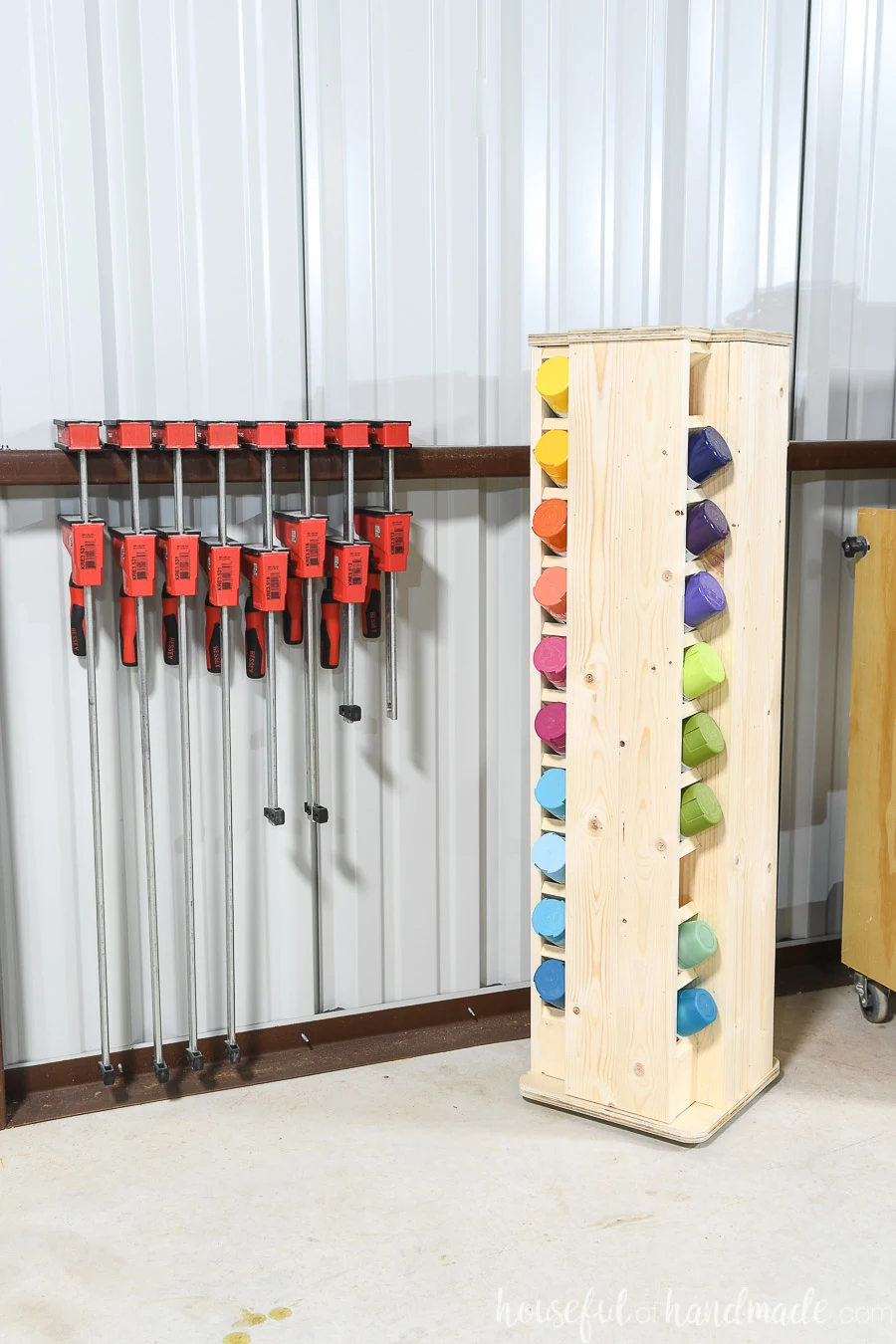 Small Space Storage
I was desperately missing the paint storage I built behind the door in my last craft room. I love the shallow shelves that allowed me to see all the colors I have. But I didn't have a wall to dedicate to a similar storage in the new shop.
But what I do have is an empty corner…
So instead of building a wall mounted spray paint storage solution, I decided to go with a simple cabinet. And the small cabinet can be tucked into the smallest of spaces.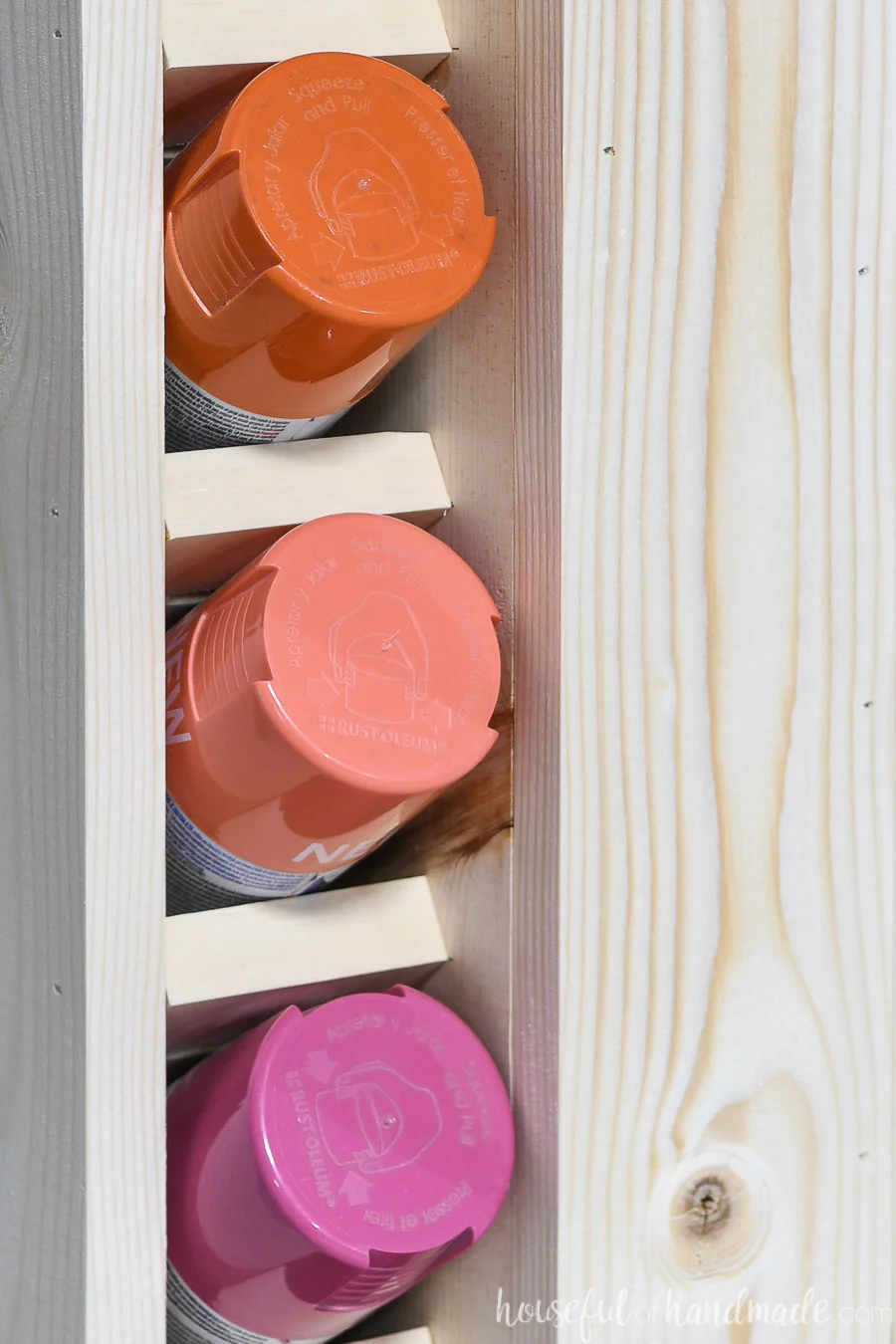 The slender cabinet is only 13″ x 13″, but holds a total of 40 spray paint cans! And to make the cabinet accessible even in the most crowded shop corner, I put it on a lazy Susan. It easily rotates so you can quickly see and access all your paint cans.
I used this 8″ heavy duty lazy Susan hardware. It is rated to hold up to 225 lbs. I don't know exactly how many pounds the cabinet is, but I can lift it by myself so I am certain it is not over 200.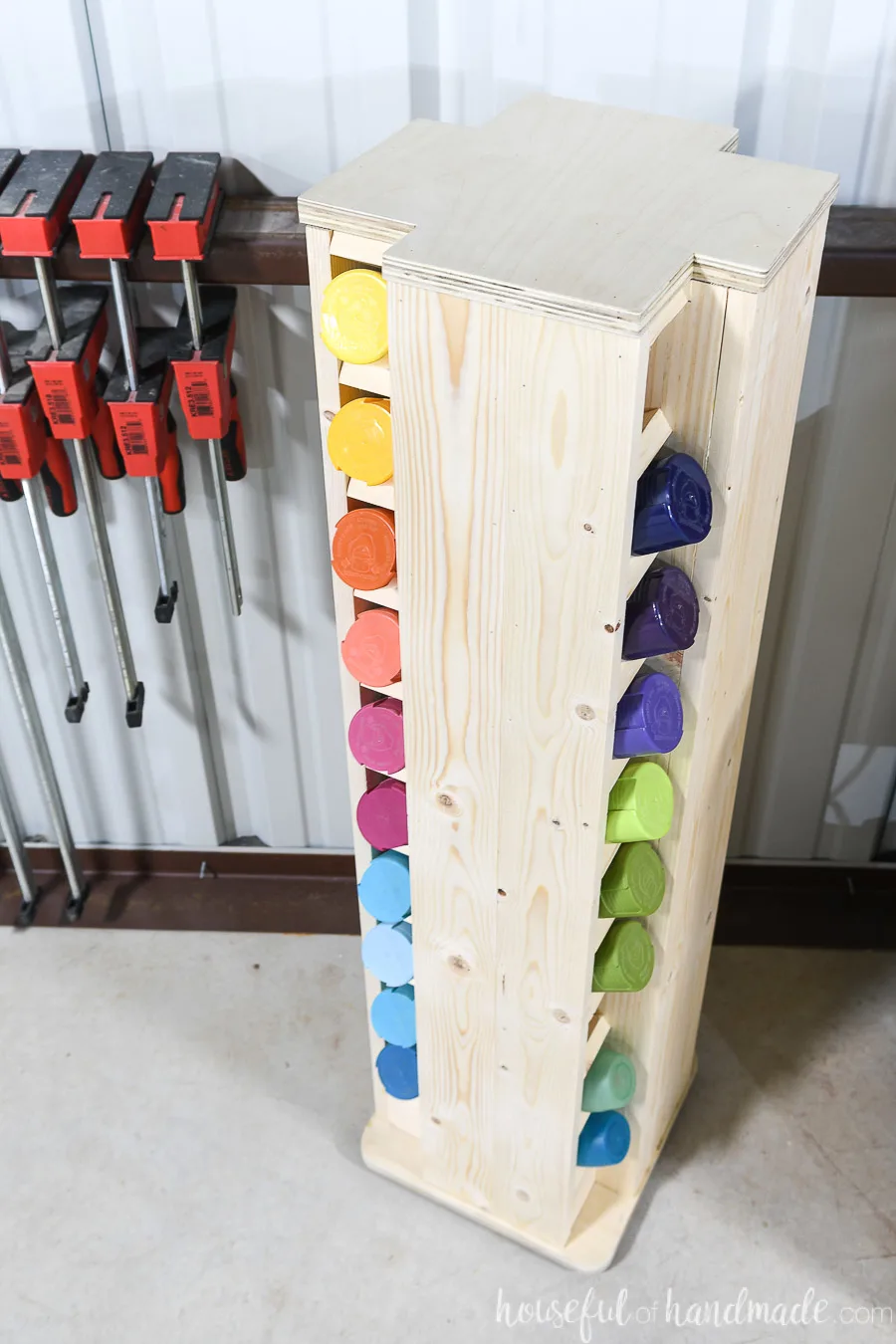 And my favorite part is I can still see all the paint cans I have with just a flick of the wrist. The 4 different rows of 10 cans makes it so I can organize my paint by color, texture, or type of paint.
Doesn't organization just make you so happy!?!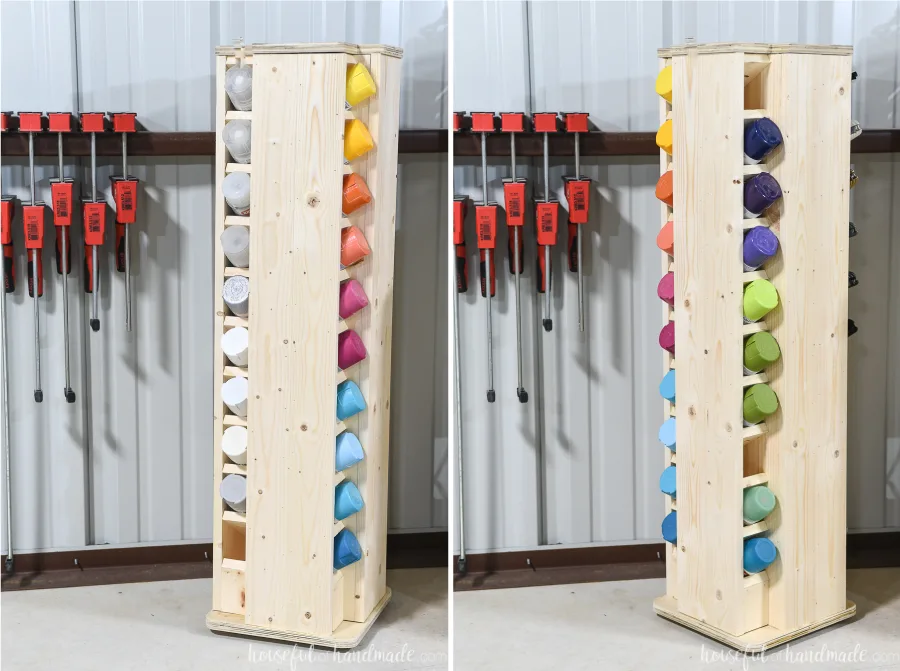 Easy to Build Cabinet
Besides all the amazing organization, the other things that I love about this spray paint storage cabinet is how easy it is to assemble.
The pieces are held together quickly, but strongly, with pocket holes from the Kreg Jig. I have the K5 system that is great for making fast, repeatable pocket holes on your project.
So once you set the jig to the thickness of you material, you can add all the pocket holes fast!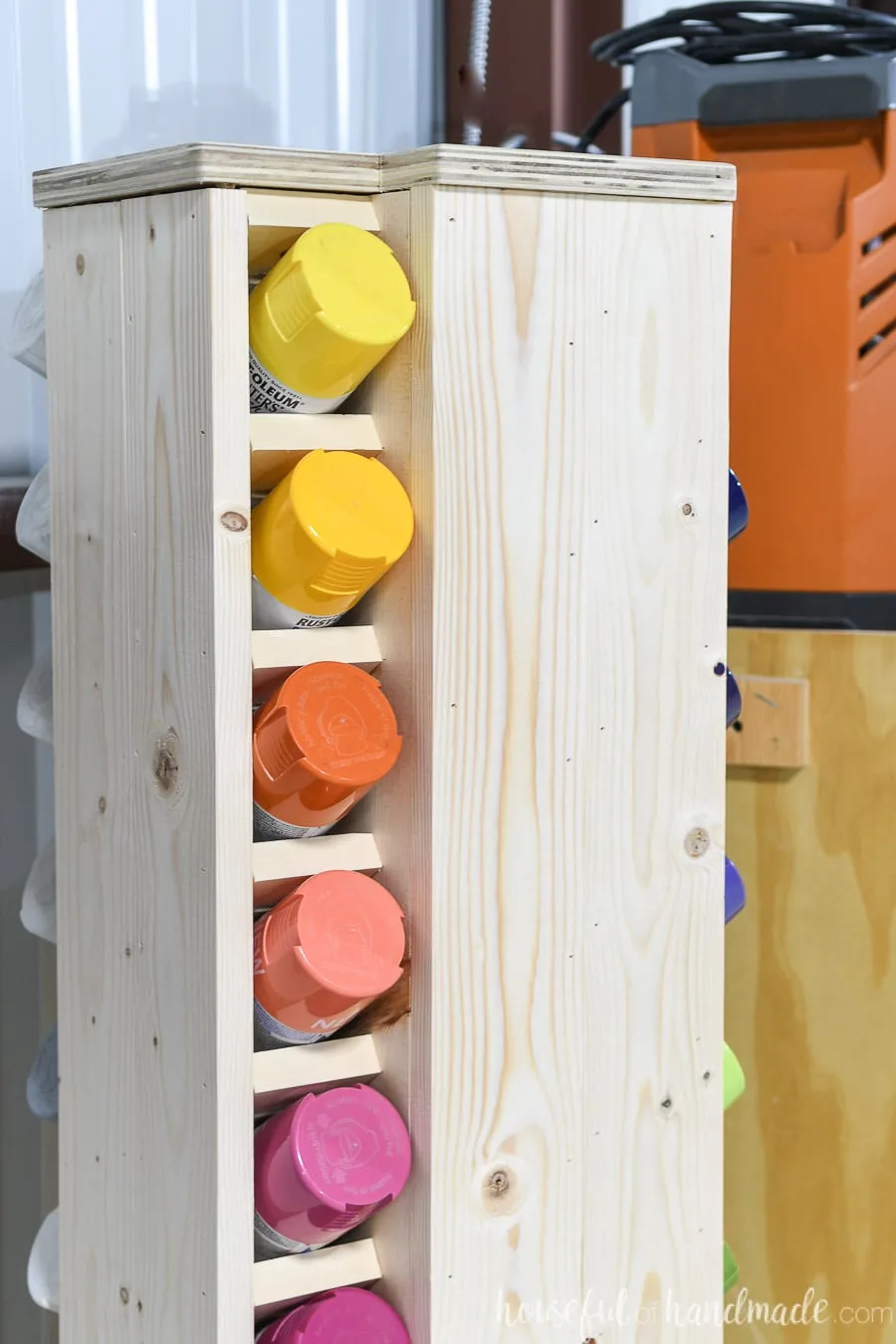 I also tried to use minimal tools for the cabinet build. The 1×8 and 1×4 boards are easy to cut on a miter saw. And the plywood top/bottom pieces can be quickly cut to size with a table saw or circular saw.
And lastly, a jigsaw is needed to cut out the notches on the top and you are ready to fill your cabinet up with all the spray paint cans! No more searching all over for to color you thought you had.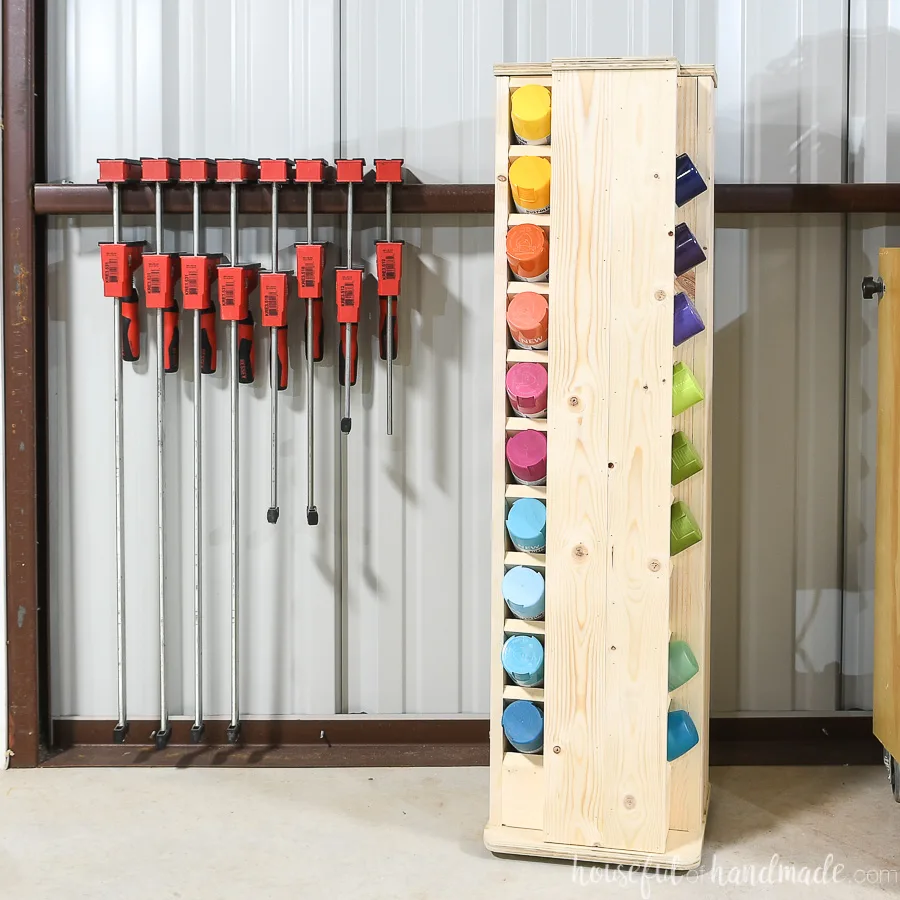 Paint Storage Cabinet Build Plans
If you are ready to build your own spray paint storage, I am sharing the build plans for free on BuildSomething.com.
Click here for the complete build plans!
Happy building!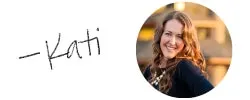 Thank you to Kreg Tools for sponsoring this post. I only recommend products that I use and love and all opinions are 100% my own. Click here to read my full disclosure policy.