You'll love the clean lines of this modern coffee table.
It's time for a new build project. And this month I partnered with Kreg Jig and their project plan site, BuildSomething.com, to share the build plans for this new modern coffee table for free!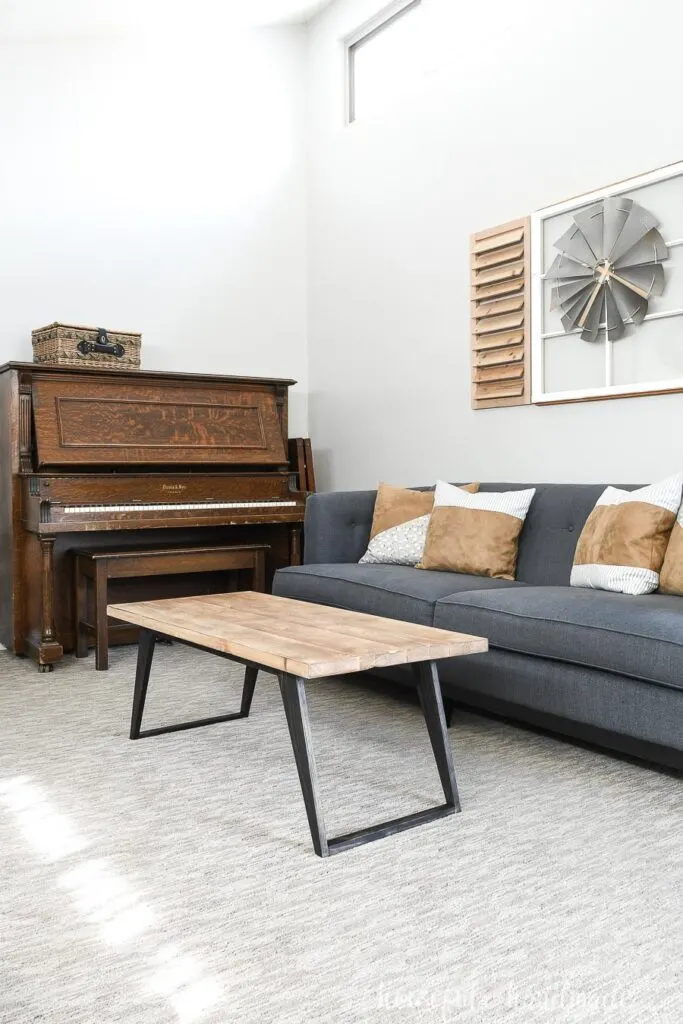 I have been wanting a new new coffee table for some time now. Not because I not longer loved my farmhouse coffee table, but because it was hard to vacuum under.
Ever since we bought our robot vacuum, I have been wanting my furniture a bit higher so she could vacuum underneath. But the coffee table was too low for that. So once a month I had to move it and to vacuum.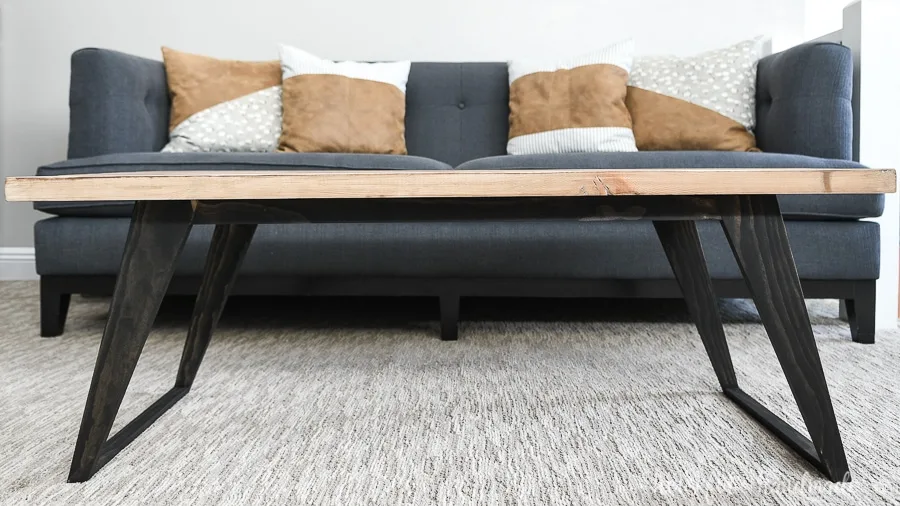 A Coffee Table Without Storage?
The other reason I wanted a new coffee table was to get rid of the lower storage shelf. What??? I know, less storage seems crazy, but hear me out.
My family has a tendency to stash stuff on shelves. And the shelf of our coffee table was a favorite spot.
I would have to pull everything off weekly and make them put it away. So I have learned that having less places to stack stuff helps our home stay clutter free. Instead they are forced to put things away now!
And I loved having less storage so much that I built another beautiful DIY asymetrical coffee table that also has lots of open space. Beauty and function without the extra clutter makes my heart happy!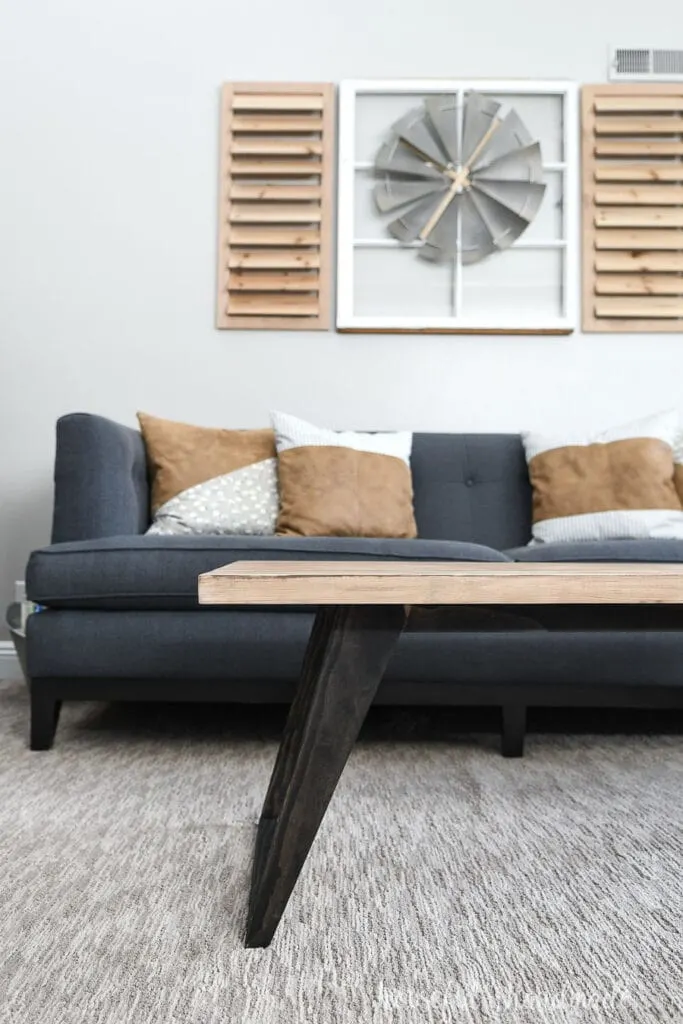 Modern Coffee Table Design
The biggest design requirement for the new coffee table was to make it easy to vacuum under. And I wanted a clean, modern look.
To give the coffee table some interest I decided to try my hand at some tapered, angled legs. They add so much style to such a simple table.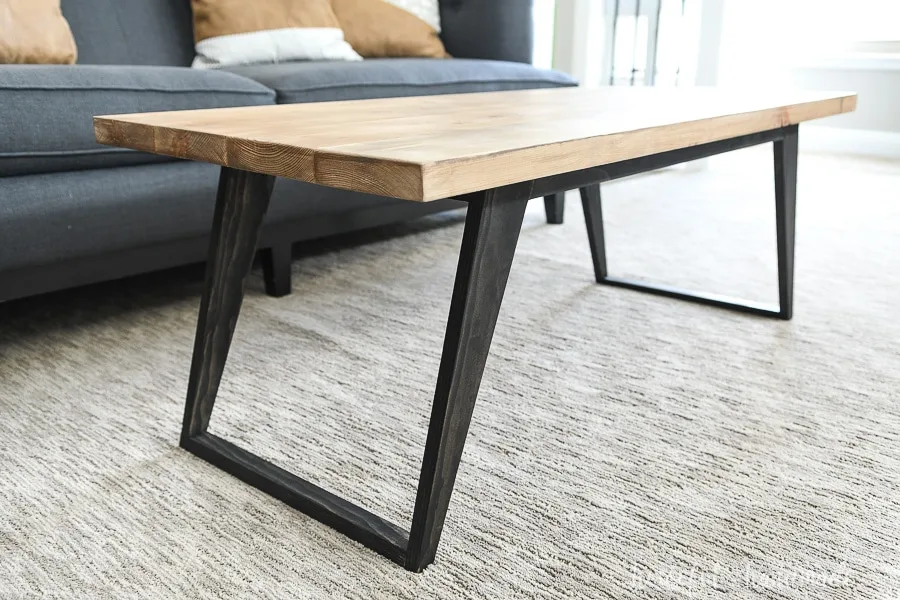 If you think the tapered and angled legs will be hard, don't worry! I made the build as easy as possible.
Working with standard lumber sizes and this easy tapered leg jig I made for the tall DIY nightstands I built last month, this was a simple build with a few new challenges.
This is a great build to get you use hooked on using jigs. They make repetitive cuts easy.
My jig was made with a scrap of 3/4″ plywood and 1x2s and these self-adjusting toggle clamps (Amazon link). I keep reusing the same 2 clamps on multiple jigs over & over.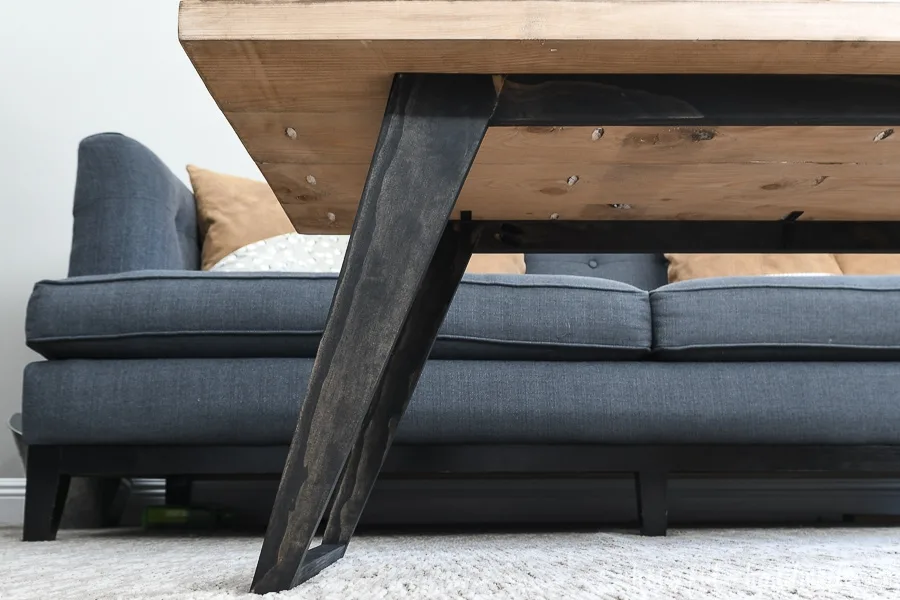 What do you need to Build the Modern Coffee Table?
One of the best parts of this simple coffee table, it doesn't use a lot of wood to build! If you have a stash of wood in your shop, you probably have what you need to make it already (or at least closet to it).
The base is made up of just one 1×4 board and two 1×2 boards. And the top is two 1×6 boards.
I used nice pine boards to build the base of my coffee table. And for the top I used 2×6 framing boards. I ran the 2×6 boards through the planer a couple times to remove the curve on the corners, but you can keep it if you don't mind the look.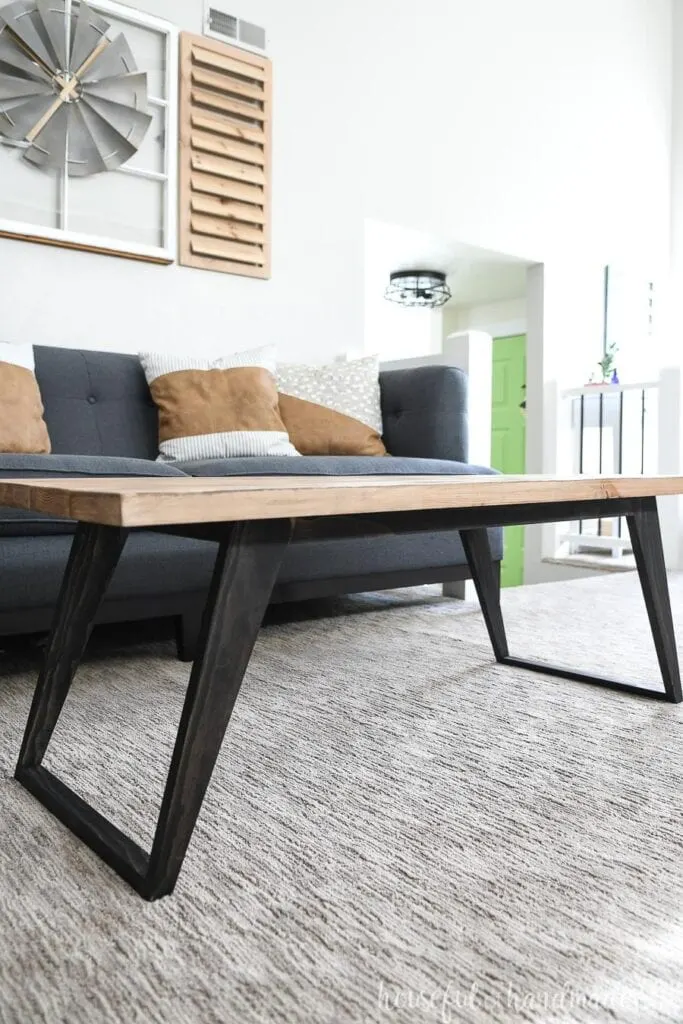 You will need a table saw to build the angled legs of the modern coffee table. The legs require boards to be ripped at angles as well as cutting the long taper.
If you haven't used a table saw for ripping boards at an angle, this is an easy project to get you started! Then you will be eager to try your hand at more. It can get addicting to learn new ways to manipulate wood.
Coffee Table Finishing
You can paint/stain your coffee table anyway you want to match your home. For our coffee table, I wanted to keep it slightly rustic to match our warm, lived in home.
For the angled legs, I used an ebony stain. I like darker stains for legs because they can get a little beat up and dirty, without anyone noticing. This is especially useful when you have kids.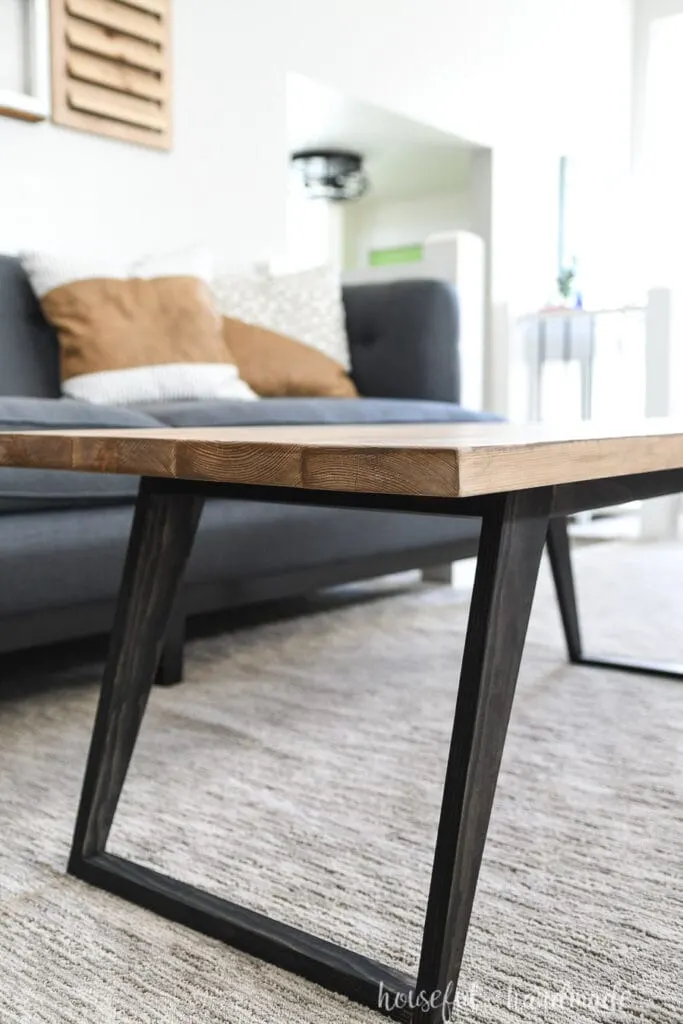 For the top of the coffee table, I thought I wanted a white washed look. So I applied the vintage white stain by Varathane. But I wasn't loving the way it made the construction lumber look pinkish. And it didn't look good in our space.
So I sanded the stain down a little bit (not all they way off) and applied a coat of a warm aged wood accelerator. This gave the wood a warm, slightly aged wood. But the white stain kept it light.
I love the way it turned out. Sometimes it's fun to to mix finishes to get the perfect look, but I recommend testing your mixing out on a scrap piece or hidden spot… just in case.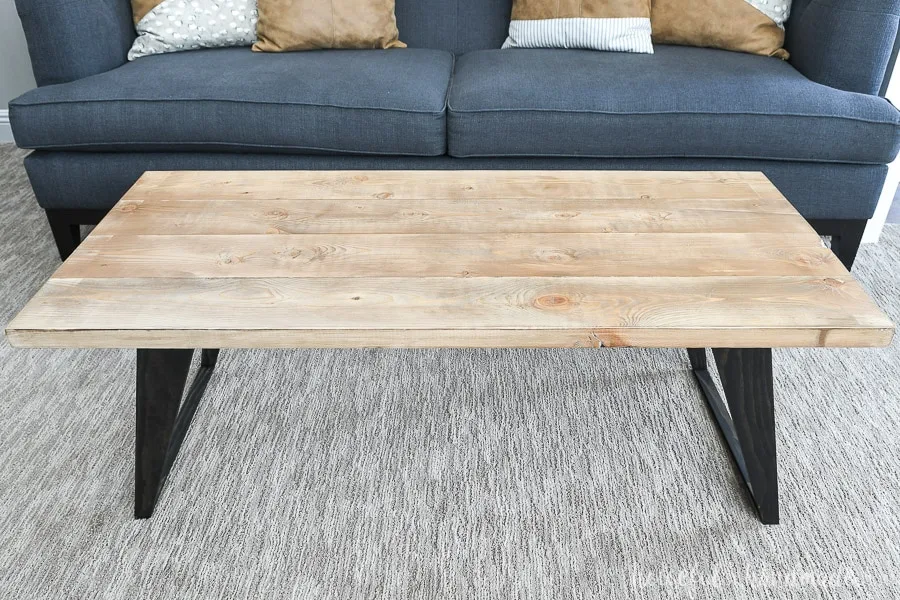 DIY Coffee Table Build Plans
If you are ready to build your own simple coffee table, I am sharing the plans for free on BuildSomething.com.
Click here for the complete build plans!
Thank you to Kreg Jig for sponsoring this post. I only recommend products that I use and love and all opinions are 100% my own. Click here to read my full disclosure policy.