Organize your craft vinyl so it's always on hand with this vinyl roll storage rack.
I love when I get to combine my love of building with my love of crafting. One of the things I have been struggling with is my mountain of craft vinyl.
The piles were getting out of hand and I hated sorting through things to find what I needed for a project. So I partnered with Kreg Tools, and their new project plan site BuildSomething.com, to make the perfect vinyl roll storage solution.
Storing Craft Vinyl
The plan for this craft vinyl storage had many different iterations. I originally wanted to hang it on the back of my door. But then it would be in the way of the paint storage shelves that I love.
I decided to move it to a hanging vinyl storage, but you could totally hang it on the back of a door if that is the best place for you.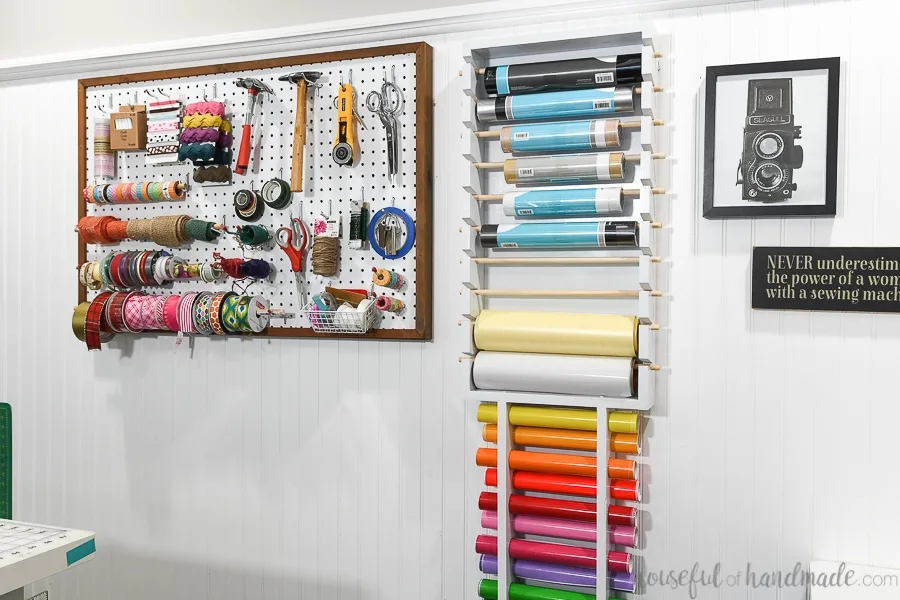 Luckily, I was able to move a few things around on the wall in my amazing craft room (that I remodeled for only $100). The vinyl roll storage fits perfectly here and looks great too.
Also, I originally wanted to leave all my 12×12 vinyl sheets flat. To build something that looked like a hanging file system. But that seemed to be just moving the hidden vinyl from one location to another. And I wanted to make it easier to find things!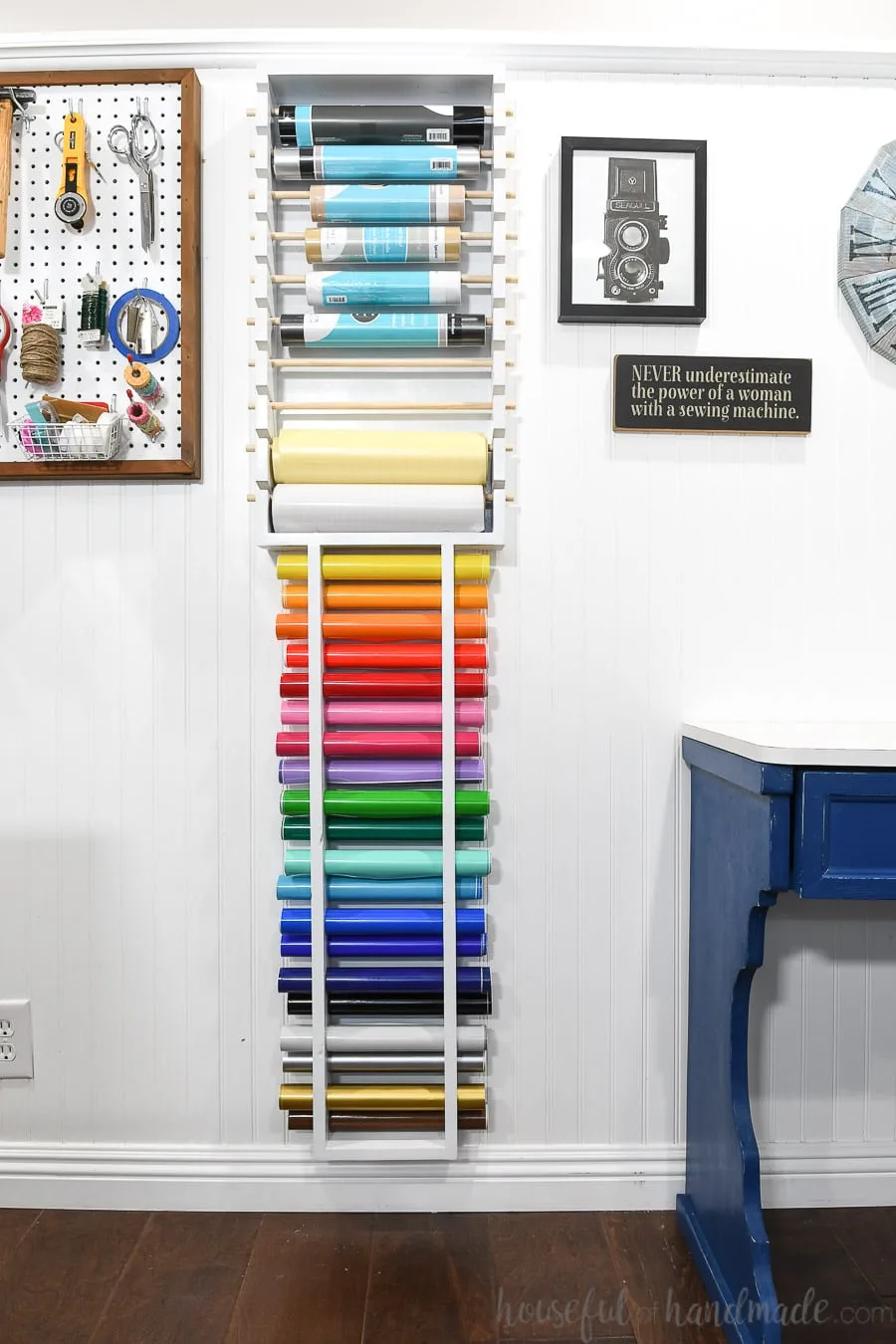 So I decided the best bet was to put my vinyl on display! And not just the rolls, but also the sheets of vinyl. Plus, that gave me the opportunity to make a rainbow from all the many, many colors of vinyl I have accumulated.
The top of the vinyl roll storage has dowels to hold larger pieces of craft vinyl or special vinyl. It is also the perfect place for the large rolls of transfer tape I buy.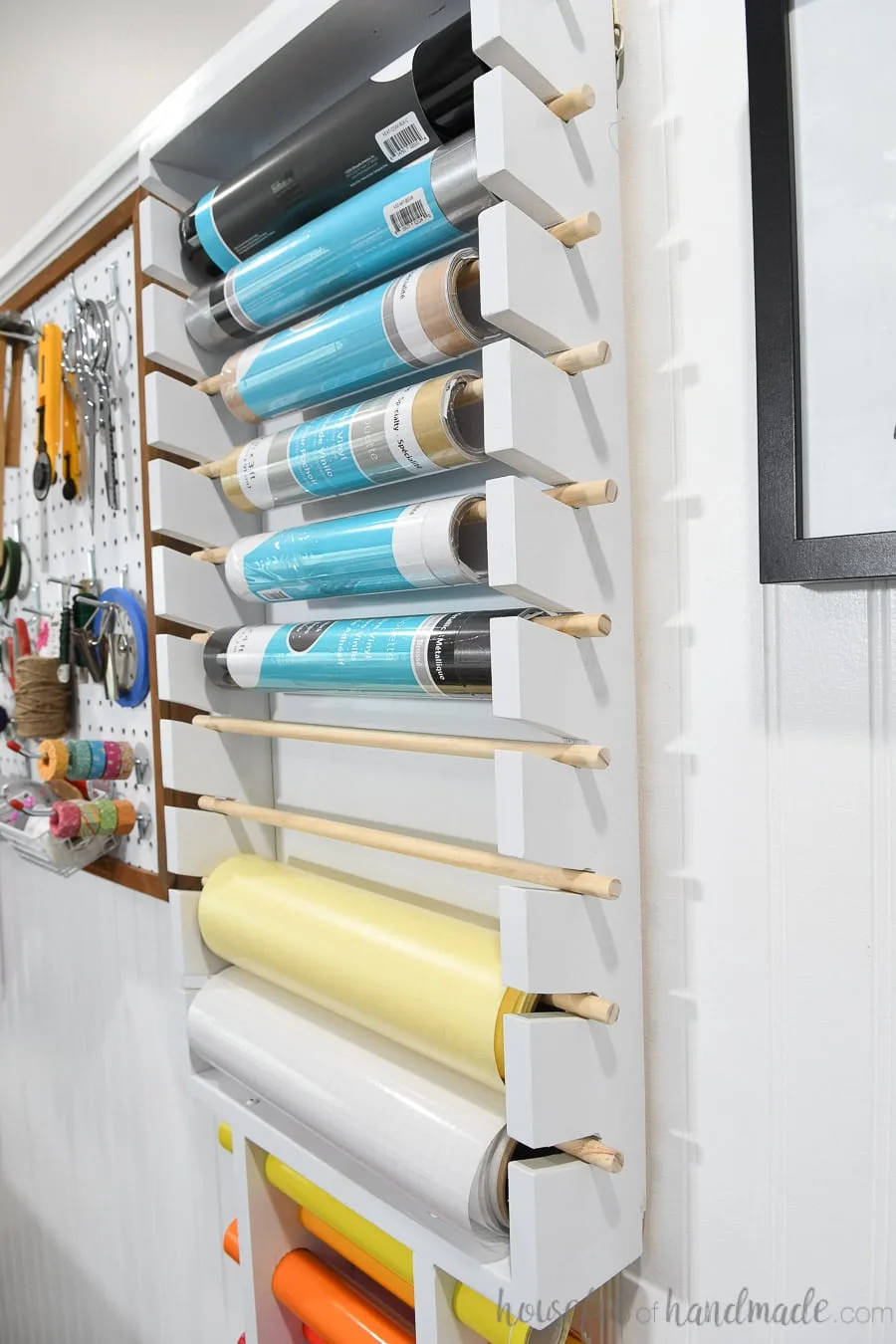 Then the bottom of the hanging vinyl storage is full of holes to roll and store smaller sheets. I love to buy my vinyl in these starter packs that give you tons of color options. It means I always have a variety of colors for every project.
I sorted the different sheets into like colors. Then rolled the 12×12 sheets to slide into the storage. The more sheets of vinyl in each roll made it harder to slide in because if the roll loosened it became very tight. If I kept the rolls to 5 sheets or less, it was easy to insert them.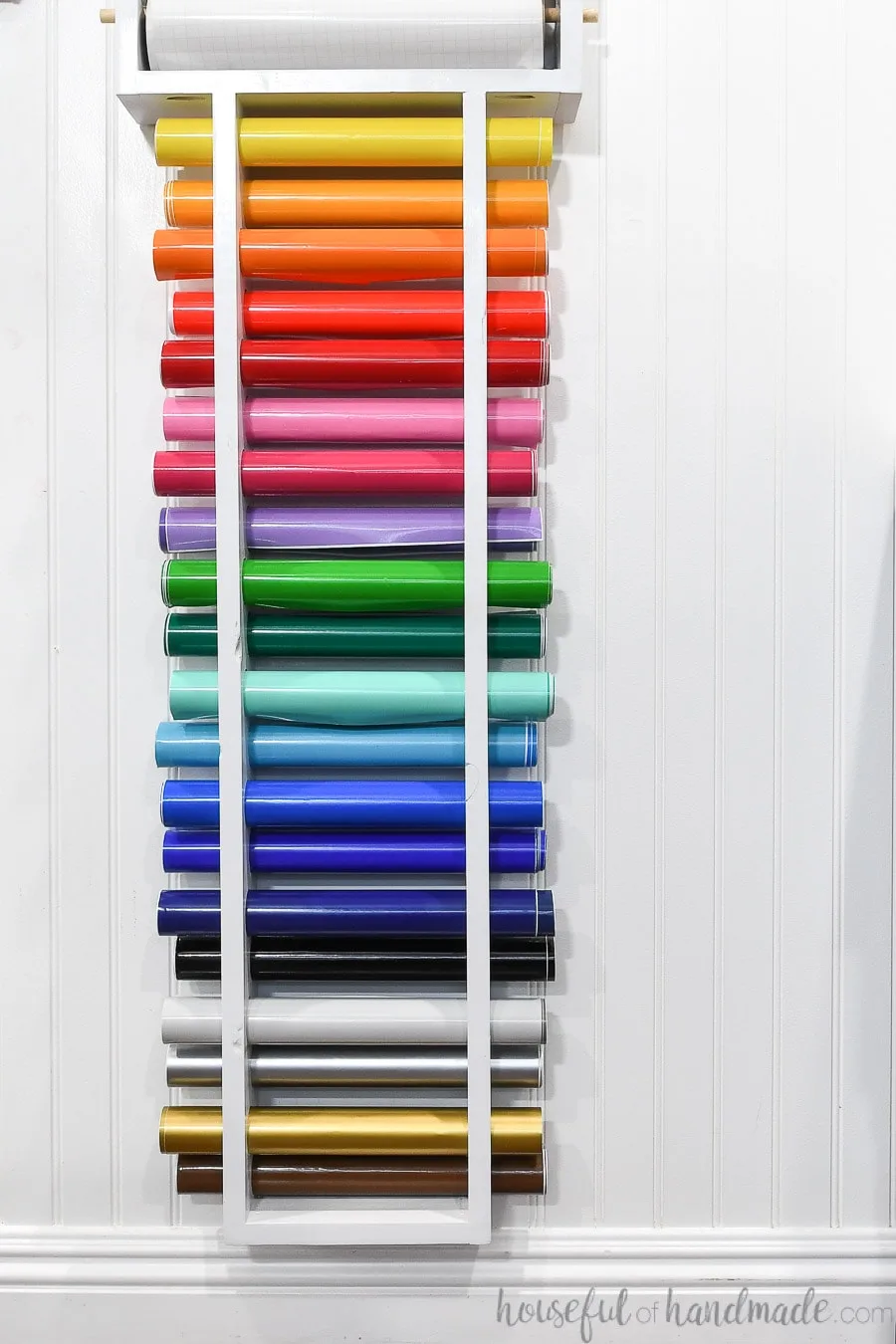 All these colorful rolls reminds me I need to do WAY more vinyl projects to share. I guess seeing all the colors in my new vinyl roll storage rack is a good thing.
Build a Vinyl Roll Storage Rack
But the best part of this vinyl storage rack is how easy it is to make! The frame is made from two 1×4 boards that go together so easy with the Kreg Jig. Honestly, the hardest part is drilling all the holes.
You can build this craft storage in just an afternoon, then be ready to organize all your vinyl in no time!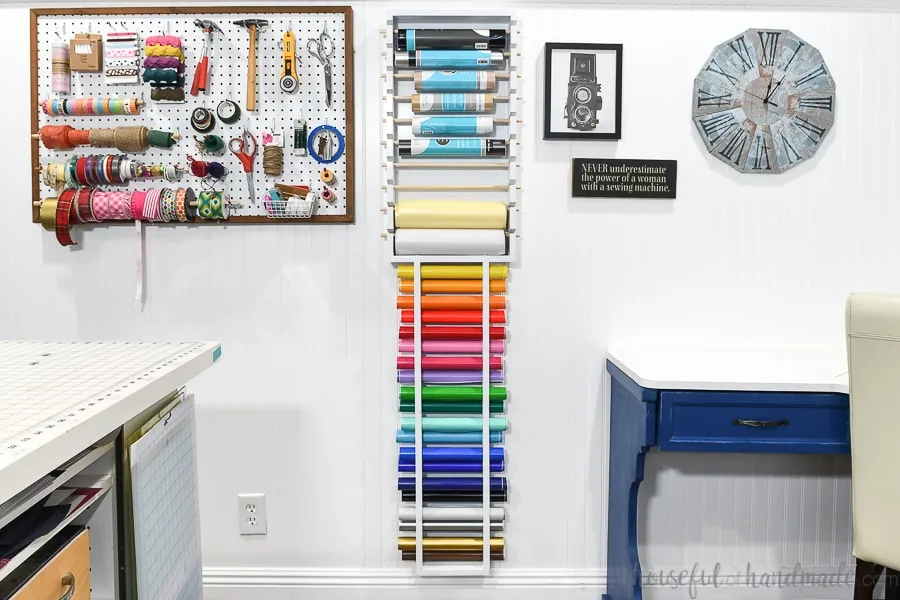 If you are ready to build your own vinyl roll storage, I am sharing the free plans over at BuildSomething.com. Click here for the complete hanging craft vinyl build plans.
Happy building!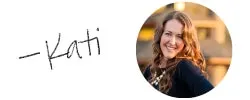 Thank you to Kreg Tools and BuildSomething.com for sponsoring this post. I only recommend products that I use and love and all opinions are 100% my own. Click here to read my full disclosure policy.