This post contains some affiliate links for your convenience. Clicking these links will help support this blog so I can keep creating things to share with you, but you will never pay more by using an affiliate link. Click here to read my full disclosure policy.
How to Build a Desk in a Closet
Supplies:
Wood: the amount of wood needed depends on the size of your closet. My closet is 61″ wide and and 26″ deep. and my finished desk is 61″ wide by 24″ deep.

2×2 boards
1/2″ plywood
1×3 board

Miter saw
Table saw or circular saw
3″ wood screws
Kreg jig & 2 1/2″ pocket hole screws
Nail gun & finishing nails
Sandpaper
Wood stain

I used natural wood stain which consists of steel wool soaked in vinegar and black tea.

Drill & large drill bit
Start by deciding the height you want your desk. A standard desk is around 30″, I made mine 28 1/2″ because my 30″ desk was a little high for spending long hours typing. It might seem really low when you are building it, it did to me, but will be comfortable when you sit at it. Using a level, mark a line 1/2″ below the final height of your finished desk.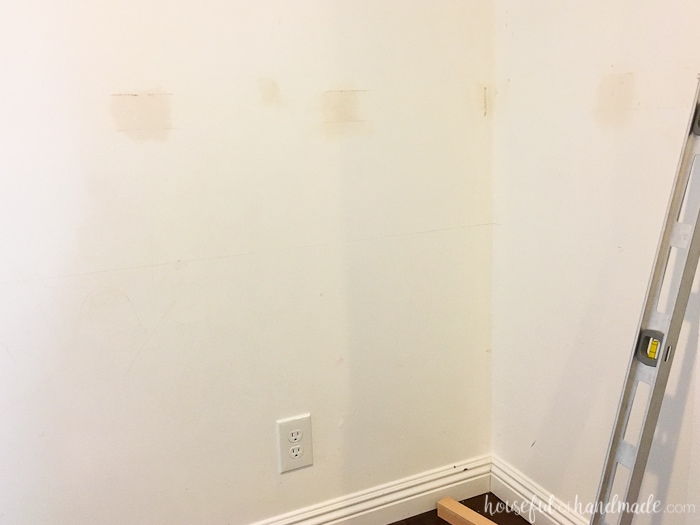 Along that line, you will need to locate your studs. I use the "make lots of holes in the wall" method. Okay, I start by knocking on the wall to figure out approximately where a stud is, then confirming it with a nail until I locate the stud. If you put your holes next to the level line, they will be hidden by the final desk.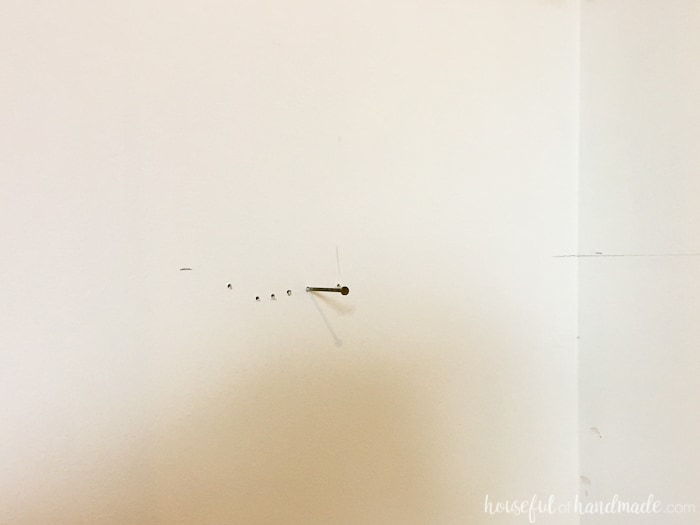 Next build a frame for your desk using the 2×2. Start by securing 2×2 boards (cut to the desired desk depth minus 1 1/2″) on the sides of the closet. Line them up along your level line. Make sure to attach them to your studs using the 3″ wood screws.
Then measure the space between the two boards. Cut a 2×2 board to that measurement, add pocket holes to the ends. Secure it to the walls with the 3″ wood screws and then attach it to the side boards with pocket hole screws. If you put the pocket holes on the top of your frame, they will be hidden with the desk top.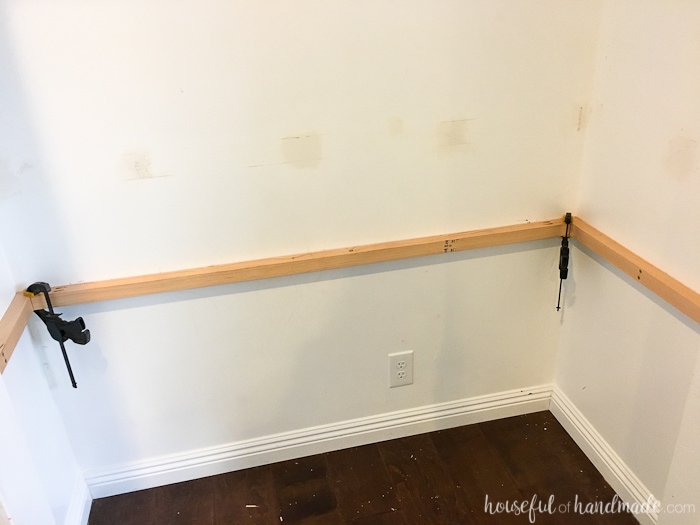 For the front of the desk frame, measure the space between the front of the two side boards. Cut a 2×2 board to that measurement and add pocket hole screws to the ends. Attach it to the front of the side boards with pocket hole screws. Make sure it is level with the two boards.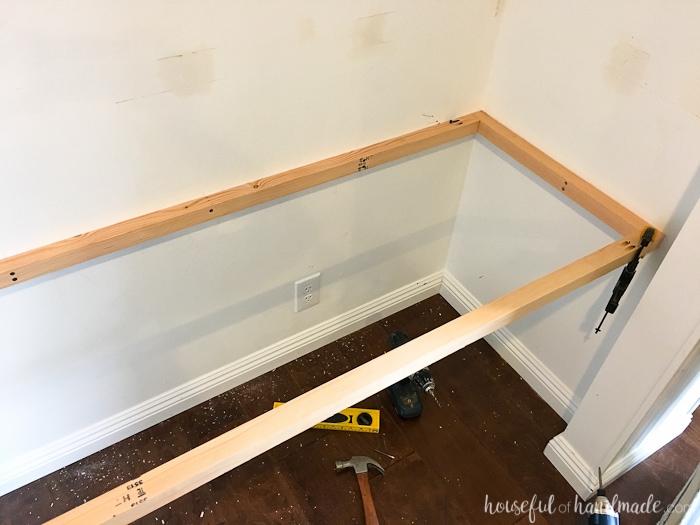 Now add some center braces to your frame. This especially helps if you put a lot of weight on your desk (like a computer or printer). And since you have a few extra feet of inexpensive 2×2 boards, it doesn't cost anything to add this extra support. Measure the space between the front and back boards, cut 2 2×2 boards to this length and add pocket hole screws to the ends. Attach these evenly between the two walls with pocket hole screws.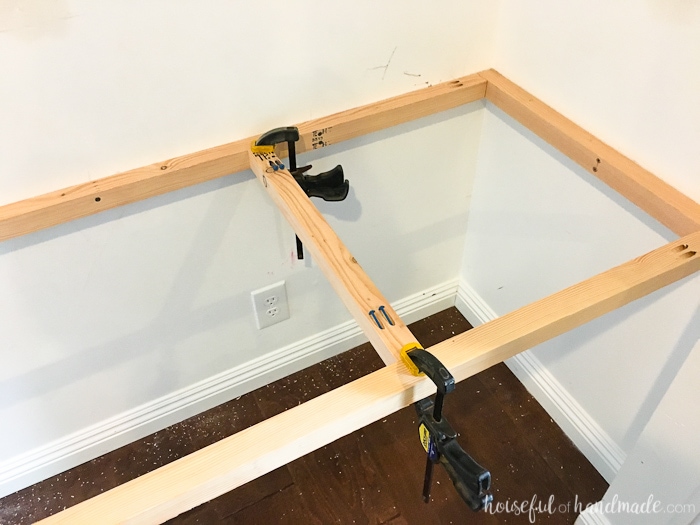 Once your frame is built, cut your plywood to fit over the top of it. Cut it so it is the width of the desk and the depth you want your desk minus 3/4″. Dry fit the plywood to make sure it fits in your closet (this is why I don't paint the walls before installing the desk, it can scrape up the walls).
If your walls are not perfectly straight, you can scribe the plywood once you dry fit it by running a pencil along the line where the plywood touches the wall until it runs off the wood where the plywood is gapping. Trim along this line with your saw and dry fit again.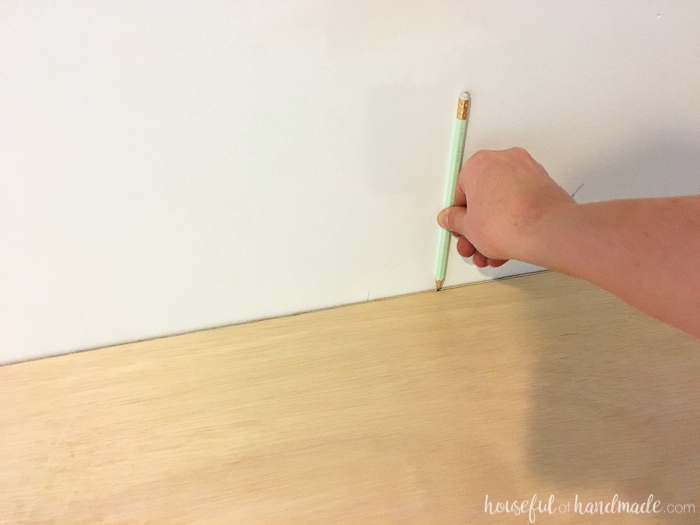 Once you have the desk top fit. Cut a piece of 1×3 board to the length of the front of the desk. Secure it to the front of the plywood with wood glue and finishing nails. Sand well.
To attach the desk, add wood glue to the top of your frame. Add the plywood desk top. Tap the corners down with a hammer to ensure they are laying flat. Secure with a couple finishing nails around the edge/back. Fill nail holes.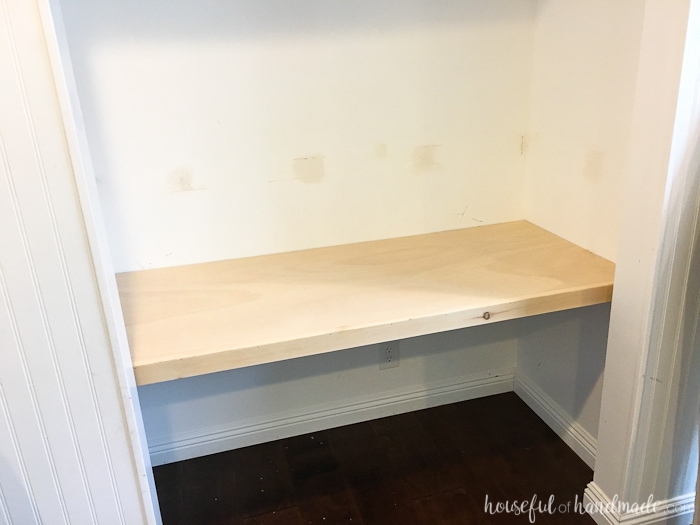 Finish the desk. I used a natural stain. Start by soaking a ball of steel wool in vinegar for 3+ days. Then wipe the desk with a barely damp cloth to clean off the sawdust and open the wood up to get it ready to receive the stain. Then brush on a coat of strong brewed black tea. Immediately, finish by brushing on a coat of the vinegar solution. You have to do this quickly so you don't get streaks (the wet wood from the wipe down and black tea also help reduce the streaks). The wood will immediately start to oxidize and will continue to deepen in color for a few hours.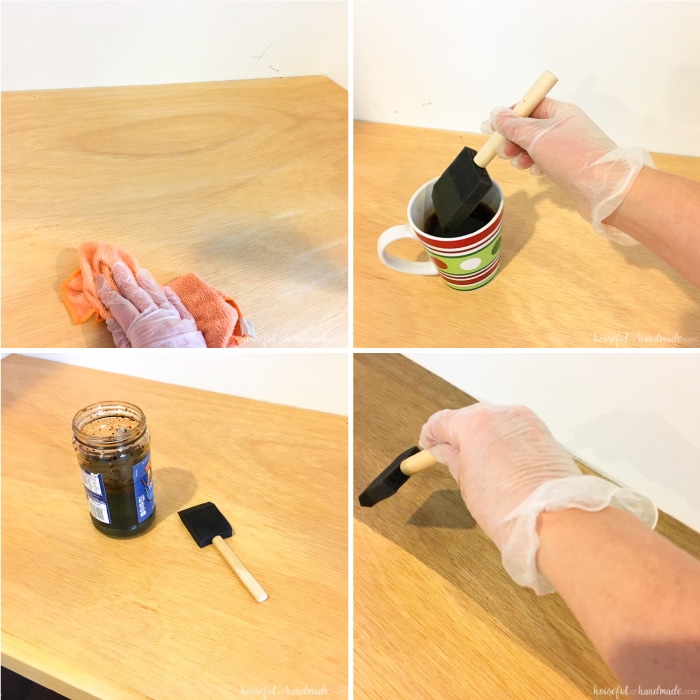 Let the stain dry completely, then finish the desk off with 3 coats of polyurethane. Sand between the coats to get a smooth finish.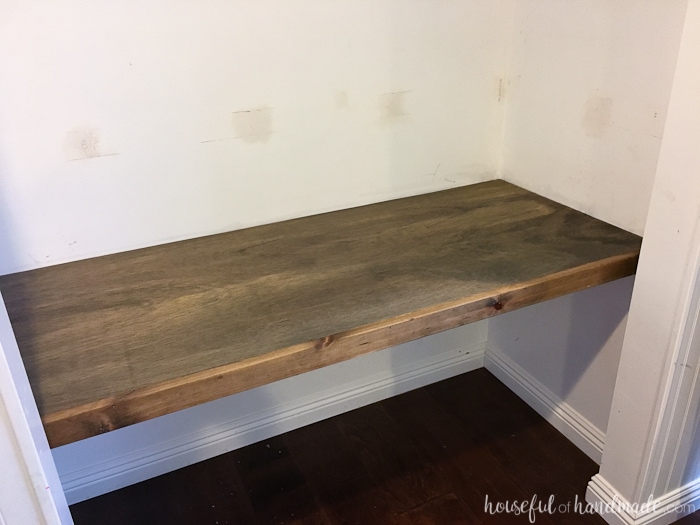 After the sealer is dry, cut a hole for your cords to go through. Then fill it with a cord grommet.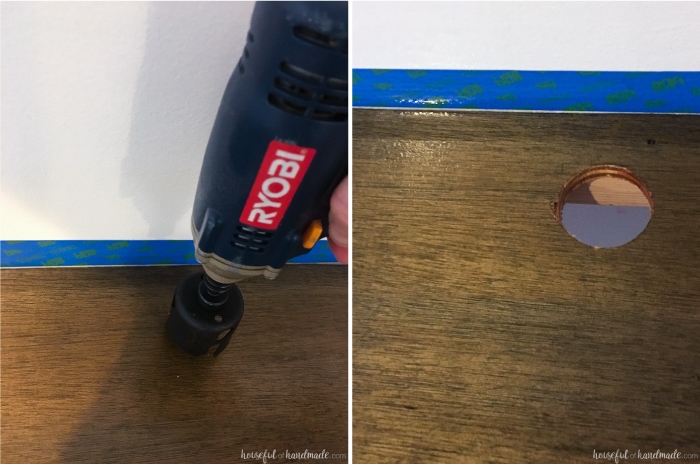 Now all that is left is to decorate! Since this desk is part of my $100 Room Challenge makeover, I have to keep the budget as low as possible. This desk was my most expensive splurge (at a whopping $40). I decided to paint the inside of my closet with the blue paint left-over from my dining room. It's such a soft beautiful blue color.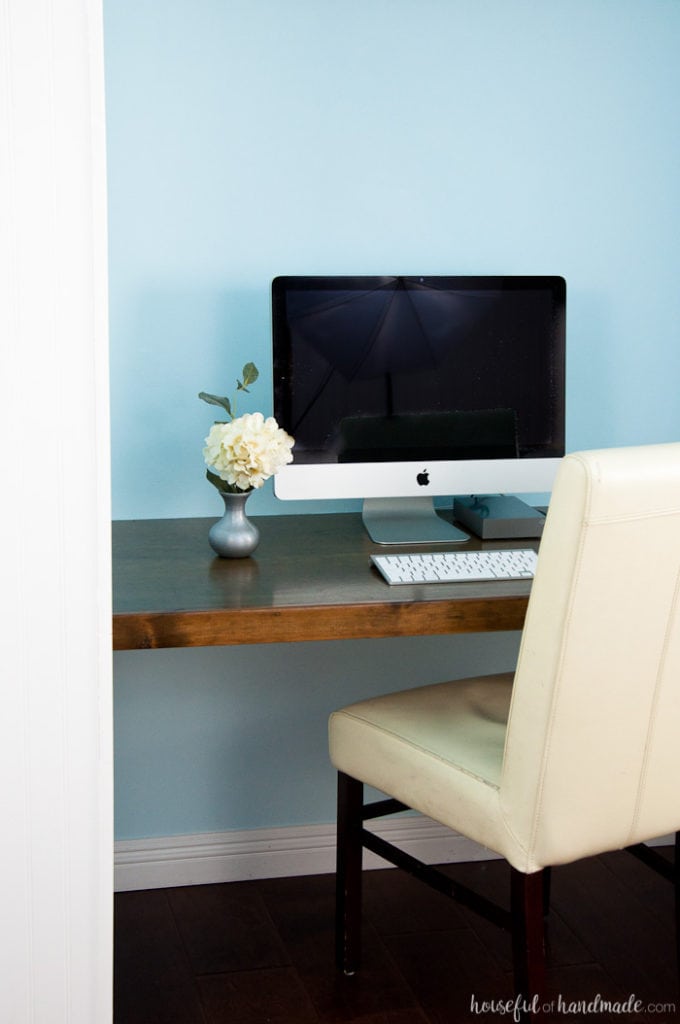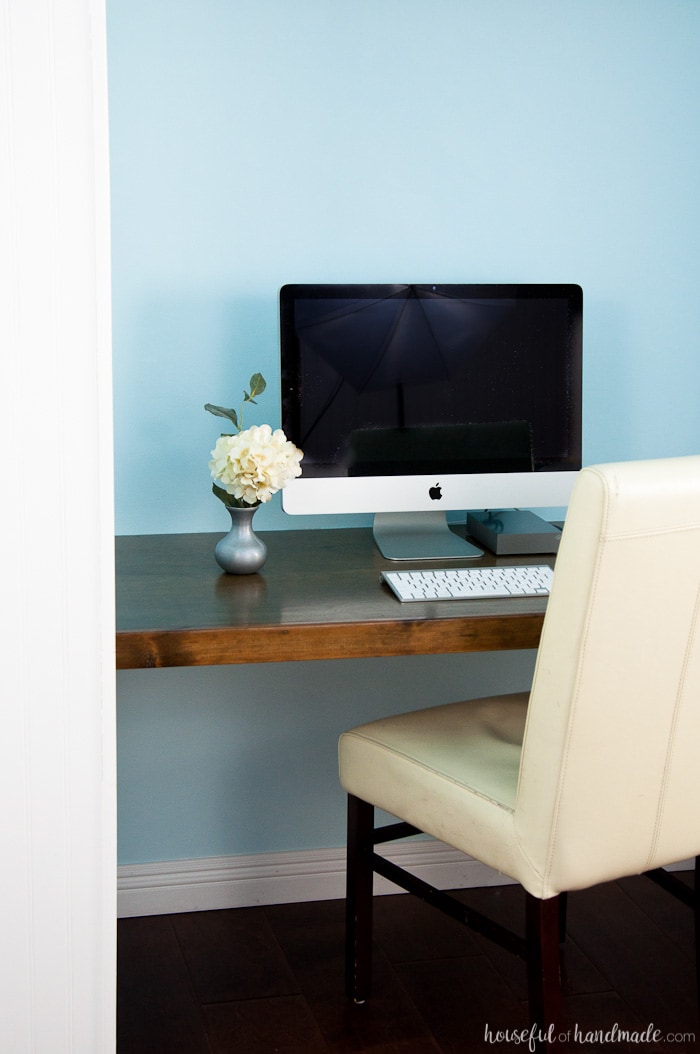 But then to add my chic pattern, I made a stencil using my Silhouette cutting machine like I did for my son's bedroom focal wall. Then I used some left over navy blue paint to create this faux patterned tile design. I couldn't be more excited with how it turned out.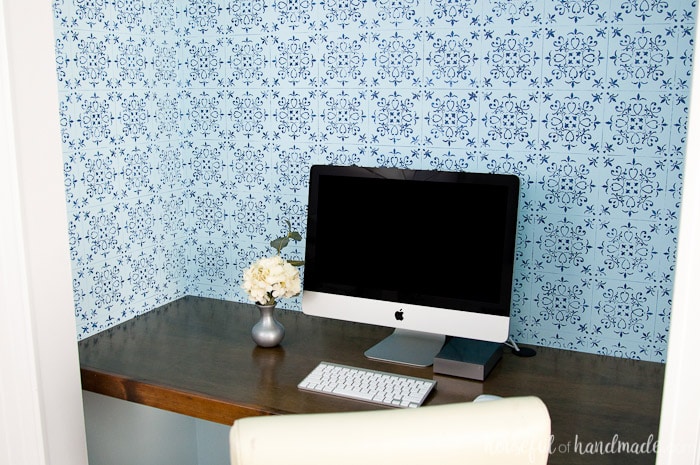 And all this only cost me $40! Can you believe it (I still can't sometimes). Here's the breakdown of where I spent it:
Plywood – $31.20
3- 2×2 boards – $5.20
Screws & sandpaper – $0 (already had)
Steel wool, vinegar and black tea stain – $0 (already had)
Polyurethane – $0 (already had)
Cord grommet – $3.60
Paint – $0 (already had)
Painting supplies – $0 (already had)
Stencil supplies – $0 (already had)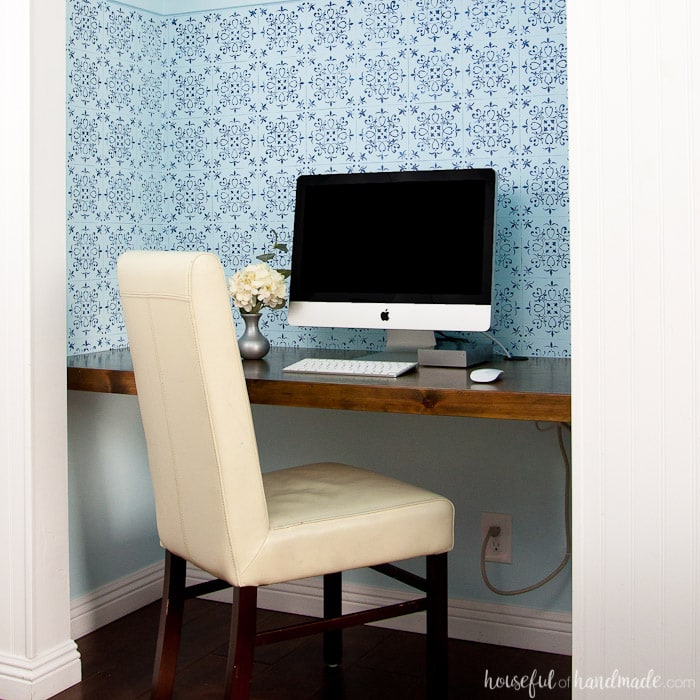 Now I have $43 (and a half a sheet of plywood) to finish the room and a lengthy list left on my to-dos. I'm hopeful I can get it all done!