I have been trying to talk myself out of this post all day. Why you ask? Because it is hot and I am unmotivated to take on any big projects right now. The thought of spending hours in the garage in this heat makes me wanna cry.
But maybe that is why I need to put on my big girl pants and join the $100 Room Challenge for July. I
have been wanting to a DIY custom master closet for way too long and I know I can do it if I just put my mind to it!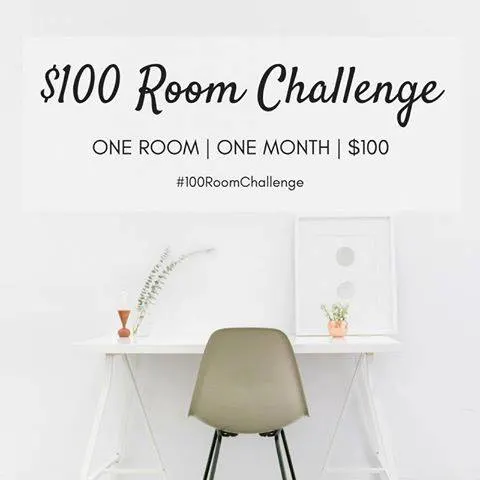 There is just something about the heat that makes me want to just sit by the pool. But when I am done lounging and ready to change my clothes…
I look at this mess of a master closet and think I should have put in some work instead. Seriously, I am embarrassed to be showing you my closet shame.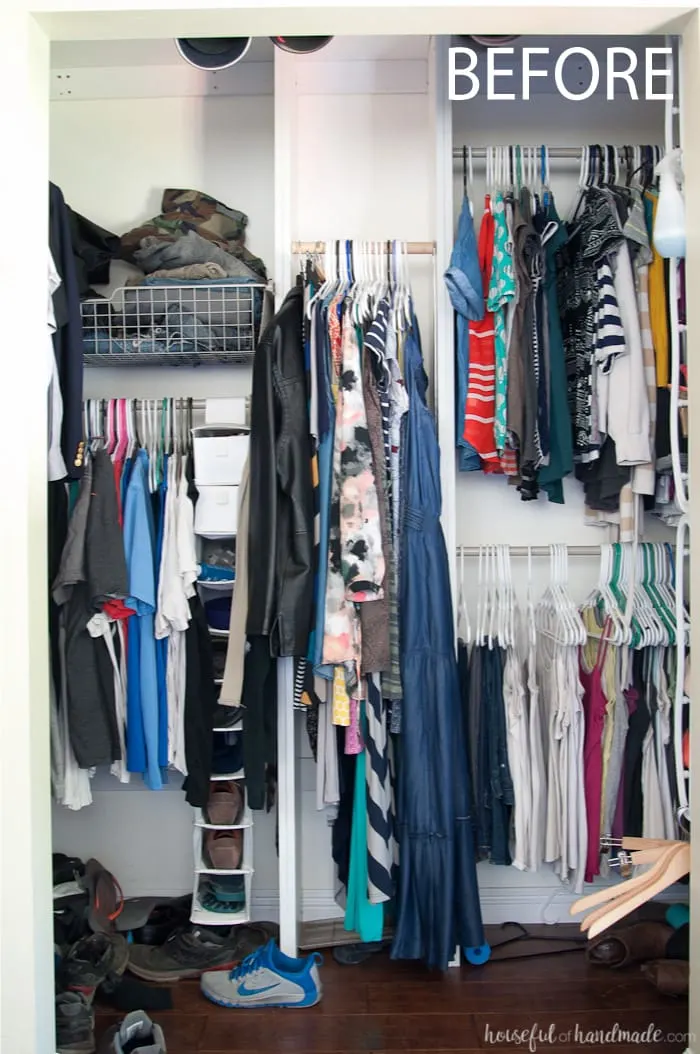 When we ripped out our old master closet to make room for a much bigger (and much nicer) master bathroom, we built this closet.
It is a good size. It is even considered a walk in closet. I added some rods and tried to make some closet organization. Then I proceeded to fight the closet for the next 8 years.
Yes, you read that right, we have been living with this messy, un-functional closet for 8 long years. Now you know why I am ready to tackle this DIY custom master closet even in this crazy heat.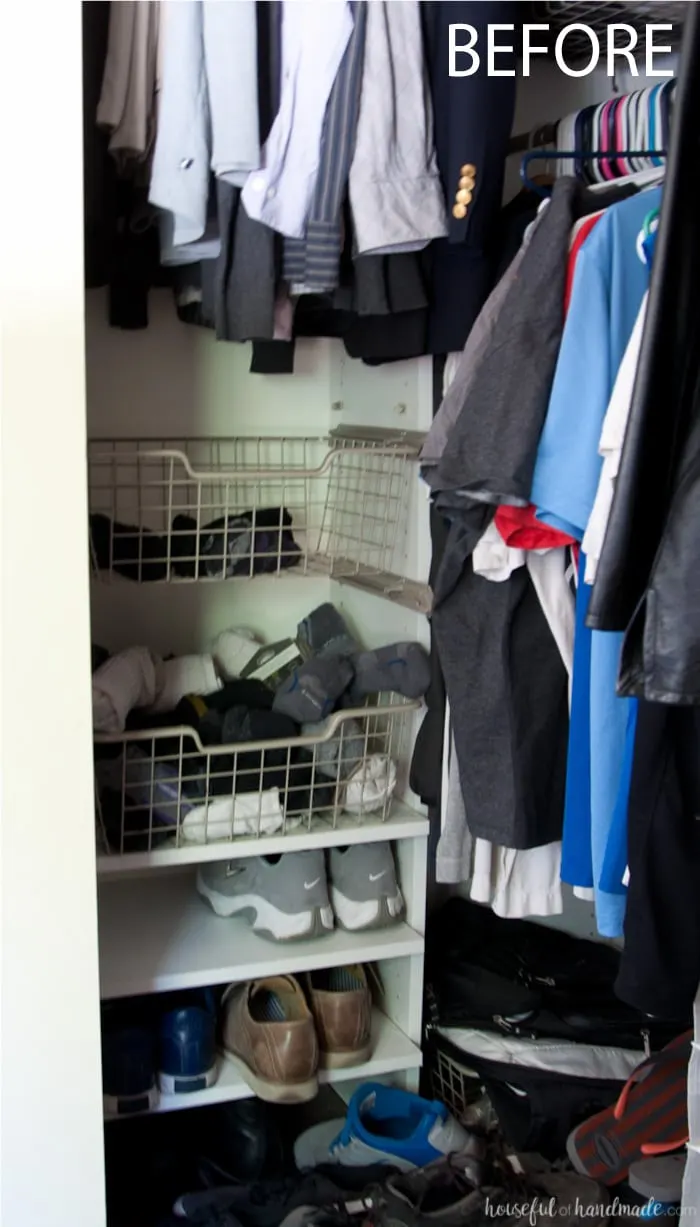 As you can see, our closet lacks any storage besides a few hanging rods and some Ikea baskets that no longer slide like they are supposed to. After living with the closet like this for all those years, I have decided to completely redo how we use our closet.
Instead of just rods, I want shelves and drawers and pant storage too!
And don't even get me started on shoe storage. The current solution is just not working.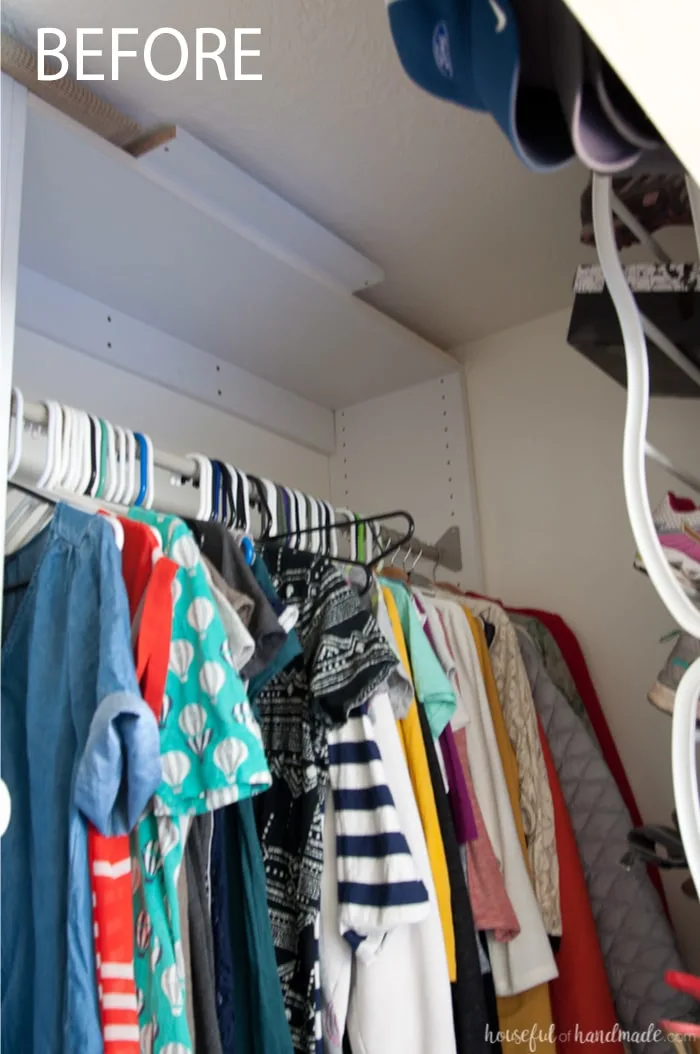 So what is the big plan?
Creating custom closet organizers for only $100 seems impossible. But I have been thinking and planning and measuring and I am pretty sure I have figured out how to do it!
I have created plans to build 2 closet organizers. One to fit into each side of our closet. And it will be made out of 2 sheets of $40 plywood.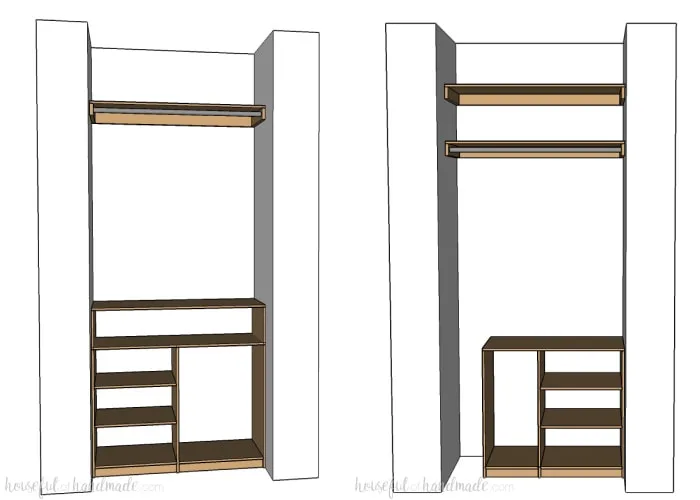 I have decided to move our new organized closets to the sides of closet instead of the back.
Our closet is 40″ deep so it actually gives us almost the same amount of space by moving the clothing areas to the sides. And then I have a large open area in the back of the closet to solve our other big storage issue. Shoes!
Yep, I am planning on making a shoe organizer out of the white melamine board that is already in the closet (reusing is the best part of the $100 room challenge).
So when people look into our beautiful new closet, they will see a wonderfully organized display of shoes. My personal favorite part of the closet. Then the boring clothes can be hidden behind the walls.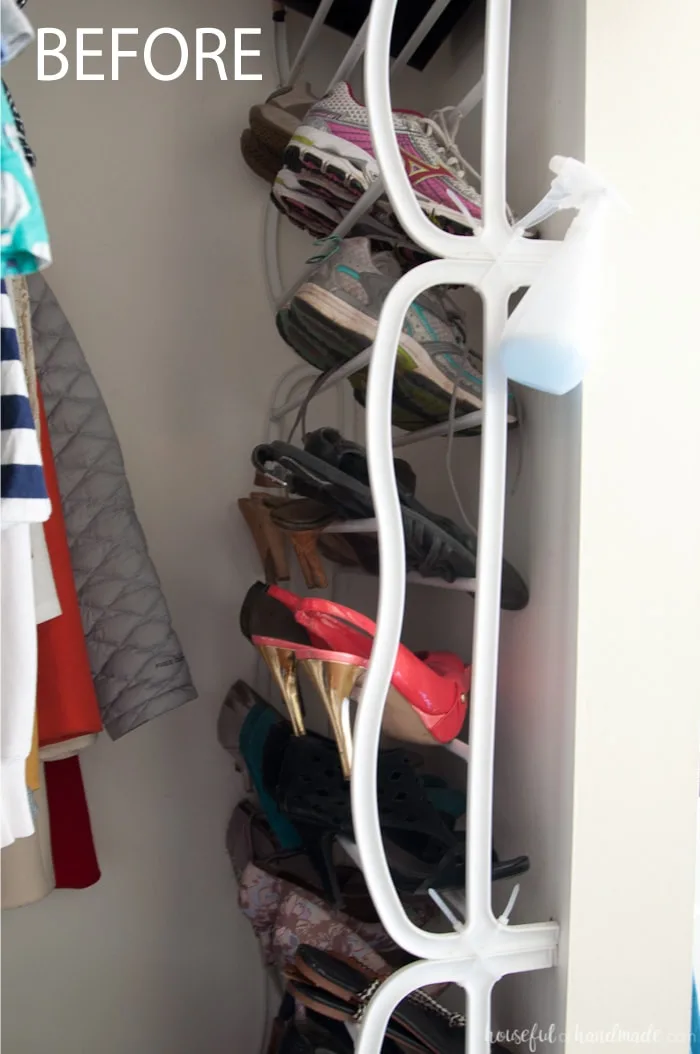 Of course I will have to add in some fun design elements. I have an idea for a large wall art piece that will cost mere pennies and is sentimental too!
But I am saving that idea for later in the month. I also plan on reusing paint left over from our living room remodel. The Agreeable Gray paint from Sherwin Williams is my new favorite color and perfect for the closet so the shoes (and clothes) will pop.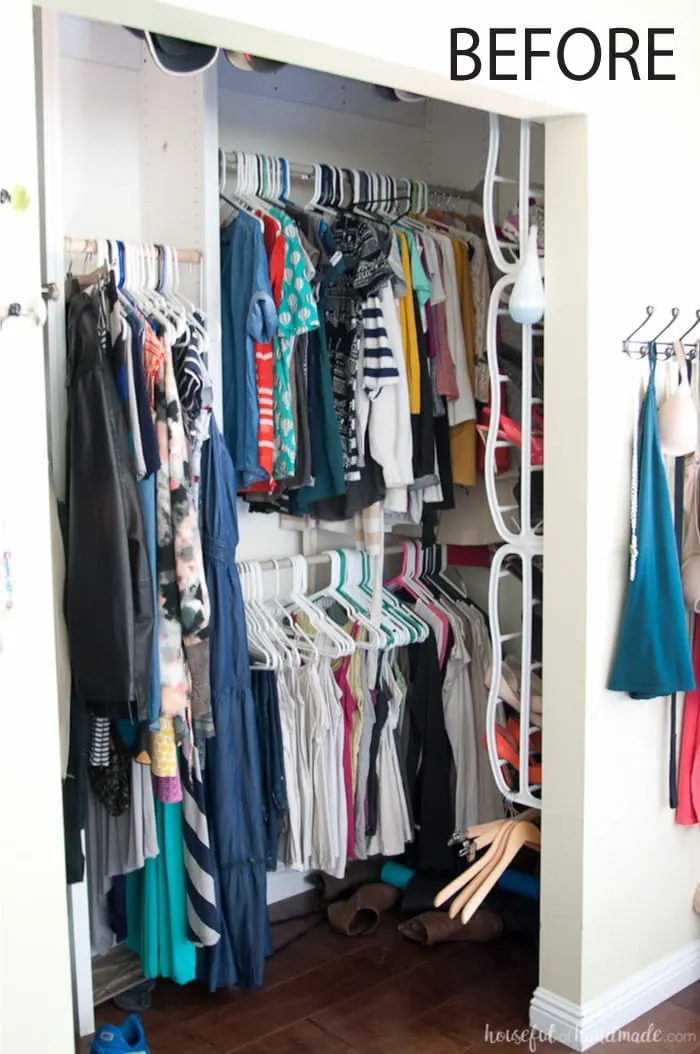 The DIY Custom Master Closet Plan:
Purge, purge, purge (there is a lot of stuff hiding in there that I haven't touched in years)
Remove the old closet organization
Paint
Build custom clothing organization
Build shoe storage shelves
Decorate
Wow, that list seems so short from the last $100 room challenge. But I know it's going to take a lot of work. I guess I need to lower the thermostat and get to work!
So I hope you will follow along as I redo this horrendous master closet for only $100 and in only 1 month (yikes, I need to get busy).