Use these easy decorating ideas to create the perfect summer bedroom. Learn how to transform your master bedroom into a relaxing summer retreat.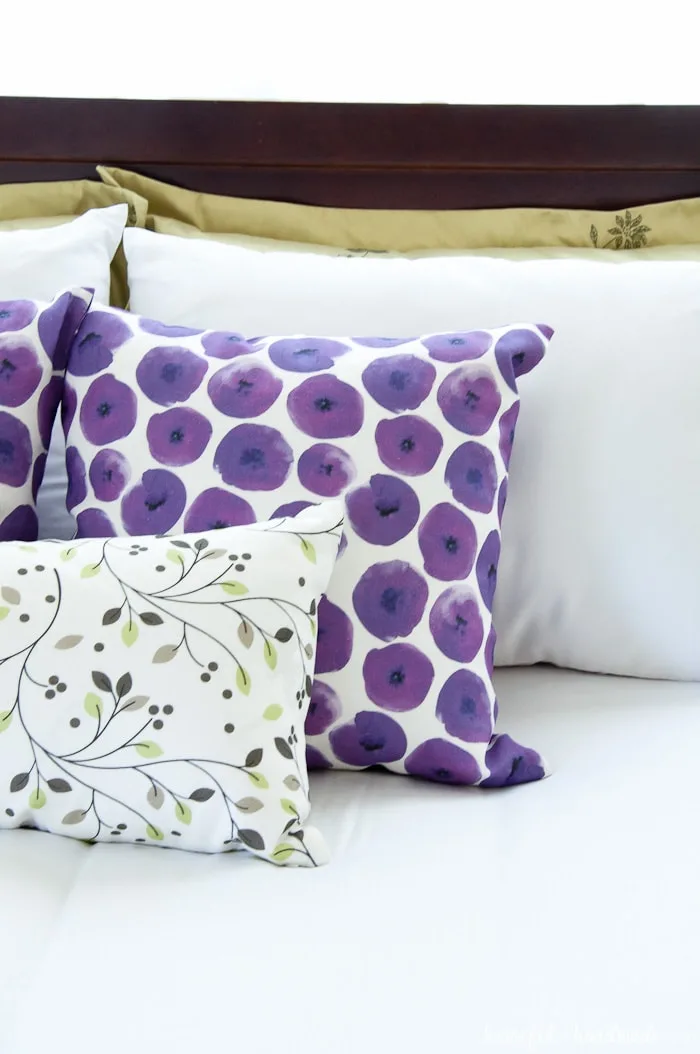 It's time for another Room by Room summer series. This time it's all about the summer bedroom, and more specifically, the master bedroom. I recently gave our master bedroom a mini-makeover and still love how it looks. Just a few quick fixes can turn a dark and boring room into a bright and relaxing retreat. I can't wait to share these easy decorating ideas with you.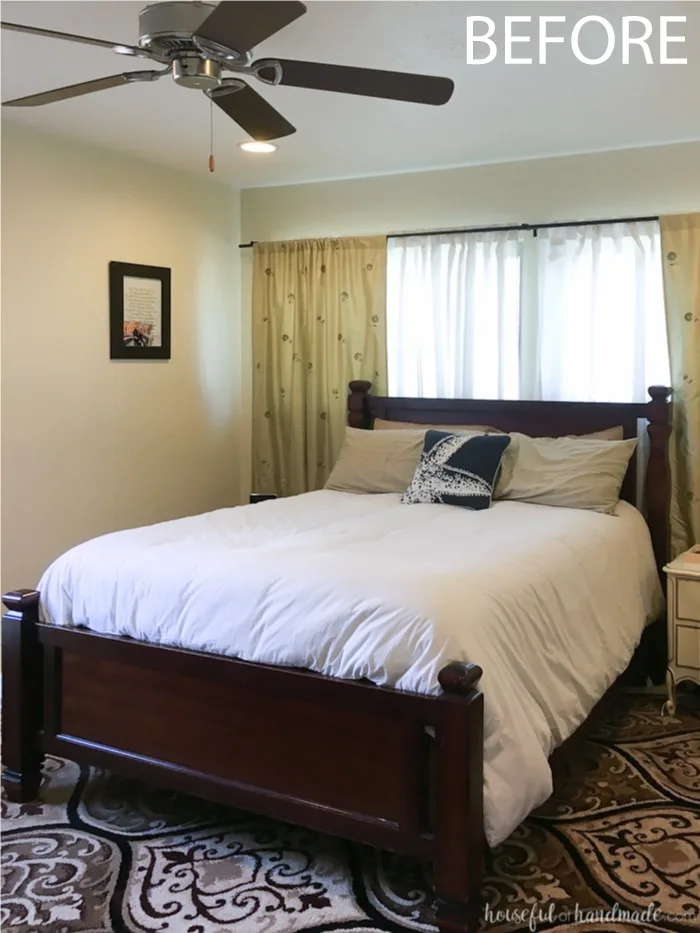 The first thing I knew we needed to do to brighten up our master bedroom for summer was to update the curtains. And while I do love color, I decided to go for white curtains. The curtains offer plenty of privacy, but still let in lots of light! When I walk from our hallway into our bedroom, it always feels like the lights are already on. I love all that natural light.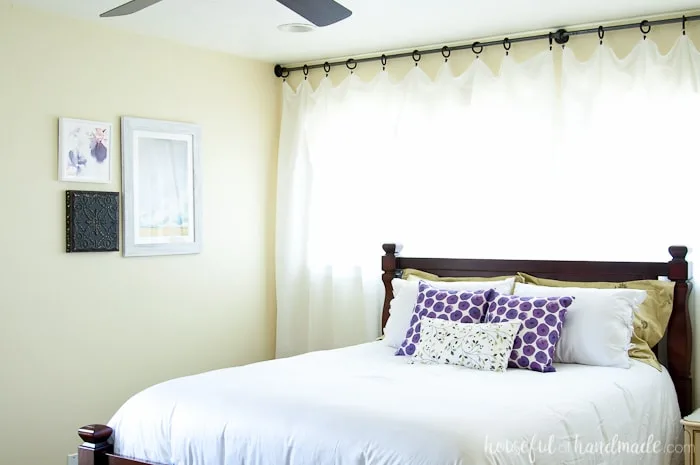 Natural light is the best way to freshen up any room. We are lucky enough to have two decent sized windows over our bed and another small window in our door that goes to our backyard. Because of this we have a lot of light. If you are not lucky enough to have lots of windows in your master bedroom, try these tips to make the most of the light you do have.
Use sheer or light white curtains to let the light in.
Get rid of window blinds that block a lot of light.
Add a large mirror to help bounce the light back into the room.
Lighten up the wall color to give the appearance of a lot of light.
Use lightbulbs with daylight color temperature (5000K-6500K) to give the appearance of natural light.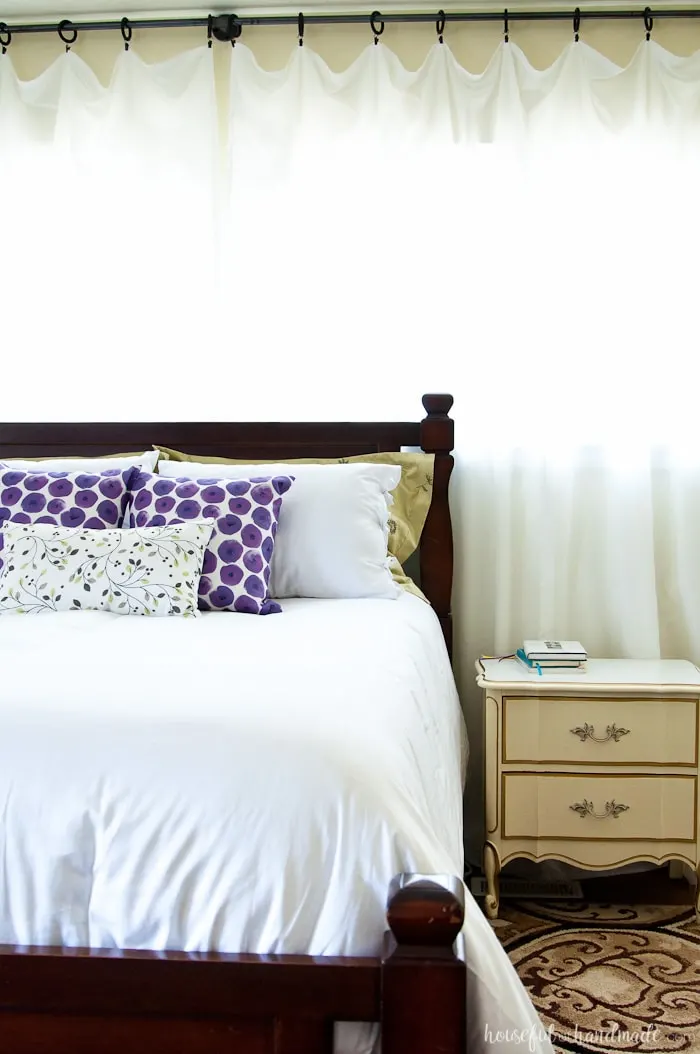 Replacing the curtains doesn't have to cost a lot either. I used 2 packs of $10 Ikea curtains for the entire wall in our master bedroom. Even though our windows are small, I made the curtains go from the floor to the ceiling to add the illusion of height. It totally works too! And the curtain rods we used are actually black plumbing pipe from the Home Depot. Total cost for the 12′ curtain rod = less than $50.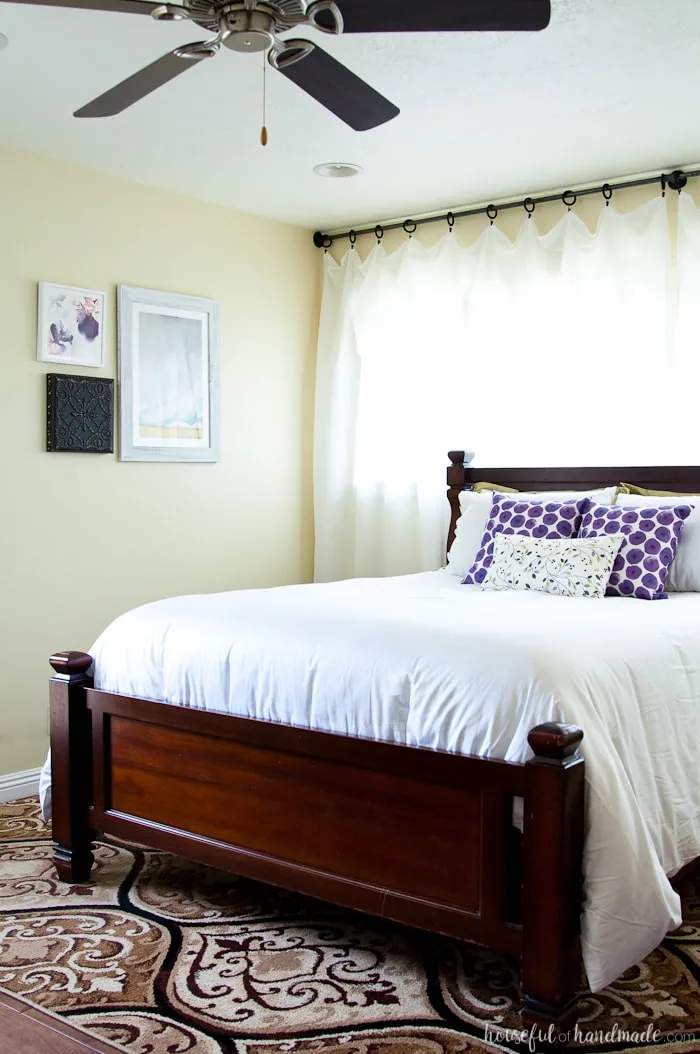 The other part of creating the perfect summer bedroom of course is the bedding. You can use whatever color of bedding you want, but I do like white. The white comforter with the white curtains really brighten up the room. It has the feel of a high end hotel. But most people are afraid of white because they get dirty. The perfect solution is a white duvet cover.
White duvet covers are super easy to clean too. I bought this cotton one about 6 months ago and it's still looking great. We wash it monthly and use Oxyclean to soak it for extra cleaning power. It is way easier to clean a duvet cover than an entire comforter too. And the down comforter is even cool enough for hot summer evening while still keeping us warm in the cold winters.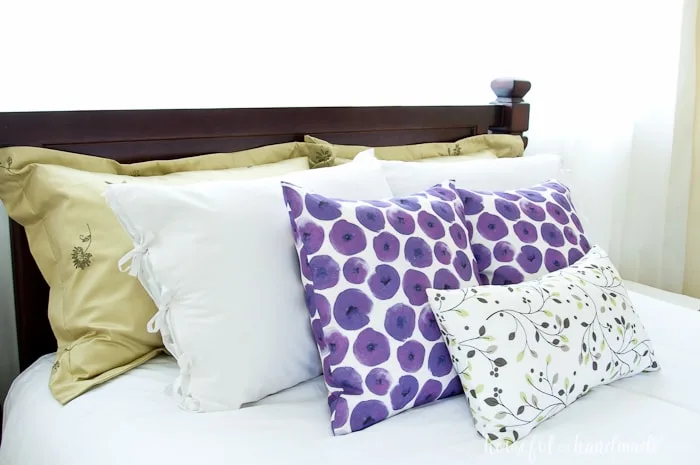 Tips for keeping white bedding clean:
Use a lint roller to remove pet hair and lint between washing.
Cover bedding with a duvet cover that can be easily cleaned and is less expensive to replace.
Soak bedding in warm water and Oxyclean for up to a day before washing (it will not damage the fabric).
Use bleach as needed for stubborn spots.
To really dress up our summer bedroom, we dressed the bed with fun bright colored pillows. To keep our mini makeover on budget, I used the dark silk curtains I removed to make pillow shams. The silk makes the pillow pile feel very expensive and it cost us nothing. Then I made these cute farmhouse pillow cases, complete with bows, out of the pillow shams that came with the duvet cover. Another budget friendly option. And since we do not sleep on either of these pillows, I purchased inexpensive pillows to put in them (I payed around $8 for a set of 2).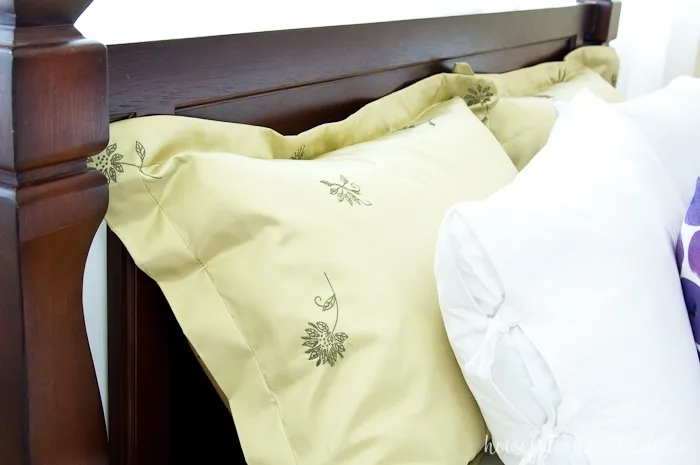 Then to add style I added bold throw pillows. The two purple floral pillows are 18″x18″ pillows I bought from Minted.com. These pillows were a splurge for me at $55 each. But it is a good idea to add some luxury items to each room. They make the entire room feel richer. If you use smaller luxury items like pillows instead of large luxury items it helps keep the budget in check. Then we finished off the pillow stack with a 21″x12″ pillow also from Minted.com.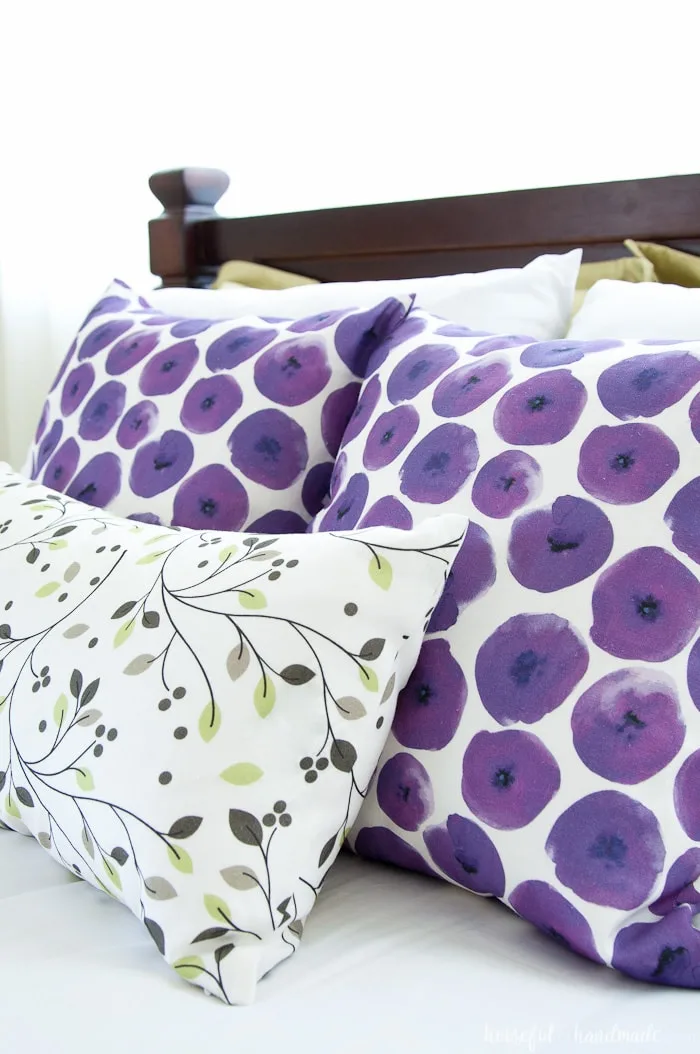 The other side of the bedroom is our master closet. This month I am working on completely redoing our closet for the $100 Room Challenge. You can follow along here. So right now, it is a real mess. But by the end of the week, it will just add to the relaxing summer bedroom that we have already created.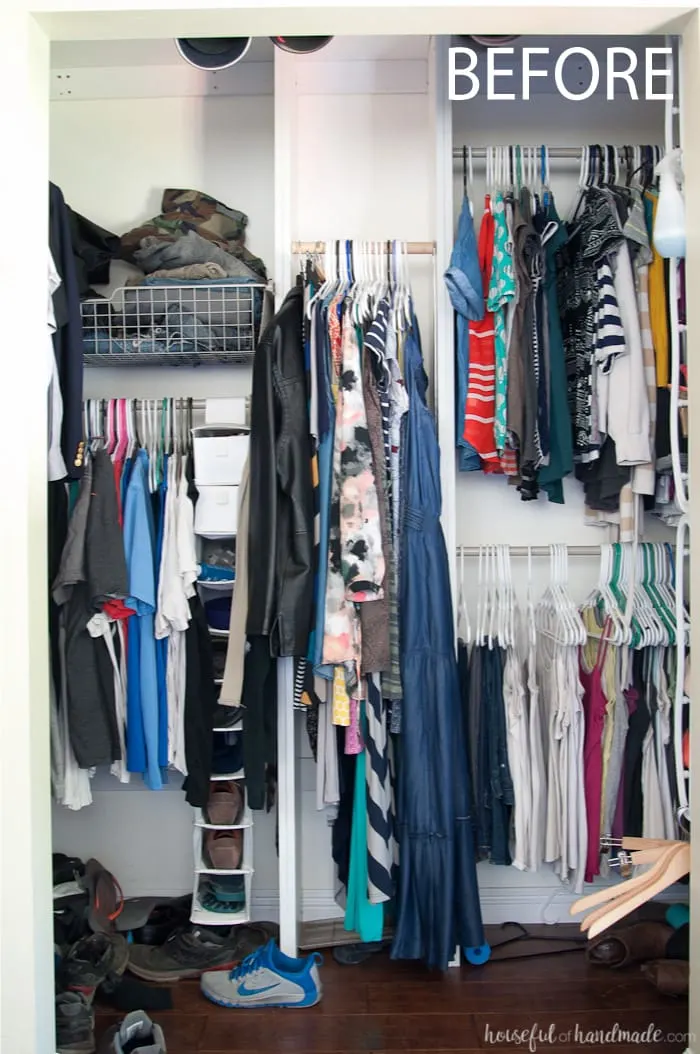 Changing out the bedding and curtains really transformed this room. I barely even notice the hand-me-down mismatched nightstands anymore. But that is still on my list of things to do to complete the space. For now, we are just enjoying our beautiful summer bedroom.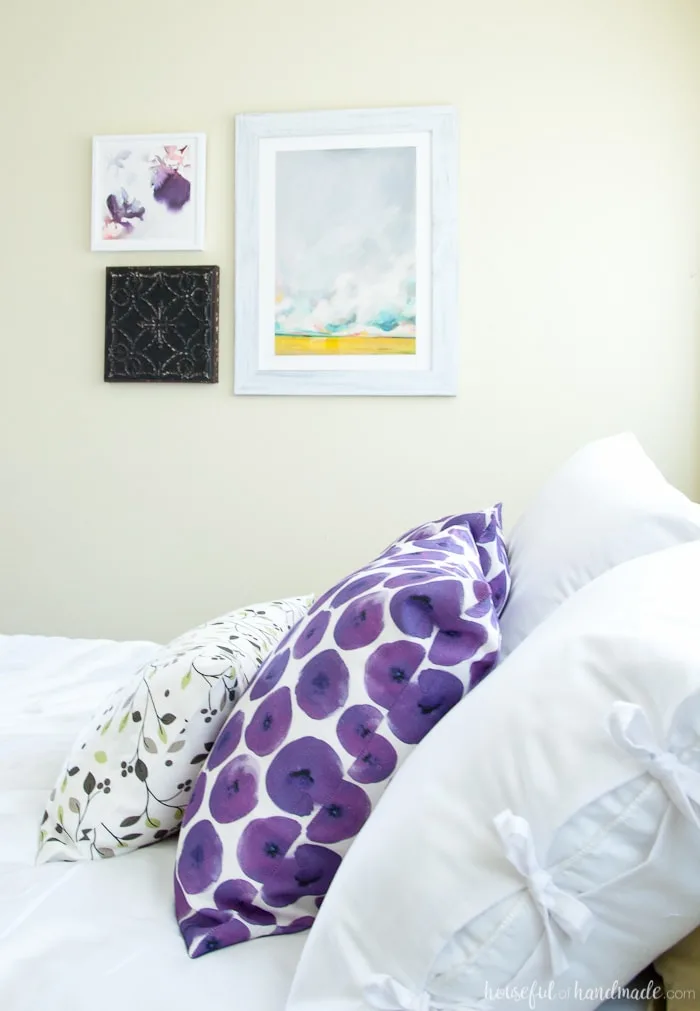 For more summer decorating ideas, check out these other summer room tours:
And then grab your favorite iced coffee and check out these other beautiful master bedrooms all decorated for summer.
Have a wonderful summer!