The built in bench with storage in the dining room is finally done!!!  I started this project in January, before I started blogging, and it has taken too long to finish… but it is done now.  I actually started blogging about all my projects so that I would have to finish them.  Before I started documenting things here, my pattern was: get excited about a new project, work really hard to get a lot of work done, get it almost done, then get tired and stop.  I have a lot of mostly done projects around, they are all in a usable state (the fire place mantle is up, but no tile or paint, for example), but not actually finished.  So the blog is doing exactly what I needed, getting me to bite the bullet and FINISH!  My husband should be proud 🙂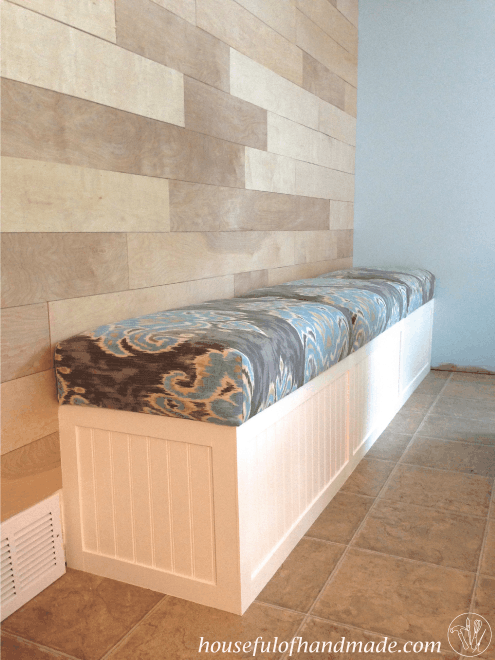 I made this bench out of 2x4s and left over beadboard that I had in our garage.  It was easy to assemble, has tons of storage inside, and is indestructible!  Seriously, with the 2×4 frame it is definitely going to withstand the kids (and they are great at beating up furniture).
Since I started this project before I started blogging about our adventures, I don't have pictures for everything.  But I will try to explain what I did for you.  Our bench is 8 feet long, 22 inches tall with the cushion, and 18 1/2 inches deep.
I had almost all the supplies I needed in my stash of stuff I was to afraid to get rid of (yeah I'm a craft hoarder, but I'm really good at tossing out all the stuff I can't create with).  If you want to make a bench, but don't have a hoarders worth of supplies, you will need to buy:
7 2x4s
3 2x2s
1/2 of a 4'x8′ sheet of beadboard
8′ x 18″ of 3/4″ plywood
2′ x 4′ sheet of 1/4″ medium density fiberboard
screws, nails, staples
8′ of 18″ wide 4″ deep upholstery foam
3 yards of upholstery fabric
3 yards of batting (use what you have, I used an inexpensive medium loft polyester batting)
I started by finding the studs in the wall.  Anything that is built in needs to be secured to the studs.  I cut 4 2x4s 95 1/2″ so that the final dimensions would be 8′ after the 1/4″ beadboard and 1/4″ trim.  I measured 16″ up from the ground and using a level, drew a line.  I secured one of the 2x4s to the wall at the studs so the top of the board was level with the line.  Then I secured one of the 2x4s to the wall along the floor line.  I didn't have baseboards in the dining room yet because I ripped those out to update a long time ago.  If you have baseboards, you will have to remove those.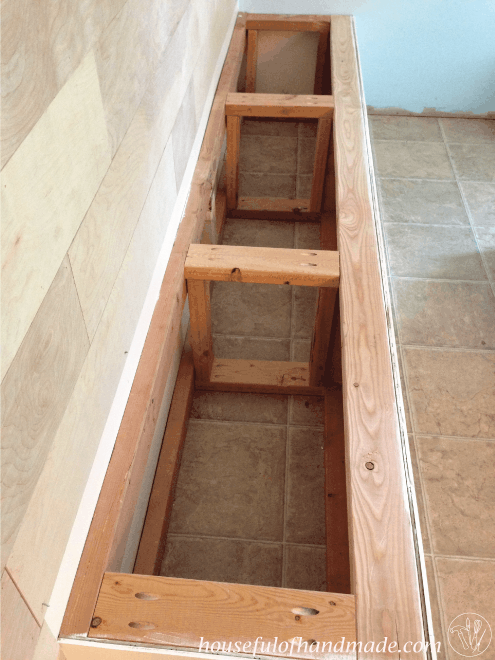 I marked the 2x4s that were attached to the wall in the middle every 32″ so I had 3 equal sections.
Then cut 20 13″ pieces out of the other 2x4s. Using my Kreg jig, I put 2 pocket holes in each end of the 20 boards.  I used the pocket hole screws to attach the 13″ 2x4s into a square frame in the order below, attaching the other 96 1/2″ boards when needed.  The other 95 1/2″ boards are not secured to the floor or wall at all, but they are very secure with the 2×4 frame and the pocket holes.
The middle frames were attached centered at the 32″ marks I made.  The openings in the storage will not be the same size, but the cushions and frame will all line up at exactly even so that was more important to me.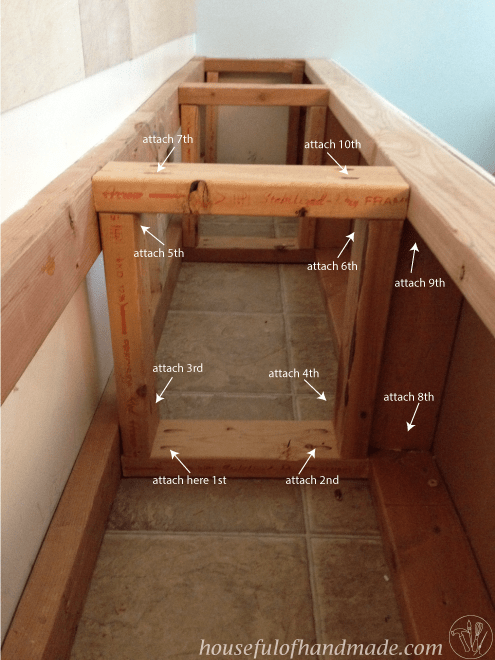 Once the frame was done, I used some beadboard and wrapped the frame in it.  I cut 2 4′ x 16″ pieces for the front and then 1 18″ x 16″ piece for the exposed side.  I nailed it to the 2×4 frame.  I didn't have a nail gun, so I used finishing nails to hammer it in a couple places, I didn't worry about it being too secure since I would be adding trim around it and those nails would secure it better for me.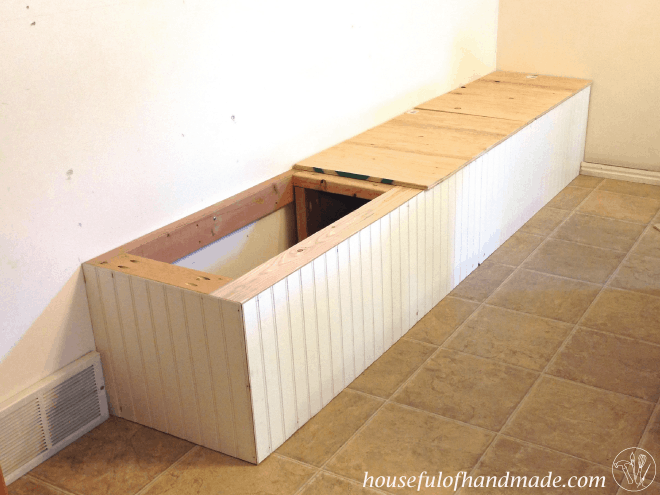 Then I cut 3 pieces of 3/4″ plywood for the bench top.  These were cut at 18 1/4″ x 32″.
I chose to just upholster the bench tops instead of making cushions that were removable.  My kids LOVE to remove cushions and throw them around and I am sick of putting them back all day.  And it was easier to upholster the bench top instead of sewing cushions 🙂
Because I wanted to upholster the bench top, I was not able to hinge the top of the bench so I built a simple square frame to keep the bench top secure and stable.  This part you have to measure each opening exactly, then subtract 1/4″ off each side.  I used 2x2s to make the frame, then secured it to the bench top with some wood screws.  I secured it to the bench top before upholstering it so I could hided the screws under the cushion.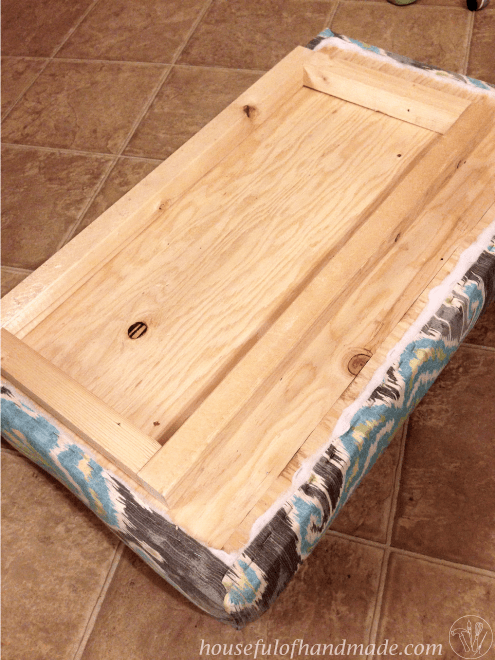 Also, since upholstery foam is very expensive, I have found a great way to save money is to use old couch cushions.  You can save the cushions from couches people are throwing out or buy an old one for cheap.  Just pull the foam out and throw the rest away.  That is how I got the foam for these.  I have been storing these cushions from my sisters old couch that was thrown out for a couple years.  Now they are a new place to sit instead of a pile of crafting junk in the corner of the basement!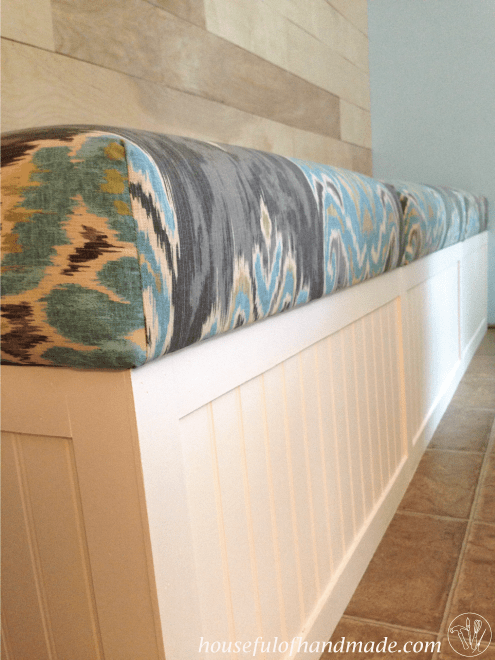 I did sew the corners of the cushions so that they fit nice and tight.  For each cushion I cut a piece of fabric 46″ x 32″.  Then I folded the corners at a 45 degree angle and sewed down the line so I had a box.  Then I placed a 32″ x 18″ piece of foam on top of the bench plywood, covered it in a layer of batting, then wrangled the top on it.  I purposely made it fit tightly, no extra space for batting, so that it would look nice and clean, but it does require a little work to get it on.
Once the cushion is all arranged, pull tightly and use the staple gun to secure it.  Start in the middle on the front, staple a few.  Then pull tight to the middle back and staple a few.  Do the same side to side and then keep working around the outside keeping the cushion pulled tight and even as you staple.  Trim off the extra fabric and batting.
You can place the cushion on top of the bench now, and take a break.  That's what I did.  I wanted to paint and put up the feature plank wall before I trimmed out the bench and painted it.  So it took 3 months before I could finally say it was done!  But it was worth the wait.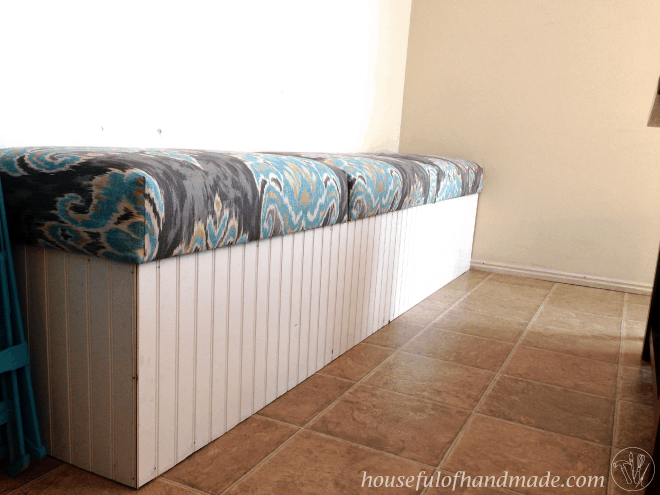 When it was finally time to continue, I cut 2″ strips on my table saw from the 1/4″ fiberboard.  You can trim it out with anything, but I wanted a very small depth to the trim and the fiberboard was easy to cut, had no splintering or splitting, and painted beautifully.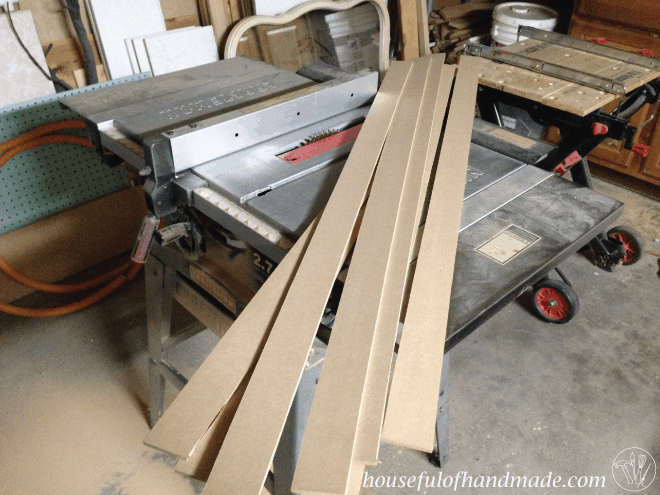 I started by scribing the pieces that needed to go up against the wall so they would fit perfectly (except at the bottom because that will be covered by the new baseboards.  I talk about scribing in the feature plank wall post if you need some guidance.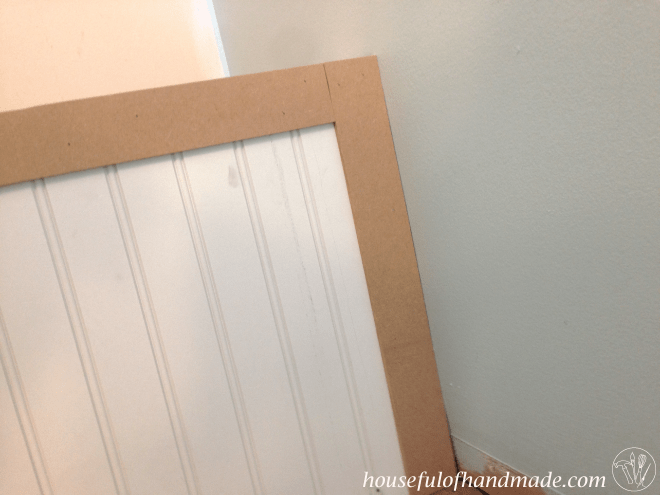 Then I added the rest of the vertical trim pieces, taking care at the corner to line it up beautifully.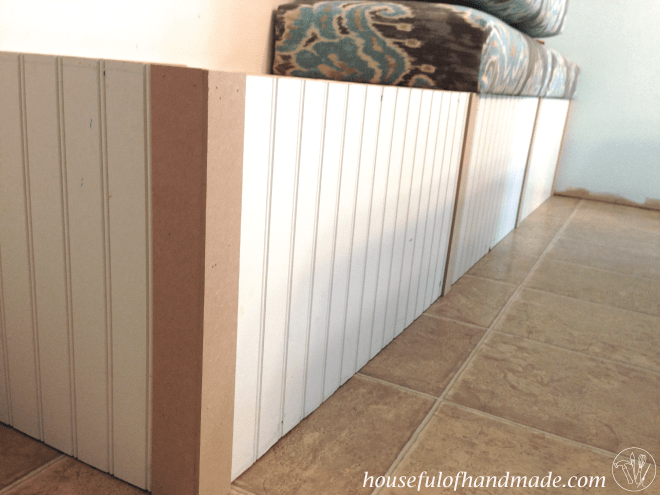 To add in the horizontal trim pieces, measure carefully and cut each piece to that measurement.  As careful as you are, you will never have the pieces all be the same size.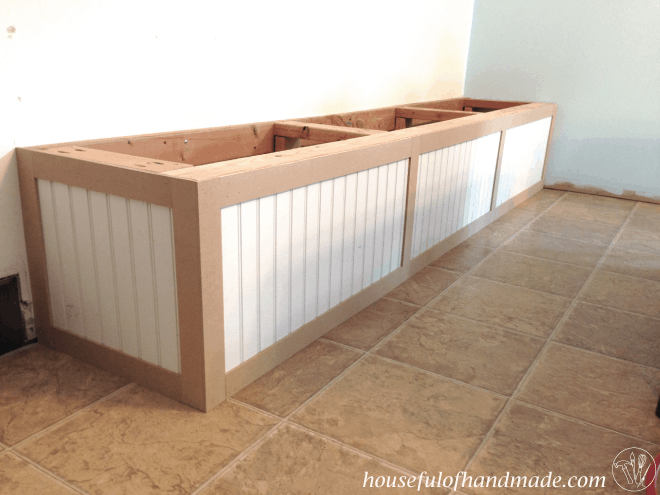 Now it was time for paint!  Yeah, or not.  I love to build but I am not the biggest fan of finishing.  But a girl's gotta do what a girl's gotta do, so I toughened up and grabbed the paint brush.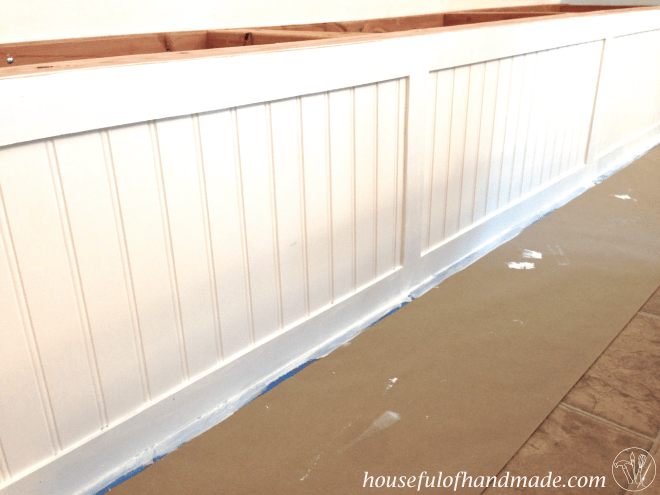 It took 2 coats, but the final project is perfection!  I love all the storage I have inside for items I don't need to access regularly.  It really holds a lot.
And when we have lots of people over, we have extra seating while mingling and cooking.  And the table can be pushed closer to it so we have extra seating at the table for big dinner parties, too.  We've got the perfect dining room for entertaining, and that is very important for our family.  We love to have people over to eat!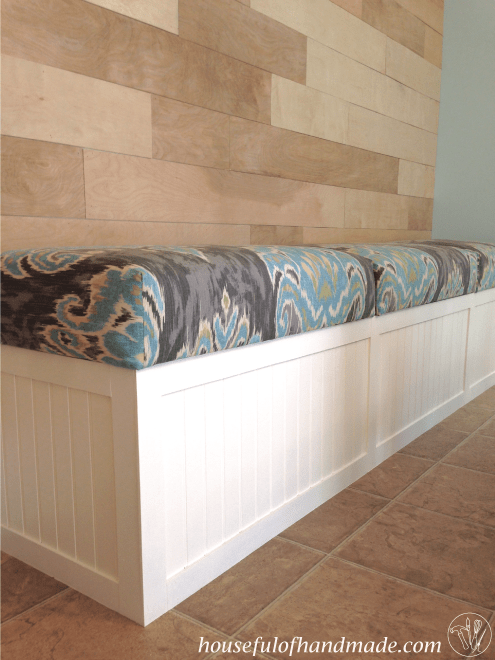 And I can load up the storage with all my entertaining supplies!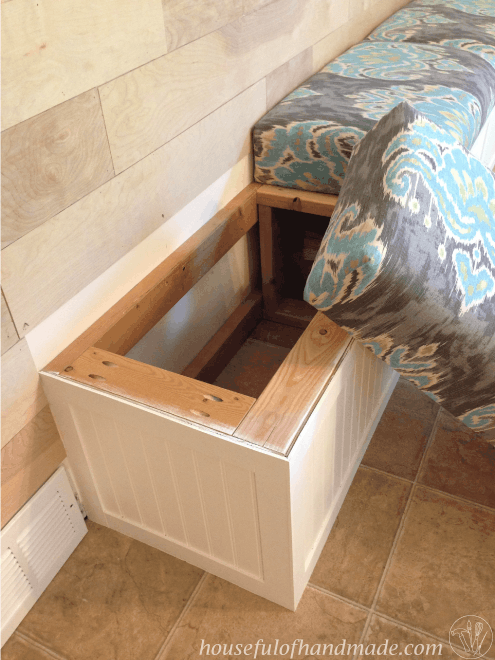 Now it's time to get the curtains up.  One step at a time and I will finally have the finished dining room I dream about!

I'm linking up to some of my favorite Link Parties.