You may have noticed that I like to make things… pretty much anything.  I see something online, in a store, at someone's house and I think "I can make that!"  And a lot of the time I actually start making "that".  But my dirty little secret is, that I may be less awesome at finishing all my projects.  I could blog for at least 2 years about just finishing the projects I have already started, or that I have bought supplies to start.  And that wouldn't include all the new cool stuff I want to do!  This is one of those projects from last year.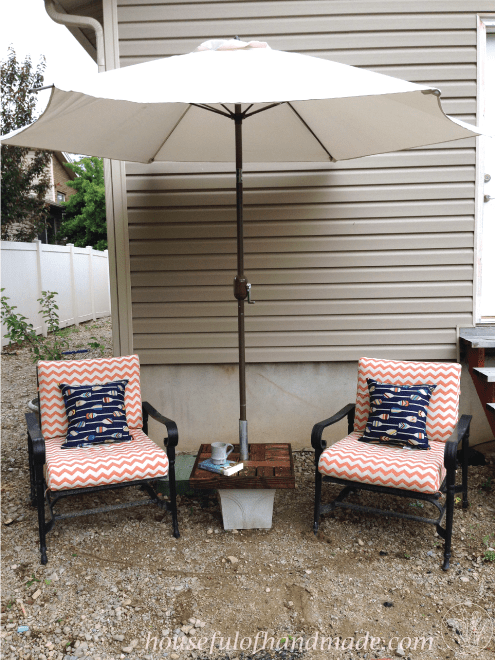 I like umbrellas for outdoor seating areas a lot.  It gets really hot in the summers in Utah and the shade is necessary for enjoying the outdoors.  But they are kinda expensive.  So when I found one on Target that had great reviews and was on sale (and free shipping with my Red Card) for only $25.00, I hurried and bought it before it was gone.
It is a basic beige color (which I thought I could add some design to it with paint, but haven't yet 🙂 ).  And is really nice.  I was so excited when it came in the mail, and pulled it out of the package ready to set it up, then I realized I forgot to get a stand for it!  Ugh.  I jumped online and quickly realized that they are even more expensive then the actual umbrellas.  Any less expensive ones had horrible reviews and weren't very pretty.  So I decided to make my own, and I'm so glad I did!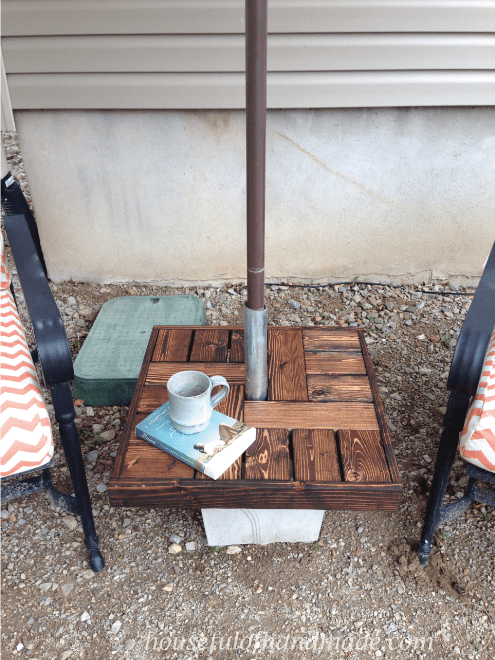 This umbrella stand cost me $0 cause I already had everything (which is why it is the way it is) but if you don't happen to have all this stuff lying around, you can still make it for pretty cheap.
You will need a large planter (the top needs to be less than 20″ wide), about $8 in wood, some screws, a 2″ piece of pipe and a bag of cement.  The one expense that I cannot estimate is the planter.  They can be pretty expensive, but you can find some good ones for cheap if you look around.  I would recommend going to the thrift store to see what you could find there.  You do want the planter to be plastic or something really light weight.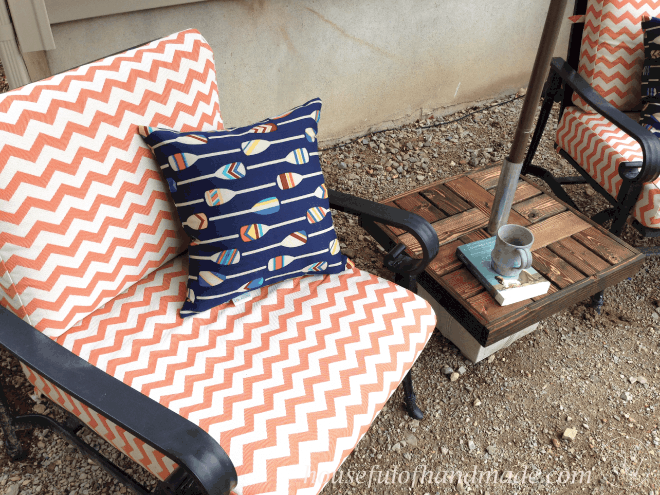 So last year I started the project.  The first part was pretty easy, but back breaking!  I learned that it is a good idea to mix the concrete in small batches and to put your pot where you want it to go (or at least close).  I assembled mine in the front yard in my driveway, then we had to carry it all the way to the backyard.  Needless to say, my husband wasn't very happy with me :).
Because my pot has feet, I added some wood in the middle the same size as the feet to support the center of it.  Then I places a scrap piece of 1 3/4″ metal pipe in the middle and held it in place with some masking tape.  Then add the concrete till you get the pot mostly full.  Again, mix small batches or you will exhaust yourself trying to stir it up!  Then let it set up.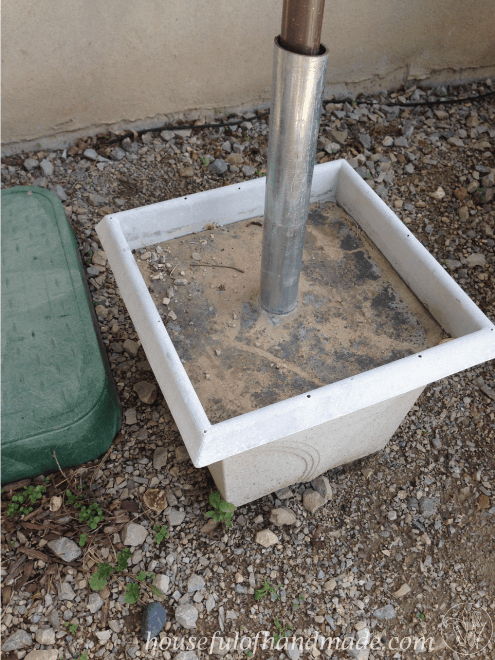 Now you can use it just like that, which I did all last year, but I really wanted to create a little table top to rest on the top of the planter so I had a place to put my beverage while sitting outside watching the kids play.  So I thought good and hard about what I wanted, then it was winter… then it was spring… and then I needed a table top, so I finally got around to making it!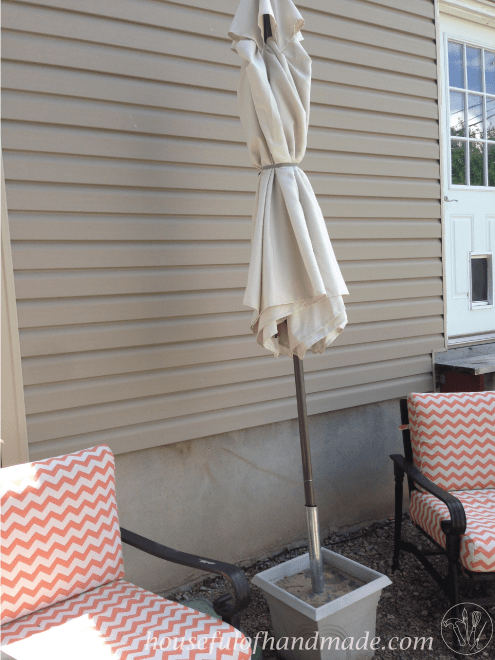 And it was super easy.  I used my trusty Kreg Jig and my new nail gun and it was ready in no time.  And with about $8 in wood you can too.
Shopping List
2- 2x4s 8′ long (you will only use 1/2 of the second one but you can't buy 1/2)
1- 1×3 8′ long
32- 2 1/2″ Kreg Jig screws
3/4″ finishing nails
Tools Needed
Saw (I use a miter saw)
Kreg Jig
Clamps
Drill
Screw driver
Nail gun
Sander
Cut 4 11″ pieces of 2×4 and put two jig holes on one end of each.  Measure 2″ down from the end with the jig holes.  Then arrange them like in the picture below, leaving a 2″ box in the middle, and secure with screws (you can also use glue for extra hold, but I forgot).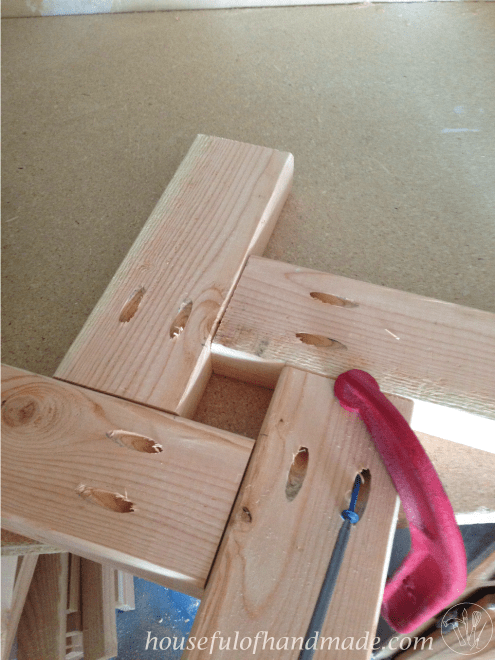 Before going any further, I double checked that it fit over my pipe.  And it did 🙂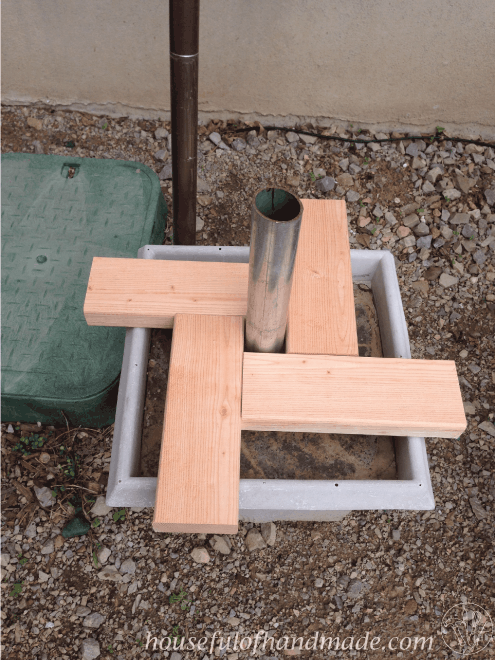 Now I went back to my work bench and cut 12 pieces of 2×4 to 5 1/2″ long and added jig holes on one end of each.  Then attach the boards with a little gap between them.  I just eyeballed it.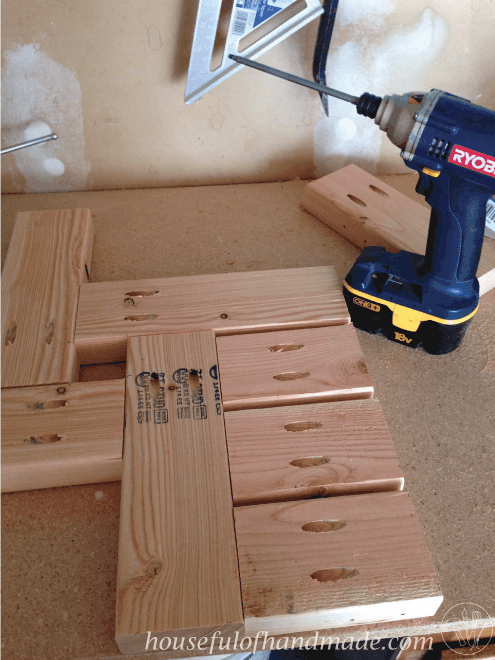 Go around the whole table top and attach 3 of the 5 1/2″ boards to each side.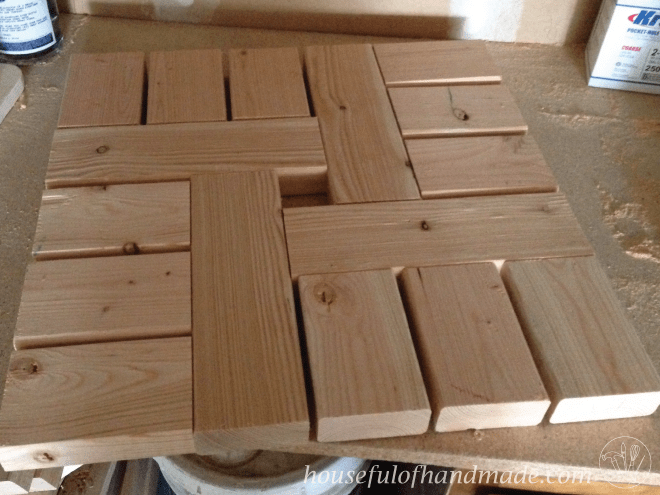 For the edges I used the 1×3, you will want to measure each side and cut to fit, the first two side will be about 20″.  I turned the table top over and used the flat work bench to keep ti flush to the top.  Attach with nails.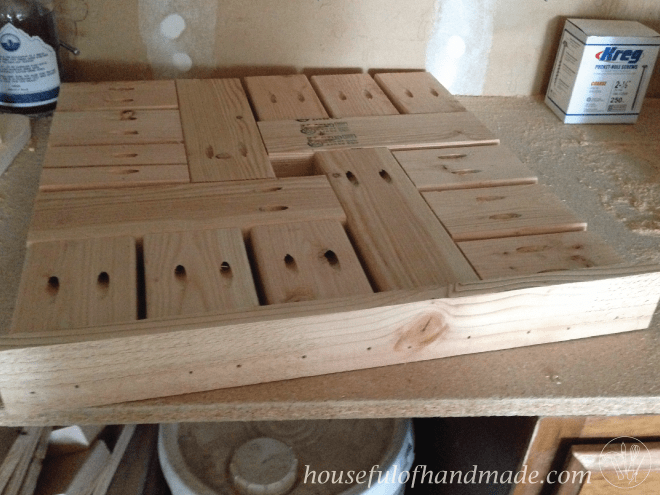 Then do the same to the opposite side.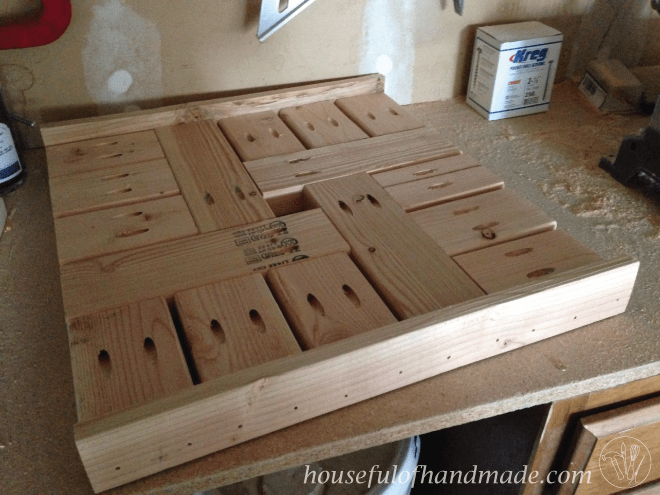 Measure the other sides, they should be about 21 1/2″.  Attach with nails.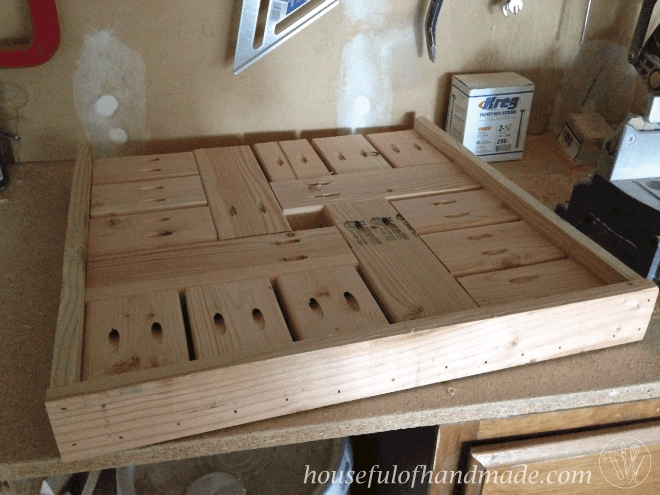 Now it is ready for sanding!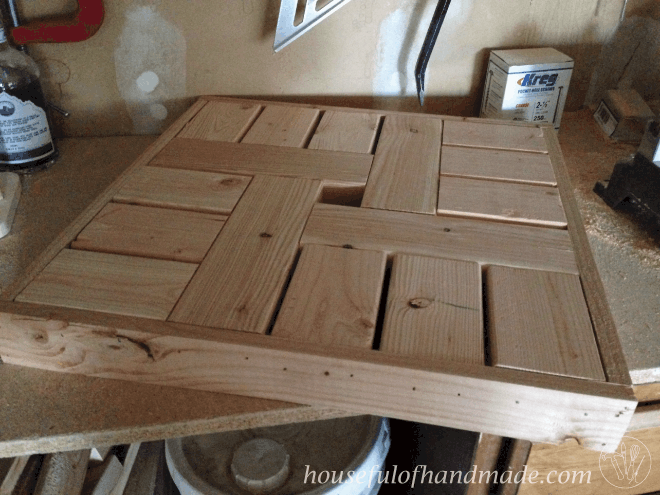 I sanded it a lot!  I wanted to get the top supper smooth.  Then I stained it with Minwax Dark Walnut and finished with an outdoor deck sealer.
Isn't it pretty??  I love how the grannie jumps out with the stain.  Look at those pretty knots.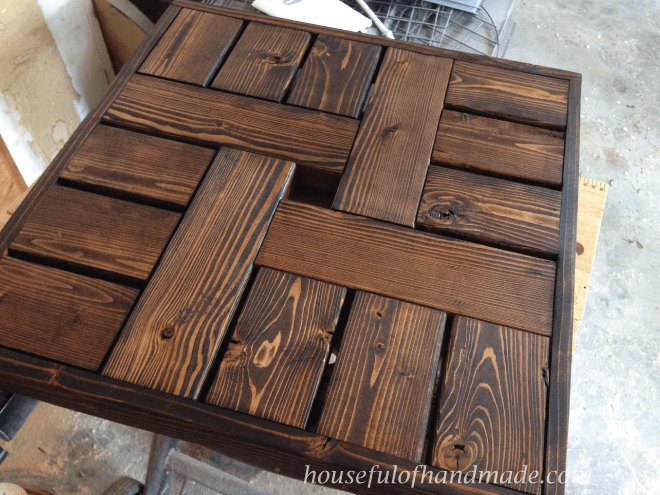 I had to wait 24 hours before putting the table top on the umbrella stand outside because it wouldn't stop raining!  Seriously, do we still live in Utah?  I thought it was a desert here…  Oh well, at least my garden is happy.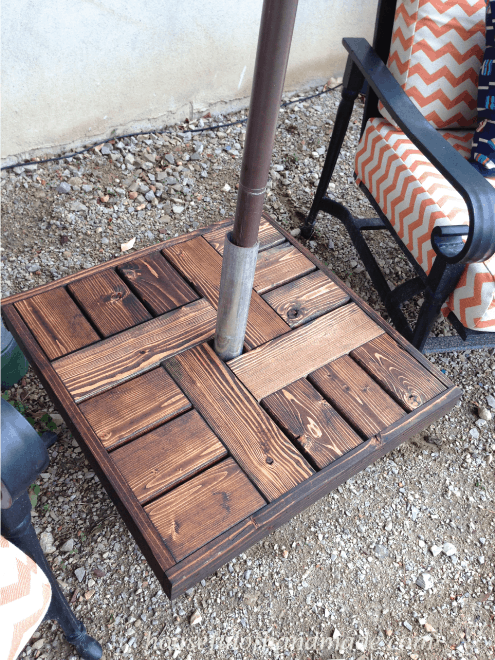 And now I can sit down, read a book, sip my coffee and watch the kids play.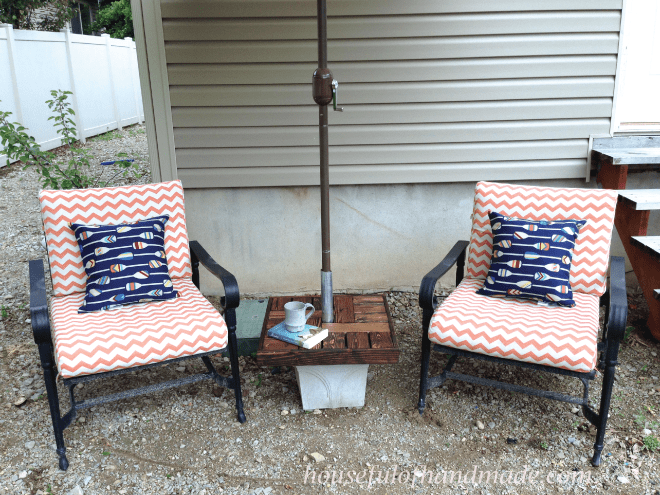 I still want to paint the planter a bright fun color and spray paint the pipe to match the umbrella pole.  But I have to wait for it to stop raining!  I'm hopeful that will happen soon.  Then I can also work on that patio, but that's gonna be a big project for another weekend.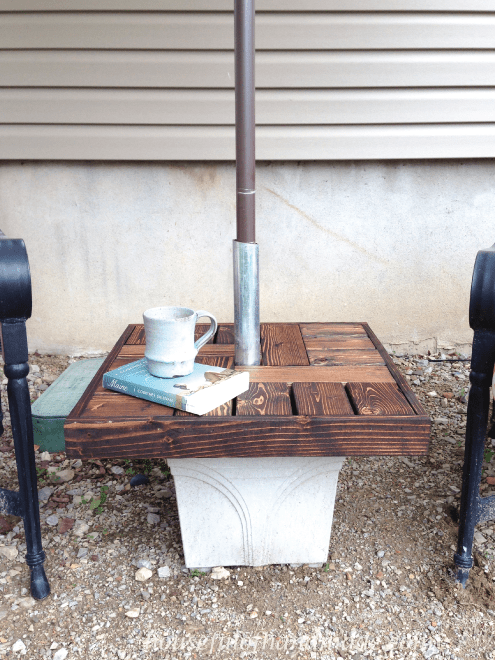 For now, I'm gonna sit down and enjoy getting my umbrella stand finished 🙂