Build a beautiful DIY bread box to store your bread and keep it contained on your counter.
I hate having loaves of bread in bags all over my kitchen counters. Not enough to stop eating bread, but enough that I decided it was time to come up with a much prettier way to store those loaves.
So I partnered with Kreg Tools new project plan site, BuildSomething.com, to make a DIY bread box with loads of storage that looked beautiful in the kitchen.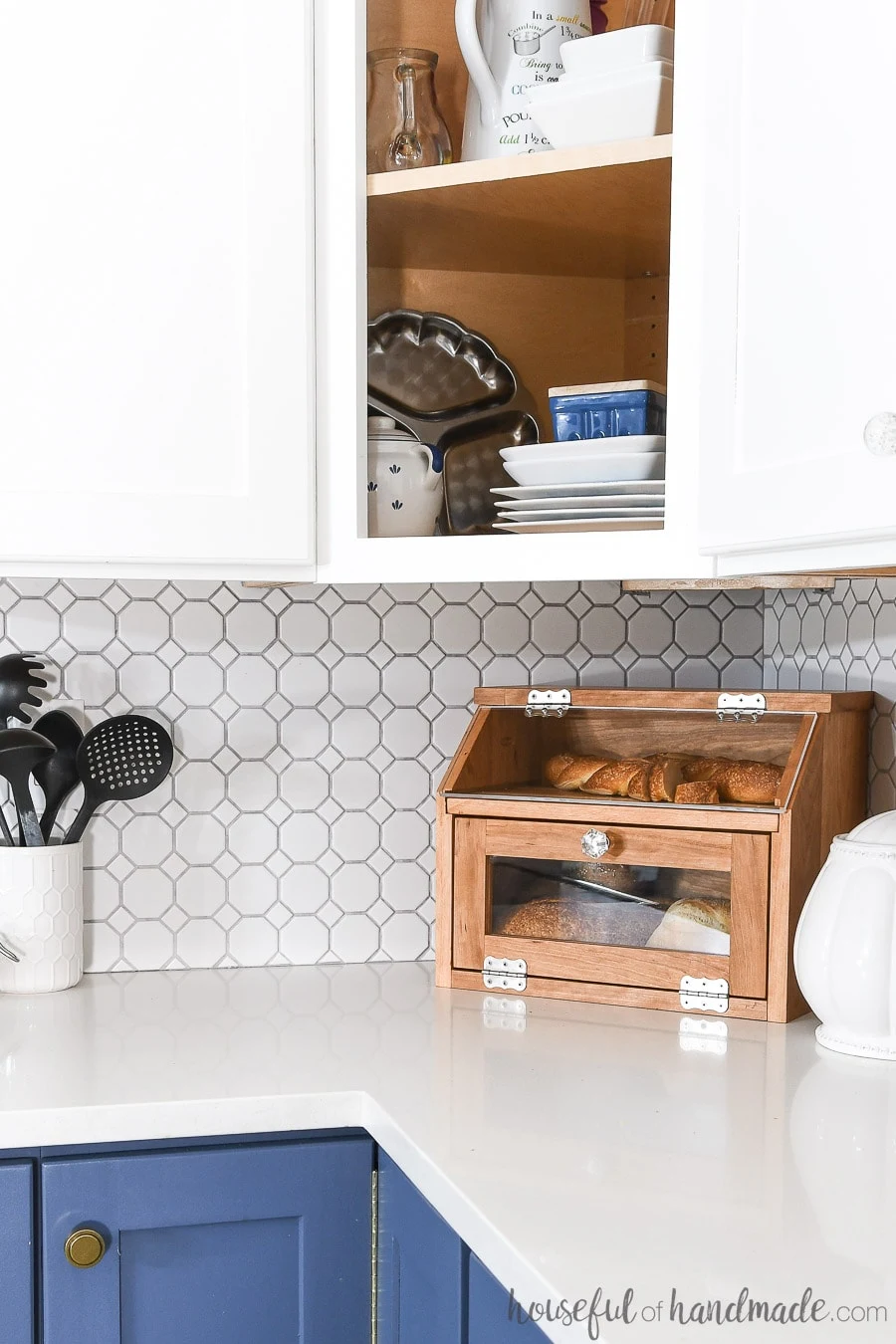 Nothing beats a loaf of fresh made bread or a crusty loaf of artisan bread. But storing those loaves is kinda a pain.
Sealing bread in a plastic bag causes the crusty outside to get soft. They need a little bit of air to keep them perfect!
That is way a bread box is so amazing. They create a wonderful environment to store your non-sliced bread to keep it perfect. Soft insides with crusty outsides. And the best part, it looks so pretty on your kitchen counters.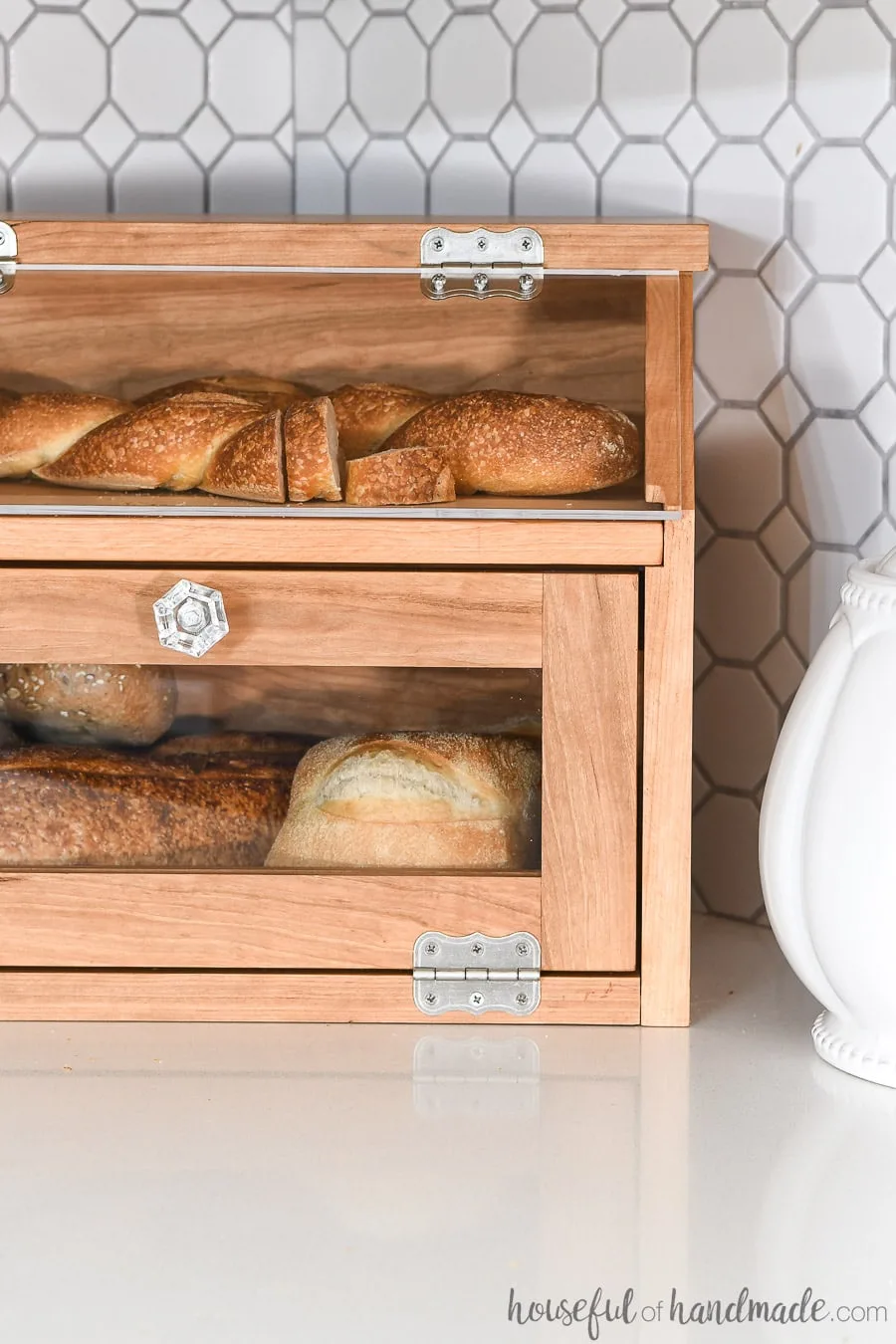 Since our family is definitely in the carb eating category, we needed a large bread box with room for more than just 1 loaf of bread. One loaf is just an appetizer and I don't have time to run to the store daily for more!
But our new DIY bread box now has enough room to keep my family in bread for a solid couple days.
There is a large bottom compartment to store lots bread. And the cute little window means I can easily see when we are getting low (or what 's available for lunch!).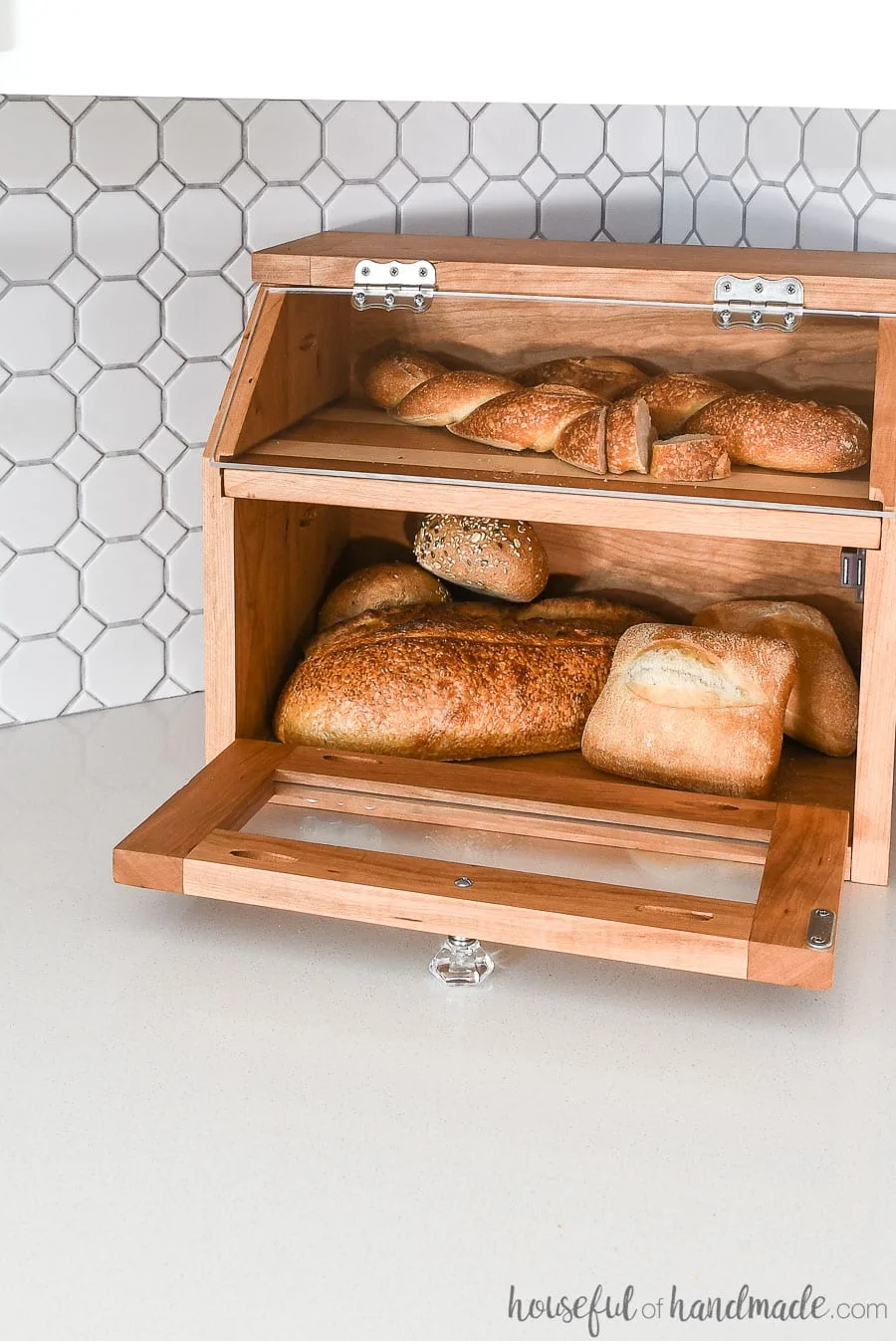 But my favorite part of the new DIY bread box is the top shelf with the plexiglass cover. That top shelf is more than just a shelf… it's a pull-out cutting board!
Yep, store your favorite hearty loaf right there and then when you are ready to serve, just slide the entire shelf out and you have a beautiful cutting board ready to go.
I made a simple cherry and hickory striped cutting board and love it. Then I can just slide it back into the bread box to store for later (it there is any left).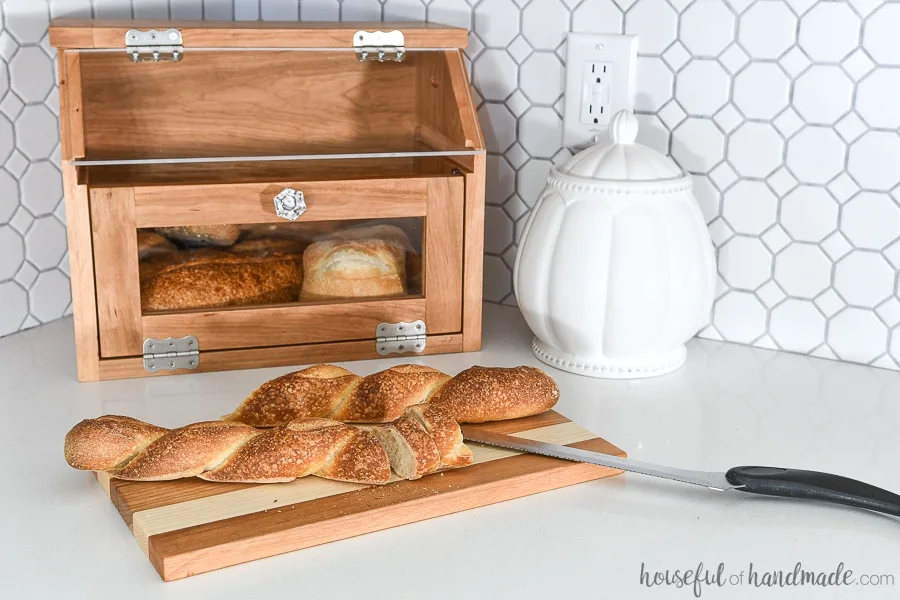 And this bread box was a fun weekend build with the Kreg Jig! I love this jig for making solid joints.
Build one for yourself of make a fun DIY gift for the bread lover in your life.
How to Store Bread
The bread box is great for storing non-sliced loaves of bread. Once sliced, you will want to store in a more tightly sealed environment to prevent the inside of your bread from drying out.
For non-sliced loaves, you can still store them in the bread box. Just place the sliced edge down on the bottom of the bread box to help seal it more from drying out. This will keep the outside crusty and the inside soft.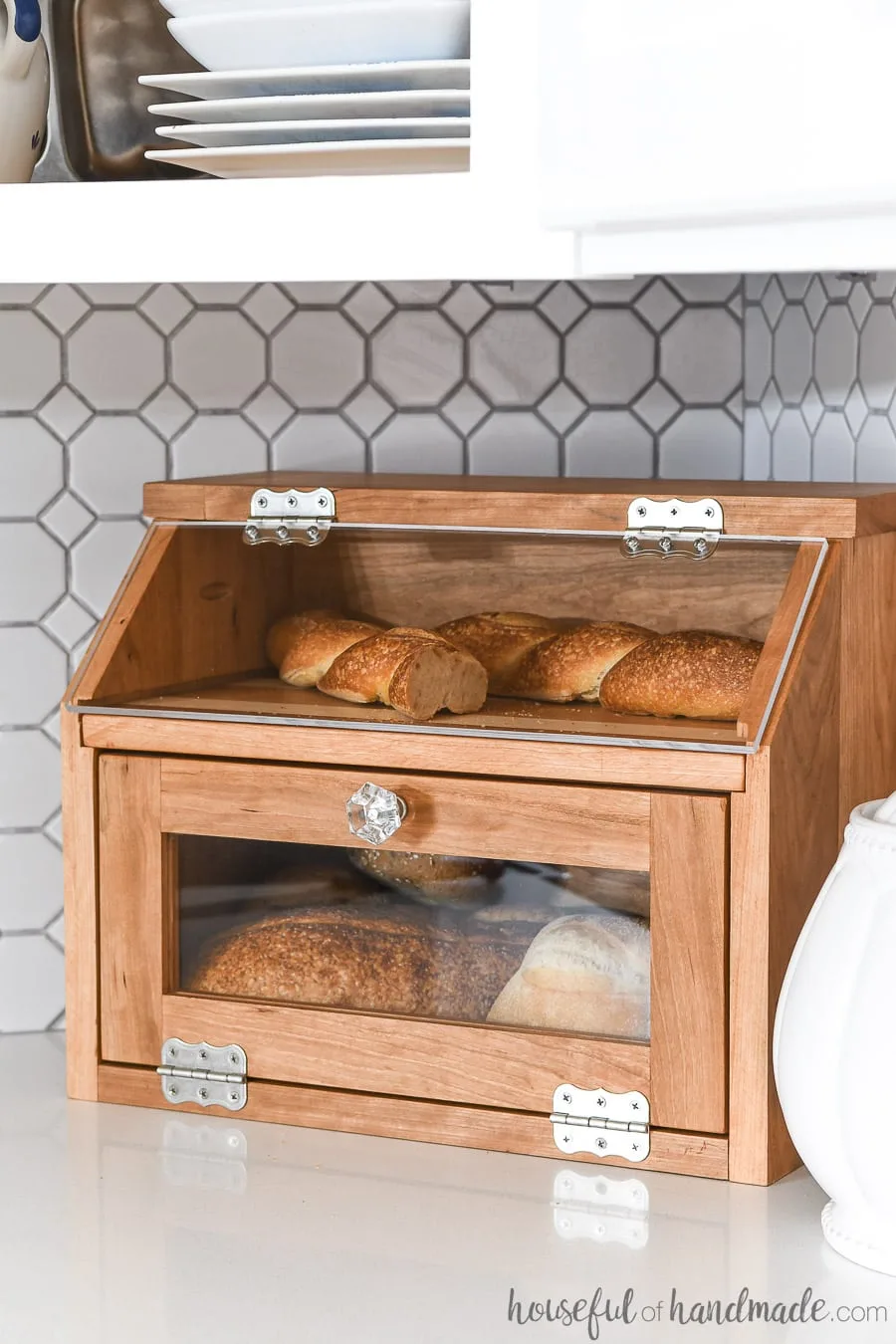 How to Make a Bread Box
If you want to make your own DIY bread box, I am sharing the free plans over at BuildSomething.com. Click here for the complete build plans.
And for another fun build project for your kitchen, check out the free build plans for the popular farmhouse paper towel holder.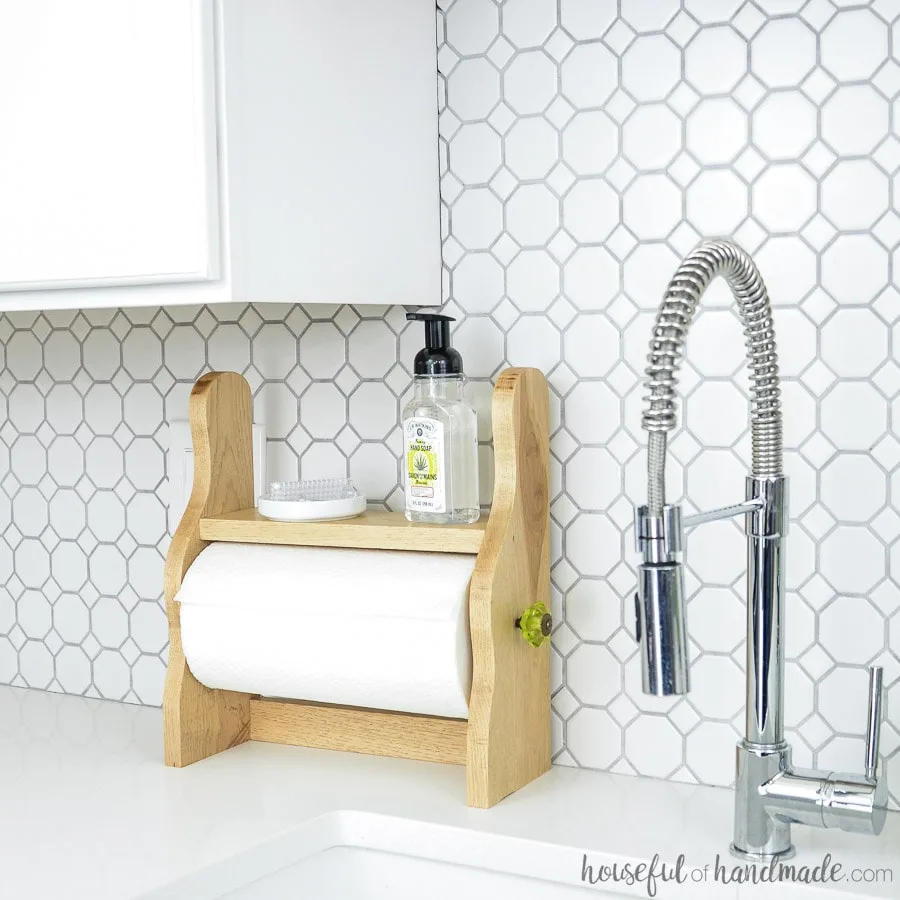 And to keep your cookbooks open while you are busy in the kitchen, make this easy to build DIY cookbook stand too.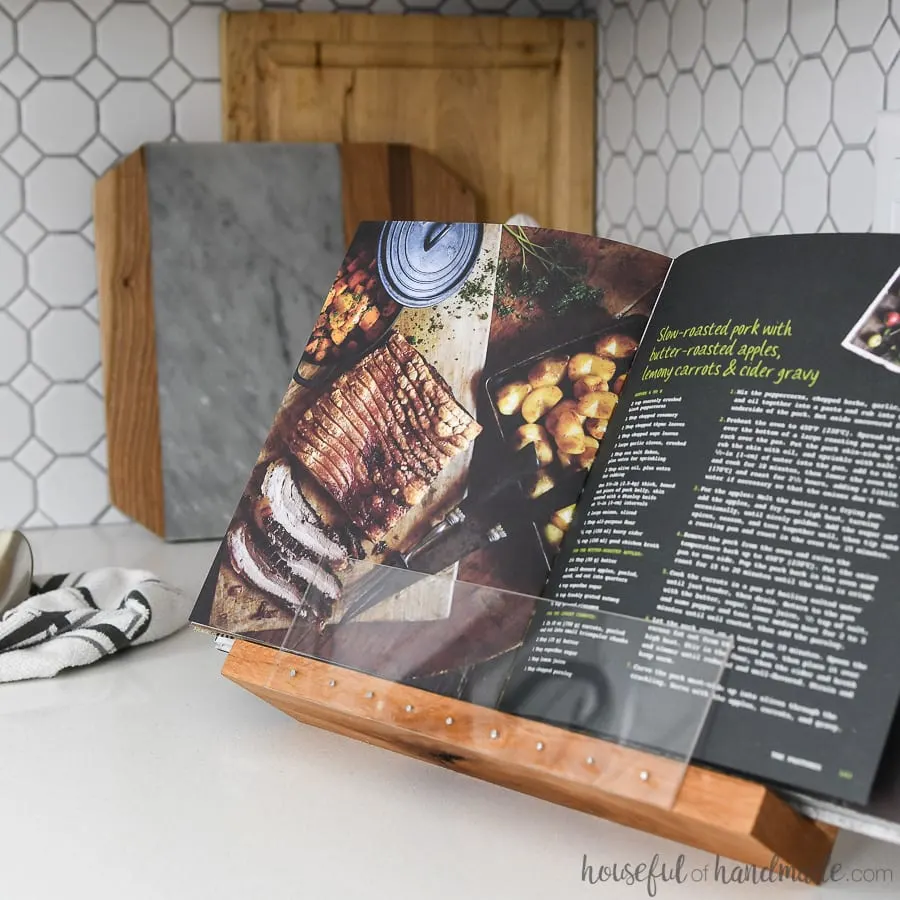 Happy Building!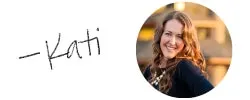 Thank you to Kreg Jig and BuildSomething.com for sponsoring this post. I only recommend products that I use and love and all opinions are 100% my own. Click here to read my full disclosure policy.