I have decided I really like beadboard. I have always thought it was a nice addition to a room, 6 years ago we lined the nursery with beadboard 6 feet up every wall. It is such a classic look. A nice white painted beadboard will never go out of style.
But since we lined the nursery with the beadboard, we have some left over in our garage. I have lots of 2′ wide pieces and a few bigger pieces. So I have been finding ways to use it up. I used some of the 2′ pieces in the dining room built in bench and then when I made my summer printable, I knew I wanted to make a picture frame for it using some more left over beadboard.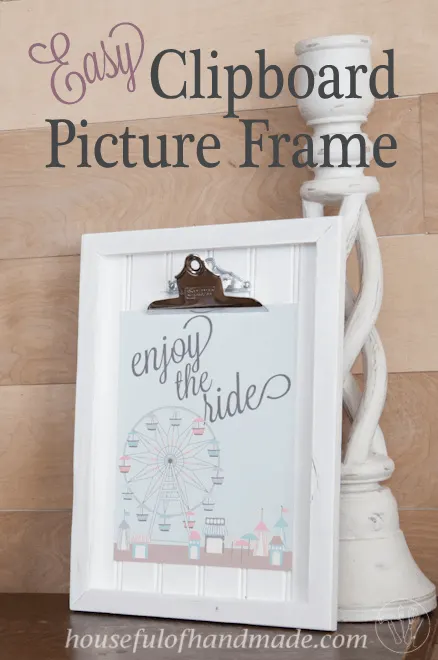 This woodworking project is a really easy one. It also uses basic tools, I did use my table saw to rip down a 1×3 board into 2 1″ wide pieces, but you could just buy 1″ wide wood (which is actually 3/4″ but would work well). I just decided to use scrap wood and I didn't have any 1x pieces.
Materials Needed
5′ of 1×1 wood
12″x16″ piece of beadboard
Finish nails
Screws with bolts
Wood glue
Paint
Tools Needed
Miter saw
Nail gun
Drill
Hammer
Measuring tape
Screw driver
Table saw (optional)
If you want to rip down your wood on a table saw like I did, I wanted to share a little tip that I learned from my dad. To get a precise measure, measure the side of the blade to the guide. When you cut it out the wood will end at the side of the blade so if you measure to the center of the blade you will end up about 1/16″ short.
It wouldn't matter as much for this project, but some projects will be impacted big time by a bad measurement.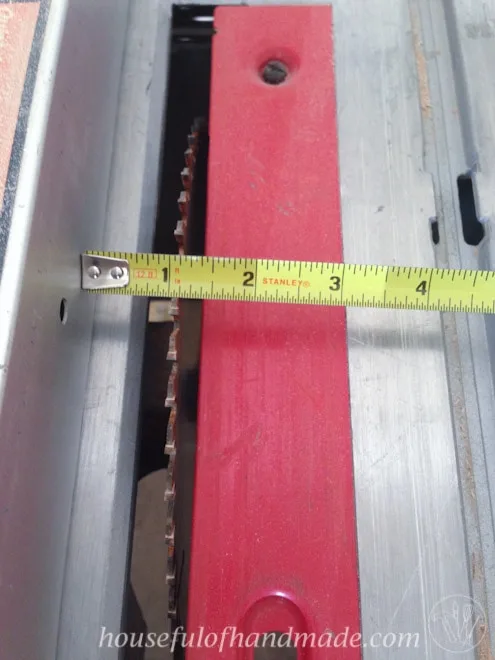 When you have your 1″ strips of wood (whether you buy it or rip it) you are ready to start building. Cut out your 12″x16″ piece of beadboard.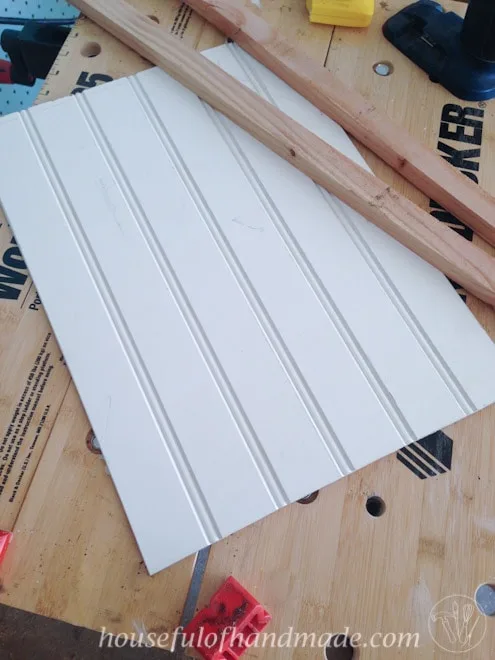 Then you will need to build a simple frame. You will cut 2 pieces at 12 1/2″ and 2 pieces at 16 1/2″ with mitered corners at 45 degrees. The measurements are for the long end, then miter both corners to in from there.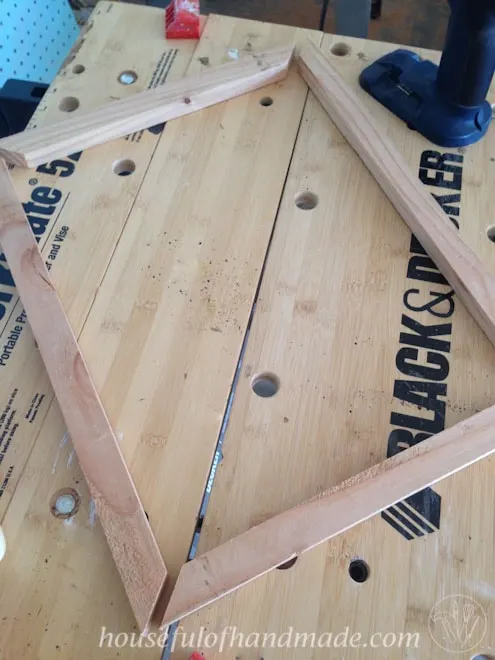 To secure each corner together, use a little wood glue, then clamp the corner. I used a nail gun to shoot a 1 1/4″ nail into the corner. I only used 1 nail per corner. It's not super secure without the beadboard backing but once it's all together it's really strong.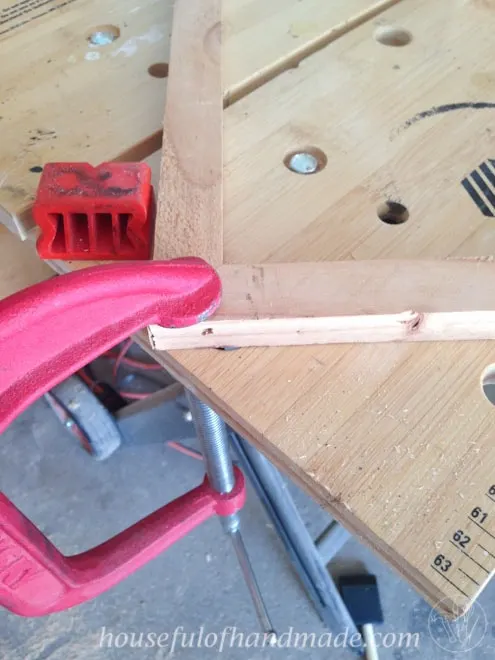 After all the sides are together, you will have a beautiful, basic frame.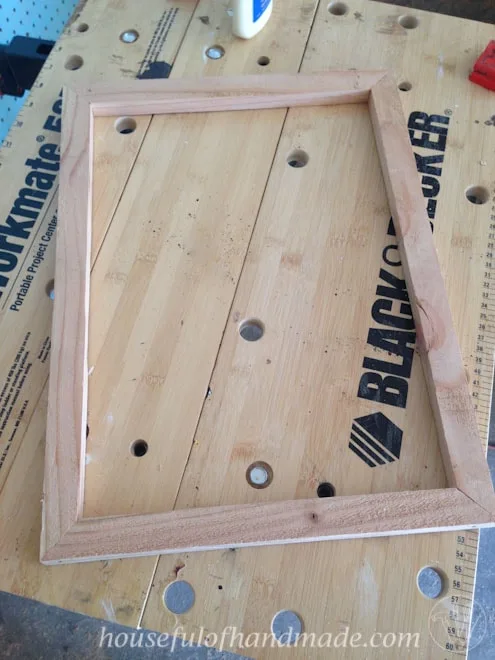 I decided to sand it at this point. If the insides of your wood are not smooth, you won't be able to sand them after you put the beadboard back on without damaging it.
Then you will add the back. Flip over the frame and center the back on it. Then use a couple small finishing nails and hammer them around the back.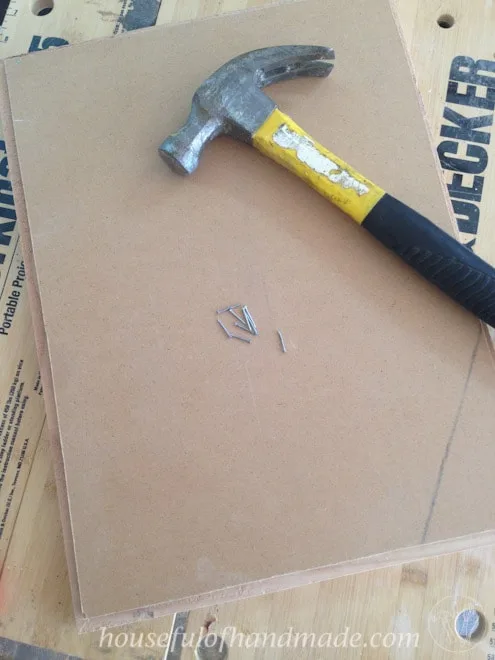 If your nail gun can handle 1/2″ screws you can use it, but mine only can do 3/4″ which would have worked if I could find them. Hammering them in by hand was really easy though!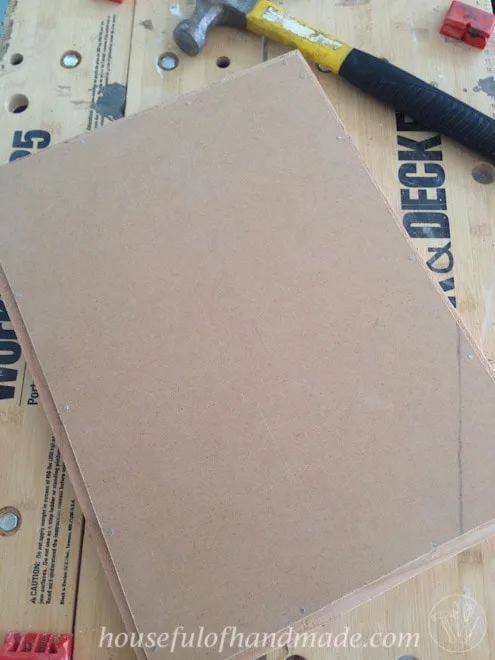 Now the picture frame is all built! Pat yourself on the back 🙂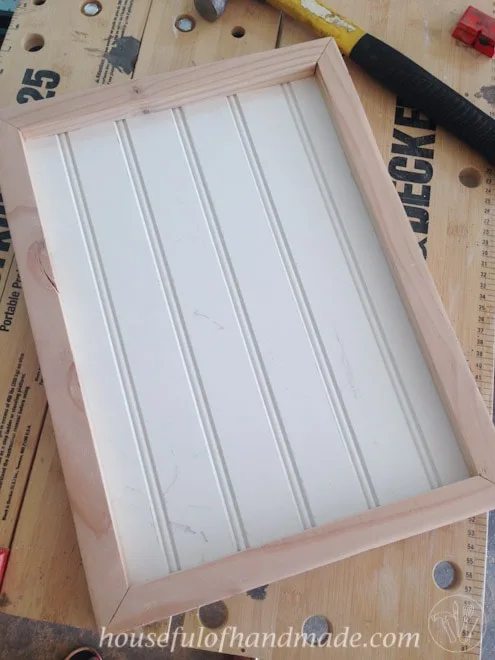 Next I put a quick coat of white paint on the frame. I didn't bother priming and I chose to only put on 1 coat of paint so that the wood grain would show through a little bit.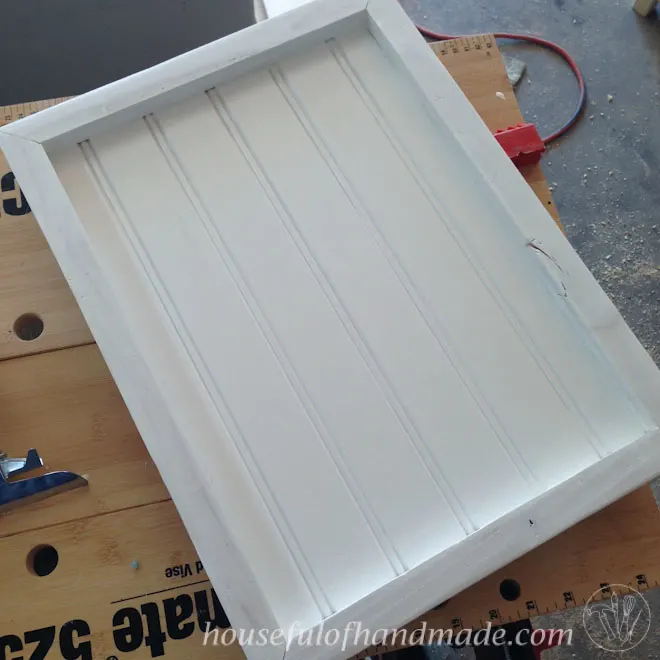 The next part took way to long to finish! I thought it would be easy to find a clipboard but the only ones I could find were the new type of clipboard tops and I don't like the look of them. I guess they are better for holding paper, but they are not as cute.
I found the clipboard top that I liked at OfficeMax but it was expensive and said OfficeMax on it, not cute! So I got online and found an office store that was having a free shipping on any order promotion and had the clipboard top I wanted for only $1.89! It does say Sparco on it, but that was way better than OfficeMax 🙂
To get the clip top off the board, just slide a flat head screwdriver under the side and twist it around until it pops off. Mine was a little bent from this but easily went back to straight when I pinched it with a pair of pliers.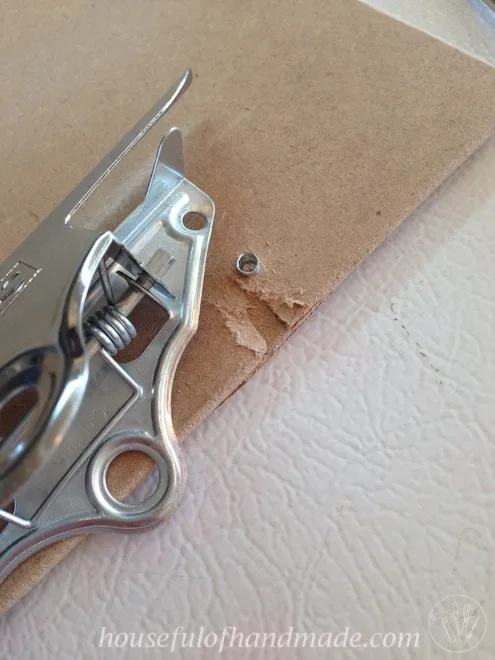 Once you get the clip top off the board it will spring forward so it doesn't lay flat anymore. It makes it hard to line up, so I just grabbed some string and tied the clip back so it was flat again.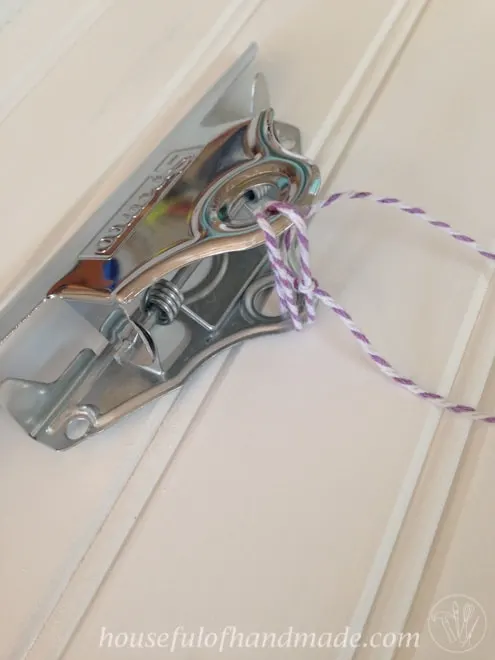 To attach the clipboard top to the beadboard picture frame, you will need some screws with bolts. I found these ones that worked perfectly and only cost $1.25 for the pack.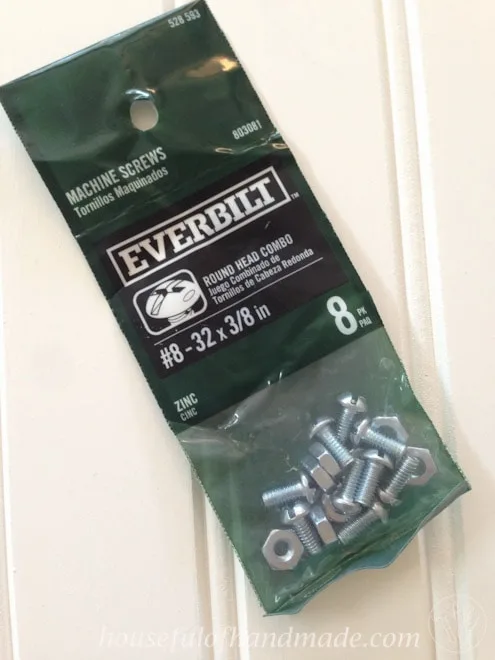 I lined my clipboard top up where I wanted it and marked the holes. Then I drilled a little hole on each of my marks.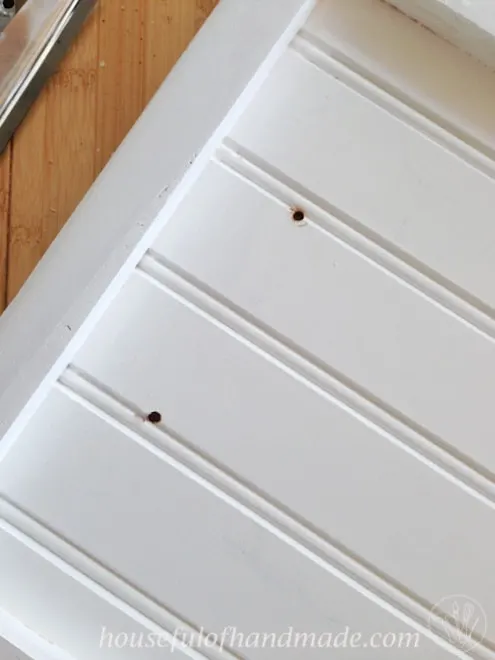 Then it's as easy as lining up the clipboard top and putting the screws through the holes. Secure the screws with the bolts on the back. I used a screwdriver to get them nice and tight.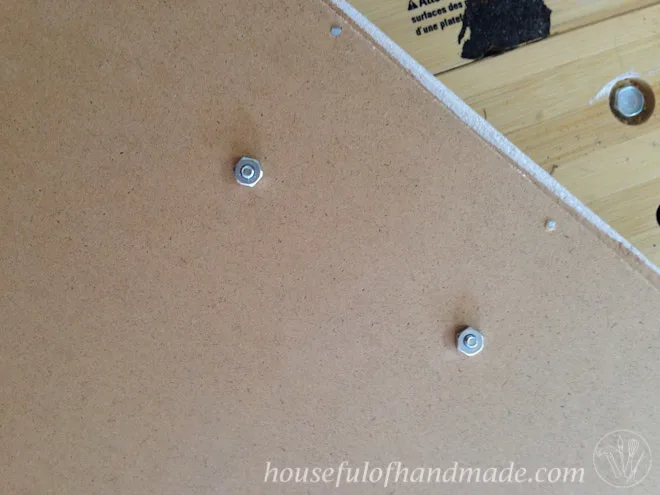 Now it's all done!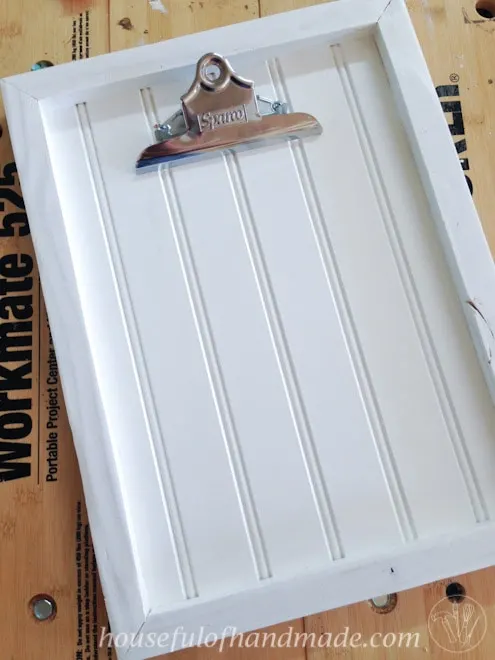 It's a super simple clipboard picture frame that you can use to display all your favorite free printables. It will hold an 8 1/2 x 11″ sheet of paper with a little boarder of beadboard showing.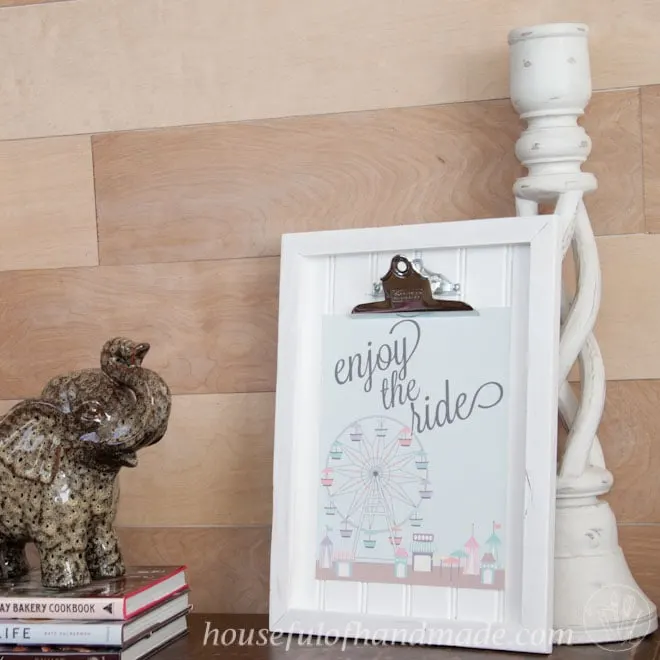 If you want the picture frame to hang on the wall, you can easily attach a sawtooth hanger to the back and it will hang nicely. I will be using it primarily on my bookcase or mantel to display saying and art so I didn't use a hanger.
Enjoy your ride this summer 🙂