OMG, there is only 1 week left to wrap up this Office & Craft Room Makeover! And my money is almost gone. Well, $100 can go pretty quickly, but I am proud of how carefully I've spent it. The biggest purchase, a $32 piece of plywood, was used for 3 projects. I think I got my money worth. I also really utilized the scraps of wood cluttering up my garage. I have always been afraid to toss anything bigger than a couple inches and now I am glad I kept it. Last week I was able to build this DIY paint storage completely out of scraps of ugly, twisted wood that I was hoarding for the right occasion.
When I built the rolling workstation out of some old bookcases, I filled the bottom shelf full of my spray paint cans. This seemed like a great place to store them. As I moved the rest of the cans that were stored haphazardly in my garage, I realized this wasn't the best solution. Apparently I had a lot more spray paint then I thought. I also seemed to have a lot of duplicates because my storage solution before was less than stellar.
While I was in the garage building the farmhouse console table for the space, I found a scrap of 1×10 that was about 40″ long. But it was warped and twisted, not something that I would be able to use for a larger project. Usually I would cringe at cutting up a larger board like this, but since it was not getting any use as it was, I decided to turn it into the perfect DIY Paint storage solution for my new office & craft room.
I was pretty excited about completing this project out of scraps of wood and left over white paint. However, when it came time to hang my awesome DIY paint storage shelves, I realized I didn't have a good solution without spending a few dollars. So I ran to the Home Depot and found some 1″ L-brakets. Luckily the pack of 20 was only $7.50. I figured it was worth it for this awesome storage solution.
So all in all I completed this project for only $7.50! If you have been on the fence about whether you wanted to add a table saw to your arsenal of tools, maybe this post will convince you. Honestly, I don't know that I would have been able to easily create all the budget friendly DIYs without it. It allows you to do so many things with scraps.
If you want to see how I created this super easy DIY paint storage solution for the $100 Room Challenge, click the arrow below for the full tutorial. And now let's take a look at everything that was completed this week and were we are at on budget…
This last week I did take a bit of a break from projects, the sun was shining and we enjoyed the beginnings of spring! It's really good we have 5 weeks this month. But I did manage to spend a little time working and completed the cube bookcase makeover. I still can't believe that old piece looks this good now!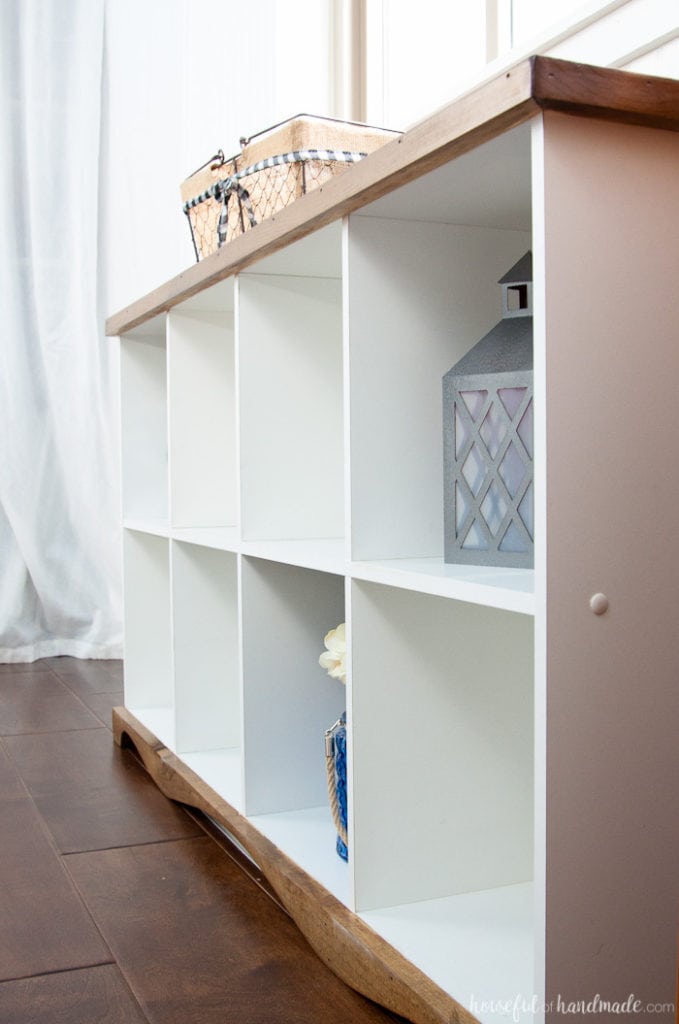 I also got started on the legs for the sewing table, an ironing board/iron storage solution and prettying up all those coffee boxes in the rolling worktable. Luckily for me, my husband and I have a coffee addiction so the boxes just keep coming. Now I just need to spend a day organizing everything into the boxes. I can't wait to share these projects!
And how is the budget coming along?
TOTAL SPENT $87.50
That leaves me with only $12.50 to finish my room! Yikes. Here is the list of what I wanted still to accomplish. I am pretty sure I am going to have to scrap the desk sconces (due to time and budget). Also, I settled for sticking my photography equipment on the high shelf in the closet because I just didn't like it being out in view. And whether I have enough fabric that will work in my stash to cover the desk chair is still up for debate.
Desk Sconces
Paint walls/ceiling
Paint glass front cabinet
Find a way to organize photography/lighting equipment
Iron/ironing board storage
Cover desk chair ???
Decor
This weekend I will be finishing the storage boxes, sewing table legs, and then painting the sewing table and curio cabinet. Then next week I will say good-bye to the clouds and try to add a bit of decor with my measly little budget.
I can't wait to share the final room with you next week (and then take a much needed break)! And don't forget to see how these other $100 room makeovers are coming along. There is so much creativity and budget genius going on I can't stand it.